F1: Leclerc takes pole from Hamilton in Baku
In a qualifying session with many red flags caused by five drivers crashing out, Charles Leclerc, who had pole in Monaco but then crashed, has won the pole position for the Azerbaijan GP with a lap of 1m41.218s thanks to a great tow on the long straight from his Ferrari teammate Carlos Sainz Jr.
Then, as everyone was ready to try and beat Leclerc's time, both Yuki Tsunoda and Sainz Jr. crashed in Turn 3 and the red flag cemented Leclerc's pole.
"There were two or three corners where I did mistakes, but then I had the tow in the last sector which helped a little bit," said Leclerc. "I was not expecting to be as competitive as we were today, we were helped with the red flag but anyway. It definitely feels very good, a pole is a pole.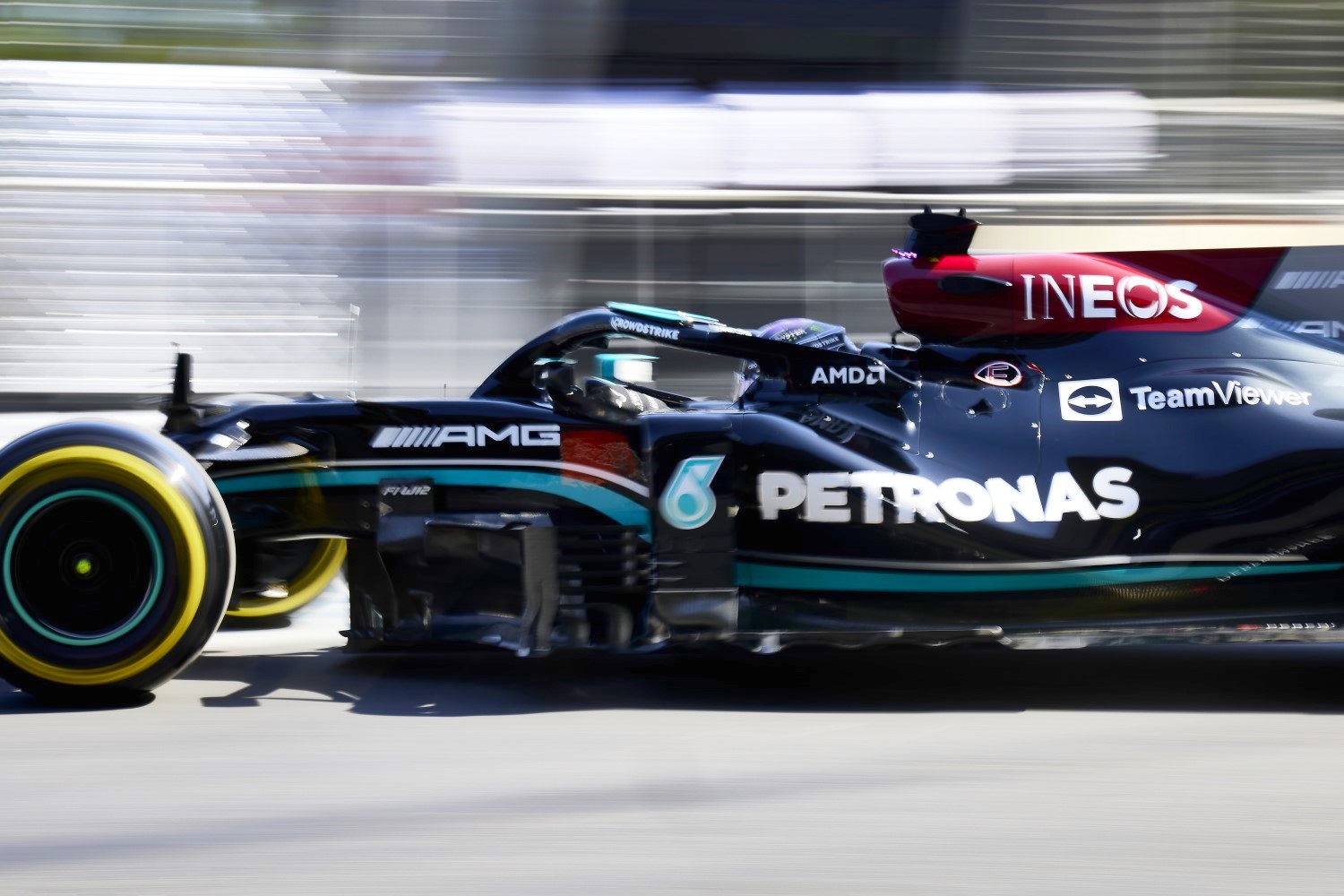 Lewis Hamilton got a great tow from his Mercedes teammate Valtteri Bottas to turn the 2nd fastest time 0.232s slower than Leclerc, but good enough for 2nd on the grid.
"The lap was okay. We definitely weren't expecting that, we made so many changes, we didn't take no for an answer. The work overnight and between the sessions was amazing from the team. Working with this car, it's the biggest challenge we've had in a long time."
Hamilton continues to say the race pace is a lot better than the one lap pace – but both him and Leclerc sound very wary of the threat posed by Red Bull.
Max Verstappen, who was confident he could take pole on his final run, saw that ruined by the red flag , and will have to start 3rd on the grid.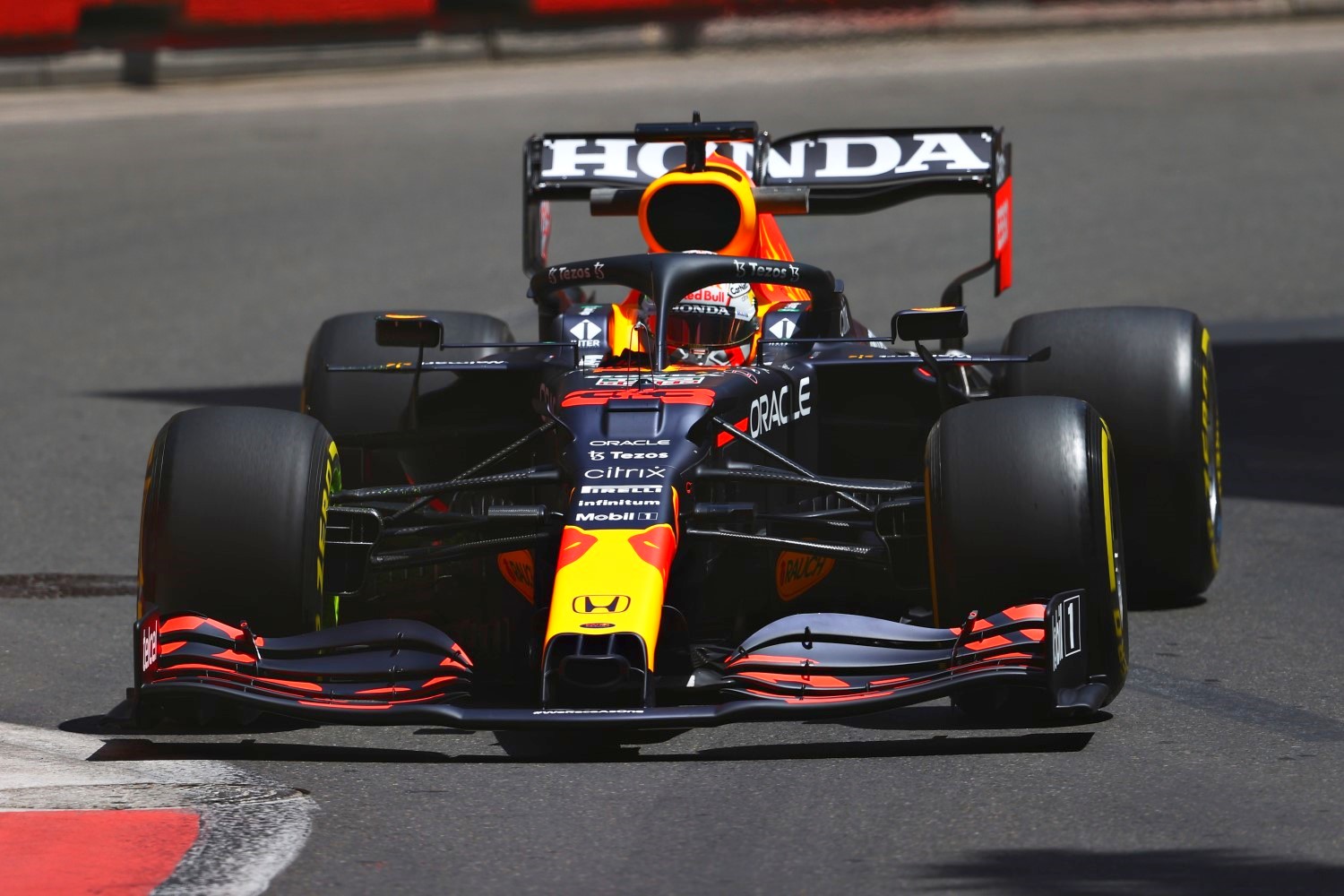 "It is what it is. Everything was working out fine, I just hope tomorrow in the race we can look after our tires and have a good race," said Verstappen.
"It's still all to play for – as you can see from qualifying, a lot of things are happening…"
At least at this circuit you can overtake. Max's frustration – he knew there was a better lap in there. Mercedes have changed their set-up a lot – how that will work on the longer runs is an unknown.
Replays show that Tsunoda did what Daniel Ricciardo did in Q2, locking up and hitting the barriers at Turn 3. Sainz was following behind, saw the puff of smoke choked.  He locked up himself, taking avoiding action as he slid into the barriers in the run-off area.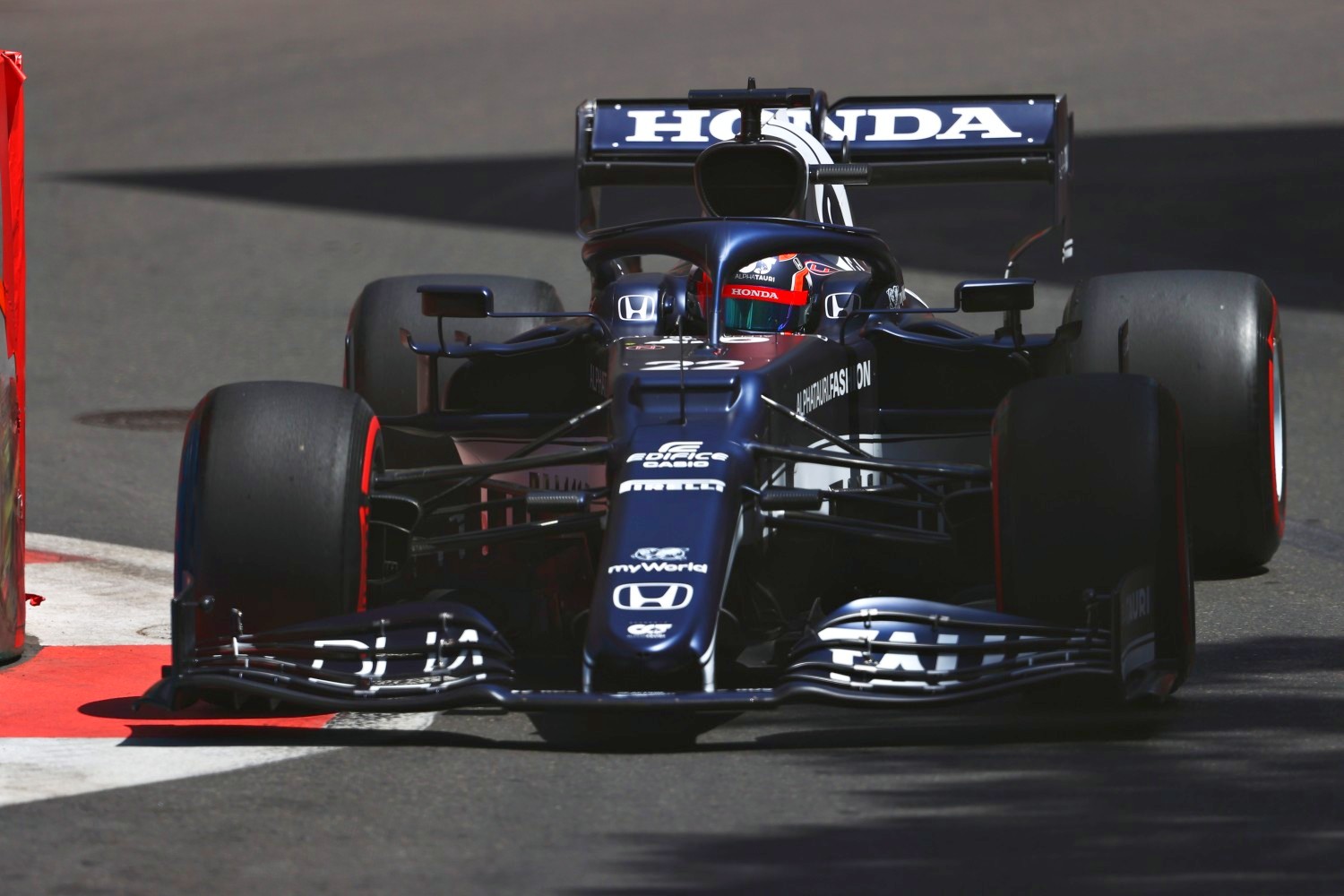 The terrible news for the Spaniard is that he hit the walls rearwards, which means he might have a tense wait to see how his gearbox fared in that…
Pierre Gasly will line up third for AlphaTauri while Carlos Sainz Jr, assuming he does not need a gearbox change, rounded out the top-5 and will start on the inside of row 3.
Sergio Perez, Tsunoda, Fernando Alonso and Bottas round out the top 10. Perez just didn't nail his lap after towing his teammate,  having looked in the fight for pole all weekend.
Tsunoda and Bottas were also victims of having to tow their teammates and Alonso only manged to complete his one run on used tires – his fresh rubber never got a look in.
Sebastian Vettel was screwed by Ricciardo' crash just as he was ready to set a fast time in Q2. The red flag ended any chance he had, but by starting 11th he gets to choose any tire he wishes to start on – a possible advantage as the reds the top drivers will start on do not last many laps before they go off.
"We had good pace today. I was being patient and waiting to unleash the lap time at the right moment," said the German.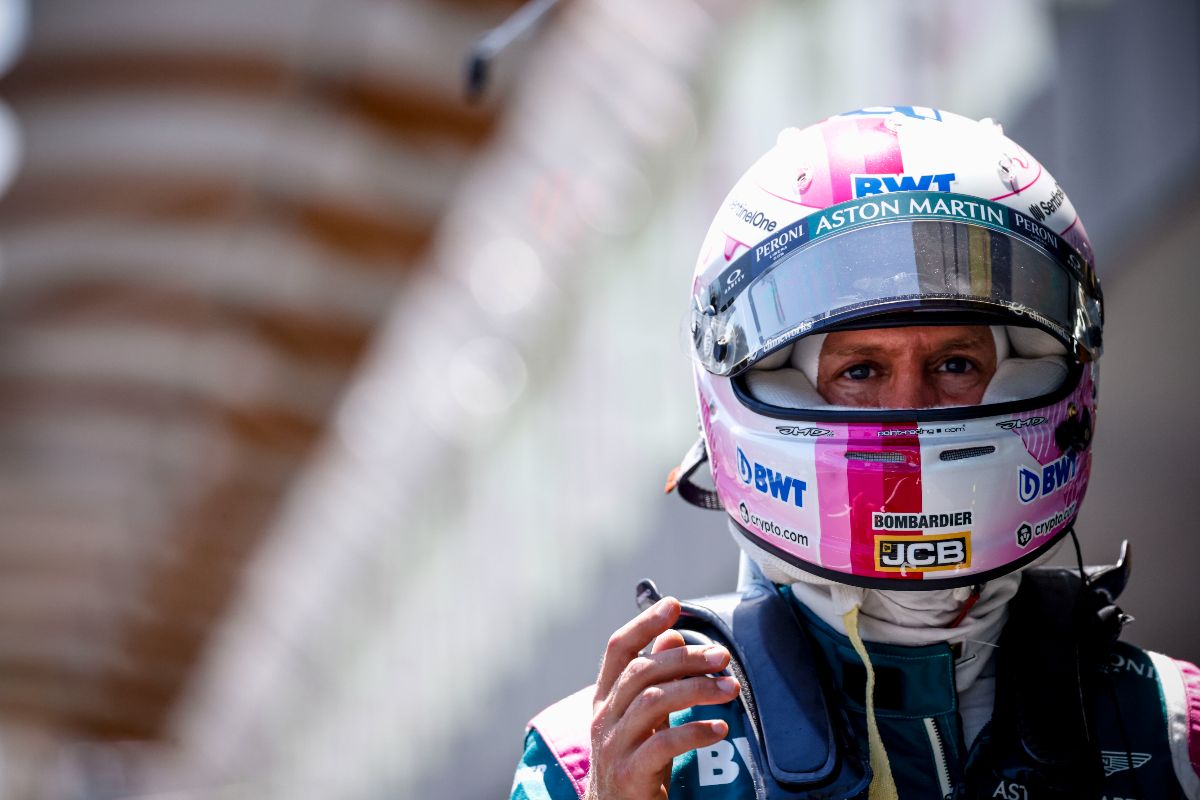 "Unfortunately, I took a bit too much risk on my best lap in Q2 and locked up going into Turn 15. I was lucky to continue, with a big flat spot, but it probably cost me about four tenths. That is what cost me a place in Q3. It is a tricky corner, downhill and bumpy, and it channels the wind. I am disappointed because we easily had the pace to go through to Q3. Then, with the early red flag, there was no opportunity to recover. Anyway, we are starting just outside of the points, but I think we can improve during the race with a nice rhythm and some good race pace."
Qualifying Results
| | | | | | | | |
| --- | --- | --- | --- | --- | --- | --- | --- |
| POS | NO | DRIVER | CAR | Q1 | Q2 | Q3 | LAPS |
| 1 | 16 | Charles Leclerc | Ferrari | 1:42.241 | 1:41.659 | 1:41.218 | 19 |
| 2 | 44 | Lewis Hamilton | Mercedes | 1:41.545 | 1:41.634 | 1:41.450 | 21 |
| 3 | 33 | Max Verstappen | Red Bull Racing Honda | 1:41.760 | 1:41.625 | 1:41.563 | 19 |
| 4 | 10 | Pierre Gasly | AlphaTauri Honda | 1:42.288 | 1:41.932 | 1:41.565 | 18 |
| 5 | 55 | Carlos Sainz Jr. | Ferrari | 1:42.121 | 1:41.740 | 1:41.576 | 18 |
| 6 | 4 | Lando Norris | McLaren Mercedes | 1:42.167 | 1:41.813 | 1:41.747 | 20 |
| 7 | 11 | Sergio Perez | Red Bull Racing Honda | 1:41.968 | 1:41.630 | 1:41.917 | 18 |
| 8 | 22 | Yuki Tsunoda | AlphaTauri Honda | 1:42.521 | 1:41.654 | 1:42.211 | 19 |
| 9 | 14 | Fernando Alonso | Alpine Renault | 1:42.934 | 1:42.195 | 1:42.327 | 20 |
| 10 | 77 | Valtteri Bottas | Mercedes | 1:42.701 | 1:42.106 | 1:42.659 | 21 |
| 11 | 5 | Sebastian Vettel | Aston Martin Mercedes | 1:42.460 | 1:42.224 | – | 15 |
| 12 | 31 | Esteban Ocon | Alpine Renault | 1:42.426 | 1:42.273 | – | 11 |
| 13 | 3 | Daniel Ricciardo | Mclaren Mercedes | 1:42.304 | 1:42.558 | – | 14 |
| 14 | 7 | Kimi Räikkönen | Alfa Romeo Racing Ferrari | 1:42.923 | 1:42.587 | – | 15 |
| 15 | 63 | George Russell | Williams Mercedes | 1:42.728 | 1:42.758 | – | 12 |
| 16 | 6 | Nicholas Latifi | Williams Mercedes | 1:43.128 | – | – | 8 |
| 17 | 47 | Mick Schumacher | Haas Ferrari | 1:44.158 | – | – | 10 |
| 18 | 9 | Nikita Mazepin | Haas Ferrari | 1:44.238 | – | – | 9 |
| 19 | 18 | Lance Stroll | Aston Martin Mercedes | – | – | – | 2 |
| 20 | 99 | Antonio Giovinazzi | Alfa Romeo Racing Ferrari | – | – | – | 4 |