F1: Perez wins Azerbaijan GP after Verstappen tire blows
Sergio Perez won his 2nd F1 race, and first for Red Bull Honda, holding off a resurging Sebastian Vettel, and Pierre Gasly in a 2 lap sprint to the finish.
Max Verstappen was cruising to an easy win in his #33 Red Bull Honda in the Azerbaijan GP when his hard Pirelli tire blew in spectacular fashion on the long pit straight, sending him hard into the wall, and out of the race. A similar tire failure happened to Lance Stroll's Aston Martin earlier.
The race was then red-flagged with three laps to go to clean up the debris.
With Verstappen, and Perez having jumped early leader Hamilton in the pit stops, Verstappen's retirement then promoted Perez, and Hamilton into P1, and P2 from the Aston Martin of Sebastian Vettel.
As for Vettel, the German had played the race beautifully, starting on softs from P11, and staying out until Lap 18. The Aston Martin driver was up to P6 when the race restarted after the Lance Stroll-induced Safety Car, with Vettel then moving passed polesitter Charles Leclerc, and Pierre Gasly in quick succession to claim fourth – climbing into the podium positions when Verstappen retired.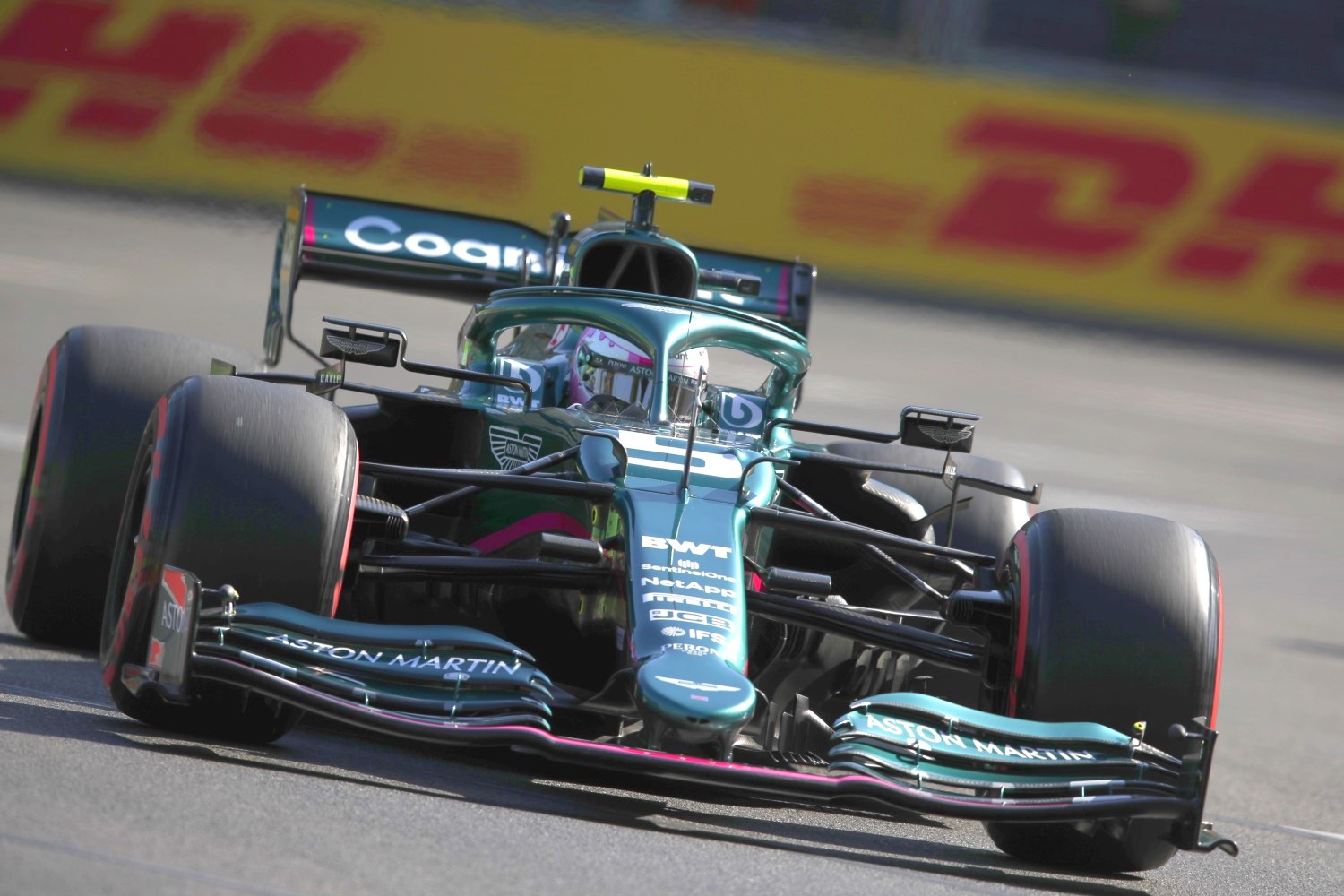 On the restart Hamilton locked his brakes trying  to outbrake Perez for the lead, and ran down the runoff, and out of the points in 15th place.  Sebastian Vettel then moved up to 2nd at the finish with Pierre Gasly holding off Charles Leclerc, and Lando Norris for the final podium position.  Fernando Alonso came home 6th for Alpine.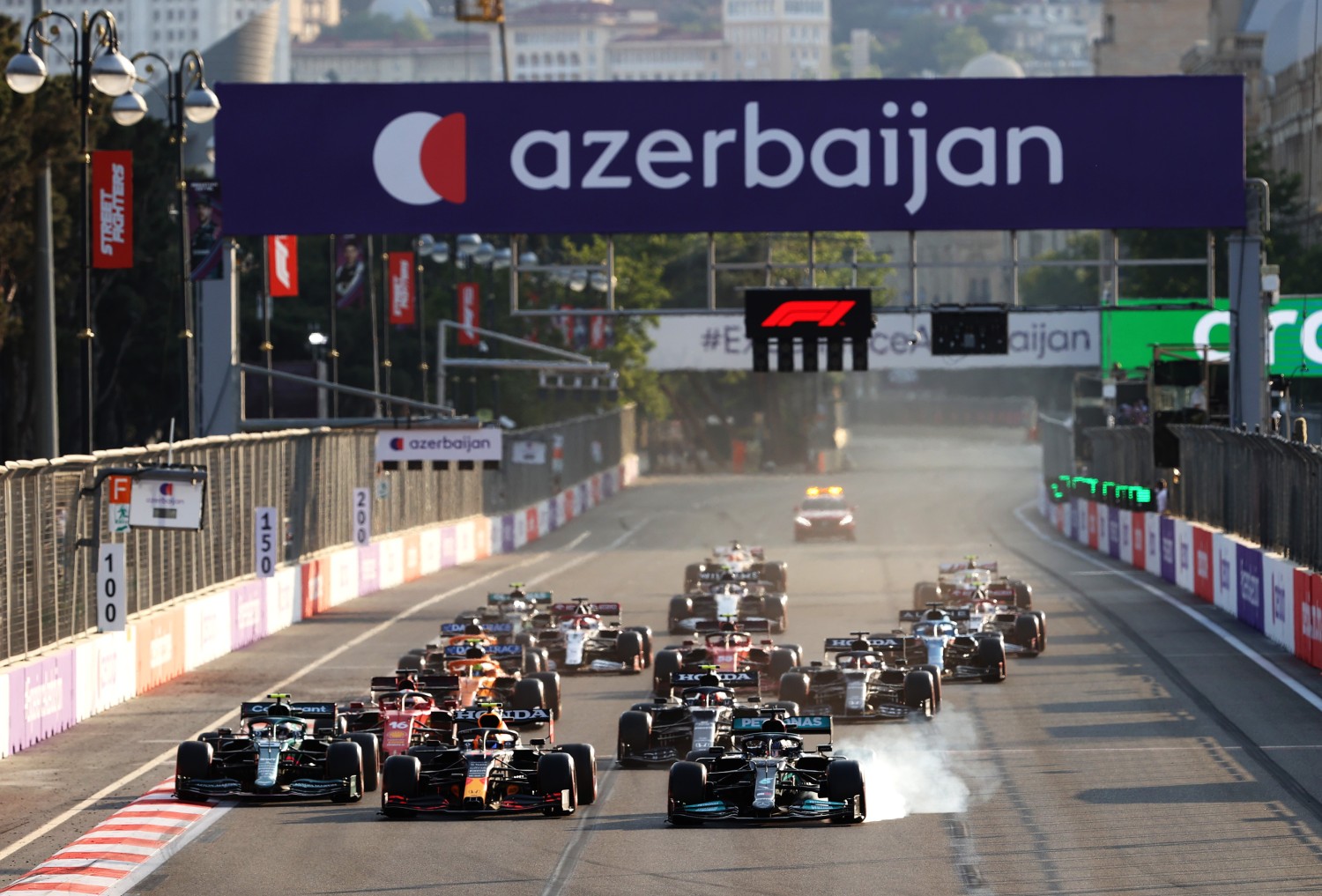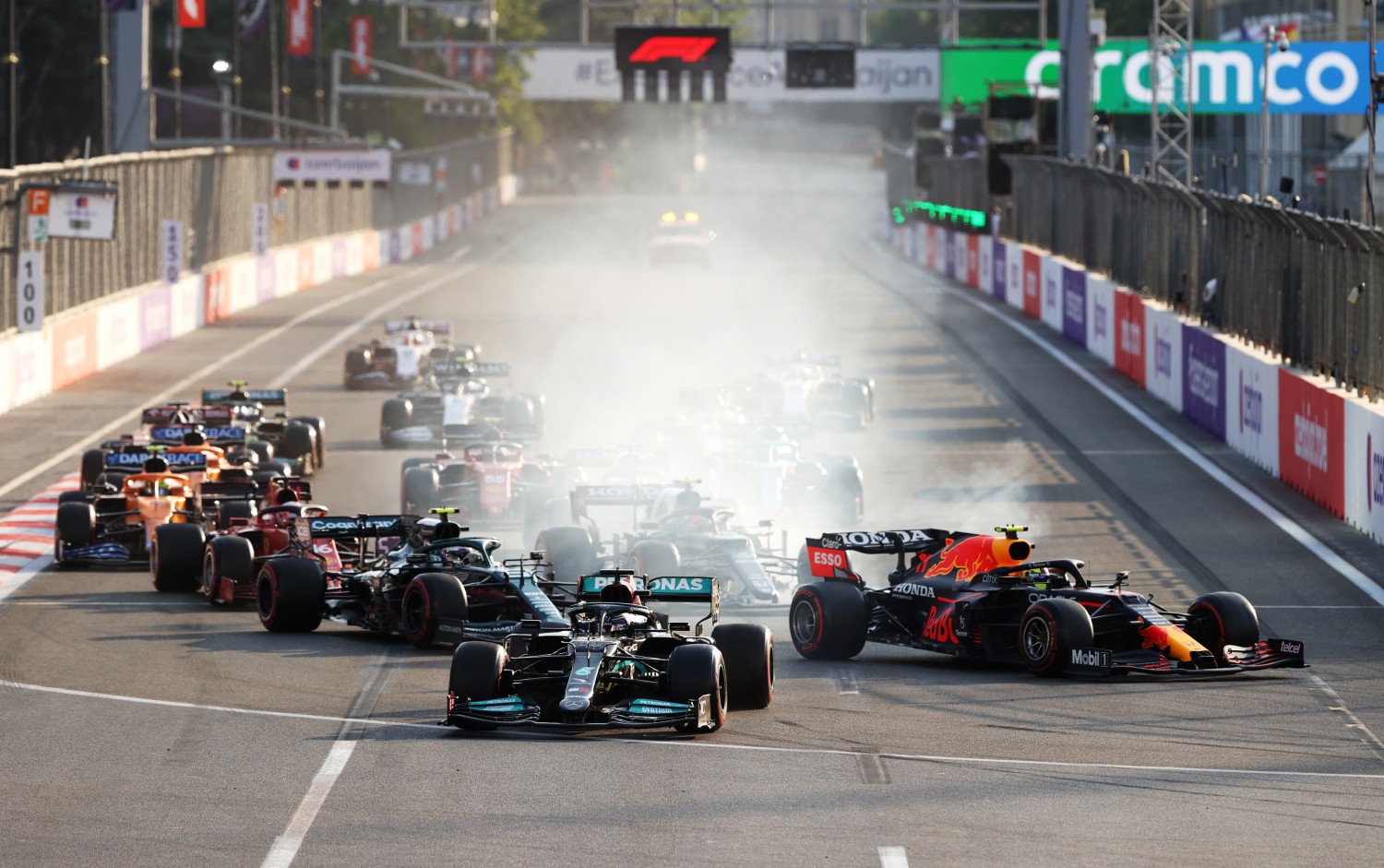 "I'm sorry for Max, he had a tremendous race, and deserved the win," said Perez. "But in the end it was a fantastic race for us. It was close, but we just managed to finish the race. [Hamilton] pushed me, I had so much pressure from him., but at the restart, I was like, I'm not going to lose it."
"It's been a tough start [to the season] for us, but it's been a good race," said Vettel. I had really good pace at the restart, we had fresher tires so yeah, great day, and I'm over the moon. Yesterday we didn't quite get it, but today, yeah [smiles]."
"I don't know what to say, super intense last laps," said Gasly. "Qualifying was mega, I didn't know from that position if we could fight for a podium, but in the end we did it. I had to get the elbows out!"
Red Bull was headed for a 1-2 finish before the Verstappen tire failure.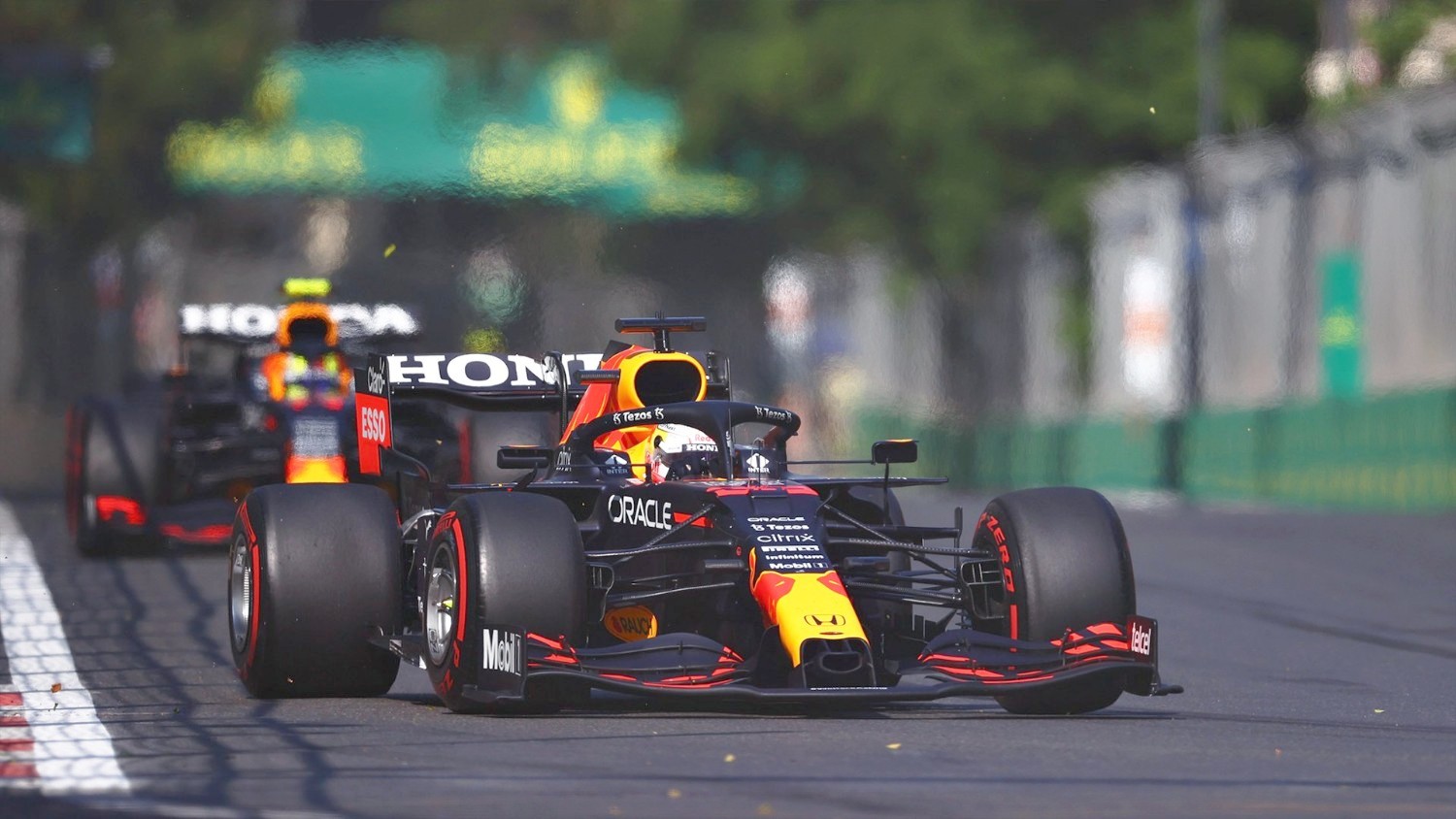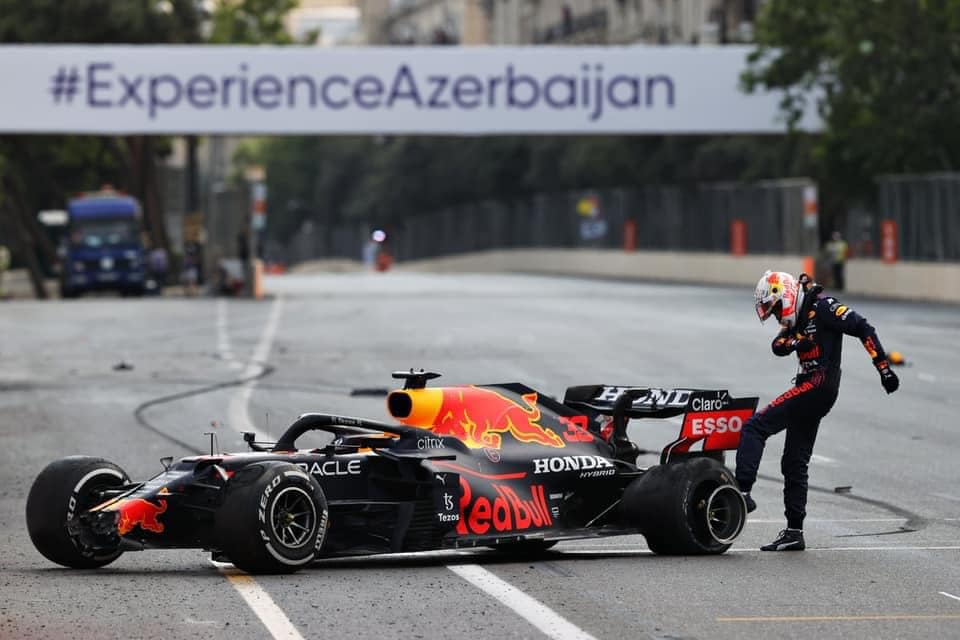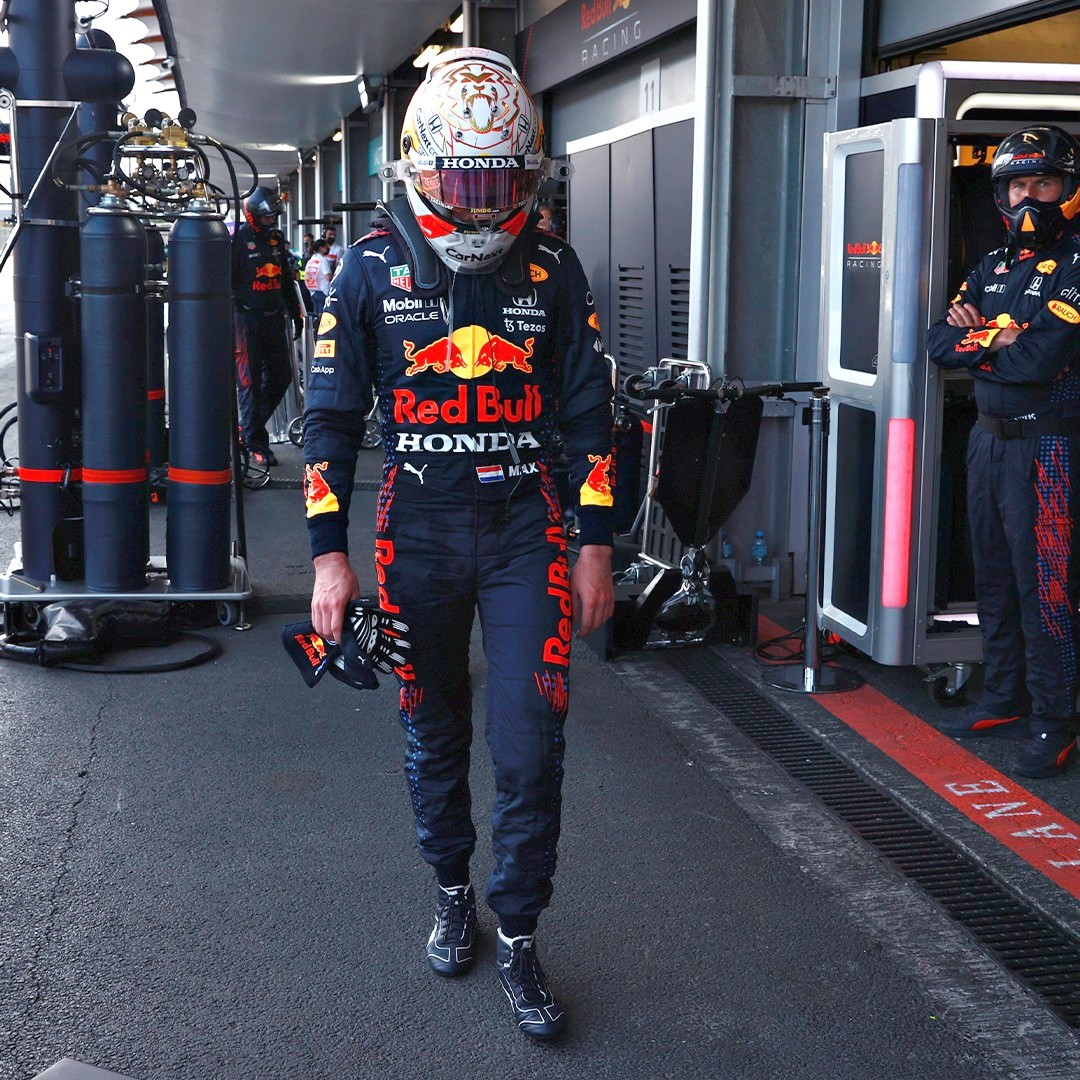 Mark C. reporting for AutoRacing1.com
Select Quotes
Sergio Perez
"We love Baku! It feels amazing to get my first win with Red Bull. The Team did a tremendous job, and I want to thank Mr Mateschitz for this great opportunity, and giving me the seat. I feel very sorry for Max because he deserved the win, and a 1-2 for the Team would've been very enjoyable. It was a crazy rollercoaster of a race, we were basically flat out from the very first lap, and I had Lewis behind pushing me so I couldn't breathe, it was very challenging, but we kept our focus. Everything worked perfectly today apart from the restart at the end where I just had no grip. I thought I cannot lose this race two laps from the flag so I broke as late as I could into Turn 1, and then I saw Lewis locking up, and go straight on into the run off. It just shows how on the limit we are, the speeds we are doing are tremendous, and I am sorry for Lewis because it's very painful when these things happen, but we are all vulnerable to mistakes. We have to enjoy today, our pace was great, and we have a very good race car. We are working flat out, and giving our best every week, it's only race six, and there's more to come from me, the relationship with Max, and the Team is great, and there's still a long way to go in this championship."
Max Verstappen
"To retire from the lead of the race so close to the finish is pretty frustrating. I didn't feel anything strange with the car, and then suddenly the left rear went, and I was in the wall quite hard. It's not a nice place to crash, and we don't know the exact cause yet, I'm sure it will be fully investigated. Up until that point it was a great day, the car felt perfect, and I was comfortable in the lead so it felt like it would be an easy 1-2, but there are no guarantees in this sport. Of course I am frustrated from my side not to win, but I was very happy to see Checo up there. He did everything that the Team could have wanted today. He had a great start, and then we both got past Lewis in the pits. I heard he had to defend for most of the race, so if I couldn't win, I'm glad he could. He's a great guy, and a great teammate so it was good to see him smiling on the podium, and having his first win for Red Bull. It's a shame that we missed out on the opportunity to make the gap bigger to Lewis today in the championship as we know when we get back to the normal tracks Mercedes will be very strong again, but it just goes to show anything can happen, and it's still a good result for the Team!"
Christian Horner
"What a rollercoaster! I think we have been through every single emotion today. To be within five laps of achieving our first 1-2 since 2016 to then lose Max from the lead of the race with a puncture that is so far unexplained was pretty heartbreaking. The race was then red flagged, and we had serious concerns that Sergio was losing hydraulic pressure, and there were no guarantees he would make it to the finish. Thankfully Sergio got the job done, and Lewis' mistake into Turn 1 at the restart means we come out of the weekend having extended our lead in the Constructors' Championship with Max maintaining his lead in the Drivers', and Checo now moving into third place. Although it was frustrating for Max, we are delighted for Checo to take his first win for the Team today. He has been extremely fast all weekend, and it was a great boost for the Team to see him on the top step of the podium. It was also great to see Pierre on up there on the podium after a strong weekend, but today we would like to dedicate this win to Mansour Ojjeh who was unfortunately lost from the McLaren family, and our sport, he was inspirational, and someone I was fortunate enough to call a friend. Congratulations, and a big thank you must also go to all our partners, especially Mobil 1 who provided us with an upgraded engine oil for this weekend which just shows how hard all areas of our Team are pushing in this championship fight."
Sebastian Vettel
"I am over the moon, and P2 means a great deal to all of us. We did not expect to be on the podium, but we made great progress through the weekend, and the car had strong race pace. Yesterday was challenging [due to the red flag in qualifying], but I was relaxed, and confident going into the race. The key was being able to start with a free choice of tires in P11. It meant we could use a new set of softs to make up two places at the start, and then run longer to overcut Yuki [Tsunoda]. It gave us a platform for the second half of the race, and put us in a position to take advantage. I felt good in the car, and combined with on-track events, and strategy, we were able to get a really special result."
Lance Stroll
"I am frustrated not to finish the race, but I am OK. We were on course to score good points by running much longer before the pit stops, and overcutting a lot of cars. That proved it was the right call to start on the hard tires because we had good pace throughout the first stint, and the race was coming to us. I am not sure what happened to cause me to spin on the straight because there was no sign of any issues, so we need to investigate. It has been a challenging weekend for me, but there are positives to take, especially our race pace, and, of course, the podium for Sebastian. Huge congratulations to the whole team."
Otmar Szafnauer, CEO & Team Principal
"Lance suffered a DNF through no fault of his own, having made very impressive progress in the early laps. He was soon running in the points, making the overcut strategy work well, and was driving superbly on hard tires when it all came to an end for him in a spectacular way on lap 31. We are investigating the cause of the accident, together with Pirelli. Sebastian also drove extremely well, making up two places on lap one, running a long stint on soft tires, and thereby jumping [Yuki] Tsunoda during the pit stops, and holding seventh place at the halfway point. Then, when Lance was very sadly eliminated, Sebastian moved up to sixth. He then nailed the Safety Car restart, duly passing Charles [Leclerc] for fifth, following that by a great move on Pierre [Gasly] to take fourth. When Max [Verstappen] retired, that became third, then second when Lewis [Hamilton] overshot Turn One from the second standing start: a brilliant result for everyone in our team, and the first ever podium for Aston Martin in World Championship Formula One history. In summary, then, both Lance, and Sebastian showed today that we have the race pace to compete at the very front of the midfield, or better, and that is what both of them will be aiming to do as the rest of the season unfolds."
Valtteri Bottas
Today in the race I was lacking pace, as I have been all weekend and it's difficult to understand why. One big issue is the tire warm-up, particularly the front tires. On the hard tires, it took almost10 laps to warm up and on the restart, we were on the back foot with cold tires. I was trying everything I could but something just wasn't right with the car for me this weekend. We need to work hard to figure out why and move on quickly from this.
Lewis Hamilton
An unfortunate day, a humbling experience and I'm so sorry for the team. We did a good job to be in the position we were in today, to be out of the top ten on Friday and come back was down to the hard work of the men and women in this team. When Checo came towards me after the restart, I turned the wheel and flicked a switch which shifts the brake balance and that caused me to lock up.
It's one of the toughest moments I've had for a while – one moment we had all the points and the next we had none but for sure, we'll regroup and come back.
Toto Wolff
In Monaco and here we didn't have a car that was competitive, full stop. We have underlying issues – we are not getting the car in a happy window for the tires. We know the deficit and we know we have gaps which we simply have to overcome but I have no doubt, this a team which is so strong and so angry, and we are going to turn that anger into positive form and come back.
From to 🤩 to 😱 in seconds. It's been an emotional rollercoaster this weekend, Team. pic.twitter.com/NQAAb8rkjJ

— Mercedes-AMG PETRONAS F1 Team (@MercedesAMGF1) June 6, 2021
Andrew Shovlin
An extremely disappointing end to the weekend but that's just how luck pans out sometimes; Max's misfortune put us in that position in the first place. The bigger issue that we have to deal with is that in the last two races we haven't been good enough. Not fast enough, we've made mistakes, we struggle to switch the tires on and we've been on the back-foot through free practice. We know the level it takes to win championships and we're not at that level right now so we need to re-group and come back performing the way we know that we can. We have the team, the car and the drivers to win this but we need to be tough and honest with ourselves over the next few days. We've had days like this before and each time we've come back strong and we'll look do that in France.
Kimi Räikkönen:
"Not a lot happened in my race until the last two laps, so it's good to bring home a point. Overtaking proved surprisingly difficult, we were able to catch up with the cars ahead of us relatively easily, but we couldn't make the move. The restart after the red flag was quite hectic, we could have been better, but it could have also gone badly wrong so we'll take the point. I don't think we could have done more, in the end."
Antonio Giovinazzi:
"I had a great start, and this allowed me to be back in the battle for the points from the start. It wasn't an easy race as I had a small issue with the brakes, which is not ideal on a track like this, but my pace was quite good anyway. We made an early stop to undercut some of our rivals, and after that, it was a bit quiet until the red flag. At the restart, I gained some positions on turn one, but I made contact with Ricciardo at the second corner, and my car went into anti-stall. I think we got all we could out of this race, especially starting from last, and we ended up so close to the points. Many things happened today, it was quite a crazy race in the end, but we need to be happy as we got to score another point with Kimi, the second race in a row for our team."
More to follow……….
Race Results
| | | | | | |
| --- | --- | --- | --- | --- | --- |
| POS | NO | DRIVER | CAR | LAPS | BEHIND |
| 1 | 11 | Sergio Perez | Red Bull Racing Honda | 51 | +0.000s |
| 2 | 5 | Sebastian Vettel | Aston Martin Mercedes | 51 | +1.385s |
| 3 | 10 | Pierre Gasly | AlphaTauri Honda | 51 | +2.762s |
| 4 | 16 | Charles Leclerc | Ferrari | 51 | +3.828s |
| 5 | 4 | Lando Norris | McLaren Mercedes | 51 | +4.754s |
| 6 | 14 | Fernando Alonso | Alpine Renault | 51 | +6.382s |
| 7 | 22 | Yuki Tsunoda | AlphaTauri Honda | 51 | +6.624s |
| 8 | 55 | Carlos Sainz Jr. | Ferrari | 51 | +7.709s |
| 9 | 3 | Daniel Ricciardo | McLaren Mercedes | 51 | +8.874s |
| 10 | 7 | Kimi Räikkönen | Alfa Romeo Racing Ferrari | 51 | +9.576s |
| 11 | 99 | Antonio Giovinazzi | Alfa Romeo Racing Ferrari | 51 | +10.254s |
| 12 | 77 | Valtteri Bottas | Mercedes | 51 | +11.264s |
| 13 | 47 | Mick Schumacher | Haas Ferrari | 51 | +14.241s |
| 14 | 9 | Nikita Mazepin | Haas Ferrari | 51 | +14.315s |
| 15 | 44 | Lewis Hamilton | Mercedes | 51 | +17.668s |
| 16 | 6 | Nicholas Latifi | Williams Mercedes | 51 | +42.379s |
| 17 | 63 | George Russell | Williams Mercedes | 48 | DNF |
| 18 | 33 | Max Verstappen | Red Bull Racing Honda | 45 | DNF |
| NC | 18 | Lance Stroll | Aston Martin Mercedes | 29 | DNF |
| NC | 31 | Esteban Ocon | Alpine Renault | 3 | DNF |