In Kyle Larson, Rick Hendrick has found his next Jeff Gordon
The similarities are striking.
Both were born in  California.
Both grew up on the dirt tracks of California driving midget and Sprint Cars, learning car control driving front engine cars sideways on dirt.
Both had real success in open wheel dirt track racing early in their careers.
Both won the 24 Hours of Daytona IMSA race, showing they had road racing talent to go along with their oval experience.
After success on the open wheel dirt tracks, both expressed interest in IndyCar, but soon found out they had to buy their ride in IndyCar until they proved themselves, so they decided NASCAR stock cars would be a better career choice.
Both made an immediate impact at Hendrick Motorsports, quickly establishing themselves as the best driver on the team.
Upon joining Hendrick, both became the dominant driver in the NASCAR Cup Series.
Both are small in stature like perhaps the greatest open wheel superstar of all time, Mario Andretti. Don't let their size fool you.
I'm talking about now retired Jeff Gordon and Hendrick Racing's newest superstar, Kyle Larson (pictured above).
Let's examine the similarities in more depth.
Gordon's Early Days
By the age of six Gordon had won 35 main events and set five track records. In 1979 Gordon won 51 quarter midget races. When he was 11, Gordon won all 25 of the karting races he entered. At age 12, Gordon became bored with cars and decided to start a career in waterskiing before switching back to driving one year later. In 1986, Gordon began racing sprint cars, winning three races. The next year, Gordon was awarded a USAC license at age 16, the youngest driver to do so.
In the late 80's, he drove in the World of Outlaws series and picked up some feature wins. He became the youngest driver in the World of Outlaws at the time. He also won races at Bloomington and Eldora Speedways.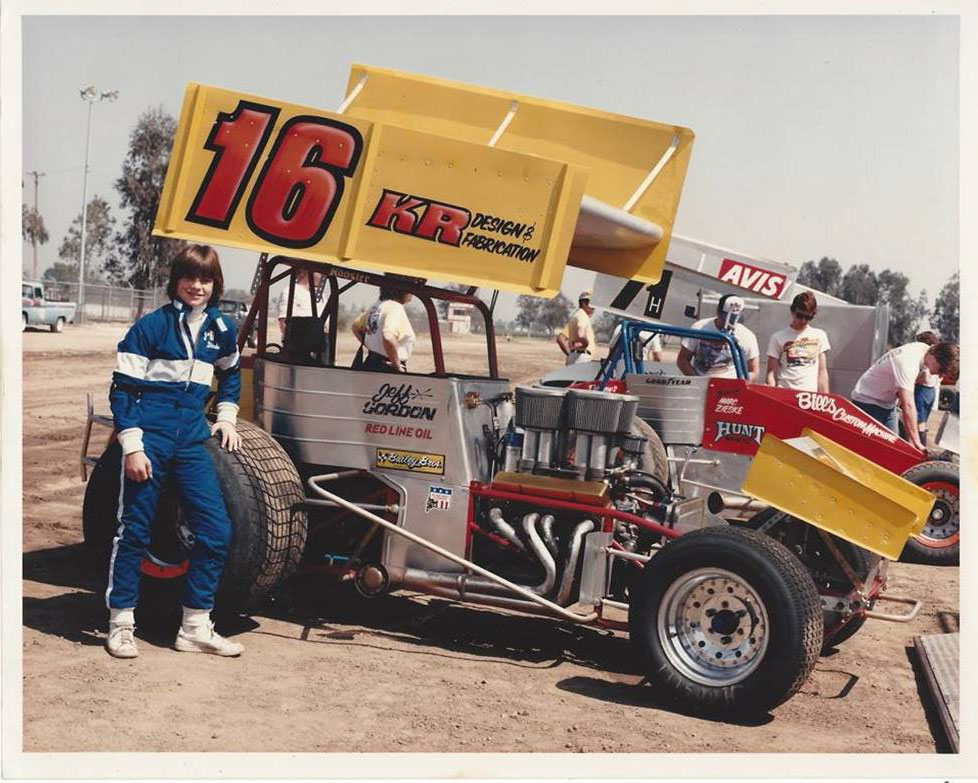 After graduating from high school in 1989, he quickly changed and went to Bloomington to race that night. Before the age of 18, Gordon had already won three short-track races and was awarded USAC Midget Car Racing Rookie of the Year in 1989. That season was highlighted by winning Night Before the 500 midget car race on the day before the Indianapolis 500.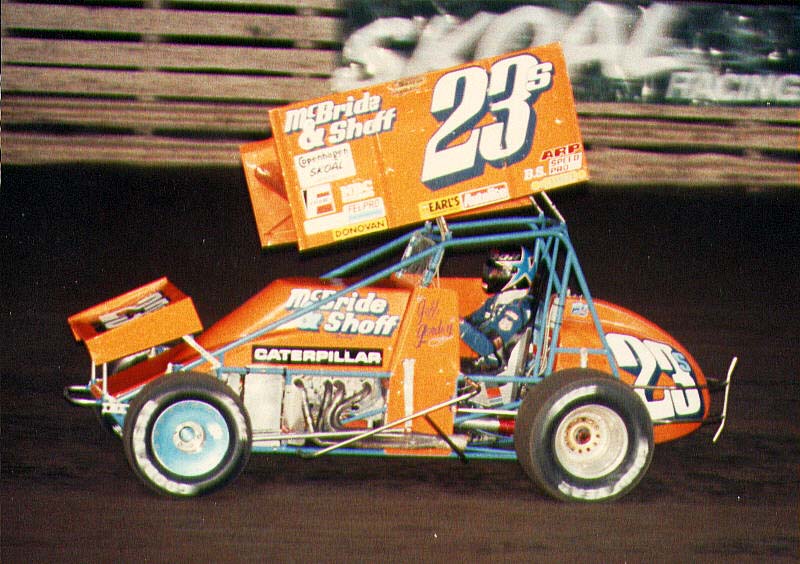 During the decade, Gordon also ran sprint cars in Australia and New Zealand.
In 1990, Gordon won his second consecutive Night Before the 500, the Hut Hundred, and the Belleville Midget Nationals on his way to winning the USAC national Midget title.
In 1991, Gordon captured the USAC Silver Crown, and at the age of 20 became the youngest driver to win the season championship. He also won the 4 Crown Nationals midget car races that season.
Larson's Early Days – very similar to Gordon's
Larson began racing at the age of seven in outlaw karts in Northern California. As a teenager, he raced open-wheel cars, including United States Auto Club (USAC) midget, Silver Crown and sprint cars, competing for Keith Kunz Motorsports and Hoffman Racing with Toyota backing.
During his early career in USAC, a series official gave Larson the nickname "Yung Money" in recognition of his talent. "Yung" instead of 'young' owning to Larson being half Asian.
He also raced in World of Outlaws sprint cars. His first sprint car race win came at Placerville Speedway, where he was one of the youngest drivers to ever compete. He won the 2011 4-Crown Nationals at Eldora Speedway, winning in all three types of USAC cars in a single night, only the second driver in history to accomplish the feat.
He won two Silver Crown races that season and was awarded the series' 2011 Rookie of the Year.

In 2012, he won six USAC National Midget races including the Turkey Night Grand Prix. Even during his stock car career, Larson continued racing open-wheel cars for midweek races in addition to going to New Zealand in some off-seasons to race, winning on a regular basis.
Both started their NASCAR careers with mediocre teams
Gordon's first NASCAR Busch (now Xfinity) race came on October 20, 1990 at North Carolina Motor Speedway in the AC-Delco 200. Gordon drove the No. 67 Outback Steakhouse Pontiac for Hugh Connerty.
In 1991 and 1992, Gordon began racing in the Busch Series full-time, driving Ford Thunderbirds for Bill Davis Racing. In his first year as a Busch driver he won Rookie of the Year. In 1992, Gordon set a NASCAR record by capturing 11 poles in one season. He was sponsored by Carolina Ford Dealers in 1991 and Baby Ruth in 1992.
In 1992, Roush Racing owner Jack Roush planned to sign Gordon for the NASCAR Cup Series, but Gordon's stepfather John Bickford had insisted that Roush hire Ray Evernham as crew chief. When Roush refused, the deal fell apart.  It was the biggest mistake Jack Roush would ever make.
Later in the year,  Gordon made his Winston Cup debut in the season-ending race, the Hooters 500 at Atlanta, for Rick Hendrick.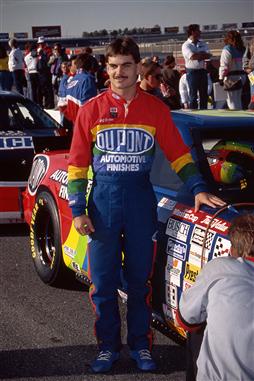 The following year, Gordon began competing full-time in the Winston Cup Series, driving the No. 24 Chevy for Hendrick and by 1995 Gordon had won his first of four NASCAR Cup Championships (1995, 1997, 1998, 2001) driving the No. 24, amassing 93 wins and 81 poles, second only to Richard Petty and David Pearson.
Gordon raced, and beat, regularly, perhaps the greatest NASCAR driver ever – Dale Earnhardt Sr.  On any given Sunday during that era, if you were going to win a NASCAR Cup race you were going to have to go through either Earnhardt or Gordon.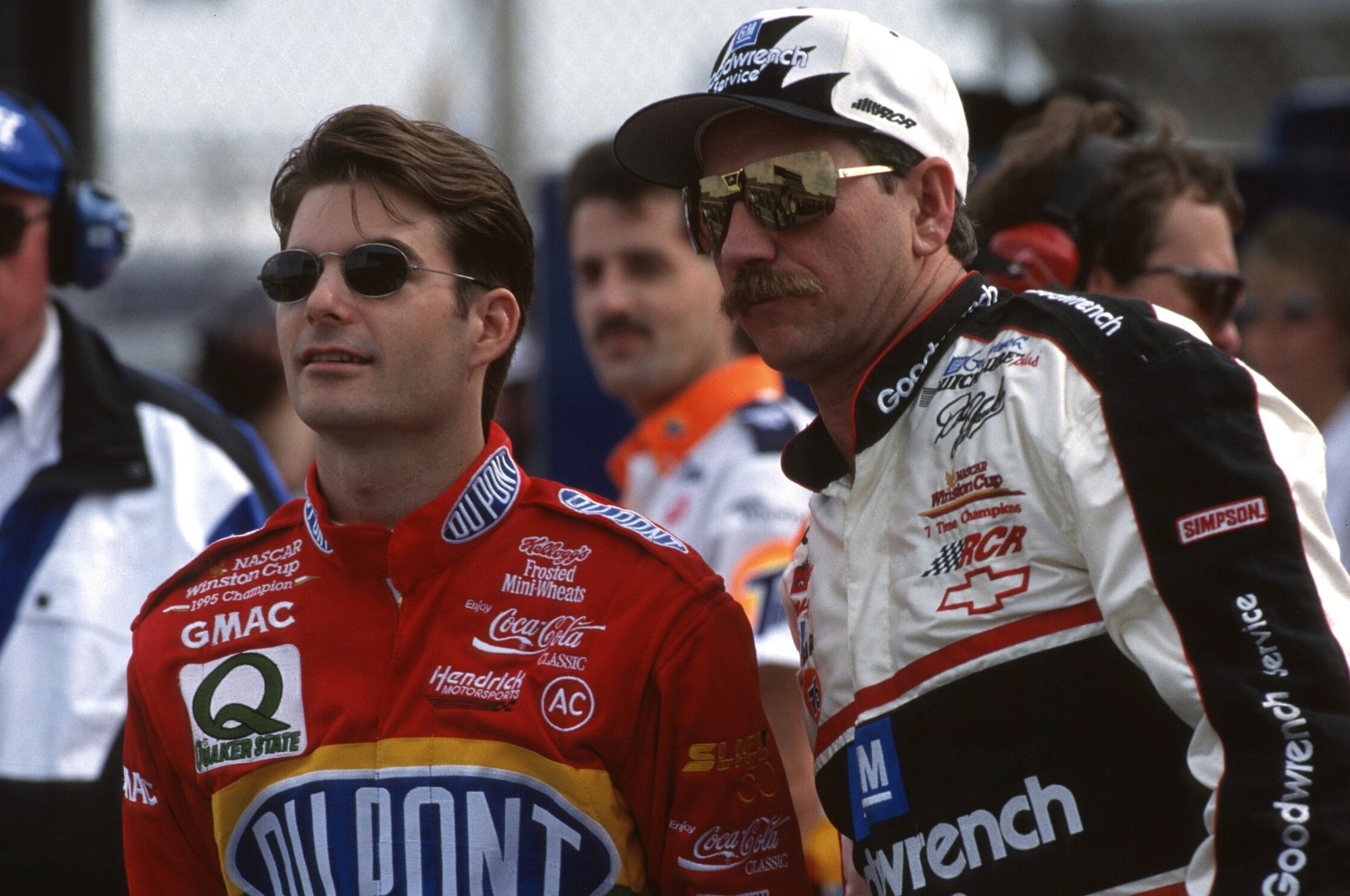 Larson started his NASCAR career in 2012 after being signed by Earnhardt Ganassi Racing (EGR) as part of the team's driver development program. In the early NASCAR years he had success in ARCA, the K&N Pro Series and the NASCAR Truck Series.
In April 2013, Larson won his first Truck Series race at Rockingham Speedway in a close finish with Joey Logano. During the celebration, Larson performed donuts without his steering wheel on, a practice he had acquired when racing go karts. The celebration prompted NASCAR to request him to keep it attached, regarding safety concerns because Larson would not have much control of the truck without the steering wheel.
In 2013, Larson moved full-time to the NASCAR Nationwide Series, driving the No. 32 Chevrolet Camaro for Turner Scott Motorsports.  After a 2nd-place finish at Homestead, Larson won the 2013 NASCAR Nationwide Series Rookie of the Year, becoming the first Asian-American and first Drive for Diversity participant to win a Rookie of the Year Award in one of NASCAR's national touring series. Although a 'minority,' ironically, in 2020 Larson would be fired by Chip Ganassi for a minority racial slur he made while playing a video game. More on that later.
Between 2014 and 2020 Larson had mixed success driving for Chip Ganassi Racing, winning some races but typically over-driving the car in an effort to win. They had their most success together in 2017. Larson took the lead late in the Daytona 500 that year only to run out of gas on the final lap and finished 12th.
Larson would enter the 2017 Playoffs as the second seed tied for the most wins in the regular season with four. During the Playoffs, Larson was able to easily get to the round of 12 after scoring Top 5 finishes at Chicagoland, New Hampshire, and Dover. Unfortunately, Larson would end up being eliminated after the Round of 12 after blowing an engine at Kansas, resulting in a dismal 39th-place finish.
2018 and 2019 produced mixed results for Larson and Ganassi as the Chevy Camaro teams all struggled to make the Camaro fast.  You could see the frustration in Larson's face.  He knew he was carrying the car on his shoulders with limited wins to show for it.
On April 13, 2020, during the Covid pandemic and with real racing suspended, Chip Ganassi racing suspended Larson indefinitely without pay after it became known that during an iRacing event the day before, Larson stated: "You can't hear me? Hey, nigger," believing he had lost communication.
Once the self-righteous 'cancel culture' got a hold of the news, they used social media to do what they do best – cancel Larson's career.
Shortly after Ganassi's announcement, NASCAR also suspended him indefinitely and ordered him to complete sensitivity training before he was allowed to race again.
Then multiple corporations such as McDonald's, Credit One Bank, and Chevrolet also terminated their sponsorship of Larson. 
The following day, Chip Ganassi fired Larson rather than keep him suspended and see how it played out, or moving him to his IndyCar team. It was an impulsive decision by Ganassi, but it turned out to be the best thing Ganassi could have done for Larson.
At the time Larson was devastated – his career now in shambles – A remark made in jest, was used by the Self-Righteous 'Cancel Culture' to destroy his livelihood, and Chip Ganassi drove the final nail in his coffin…..or so he thought.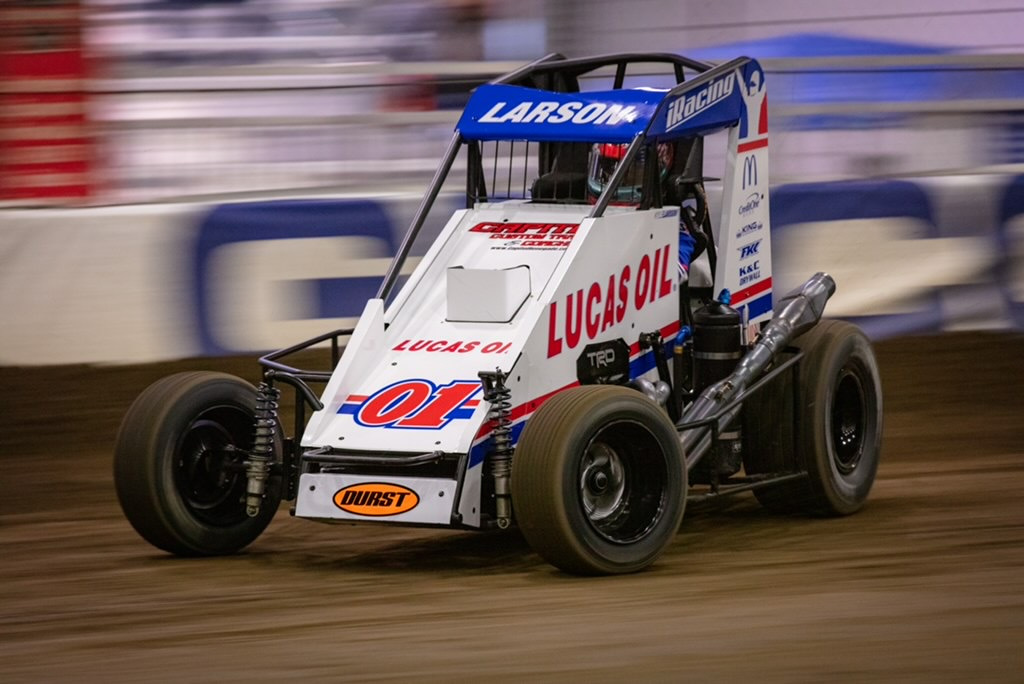 While not able to drive in NASCAR the rest of 2020, Larson focussed on the World of Outlaws and USAC Sprint Cars – winning regularly, 42 times in a shortened season in fact, including the Chili Bowl, and showing to the world he had lost none of his talent.
Later that year, on October 20, after completing sensitivity training, it was announced that NASCAR had reinstated Larson's competition privileges effective January 1, 2021.
Rick Hendrick to the rescue
Rick Hendrick, recognizing Larson's talent, signed him immediately to drive his #5 Cup car, even knowing it would be some time before a sponsor would back Larson. Hendrick was not going to let the talented Larson get away, sponsor or no sponsor. He saw in him what he saw in Jeff Gordon – superstar potential.
It was like déjà vu all over again.
Not signed by Jack Roush because Roush would not also sign Ray Evernham as Gordon's Crew Chief, Jeff Gordon's career was in limbo. In stepped Rick Hendrick who signed Gordon and Evernham almost immediately. He saw in Gordon what he saw in his previous driver Tim Richmond (who died tragically in 1989 from Aides) – superstar potential.
Will Larson be the Superstar that Gordon was?
While it is too early to tell whether Kyle Larson, now with a race car that will stay under him until the end of the race, will amass the same record for Rick Hendrick that Jeff Gordon did, it already seems like he might.
Much like Gordon and his crew chief Ray Evernham were magic together, it would appear that crew chief Cliff Daniels  and Kyle Larson together are magic. They are beginning to dominate the 2020 NASCAR Cup season.
If Larson can continue to build on his performance the past five weeks – three second-place finishes followed by two wins, most laps led and the most stage wins – he will be unstoppable this year.
His performance at Sonoma, especially the improvement he showed in his ability to race there, had his opponents, including his teammates, shaking their heads.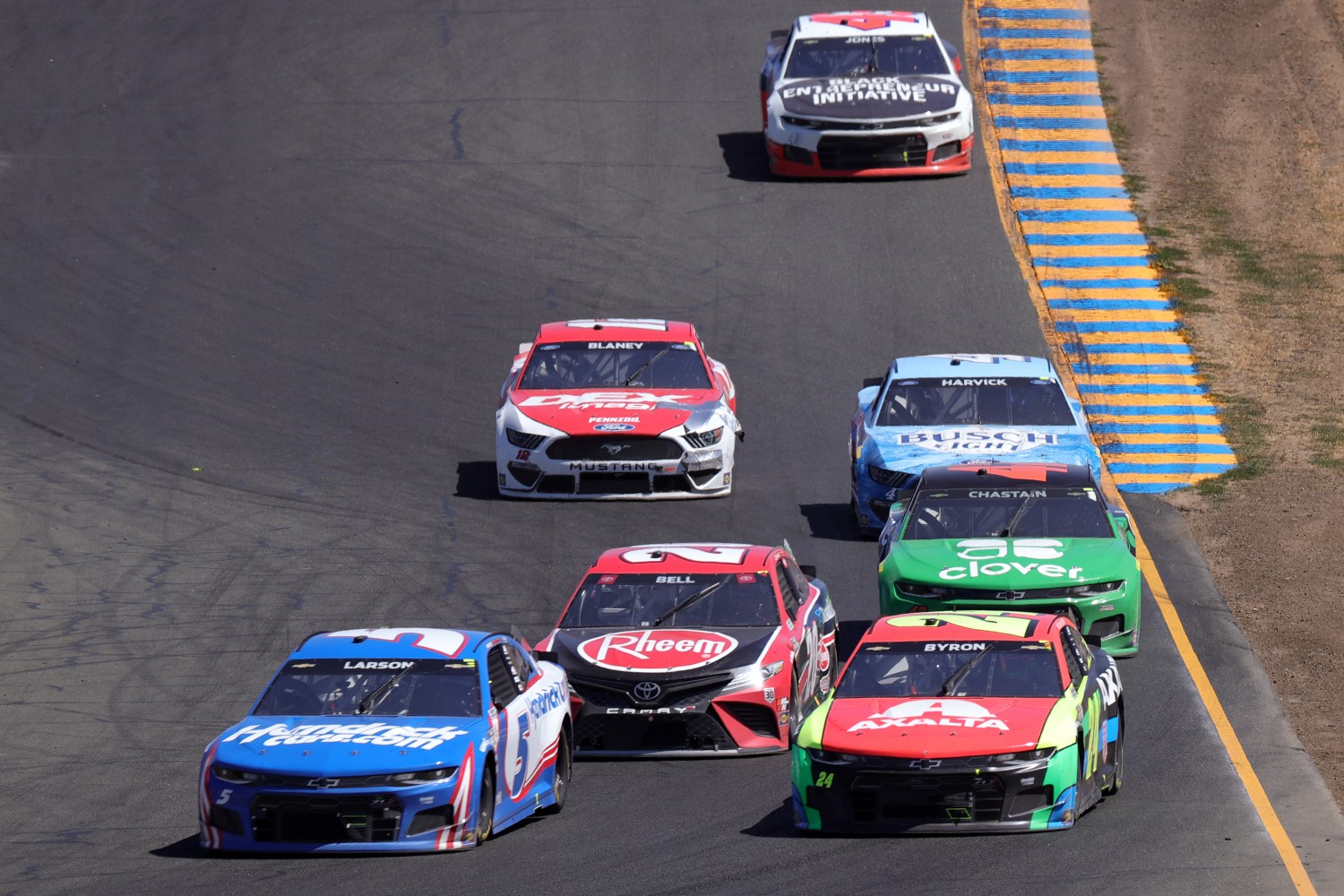 Larson is a generational talent, and his competitors know it.
"A great driver can only do so much in a mediocre car, and vice versa," Penske driver Joey Logano said. "I always think it's 50-50, and now he's got both.
"That's why we're all racing with our tongues hanging out trying to catch him [Larson]."
Luckily for all us observers, Chip Ganassi fired Larson. Now Larson gets to show the world his true potential.
Perhaps pressured by the moronic 'Cancel Culture,' we suspect someday Chip Ganassi will regret the day he impulsively let perhaps the greatest driver (Scott Dixon notwithstanding) he ever signed get away.
Perhaps over a cold beer, Chip and Jack can reminisce about their lost Superstars that got away to Hendrick Motorsports.
Mr. H just can't stop smiling.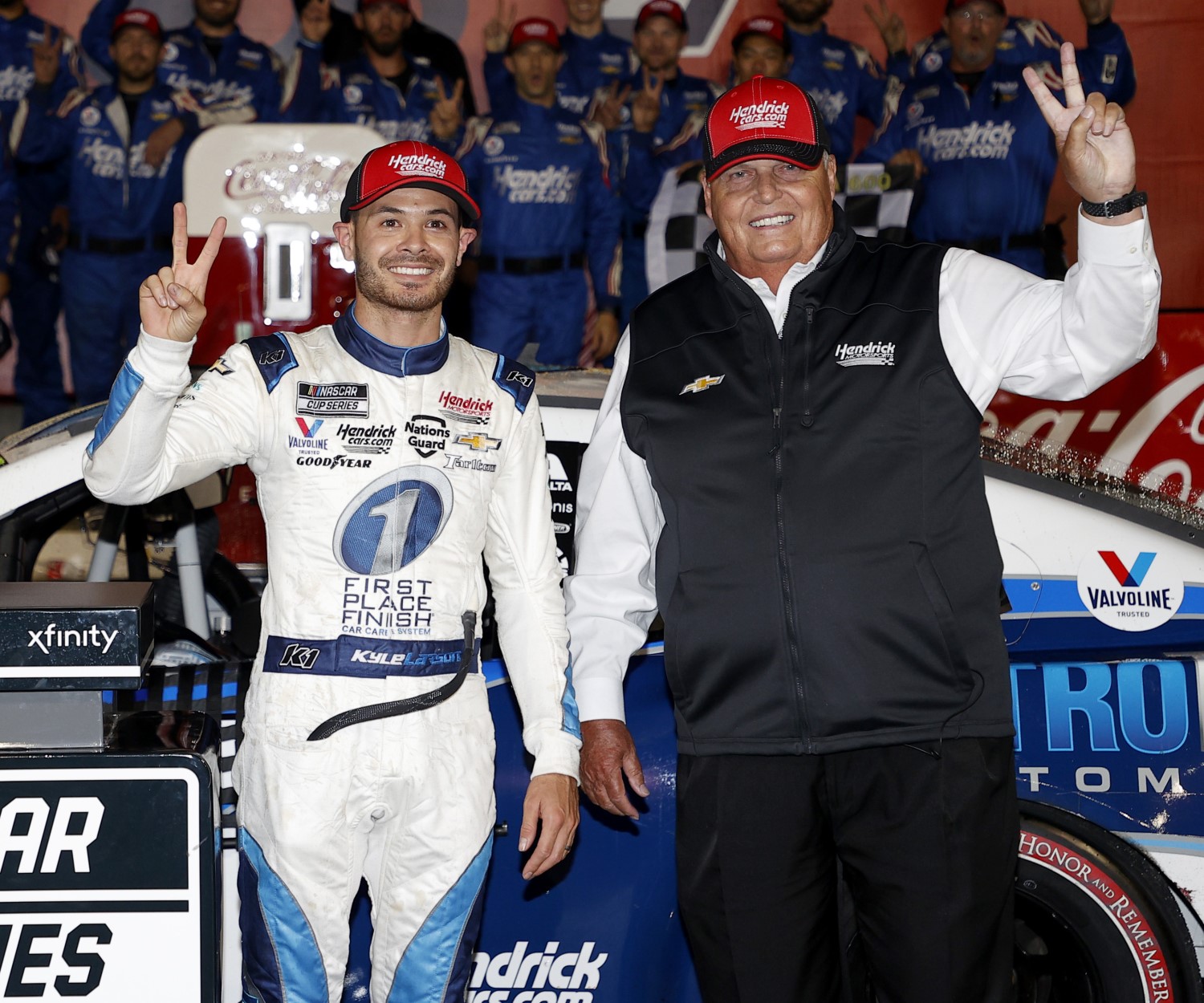 Mark C. reporting for AutoRacing1.com