IndyCar: O'Ward beats Rossi to Detroit GP pole
Arrow McLaren SP Chevy driver Pato O'Ward from Mexico has won the pole for race 1 of the Detroit GP doubleheader with a lap of 1m15.5776s to beat the #27 AutoNation Honda of Alexander Rossi by 0.08s.
Dale Coyne Honda driver Romain Grosjean was third fastest ahead of his teammate Ed Jones, both punching above their weight in the underdog Coyne team.
#2 Chevy driver Josef Newgarden rounded out the top-5 for Team Penske, 0.29s off pole.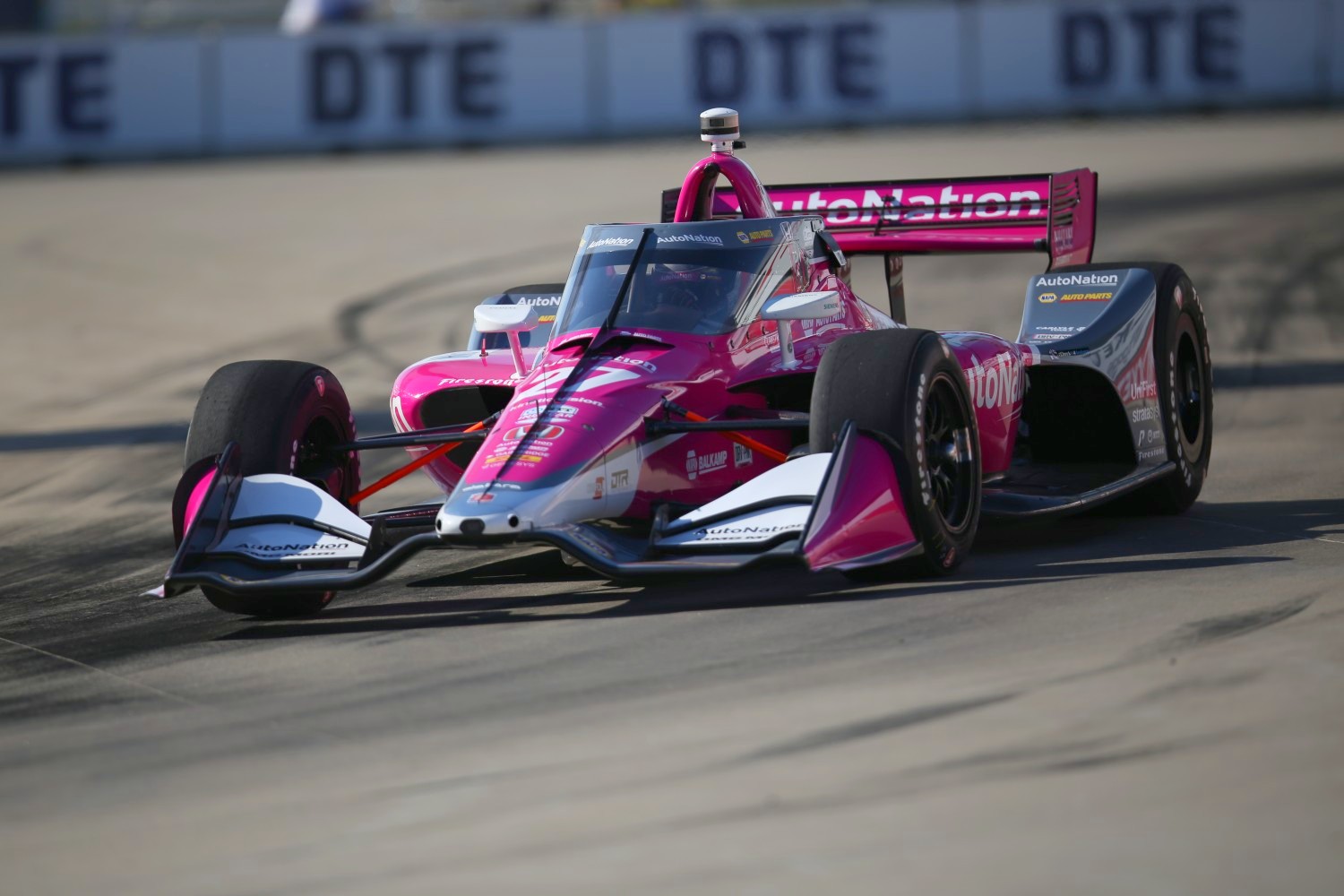 Colton Herta was 6th in the #26 Gainbridge Honda  while Will Power, who was on a fast lap with a chance to take pole, threw it all away when he brushed the wall twice in the #12 Penske Chevy and will start 7th.
Ryan Hunter-Reay, Simon Pagenaud and Sebastien Bourdais rounded out the top-10.
Qualifying Results
| | | | | | | | | |
| --- | --- | --- | --- | --- | --- | --- | --- | --- |
| Pos | No | Name | Time | Diff | Gap | Speed | Engine | Team |
| 1 | 5 | Pato O'Ward | 1:15.5776 | 0.0000s | 0.0000s | 111.938 | Chevy | Arrow McLaren SP |
| 2 | 27 | Alexander Rossi | 1:15.6584 | 0.0808s | 0.0808s | 111.818 | Honda | Andretti Autosport |
| 3 | 51 | Romain Grosjean | 1:15.7433 | 0.1657s | 0.0849s | 111.693 | Honda | Dale Coyne Racing w/Rick Ware Racing |
| 4 | 18 | Ed Jones | 1:15.8119 | 0.2343s | 0.0686s | 111.592 | Honda | Dale Coyne Racing with Vasser Sullivan |
| 5 | 2 | Josef Newgarden | 1:15.8697 | 0.2921s | 0.0578s | 111.507 | Chevy | Team Penske |
| 6 | 26 | Colton Herta | 1:16.0832 | 0.5056s | 0.2135s | 111.194 | Honda | Andretti Autosport |
| 7 | 12 | Will Power | 1:16.0877 | 0.5101s | 0.0045s | 111.187 | Chevy | Team Penske |
| 8 | 28 | Ryan Hunter-Reay | 1:16.1293 | 0.5517s | 0.0416s | 111.127 | Honda | Andretti Autosport |
| 9 | 22 | Simon Pagenaud | 1:16.6606 | 1.0830s | 0.5313s | 110.357 | Chevy | Team Penske |
| 10 | 14 | Sebastien Bourdais | 1:17.4333 | 1.8557s | 0.7727s | 109.255 | Chevy | AJ Foyt Enterprises |
| 11 | 9 | Scott Dixon | 1:17.8680 | 2.2904s | 0.4347s | 108.645 | Honda | Chip Ganassi Racing |
| 12 | 21 | Rinus VeeKay | 1:17.8776 | 2.3000s | 0.0096s | 108.632 | Chevy | Ed Carpenter Racing |
| 13 | 29 | Hinchcliffe, James | 1:17.0691 | Elimination Round 1 / Group 1 | Elimination Round 1 / Group 1 | 109.772 | Honda | Andretti Autosport |
| 14 | 7 | Rosenqvist, Felix | 1:16.4620 | Elimination Round 1 / Group 2 | Elimination Round 1 / Group 2 | 110.643 | Chevy | Arrow McLaren SP |
| 15 | 8 | Ericsson, Marcus | 1:17.1579 | Elimination Round 1 / Group 1 | Elimination Round 1 / Group 1 | 109.645 | Honda | Chip Ganassi Racing |
| 16 | 30 | Sato, Takuma | 01:16.4713 | Elimination Round 1 / Group 2 | Elimination Round 1 / Group 2 | 110.630 | Honda | Rahal Letterman Lanigan Racing |
| 17 | 20 | Daly, Conor | 01:17.2904 | Elimination Round 1 / Group 1 | Elimination Round 1 / Group 1 | 109.457 | Chevy | Ed Carpenter Racing |
| 18 | 59 | Chilton, Max | 01:16.6093 | Elimination Round 1 / Group 2 | Elimination Round 1 / Group 2 | 110.430 | Chevy | Carlin |
| 19 | 60 | Harvey, Jack | 01:17.4180 | Elimination Round 1 / Group 1 | Elimination Round 1 / Group 1 | 109.277 | Honda | Elimination Round 1 / Group 1 |
| 20 | 15 | Rahal, Graham | 01:16.6694 | Elimination Round 1 / Group 2 | Elimination Round 1 / Group 2 | 110.344 | Honda | Rahal Letterman Lanigan Racing |
| 21 | 10 | Palou, Alex | 01:17.5190 | Elimination Round 1 / Group 1 | Elimination Round 1 / Group 1 | 109.135 | Honda | Chip Ganassi Racing |
| 22 | 45 | Ferrucci, Santino | 01:16.6880 | Elimination Round 1 / Group 2 | Elimination Round 1 / Group 2 | 110.317 | Honda | Rahal Letterman Lanigan Racing |
| 23 | 48 | Johnson, Jimmie | 01:19.0944 | Elimination Round 1 / Group 1 | Elimination Round 1 / Group 1 | 106.961 | Honda | Chip Ganassi Racing |
| 24 | 3 | McLaughlin, Scott (R) | 01:17.5569 | Elimination Round 1 / Group 2 | Elimination Round 1 / Group 2 | 109.081 | Chevy | Team Penske |
| 25 | 4 | Kellett, Dalton | 01:19.6697 | Elimination Round 1 / Group 1 | Elimination Round 1 / Group 1 | 106.188 | Chevy | AJ Foyt Enterprises |