IMSA: Magnussen, van der Zande win in Ganassi Cadillac
Chip Ganassi Racing drivers Kevin Magnussen and Renger van der Zande drove the No. 01 Cadillac DPi-V.R to the win in today's running of the WeatherTech Sportscar Championship Chevrolet Sports Car Classic Detroit Grand Prix at Belle Isle Park.
At the drop of the green flag on the 100-minue IMSA WeatherTech race Magnussen had the measure of the field. The Dane was able to keep the 01 Cadillac DPi-V.R in the lead the entire race. Under hot conditions and running the bumpy island circuit he handed the car to Renger Van Der Zande who had to navigate a restart and bring the car home to the checker for the team's first win with the brand.
"I haven't won a race since 2013 and it feels great," Magnussen said. "The whole season we have been fast, but just not getting it to the end. We led a lot of laps this year and finally the right laps. Chip Ganassi Racing had an impressive weekend (referring to the win in IndyCar earlier in the day). I was happy to contribute to that with a win as well.
"Coming here and knowing I was going to be able to fight for wins was a real privilege. To go racing with this awesome car at these awesome tracks with this team is a dream. I feel very fortunate and blessed to be able to do that. To come out of this weekend with the big trophy it's pretty special. I am back in a winning situation and really enjoying it."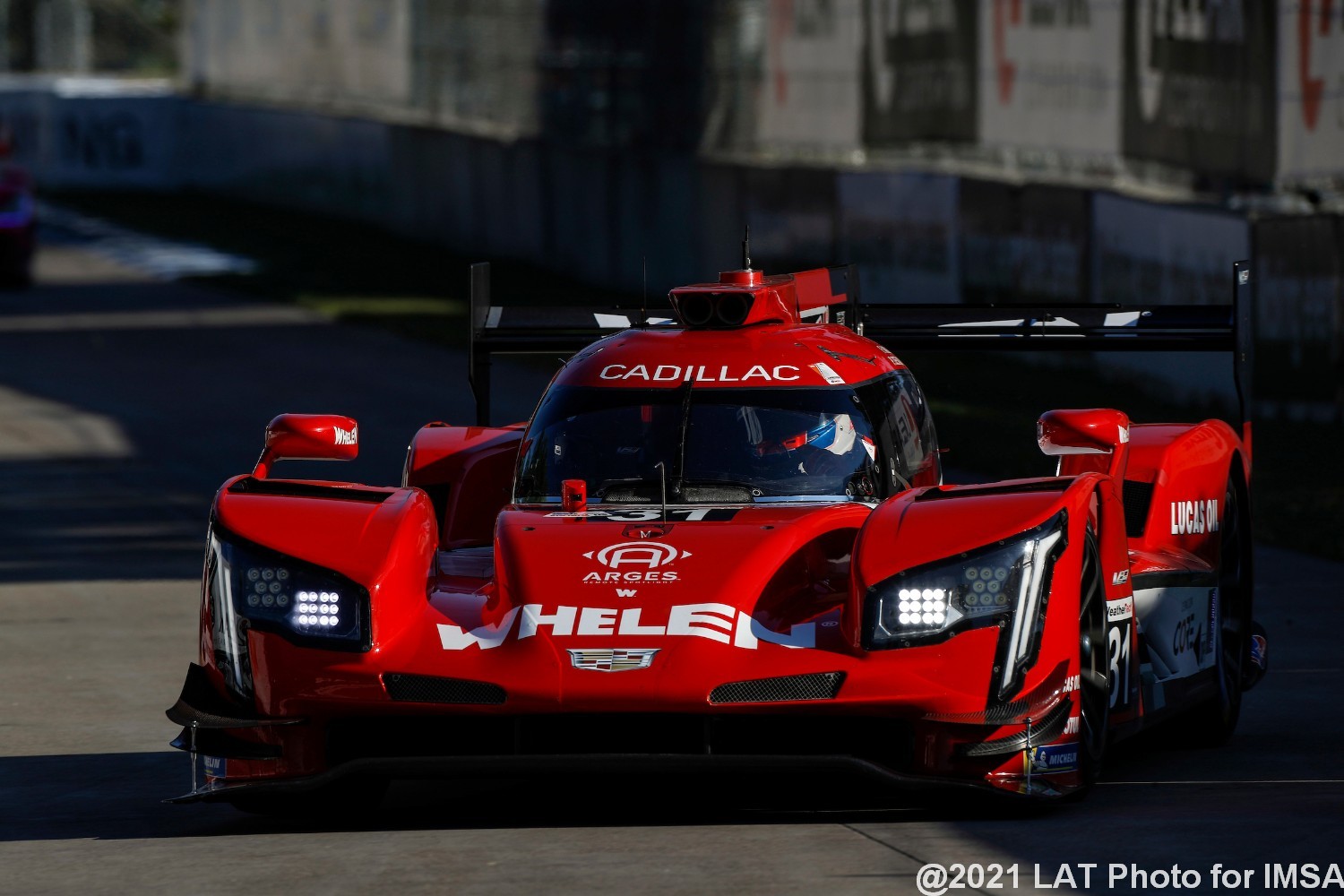 "Having a Brazilian behind you is never easy," van der Zande said. "We controlled the race. Kevin did a mega job in qualifying to get us to the front. We just kept control of it. You have to be lucky at street tracks not having crazy yellows at the wrong time. I think IMSA did a good job giving everyone a chance controlling the yellows. The car was really nice. We had the Cadillac set-up really well. The team gives you a lot of confidence so I can do what I do and that's drive cars fast. The win on the home soil of GM, very proud."
"Obviously a big day for the team," Chip Ganassi, team owner, said. "I don't think it is any secret that this team was put together at the last minute in the fall of 2020. It is really special to have an availability of talent, like the guys to my right, that want to come and drive for you. I couldn't be prouder of these two and the work they put in over the winter. They are the kind of teammates you like to have and the kind of people you want to have in your organization. I think they have a great future in the sport."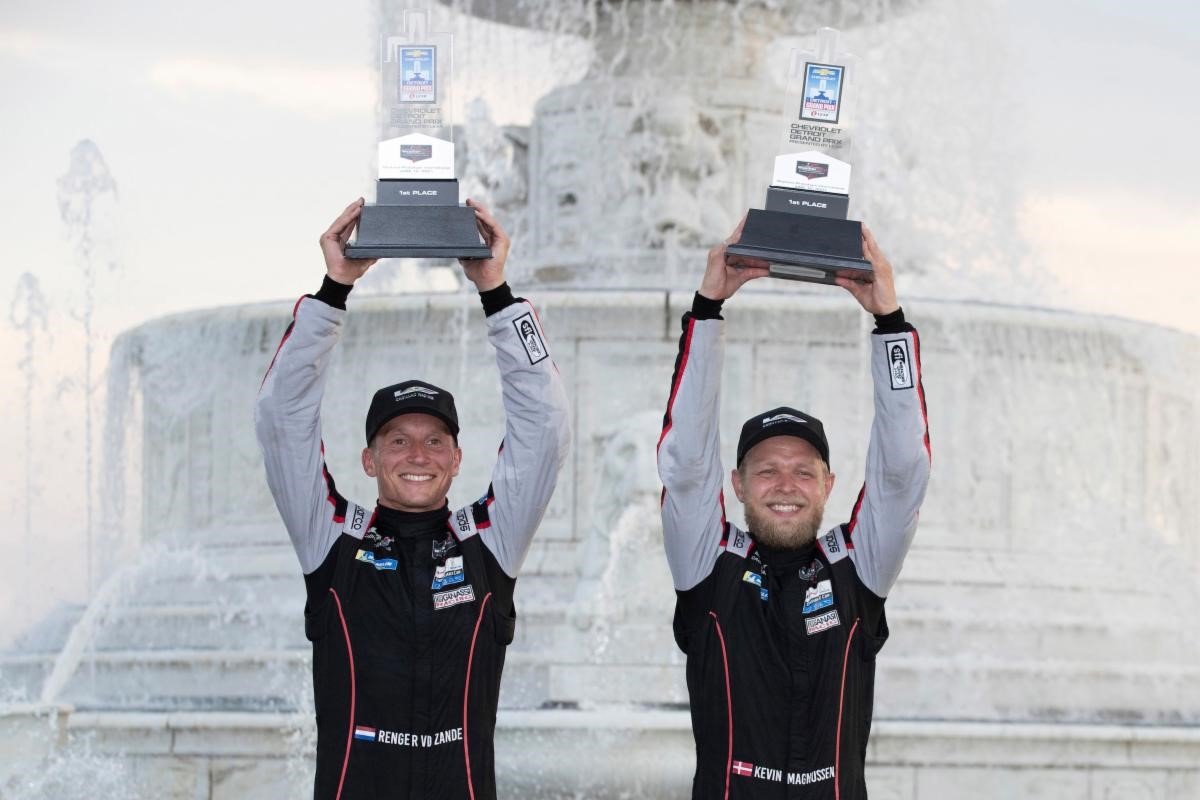 Pipo Derani took the start in the No. 31 Whelen Engineering Cadillac DPi-V.R from third. He was able to drive to second place by the second turn after the green. He put pressure on Magnussen for the lead. Felipe Nasr took over with 47 minutes remaining and followed van der Zande out of the pits for the only stop of the race. He was able to keep the red Cadillac close, but never close enough to attempt a pass.
"I feel like their car [No. 01 Cadillac] was always better on the restarts," Nasr said. "You could see it on Pipo's restart as well. They would make a gap. We seemed to have a better tire on longer stints. But I feel like they were pretty good on the restarts.
"It was a fast-paced race. Although I hate to come in second as a driver, I'm happy for Cadillac because we got a 1-2 finish here in Detroit. We couldn't be here last year. So, it was so great to see the fans and the fans are full of energy. I'm so glad we're able to put it together. Thanks to IMSA and all the sponsors involved. It was awesome to be back here. I simply love this track. But hey, it was good for the points – looking ahead to the Championship. We got back-to-back podium finishes coming off the race at Mid-Ohio. It's pretty satisfying, but at the same time we still have to work."
Tristan Vautier showed the speed of the No. 5 Mustang Sampling Cadillac DPi-V.R racing to third in the first few laps of the race. He was balked by a slower GT car that allowed the Mazda to overtake. Teammate Loic Duval was in a battle during his 47-minute stint to hold off the charging Acura for fifth place.
"It was good," Vautier said. "After yesterday I pushed really hard at the start to shake things off and I was able to get up to P3 at the start. I struggled to keep with the pace of the leaders. The two lead cars were in a league of the their own. A GT car blocked me really bad and allowed the Mazda to get around me. We lost the third spot and that put us a bit on the back foot for the pit sequence. I think the four of us from P3 for P6 were kind of the same. We need to find the pace of the 01 and 31 for the next weekend.
GTLM and GTD
Tommy Milner and Nick Tandy won an all-Chevrolet Corvette C8.R battle in the GT Le Mans (GTLM) category of the Detroit Sports Car Challenge on Saturday at Belle Isle Park.
The duo in the No. 4 Mobil 1/SiriusXM Chevrolet Corvette C8.R beat their Corvette Racing teammates Antonio Garcia and Jordan Taylor by 0.226 seconds in a non-points GTLM round of the IMSA WeatherTech SportsCar Championship.
The two Corvettes made their lone pit stops of the race three laps apart, with Taylor pitting first after 42 minutes. Tandy then stopped with a 55-second lead, and the gap shrank back to a little more than a second with 25 minutes to go with Garcia trying to run down Milner to the end before and after a late-race caution period.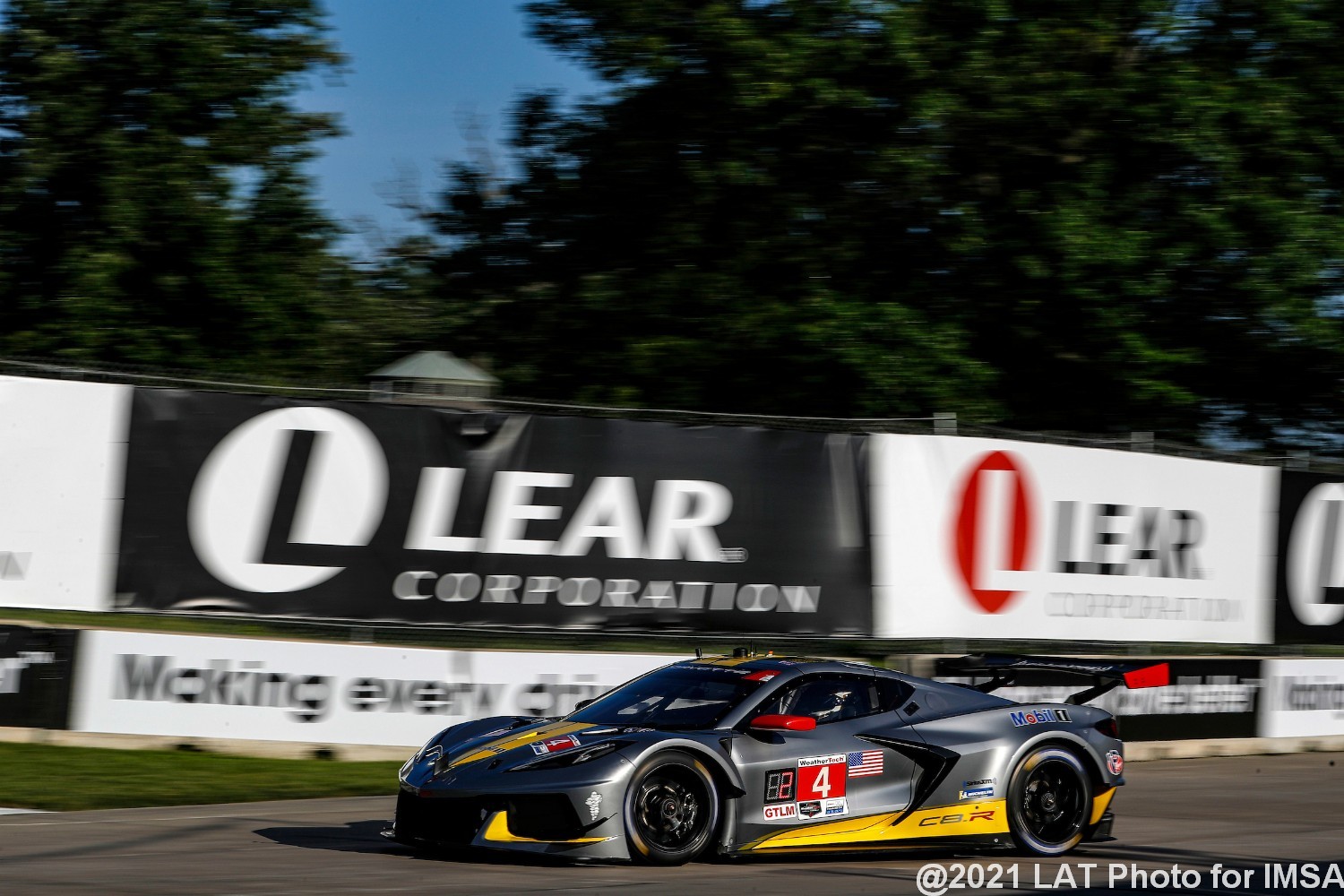 Despite no points being available in GTLM, having Corvette Racing back on Belle Isle was of huge benefit on multiple fronts. For one, the Belle Isle appearance provided an opportunity for the hundreds of Chevrolet production team members who contributed in some way to the C8.R – and the road-going Corvette Stingray – to see Corvette Racing in-person. The reveal of the C8.R nearly 18 months ago was culmination of almost six years of work between all facets of engineers and designers from the Corvette production side and Corvette Racing.
Second, it was Corvette Racing's first IMSA event since March. With a busy stretch coming up in the IMSA championship over the next six weeks – plus the 24 Hours of Le Mans in mid-August – Belle Isle offered up a nice refresher on operations and procedures for the four drivers plus the crews and engineers.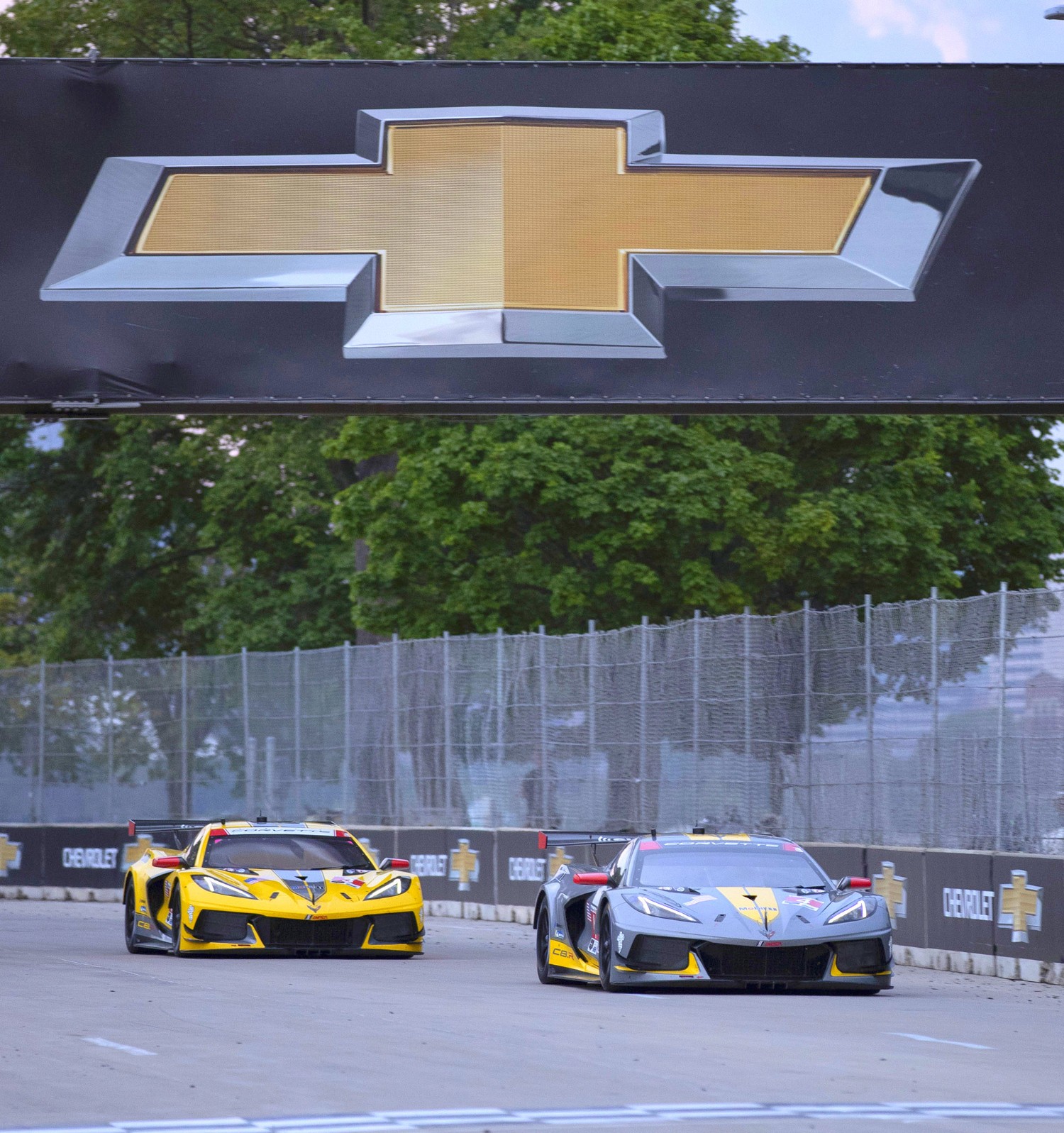 CarBahn with Peregrine Racing scored a breakthrough victory in GT Daytona with Jeff Westpahl and Richard Heistand.
Westphal took the team's No. 39 Audi R8 LMS GT3 Evo to a 5.713-second class win ahead of the No. 23 The Heart of Racing Aston Martin Vantage GT3 of Ross Gunn in second.
TOMMY MILNER, NO. 4 MOBIL 1/SiriusXM CHEVROLET CORVETTE C8.R – GTLM RACE WINNER: "The goal coming here was to keep the cars off the wall and learn as much as we possibly could about the C8.R on a street track. We did that. We did treat this as competition within our team to remain sharp and working through our processes. We did that with no mistakes in the race. We knew having Nick stay out longer than Jordan would help, and it did. There was a little traffic and then the yellow near the end to bunch us up. That gave us a little battle for sure. It was good for us to shake off the cobwebs and get ready for the long haul toward the end of the season.
"Both cars are close as it is, no matter what. We expected a nice little race with the 3 car, which we got there at the start. Our pit strategy put us a little farther ahead and Antonio kind of made it back toward me for a nice little run to the end. I had no radio, which was not the plan! That's about the only thing that went wrong for us this weekend. The crew could give me gaps (on a signboard). But I could see the gap to Antonio and could see he was getting closer. We had the yellow and I knew there were about six of seven laps to go. For us to learn a lot about the car and the tires in those situations is a benefit. It puts us back in a groove again. We've been off for so many weeks. It's good for us as a team to shake the rust off and get our minds back into racing mode again. In some ways, it was a practice race for us before we push on for the last races.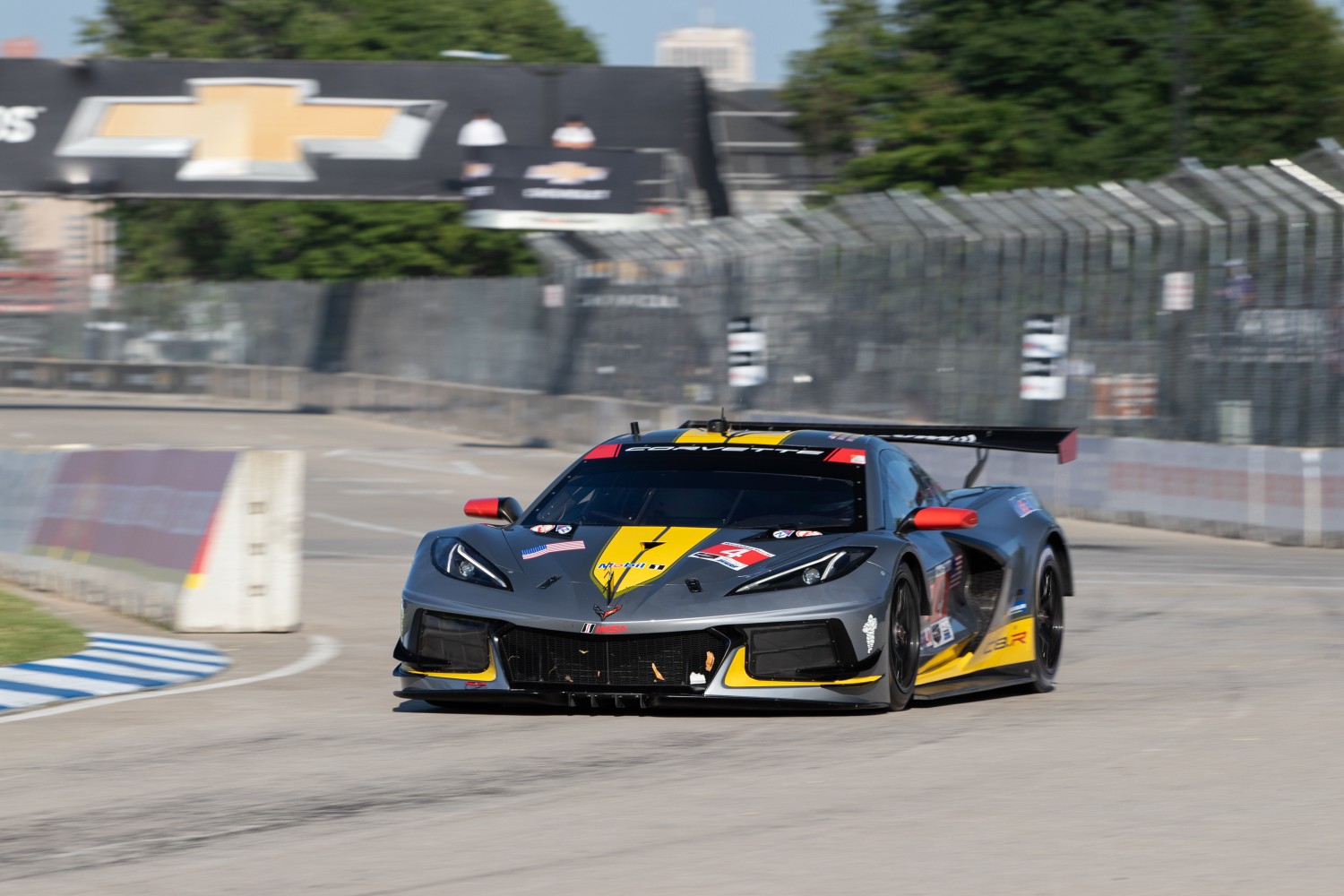 "That was mission No. 1, but the whole point of coming here was to showcase these Corvettes. We haven't been here since 2008, so it's a great opportunity for Corvette Racing to showcase these C8.Rs to the engineers and a lot of the people who work for Corvette Racing and Chevrolet. Their families were able to be here and see these cars. It wasn't just about us driving on the racetrack. It's about giving back to a lot of the people who make this race program what it is. It was an opportunity for them to see the cars up close and experience what these Corvettes are capable of and what they are working toward. Both cars are in one piece. From our perspective, job well done.
The reception of Corvette on Belle Isle: "It's a great opportunity for us as drivers and a team to interact with the many, many people who in some way helped to make these race cars or street cars, or someone else who works for Chevrolet or GM who has a hand in a different model than Corvette. The Corvette is a halo car and America's supercar. It's the pinnacle of what Chevrolet offers. It's a chance to build excitement within those programs and for those engineers to get excited about what they produce.
Fundamentally, this was high on the priority list for coming here and doing this race. We wanted to give them a good experience to see what they're working on and had a hand in some ways so they can show their friends and families what they do. That's what racing for a long time has been about – to showcase the latest and greatest in technologies. They can see the track-to-street correlation to see how close the race cars look compared to the street cars. They can see production parts that they helped build or design that are on the race cars. It's a unique opportunity for GM and Chevrolet, and it's a no-brainer for us to come to this race."
NICK TANDY, NO. 4 MOBIL 1/SiriusXM CHEVROLET CORVETTE C8.R – GTLM RACE WINNER: "Not only did we complete the race and show off this awesome Corvette to everyone in the stands and around the track, but we also got a load of relevant information for the next time we are on a street track. This was the first time we've been on this type of track with the C8.R. What also was pleasing was how the whole weekend went operationally. The whole team was able to get back in the swing of things again before a busy summer. So yes, mission accomplished.
"We had a good race between our cars. The start was interesting. We were three-wide in the kink before the start-finish line, and I was surprised to see this. But it all worked itself out. We learned a lot about what we need out of the car from a street track point of view. This is good. We had a restart with cold tires and it's always fun when you have someone to play with and compete against, so this was good. Between the pair of us, we split strategies a bit; one car pitted early to avoid traffic, and we stayed out in the hope we could build a gap. We could see the differences in these kinds of strategic decisions. This is something that goes into a notebook. Fortunately for me and Tommy and everyone on the 4 Corvette, we get to celebrate in Victory Circle. We'll take it as a victory, and I'm happy to be here."
ANTONIO GARCIA, NO. 3 MOBIL 1/SiriusXM CHEVROLET CORVETTE C8.R – SECOND IN GTLM: "Every time you race, you find things. It's great to now have laps on the C8.R around a street circuit. It's good to do a race for the first time here because there is a lot of data to be collected. We raced hard and tried to get the most out of the Corvette while racing against each other. We proved that we were running fairly quick. I think I left my right-side mirror somewhere on the track! It was cool. It's always to race around a street circuit. Maybe we were missing some competition like we are used to, but it was great to be here in Detroit with all the people who work on and appreciate the Corvette. This has been a highlight weekend for everyone."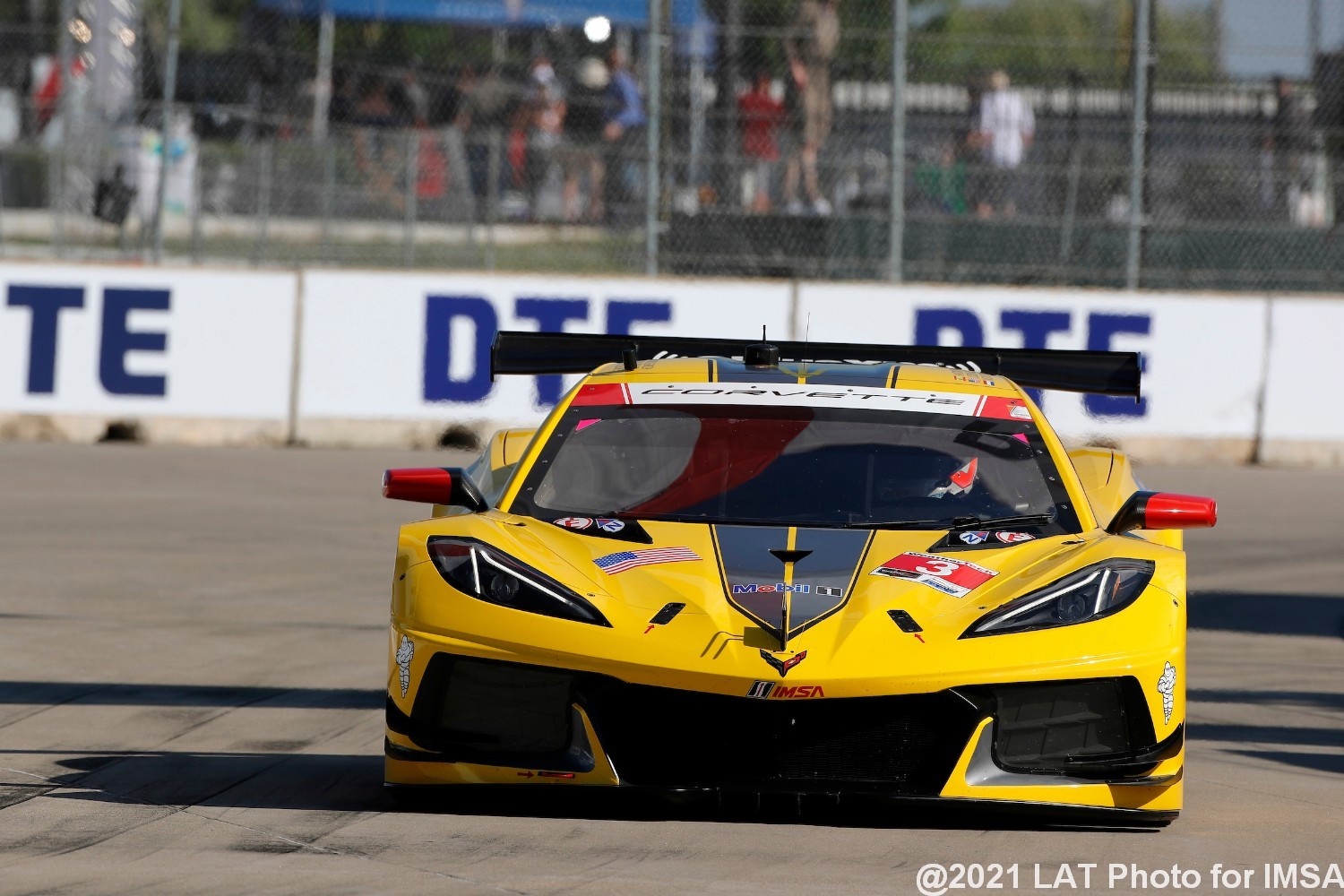 JORDAN TAYLOR, NO. 3 MOBIL 1/SiriusXM CHEVROLET CORVETTE C8.R – SECOND IN GTLM: "It was a good experience. We had some new crew members over the wall for pit stops. We tried some new things on the car to help with reliability. There may to have been points but we learned a lot to take to Long Beach for another street course and of course Le Mans, which is the big one we are preparing for. So yes, a very good day for Corvette Racing."
Results
Pos
No.
Team
Class
Car
Driver 1
Driver 2
Laps
Behind
Gap
1
01
Cadillac Chip Ganassi Racing
DPi
Cadillac DPi
Renger
van der Zande
Kevin
Magnussen
66
–
–
2
31
Whelen Engineering Racing
DPi
Cadillac DPi
Felipe
Nasr
Pipo
Derani
66
+0.573
+0.573
3
10
Konica Minolta Acura ARX-05
DPi
Acura DPi
Ricky
Taylor
Filipe
Albuquerque
66
+4.028
+3.455
4
55
Mazda Motorsports
DPi
Mazda DPi
Oliver
Jarvis
Harry
Tincknell
66
+4.876
+0.848
5
5
Mustang Sampling / JDC-Miller MotorSports
DPi
Cadillac DPi
Tristan
Vautier
Loic
Duval
66
+5.182
+0.306
6
60
Meyer Shank Racing w/Curb-Agajanian
DPi
Acura DPi
Dane
Cameron
Olivier
Pla
66
+5.425
+0.243
7
4
Corvette Racing
GTLM
Chevrolet Corvette C8.R
Tommy
Milner
Nick
Tandy
63
3 Laps
3 Laps
8
3
Corvette Racing
GTLM
Chevrolet Corvette C8.R
Antonio
Garcia
Jordan
Taylor
63
3 Laps
+0.226
9
39
CarBahn with Peregrine Racing
GTD
Audi R8 LMS GT3
Richard
Heistand
Jeff
Westphal
62
4 Laps
1 Lap
10
23
Heart Of Racing Team
GTD
Aston Martin Vantage GT3
Roman
De Angelis
Ross
Gunn
62
4 Laps
+5.713
11
19
GRT Grasser Racing Team
GTD
Lamborghini Huracan GT3
Misha
Goikhberg
Marco
Mapelli
62
4 Laps
+3.730
12
66
Gradient Racing
GTD
Acura NSX GT3
Till
Bechtolsheimer
Marc
Miller
62
4 Laps
+1.551
13
14
Vasser Sullivan
GTD
Lexus RC F GT3
Aaron
Telitz
Jack
Hawksworth
62
4 Laps
+0.579
14
12
Vasser Sullivan
GTD
Lexus RC F GT3
Frankie
Montecalvo
Townsend
Bell
62
4 Laps
+0.866
15
1
Paul Miller Racing
GTD
Lamborghini Huracan GT3
Bryan
Sellers
Madison
Snow
62
4 Laps
+5.146
16
75
Sun Energy 1
GTD
Mercedes-AMG GT3
Kenny
Habul
Mikael
Grenier
62
4 Laps
+4.501
17
96
Turner Motorsport
GTD
BMW M6 GT3
Bill
Auberlen
Robby
Foley
55
11 Laps
7 Laps
18
76
Compass Racing
GTD
Acura NSX GT3
Jeff
Kingsley
Mario
Farnbacher
50
16 Laps
5 Laps
19
28
Alegra Motorsports
GTD
Mercedes-AMG GT3
Daniel
Morad
Michael
de Quesada
28
38 Laps
22 Laps
20
88
Team Hardpoint EBM
GTD
Porsche 911 GT3R
Rob
Ferriol
Katherine
Legge
3
63 Laps
25 Laps