IndyCar: Newgarden blitzes Belle Isle for Detroit Race 2 pole
Team Penske's Josef Newgarden turned a blistering lap of 1m14.1094s to win the pole position in his #2 Chevy by a comfortable 0.32s.
Colton Herta will start 2nd with a lap of 1m14.43s in his #26 Gainbridge Honda.
Rinus Veekay, who was a contender to win Saturday, was 3rd quick in his Ed Carpenter Chevy.
Alex Palou was 4th in the 2nd Ganassi Honda, while Romain Grosjean rounded out the top-5 for Dale Coyne Racing.
Scott Dixon will start 6th in his #9 PNC Honda.
Alexander Rossi, running near the top of the charts early in the session, ended up 1.24s off the pace when it counted in the #27 AutoNation Honda.
Right at the end of the session Santino Ferrucci, who was trying to snatch pole, crashed his #45 RLL Honda.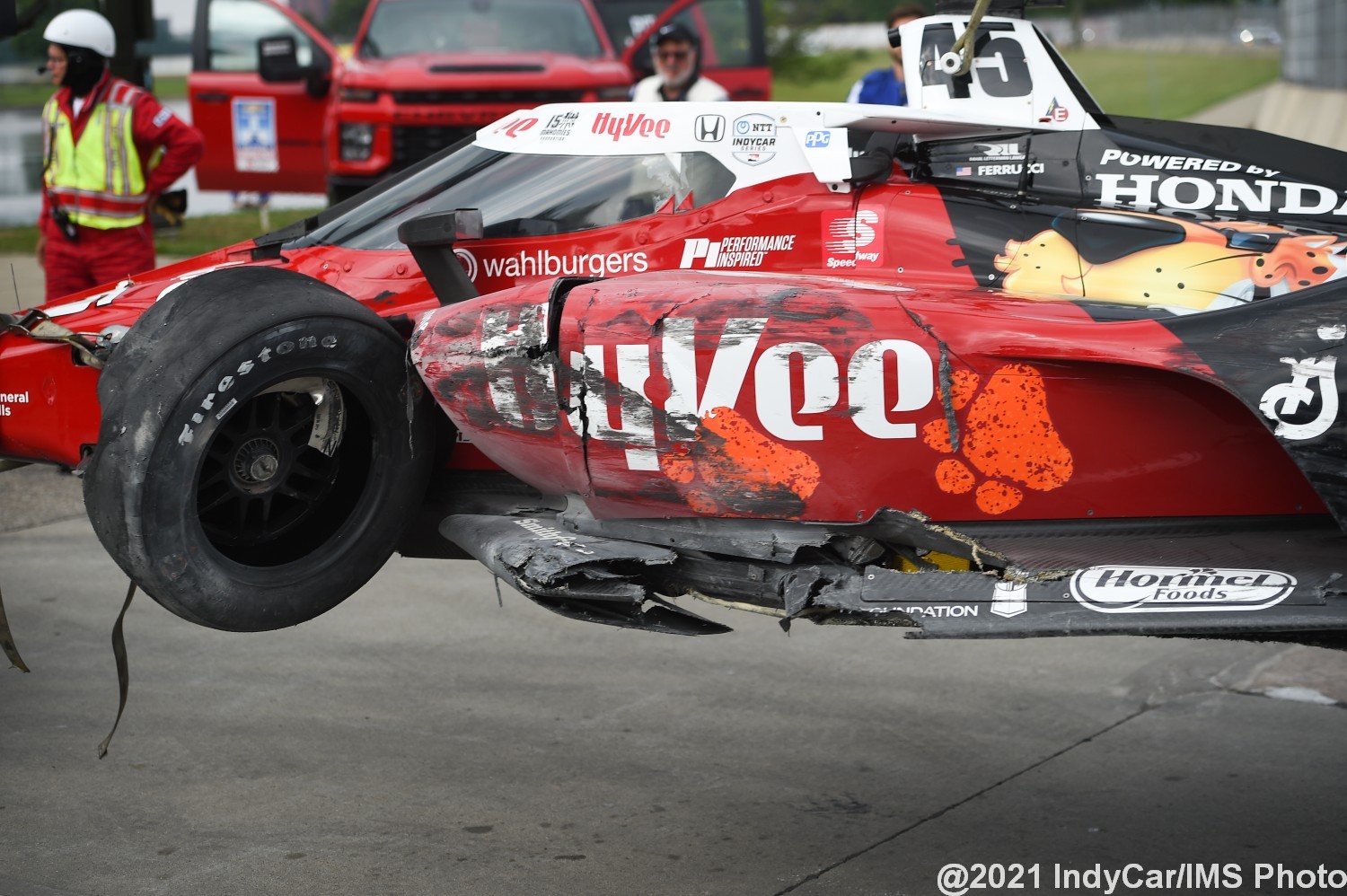 7-time NASCAR champion Jimmie Johnson was dead last, almost 4-seconds off the pace and again out to lunch. He'll be a moving chicane in the race.
Detroit Race 2 Lineup
| | | | | | | |
| --- | --- | --- | --- | --- | --- | --- |
| Pos | No. | Driver Name | Time | Speed | Engine | Session |
| 1 | 2 | Newgarden, Josef | 1:14.1094 | 114.156 | Chevy | Elimination Round 2 / Top 12 |
| 2 | 26 | Herta, Colton | 1:14.4300 | 113.664 | Honda | Elimination Round 2 / Top 12 |
| 3 | 21 | VeeKay, Rinus | 1:14.8180 | 113.074 | Chevy | Elimination Round 2 / Top 12 |
| 4 | 10 | Palou, Alex | 1:14.8432 | 113.036 | Honda | Elimination Round 2 / Top 12 |
| 5 | 51 | Grosjean, Romain (R) | 1:14.9060 | 112.942 | Honda | Elimination Round 2 / Top 12 |
| 6 | 9 | Dixon, Scott | 1:14.9231 | 112.916 | Honda | Elimination Round 2 / Top 12 |
| 7 | 27 | Rossi, Alexander | 1:15.3524 | 112.272 | Honda | Elimination Round 2 / Top 12 |
| 8 | 20 | Daly, Conor | 1:15.4162 | 112.177 | Chevy | Elimination Round 2 / Top 12 |
| 9 | 15 | Rahal, Graham | 1:15.4187 | 112.174 | Honda | Elimination Round 2 / Top 12 |
| 10 | 22 | Pagenaud, Simon | 1:15.5294 | 112.009 | Chevy | Elimination Round 2 / Top 12 |
| 11 | 18 | Jones, Ed | 1:15.9478 | 111.392 | Honda | Elimination Round 2 / Top 12 |
| 12 | 45 | Ferrucci, Santino | 1:16.1146 | 111.148 | Honda | Elimination Round 2 / Top 12 |
| 13 | 14 | Bourdais, Sebastien | 1:16.5387 | 110.532 | Chevy | Elimination Round 1 / Group 1 |
| 14 | 29 | Hinchcliffe, James | 1:15.9533 | 111.384 | Honda | Elimination Round 1 / Group 2 |
| 15 | 59 | Chilton, Max | 1:16.6085 | 110.432 | Chevy | Elimination Round 1 / Group 1 |
| 16 | 5 | O'Ward, Pato | 1:16.0805 | 111.198 | Chevy | Elimination Round 1 / Group 2 |
| 17 | 28 | Hunter-Reay, Ryan | 1:16.6456 | 110.378 | Honda | Elimination Round 1 / Group 1 |
| 18 | 60 | Harvey, Jack | 1:16.1356 | 111.118 | Honda | Elimination Round 1 / Group 2 |
| 19 | 30 | Sato, Takuma | 1:16.8947 | 110.021 | Honda | Elimination Round 1 / Group 1 |
| 20 | 12 | Power, Will | 1:16.4386 | 110.677 | Chevy | Elimination Round 1 / Group 2 |
| 21 | 3 | McLaughlin, Scott (R) | 1:17.1815 | 109.612 | Chevy | Elimination Round 1 / Group 1 |
| 22 | 8 | Ericsson, Marcus | 1:16.5514 | 110.514 | Honda | Elimination Round 1 / Group 2 |
| 23 | 7 | Askew, Oliver | 1:19.1486 | 106.888 | Chevy | Elimination Round 1 / Group 1 |
| 24 | 4 | Kellett, Dalton | 1:16.5805 | 110.472 | Chevy | Elimination Round 1 / Group 2 |
| 25 | 48 | Johnson, Jimmie | 1:17.9838 | 108.484 | Honda | Elimination Round 1 / Group 2 |