IndyCar: Detroit GP Postscript
In case you missed it, I published an article Monday about the Felix Rosenqvist crash this past Saturday in Detroit. To briefly summarize, while we should applaud the safety systems that allowed Rosenqvist to escape with relatively minor injuries, there were concerns that arose from the accident. Specifically, the fact the concrete wall behind the tire barrier came down in the crash should be investigated. Concrete barriers are meant to be final barriers, and are built with the protection of spectators, race safety personnel, and media in mind. They should be impenetrable. Always.
Of course, there were numerous other stories that arose from this weekend's Chevrolet Detroit Grand Prix presented by Lear. And let's start with the wild conclusion to Saturday's race.
Red Flag
As you likely know, a Romain Grosjean crash with 5 laps remaining Saturday brought out something of a surprise red flag. I use the word surprise because the accident seemed relatively minor and probably could have been cleaned up under caution for a restart with two laps remaining. Nevertheless, the red flag was shown, and then things got a little hairy.
Specifically, leader Will Power was unable to restart the No. 12 Verizon 5G Chevrolet when the red flag period ended. Now, why exactly 20 or so other cars restarted and Power did not, is an interesting question. Clearly, Power was agitated during the red flag and concerned about his ECU overheating under the red flag. After the race, the frustrated Aussie ripped the series' for failing to get a fan on his car in a timely fashion during the red flag.
"I'm mad at INDYCAR because I'm the first car in, and they wait for the last car to come to get a fan on that car, and it roasts the ECU," said Power, who went on to rip the series for throwing the red flag in the first place.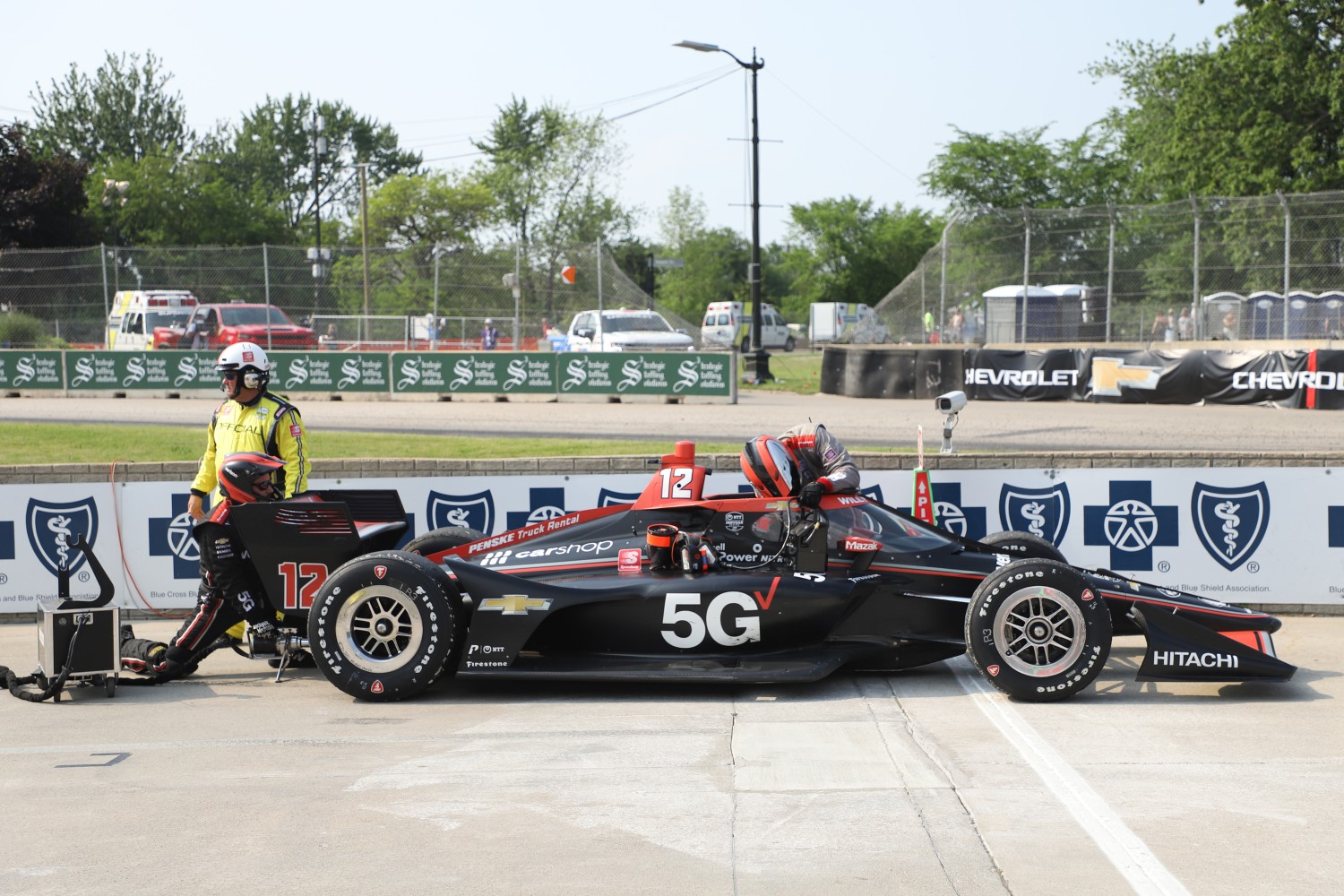 Following the race, Team Penske reiterated that it was an ECU which caused Power's retirement, but held back from taking aim at the series, which of course is owned by their organization.
Will Power and the No. 12 Verizon 5G Chevrolet started the first of two races of the Chevrolet Detroit Grand Prix at Belle Isle from the seventh position and was a top contender all afternoon. An unfortunate ECU problem under a late-race red flag ultimately ended his chances of winning.
Further inquiry by Team Penske was outlined in a Racer.com article that appeared Tuesday. I won't rehash the entire article but Team Penske managing director Ron Ruzewksi told Racer that the issue was not heat-related as Power indicated. Rather, the issue stemmed from the Cosworth Intelligent Power System tripping the ECU into "boot mode," as the systems got confused with an unexpected stopping of the car and restart.
Now, let's be fair to Power by noting that his initial diagnosis of the ECU overheating being incorrect does not dismiss his assertion that the series mishandled the end of the race. In other words, while it appears true that the ECU didn't overheat, it is likewise true that had there been no red flag Power would not have encountered the issue he did. And his agitation on the radio when he came to a stop turned out to be prescient, in that he sensed there would be an issue with getting the car restarted.
While I understand and sympathize with Power's frustration, I've written for years in this space, that INDYCAR should make every reasonable effort possible to end races under green flag conditions. That's not to say the series should resort to a NASCAR Overtime procedure, which makes the race distance a moving target. However, racing is entertainment and the audience wants to see a race to the finish. The goal should be to give them that. For whatever reason, INDYCAR made the determination that the red flag created the best chance for that Saturday.
So, when you combine the fact that the problem on Power's car was unexpected and that the series should make every effort to finish under green, I think you have to chalk this up as well, shitty luck. It had to be gut-wrenching for Power, and I blame him not the least bit at all for the frustration he expressed. But in the absence of the problem being foreseeable, which Ruzewski seemed to indicate was not the case, I don't really know what else could have been done.
Ericsson
Power's misfortune certainly distracted some from Marcus Ericsson's first career win. Ericsson has shown flashes of potential in his brief IndyCar career, without dazzling if you will. I see his win as more of a further indication of what I wrote following Alex Palou's win at Barber: Chip Ganassi Racing is firing on all cylinders at the moment.
Whereas, in previous years, CGR has largely been carried by Scott Dixon, the team seems to have more bullets in the chamber. And that hasn't been the case for Ganassi in some time.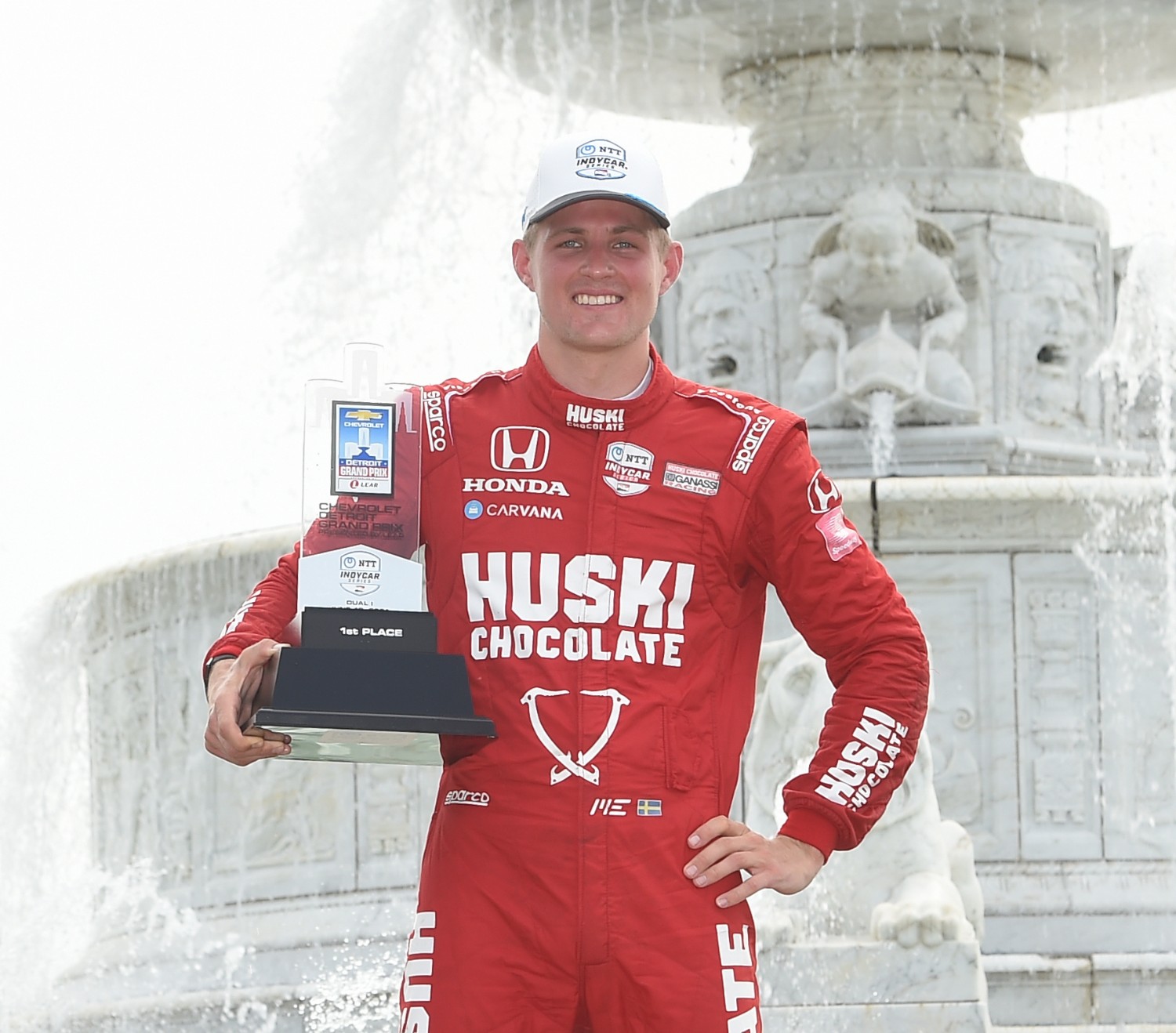 O'Ward
"Pato is special," was the text I received on lap 68 of Sunday's race, when Patricio O'Ward took the lead from Josef Newgarden.
"Your gosh darn right, he is," was my reply.
The 22-year-old Mexican was running sixth on lap 58, when he passed Dixon on the restart following the caution for Jimmie Johnson's spin. After another caution, O'Ward passed Graham Rahal, Alex Palou, Colton Herta, and Newgarden all in succession to take his second career win. So to summarize, O'Ward passed five cars to go from sixth to the lead in the final 12 laps on a street course. There was no attrition. All the cars that O'Ward passed finished the race.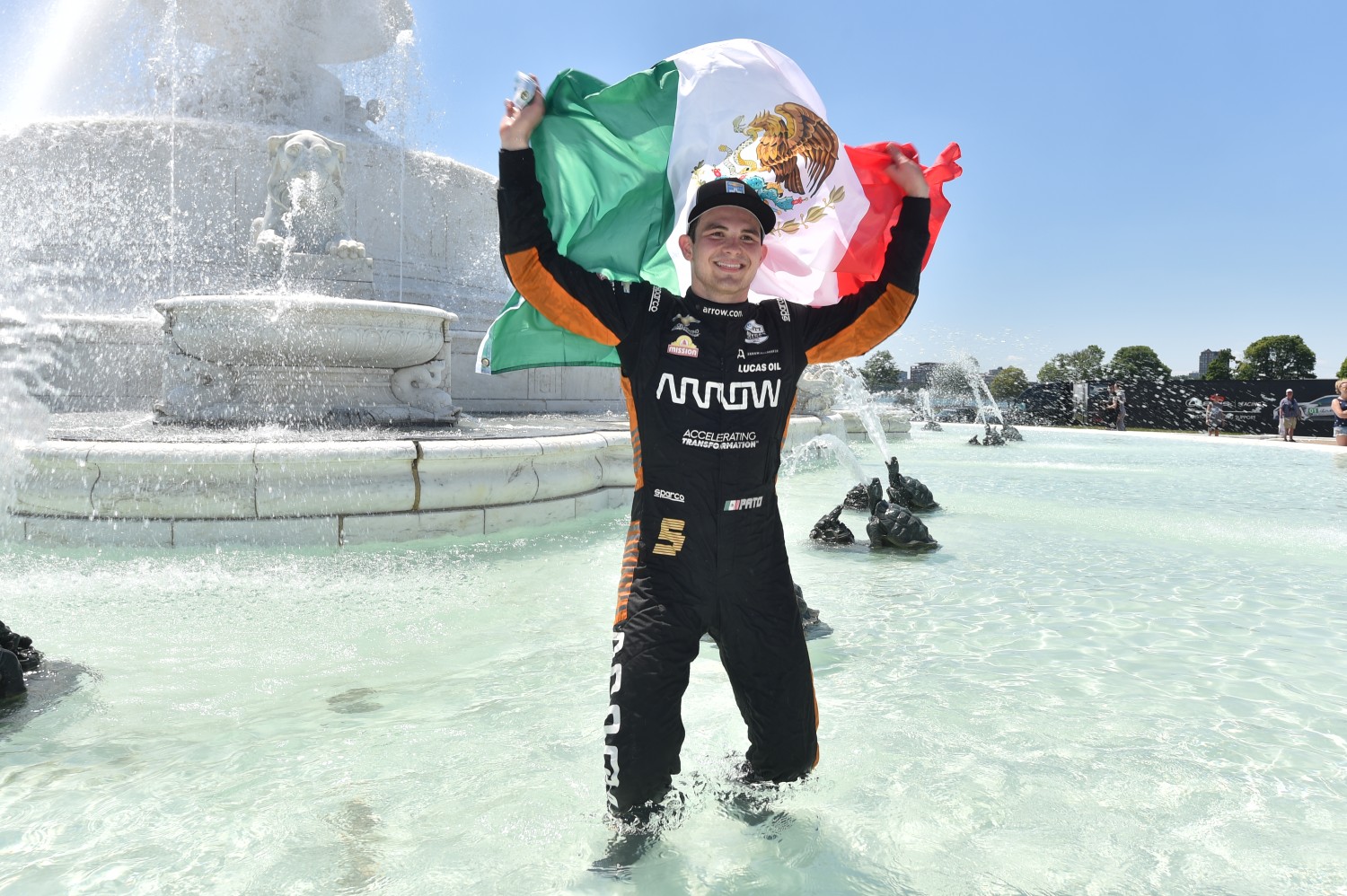 I can't recall ever seeing such a performance on a street course.

Seemingly, key to O'Ward's performance was his ability to get temperature into his Firestone tires following the restarts, something both Herta and Rahal noted in post-race interviews. I found it interesting that both drivers made the same comment but I suppose that is a difference discussion for a different day.
At this very moment, no one in my opinion is driving Indy cars as well as Patricio O'Ward. Keep in mind, he started Sunday's race 16th after a disappointing qualifying. Furthermore, we have to wonder if Formula One is potentially in the future for the current series points leader.
Given that Roger Penske owns the series and has such a large financial stake in the future of IndyCar, I have to wonder if The Captain will move sooner rather than later on O'Ward. Obviously, signing O'Ward would net Penske the best driver currently in the series, but it would also take a potential Formula One future off the table. And if IndyCar has any designs on expanding its foothold into Mexico, O'Ward is not a luxury, but a must.
O'Ward's future is a story that in my view has not gotten enough attention. He is to my knowledge,  signed with AMSP only through this season. With a Formula One test coming in November, and O'Ward's future uncertain, IndyCar does not want to let him even think about walking out the door. The time for Penske to secure his services for the foreseeable future needs to be sooner rather than later. And while people will say Penske doesn't have room, my response is simple: this is one of those times when you make room.
Jimmie Johnson
I have nothing scientific to make the following claim. However, I was watching the lap times pretty closely during Sunday's race, and before his late race spin, it seemed Jimmie Johnson was much more competitive than he had been in prior races. Part of this could have been that Detroit was the first track Johnson got a second look at with the doubleheader. Part of it could be a general improvement.
Anyway, it will be interesting to see this weekend's race at Road America if Johnson can build on his improved form from race 2 in Detroit.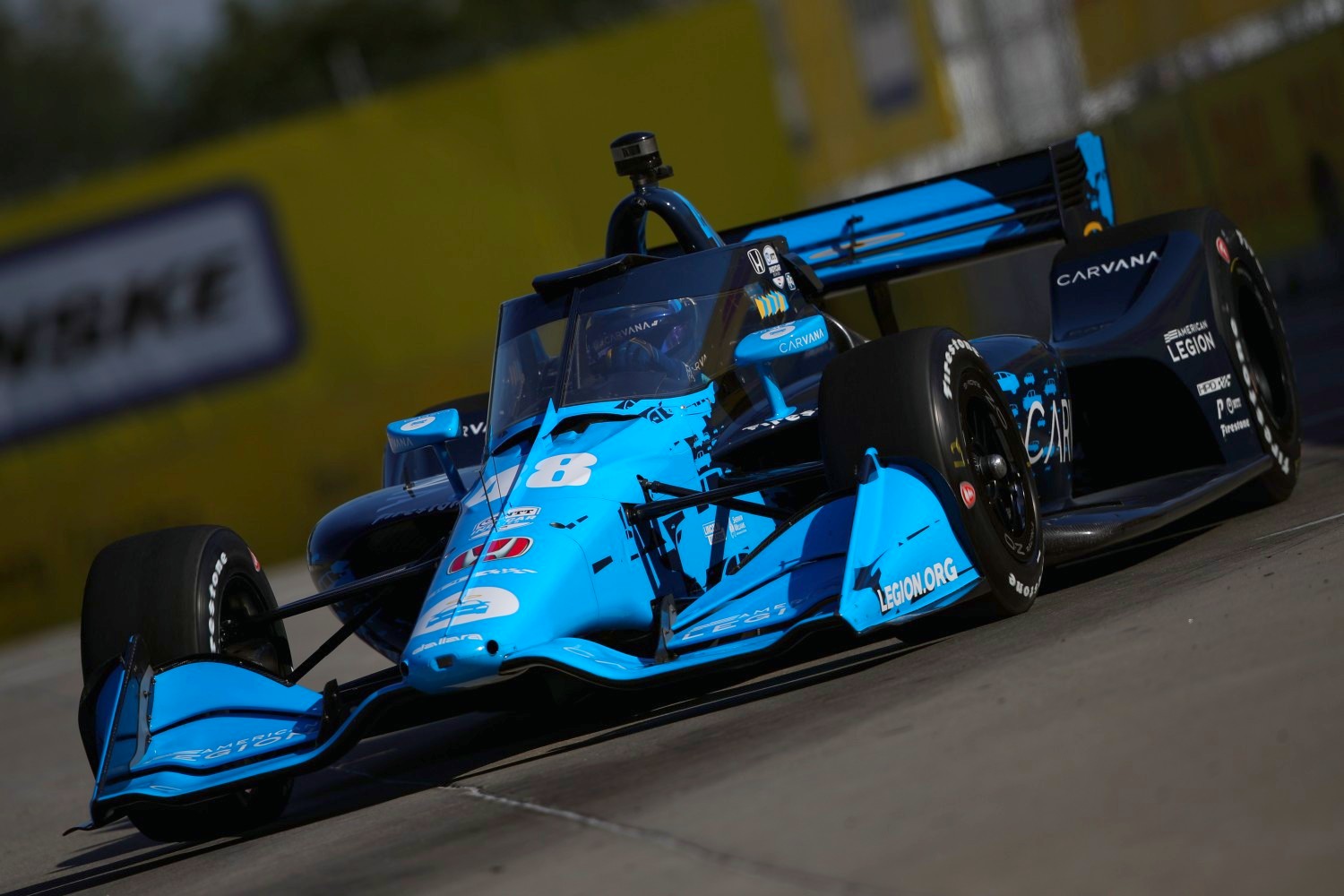 Askew
The circumstances were not ideal, but it was good to see Oliver Askew get the call to replace Rosenqvist in Detroit. The Jupiter, Florida native was excellent in the Road to Indy program, and deserves more time to show he belongs in IndyCar. Askew, of course, will fill in for Rinus Veekay at Road America this weekend, as the Dutchman was injured in a bicycle ride Monday.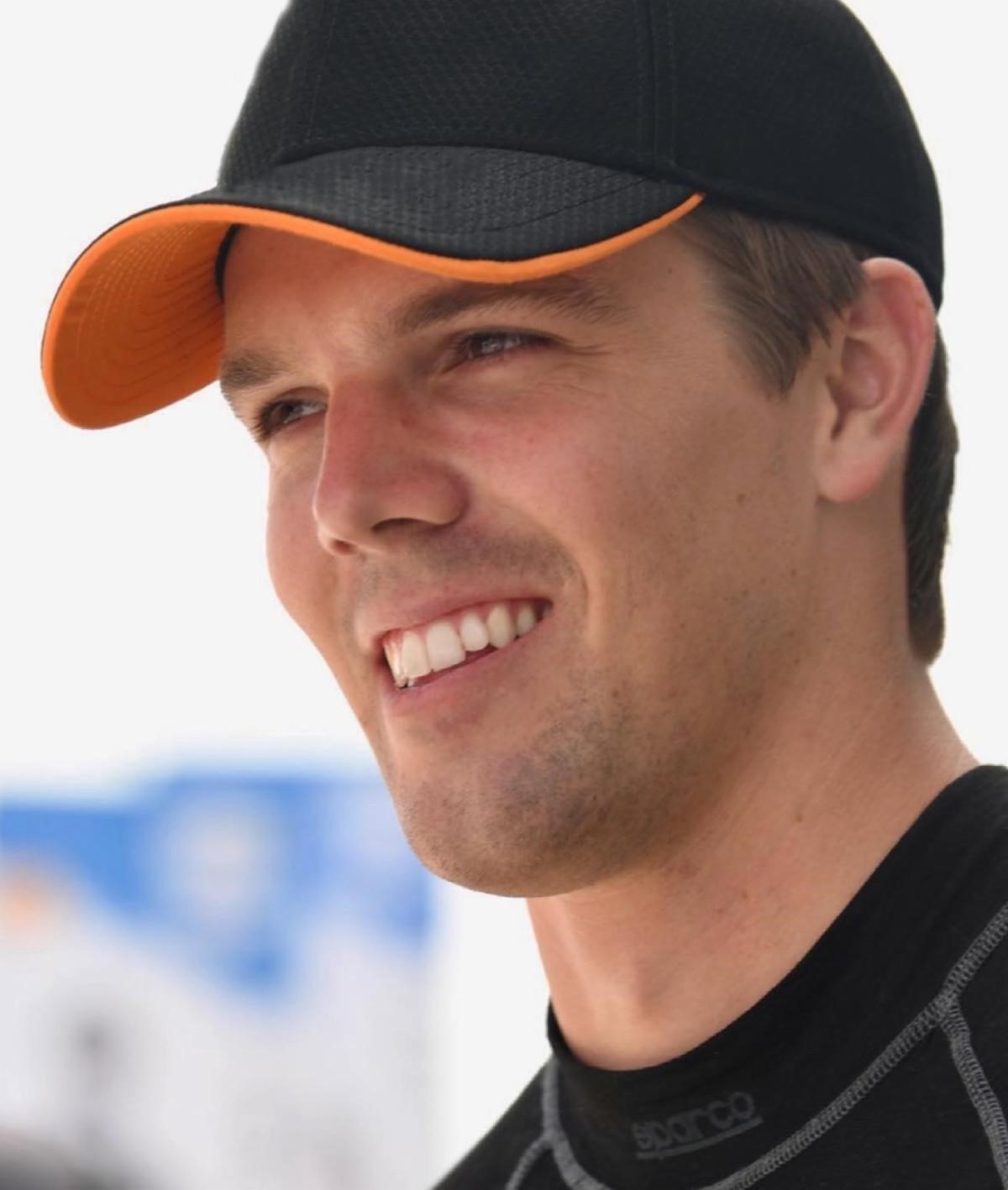 Belle Isle
For years, I've heard many media and fans dump on "Hell Isle" as an unfitting segue act to the Indianapolis 500. While nothing is the Indy 500, and yes, the city of Detroit has undergone tough times in recent years, can anyone tell me anything that was wrong with the two races we witnessed this past weekend? There was passing, compelling pit strategy, and late race drama in both races; like, seriously, what did the races in Detroit this weekend not have?
It's time to give a little credit to Roger Penske and his team for the work they've done in improving the island and making Belle Isle an entertaining fixture on the series calendar.
Brian Carroccio is a senior columnist for AutoRacing1.com. He can be contacted at BrianC@AutoRacing1.com.