French GP: Bottas leads Mercedes 1-2 in opening practice
In what was largely a track cleaning session, Valtteri Bottas turned a lap of 1m33.448s to top opening practice for the French GP at Paul Ricard.
Bottas finished 0.335s ahead of sandbagging Lewis Hamilton, who has dominated at this track since it returned to the F1 calendar several years ago.
Max Verstappen was 3rd in a scrappy session that saw him off track a couple of times combining to leave him four tenths off the pace in P3 in his Red Bull Honda.
Sergio Perez was 4th in the 2nd Red Bull Honda 0.745s while Esteban Ocon rounded out the top-5 for Alpine. Ocon took advantage of a rubbered in track, setting off for his flying lap later in the session than his rivals to grab a rather impressive looking fifth place. His team mate was seventh, with alpine already looking strong here.
As for Red Bull, third and fourth isn't a disastrous start by any means. But they will be worried by the feedback from their lead driver – Verstappen, not happy at all with the handling of his RB16B in that session.
Carlos Sainz Jr. spun halfway through the session, coming in too hot into Turn 2 and sliding across the striped run off area. He managed to lose enough speed to avoid the barriers, but hasn't managed to save his fresh new soft tires.
Paul Ricard is a circuit that has been used for testing in the past, with wide, generous run off areas. But despite its benign appearance, plenty of drivers found themselves in difficulties in that opening session.
Yuki Tsunoda and Carlos Sainz Jr. both spun, Mick Schumacher and Sebastian Vettel spun into the barriers, while Bottas and Verstappen were two of a number of drivers to run wide over the high curbs.
Both Red Bull drivers have fresh Honda power units here.
Both Max Verstappen and Sergio Perez will have the benefit of the fresh engines, which are understood to have some minor reliability updates to help reduce vibrations that have prevented them from utilizing full power at previous race.
Having done the first six race weekends on their initial engines, this scheduled change for Honda also applies to AlphaTauri. Pierre Gasly has been fitted with a fresh engine, although Yuki Tsunoda doesn't get one as he is already on his second as a result of crashing during qualifying at Imola.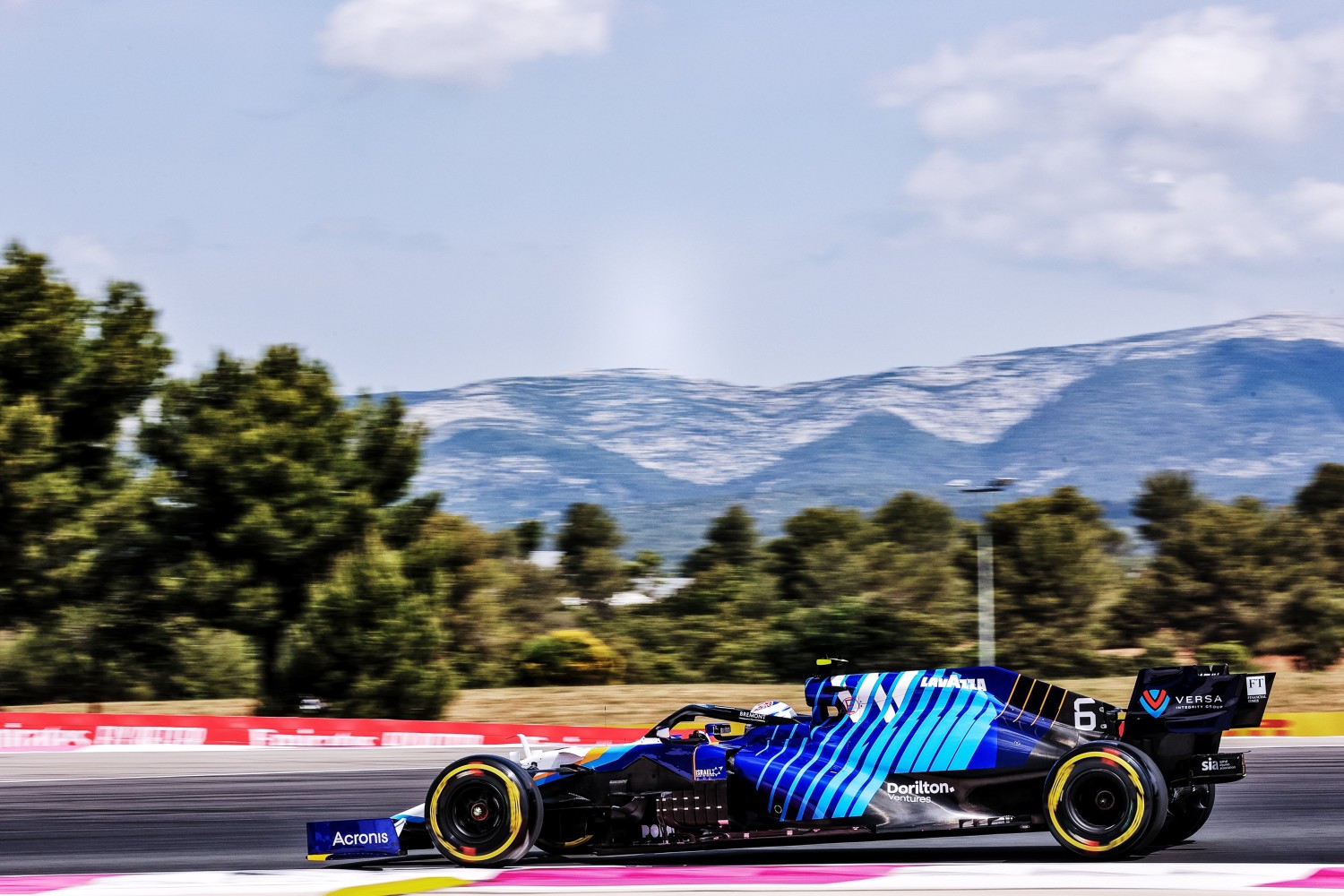 Practice 1 Results
| | | | | | | |
| --- | --- | --- | --- | --- | --- | --- |
| POS | NO | DRIVER | CAR | TIME | GAP | LAPS |
| 1 | 77 | Valtteri Bottas | Mercedes | 1:33.448 | +0.000s | 24 |
| 2 | 44 | Lewis Hamilton | Mercedes | 1:33.783 | +0.335s | 21 |
| 3 | 33 | Max Verstappen | Red Bull Racing Honda | 1:33.880 | +0.432s | 23 |
| 4 | 11 | Sergio Perez | Red Bull Racing Honda | 1:34.193 | +0.745s | 25 |
| 5 | 31 | Esteban Ocon | Alpine Renault | 1:34.329 | +0.881s | 25 |
| 6 | 3 | Daniel Ricciardo | McLaren Mercedes | 1:34.644 | +1.196s | 24 |
| 7 | 14 | Fernando Alonso | Alpine Renault | 1:34.693 | +1.245s | 21 |
| 8 | 10 | Pierre Gasly | AlphaTauri Honda | 1:34.699 | +1.251s | 20 |
| 9 | 4 | Lando Norris | McLaren Mercedes | 1:34.707 | +1.259s | 21 |
| 10 | 22 | Yuki Tsunoda | AlphaTauri Honda | 1:34.847 | +1.399s | 22 |
| 11 | 16 | Charles Leclerc | Ferrari | 1:34.950 | +1.502s | 24 |
| 12 | 99 | Antonio Giovinazzi | Alfa Romeo Racing Ferrari | 1:35.116 | +1.668s | 23 |
| 13 | 7 | Kimi Räikkönen | Alfa Romeo Racing Ferrari | 1:35.135 | +1.687s | 20 |
| 14 | 18 | Lance Stroll | Aston Martin Mercedes | 1:35.275 | +1.827s | 23 |
| 15 | 5 | Sebastian Vettel | Aston Martin Mercedes | 1:35.289 | +1.841s | 16 |
| 16 | 55 | Carlos Sainz Jr. | Ferrari | 1:35.342 | +1.894s | 24 |
| 17 | 6 | Nicholas Latifi | Williams Mercedes | 1:35.612 | +2.164s | 22 |
| 18 | 9 | Nikita Mazepin | Haas Ferrari | 1:36.651 | +3.203s | 24 |
| 19 | 47 | Mick Schumacher | Haas Ferrari | 1:37.329 | +3.881s | 14 |
| 20 | 45 | Roy Nissany | Williams Mercedes | 1:37.881 | +4.433s | 16 |