F1 French GP: Verstappen nips Bottas in 2nd practice
Red Bull Honda ace Max Verstappen turned a lap of 1m32.872s to lead Practice 2 for the French GP at Paul Ricard by the slimmest of margins Friday afternoon.
Verstappen beat the Mercedes of Valtteri Bottas by just 0.008s after the Mercedes driver led practice 1 this morning.
Sandbagging Lewis Hamilton was 3rd quick in his #44 Mercedes, 0.253s back.
So, not much to choose between Verstappen and Bottas then, with their teammates slightly more off the pace this afternoon. Hamilton's complaints were interesting – he seems convinced that there is something wrong with his car here, that isn't related purely to set up choices. He and Bottas swapped chassis for this race.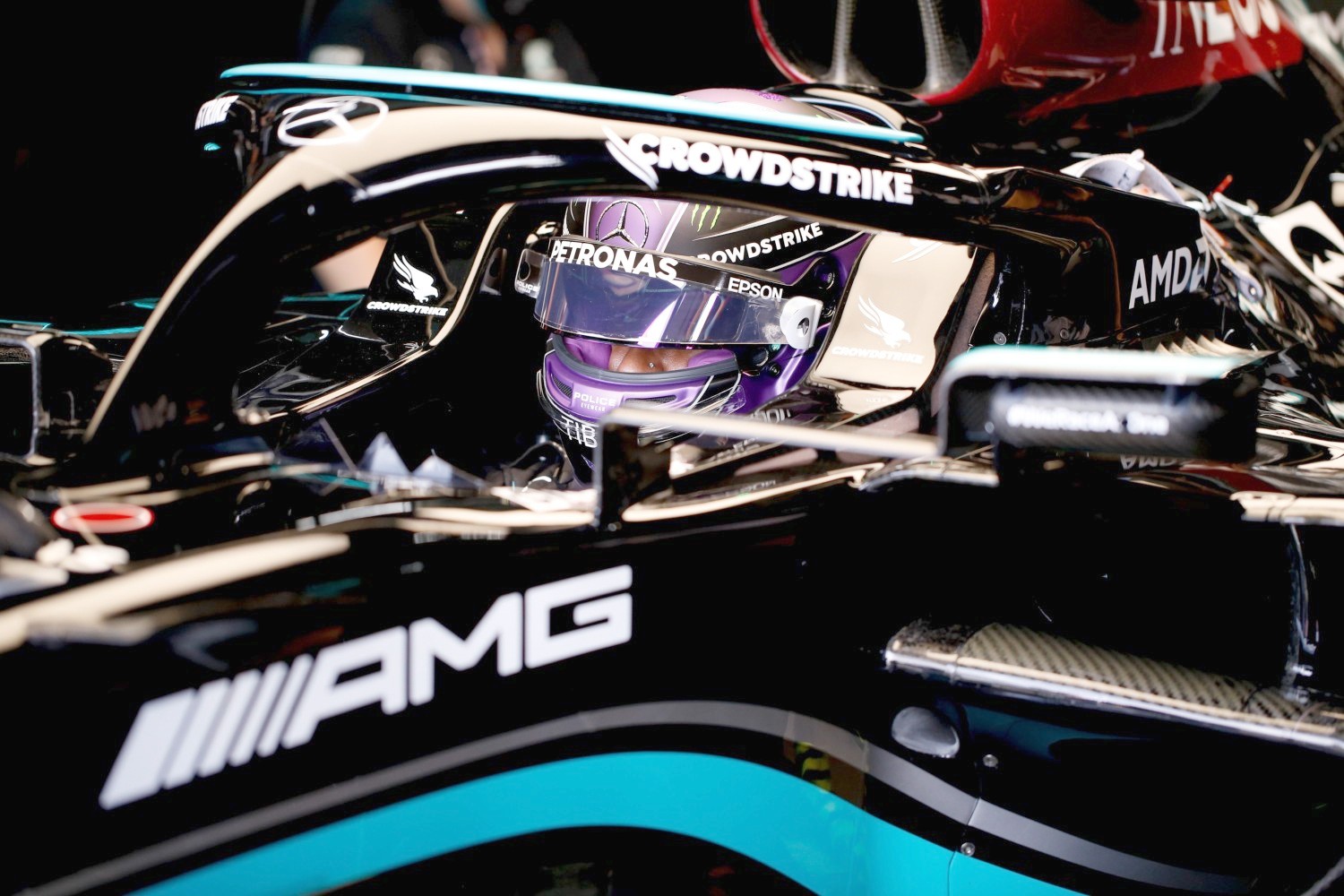 Fernando Alonso turned a sensation alp in his Alpine to end up 4th quick 0.468s back.
Rounding out the top-5 was Charles Leclerc in his #16 Ferrari, 0.678s behind Verstappen.
McLaren are the perennial midfield runners who dropped back in FP2, but don't be fooled. They often do on a Friday, before catapulting themselves right back up there in FP3. And if this morning's running is to be believed, the great news for the team is Ricciardo looks back on form too.
So on a hot and humid day in the South of France, it is all to play for heading into tomorrow. The tires look set to play their part again, with some teams struggling to get their soft tires to last, and others looking much stronger on the mediums. Tire choice for qualifying could be fascinating.
As for that weather, it is expected to heat up across the weekend, with all eyes on those scorching track temperatures. The wind also played a part, making the odd corner slightly more treacherous to judge than normal. Those could well be factors when qualifying rolls around tomorrow afternoon.
Select Quotes
Max Verstappen
"I think overall it's been a good end to the day, and we improved quite well. I wasn't entirely happy in FP1 and even at the start of FP2 but on the second set of tires this afternoon the car felt a lot better and a lot more connected. It's still really difficult around here as the track is so open, and it's quite windy which means it isn't always easy to nail the lap. The wind is also quite gusty so one lap it feels alright and the next lap it can increase, which means it's not always easy to judge your mid-corner speeds, but everyone has to deal with the same thing. It's difficult to say where we will be tomorrow, and you never know what people will find overnight, but the long runs also seemed decent, so for sure I expect it to be very tight, and it definitely won't be easy."
Sergio Perez
"I got a pretty bad run of traffic today, so it probably looks worse than it actually is on the time sheets. We look to be there or thereabouts, and Max had a good day on pace. We tried some changes during the sessions and so tonight we'll look at them to see what worked and hopefully, we can find some pace overnight so we are right in the mix tomorrow. Coming from Baku, obviously this is a very different track, but we're continuing the good momentum, the understanding of the car is getting better and there are plenty of positives to take from today."
Valtteri Bottas
I have a lot better feeling than a couple of weeks ago, that's for sure. We started the weekend on the front foot, everything felt OK and the car has been pretty fast so far. The balance is good, the tires are working well, I'm confident with the car and I can trust the car – I think that's the biggest difference from Baku. It's going to be close between us and Red Bull, I'm sure they have lots more to come, but so do we.
Lewis Hamilton
It was quite a struggle out there, probably for everyone. I don't know if it's the track surface, the temperature or these inflated tires – the pressures are higher than ever before – but we were all sliding around out there. We'll be doing a lot of analysis tonight with the hope that it's better for tomorrow, but the times don't look terrible, and we're in the battle, so that's positive.
The Hard compound is the better-feeling tire, it felt heavy-duty which is important with the temperatures here – the softer you go the worse it feels so I imagine the Hard tire will be the one everyone wants to get onto in the race on Sunday.
Andrew Shovlin
It's been a busy day trying to fit in a program with low fuel work and decent length long runs, but that's always going to be the case with just one hour in each session. In terms of pace we look reasonable and getting a single lap out of the tires has seemed easier than it was in Baku or Monaco. However, neither driver is totally satisfied with where we have the car, so we've got a bit of investigation to do overnight to try and understand how we can get the balance to be a bit more predictable.
Pierre Gasly
"Today was an ok day, however it's been quite difficult with the wind which has made the car very tricky to drive. In terms of performance, I think it's good that we've ended both sessions within the top 10, but it's definitely been more difficult than the last two weekends. We've been working on the balance of the car today, so we'll analyze all the data tonight and make some improvements to the set-up of the car to be more confident out on track tomorrow. I'm racing in front of my home fans here, and I'm aiming to reach Q3 again in qualifying. It's so great seeing this many French flags in the grandstands here, I really want to do well for the people here supporting me this weekend, so they've got something to celebrate on Sunday."
Yuki Tsunoda
"It's been a good day. I think the approach here in France compared to the last few races is a bit easier, as I've already got experience driving here at Paul Ricard. I had a spin in the morning, but I think we've made good progress through the two sessions today. I struggled a bit with the set-up in FP2, but we adapted really well and by the end of the day I was happy with the car behavior. My confidence in the car is definitely returning and my result in Baku has helped with that. We still have lots of work to do ahead of Qualifying and the field is very tight, so it's going to be very competitive, but the pace is definitely there."
Jonathan Eddolls (AlphaTauri Chief Race Engineer)
"We headed to France following a great result for the team in Baku but have remained realistic with our targets for this weekend, knowing that we return to a more normal circuit. One of the main areas for us to work on during Friday was setting the car up around the higher rear tire pressures, as well as managing the performance on the very hot track. In addition to this required learning, FP1 was focused on a matrix of set-up work based around some finding of the car performance we observed in Baku to further understand some of the characteristics of the AT02 and how we can apply these to more standard tracks. So, it was a very busy session for both cars and unfortunately, we sustained some damage to the floor of Pierre's car after running wide in T2. He lost some laps with this, but we still gathered plenty of data to analyze for FP2. We used this learning to further adapt the set-up of both cars for this afternoon's session and the changes appeared to be a step in the right direction. We didn't have the cleanest of laps, due to traffic again, but piecing together the laps the performance is looking encouraging and in line with our expectations, particularly given both drivers felt there was still room to work on the balance. We have a lot to look through tonight, but we will aim to put it all together and target Q3 tomorrow."
Sebastian Vettel
"The track conditions were hot and very windy, which caught me out this morning when I had a small off. It cost us some track time, but we recovered well in the afternoon. The long run was clean, and we managed to get some consecutive laps together, which was important. My performance run was not the best and I made a mistake, but today is about getting a feel for the car to make sure we perform in qualifying. I think we know where we can find gains and there are some things we can do better, which is where we will focus our energy tonight."
Lance Stroll
"It was really hot out there today, and very gusty at times, which made for some tricky conditions because it is a low-grip track surface. It was particularly windy early in the day, but we were able to get into a rhythm and work through our program. We have learned some useful things about the car balance and done some important homework. However, I think we are leaving some pace out there, so we will go away tonight, look over everything and try to come back stronger tomorrow. The midfield is already looking very close this weekend, so small gains can certainly make a difference; that is what we will be aiming to find for qualifying."
Kimi Raikkonen
"It wasn't too bad out there, I even feel I could have been a few places higher with a better lap. The hope, of course, is that we can be somewhere around this region, in the top ten, when we get into qualifying: as always, we can try to find something more tonight, with the engineers, and squeeze some more performance out of the car, but it's not a bad start."
Antonio Giovinazzi
"It was a good start to our weekend, and we're confident ahead of qualifying. The conditions out there were not easy, with a lot of wind and low grip, but this is what we can expect for tomorrow as well. To be just outside the top then when I am still not 100% happy with the car means we can be in the fight for Q3 if we find some improvement tonight. This is our task and if we do a better job at it than our rivals, we can have a good Saturday. Let's have a good debrief now and see what tomorrow brings."
Practice 2 Results
| | | | | | | |
| --- | --- | --- | --- | --- | --- | --- |
| POS | NO | DRIVER | CAR | TIME | GAP | LAPS |
| 1 | 33 | Max Verstappen | Red Bull Racing Honda | 1:32.872 | +0.000s | 21 |
| 2 | 77 | Valtteri Bottas | Mercedes | 1:32.880 | +0.008s | 27 |
| 3 | 44 | Lewis Hamilton | Mercedes | 1:33.125 | +0.253s | 23 |
| 4 | 14 | Fernando Alonso | Alpine Renault | 1:33.340 | +0.468s | 25 |
| 5 | 16 | Charles Leclerc | Ferrari | 1:33.550 | +0.678s | 23 |
| 6 | 31 | Esteban Ocon | Alpine Renault | 1:33.685 | +0.813s | 23 |
| 7 | 10 | Pierre Gasly | Alphat\Tauri Honda | 1:33.696 | +0.824s | 25 |
| 8 | 55 | Carlos Sainz | Ferrari | 1:33.698 | +0.826s | 24 |
| 9 | 7 | Kimi Räikkönen | Alfa Romeo Racing Ferrari | 1:33.786 | +0.914s | 26 |
| 10 | 4 | Lando Norris | McLaren Mercedes | 1:33.822 | +0.950s | 24 |
| 11 | 99 | Antonio Giovinazzi | Alfa Romeo Racing Ferrari | 1:33.831 | +0.959s | 23 |
| 12 | 11 | Sergio Perez | Red Bull Racing Honda | 1:33.921 | +1.049s | 24 |
| 13 | 22 | Yuki Tsunoda | AlphaTauri Honda | 1:33.955 | +1.083s | 25 |
| 14 | 3 | Daniel Ricciardo | McLaren Mercedes | 1:34.079 | +1.207s | 24 |
| 15 | 5 | Sebastian Vettel | Aston Martin Mercedes | 1:34.447 | +1.575s | 25 |
| 16 | 18 | Lance Stroll | Aston Martin Mercedes | 1:34.632 | +1.760s | 24 |
| 17 | 63 | George Russell | Williams Mercedes | 1:35.266 | +2.394s | 25 |
| 18 | 6 | Nicholas Latifi | Williams Mercedes | 1:35.331 | +2.459s | 25 |
| 19 | 47 | Mick Schumacher | Haas Ferrari | 1:35.512 | +2.640s | 24 |
| 20 | 9 | Nikita Mazepin | Haas Ferrari | 1:35.551 | +2.679s | 23 |