IndyCar: Romain Grosjean tops opening practice at Road America
Rookie Romain Grosjean, driving the #51 Dale Coyne Racing Honda, turned a lap of 1m47.6781s to top opening practice for the Rev Group GP of Road America. The time is 8 seconds slower than the lap record of under 1m39.866s in the CART IndyCar era 21 years ago by Dario Franchitti – when the cars were real race cars.
Ryan Hunter-Reay was the fastest most of the session in his #28 DHL Honda, but was nipped by 0.1243s late in the session by Grosjean.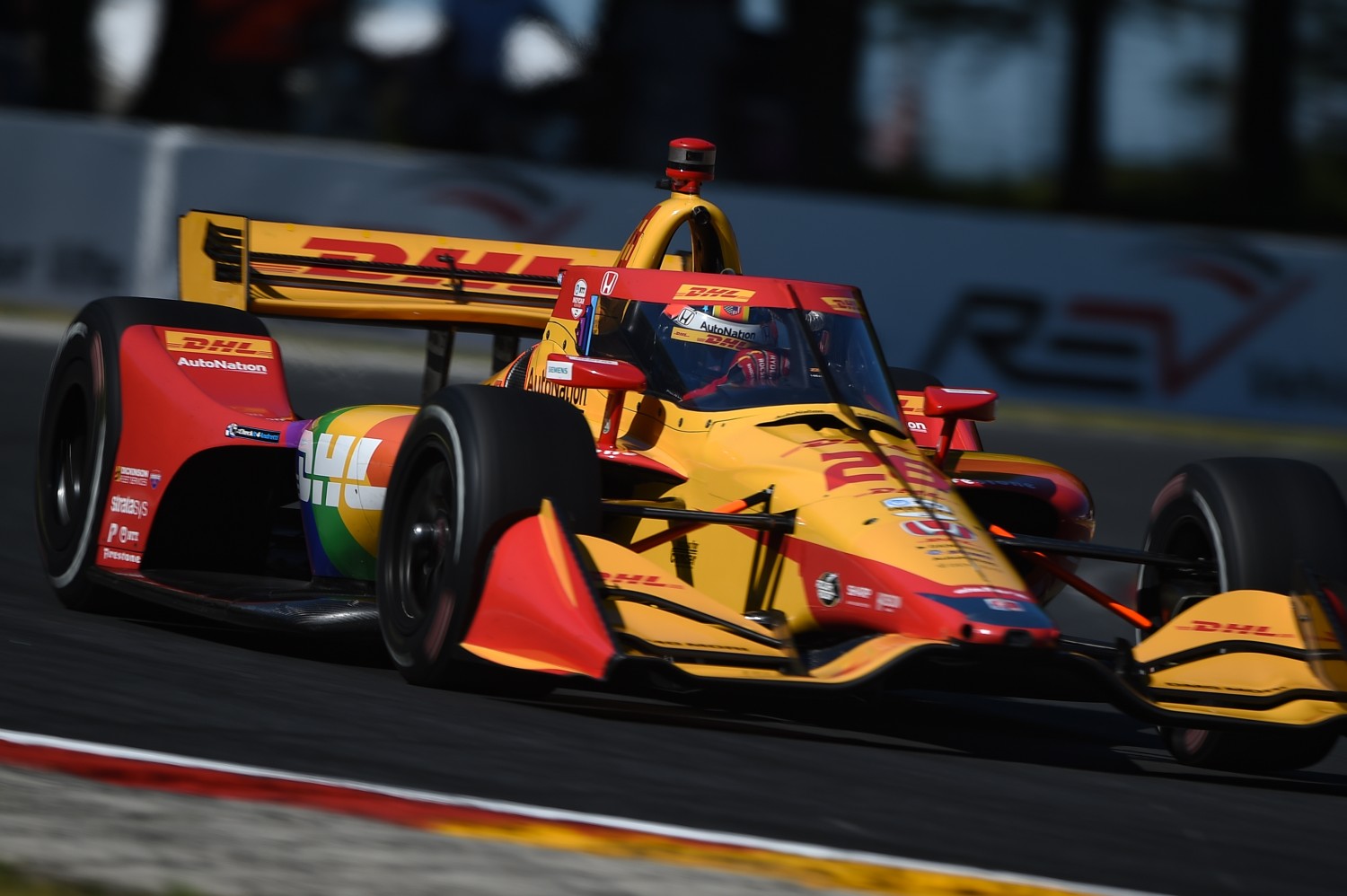 "It's a good start," Grosjean said. "The track is very different from when we came testing. I think we've got some work to do on setup. We managed to get a good lap in at the end. That's good for the race weekend."
Josef Newgarden was the fastest Chevy driver 0.16s behind Grosjean in his Penske Chevy.
Alex Palou was the fastest Ganassi Honda driver, 4th overall 0.17s off the top time.
Graham Rahal rounded out the top-5 in his #15 Hy-Vee RLL Honda 0.42s off the pace.
Alexander Rossi, who won at Road America two years ago, could not even make it into the top-15, ending up 16th and out to lunch.
"I've got one of the most talented groups on pit lane, which is why it makes this so painful and frustrating, for all of us. We've worked hard to keep the continuity," Rossi said.
Well if it isn't his group/team, then the driver must look inward.
Championship leader O'Ward was 11th at 1:48.4251 in the No. 5 Arrow McLaren SP Chevrolet. His new teammate this weekend, Formula One veteran Kevin Magnussen, was 23rd at 1:50.4921 in the No. 7 Arrow McLaren SP Chevrolet in his first-ever laps in an INDYCAR SERIES car.
Magnussen is substituting for Felix Rosenqvist, who was not cleared to drive at this event by INDYCAR medical officials after a heavy crash last Saturday in Race 1 of the Chevrolet Dual at Detroit.
Another pinch-hitter, Oliver Askew, impressed in his second new ride in as many weeks. Askew was ninth at 1:48.3000 in the No. 21 Direct Supply Chevrolet fielded by Ed Carpenter Racing while substituting for Rinus VeeKay, who suffered a broken clavicle in a cycling accident Monday.
2019 Indy Lights champion Askew substituted for Rosenqvist for Arrow McLaren SP last Sunday in Race 2 at Detroit, placing 25th in an early exit due to mechanical problems during his first start of the season.
Air temperatures were in the mid-to-high 80s under brilliant sunshine in Wisconsin, but engineers and drivers will be forced to work overtime as conditions look to change Saturday and Sunday. The forecast calls for high temperatures in the mid-70s, with morning rain, on Saturday and similar temperatures and afternoon rain Sunday.
"I think the weather is going to be changing here, so we just need to adapt to that," Grosjean said. "As a rookie, I don't know what that means for the car. I guess you find out."
Dale Coyne/Vasser Sullivan driver Ed Jones never turned a lap due to a Waste gate fire.
The second practice starts at 11:10 a.m. (ET) Saturday (live on Peacock), followed by NTT P1 Award qualifying on Peacock at 2:30 p.m. (ET) Saturday.
Practice 1 Results
| | | | | | | | | | |
| --- | --- | --- | --- | --- | --- | --- | --- | --- | --- |
| Pos | No | Name | Time | Diff | Gap | Laps | Speed | Engine | Team |
| 1 | 51 | Romain Grosjean | 1:47.6781 | 0.000s | 0.000s | 10 | 134.200 | Honda | Dale Coyne Racing w/Rick Ware Racing |
| 2 | 28 | Ryan Hunter-Reay | 1:47.8024 | 0.1243 | 0.1243 | 10 | 134.045 | Honda | Andretti Autosport |
| 3 | 2 | Josef Newgarden | 1:47.8417 | 0.1636 | 0.0393 | 8 | 133.996 | Chevy | Team Penske |
| 4 | 10 | Alex Palou | 1:47.8515 | 0.1734 | 0.0098 | 11 | 133.984 | Honda | Chip Ganassi Racing |
| 5 | 15 | Graham Rahal | 1:48.0938 | 0.4157 | 0.2423 | 10 | 133.684 | Honda | Rahal Letterman Lanigan Racing |
| 6 | 26 | Colton Herta | 1:48.1407 | 0.4626 | 0.0469 | 12 | 133.626 | Honda | Andretti Autosport |
| 7 | 14 | Sebastien Bourdais | 1:48.2481 | 0.5700 | 0.1074 | 11 | 133.493 | Chevy | AJ Foyt Enterprises |
| 8 | 3 | Scott McLaughlin | 1:48.2844 | 0.6063 | 0.0363 | 13 | 133.449 | Chevy | Team Penske |
| 9 | 21 | Oliver Askew | 1:48.3000 | 0.6219 | 0.0156 | 12 | 133.429 | Chevy | Ed Carpenter Racing |
| 10 | 12 | Will Power | 1:48.3432 | 0.6651 | 0.0432 | 12 | 133.376 | Chevy | Team Penske |
| 11 | 5 | Pato O'Ward | 1:48.4251 | 0.7470 | 0.0819 | 9 | 133.275 | Chevy | Arrow McLaren SP |
| 12 | 9 | Scott Dixon | 1:48.4412 | 0.7631 | 0.0161 | 8 | 133.256 | Honda | Chip Ganassi Racing |
| 13 | 30 | Takuma Sato | 1:48.4566 | 0.7785 | 0.0154 | 11 | 133.237 | Honda | Rahal Letterman Lanigan Racing |
| 14 | 20 | Conor Daly | 1:48.6623 | 0.9842 | 0.2057 | 11 | 132.984 | Chevy | Ed Carpenter Racing |
| 15 | 60 | Jack Harvey | 1:48.6690 | 0.9909 | 108.6690 | 8 | 132.976 | Honda | Meyer Shank Racing |
| 16 | 27 | Alexander Rossi | 1:48.7379 | 1.0598 | 0.0689 | 10 | 132.892 | Honda | Andretti Autosport |
| 17 | 22 | Simon Pagenaud | 1:48.9839 | 1.3058 | 0.2460 | 9 | 132.592 | Chevy | Team Penske |
| 18 | 8 | Marcus Ericsson | 1:49.0249 | 1.3468 | 0.0410 | 10 | 132.542 | Honda | Chip Ganassi Racing |
| 19 | 59 | Max Chilton | 1:49.3676 | 1.6895 | 0.3427 | 13 | 132.127 | Chevy | Carlin |
| 20 | 29 | James Hinchcliffe | 1:49.5357 | 1.8576 | 0.1681 | 10 | 131.924 | Honda | Andretti Steinbrenner Autosport |
| 21 | 48 | Jimmie Johnson | 1:50.0764 | 2.3983 | 0.5407 | 14 | 131.276 | Honda | Chip Ganassi Racing |
| 22 | 52 | Cody Ware | 1:50.2981 | 2.6200 | 0.2217 | 12 | 131.012 | Honda | Dale Coyne Racing w/Rick Ware Racing |
| 23 | 7 | Kevin Magnussen | 1:50.4921 | 2.8140 | 0.1940 | 14 | 130.782 | Chevy | Arrow McLaren SP |
| 24 | 4 | Dalton Kellett | 1:50.4941 | 2.8160 | 0.0020 | 13 | 130.780 | Chevy | AJ Foyt Enterprises |
| 25 | 18 | Ed Jones | No Time | — | — | — | — | Honda | Dale Coyne Racing with Vasser Sullivan |