F1: Verstappen beats Hamilton to pole for French GP
Red Bull Honda's Max Verstappen won pole position for the French GP at Paul Ricard with a lap of 1m29.990s to beat the Mercedes of Lewis Hamilton by 0.258s, the man who has dominated at Paul Ricard in recent years.
Verstappen was the only driver to get into the 1m29s range.
Verstappen set the early pace in Q3, four tenths of a second quicker than Hamilton, but things heated up in the second runs as Hamilton went quickest in the first sector.
Verstappen responded with a purple second and final sector to better his time and take his second pole of the season.
"Really positive weekend, FP2 was a turnaround and just made it even better today," said Verstappen.
"Of course we have to finish it off tomorrow, the car felt good yesterday [in the race simulation] so I'm looking forward to it."
"Really, really hard weekend. Mentally, not physically," said Hamilton. "Trying to get this car into a happy place, the changes I made to the car were satisfying. Max did a great job today, he's been incredibly quick, he's got a fresh engine this weekend so just got to give it everything."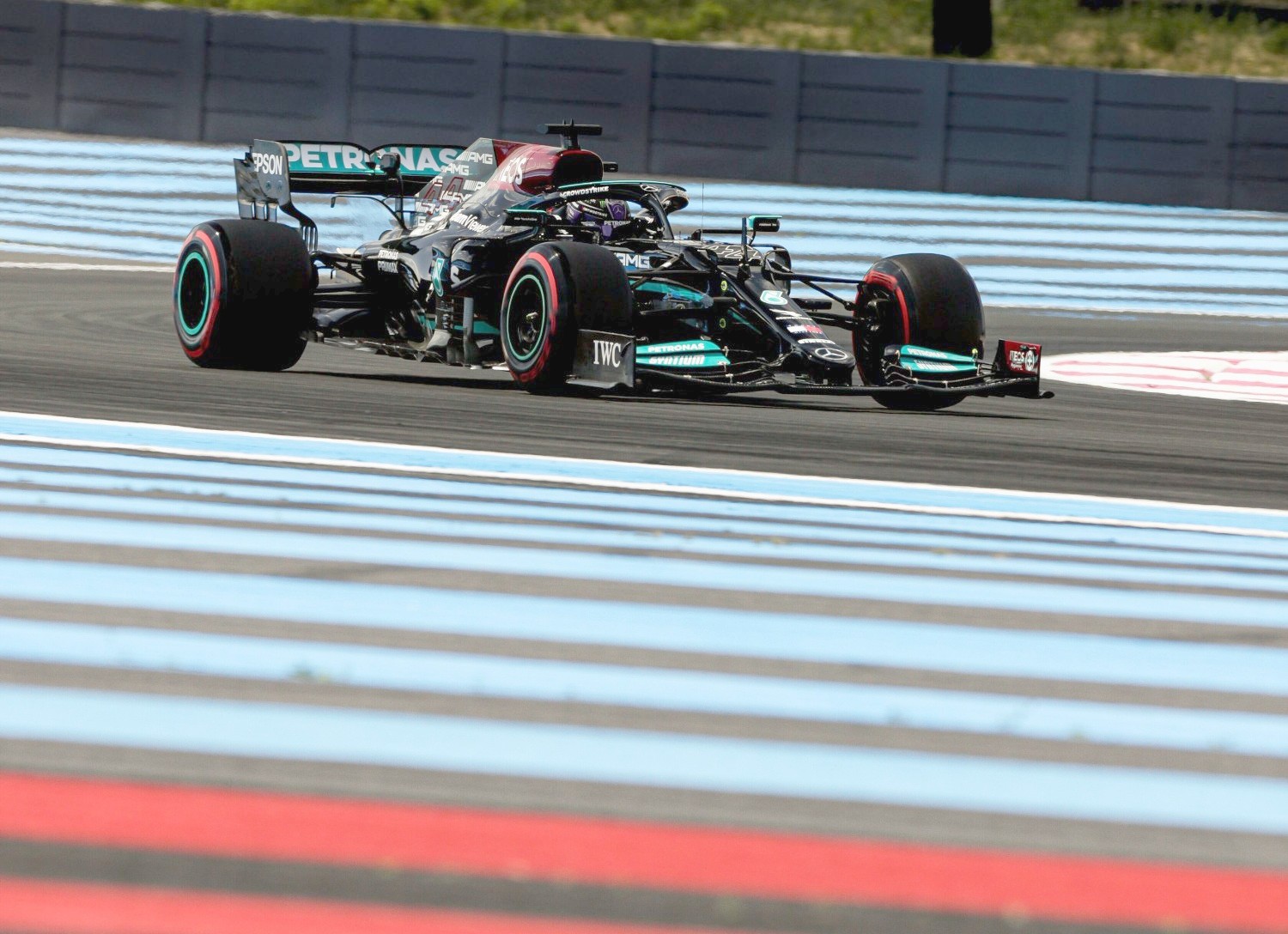 Valtteri Bottas was a close third in the 2nd Mercedes 0.386s from pole.
"It's been a strong weekend, much better than a couple of weeks ago," said Bottas.
Sergio Perez put the 2nd Red Bull Honda 4th, 0.455s behind his teammate.
Carlos Sainz Jr. rounded out the top-5 for Ferrari, 0.850s behind.
A cooler, cloudier day meant temperatures weren't soaring as on Friday, but the Circuit Paul Ricard remained a tricky place to do business. Two red flags in Q1 made for a stop-start session in which setting a lap was a challenge. Unfortunately, that claimed Kimi Räikkönen and Lance Stroll, who had to give up their fastest attempt as the session was brought to an early end.
Verstappen grabbed pole, but he had to work hard for it. Hamilton found some extra pace from somewhere to push the Dutchman much closer than it seemed he would, and get the beating of his teammate to boot.
With Perez lurking as well, it could be a battle of strategies tomorrow, with all four cars at the front set to slug it out for the win.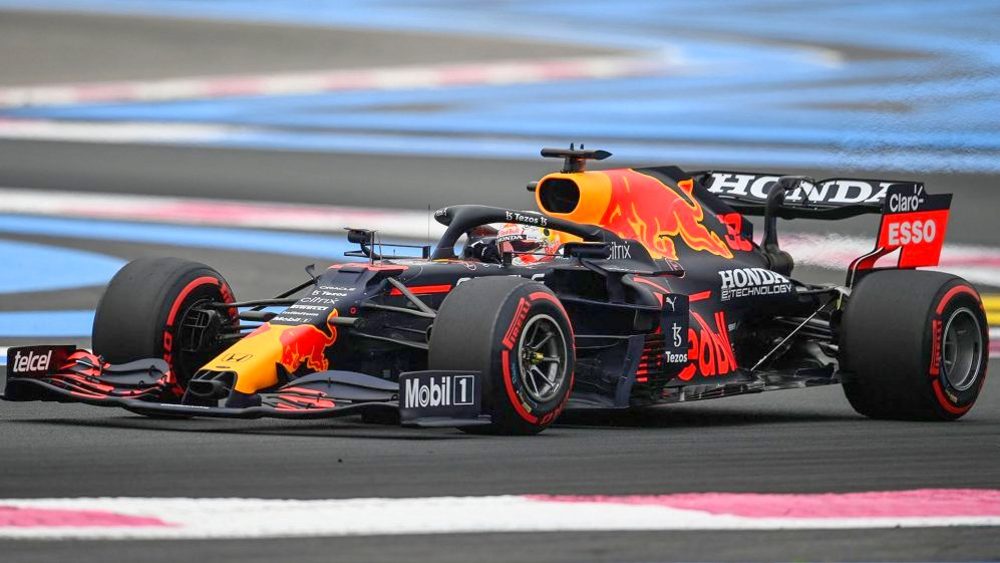 Red Bull are in front, but many in the paddock believe that Mercedes have superior race pace.
Select Quotes
Max Verstappen
"To be able to put it on pole here, on a track that has not been our favorite in terms of performance, is very promising and a big boost for the Team. We really did not expect it so I am of course very happy. Everything has been working really well all weekend and from today even compared to yesterday we made a good improvement through hard work and maximizing set-up. I was confident after FP3 but you never really know where you are or what everyone else will bring in Qualifying, so we should be very happy with this performance so far. There is a long run to Turn 1 so we have to get a good start tomorrow and for sure they will be very close but our long run pace in FP2 looked good so I expect another tight battle."
Sergio Perez
"It wasn't an ideal qualifying as I think locking out the front row was possible but unfortunately, I made a mistake on my final Q3 run which cost me quite a bit of lap time. We were going in the right direction and I was feeling comfortable with the car but I just ran wide over the curbs at Turn 12 and the lap was gone. But tomorrow is when it matters and we have better race pace than in qualifying so we should really be in the mix. It will be very close with Mercedes, so I will be applying the pressure from the very first lap. My starts have been good so the plan is to get a couple of positions off the line and manage the race from there to try and bring home a 1-2 for the Team. I think the race will come down to tire management so hopefully we can outperform them in that area but either way it's going to be very entertaining for the fans and now I'm just looking forward to tomorrow!"
Christian Horner
"It was another great performance from Max today and it's fantastic to see him take our first pole position in France. Together we've been improving the car throughout the weekend and to have Checo up there as well, building on the momentum from his Baku victory, is a great Team performance. Starting from pole certainly gives us confidence but we're expecting Mercedes to be very competitive tomorrow. This circuit has been such a stronghold for them over recent years so it will be important to see if we can beat them here. There's a lot at stake and a long way to go in this championship but the whole Team is working incredibly well, putting in long hours, and coming together as a unit to put the pressure on Mercedes which is phenomenal to see. Having two cars starting at the front also gives us different strategic options in the race and so it will be important for us to do all the basics and get clean starts, execute quick pitstops and a good strategy."
Lewis Hamilton
It's great to see the fans here and it warms my heart to see people coming together finally after this difficult period for us all. It's been a really hard weekend trying to get the car into a happy place, and you wouldn't believe all of the changes I've made since FP1. Congratulations to Max, he did a great job today.
On long run pace I think the Red Bulls were a tenth or two quicker than us in FP2 but my car is in a much different place now so I'm just going to stay hopeful and do everything that I can tomorrow. Obviously, in second you've got a fighting chance down to Turn 1 and there's going to be some interesting strategy calls tomorrow. Maybe it'll rain so we'll potentially get to see the rain masters do their thing! We're loving the battle so we're just going to keep pushing, keep fighting, and giving it everything.
Valtteri Bottas
It's been a strong weekend, for sure a lot better than a couple weeks ago and I was hoping to fight for the pole. The last run in Q3 felt good so I didn't feel like there was much more lap time to make up, I think Red Bull had the edge in a straight line here which made the difference.
We are definitely fighting for the win tomorrow, we're between the two Red Bulls with two cars against one so on strategy, we can be smart and bring the challenge to them. Nothing is going to come easy but we're ready for the challenge tomorrow.
Toto Wolff
That was an exciting qualifying session and a solid performance to put our cars P2 and P3, with just a tenth of a second between them, but we weren't quick enough to claim pole position today. We made a good step with Lewis's car from yesterday, and he felt much more comfortable with the balance once he was running in qualifying; and Valtteri has bounced back strongly from a tough weekend in Baku. Like the cars around us, we will start the race on the Medium tire, which will give us the opportunity to race hard tomorrow and hopefully put pressure on Max. The long runs yesterday looked closely matched, so I'm sure we're in for a real fight all the way to the checkered flag.
Andrew Shovlin
There's quite a gap to pole and our laps were pretty good in the end so second and third is a fair result for us. Valtteri continued build through the day from the solid baseline he'd established yesterday and Lewis managed to recover some confidence in the car after a difficult Friday; quite a bit of work has gone into fine tuning the balance and it doesn't feel like there was much more to come.
The early parts of the session were a bit messy as we kept getting caught in a bunch of cars on the out-lap and struggled to get the tires in the right window. By the end we had good track position and we looked pretty close to Max for the first half of the lap. Our main issue seems to be a loss on the straight from turn 9 down to turn 11 and by sector three we're no longer able to gain anything back in the corners. We've seen many times this year that our race pace is better than our qualifying and we've shown that we can win races from behind so we're still optimistic that we're playing for the win tomorrow.
Sebastian Vettel
"We looked strong in Q1 on the soft tires, but I do not think anybody wanted to start the race on the soft tires, which is why we ran on the medium tires in Q2. We believed there was a real chance to make Q3 on the medium, but, for yet unknown reasons, the balance did not feel as good on my last run. The front end was washing out and I could not extract the grip I needed. Maybe I pushed a bit too hard, but we were not far away from making Q3. For tomorrow, we have a free choice of tires, but all of the top 10 will be on the medium tires anyway, so it is not easy to vary the strategy. Tomorrow will be about who is best at managing the tire life and degradation."
Lance Stroll
"It is one of those things. You can never predict when red flags are going to happen, and we were very unlucky to have two in Q1. I also had a lap time deleted, but that lap showed there is good pace in the car. I felt happy with the balance and the progress we have made so far this weekend, so there are positives to take away. It is a shame it is difficult to overtake at Paul Ricard, but you never know. We will keep our fingers crossed for some rain tomorrow, and we will try to push our way up the field from P19 regardless."
Otmar Szafnauer, Aston Martin CEO & Team Principal
"You win some, you lose some, often as a result of a hair's breadth. Sometimes it really is not your fault. Today was one of those days. Lance drove a great lap in Q1, but it was disallowed owing to a small margin of track limits violation that gained him nothing in terms of lap time. Then his chances of recovering were scuppered due to the late red flag, which was outside of his control. Sebastian did well to get through to Q2 but struggled with a lack of front-end grip on his quick lap and ended up P12. As always, both drivers will push as hard as possible for points tomorrow."
Pierre Gasly
"It's a very good day, and I'm really pleased to qualify in sixth position. It's been quite a difficult weekend up to this point, I haven't felt that comfortable in the car, and we've struggled a bit with the changing conditions. We'd made lots of set-up changes to the car across the weekend, and it all came together for qualifying. After the disappointment of finding out my lap was cancelled, I knew I had just one shot to get it right in Q3. My adrenalin levels were high, and I managed to put an even better lap together, so I'm very happy with that. Tomorrow will be interesting for us as we return to a normal race circuit, we're starting on the same tires as everyone else, so strategy will be key. We'll give everything we have and hopefully, we can get some good points here, in front of my home crowd."
Kimi Räikkönen
"Recently, the red flags seem to destroy my laps all the time. I was on a good one, the time was going to be ok, but when the red flag came out it was game over. In the end, that's what it is and there's nothing I can do about it. P17 on the grid is not ideal, but tomorrow is another day: our race pace was ok yesterday so we will try to get a result out of a disappointing Saturday."
Antonio Giovinazzi
"We can be happy about today's result: our target was P11, to be close to the top ten but not quite in it, as we knew the soft tires would not be a good compound for the race. We nearly hit this target and we were very close to the cars ahead of us: tomorrow there's everything to play for. Choosing our starting tire will allow us to maximize our strategy: if we have a good start and a clean first lap, we can make up some places and make our way into the points. Our race pace wasn't bad so we can be confident."
Qualifying Results
| | | | | | | |
| --- | --- | --- | --- | --- | --- | --- |
| POS. | DRIVER | NAT. | TEAM | Q1 | Q2 | Q3 |
| 1 | Max Verstappen | NED | Red Bull Racing | 1m31.001s | 1m31.080s | 1m29.990s |
| 2 | Lewis Hamilton | GBR | Mercedes AMG Petronas Formula One Team | 1m31.237s | 1m30.788s | 1m30.248s |
| 3 | Valtteri Bottas | FIN | Mercedes AMG Petronas Formula One Team | 1m31.669s | 1m30.735s | 1m30.376s |
| 4 | Sergio Perez | MEX | Red Bull Racing | 1m31.560s | 1m30.971s | 1m30.445s |
| 5 | Carlos Sainz | ESP | Scuderia Ferrari Mission Winnow | 1m32.079s | 1m31.146s | 1m30.840s |
| 6 | Pierre Gasly | FRA | Scuderia AlphaTauri Honda | 1m31.898s | 1m31.353s | 1m30.868s |
| 7 | Charles Leclerc | MON | Scuderia Ferrari Mission Winnow | 1m32.209s | 1m31.567s | 1m30.987s |
| 8 | Lando Norris | GBR | McLaren F1 Team | 1m31.733s | 1m31.542s | 1m31.252s |
| 9 | Fernando Alonso | ESP | Alpine F1 Team | 1m32.158s | 1m31.549s | 1m31.340s |
| 10 | Daniel Ricciardo | AUS | McLaren F1 Team | 1m32.181s | 1m31.615s | 1m31.382s |
| 11 | Esteban Ocon | FRA | Alpine F1 Team | 1m32.139s | 1m31.736s | – |
| 12 | Sebastian Vettel | GER | Aston Martin Cognizant Formula One Team | 1m32.132s | 1m31.767s | – |
| 13 | Antonio Giovinazzi | ITA | Alfa Romeo Racing Orlen | 1m32.722s | 1m31.813s | – |
| 14 | George Russell | GBR | Williams Racing | 1m33.060s | 1m32.065s | – |
| 15 | Mick Schumacher | GER | Uralkali Haas F1 Team | 1m32.942s | No Time Set | – |
| 16 | Nicholas Latifi | CAN | Williams Racing | 1m33.062s | – | – |
| 17 | Kimi Raikkonen | FIN | Alfa Romeo Racing Orlen | 1m33.354s | – | – |
| 18 | Nikita Mazepin | RUS | Uralkali Haas F1 Team | 1m33.554s | – | – |
| 19 | Lance Stroll | CAN | Aston Martin Cognizant Formula One Team | 2m21.584s | – | – |
| 20 | Yuki Tsunoda | JPN | Scuderia AlphaTauri Honda | No Time Set | – | – |
–
[-ar1_infolink ad='inline']