F1: Verstappen outduels Hamilton to win French GP
Lewis Hamilton is no longer the king of Paul Ricard.  Hamilton, using a 1-stop strategy for his Mercedes vs a 2-stop strategy for Max Verstappen, he could not hold off a faster Verstappen with one lap to go as Verstappen charged past to win the French GP.
In winning, Verstappen broke Hamilton's Paul Ricard domination in recent years.
Verstappen has extended his lead in the championship to 12 points, and is looking in rather fine form this season.
Hamilton and Mercedes have their work cut out this year. Those small errors are starting to prove costly.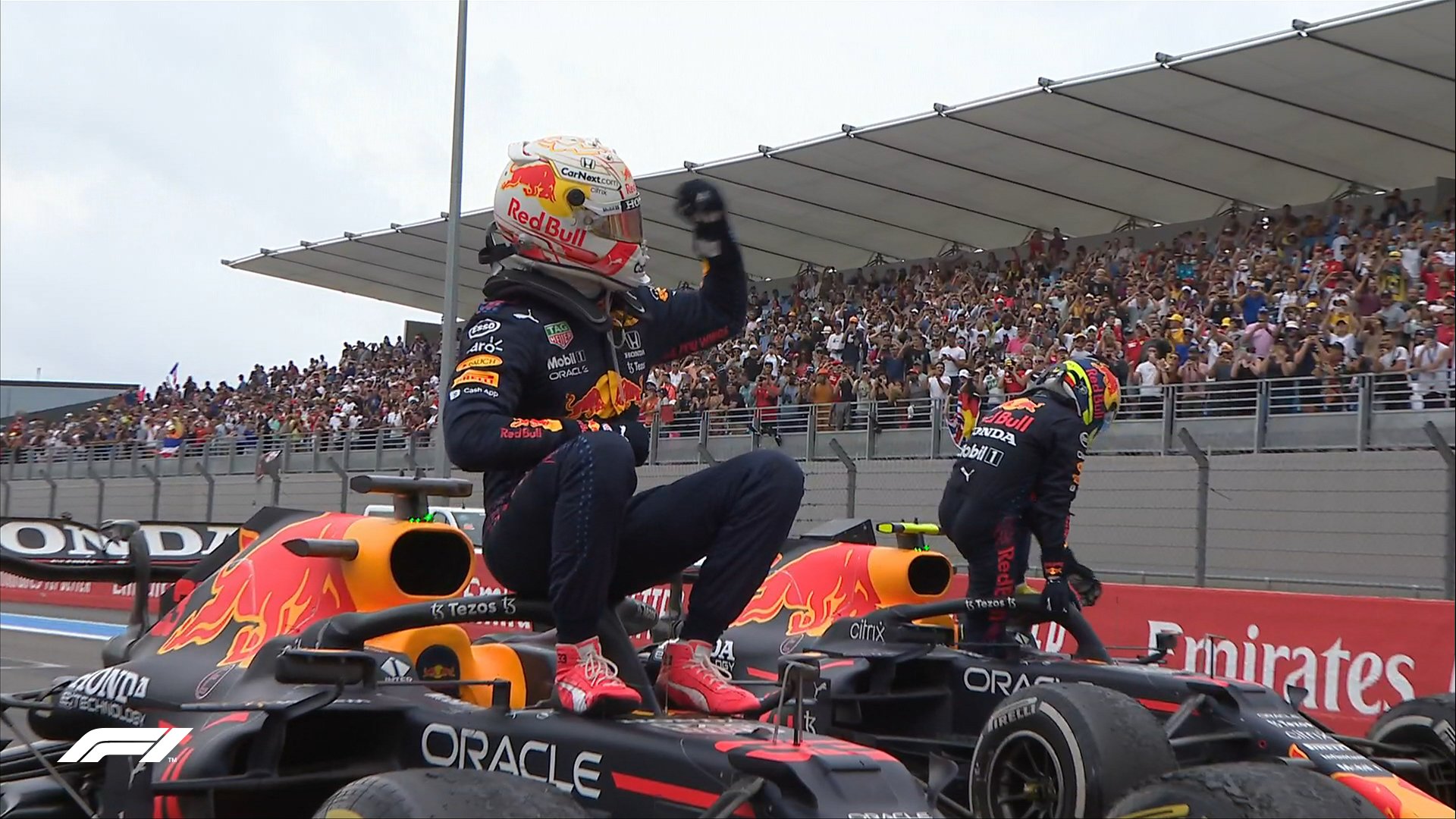 A joyous Verstappen shouted over the radio to his team, "What a race mate, ha ha, thank you so much, so good!"
"At the beginning it was super difficult with the wind, said Verstappen.
"We made the call to do the two-stopper and luckily, it paid off, but we had to work hard. The whole race we were fighting each other, so I think it will be like this for the rest of the season."
Hamilton had to settle for 2nd  ahead of Verstappen's Red Bull teammate Sergio Perez.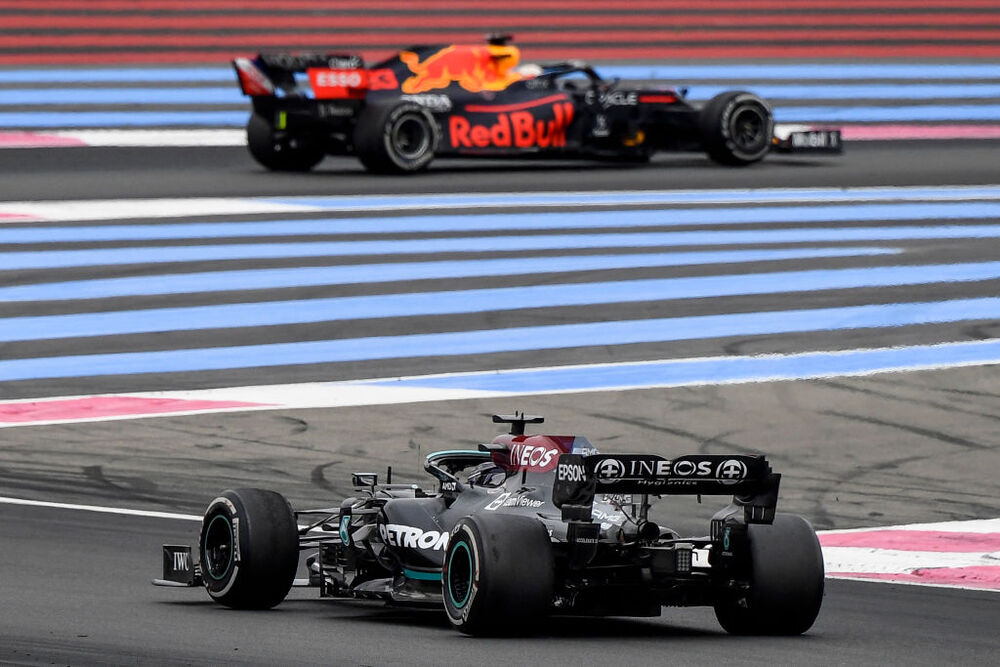 "Considering where we were Friday, I have to be happy with today's result," said Hamilton. "I had no tires at the end. We've got to dig deep, try and figure out [what we're missing] on the straight. It was really surprising to run out of tire."
Third place Perez said afterward, "Yeah it played out, it was hard to keep behind. But the track was getting better, I picked up my rear temps, went long and it really paid off. We did a great race, great for the team."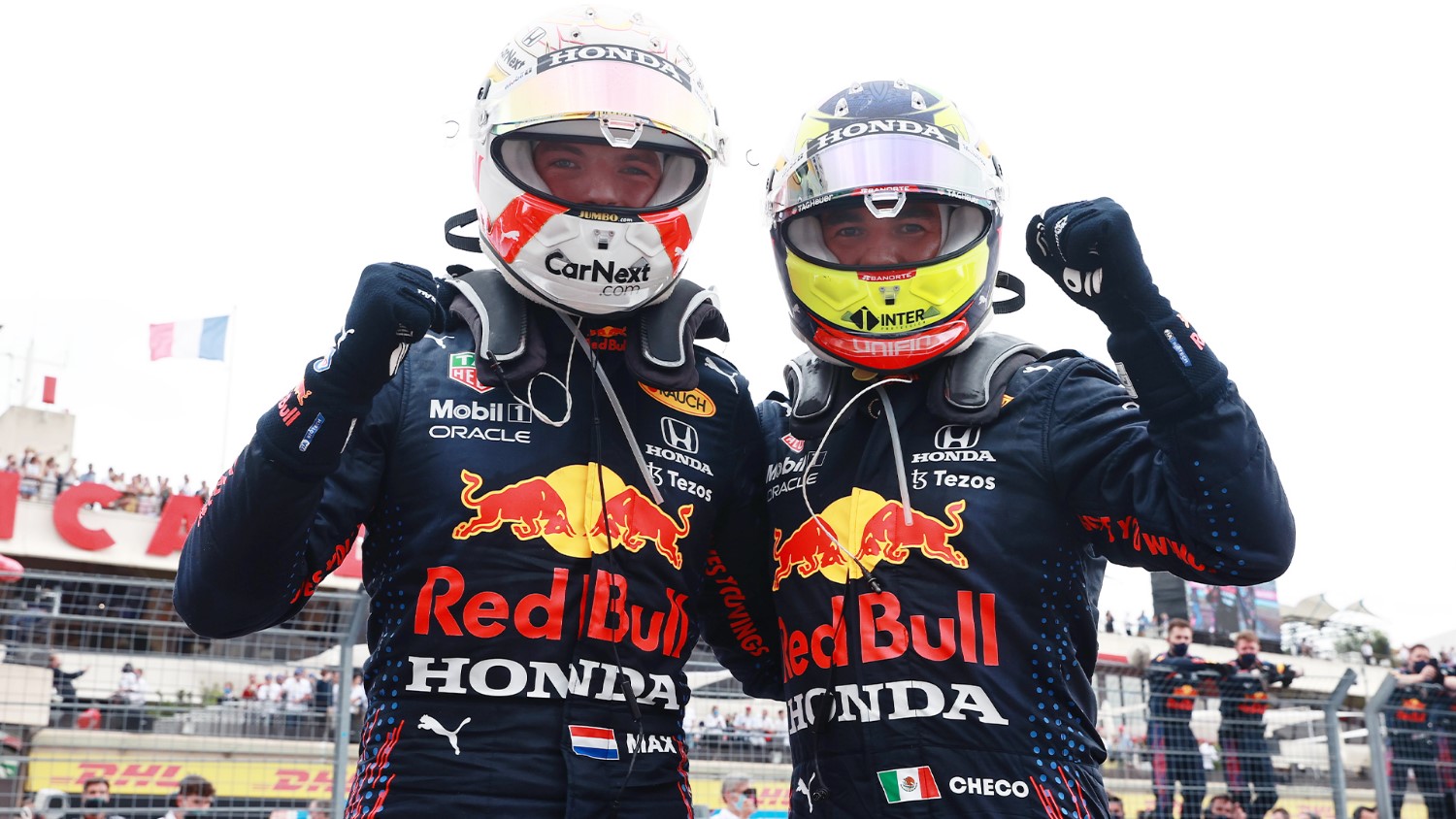 Valtteri Bottas could not hold off Perez and had to settle for 4th while Lando Norris rounded out the top-5 for McLaren.
Bottas was clearly frustrated during the race and was heard on the team radio saying: "Why the f**k does nobody listen to me when I say it's going to be a two-stopper? F**king hell."
Speaking after the race, Bottas said: "I think the winning strategy was two stops. It's easy to say afterwards, but that's how it is. As a team, we were too focused on completing the one-stop thinking it's the best, but it wasn't.
"If I did a two-stop, I would have been on the podium and fighting for the win, that's for sure."
"I had no front tires left for the last 15 laps, so I just had to try to get the car home. It was not fun today, the last stint. You feel like a sitting duck.
"Of course, I tried everything I could, tried to finish on the podium but the tires were completely gone, so no chance."
Daniel Ricciardo was a superb sixth although he was frustrated to be behind his teammate.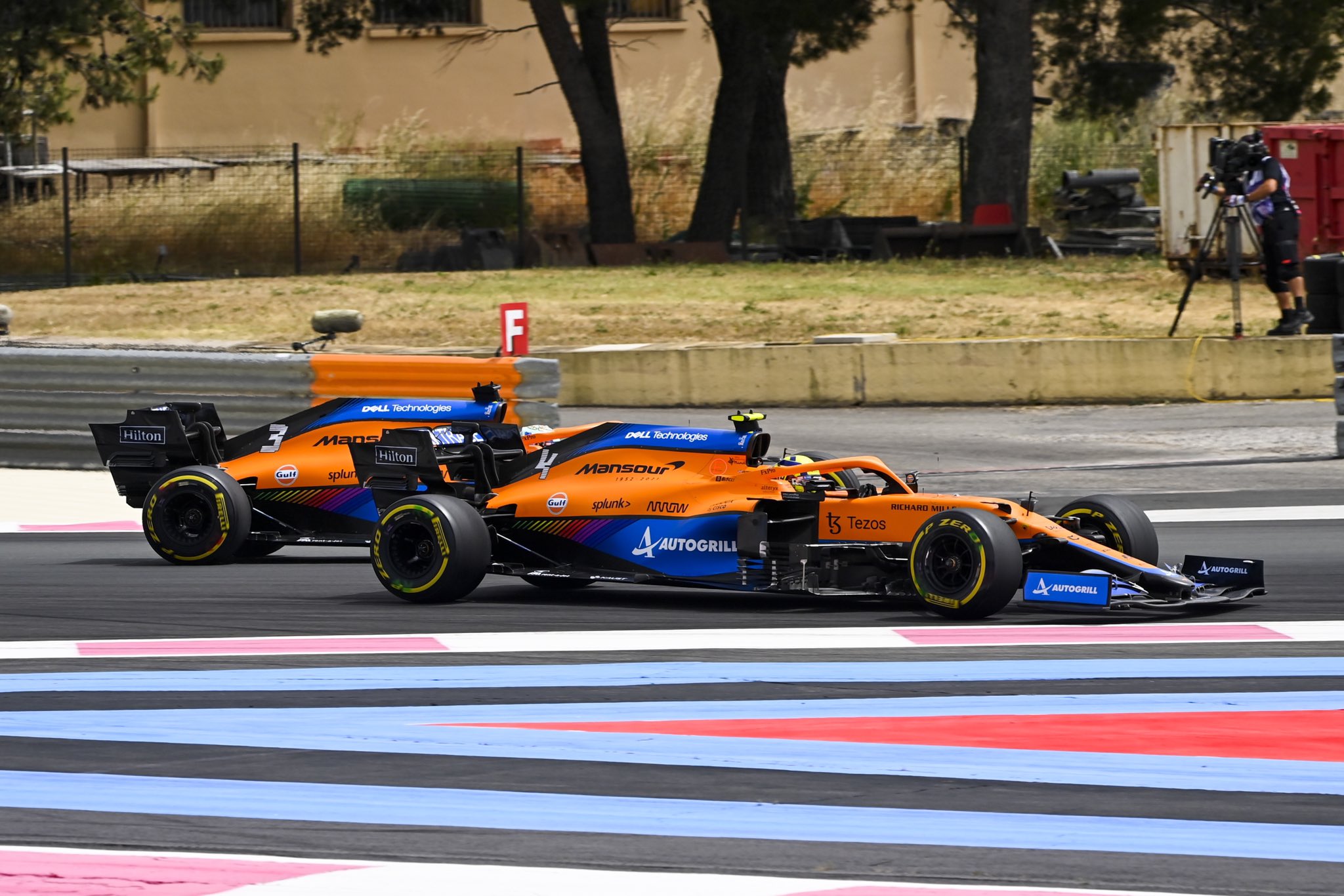 Pierre Gasly was seventh, ahead of a resurgent Fernando Alonso who is looking much more at home in that Alpine.
Sebastian Vettel made his very late pit stop work wonderfully as he came home ninth and his Aston Martin teammate rounded out the points in an incredible recovery drive.
Interestingly, Sebastian Vettel beat both Ferraris again, which is certain to bring a smile on Vettel's face and a frown on Mattia Binotto's who fired him.
Verstappen's win and fastest lap mean he is now on 131 points, 12 ahead of Hamilton, while in the Constructors' Championship Red Bull Racing now has 215 points, 37 ahead of Mercedes.  If not for his blown tire while leading the last race, Verstappen would have a 37 point lead on Hamilton.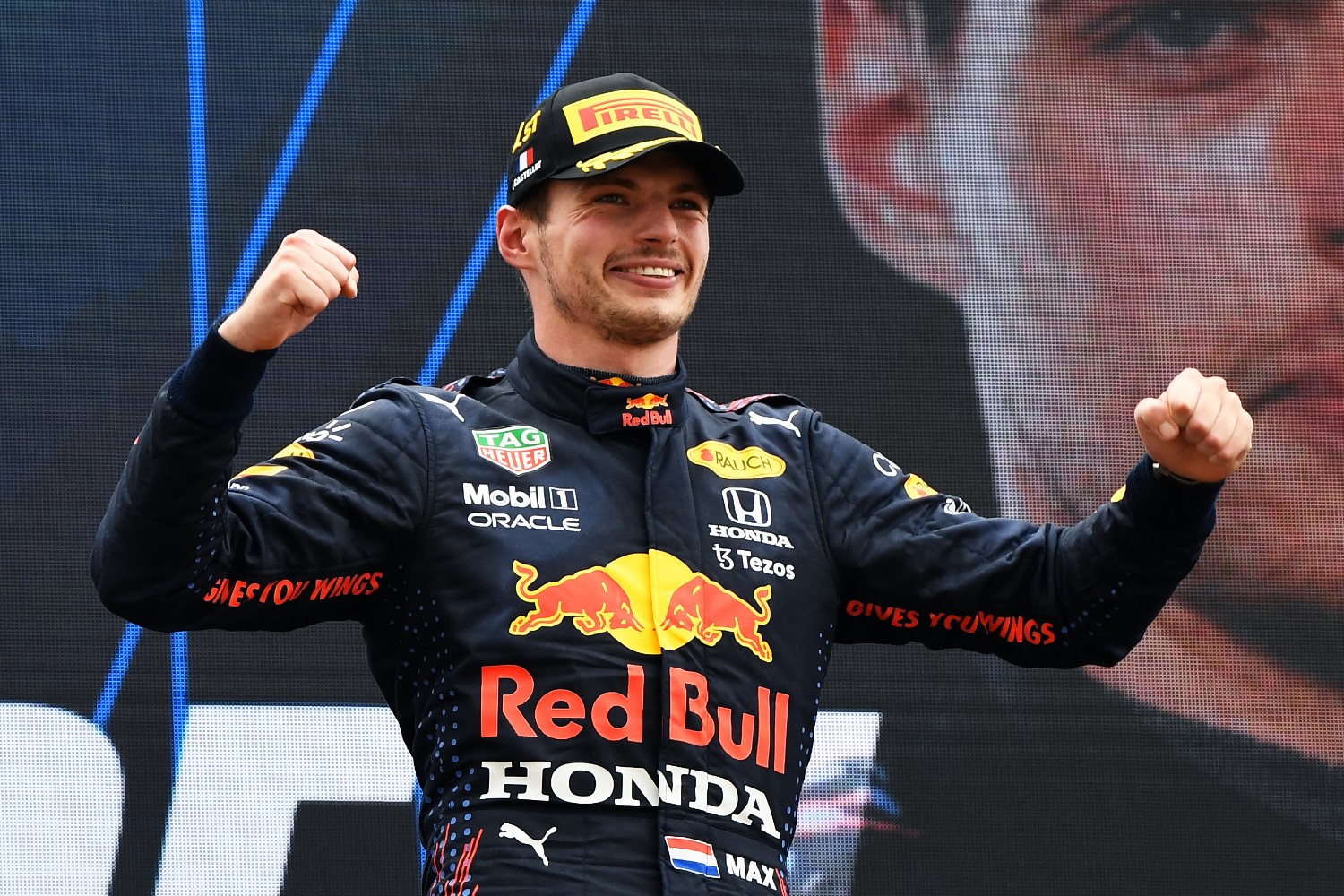 How Verstappen beat Hamilton
When the lights went out at the start of the race, Verstappen made a good getaway to lead Hamilton as the field headed for the first corner. But in Turn 2 the Dutchman made a mistake and went wide. The error allowed Hamilton to steal the lead as Verstappen rejoined ahead of Bottas and Pérez.
Over the opening laps Hamilton tried to build a gap and by lap nine he was almost two clear ahead of Max, though he was already complaining that his front tires were beginning to suffer. Bottas, meanwhile, was just a second behind the Dutchman. Pérez was finding it hard to stay with the top three, however, and by lap 10 he was 4.4s off the back of Botttas' Mercedes.
Bottas was the first of the pacesetters to pit at the end of lap 17, taking on Hard tires. The Red Bull Racing made its move on the next lap and Verstappen pitted for hards in a stop of 2.3s.
Hamilton was then told to push on his in-lap in a bit to negate Max's attempted undercut. His pit stop was clean and he took on hard tires in a 2.2 stop as Pérez, who had yet to pit, swept past to take the race lead.
Hamilton should have rejoined in P2, but Verstappen's out lap was superlative and as the Briton emerged from the pit lane Verstappen drew alongside the Mercedes and got past into Turn 1. Pérez meanwhile, went long on his first stint and stayed on track until the end of lap 24. And after taking on Hard tires he dropped to fourth place, 16 seconds behind Bottas.
The pace at the front now ramped up spectacularly as Hamilton tried to pressure race leader Verstappen. The Dutchman resisted well but both drivers and Bottas were soon on the radio saying that their tires would not last the pace.
Red Bull Racing then opted to switch Verstappen to a two-stop race and on lap 32 the Dutchman pitted for a new set of medium tires. He emerged in P4 behind Pérez but quickly began close on those ahead and he was soon past his team-mate and hunting down Bottas
By lap 44 he was within DRS range of the Finn and as they went into the chicane on the Mistral straight, Bottas went slightly wide. The mistake allowed Verstappen to pounce and he raced past the Finn at full speed as they swept through Signes.
A few laps later Pérez too closed up to the struggling Finn and armed with fresher tires the Mexican got a better exit out of the chicane and aided by DRS he powered past the Mercedes driver to claim third place.
Then it was Verstappen's turn. He closed hard and with two laps remaining he got to within DRS range of Hamilton. And on lap 52 he too chose the chicane to make his move. Verstappen got the perfect exit and with the aid of DRS he roared past the Mercedes driver to claim the race lead and a little over a lap later a stunning victory. Thanks to his pace on medium tires in his final stint Verstappen was also able to collect the point on offer for fastest lap thanks to his time of 1:36.4040 set just after he took on the new set.
Select Quotes
Max Verstappen
"Winning this race was an amazing Team effort and to have a double podium at a track like this really shows the hard work everyone is putting in here and in Milton Keynes at our factory and Honda's. Of course I would have liked to pull off into the distance and cruise ahead on my own but it doesn't often work like that in Formula One and we really had to work for it today. You can see how close the two teams are and to win like this on strategy with two laps to go is very rewarding. It was certainly not an easy race and I got caught out at Turn 1 and lost the rear which meant I had to go off the track and lost a position to Lewis. I was of course upset at the time but I knew there was a long race ahead and I had to focus. In the first stint I didn't really have the pace to fight with Lewis so we took the risk to pit first and to be honest I didn't expect the undercut to work so well that I would come out ahead. They were pushing hard to try and pass me but luckily I could just about stay ahead and I knew I couldn't make any mistakes. We decided to go for the two stop strategy which worked out well as our car suited the conditions towards the end of the race as the wind became a little less and the track rubbered in. In the end we made the right calls for both cars and it is great to be on the podium with Checo. We should all enjoy this for a few days until we get to Austria and start again."
Sergio Perez
"The Team did a fantastic job today with great strategy and making the right calls at the right time so well done to everyone here and back at the factory. It's a great result for them which is what really counts and so I'm happy with that. On my side, this weekend wasn't as good as I hoped it would be, as drivers we only want to win so I just have to keep working hard, continue improving and getting better results with the great car that I've been given. Back to back podiums is still solid points but I just needed probably three more laps to get past Lewis for the 1-2 finish, so we'll keep pushing to get it at our home race in Austria. I think it will be very good for me to have two races back to back in Spielberg as the first race will give me much more of an understanding of how the car performs around there and as a result a better baseline for race two. Hopefully we can be in contention for the win and continue this momentum."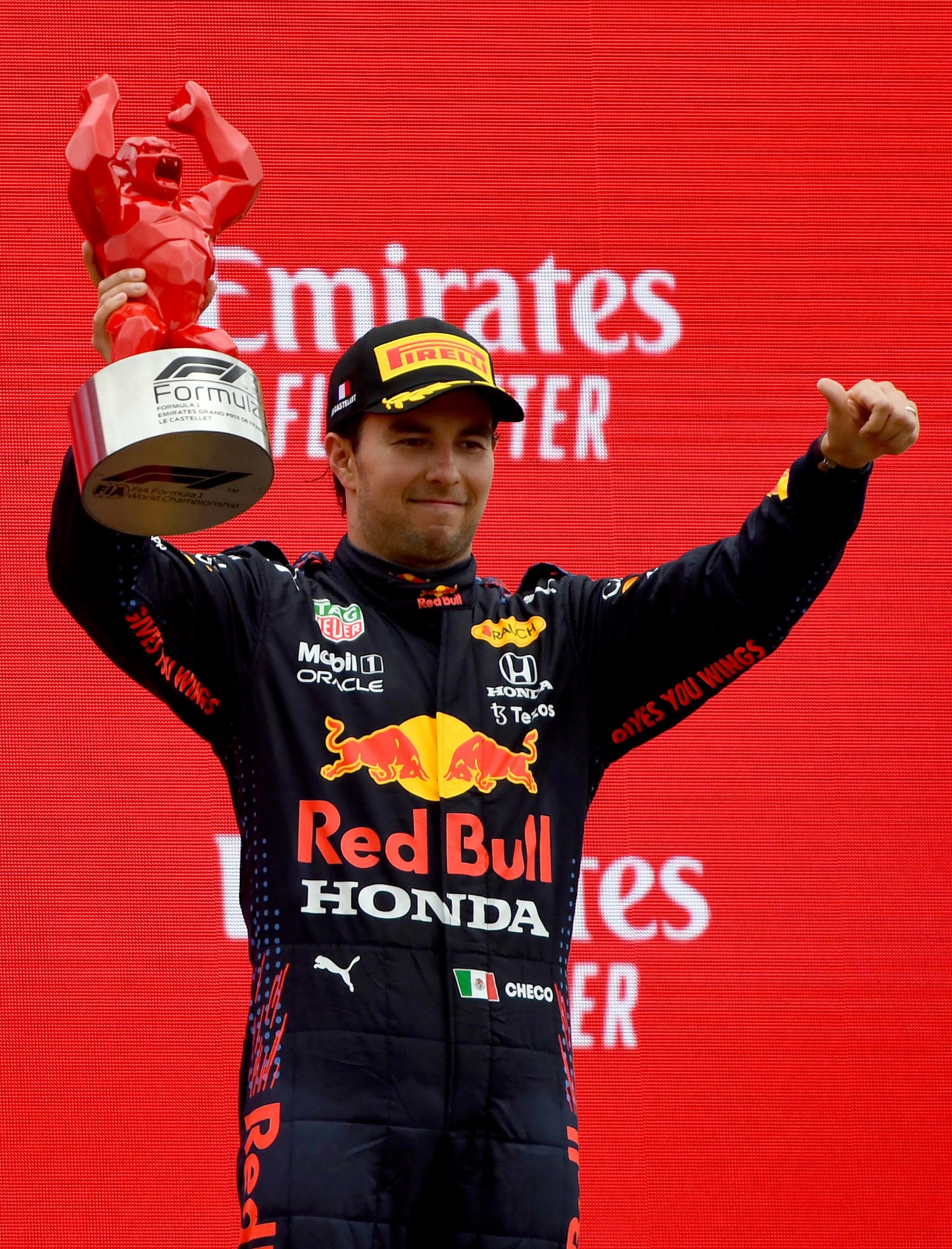 Christian Horner
"I'm so proud of the whole Team to bring home back to back race wins and a double podium which extends our lead in both championships. Max got a good start but lost the lead after an early excursion which we managed to survive and, after a stonking out lap following his first pit stop, he recovered track position. We didn't want to find ourselves in the same position as we did in Barcelona so we pulled the trigger and went for the two stop which thankfully paid off today. It's always a difficult thing to pit from the lead with 21 laps to go but we don't shy away from risks and went for it. On Checo's side, we split the strategy with a one stop which he made work coming home in third place so all round it was a fantastic Team performance. You can see how close it is between the two teams, there is very little between the cars so we've just got to keep pushing and looking for more performance. There's such a long way to go in this championship so you can't take anything for granted but now we'll take this momentum with us to Austria for the first of two home Grands Prix for the Team."
Lewis Hamilton
Congratulations to Max, he did a great job today. The Red Bulls had better straight line speed all weekend but considering that we had such a difficult Friday, I'm really happy with this result. Of course, we didn't win, and we had the lead but I had no tires left at the end so unfortunately we lost the position, but it was still a good race. We've got to find some pace, that's for sure. Most of the time we lost today was on the straights, so we've got to dig deep, try and figure out where that is, and whether it's power or drag but overall, we've still got a good package. We didn't know how strong the undercut was going to be but what was really surprising was just how we ran out of that front tire so early on, but obviously, they had a good strategy, and it worked really well for them.
Valtteri Bottas
I gave it everything I could to try and finish on the podium, we thought with the cooler temperatures the tires would hold on for longer but they didn't, our predictions in terms of tire life didn't quite match the reality. I was one of the first to stop for the Hard tire, my front-left tire wear was quite high and the last stint wasn't fun at all today, the last 10 laps with the Hard tire were terrible – I had no front tires left. We didn't pit for fresh tires at the end to set the fastest lap because Sergio was under investigation, so we wanted to stay out. A disappointing race, especially because my overall pace this weekend was good but at least I got some points.
Toto Wolff
Today went back and forwards, we were in the lead because Max made the mistake but our overall pace was good – maybe a little bit of a margin, even. We created a 3 second gap for the undercut, to protect it, but it wasn't enough and we came out of the pits a few tenths behind. In the first stint, Valtteri's tire started to have a vibration early on and we were really worried. We knew that by pitting we were going to trigger the stops too early, but we had no choice. The guys managed their hard tires well after that, but in the end it wasn't enough. We have lots to learn from today, and we need to understand the great pace of the Red Bulls on their out laps. It's something we'll look at to help us improve but I think we had a solid racing car today, and I'm glad it was an exciting race, we love entertainment too.
Andrew Shovlin
A frustrating day, we had a good opportunity to win and get both cars on the podium so the result is obviously very disappointing. Lewis had control of the race in the first stint and if anything we looked to be a bit better on degradation. We triggered the stops ourselves with Valtteri who was struggling with a growing vibration and that was clearly earlier than we wanted to come in but it was getting to a level where we didn't have an option.
Max obviously took the next lap to protect against Valtteri but with Lewis having just over three seconds of margin, we thought that he would have just enough protection from the undercut but that wasn't the case. The pitstops were good, the hard tire was obviously quick but there's more that we need to go through to understand why we lost the place.
We could see the degradation was higher than expected but were wary of the two-stop strategy with Lewis as we'd need to pass Perez who had relatively fresh tires; once Max made the move our best option was to see if we could just hang on but unfortunately the race was a couple of laps too long for us. With Valtteri we'll review whether we should have converted to a two stop but as with Lewis, we were afraid of the fact that Sergio's tires were relatively fresh and unsure if we'd have the speed to pass on track.
We've not got long to prepare for the next race and there are some areas we know we can do a better job on; we've clearly got a decent race car, we need to find a bit of speed on single lap and we need to be perfect on our operations but we're happy that we'll be back on track in a week.
Sebastian Vettel
"I think we had to do something different with the strategy today [by pitting late] and it worked out for us quite nicely with both cars inside the points. Unfortunately, I went off the track in the first stint and lost a lot of time because I was just pushing a bit too hard. Without that, I would have been closer to the group of cars ahead and with fresher tires at the end. So maybe we could have finished a bit higher up if things had been perfect. It was hard to be consistent in such windy conditions, which were tricky for everybody to judge. But we made the best of things, and it was a strong performance by the whole team with competitive race pace."
Lance Stroll
"I was comfortable in the car, and we were able to extract some good pace today. Paul Ricard is normally a track with little overtaking, but I managed to make all of my passes on track. Conditions were a bit tricky out there because the wind was changing from lap to lap, and there was quite a bit of tire degradation across the field. Towards the end of the race, a lot of drivers were struggling for grip, and we were able to take advantage to finish P10. It was a well-earned result and a good strategy certainly helped. Getting both cars into the points is a decent result, especially because we started P19. We have made progress with our race pace, but we need to make further gains on Saturday to help continue our consistent points-scoring form."
Otmar Szafnauer, CEO & Team Principal
"Formula One is all about maximizing what chances are available – and, after a qualifying session thwarted by ill fortune in Lance's case and by understeer in Sebastian's, both of them drove supremely disciplined races to deliver a double points finish at Paul Ricard today. Sebastian started steadily, overtook [Esteban] Ocon early on, and the Ferrari of [Carlos] Sainz in the closing stages, capably managed a long planned first stint on the Hard tire, and optimized that strategy to end up ninth. Lance recovered brilliantly from a P19 grid slot, moved up to 16th immediately, then passed [Kimi] Räikkönen and [Antonio] Giovinazzi in short order. The wind was troubling him at times, as it was Sebastian also, but he coped with it superbly, continued to battle the conditions skillfully throughout the race, and finished just behind Sebastian in 10th place – a truly excellent drive that saw him finish nine places ahead of his starting position."
Kimi Räikkönen
"We will need to understand why we couldn't replicate the good performance we had recently. I had a good start, then we struggled with tire management, but I think it was the same for everyone: in general, we didn't really have the speed we enjoyed lately. We had a much better pace when we switched to mediums, but by then we were already a bit too far back and, with all the time we lost to blue flags, we couldn't make a difference to the final position. We'll analyze this race and see how to improve for Austria."
Antonio Giovinazzi
"Unlike the last couple of races, we did not have the pace to get into the points today. We were good on the single lap yesterday, so we will need to understand what happened today. In the end, it was not an easy race, struggling in the first stint with the hard tires and then not making enough progress on the mediums. I am looking forward to being back in the car in Austria: different track, different conditions and hopefully a different, better outcome."
Mark C. reporting for Autoracing1.com
Race Results
| | | | | | |
| --- | --- | --- | --- | --- | --- |
| POS | NO | DRIVER | CAR | LAPS | BEHIND |
| 1 | 33 | Max Verstappen | Red Bull Racing Honda | 53 | +0.000s |
| 2 | 44 | Lewis Hamilton | Mercedes | 53 | +2.904s |
| 3 | 11 | Sergio Perez | Red Bull Racing Honda | 53 | +8.811s |
| 4 | 77 | Valtteri Bottas | Mercedes | 53 | +14.618s |
| 5 | 4 | Lando Norris | McLaren Mercedes | 53 | +64.032s |
| 6 | 3 | Daniel Ricciardo | McLaren Mercedes | 53 | +75.857s |
| 7 | 10 | Pierre Gasly | AlphaTauri Honda | 53 | +76.596s |
| 8 | 14 | Fernando Alonso | Alpine Renault | 53 | +77.695s |
| 9 | 5 | Sebastian Vettel | Aston Martin Mercedes | 53 | +79.666s |
| 10 | 18 | Lance Stroll | Aston Martin Mercedes | 53 | +91.946s |
| 11 | 55 | Carlos Sainz | Ferrari | 53 | +99.337s |
| 12 | 63 | George Russell | Williams Mercedes | 52 | +1 lap |
| 13 | 22 | Yuki Tsunoda | AlphaTauri Honda | 52 | +1 lap |
| 14 | 31 | Esteban Ocon | Alpine Renault | 52 | +1 lap |
| 15 | 99 | Antonio Giovinazzi | Alfa Romeo Racing Ferrari | 52 | +1 lap |
| 16 | 16 | Charles Leclerc | Ferrari | 52 | +1 lap |
| 17 | 7 | Kimi Räikkönen | Alfa Romeo Racing Ferrari | 52 | +1 lap |
| 18 | 6 | Nicholas Latifi | Williams Mercedes | 52 | +1 lap |
| 19 | 47 | Mick Schumacher | Haas Ferrari | 52 | +1 lap |
| 20 | 9 | Nikita Mazepin | Haas Ferrari | 52 | +1 lap |