NASCAR: Kyle Larson schools the field to win his 4th straight Cup race
Open wheel star Kyle Larson, perhaps the best driver NASCAR has ever seen,  again schooled the NASCAR Cup drivers on Sunday, dominating the NASCAR Cup Series' first race at Nashville Superspeedway, for his third straight points-paying victory Sunday in the Ally 400.
Larson loves being behind the wheel.
Whether it's at a local dirt track, a mammoth speedway or simply in his motorhome in the wee hours of the morning traveling from track to track, Larson is at home in the driver's seat.
And right now, everyone in NASCAR is trying to figure out a way to pass him.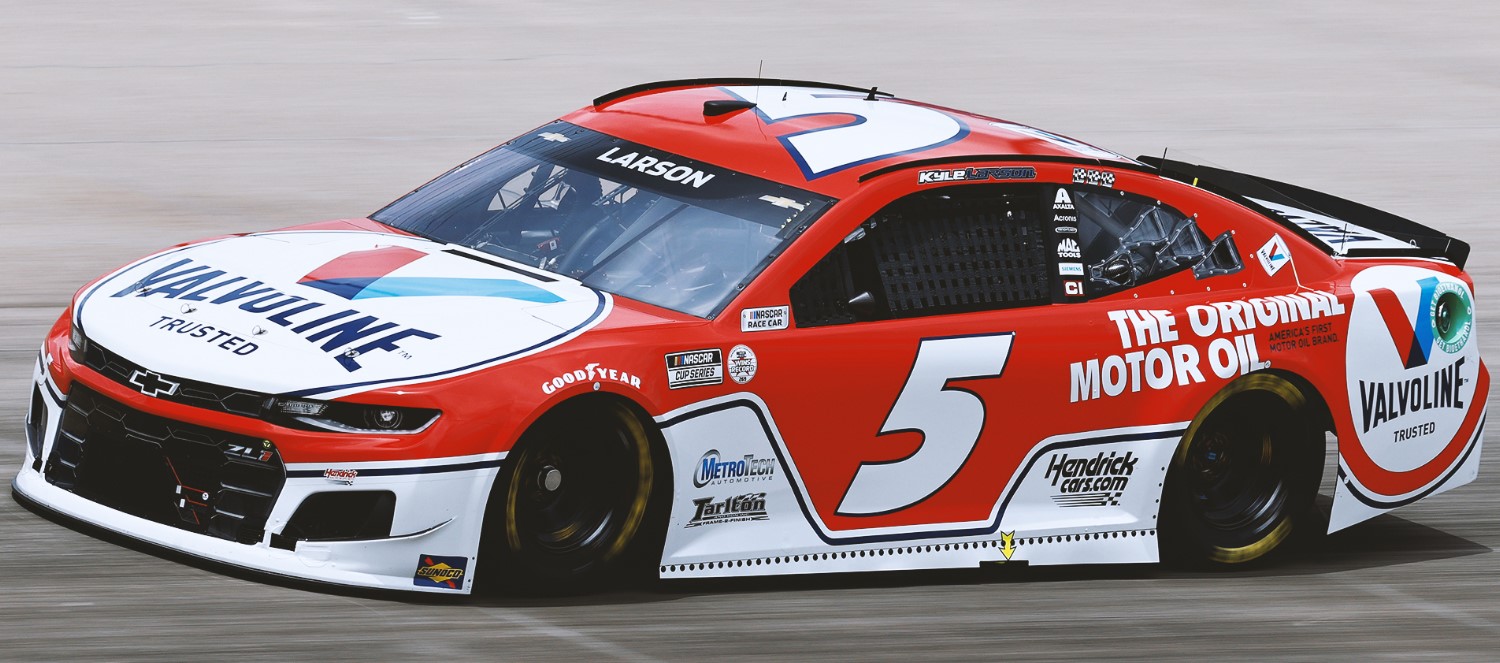 Larson won the inaugural "Ally 400" NASCAR Cup Series race at Nashville Superspeedway on Sunday, leading a commanding 264 laps and sending a clear message that Hendrick Motorsports' No. 5 Chevrolet is the team to beat in the second half of the season.
Larson's No. 5 Hendrick Motorsports Chevrolet led 264 of the 300 laps. His fourth victory of the season was the 10th of his Cup Series career. The triumph marked four straight weekends with a Cup victory, counting the non-points NASCAR All-Star Race last weekend at Texas Motor Speedway.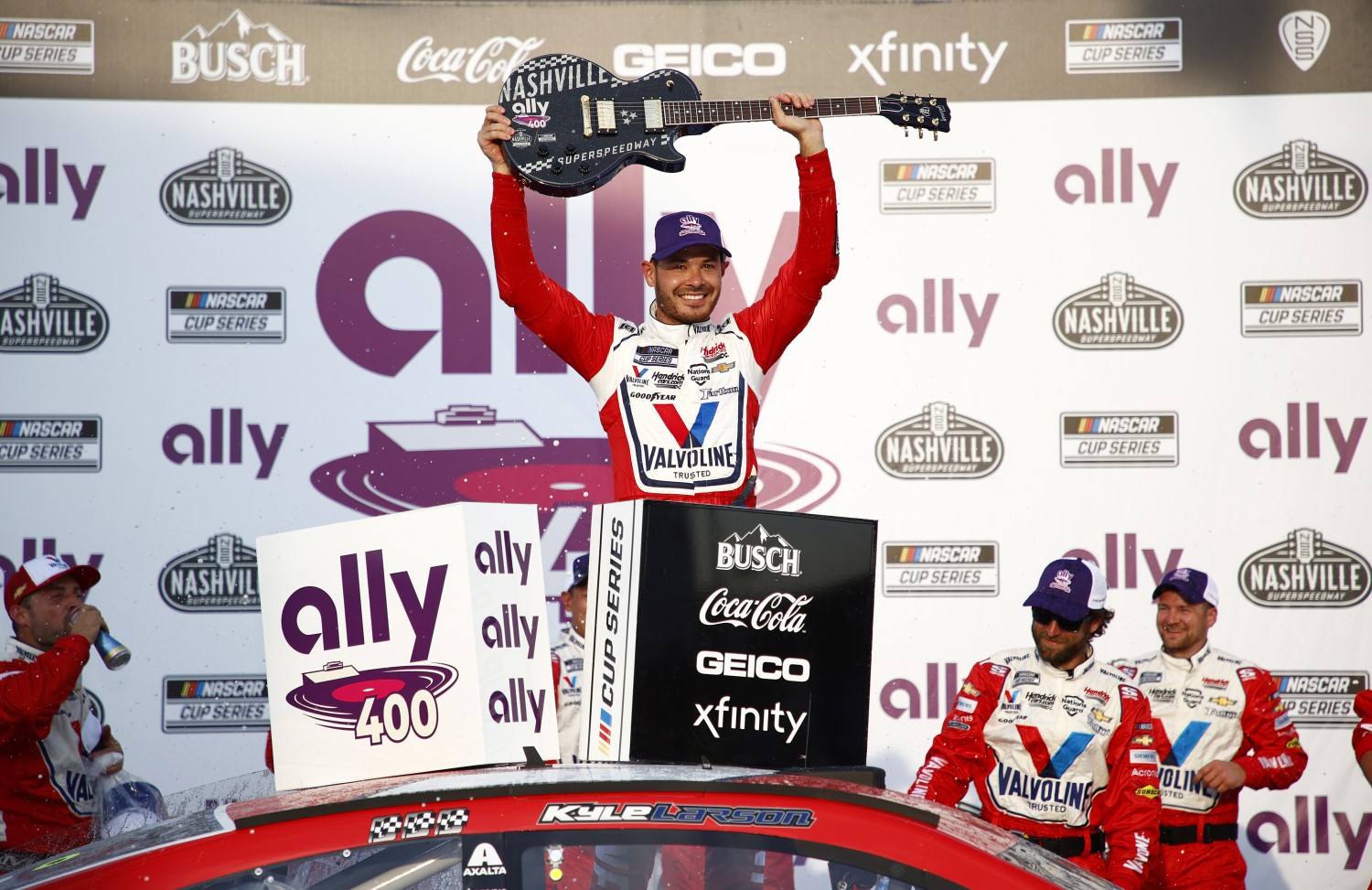 A sold-out crowd of 38,000 fans saw the 28-year-old from Elk Grove, Calif., capture the first Cup Series event in Middle Tennessee in 37 years and celebrate in Victory Lane with a stunning trophy and a custom-made Gibson guitar.
"This crowd is awesome," Larson said. "We've had the best car on the race track for about a month and a half now. It's good to take advantage of that. We had a near-perfect day.
"Everyone all week has been aiming to take home that Gibson guitar."
Larson is the first driver to win three straight Cup Series points races since Brad Keselowski in 2018 and he has six consecutive top-two finishes. As a team, Hendrick Motorsports has won five straight regular-season races, as well as last week's All-Star event, also won by Larson.
Chase Elliott won Stage 1 and Larson answered with the Stage 2 victory – his 12th of the season, which is double that of any other driver. Elliott was later disqualified after the race.
Larson completed the 400 miles in 3 hours, 30 minutes, 23 seconds, averaging 113.792 mph and beating Ross Chastain to the checkered flag by 4.335 seconds. Eleven caution flags took up 60 of the race's 300 laps.
Aside from a grueling NASCAR Cup Series schedule, fans can often see Larson at various smaller tracks across the country, battling against local stars at their home venues. He estimated he entered close to 100 races last year alone.
"He eats, sleeps and breathes racing," said car owner Rick Hendrick. "I've never seen anybody more intense about racing every minute of every day.
"The team was pretty flawless all day long. They've been in full stride here for the last seven, eight weeks."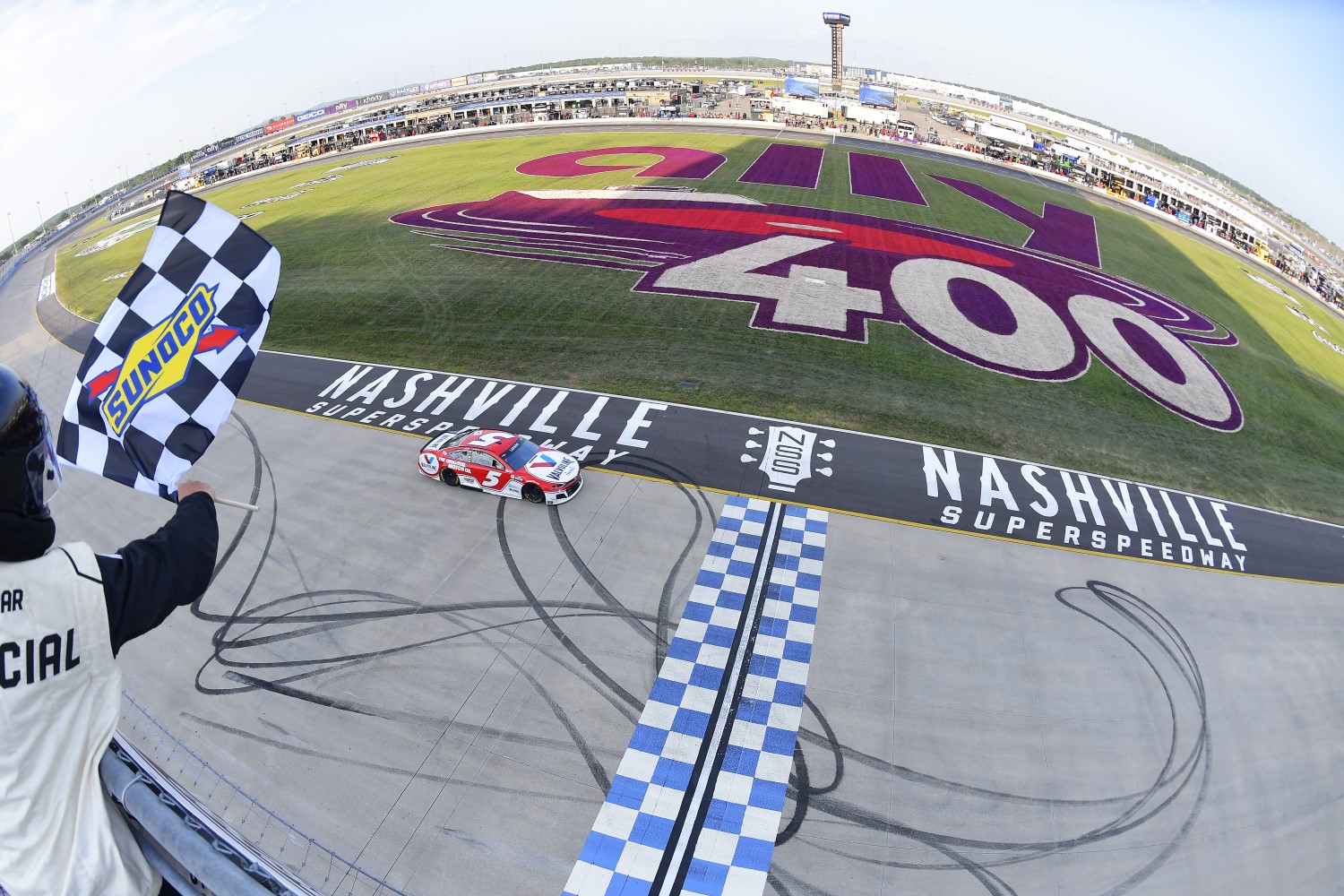 Ross Chastain secured his career-best result in the Cup Series, taking second place with his No. 42 Chip Ganassi Racing Chevrolet. Larson teammate William Byron wound up third, and Stewart-Haas Racing teammates Aric Almirola and Kevin Harvick wrapped up the top five in order.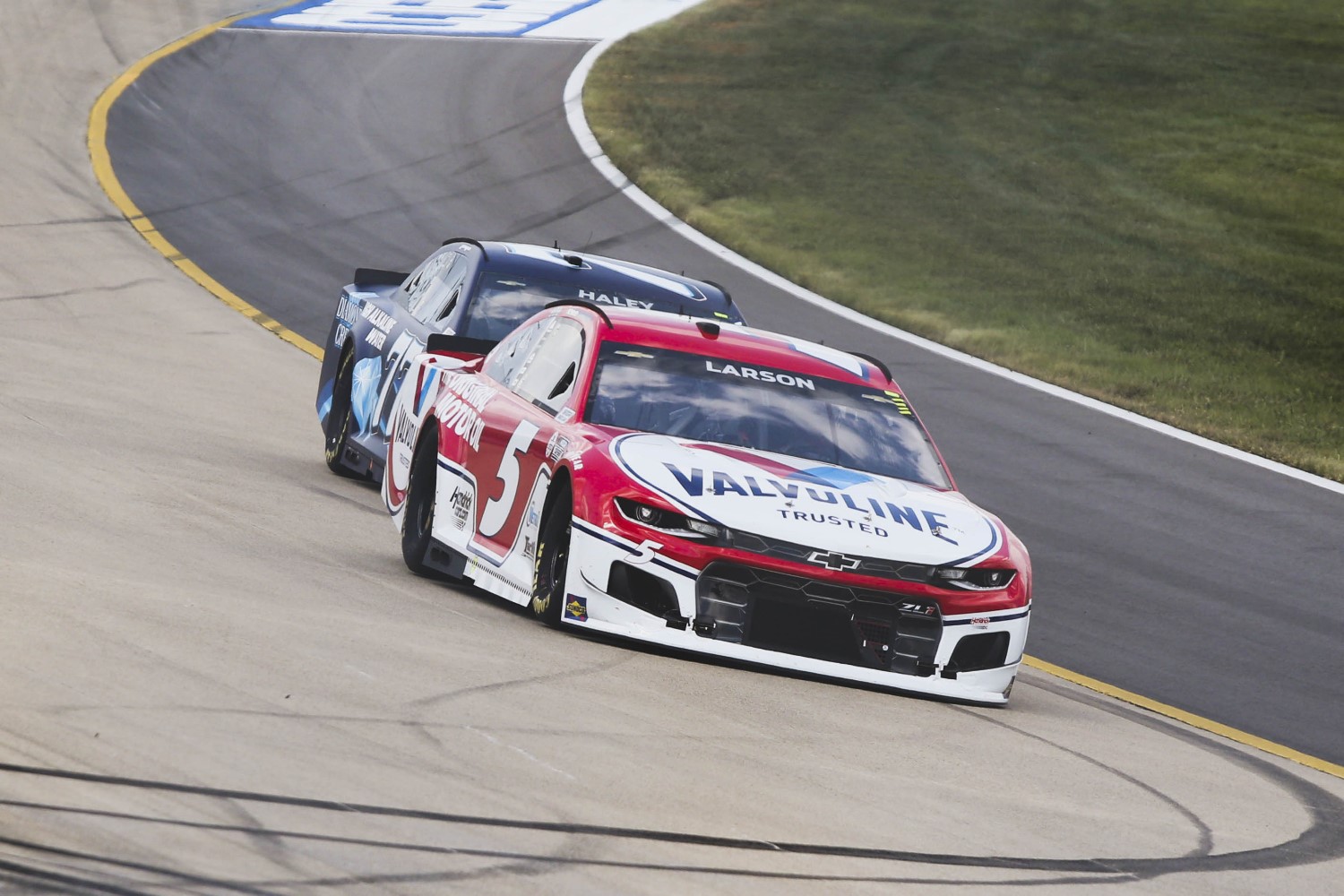 Teammates Chase Elliott and Larson split the stage wins as Hendrick Motorsports again asserted its performance edge. It's the organization's fifth consecutive victory.
Almirola won the Busch Pole Award in Sunday morning's qualifying and ended up with his best finish of the season. Kyle Busch, who started second alongside Almirola, led three times for 10 laps but faded in the final stage to finish 11th in the Joe Gibbs Racing No. 18 Toyota.
Sunday's race marked the first NASCAR weekend at the 1.33-mile Tennessee track since 2011. It was the first Cup Series event in the greater Nashville vicinity since 1984, when the tour last ran at the 0.596-mile fairgrounds oval.
Top-3 Post-Race Quotes
KYLE LARSON, NO. 5 VALVOLINE CAMARO ZL1 1LE – Race Winner
DID IT FEEL THE MOST DOMINANT BEHIND THE WHEEL?
"It was a great day. We never really had to run behind people, so I don't know. If one of my teammates got out front again it probably would have been hard to pass them. This Valvoline Chevrolet was really good. It cut the middle of the corner really well and our pit crew did an awesome job again. That number one pit stall helps a bunch, too. This crowd is awesome!"
YOU DID A BURNOUT FOR THE ENTIRE CROWD, FROM ONE END OF THE GRANDSTAND TO THE OTHER
"Yeah, I was going to do something here and then I looked down there and thought, yeah, there's a lot of fans down there, too. I need to go to the end. But we had enough rubber and fuel leftover to do a good burnout there at the end. I can't say enough about everybody at Hendrick Motorsports, HendrickCars.com, Valvoline, and thanks to everybody who has been a part of this team this year. I just hope we can keep it going."
ROSS CHASTAIN, NO. 42 CLOVER CAMARO ZL1 1LE – Finished 2nd
FIRST CAREER CUP TOP-FIVE, HOW ARE YOU FEELING?
"Really good. To come to a 750 hp track – lifting, sliding and moving all over the race track trying to get forward drive, it was really good."
WHAT DOES THIS BATCH OF TOP-10'S SAY ABOUT YOU AS A DRIVER AND THIS TEAM RIGHT NOW? SONOMA, A ROAD COURSE IN THE RAIN AND NOW HERE.
"It's finally on a circle track, that's all I'm happy about. I'm happy about the road courses, I just don't really know what it's happening. Here, I know why. I know what we did. I know what I'm doing to drive the car. Road courses, it's not really pre-planned. This is pre-planned. It's what we all grew up doing."
YOU'RE IN THE PLAYOFF MIX NOW. ARE YOU IN MUST-WIN MODE OR DO YOU FEEL PRETTY GOOD ABOUT DOING IT ON POINTS?
"I just want to compete, that's the biggest thing. I'm racing with my heroes. I want to compete with them and I want to beat them."
I GET THE IMPRESSION THAT YOU DRIVE THE SAME NO MATTER WHAT, IT'S JUST A MATTER OF THE PROGRAM COMING TO YOU. HAVE YOU HAD TO, WHETHER IT'S LEARNING THE CARS OR LEARNING THE PROGRAM, CHANGE THE WAY YOU GO ABOUT DOING EVERY WEEKEND?
"I'm just trying to keep my confidence up. I got down pretty early in the west coast swing. I've realized I just need to keep doing what I'm doing."
WILLIAM BYRON, NO. 24 LIBERTY UNIVERSITY CAMARO ZL1 1LE – Finished 3rd
HOW DID IT GO OUT THERE FOR YOU TODAY? IS THERE ANYTHING YOU CAN COMPARE FROM FRIDAY?
"We had a little bit of right-front damage, so honestly we weren't as good as we probably could have been. We were OK, we just couldn't finish the corner and just struggled with the right-front all day. Overall, that's just part of it. It's hard to start in the back and we learned a lesson there on adjustments for qualifying. Nothing major, just something to learn from."
DID YOU LEARN ANYTHING FROM THE TRUCK RACE REGARDING THE BRAKE ISSUES BEFORE YOUR ENGINE LET GO? DID YOU KNOW THIS WAS GOING TO BE AN ISSUE?
"Just low downforce, high horsepower. I think a lot of guys showed up with less brake than they needed. So, for us, we showed up with a good amount of brake, especially being back in traffic."
Race Results
| | | | | | | | |
| --- | --- | --- | --- | --- | --- | --- | --- |
| Fin | Str | No. | Driver | Team | Laps | Led | Status |
| 1 | 5 | 5 | Kyle Larson | Valvoline Chevrolet | 300 | 264 | Running |
| 2 | 19 | 42 | Ross Chastain | Clover Chevrolet | 300 | 4 | Running |
| 3 | 4 | 24 | William Byron | Liberty University Chevrolet | 300 | 0 | Running |
| 4 | 1 | 10 | Aric Almirola | Smithfield Ford | 300 | 1 | Running |
| 5 | 12 | 4 | Kevin Harvick | Grave Digger Ford | 300 | 0 | Running |
| 6 | 14 | 47 | Ricky Stenhouse Jr. | Kroger/Nature Valley Chevrolet | 300 | 0 | Running |
| 7 | 22 | 99 | Daniel Suarez | Tootsies Orchid Lounge Chevrolet | 300 | 0 | Running |
| 8 | 30 | 1 | Kurt Busch | Monster Energy Chevrolet | 300 | 3 | Running |
| 9 | 25 | 20 | Christopher Bell | DEWALT Toyota | 300 | 0 | Running |
| 10 | 3 | 22 | Joey Logano | Shell Pennzoil Ford | 300 | 0 | Running |
| 11 | 2 | 18 | Kyle Busch | Pedigree Toyota | 300 | 10 | Running |
| 12 | 28 | 3 | Austin Dillon | Get Bioethanol Chevrolet | 300 | 0 | Running |
| 13 | 6 | 9 | Chase Elliott | NAPA Auto Parts Chevrolet | 300 | 13 | Running |
| 14 | 29 | 6 | Ryan Newman | Planters Ford | 300 | 0 | Running |
| 15 | 8 | 48 | Alex Bowman | Ally Neon Lights Chevrolet | 300 | 0 | Running |
| 16 | 24 | 7 | Corey LaJoie | Pryor & Lee Chevrolet | 300 | 0 | Running |
| 17 | 23 | 34 | Michael McDowell | Love's Travel Stops Ford | 300 | 0 | Running |
| 18 | 18 | 38 | Anthony Alfredo # | Speedco Ford | 300 | 0 | Running |
| 19 | 26 | 8 | Tyler Reddick | Quartz Hill Records Chevrolet | 300 | 0 | Running |
| 20 | 9 | 43 | Erik Jones | Black Entrepreneur Initiative Chevrolet | 300 | 0 | Running |
| 21 | 21 | 23 | Bubba Wallace | DoorDash/PetSmart Toyota | 299 | 0 | Running |
| 22 | 13 | 11 | Denny Hamlin | FedEx Express Toyota | 299 | 0 | Running |
| 23 | 35 | 19 | Martin Truex Jr. | Bass Pro Toyota | 299 | 0 | Running |
| 24 | 15 | 2 | Brad Keselowski | Dent Wizard Ford | 299 | 0 | Running |
| 25 | 11 | 21 | Matt DiBenedetto | Motorcraft/Quick Lane Ford | 298 | 0 | Running |
| 26 | 36 | 53 | Garrett Smithley(i) | Smart Sanitizer Chevrolet | 298 | 0 | Running |
| 27 | 34 | 52 | Josh Bilicki | Insurance King Ford | 298 | 0 | Running |
| 28 | 32 | 51 | JJ Yeley(i) | Nurtec ODT Chevrolet | 298 | 0 | Running |
| 29 | 31 | 78 | BJ McLeod(i) | Surface Sunscreen/Koolbox ICE Ford | 295 | 0 | Running |
| 30 | 37 | 15 | Joey Gase(i) | Tennessee Donor Services/Donate Life Chevrolet | 295 | 0 | Running |
| 31 | 7 | 41 | Cole Custer | Dixie Vodka Tony's Tea Ford | 252 | 0 | Running |
| 32 | 16 | 14 | Chase Briscoe # | HighPoint.com/Thorlabs Ford | 227 | 5 | Accident |
| 33 | 20 | 37 | * Ryan Preece | Entenmann's Chevrolet | 197 | 0 | Brakes |
| 34 | 33 | 66 | * Chad Finchum(i) | Smithbilt Homes Toyota | 157 | 0 | Rear End |
| 35 | 38 | 13 | * David Starr(i) | Bob Menery Toyota | 126 | 0 | Brakes |
| 36 | 27 | 77 | Justin Haley(i) | Diamond Creek Water Chevrolet | 79 | 0 | Accident |
| 37 | 17 | 17 | Chris Buescher | Fifth Third Bank Ford | 77 | 0 | Accident |
| 38 | 10 | 12 | Ryan Blaney | Menards/Duracell Ford | 53 | 0 | Accident |
| 39 | 39 | 0 | Quin Houff | Mane 'n Tail/Spirit Untamed Chevrolet | 0 | 0 | Accident |