Larson, Burton, and Gilliland on Pocono poles
Four races among three divisions await the NASCAR Cup, Xfinity, and Camping World Truck Series at Pocono Raceway this weekend.
On Saturday, Todd Gilliland will lead the Truck field to green in the CRC Brakleen 150 while Kyle Larson will start on pole  for the  first of two Cup Series' races – the Pocono Organics CBD 325.
Sunday's Pocono Green 225 will see Harrison Burton on the Xfinity pole. The Xfinity event will before the Cup Series' second race, the Explore the Pocono Mountains 350, which will have its starting lineup set by inverting the top twenty from the Saturday round.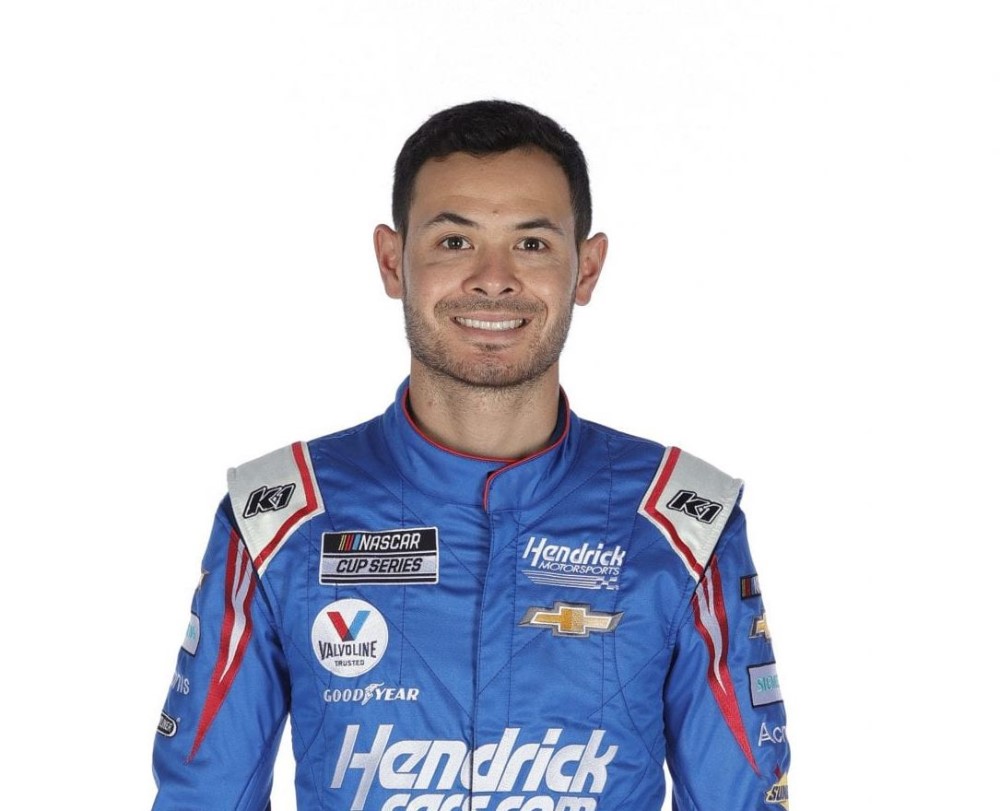 Saturday Truck Lineup
| | | | | |
| --- | --- | --- | --- | --- |
| Start | Number | Driver | Team | Manufacturer |
| 1 | 38 | Todd Gilliland | Front Row Motorsports | Ford |
| 2 | 21 | Zane Smith | GMS Racing | Chevrolet |
| 3 | 99 | Ben Rhodes | ThorSport Racing | Toyota |
| 4 | 16 | Austin Hill | Hattori Racing Enterprises | Toyota |
| 5 | 88 | Matt Crafton | ThorSport Racing | Toyota |
| 6 | 52 | Stewart Friesen | Halmar Friesen Racing | Toyota |
| 7 | 4 | John Hunter Nemechek | Kyle Busch Motorsports | Toyota |
| 8 | 17 | Ryan Preece* | David Gilliland Racing | Ford |
| 9 | 24 | Jack Wood | GMS Racing | Chevrolet |
| 10 | 2 | Sheldon Creed | GMS Racing | Chevrolet |
| 11 | 18 | Chandler Smith | Kyle Busch Motorsports | Toyota |
| 12 | 13 | Johnny Sauter | ThorSport Racing | Toyota |
| 13 | 42 | Carson Hocevar | Niece Motorsports | Chevrolet |
| 14 | 66 | Ty Majeski | ThorSport Racing | Toyota |
| 15 | 23 | Chase Purdy | GMS Racing | Chevrolet |
| 16 | 98 | Christian Eckes | ThorSport Racing | Toyota |
| 17 | 15 | Tanner Gray | David Gilliland Racing | Ford |
| 18 | 26 | Tyler Ankrum | GMS Racing | Chevrolet |
| 19 | 1 | Hailie Deegan | David Gilliland Racing | Ford |
| 20 | 25 | Josh Berry* | Rackley WAR | Chevrolet |
| 21 | 22 | Austin Wayne Self | AM Racing | Chevrolet |
| 22 | 51 | Kyle Busch* | Kyle Busch Motorsports | Toyota |
| 23 | 40 | Ryan Truex | Niece Motorsports | Chevrolet |
| 24 | 19 | Derek Kraus | McAnally-Hilgemann Racing | Toyota |
| 25 | 12 | Tate Fogleman | Young's Motorsports | Chevrolet |
| 26 | 02 | Kris Wright | Young's Motorsports | Chevrolet |
| 27 | 45 | Bayley Currey | Niece Motorsports | Chevrolet |
| 28 | 30 | Danny Bohn | On Point Motorsports | Toyota |
| 29 | 34 | Lawless Alan | Reaume Brothers Racing | Toyota |
| 30 | 56 | Tyler Hill | Hill Motorsports | Chevrolet |
| 31 | 9 | Grant Enfinger | CR7 Motorsports | Chevrolet |
| 32 | 41 | Todd Peck | Cram Racing Enterprises | Chevrolet |
| 33 | 3 | Howie DiSavino III | Jordan Anderson Racing | Chevrolet |
| 34 | 20 | Spencer Boyd | Young's Motorsports | Chevrolet |
| 35 | 33 | Josh Reaume | Reaume Brothers Racing | Chevrolet |
| 36 | 10 | Jennifer Jo Cobb | Jennifer Jo Cobb Racing | Ford |
| 37 | 6 | Norm Benning | Norm Benning Racing | Chevrolet |
| 38 | 49 | Ray Ciccarelli | CMI Motorsports | Toyota |
| 39 | 28 | Bryan Dauzat | FDNY Racing | Chevrolet |
Italics – Competing for Rookie of the Year
* – Ineligible for Truck points
Saturday Cup Lineup
| | | | | |
| --- | --- | --- | --- | --- |
| Start | No. | Driver | Team | Manufacturer |
| 1 | 5 | Kyle Larson | Hendrick Motorsports | Chevrolet |
| 2 | 24 | William Byron | Hendrick Motorsports | Chevrolet |
| 3 | 4 | Kevin Harvick | Stewart-Haas Racing | Ford |
| 4 | 22 | Joey Logano | Team Penske | Ford |
| 5 | 18 | Kyle Busch | Joe Gibbs Racing | Toyota |
| 6 | 42 | Ross Chastain | Chip Ganassi Racing | Chevrolet |
| 7 | 47 | Ricky Stenhouse Jr. | JTG Daugherty Racing | Chevrolet |
| 8 | 1 | Kurt Busch | Chip Ganassi Racing | Chevrolet |
| 9 | 20 | Christopher Bell | Joe Gibbs Racing | Toyota |
| 10 | 11 | Denny Hamlin | Joe Gibbs Racing | Toyota |
| 11 | 10 | Aric Almirola | Stewart-Haas Racing | Ford |
| 12 | 3 | Austin Dillon | Richard Childress Racing | Chevrolet |
| 13 | 48 | Alex Bowman | Hendrick Motorsports | Chevrolet |
| 14 | 99 | Daniel Suárez | Trackhouse Racing Team | Chevrolet |
| 15 | 19 | Martin Truex Jr. | Joe Gibbs Racing | Toyota |
| 16 | 8 | Tyler Reddick | Richard Childress Racing | Chevrolet |
| 17 | 34 | Michael McDowell | Front Row Motorsports | Ford |
| 18 | 2 | Brad Keselowski | Team Penske | Ford |
| 19 | 6 | Ryan Newman | Roush Fenway Racing | Ford |
| 20 | 23 | Bubba Wallace | 23XI Racing | Toyota |
| 21 | 21 | Matt DiBenedetto | Wood Brothers Racing | Ford |
| 22 | 43 | Erik Jones | Richard Petty Motorsports | Chevrolet |
| 23 | 7 | Corey LaJoie | Spire Motorsports | Chevrolet |
| 24 | 38 | Anthony Alfredo | Front Row Motorsports | Ford |
| 25 | 17 | Chris Buescher | Roush Fenway Racing | Ford |
| 26 | 41 | Cole Custer | Stewart-Haas Racing | Ford |
| 27 | 12 | Ryan Blaney | Team Penske | Ford |
| 28 | 14 | Chase Briscoe | Stewart-Haas Racing | Ford |
| 29 | 9 | Chase Elliott | Hendrick Motorsports | Chevrolet |
| 30 | 53 | Garrett Smithley* | Rick Ware Racing | Chevrolet |
| 31 | 37 | Ryan Preece | JTG Daugherty Racing | Chevrolet |
| 32 | 78 | B.J. McLeod* | Live Fast Motorsports | Ford |
| 33 | 52 | Josh Bilicki | Rick Ware Racing | Ford |
| 34 | 77 | Justin Haley* | Spire Motorsports | Chevrolet |
| 35 | 51 | Cody Ware* | Rick Ware Racing | Chevrolet |
| 36 | 15 | James Davison | Rick Ware Racing | Chevrolet |
| 37 | 00 | Quin Houff | StarCom Racing | Chevrolet |
| 38 | 66 | Timmy Hill* | MBM Motorsports | Toyota |
Italics – Competing for Rookie of the Year
Sunday Xfinity Lineup
| | | | | |
| --- | --- | --- | --- | --- |
| Start | No. | Driver | Team | Manufacturer |
| 1 | 20 | Harrison Burton | Joe Gibbs Racing | Toyota |
| 2 | 7 | Justin Allgaier | JR Motorsports | Chevrolet |
| 3 | 16 | A.J. Allmendinger | Kaulig Racing | Chevrolet |
| 4 | 19 | Brandon Jones | Joe Gibbs Racing | Toyota |
| 5 | 10 | Jeb Burton | Kaulig Racing | Chevrolet |
| 6 | 18 | Daniel Hemric | Joe Gibbs Racing | Toyota |
| 7 | 9 | Noah Gragson | JR Motorsports | Chevrolet |
| 8 | 1 | Michael Annett | JR Motorsports | Chevrolet |
| 9 | 51 | Jeremy Clements | Jeremy Clements Racing | Chevrolet |
| 10 | 98 | Riley Herbst | Stewart-Haas Racing | Ford |
| 11 | 11 | Justin Haley | Kaulig Racing | Chevrolet |
| 12 | 39 | Ryan Sieg | RSS Racing | Ford |
| 13 | 22 | Austin Cindric | Team Penske | Ford |
| 14 | 54 | Ty Gibbs | Joe Gibbs Racing | Toyota |
| 15 | 61 | Austin Hill* | Hattori Racing Enterprises | Toyota |
| 16 | 36 | Alex Labbé | DGM Racing | Chevrolet |
| 17 | 02 | Brett Moffitt | Our Motorsports | Chevrolet |
| 18 | 44 | Tommy Joe Martins | Martins Motorsports | Chevrolet |
| 19 | 2 | Myatt Snider | Richard Childress Racing | Chevrolet |
| 20 | 8 | Sam Mayer | JR Motorsports | Chevrolet |
| 21 | 6 | Ryan Vargas | JD Motorsports | Chevrolet |
| 22 | 92 | Josh Williams | DGM Racing | Chevrolet |
| 23 | 4 | Landon Cassill | JD Motorsports | Chevrolet |
| 24 | 68 | Brandon Brown | Brandonbilt Motorsports | Chevrolet |
| 25 | 66 | David Starr | MBM Motorsports | Toyota |
| 26 | 26 | Santino Ferrucci | Sam Hunt Racing | Toyota |
| 27 | 5 | Matt Mills | B.J. McLeod Motorsports | Chevrolet |
| 28 | 78 | Jesse Little | B.J. McLeod Motorsports | Toyota |
| 29 | 48 | Jade Buford | Big Machine Racing | Chevrolet |
| 30 | 47 | Kyle Weatherman | Mike Harmon Racing | Chevrolet |
| 31 | 23 | Blaine Perkins | Our Motorsports | Chevrolet |
| 32 | 17 | Carson Ware | SS-Green Light Racing | Chevrolet |
| 33 | 31 | Josh Berry | Jordan Anderson Racing | Chevrolet |
| 34 | 74 | Bayley Currey* | Mike Harmon Racing | Chevrolet |
| 35 | 07 | Joe Graf Jr. | SS-Green Light Racing | Chevrolet |
| 36 | 99 | Mason Massey | B.J. McLeod Motorsports | Toyota |
| 37 | 15 | Colby Howard | JD Motorsports | Chevrolet |
| 38 | 0 | Jeffrey Earnhardt | JD Motorsports | Chevrolet |
| 39 | 90 | Loris Hezemans | DGM Racing | Chevrolet |
| 40 | 52 | Joey Gase | Jimmy Means Racing | Chevrolet |