MotoGP: "The Marc we know" returned at Assen – Honda's Puig
MotoGP™ is a beautiful yet brutal sport. After the jubilant highs of returning to the top step for the first time in 581 days at the Sachsenring, Marc Marquez and his Repsol Honda Team weren't smiling on Friday evening at the Motul TT Assen after the number 93 suffered a colossal highside at Turn 11.
Battered and bruised, Marc Marquez admitted it was a "lucky escape" to emerge relatively unscathed from the crash, and acknowledged that Honda had issues with their electronics. Not knowing why a crash occurs is a nightmare for riders. It was exactly the case for Marquez and Honda on Friday evening, but there were no such troubles to that extent – thankfully – for the rest of the weekend.
On Saturday, a Q1 crash saw the eight-time World Champion claim his worst MotoGP™ qualifying result in 20th. And after the trials and tribulations from the past 11 months, you would have forgiven Marquez to have been a little bit quiet on Sunday afternoon before a much-needed five-week summer break.
As we know, that simply wasn't the case. Gaining eight places on the opening lap, Marquez was soon in the heat of the top 10 battle. Aleix Espargaro (Aprilia Racing Team Gresini) and Francesco Bagnaia (Ducati Lenovo Team) couldn't shake off a on-form Marquez, with the trio separated by just three tenths at the checkered flag: Bagnaia 6th, Marquez 7th, Aleix Espargaro 8th.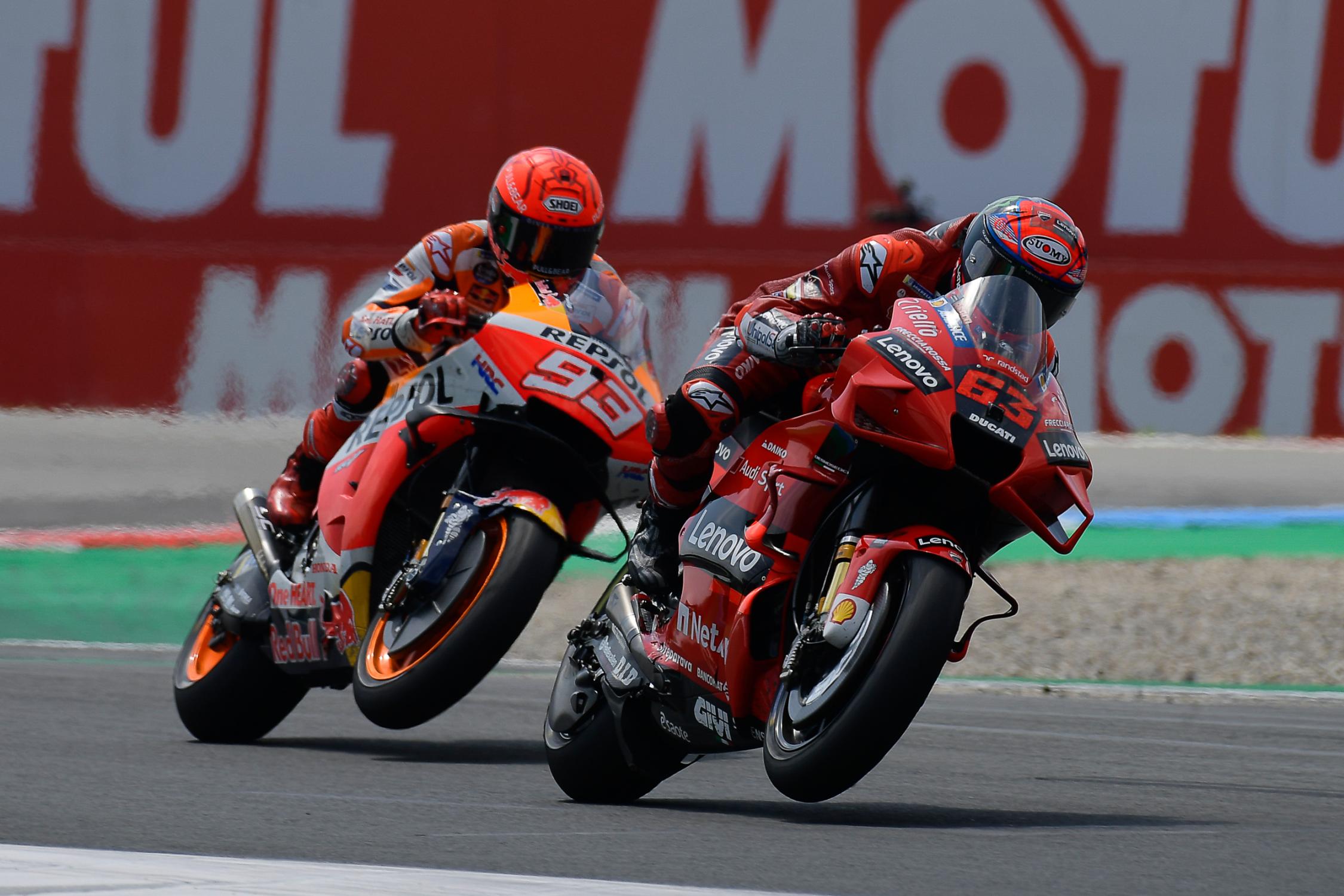 Reflecting on the Motul TT Assen weekend, Repsol Honda Team Manager Alberto Puig admitted that he and the team knew the Dutch TT was always going to be a different story to the Sachsenring weekend. But we saw a piece of the Marc Marquez we all know on Sunday afternoon.
"Yes, Sachsenring is a track which is very suitable for the Honda and also for Marc Marquez. Marc had the chance there, and he grabbed it with both hands," said Puig. "In the past Assen has never been an easy track like this, and it has been much tougher for all the Honda HRC riders. We clearly understood it wouldn't be easy before we arrived.
"On Friday, Marc's crash made the weekend even more complicated. Without that crash, I think he would have been fighting for the podium, as he wouldn't have lost the confidence he did. Honda and all the team tried to react and overcame this problem, but it's not enough. Now it's time to rest and prepare well for the second part of the season.
"Regardless, we saw a great recovery from Marc at the beginning of the race. He started in 20th, and he recovered almost 10 positions in just a single lap, this was the Marc that we know. It shows his effort and the potential that he has, we are really looking forward to seeing him again in Austria after the break when he has recovered even further."