F1: Hamilton leads Mercedes 1-2 in 2nd Austria GP Practice
With drizzle making the track too slippery to set a fast time in the final 25 minutes, the Mercedes duo of Lewis Hamilton and Valtteri Bottas ran 1-2 in the 2nd practice session for the Austrian GP at the Red Bull Ring.
Hamilton's lap of 1m04.523s was set halfway through the session and no one could beat it.  Hamilton went off into the gravel on the slippery surface and gave up trying to go faster.
Max Verstappen was third 0.217s back, but he blew his fast lap by running over the curbs, but that is just when the drizzle began to fall.
The two Aston Martins of Lance Stroll and Sebastian Vettel rounded out the top-5 in 4th and 5th respectively, their times set before the drizzle.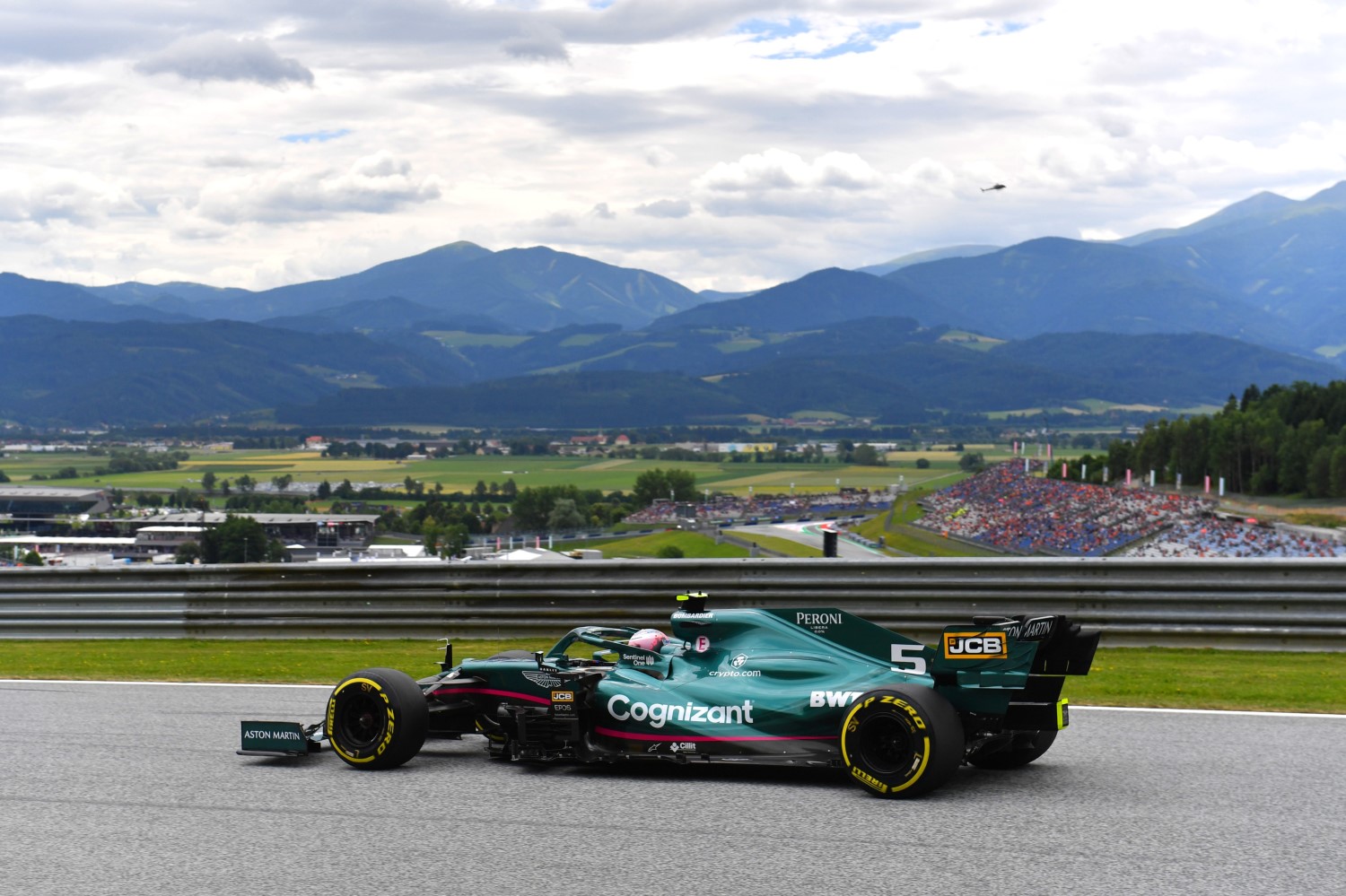 They've been lacking pace in practice of late, although at least getting one car up there in qualifying. Throw in Stroll's two spins this morning, and it had looked like a being a tough day – until managing to time their flying runs to perfection to take advantage of a rubbered in track before the drizzle began.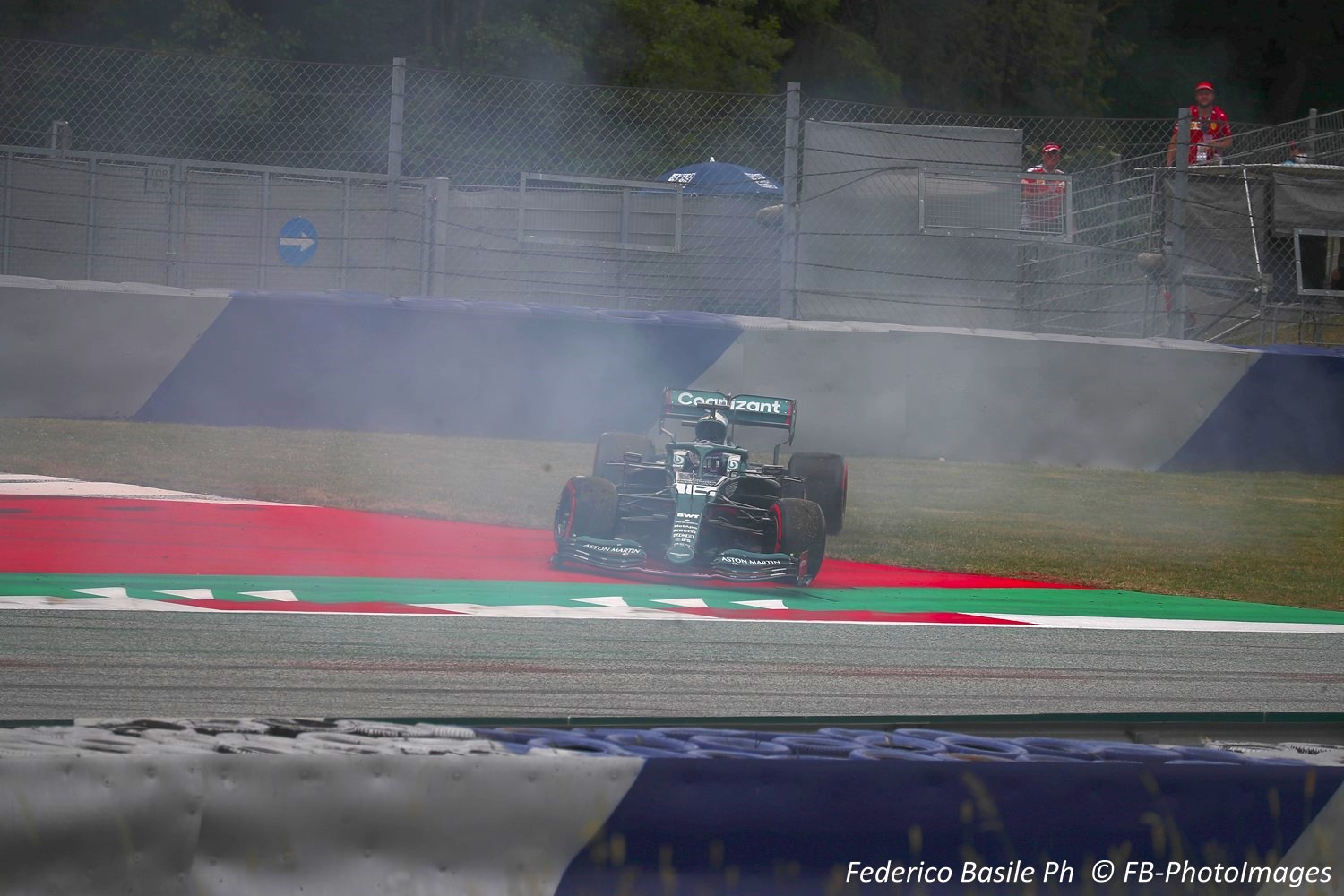 So it looks as though Mercedes are back in the fight today, with Hamilton leading the way despite this track often favoring his teammate. Those two have a couple of wins here apiece – but both trail Verstappen, who has now won here three times.
But of course, it could well be that Red Bull bounce back tomorrow. Remember, Hamilton topped FP3 last weekend before being blown away in qualifying by Verstappen.
Lando Norris was one of a handful of drivers who spun off in the slippery session.
Yuki Tsunoda ended FP2 in P6 with teammate Pierre Gasly right behind in P7.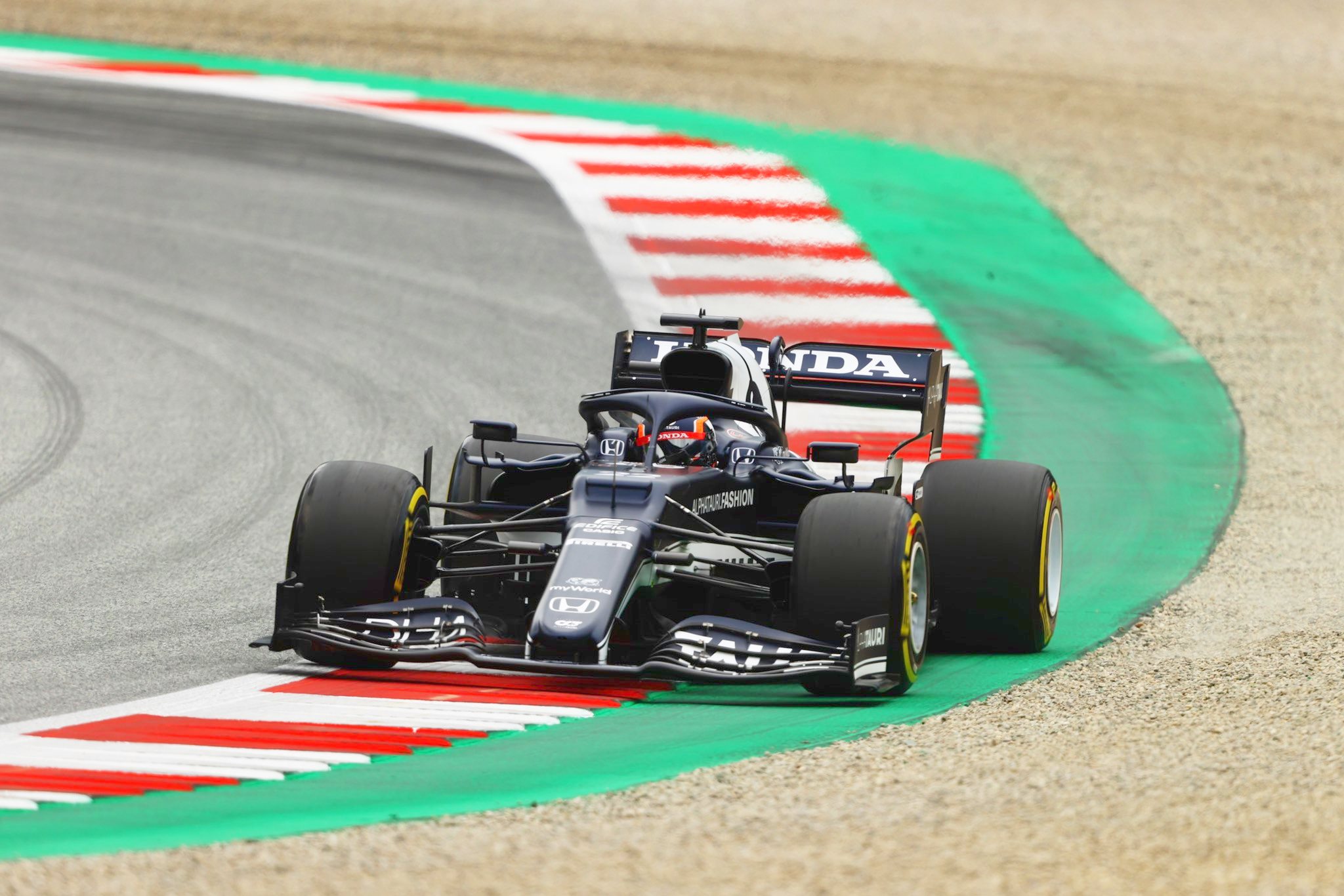 Fernando Alonso, Lando Norris and Antonio Giovinazzi rounded out the top 10 – with Perez being off the pace of his teammate again and finishing outside the top 10. The Mexican has one session left to soft out his pace, with qualifying his Achilles' Heel this season.
Select Quotes
Lewis Hamilton
Red Bull have definitely got something extra in their bag but we've made some small steps forward and over a single lap, the car felt pretty good. FP1 was a bit of a struggle, we were trying different set up variations based on our work in the sim this week and the car wasn't happy. In FP2, we reverted to a similar set up as last week, with a few other adjustments, and the car felt much better. I probably won't change much now because most often if it ain't broke, don't fix it! So just tiny tweaks for me this evening. I still expect Red Bull to be ahead of us, but we'll be trying to make the gap as small as possible tomorrow.
Valtteri Bottas
Today was good fun – with the second week, every single margin in terms of cornering performance and driving performance becomes smaller so it's about fine-tuning rather than finding big chunks of time. I think we started OK in terms of how the car feels, much better than last week, so hopefully we can build from that. It's practice so you never what programs other teams are running – no doubt the Red Bulls are still strong and they are gaining on the straight which has been a bit of a weakness for us but we'll find out tomorrow when everybody turns their engine up.
The softer tire compounds make a big difference, it feels like the tires are holding on better in the long-runs and I think the temperatures will be quite variable over the weekend so let's see what effect that has on the tires. Max was a bit out of reach last weekend but it's a new week, we've learned a lot, I like to think we're closer but no doubt they'll still be very quick.
Andrew Shovlin
It's been an interesting day; we'd been busy this week trying to find improvements on both the chassis and the power unit and from today's running it does look like we've made some steps in the right direction. The conditions are quite different to last week, cooler air and a much cooler track which is certainly helping deal with the softer compounds. The single lap was encouraging in that we were extracting good grip from the tyres, not always something we have managed on the softest Pirelli rubber, but we're under no illusion that Red Bull will have plenty in hand for tomorrow.
Max Verstappen
"From our side we didn't have a perfect run in FP2 but nevertheless I felt good in the car and there are no real problems. Mercedes looked quite quick on the soft, so we just have to make sure we have a little more pace on that compound because we looked stronger on the medium and in the long runs, which at the end of the day is the most important for the race. We also tested the new Pirelli prototype tire which seemed to be fine. It did get quite greasy out there but luckily, it was good enough to keep on driving, so we had a good read on the long run pace. I think it will be tight again this weekend as it looks like Mercedes improved a bit but we will see tomorrow in qualifying and the most important thing is to make sure we look after the softer compounds in the race."
Sergio Perez
There's still a lot of work to do. Both sessions were quite tough and I'm not feeling fully comfortable with the car on the softer compound yet. We need to analyze the data tonight to try and get the pace back to where we would expect it to be, ready for qualifying tomorrow. We seemed to be quite far away from the balance with the low fuel, but we corrected that quite quickly, we were also seeing less degradation on these tires too which is good. It's good to see Pirelli bringing a new tire to test this weekend before we use them at Silverstone. Overall, I learned a lot from today, and it's great to see all of the fans here at the Red Bull Ring and hopefully, we can have a good qualifying tomorrow and a solid race on Sunday."
Lance Stroll
"It has been a good day for us. The morning was a little more eventful for me, but I think we managed to put together plenty of clean laps, and we have learned a lot. One of the key factors this weekend will be the softer range of tires that Pirelli has chosen. I think it is a good call because it could mix things up on Sunday and create some strategy variance. In a tight midfield battle, that could be exciting. On our side, the car feels good on the softer tires. All in all, we can be happy with our work today. Now it is about extracting the maximum for qualifying tomorrow."
Sebastian Vettel
"Firstly, it was very nice to see fans at the track again and that they are keeping safe. It was interesting conditions out there today because we have a softer range of tires this weekend, and it was much cooler conditions. There was also some drizzle at the end, although it did not affect us very much. We have done our homework after last weekend's race, and we tried a few different things today, too. It was nice to be in the top five in the afternoon, but the focus is on making sure we show some good pace in qualifying and reach Q3 to give ourselves the best possible chance of points."
Mario Isola – Pirelli boss
"There were two main priorities for the teams today: assessing the soft compound in C5 version, which has never been to Austria before, and trying out the new prototype tire, in medium C4 compound, in the most representative conditions for the teams. We are gathering all the information we need on this new rear tire, which features a more robust construction, and we'll analyze the data with a view to using it from Silverstone onwards. The feedback we've had from the drivers so far is generally positive and indicates that it feels quite similar to the existing tire that was exactly our target: keep the same level of performance with an increase of the robustness. As expected with the softer compounds, we had some graining on the soft tire in particular, which suggests that we might see some quite different strategies compared to last weekend: the whole idea behind changing the nomination for the second race weekend here."
Practice 2 Results
| | | | | | |
| --- | --- | --- | --- | --- | --- |
| POS | DRIVER | NAT. | TEAM | TIME | BEHIND |
| 1 | Lewis Hamilton | GBR | Mercedes AMG Petronas | 1m04.523s | +0.000s |
| 2 | Valtteri Bottas | FIN | Mercedes AMG Petronas | 1m04.712s | +0.189s |
| 3 | Max Verstappen | NED | Red Bull Racing | 1m04.740s | +0.217s |
| 4 | Lance Stroll | CAN | Aston Martin Cognizant | 1m05.139s | +0.616s |
| 5 | Sebastian Vettel | GER | Aston Martin Cognizant | 1m05.268s | +0.745s |
| 6 | Yuki Tsunoda | JPN | Scuderia AlphaTauri Honda | 1m05.356s | +0.833s |
| 7 | Pierre Gasly | FRA | Scuderia AlphaTauri Honda | 1m05.379s | +0.856s |
| 8 | Fernando Alonso | CHI | Alpine F1 Team | 1m05.393s | +0.870s |
| 9 | Lando Norris | GBR | McLaren F1 Team | 1m05.466s | +0.943s |
| 10 | Antonio Giovinazzi | GBR | Alfa Romeo Racing Orlen | 1m05.511s | +0.988s |
| 11 | Sergio Perez | MEX | Red Bull Racing | 1m05.516s | +0.993s |
| 12 | Esteban Ocon | FRA | Alpine F1 Team | 1m05.527s | +1.004s |
| 13 | Carlos Sainz Jr. | ESP | Scuderia Ferrari Mission Winnow | 1m05.620s | +1.097s |
| 14 | Kimi Raikkonen | FIN | Alfa Romeo Racing Orlen | 1m05.624s | +1.101s |
| 15 | Daniel Ricciardo | AUS | McLaren F1 Team | 1m05.698s | +1.175s |
| 16 | Charles Leclerc | MON | Scuderia Ferrari Mission Winnow | 1m05.708s | +1.185s |
| 17 | George Russell | ISR | Williams Racing | 1m05.819s | +1.296s |
| 18 | Mick Schumacher | GER | Uralkali Haas F1 Team | 1m05.911s | +1.388s |
| 19 | Nicholas Latifi | CAN | Williams Racing | 1m06.014s | +1.491s |
| 20 | Nikita Mazepin | RUS | Uralkali Haas F1 Team | 1m06.173s | +1.650s |