IndyCar: Newgarden tops opening practice for Honda Indy 200 at Mid-Ohio
Josef Newgarden, driving the #2 Xpel Penske Chevy, turned a lap of 1m07.2524s to top opening practice for the Honda Indy 200 at Mid-Ohio. Practice 2 will be held Saturday morning.
Pato O'Ward in the #5 Arrow McLaren SP Chevy was 2nd fastest 0.25s behind Newgarden.
The fastest Honda was Jack Harvey in third 0.33s behind in the #60 Meyer Shank Honda.
2018 winner Alexander Rossi was 4th quick in the #27 Andretti Honda while Graham Rahal rounded out the top-5 in the #15 RLL Honda.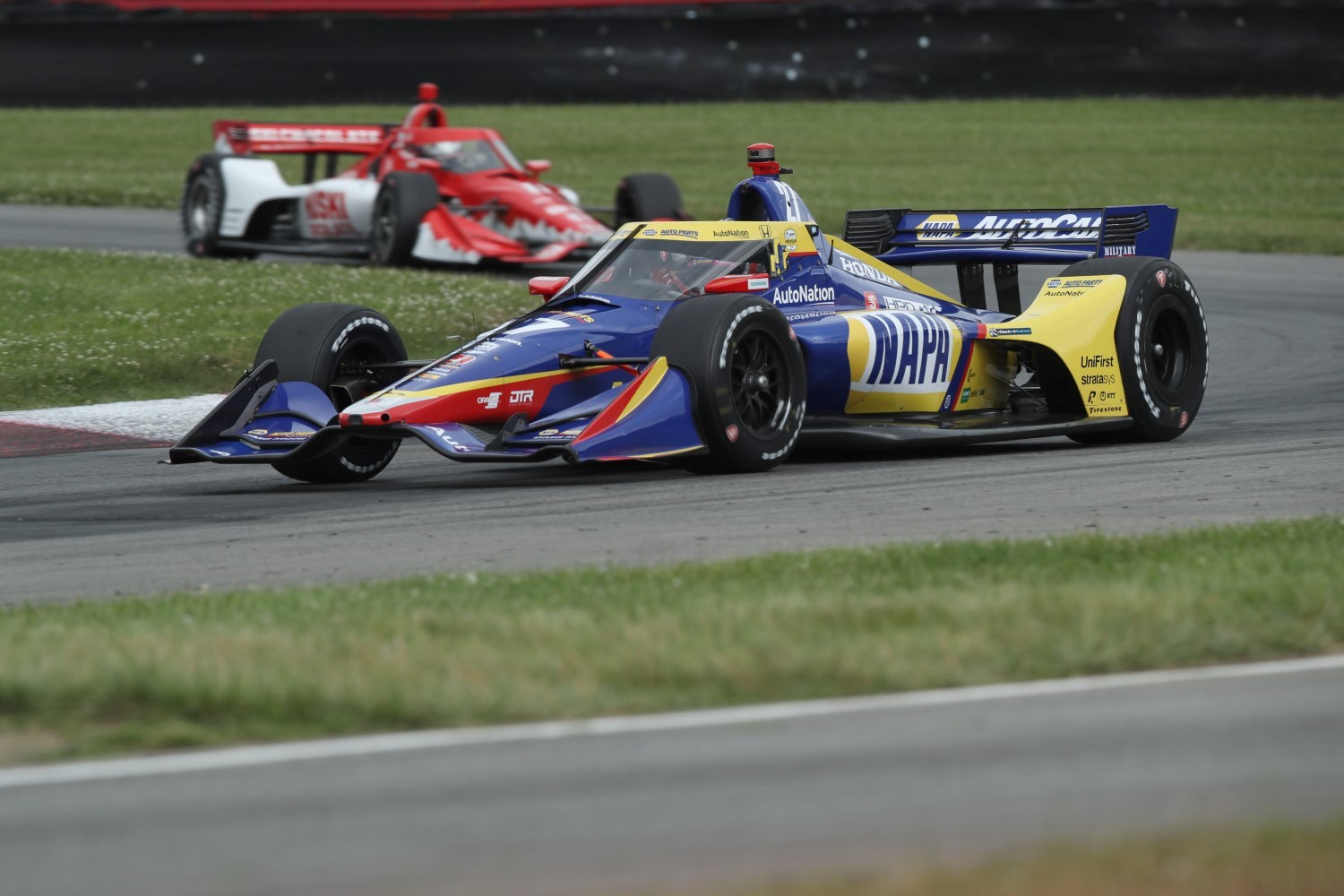 Romain Grosjean was 6th in the #51 Dale Coyne Honda.
Dead last was 7-Time NASCAR champion Jimmie Johnson in the #48 Carvana Honda, 2.56s per lap slower than Newgarden
All the drivers set their time on the harder primary Firestones, saving the soft reds for Saturday.
This is a home race for Harvey and Rahal. Englishman Harvey's team, Meyer Shank Racing, is based in nearby Pataskala, Ohio, and team co-owner Michael Shank is a native of Columbus. Rahal also is a native of the Columbus area.
"We just want a smooth weekend," Harvey said. "It's everyone's home race at Meyer Shank Racing. Mike has been awesome. There's no added pressure, but we all want to get a good result for him in the place he grew up."
Championship leader Alex Palou ended the session ninth at 1:07.7951 in the No. 10 NTT DATA Chip Ganassi Racing Honda.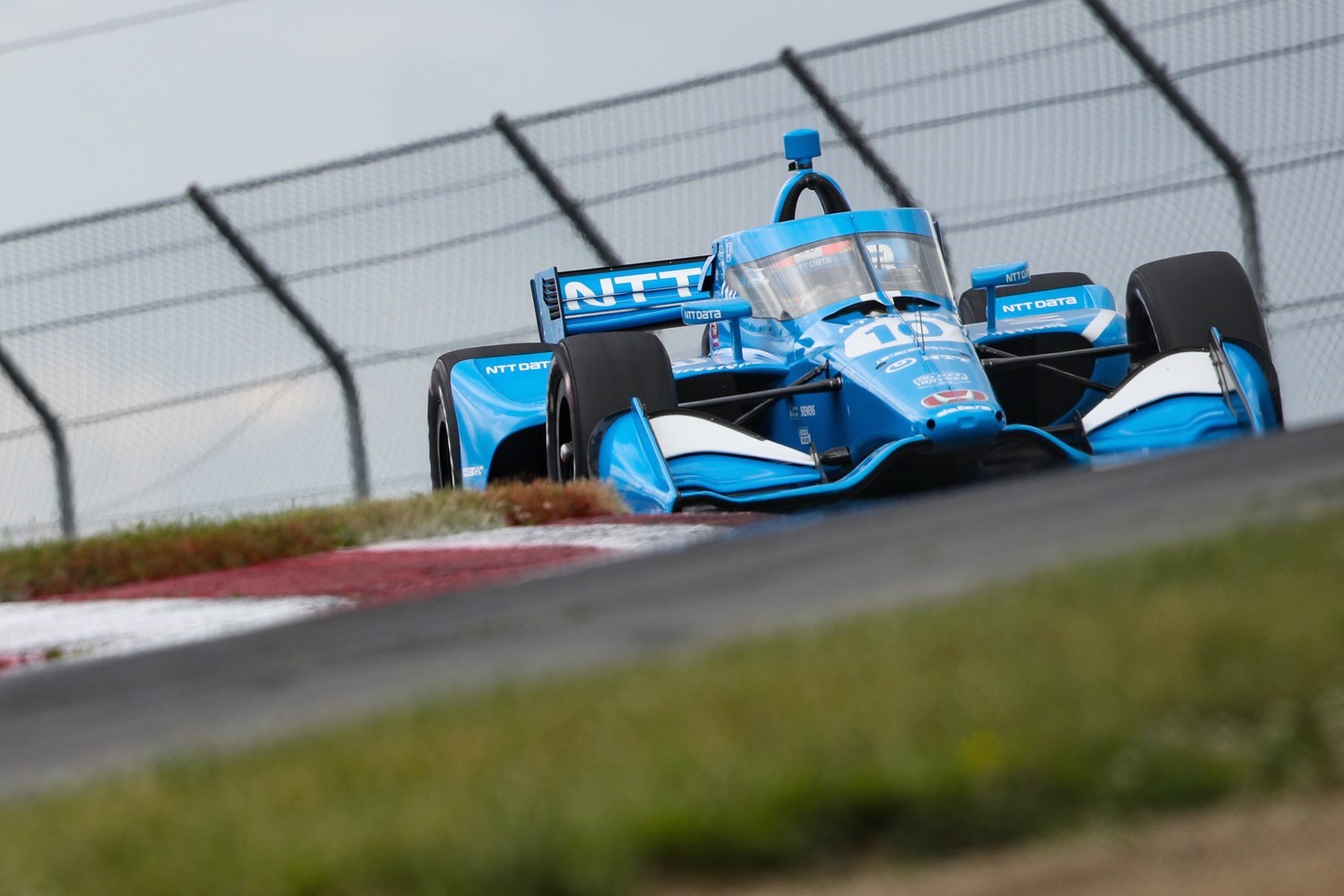 The practice included one red flag, 25 minutes into the session, when Felix Rosenqvist spun in Turn 1 and stalled in the No. 7 Arrow McLaren SP Chevrolet. Rosenqvist returned to the series today after missing the REV Group Grand Prix presented by AMR on June 20 at Road America and Race 2 of the Chevrolet Dual in Detroit on June 13 due to a heavy crash in Race 1 at Detroit on June 12.
Rosenqvist ended up 13th quickest in the session at 1:08.0265. Another driver returning from an injury hiatus, Rinus VeeKay of Ed Carpenter Racing, was 18th at 1:08.2367 in the No. 21 Sonax/Autogeek Chevrolet. VeeKay missed the Road America round due to a broken collarbone suffered in a cycling accident.
The spin by Rosenqvist wasn't the only incident of the session. Colton Herta came within inches of the concrete wall between Turns 9 and 10 earlier in the session in the No. 26 Gainbridge Honda after going off track and bouncing through the grass.
Practice 1 Results
| | | | | | | | | | |
| --- | --- | --- | --- | --- | --- | --- | --- | --- | --- |
| Pos | No | Name | Time | Behind | Gap | Laps | Speed | Engine | Team |
| 1 | 2 | Josef Newgarden | 1:07.2524 | 0.000s | 0.000s | 17 | 120.870 | Chevy | Team Penske |
| 2 | 5 | Pato O'Ward | 1:07.5050 | 0.2526 | 0.2526 | 15 | 120.418 | Chevy | Arrow McLaren SP |
| 3 | 60 | Jack Harvey | 1:07.5840 | 0.3316 | 0.0790 | 16 | 120.277 | Honda | Meyer Shank Racing |
| 4 | 27 | Alexander Rossi | 1:07.7245 | 0.4721 | 0.1405 | 18 | 120.027 | Honda | Andretti Autosport |
| 5 | 15 | Graham Rahal | 1:07.7561 | 0.5037 | 0.0316 | 18 | 119.971 | Honda | Rahal Letterman Lanigan Racing |
| 6 | 51 | Romain Grosjean | 1:07.7589 | 0.5065 | 0.0028 | 17 | 119.967 | Honda | Dale Coyne Racing w/Rick Ware Racing |
| 7 | 9 | Scott Dixon | 1:07.7657 | 0.5133 | 0.0068 | 18 | 119.954 | Honda | Chip Ganassi Racing |
| 8 | 14 | Sebastien Bourdais | 1:07.7711 | 0.5187 | 0.0054 | 18 | 119.945 | Chevy | AJ Foyt Enterprises |
| 9 | 10 | Alex Palou | 1:07.7951 | 0.5427 | 0.0240 | 18 | 119.902 | Honda | Chip Ganassi Racing |
| 10 | 29 | James Hinchcliffe | 1:07.8223 | 0.5699 | 0.0272 | 16 | 119.854 | Honda | Andretti Steinbrenner Autosport |
| 11 | 12 | Will Power | 1:07.8863 | 0.6339 | 0.0640 | 19 | 119.741 | Chevy | Team Penske |
| 12 | 22 | Simon Pagenaud | 1:08.0046 | 0.7522 | 0.1183 | 16 | 119.533 | Chevy | Team Penske |
| 13 | 7 | Felix Rosenqvist | 1:08.0265 | 0.7741 | 0.0219 | 18 | 119.495 | Chevy | Arrow McLaren SP |
| 14 | 26 | Colton Herta | 1:08.0330 | 0.7806 | 0.0065 | 14 | 119.483 | Honda | Andretti Autosport |
| 15 | 28 | Ryan Hunter-Reay | 1:08.0740 | 0.8216 | 0.0410 | 16 | 119.411 | Honda | Andretti Autosport |
| 16 | 3 | Scott McLaughlin | 1:08.1562 | 0.9038 | 0.0822 | 22 | 119.267 | Chevy | Team Penske |
| 17 | 20 | Conor Daly | 1:08.2312 | 0.9788 | 0.0750 | 18 | 119.136 | Chevy | Ed Carpenter Racing |
| 18 | 21 | Rinus VeeKay | 1:08.2367 | 0.9843 | 0.0055 | 21 | 119.127 | Chevy | Ed Carpenter Racing |
| 19 | 59 | Max Chilton | 1:08.3103 | 1.0579 | 0.0736 | 18 | 118.998 | Chevy | Carlin |
| 20 | 18 | Ed Jones | 1:08.3526 | 1.1002 | 0.0423 | 16 | 118.925 | Honda | Dale Coyne Racing with Vasser Sullivan |
| 21 | 8 | Marcus Ericsson | 1:08.4101 | 1.1577 | 0.0575 | 21 | 118.825 | Honda | Chip Ganassi Racing |
| 22 | 52 | Ryan Norman | 1:08.8122 | 1.5598 | 0.4021 | 17 | 118.130 | Honda | Dale Coyne Racing w/Rick Ware Racing |
| 23 | 4 | Dalton Kellett | 1:09.0695 | 1.8171 | 0.2573 | 20 | 117.690 | Chevy | AJ Foyt Enterprises |
| 24 | 45 | Santino Ferrucci | 1:09.0970 | 1.8446 | 0.0275 | 17 | 117.643 | Honda | Rahal Letterman Lanigan Racing |
| 25 | 30 | Takuma Sato | 1:09.6824 | 2.4300 | 0.5854 | 12 | 116.655 | Honda | Rahal Letterman Lanigan Racing |
| 26 | 48 | Jimmie Johnson | 1:09.8165 | 2.5641 | 0.1341 | 25 | 116.431 | Honda | Chip Ganassi Racing |