IndyCar: Newgarden nips Herta for Honda Indy 200 pole at Mid-Ohio
Josef Newgarden nipped Colton Herta to win the pole for the Honda Indy 200 by just 0.0031s in a very close Fast Six session. It was the third straight pole for Newgarden.
Newgarden turned a lap of 1m06.6739s in his Penske Chevy while Colton Herta lapped at 1m06.6770s in his Gainbridge Honda.  Newgarden's time was nowhere near the 1m03.87s set by Simon Pagenaud in 2016 – underscoring just how slow the current IndyCars are.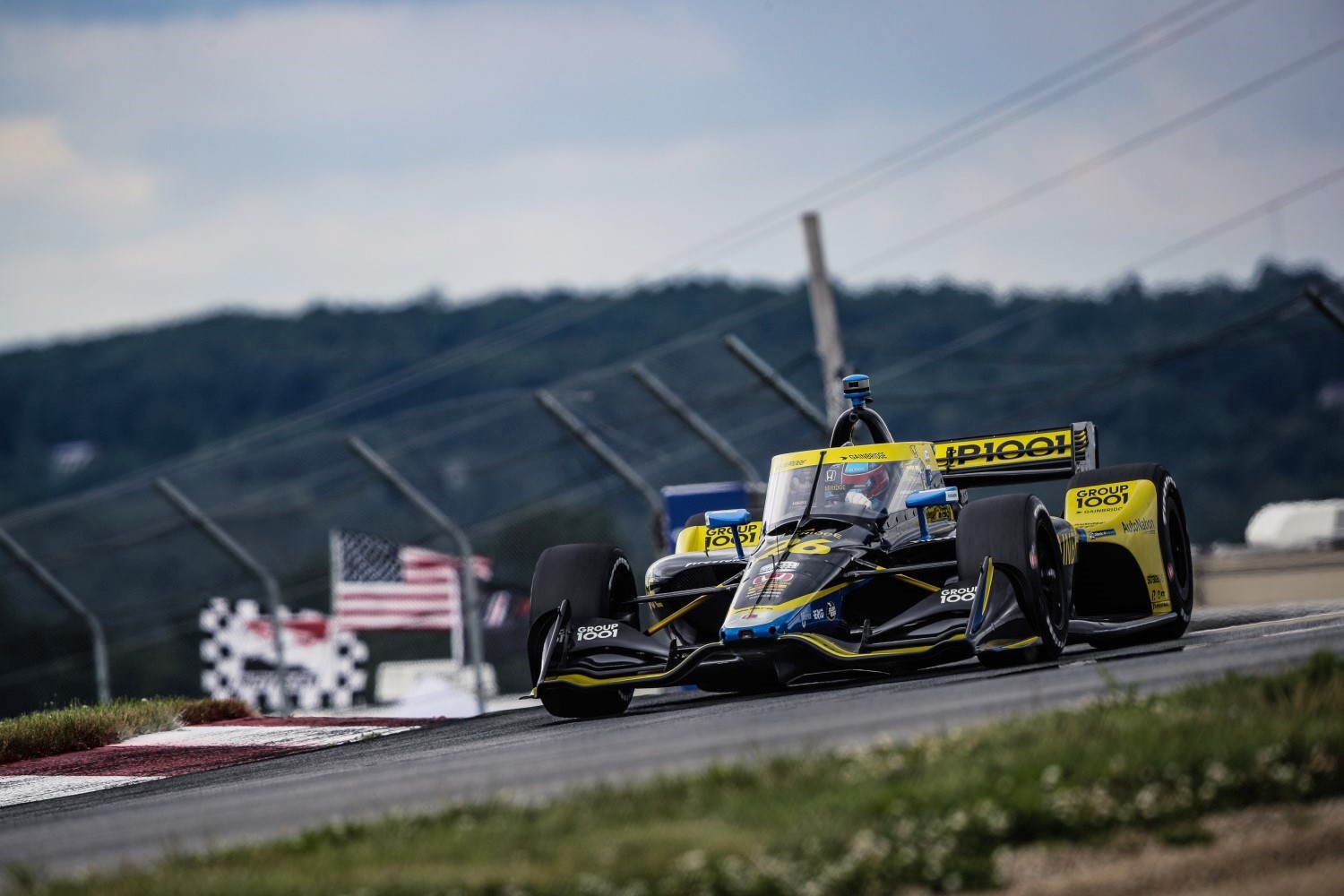 Marcus Ericsson was a strong third in his Ganassi Honda, just ahead of Will Power's Penske Chevy.
Scott Dixon was 5th in his #9 Ganassi Honda while Alexander Rossi was the slowest of the Fast Six drivers in his Napa Honda, 0.5442s slower than Newgarden – almost an eternity around this tight 2.4-mile road course.
The slowest qualifier was 7-time NASCAR champion Jimmie Johnson, almost 4-seconds slower than Newgarden, and clearly in over his head. He will be a moving chicane on race day.
Herta said he couldn't compute the distance of a 0.031 second difference around this 13-turn, 2.258-mile circuit:
"Probably very little, maybe like just the length of the P1 sticker," he said.
The pole was the 14th of Newgarden's career — his first at Mid-Ohio — and came on the 50th anniversary of Team Penske's first INDYCAR victory (by Mark Donohue at Pocono Raceway in 1971).
Converting poles into wins has been a challenge of late for Newgarden, who is one of four winless drivers this season from Team Penske. The two-time series champion got passed by Pato O'Ward in the closing moments of the second Detroit race after leading 67 of the 70 laps and then had a gearbox failure at Road America with two laps to go after leading 32 of 55 circuits. He finished second and 21st in those races.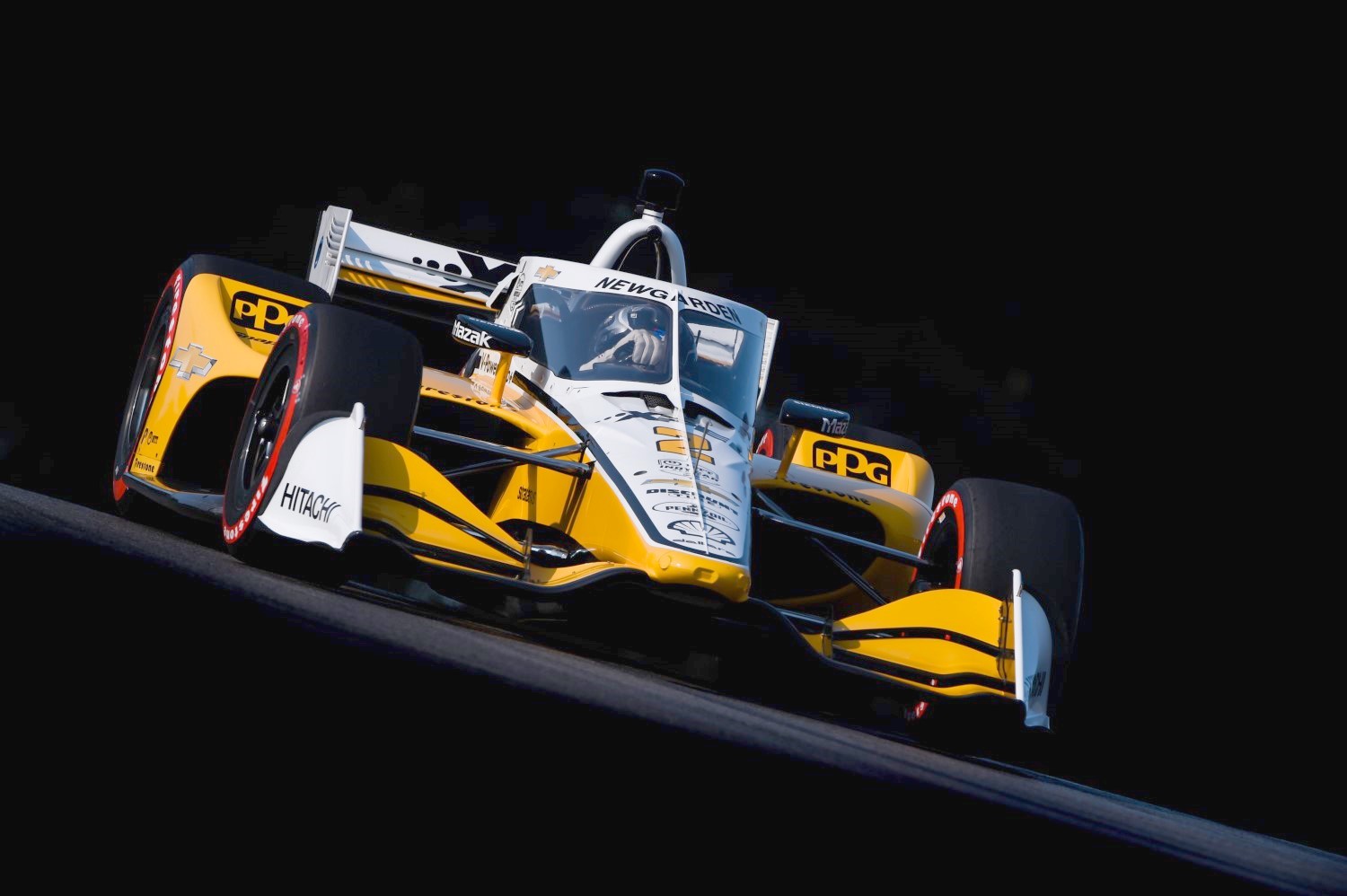 Poles are always important, and they come with a championship point. But at Mid-Ohio, statistics show the value of the pole even more. Fifteen of the 37 previous INDYCAR races – 40 percent – have been won by the fastest qualifier. Both of last year's races were won from the pole and three of the past four have been.
Newgarden won the 2017 race at this track, and he will be aiming for his 19th career win in the series.
"That was a little tighter than I wanted it to be," said Newgarden. "I about fell apart the second half of that lap. I opened the lap really well.  The car has been on rails right out of the box. I am really proud of the team. Obviously thanks to this whole group here. Everyone at Team Penske has been on it! We've had some troubles the last couple weeks securing a win, but I can't ask much different. They are doing everything they need to do to win these races. Excited to have another chance with a really great car. Team Chevy keeps doing a great job for us.. It's good to have XPEL on the car. They've been a great partner for us the last couple of years. There is an anniversary! I didn't know this coming into it. This is the 50th year today for Team Penske and Roger Penske scoring the first win for the organization with Mark Donohue. I was thinking of how cool it is to be in the car here racing today. Every now and then you have moments where you reflect that you are actually doing this. It's so cool It's a dream to drive for Roger and this entire group. So proud of everybody. Hopefully we can seal one off tomorrow—that's what we need to do!
"I knew the third lap would be the money lap on used red tires. I opened the lap really well and then started losing time in Turn Four, all the way to the line. I was just trying to keep it together – Tim (Cindric) was telling me exactly what we needed and we got it. Really proud of everyone, the car looks good and it's fast, and Team Chevy has done a great job so we just need to keep it together tomorrow. We need a good, clean day and I think we have the car to do that, and I know we're capable. You have the curse of wanting to do well and get a good result when you know you're capable as a team, but I've been racing long enough to see the ebbs and flows and I know that if we keep doing what we're doing, it will come.
"There's a lot of respect for Honda as our competitor, here at one of their home races. You want to have a good battle with someone who pushes you and they push us as hard as you can push. I'm proud to be backed by Chevrolet: every one of my INDYCAR wins has come with Chevrolet engine power so I'm pretty comfortable with where I'm at. I'm looking forward to putting them on top tomorrow."
O'Ward (No. 5 Arrow McLaren SP Chevrolet) had posted the fastest time in Saturday's morning practice, but the temperatures rose considerably – and it will be hotter Sunday – and he failed to advance from the first round. He will start the 80-lap race from the 20th position.
O'Ward will have work to do to cut into the series lead of Alex Palou (No. 10 NTT DATA Chip Ganassi Racing Honda). Palou holds a 28-point lead and will start 13 positions higher than O'Ward. Palou missed a spot in the Firestone Fast Six by 0.0384 seconds, bumped by Ericsson on the final lap.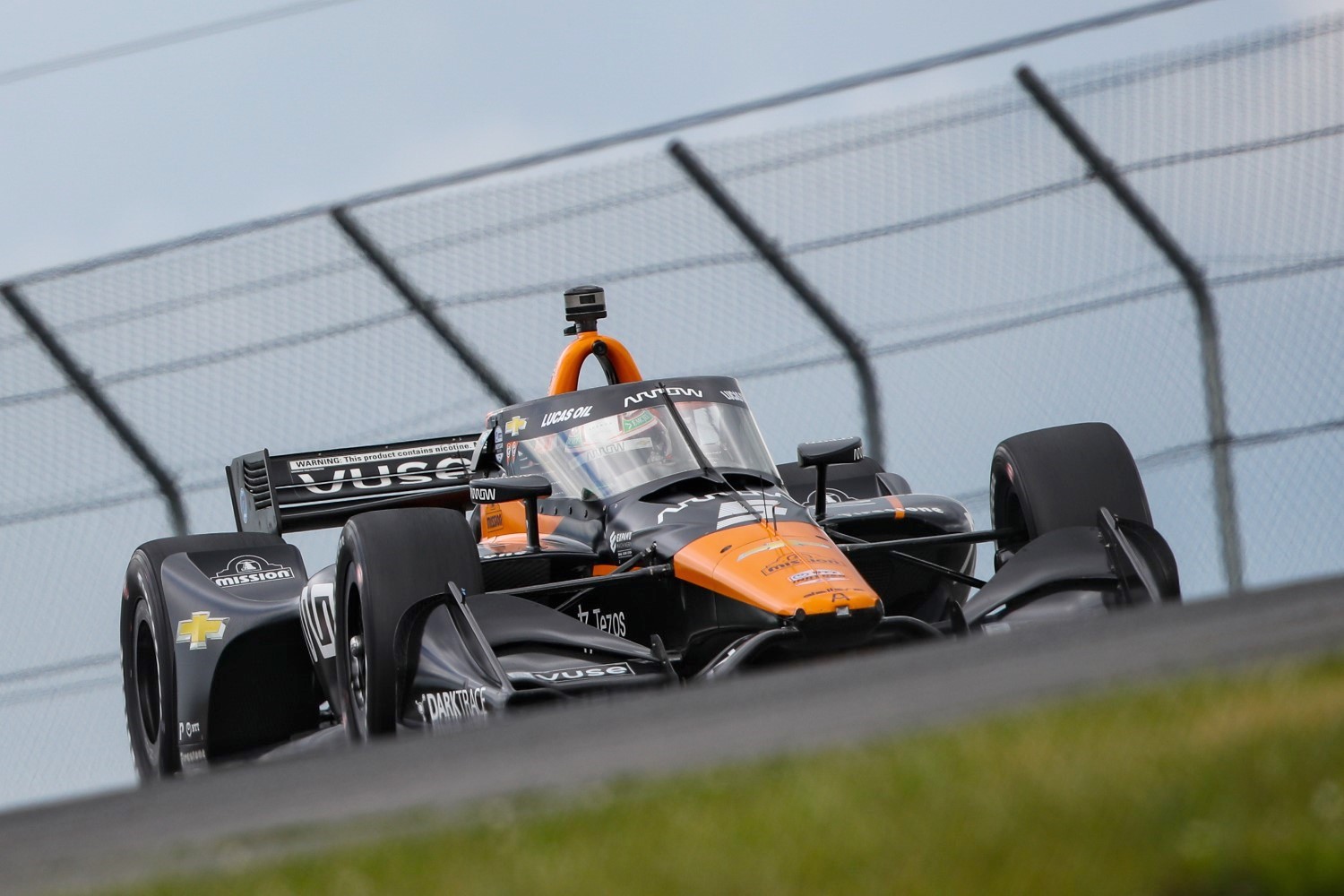 Ed Carpenter Racing's Rinus VeeKay (No. 21 Sonax/Autogeek Chevrolet) and Arrow McLaren SP's Felix Rosenqvist (No. 7 Vuse Arrow McLaren SP Chevrolet) are back in the starting lineup after missing races. VeeKay missed one race after breaking a clavicle in a cycling accident June 14; Rosenqvist was held out of two races following his crash into a tire barrier in the June 12 street race in Detroit. They will start 11th and 13th, respectively.
Two-time Indy Lights race winner Ryan Norman (No. 52 KOINU INU/EVO Honda of Dale Coyne Racing with RWR) will make his first NTT INDYCAR SERIES start from the 26th position. He will start in the 13th row alongside seven-time NASCAR Cup Series champion Jimmie Johnson of Chip Ganassi Racing (No. 48 Carvana Honda).
Qualifying Results
Round 2
| | | | | | | | | |
| --- | --- | --- | --- | --- | --- | --- | --- | --- |
| Pos | No | Name | Time | Diff | Gap | Speed | Engine | Team |
| 1 | 2 | Josef Newgarden | 1:06.1630 | 0.000s | 0.000 | 122.860 | Chevy | Team Penske |
| 2 | 26 | Colton Herta | 1:06.2030 | 0.0400 | 0.0400 | 122.786 | Honda | Andretti Autosport |
| 3 | 12 | Will Power | 1:06.2386 | 0.0756 | 0.0356 | 122.720 | Chevy | Team Penske |
| 4 | 27 | Alexander Rossi | 1:06.2453 | 0.0823 | 0.0067 | 122.708 | Honda | Andretti Autosport |
| 5 | 9 | Scott Dixon | 1:06.2775 | 0.1145 | 0.0322 | 122.648 | Honda | Chip Ganassi Racing |
| 6 | 8 | Marcus Ericsson | 1:06.4499 | 0.2869 | 0.1724 | 122.330 | Honda | Chip Ganassi Racing |
| 7 | 10 | Alex Palou | 1:06.4883 | 0.3253 | 0.0384 | 122.259 | Honda | Chip Ganassi Racing |
| 8 | 15 | Graham Rahal | 1:06.5946 | 0.4316 | 0.1063 | 122.064 | Honda | Rahal Letterman Lanigan Racing |
| 9 | 29 | James Hinchcliffe | 1:06.6134 | 0.4504 | 0.0188 | 122.030 | Honda | Andretti Steinbrenner Autosport |
| 10 | 28 | Ryan Hunter-Reay | 1:06.7517 | 0.5887 | 0.1383 | 121.777 | Honda | Andretti Autosport |
| 11 | 21 | Rinus VeeKay | 1:06.7671 | 0.6041 | 0.0154 | 121.749 | Chevy | Ed Carpenter Racing |
| 12 | 14 | Sebastien Bourdais | 1:06.9232 | 0.7602 | 0.1561 | 121.465 | Chevy | AJ Foyt Enterprises |
Fast Six
| | | | | | | | | |
| --- | --- | --- | --- | --- | --- | --- | --- | --- |
| Pos | No | Name | Time | Diff | Gap | Speed | Engine | Team |
| 1 | 2 | Josef Newgarden | 1:06.6739 | 0.000s | 0.000 | 121.919 | Chevy | Team Penske |
| 2 | 26 | Colton Herta | 1:06.6770 | 0.0031 | 0.0031 | 121.913 | Honda | Andretti Autosport |
| 3 | 8 | Marcus Ericsson | 1:07.0723 | 0.3984 | 0.3953 | 121.195 | Honda | Chip Ganassi Racing |
| 4 | 12 | Will Power | 1:07.1161 | 0.4422 | 0.0438 | 121.115 | Chevy | Team Penske |
| 5 | 9 | Scott Dixon | 1:07.1358 | 0.4619 | 0.0197 | 121.080 | Honda | Chip Ganassi Racing |
| 6 | 27 | Alexander Rossi | 1:07.2181 | 0.5442 | 0.0823 | 120.932 | Honda | Andretti Autosport |
Race Lineup
| | | | | | | |
| --- | --- | --- | --- | --- | --- | --- |
| Pos | Car | Driver Name | Engine | Time | Speed | Session |
| 1 | 2 | Newgarden, Josef | Chevy | 01:06.6739 | 121.919 | Round 3 / Firestone Fast Six |
| 2 | 26 | Herta, Colton | Honda | 01:06.6770 | 121.913 | Round 3 / Firestone Fast Six |
| 3 | 8 | Ericsson, Marcus | Honda | 01:07.0723 | 121.195 | Round 3 / Firestone Fast Six |
| 4 | 12 | Power, Will | Chevy | 01:07.1161 | 121.115 | Round 3 / Firestone Fast Six |
| 5 | 9 | Dixon, Scott | Honda | 01:07.1358 | 121.080 | Round 3 / Firestone Fast Six |
| 6 | 27 | Rossi, Alexander | Honda | 01:07.2181 | 120.932 | Round 3 / Firestone Fast Six |
| 7 | 10 | Palou, Alex | Honda | 01:06.4883 | 122.259 | Elimination Round 2 / Top 12 |
| 8 | 15 | Rahal, Graham | Honda | 01:06.5946 | 122.064 | Elimination Round 2 / Top 12 |
| 9 | 29 | Hinchcliffe, James | Honda | 01:06.6134 | 122.030 | Elimination Round 2 / Top 12 |
| 10 | 28 | Hunter-Reay, Ryan | Honda | 01:06.7517 | 121.777 | Elimination Round 2 / Top 12 |
| 11 | 21 | VeeKay, Rinus | Chevy | 01:06.7671 | 121.749 | Elimination Round 2 / Top 12 |
| 12 | 14 | Bourdais, Sebastien | Chevy | 01:06.9232 | 121.465 | Elimination Round 2 / Top 12 |
| 13 | 7 | Rosenqvist, Felix | Chevy | 01:06.7898 | 121.707 | Elimination Round 1 / Group 1 |
| 14 | 3 | McLaughlin, Scott (R) | Chevy | 01:06.7313 | 121.814 | Elimination Round 1 / Group 2 |
| 15 | 22 | Pagenaud, Simon | Chevy | 01:06.8437 | 121.609 | Elimination Round 1 / Group 1 |
| 16 | 18 | Jones, Ed | Honda | 01:06.7882 | 121.710 | Elimination Round 1 / Group 2 |
| 17 | 59 | Chilton, Max | Chevy | 01:06.8473 | 121.603 | Elimination Round 1 / Group 1 |
| 18 | 51 | Grosjean, Romain (R) | Honda | 01:06.8642 | 121.572 | Elimination Round 1 / Group 2 |
| 19 | 30 | Sato, Takuma | Honda | 01:07.0951 | 121.153 | Elimination Round 1 / Group 1 |
| 20 | 5 | O'Ward, Pato | Chevy | 01:06.8679 | 121.565 | Elimination Round 1 / Group 2 |
| 21 | 4 | Kellett, Dalton | Chevy | 01:07.5866 | 120.272 | Elimination Round 1 / Group 1 |
| 22 | 45 | Ferrucci, Santino | Honda | 01:06.9254 | 121.461 | Elimination Round 1 / Group 2 |
| 23 | 60 | Harvey, Jack | Honda | 01:07.6740 | 120.117 | Elimination Round 1 / Group 1 |
| 24 | 20 | Daly, Conor | Chevy | 01:07.0704 | 121.198 | Elimination Round 1 / Group 2 |
| 25 | 48 | Johnson, Jimmie (R)** | Honda | 01:08.4077 | 118.829 | Elimination Round 1 / Group 1 |
| 26 | 52 | Norman, Ryan (R) | Honda | 01:07.4714 | 120.478 | Elimination Round 1 / Group 2 |
R= Rookie
**Slowest Qualifier