NASCAR: Busch wins 101st Xfinity race at Road America
Taking advantage of a late wreck that foiled other contenders—not to mention fresher tires for the final six-lap green-flag run—Kyle Busch won Saturday's Henry 180 at Road America, claiming his fourth NASCAR Xfinity Series victory in four starts this season.
On Lap 41 of 45, Busch took the lead from AJ Allmendinger, whose No. 16 Chevrolet was struggling on older tires.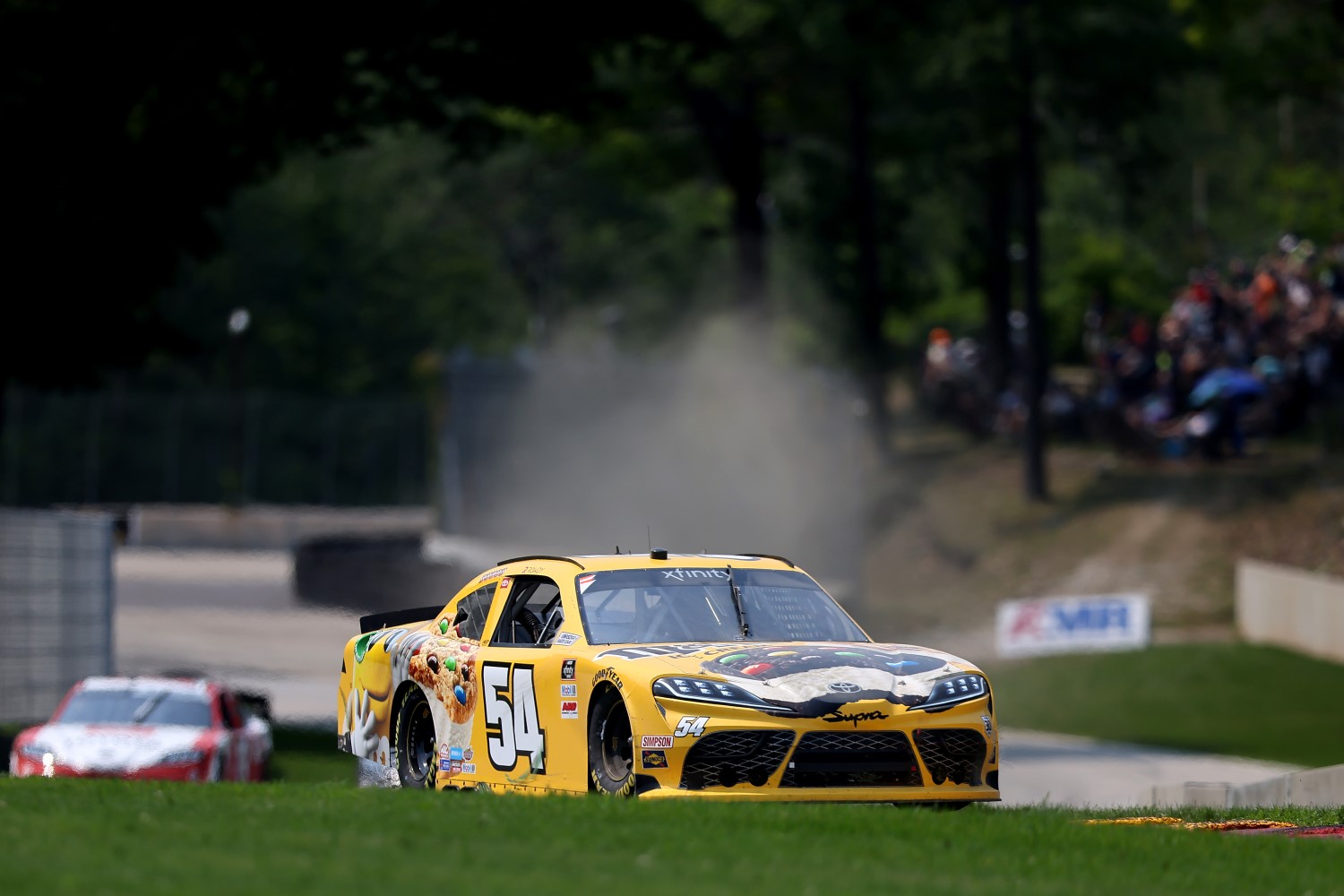 Over the next four laps, the driver of the No. 54 Joe Gibbs Racing Toyota widened his lead to 3.522 seconds at the finish over teammate Daniel Hemric, who ran second after passing Allmendinger for the runner-up spot.
Busch who won in his Road America debut and for the 101st time in his career, extending his own series record. The victory came after Busch experienced several off-track excursions that luckily didn't deprive his car of the speed necessary to win.
"Obviously, tires—that was the saving grace for us," said Busch, who got four new tires under caution on Lap 36. "We had a set of tires left over and (Allmendinger) didn't.
"When we did put our last set of tires on, I wasn't sure we'd be able to get through that many cars. I don't know what happened on those last couple of restarts. I couldn't really see what was happening. We were fortunate to get by that stuff and get through that stuff without any damage to our race car."
Busch restarted seventh on Lap 40 after the final caution for the multicar wreck. He made up four positions almost immediately and passed Allmendinger for the lead in Turn 3 on the following circuit.
ed third. The winner of the first two stages, Allmendinger held fourth, with Harrison Burton completing the top five.
An 11-car wreck between Turns 2 and 3 after a restart on Lap 37 damaged the contending cars of Austin Cindric and Justin Allgaier and set Busch up for his run to victory. Cindric appeared in control of the race until he pitted for tires after the No. 81 Toyota of Ty Gibbs stalled on the track with transmission issues on Lap 35 and caused the sixth caution of the race.
Cindric's No. 22 Ford sustained damaged to the right rear in the melee that followed the restart, and he was forced to pit for repairs. Nevertheless, he charged to eighth place at the finish and holds an 89-point lead over second-place Allmendinger in the series standings.
"Sometimes it works out for you, and sometimes it doesn't," Cindric said philosophically. "Today was one of those days. It just wasn't meant to be. If they gave out an award for cars passed, we would handily have that.
"I'm not sure there's a corner on this car that doesn't have damage. I appreciate the hard work by everybody. We had a decent points day, and we will move on."
Gibbs, who edged Cindric for the pole position during Saturday morning's time trials, was running second when his car stopped because of the broken transmission at the top of the hill in Turn 6. His 31st-place result was his worst in a part-time campaign that has produced two victories and seven top fives in nine starts.
By Reid Spencer/NASCAR Wire Service
Quotes Top-2
KYLE BUSCH, No. 54 M&M's Ice Cream Toyota Supra, Joe Gibbs Racing
Finishing Position: 1st
After two off track excursions, how did you get it done on that last run?
"Obviously tires, you know, that was the saving grace for us. We had tires left over and the 16 (AJ Allmendinger) didn't and when we came and put tires on, I wasn't sure we were going to be able to get through that many cars. But man, not sure what happend on those last couple of restarts, just a malay on the start going down the straightaways and I really couldn't see what was happening. There was a wreck between two and three and we were fortunate to be on the right side in order to get through that stuff without too much damage to our race car. Can't say enough about M&M's Ice Cream, go get some cookie sandwiches to celebrate 4th of July this weekend. It'll cool you right off. Thanks to M&M's of course, a lot of people to thank. Mark McFarland (crew chief) and the ARCA team, they came and helped me this weekend, so winning with those guys and then Chris Gayle, all the Xfinity Series shop, all those guys and girls that help prepare all these cars. This was a fifth entry, so that's a lot. Also, this might sound weird, but Joe Nemechek and John Hunter. They'll know why. Obviously it was really unique to have the opportunity to run this race today and prepare for tomorrow. I hate I tore up my Cup car, but I think we'll still be fast and hopefully tomorrow will look a lot like this day."
You said pre-race that it was going to be a challenge today and here you are in Victory Lane. Connect the dots for me.
"Well, I was right. It was a challenge. It was just a different kind of challenge. Thankfully we had that set of tires there at the end and that was kind of our saving grace. The 16 (AJ Allmendinger) and the 22 (Austin Cindric) getting the damage, the 7 (Justin Allgaier) getting damage, so it kind of fell in my lap a little bit, but we still had a fast racecar. This M&M's Ice Cream Supra was awesome. Thanks to all of these guys. Thanks to everyone at Joe Gibbs Racing, especially the Xfinity shop, Mark McFarland (crew chief), the guys here that helped me this weekend to get this car here to make it possible to run five. That's a lot on a team, an organization. I appreciate that and Coy (Gibbs) to do that. I also want to say thanks to Joe Nemechek and John Hunter Nemechek, they helped me to be able to get some laps here and get prepped a couple of weeks ago. Just also want to say hey to Brexton (Busch, son) and Samantha (Busch, wife). I wish Brexton good luck tonight. Hopefully he can bring home a win too."
Is there a fun factor coming to a place like this?
"When you figure it out and you win, yeah, its fun, but other than that it's a challenge. Every time you get into the next corner, you have to be up to that next challenge, that next corner. I blew the kink again in this car and about wadded it up, but I was able to hold on to it and be able to work through the rest of the day. Everybody on pit road did good pit stops. Strategy worked our way, so it's cool to get here in victory lane. Thanks to M&M's, Rowdy Energy, Toyota, and we will see what we can do tomorrow."
DANIEL HEMRIC, No. 18 Poppy Bank Toyota Supra, Joe Gibbs Racing
Finishing Position: 2nd
What did you need there in the closing laps?
"Just a yellow or something to close the gap. I thought we did a pretty good job taking care of it – clean racecar, fresh tires – when we had the opportunity to take care of it throughout the race. For whatever reason, the holes didn't quite go the way I thought they were going to go and some of them closed, and I lost too much time to Kyle (Busch) there to make it up. I gave it all I had – tongue hanging out at the last five, six, seven laps trying to get to the point where I at least had a shot at it. I'm really proud of everyone at Poppy Bank. I'm really proud of everyone at Joe Gibbs Racing for an incredible Camry, not Camry – Supra. I would like to drive a Camry one day. I say that and the fender is knocked in on this thing – makes it look like a Camry. I've had a ton of fun racing with these guys this year, and they hate running second. No one hates it more than I do, especially as many times as it has happened. We are doing the right things. We just have to continue to execute, and we will have our day."
This is your ninth runner-up finish in the Xfinity Series. What's it going to take to take that next step?
"We just have to stop handicapping ourselves whenever that final stage is. I thought we got over that with our stage two. I thought we were setting ourselves up where we weren't at least starting from the tail and then we had the penalty with the mistiming with jumping over the wall and we got a penalty. We started the last two runs from the back and that's the difference from being an extra row or two on the restart, the way things funneled in here. If you don't get the pass done, it cost you a lap as crazy as that sounds and that is what happened. If I could have cleared those guys a lap or two sooner, that would have at least given me the opportunity to have a clean racetrack. We had newer tires than he did, it was just track position. I'm proud of everyone on this Poppy Bank Toyota Supra team. They've done an incredible job."
Race Results
(5)  Kyle Busch(i), Toyota, 45.
(4)  Daniel Hemric, Toyota, 45.
(12)  Michael Annett, Chevrolet, 45.
(3)  AJ Allmendinger, Chevrolet, 45.
(10)  Harrison Burton, Toyota, 45.
(20)  Kevin Harvick(i), Ford, 45.
(34)  Riley Herbst, Ford, 45.
(2)  Austin Cindric, Ford, 45.
(36)  Noah Gragson, Chevrolet, 45.
(13)  Justin Haley, Chevrolet, 45.
(19)  Brandon Brown, Chevrolet, 45.
(6)  Justin Allgaier, Chevrolet, 45.
(15)  Andy Lally, Toyota, 45.
(8)  Jeb Burton, Chevrolet, 45.
(33)  Tommy Joe Martins, Chevrolet, 45.
(16)  Preston Pardus, Chevrolet, 45.
(30)  Josh Williams, Chevrolet, 45.
(7)  Kaz Grala(i), Chevrolet, 45.
(21)  Brandon Jones, Toyota, 45.
(29)  Timmy Hill(i), Toyota, 45.
(22)  Alex Labbe, Chevrolet, 45.
(26)  Ryan Sieg, Ford, 45.
(27)  Myatt Snider, Chevrolet, 45.
(17)  Cody Ware, Ford, 45.
(25)  Kris Wright(i), Toyota, 45.
(31)  Stephen Leicht, Toyota, 45.
(32)  Landon Cassill, Chevrolet, 45.
(9)  Jeremy Clements, Chevrolet, 44.
(14)  Josh Bilicki(i), Chevrolet, Accident, 42.
(28)  Ryan Ellis, Toyota, Accident, 42.
(24)  Brett Moffitt, Chevrolet, Accident, 41.
(35)  Natalie Decker, Chevrolet, Accident, 38.
(1)  Ty Gibbs #, Toyota, Transmission, 34.
(11)  Jade Buford #, Chevrolet, Suspension, 16.
(23)  Sam Mayer #, Chevrolet, Accident, 12.
(18)  Spencer Pumpelly, Chevrolet, Accident, 11.
Average Speed of Race Winner:  74.972 mph.
Time of Race:  2 Hrs, 25 Mins, 47 Secs. Margin of Victory:  3.522 Seconds.
Caution Flags:  7 for 11 laps.
Lead Changes:  12 among 8 drivers.
Lap Leaders:   T. Gibbs # 0;T. Gibbs # 1-2;A. Allmendinger 3-10;A. Cindric 11-12;D. Hemric 13-15;J. Allgaier 16-17;A. Allmendinger 18-20;J. Allgaier 21-23;A. Cindric 24-26;B. Jones 27-30;A. Cindric 31-35;N. Gragson 36-39;A. Allmendinger 40;K. Busch(i) 41-45.
Leaders Summary (Driver, Times Lead, Laps Led):  AJ Allmendinger 3 times for 12 laps; Austin Cindric 3 times for 10 laps; Kyle Busch(i) 1 time for 5 laps; Justin Allgaier 2 times for 5 laps; Brandon Jones 1 time for 4 laps; Noah Gragson 1 time for 4 laps; Daniel Hemric 1 time for 3 laps; Ty Gibbs # 1 time for 2 laps.
Stage #1 Top Ten: 16,22,10,11,9,18,7,1,07,98
Stage #2 Top Ten: 16,7,18,11,54,19,81,22,20,98