F1: Verstappen takes lights-to-flag win in Austrian GP
While the racing behind was good, pole sitter Max Verstappen led the Austrian GP from the start to the finish in a cakewalk. Such was his domination, Verstappen made an extra pitstop at the end and still won going away over Mercedes' Valtteri Bottas.
It was the third straight win from pole for Verstappen – 17.97s ahead of Bottas. It was the 5th consecutive victory for Red Bull Honda.
The Orange army was ecstatic with their Dutch countrymen's domination.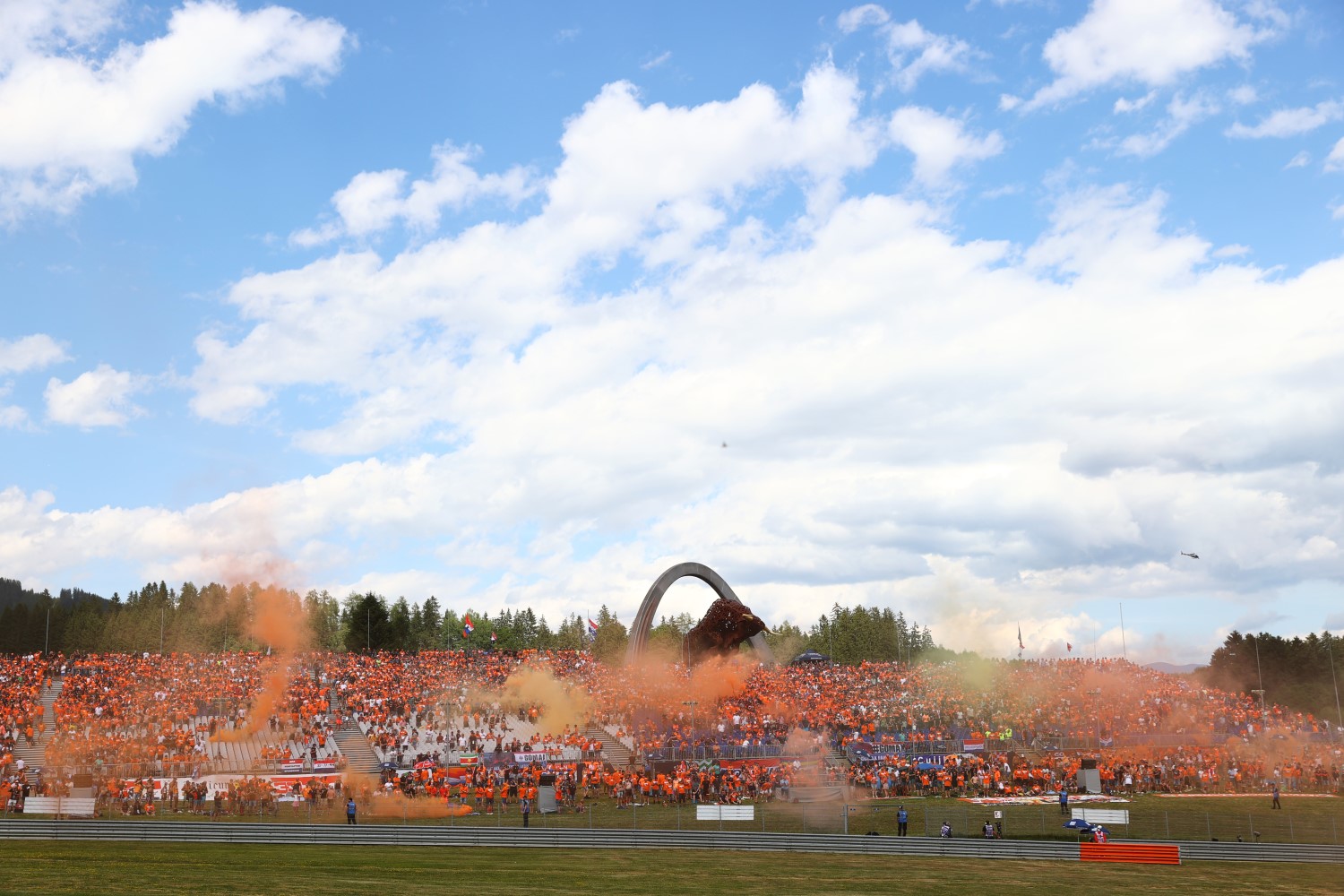 "Incredible to be honest, the car was unreal," said Verstappen.
"On every tire set we put on, it was really enjoyable to drive. A great effort by the whole team, these two weeks here have been incredible."
"Mercedes have been so strong at Silverstone for years, so they will be mighty there," said a happy Horner. "And the sprint race as well, there'll be a different dynamic.
"But if we carry this momentum into Silverstone, there's nothing to fear."
2nd place Valtteri Bottas said, "As a team, we got some decent points considering the gap we had to Red Bull on pure pace."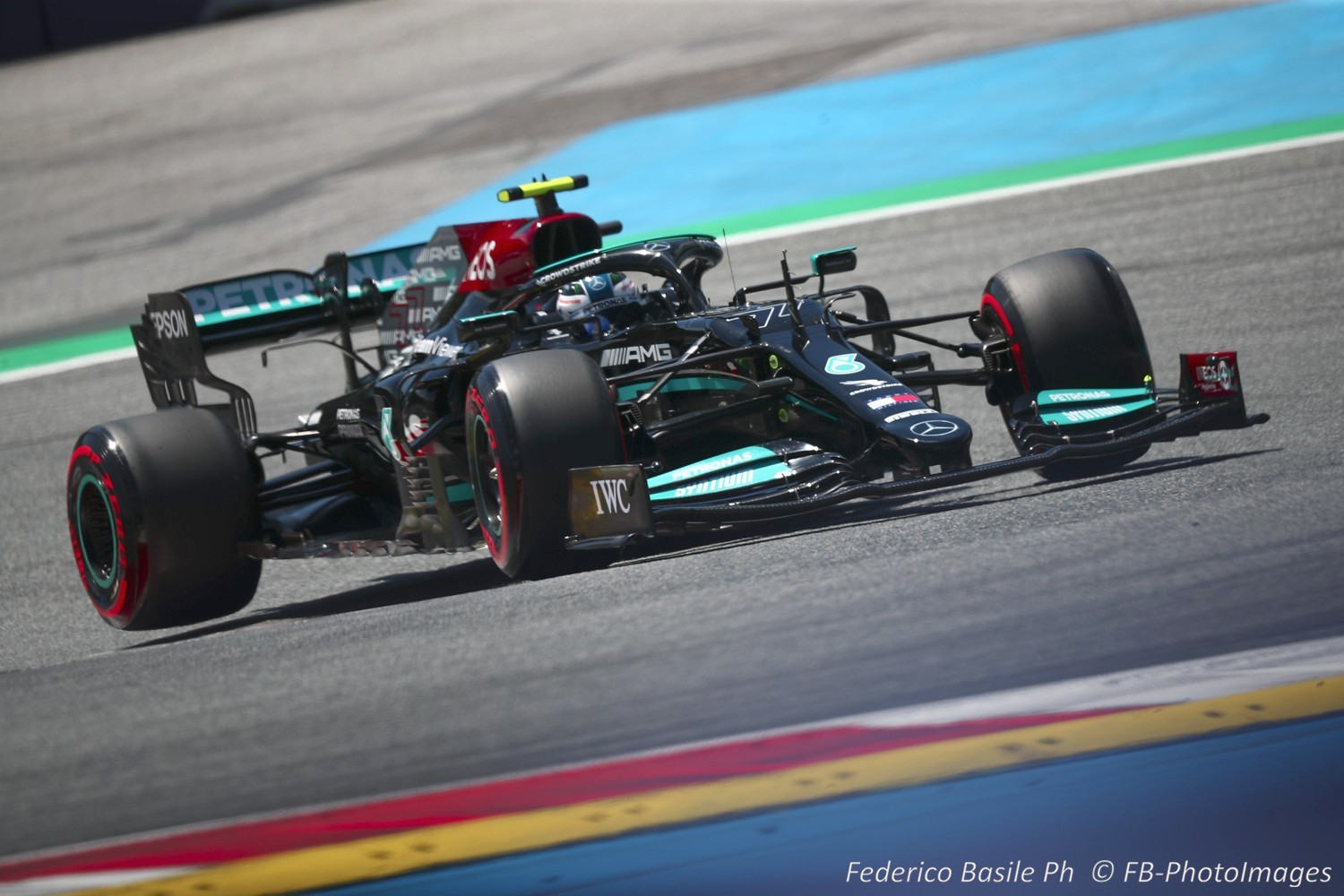 Lando Norris got the final podium position, losing one spot from his starting position, 18 seconds behind Verstappen.
"It was a good race, it was exciting. I'm disappointed because we should have been in second place," said Norris.
"He went off the track himself, we didn't push him so I'm frustrated. I could keep up with [Bottas] even in the dirty air, it's nice to know we can be there – it's the first race in many years we've actually been racing a Mercedes and a Red Bull."
Norris was referring to the time penalty he was handed after some early fighting with Perez for position. The Mexican tried a move around the outside, Norris pushed him wide and Perez ran into the gravel and dropped down the field.
The stewards decided the McLaren man should have left more room and so gave him a five-second time penalty which cost him the track position to Bottas.
Lewis Hamilton motored home in 4th place after damaging the underside of his Mercedes over the sausage curbs.
"The damage was done on the outside of Turn 10, [Hamilton] wasn't running particularly hard on the curb, so we need to find out why that happened. We could see the improvement from last week to here was actually understanding the car a little bit, we are going to progress and be in the race again. If you see it from the [cup] half full perspective, we are one DNF away from being right in there in both championships so this one isn't over," said Toto Wolff
Carlos Sainz Jr. was 5th after Sergio Perez received not one, but two 5 second penalties for forcing Charles Leclerc's Ferrari into the gravel as they battled.
Further back though on that last lap, Kimi Raikkonen locked up, left the door open for Sebastian Vettel to drive right through which he did, but the Finn didn't see him, cut across and the two collided and wound up in the gravel.
Raikkonen is likely to get a penalty for the incident.
Select Quotes
Max Verstappen
"To win again at home at the Red Bull Ring is just incredible. I expected it to be good, but not this good, and the car was on rails. It was really nice to drive and the pace was incredible on both tire compounds. I could push and also look after the tires which is exactly how you want it to be and I could extend my gap lap after lap. Just like everyone else we learned from last weekend and we optimized the car even more by improving the set-up. It's actually hard to put into words because it was so enjoyable to drive and the weekend was the best it could be, so let's hope we can carry on in the same way. It's a great reward for everyone in the Team and it was also very nice to have Honda represented on the podium by Tanabe. The fans were also incredible all weekend, so much orange in the grandstands and it's just great to see people back and enjoying Formula One at the track. There are of course a lot of difficult races coming up and Silverstone will be interesting with the Sprint Race to mix things up. But for now, I'm really happy with the way the whole race went and you don't often get this type of race, so we all have to enjoy it."
Sergio Perez
"I'm obviously not very happy with my race today. On the fourth lap I had the position and I out-braked Lando but he pushed me off the track which pretty much ended my race. As for the other incidents with Charles, I still have to review the situations and look at the incidents because I thought that I was ahead in both of them, especially the second one but it's hard to say right now. I braked as late as possible, we were in dirty air and we had very old tires so I lost the rear on the second one into Turn 6. I'm very sorry for Charles and how I affected his race because that's not the way I like to race. I don't feel happy with myself for compromising the race for another driver. But I am very happy for Max and the rest of the Team, it was great that we could get more points today at our home race at the Red Bull Ring. We move on and I'm looking forward to the next race at Silverstone."
Christian Horner
"Max had another fantastic race today and a second victory at the Red Bull Ring is a great way for the Team to sign off the triple header. It was another impeccable drive from Max and he didn't put a wheel wrong. To achieve pole position, fastest lap, lead every lap and become the first driver to win all three races in a triple-header is just phenomenal and shows the caliber of driver he is and the effort the Team are putting in every single weekend. Checo was unlucky to have a racing incident with Lando, but for me that's hard racing, just like the similar incidents later in the race but he came back strong and we could all see how hungry he was to get a result. We've now won the last five races, a first for us in the hybrid era, but we cannot get complacent and need to keep that momentum going. There's a long way to go in this championship, we don't take anything for granted and we have to keep doing what we're doing, session by session, race by race. Silverstone will be a big challenge and it's been a Mercedes stronghold for the last seven years but there's going to be a big crowd there and we have brilliant fans, so I can't wait to put on another show for everyone who comes out to support us."
Valtteri Bottas
For me personally, P2 one place better than last week and I started from fifth so not a bad afternoon. I think as a team we got some decent points considering the gap we have to Red Bull in terms of pure pace. For me it's nice to be on the podium again in second place and I think we really maximised what we could get today. The tires held on pretty well today which was a surprise. Next two weeks of hardwork and learning then Silverstone, it will be great to see the fans there and I hope we can pick up our pace to give it a real fight there.
Lewis Hamilton
It's not the result I wanted but it's still some decent points. I sustained some damage just before I overtook Lando – the rear of the car started to feel strange and it just got worse throughout the race. Otherwise it would have been a straightforward second place for me. Max is clear out front at the moment so we need improve our car and start performing better each weekend. The team are working incredibly hard and we need continue that so we can find performance.
Toto Wolff
I think the result probably looks worse in terms of pace than the reality. We were stuck behind the McLaren which cost us a lot of time, otherwise our pace was good, maybe not enough to win the race but right up there at the front which is a step forward. Lewis picked up some damage at turn 10 – I don't think he was running particularly hard over the kerb, it was just a piece that fell away so we need to understand what happened. Overall, not a bad damage limitation weekend. Morale in the team is good, we could see the improvement in race pace was from last weekend so we are making progress and eventually we will be competing for the win again. We are one DNF away from being right there in the Constructors' and Drivers' Championships so this is far from over.
Andrew Shovlin
A solid day for Valtteri starting fifth and finishing second but a disappointing one for Lewis after he lost a lot of downforce with some bodywork damage before the stop. Our task today was made harder by our poor qualifying but second and third was realistically our best result and around half distance it looked like we were on track to achieve that. Lando's five second penalty gave Valtteri a good opportunity to pass in the pits so we decided to follow him in. Lewis took a lot out of his tires trying to pass in the first stint but once he'd got through on lap 20, Max was too far up the road for us to mount a challenge so we were just looking for any opportunities with safety cars.
It looks like the bodywork damage for Lewis was at the end of lap 29 just before we came in. The downforce loss was around six or seven tenths but as it was all from the rear, the balance become difficult and we were damaging the rears with sliding. That dropped Lewis from second to fourth but at least we had Valtteri up there to pick up the position. We know we've not been strong enough at this track over a range of conditions so we need to go away and work hard to understand that. For the British Grand Prix we'll bring an update package and it's also a track that has suited our car in recent years. We really missed the fans in 2020 but we'll be working hard over the next few days to recover our form and hopefully can give them something to cheer about on race day.
Lance Stroll
"It was not the race we were hoping for today. I think it is clear, with hindsight, that starting on the Softs was not ideal, although we managed to keep ourselves in the fight for points during the first phase of the race. When we made our first stop to get onto a set of new Hards, we came out in quite a bit of traffic. With cars on different strategies and tires, it meant we lost time and did not take advantage of the peak of the tire early in the second stint, which impacted our race. It is a disappointing end to the triple-header, but I am excited to get going for our home race at Silverstone in a couple of weeks. It is a very different circuit and we also have a new weekend format, so it is a clean slate and a chance to bounce back."
Sebastian Vettel
"It was not an easy race today, which ended with a trip through the gravel because of the misunderstanding with Kimi [Räikkönen]. I guess he just did not see me in front of him. The first I knew about it was the contact I felt on the left rear. I had made a good exit out of Turn Four and was pulling ahead of Kimi on the right as we approached Turn Five. I do not think there was any intention from Kimi. Even before that, we did not have the speed to fight for points today. The balance inside the car felt alright, but the cars on the Medium tires had better performance in the opening stint when I was stuck in traffic without any clean air. It is disappointing not to score points, but we will work hard to understand where we can improve before we get to the next race at Silverstone."
Race Results
| | | | | |
| --- | --- | --- | --- | --- |
| POS | DRIVER | NAT. | TEAM | BEHIND |
| 1 | Max Verstappen | NED | Red Bull Racing | +0.000s |
| 2 | Valtteri Bottas | FIN | Mercedes AMG Petronas | +17.973 |
| 3 | Lando Norris | GBR | McLaren F1 Team | +20.019 |
| 4 | Lewis Hamilton | GBR | Mercedes AMG Petronas | +46.452 |
| 5 | Carlos Sainz | ESP | Scuderia Ferrari Mission Winnow | +57.144 |
| 6 | Sergio Perez | MEX | Red Bull Racing | +57.915 |
| 7 | Daniel Ricciardo | AUS | McLaren F1 Team | +60.395 |
| 8 | Charles Leclerc | MON | Scuderia Ferrari Mission Winnow | +61.195 |
| 9 | Pierre Gasly | FRA | Scuderia AlphaTauri Honda | +61.844 |
| 10 | Fernando Alonso | ESP | Alpine F1 Team | +1L |
| 11 | George Russell | GBR | Williams Racing | +1L |
| 12 | Yuki Tsunoda | JPN | Scuderia AlphaTauri Honda | +1L |
| 13 | Lance Stroll | CAN | Aston Martin Cognizant | +1L |
| 14 | Antonio Giovinazzi | ITA | Alfa Romeo Racing Orlen | +1L |
| 15 | Nicholas Latifi | CAN | Williams Racing | +1L |
| 16 | Kimi Raikkonen | FIN | Alfa Romeo Racing Orlen | +1L |
| 17 | Sebastian Vettel | GER | Aston Martin Cognizant | +1L |
| 18 | Mick Schumacher | GER | Uralkali Haas F1 Team | +2L |
| 19 | Nikita Mazepin | RUS | Uralkali Haas F1 Team | +2L |
| DNF | Esteban Ocon | FRA | Alpine F1 Team | DNF |