IndyCar: Newgarden holds off Ericsson to win Honda Indy 200
Josef Newgarden gave Team Penske their first IndyCar win of 2021 by holding off a charging Marcus Ericsson by 0.88s to win the Honda Indy 200 at Mid-Ohio.
Newgarden dominated the race leading 73 of the 80 laps from pole, his 19th career IndyCar win.
Ericsson's Ganassi Honda teammates finished in 3rd and 4th with Alex Palou coming home a distant third ahead of Scott Dixon in 4th.
Ericsson's late charge in the No. 8 Huski Chocolate Chip Ganassi Racing Honda fell just short, but he earned his seventh top-10 finish of the season. Championship leader Alex Palou captured the final podium position in the No. 10 NTT DATA Chip Ganassi Racing Honda.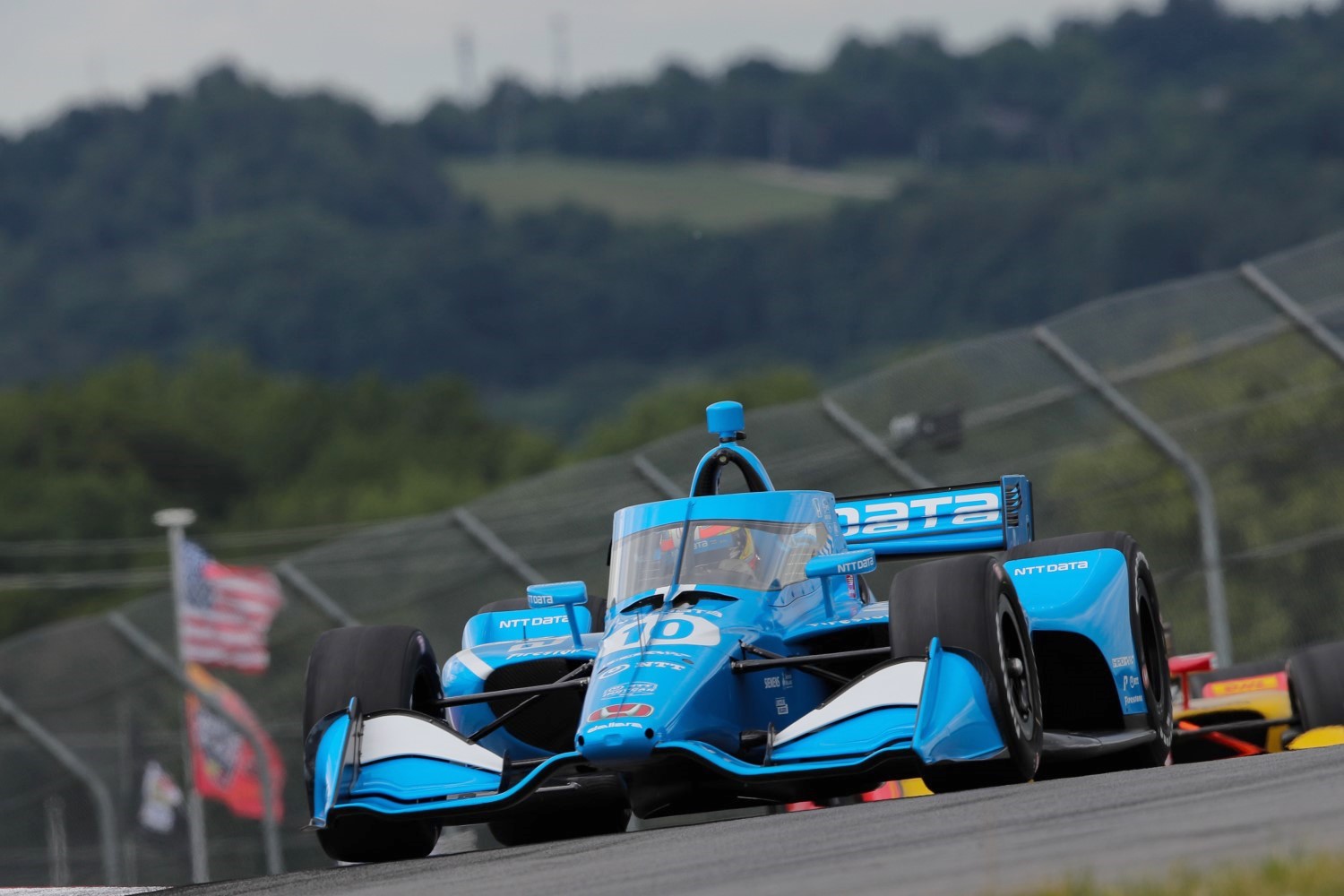 Alex Rossi rounded out the top-5 in his NAPA Honda.  Rossi sucked Dixon's exhaust all 80 laps and was never able to pass him, the veteran schooling the Californian.
The fraught moments over the last 10 laps of the race for Newgarden were quite a contrast from earlier portions of the race on the undulating, 13-turn, 2.258-mile circuit. Newgarden led Ericsson by 6.6 seconds before entering the pits for his final pit stop, on Lap 53.
That lead was trimmed to approximately four seconds shortly after Ericsson made his final stop, one lap after Newgarden.
The gap between the top two ebbed and flowed over the next 15 laps, with Newgarden padding his lead to 7.1 seconds on Lap 66. But then Newgarden started to encounter slower traffic ahead, and Ericsson began using his push-to-pass button more often to draw closer.
Ericsson pulled to within 2.6 seconds with five laps remaining, slicing that margin to 1.4 seconds with two laps to go. When the white flag waved to signal the final lap, Newgarden led Ericsson by .8665 of a second.
One mistake, and it could have been a third consecutive race of late calamity for Newgarden. But he kept his cool and deftly maintained enough of a gap from the slower traffic ahead so those cars' turbulent air didn't affect the handling of his machine and also didn't let Ericsson get close enough to attempt a pass for the win.
"We had a great day," Ericsson said. "I'm really proud of the whole team. We were pushing very, very hard there at the end to catch Josef. A couple of more laps, and we could have challenged for it. But overall, P2 was a very good result today."
Romain Grosjean drove his #51 Nurtec ODT Dale Coyne Racing with RWR car to a seventh-place finish, climbing 11 positions to claim his fourth top ten finish this season.
"A seventh-place finish at Mid-Ohio, it was a pretty good race! We had the right strategy starting on the Red tires, I was able to make up a lot of positions at the start," said Grosjean. "The Nurtec ODT car didn't feel the best today, but we had some damage after a first lap contact, so I'm sure that didn't help. But we had the right strategy, and we made good pit stops, and we eventually finished seventh, after starting 18th on a track that isn't the easiest to overtake, so I'm very happy with that!"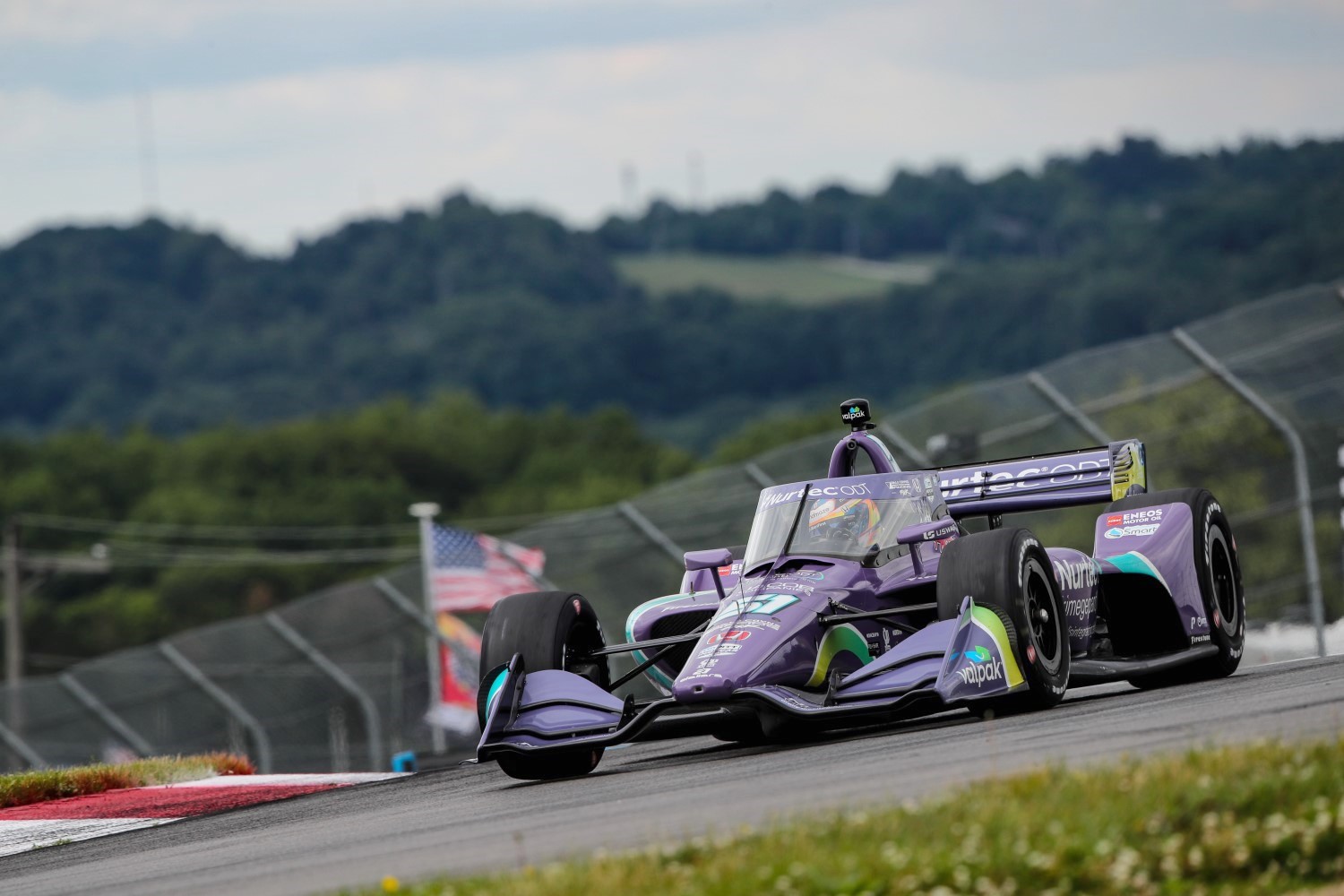 Indy Lights driver Ryan Norman, running his first IndyCar race, brought the #52 Coyne Honda home in one piece.
Norman put in a solid performance in his #52 KOINU INU / EVO entry making up six positions to cross the finish line in 20th place.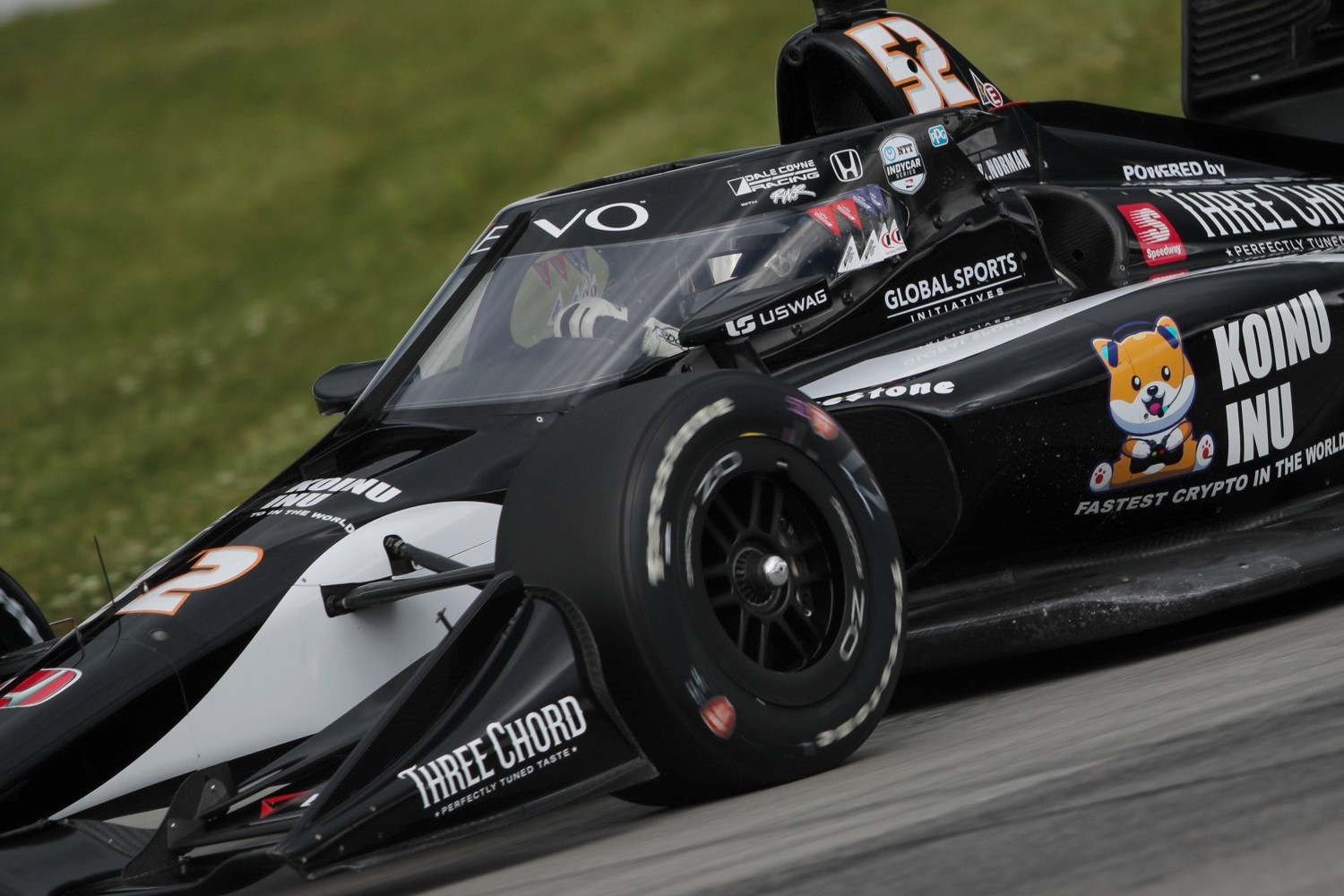 "I just finished my first IndyCar race, that was pretty exciting! Everything went well. I kept it clean and consistent, and I was able to climb up and gain some positions with some good passes. We ran some competitive lap times, it's just hard to come back from 26th place on the grid but overall, I'm very happy with the experience and how today went. I'll just have to work on my qualifying in the future to be able to start further up because positioning is so important in the Series. I want to thank Dale Coyne and Rick Ware for giving me this opportunity. I'd love to be back!"
Championship leader Palou is 39 points ahead of Pato O'Ward of Arrow McLaren SP. Dixon is third, 56 points behind Palou. Newgarden remained fourth, 69 points back of the leader, and Ericsson jumped three positions to take fifth in the standings, 104 points behind Palou.
The IndyCar Series now goes dark and off the radar for four long weeks.
The next race is the inaugural Big Machine Music City Grand Prix on Sunday, Aug. 8 on the streets of Nashville, Tennessee, which starts a stretch of three consecutive race weekends for the series. Following the highly anticipated street race in Nashville, the series heads to the Indianapolis Motor Speedway Road Course for the Big Machine Spiked Coolers Grand Prix on Saturday, Aug. 14 and then shifts to World Wide Technology Raceway for the final oval race of the season, the Bommarito Automotive Group 500 on Saturday evening, Aug. 21.
Winner Quotes
JOSEF NEWGARDEN, NO. 2 XPEL TEAM PENSKE CHEVROLET – Race Winner
WHAT WERE YOU THINKING IN THOSE LAST FEW LAPS CONSIDERING WHAT'S HAPPENED IN OTHER OCCASIONS THIS YEAR?
'I'd start each stint and feel like I had everything under control. You get to the back end of it and I thought I was starting to fall apart. So, it was really hard to hang on. But I had my wingman Tim (Cindric) coaching me all the way just making sure I knew what was up to date. But I don't know what to say other than this team has been doing the job. Everyone has been giving me a hard time asking what's up with us not winning a race.
"But I don't think these people at Team Penske could have done anything different. We've been in the game almost every race and had great performance and obviously, great support from our partner in Team Chevy. So, it's great to seal a win here finally on the year. We're going to need, probably, three or four more of these if we're going to win this championship. But this team is capable of it. I'm just excited to be back. Two weeks off was enough. And to come back and finally get a win, I'm happy for our whole group."
HOW ABOUT A WIN GOING INTO YOUR HOMETOWN RACE IN NASHVILLE ON AUGUST 8TH?
"Yeah, it's great, right? Good motivation. We needed to be the first pit box out at Nashville, so we got that done yesterday. We've got some confidence with this win so I feel like we can make it all happen. I always believe, I've told these guys, I believe we can win any race we go into. Nashville would be a dream to have a great result. I'm so proud.
"It's good to have XPEL on the car. I think it's the first win we've gotten for XPEL, so I'm super pumped for that partnership. Let's keep it up. We've got what, six races to go? We can make it happen, believe me."
Race Results
| | | | | | | | | | | |
| --- | --- | --- | --- | --- | --- | --- | --- | --- | --- | --- |
| Pos | No | Name | Laps | Diff | Gap | Led | ST | Engine | Points | Team |
| 1 | 2 | Josef Newgarden | 80 | 0.000s | 0.000s | 73 | 1 | Chevy | 315 | Team Penske |
| 2 | 8 | Marcus Ericsson | 80 | 0.8790 | 0.8790 | 2 | 3 | Honda | 280 | Chip Ganassi Racing |
| 3 | 10 | Alex Palou | 80 | 22.2350 | 21.3560 | 0 | 7 | Honda | 384 | Chip Ganassi Racing |
| 4 | 9 | Scott Dixon | 80 | 32.3775 | 10.1425 | 0 | 5 | Honda | 328 | Chip Ganassi Racing |
| 5 | 27 | Alexander Rossi | 80 | 33.1414 | 0.7639 | 0 | 6 | Honda | 201 | Andretti Autosport |
| 6 | 15 | Graham Rahal | 80 | 34.1226 | 0.9812 | 0 | 8 | Honda | 256 | Rahal Letterman Lanigan Racing |
| 7 | 51 | Romain Grosjean | 80 | 35.1630 | 1.0404 | 0 | 18 | Honda | 151 | Dale Coyne Racing w/Rick Ware Racing |
| 8 | 5 | Pato O'Ward | 80 | 35.6929 | 0.5299 | 0 | 20 | Chevy | 345 | Arrow McLaren SP |
| 9 | 45 | Santino Ferrucci | 80 | 35.9931 | 0.3002 | 0 | 22 | Honda | 127 | Rahal Letterman Lanigan Racing |
| 10 | 30 | Takuma Sato | 80 | 50.3316 | 14.3385 | 0 | 19 | Honda | 226 | Rahal Letterman Lanigan Racing |
| 11 | 14 | Sebastien Bourdais | 80 | 52.0013 | 1.6697 | 0 | 12 | Chevy | 155 | AJ Foyt Enterprises |
| 12 | 3 | Scott McLaughlin | 80 | 52.4250 | 0.4237 | 0 | 14 | Chevy | 198 | Team Penske |
| 13 | 26 | Colton Herta | 80 | 56.8482 | 4.4232 | 5 | 2 | Honda | 260 | Andretti Autosport |
| 14 | 22 | Simon Pagenaud | 80 | 58.3495 | 1.5013 | 0 | 15 | Chevy | 271 | Team Penske |
| 15 | 20 | Conor Daly | 80 | 58.8125 | 0.4630 | 0 | 24 | Chevy | 142 | Ed Carpenter Racing |
| 16 | 21 | Rinus VeeKay | 80 | 59.6397 | 0.8272 | 0 | 11 | Chevy | 257 | Ed Carpenter Racing |
| 17 | 29 | James Hinchcliffe | 80 | 67.5124 | 7.8727 | 0 | 9 | Honda | 131 | Andretti Steinbrenner Autosport |
| 18 | 59 | Max Chilton | 80 | 68.0533 | 0.5409 | 0 | 17 | Chevy | 77 | Carlin |
| 19 | 60 | Jack Harvey | 80 | 68.4796 | 0.4263 | 0 | 23 | Honda | 170 | Meyer Shank Racing |
| 20 | 52 | Ryan Norman | 79 | 1 LAPS | 31.3095 | 0 | 26 | Honda | 10 | Dale Coyne Racing w/Rick Ware Racing |
| 21 | 4 | Dalton Kellett | 79 | 1 LAPS | 16.3543 | 0 | 21 | Chevy | 95 | AJ Foyt Enterprises |
| 22 | 48 | Jimmie Johnson | 79 | 1 LAPS | 22.2165 | 0 | 25 | Honda | 56 | Chip Ganassi Racing |
| 23 | 7 | Felix Rosenqvist | 78 | 2 LAPS | 44.1627 | 0 | 13 | Chevy | 94 | Arrow McLaren SP |
| 24 | 28 | Ryan Hunter-Reay | 78 | 2 LAPS | 29.9099 | 0 | 10 | Honda | 145 | Andretti Autosport |
| 25 | 12 | Will Power | 3 | Contact | 0.2261 | 0 | 4 | Chevy | 209 | Team Penske |
| 26 | 18 | Ed Jones | 3 | Contact | 0.3286 | 0 | 16 | Honda | 125 | Dale Coyne Racing with Vasser Sullivan |