Vancouver Formula E race to use portion of former CART circuit
The City of Vancouver is hosting an ABB FIA Formula E World Championship race next year, organizers announced Thursday.
The all-electric race is being held in the city's False Creek neighborhood over a 2022 July weekend, according to promoter OSS Group Inc.
CART raced on the east side of the False Creek waterway and Formula E will race in about the same vicinity (see photo above)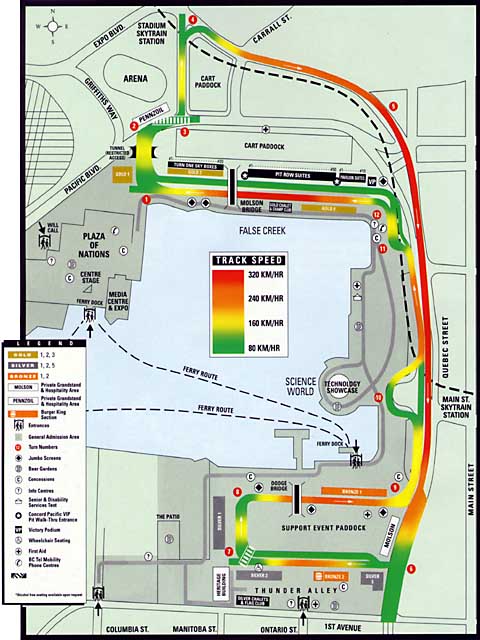 Earlier this year, Vancouver city council voted unanimously in support of a multi-day Formula E event that would include a conference on climate change and sustainability.
"Formula E is a win on so many levels, from being a net-zero event that supports sustainable transportation to being a huge boost for our hard-hit tourism sector, our residents and our local economy," Coun. Sarah Kirby-Yung said in a news release Thursday.
The promoter said the Formula E race will bring $80 million in economic value and thousands of jobs to the city, but did not provide any details on how it came to those estimates.
Programming on both Friday and Saturday will end at night with a major concert at BC Place Stadium, which will have a spectator capacity for 42,000.
On Friday, there will be a celebrity race, and an opportunity for the public to explore the race circuit. The practice periods, two qualifying races, and the main race will be held throughout Saturday.