WEC: Toyotas 1-2 in 6 Hours of Monza practice
TOYOTA GAZOO Racing completed the first practice session for the inaugural 6 Hours of Monza, as it began its quest for a third consecutive Hypercar victory to extend the new GR010 HYBRID's 100% winning record.
The team leads the World Championship following those wins at Spa-Francorchamps and Portimao and it will again take on Hypercar competitors from Alpine and Glickenhaus in the third round of the FIA World Endurance Championship (WEC) on Sunday.
The #7 crew of Mike Conway, Kamui Kobayashi and José María López finished third at Spa then second at Portimao, and are aiming to go one better in Italy. Their push for a first win of the season began well, and they set the fastest time of the session with lap of 1min 38.401secs.
Sébastien Buemi, Kazuki Nakajima and Brendon Hartley, winners of the opening two races in their #8 GR010 HYBRID, were 0.134secs behind in second place. All five Hypercar competitors finished the session within just 0.684secs, promising an exciting battle ahead.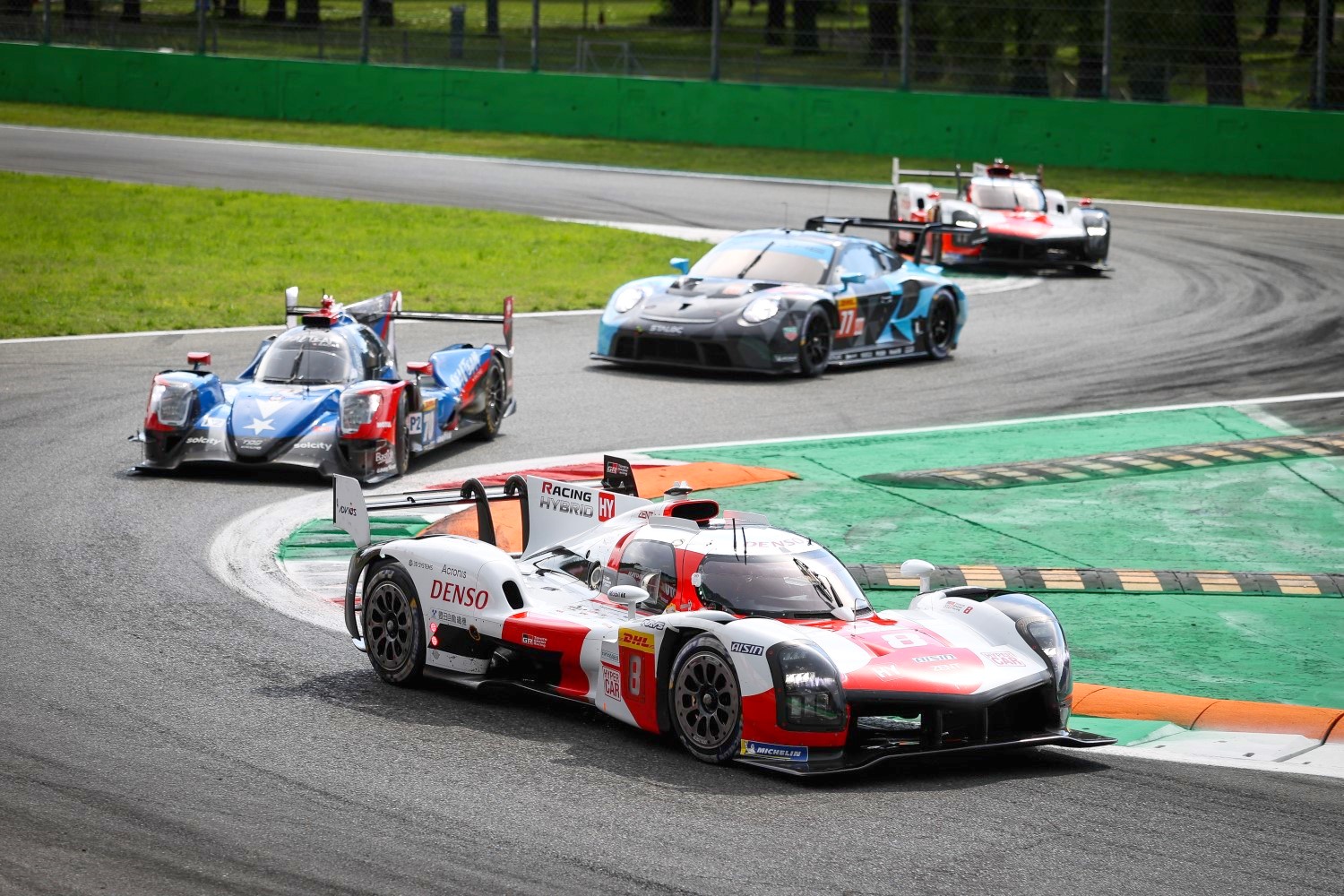 Although one of the world's oldest racetracks, Monza is a relatively new venue for WEC, with the only previous visit coming in a two-day Prologue test in 2017. After first practice, it is now unique as the only circuit at which TOYOTA GAZOO Racing has contested competitive sessions in both the WEC and the World Rally Championship.
As WEC moves to the high-speed part of the season, the opening practice session was an important chance to learn how it behaves on a circuit with similar characteristics to Le Mans. A 15-minute red flag, due to an incident for a GT car, threatened to disrupt this crucial program, but the session was extended accordingly.
Top-2 Quotes
Mike Conway (GR010 HYBRID #7): "It is only first practice so we are are still trying to understand the best set-up direction for our car around this track. It all seems very close at the top, so it feels as if we are going in the right direction. It's a different circuit compared to Spa or Portimao, which means we've got quite a bit of work to do to get the car in the right set-up window, but this was a good start to the weekend."
Kamui Kobayashi (GR010 HYBRID #7): "I am very happy to be driving in Italy again. It feels a bit like home because when I started racing in Europe I lived in Italy. I know the place well and I enjoy racing here. I haven't raced at Monza since 2014, so it definitely feels good to be back. First practice went fine and we have some areas to work on to improve the car for the rest of the weekend."
José María López (GR010 HYBRID #7): "It feels very nice to be back at Monza, where I started my car racing career and always feel such passion for motorsport. It was pretty much a smooth day for us. We still have to work hard to optimize the GR010 HYBRID but it's good to start with the two cars at the top of the times. We will keep working and see what we can do tomorrow to get more from the car."
Sébastien Buemi (GR010 HYBRID #8): "The GR010 HYBRID is still a new car for us, even if we've done a couple of races by now, so there is plenty to learn. For me, it's my first time to drive an endurance prototype at Monza because I missed the Prologue in 2017. I enjoyed being out there. We had a bit of rain which wasn't so nice but it was a decent start to the weekend; now we have work to do to fine-tune everything."
Kazuki Nakajima (GR010 HYBRID #8): "I am happy to be back at Monza and I enjoyed getting my first taste of the GR010 HYBRID here. My stint was not so easy because there were a few drops of rain and I had quite some traffic to manage but the session went fine in general. I am looking forward to doing more laps tomorrow so we can make progress on our race preparation, which is the main focus."
Brendon Hartley (GR010 HYBRID #8): "It was a pretty clean session and it's very close with all the Hypercar competitors which was nice to see. It was a positive session. Both cars tested different items and we had no major issues. We're still trying to improve the car every time we drive it and we're making improvements, and did a few tests on different settings and I think we're getting closer so I feel quite good."
Practice Results
Pos
No.
Drivers
Car
Class
Time
Gap
1
7
Mike Conway
Kamui Kobayashi
Jose Maria Lopez
Toyota GR010 – Hybrid
HYPERCAR
1'38.401
0.000
2
8
Sébastien Buemi
Kazuki Nakajima
Brendon Hartley
Toyota GR010 – Hybrid
HYPERCAR
1'38.535
0.134
3
36
Andre Negrao
Nicolas Lapierre
Matthieu Vaxiviere
Alpine A480
HYPERCAR
1'38.553
0.152
4
709
Romain Dumas
Franck Mailleux
Richard Westbrook
Glickenhaus 007 LMH
HYPERCAR
1'39.042
0.641
5
708
Pipo Derani
Gustavo Menezes
Olivier Pla
Glickenhaus 007 LMH
HYPERCAR
1'39.085
0.684
6
22
Philip Hanson
Fabio Scherer
Filipe Albuquerque
Oreca 07
LMP2
1'39.373
0.972
7
29
Frits van Eerd
Paul-Loup Chatin
Nyck de Vries
Oreca 07
LMP2
1'39.837
1.436
8
21
Henrik Hedman
Juan Pablo Montoya
Ben Hanley
Oreca 07
LMP2
1'40.075
1.674
9
31
Robin Frijns
Ferdinand Habsburg
Charles Milesi
Oreca 07
LMP2
1'40.101
1.700
10
28
Sean Gelael
Stoffel Vandoorne
Tom Blomqvist
Oreca 07
LMP2
1'40.148
1.747
11
70
Esteban Garcia
Loic Duval
Norman Nato
Oreca 07
LMP2
1'40.277
1.876
12
38
Roberto Gonzalez
Antonio Felix da Costa
Anthony Davidson
Oreca 07
LMP2
1'40.400
1.999
13
34
Jakub Smiechowski
Renger van der Zande
Alex Brundle
Oreca 07
LMP2
1'40.669
2.268
14
1
Tatiana Calderon
Sophia Flörsch
Oreca 07
LMP2
1'40.911
2.510
15
82
Ryan Cullen
Oliver Jarvis
Felipe Nasr
Oreca 07
LMP2
1'40.996
2.595
16
20
Jan Magnussen
Anders Fjordbach
Dennis Andersen
Oreca 07
LMP2
1'41.093
2.692
17
44
Miro Konopka
Oliver Webb
Matej Konopka
Ligier JSP 217
LMP2
1'43.191
4.790
18
52
Daniel Serra
Miguel Molina
Ferrari 488 GTE EVO
LMGTE PRO
1'46.329
7.928
19
51
Alessandro Pier Guidi
James Calado
Ferrari 488 GTE EVO
LMGTE PRO
1'46.700
8.299
20
92
Kevin Estre
Neel Jani
Porsche 911 RSR – 19
LMGTE PRO
1'46.895
8.494
21
91
Gianmaria Bruni
Richard Lietz
Porsche 911 RSR – 19
LMGTE PRO
1'46.983
8.582
22
56
Egidio Perfetti
Matteo Cairoli
Riccardo Pera
Porsche 911 RSR – 19
LMGTE AM
1'47.194
8.793
23
54
Thomas Flohr
Francesco Castellacci
Giancarlo Fisichella
Ferrari 488 GTE EVO
LMGTE AM
1'47.388
8.987
24
60
Claudio Schiavoni
Andrea Piccini
Matteo Cressoni
Ferrari 488 GTE EVO
LMGTE AM
1'47.479
9.078
25
777
Satoshi Hoshino
Tomonobu Fujii
Andrew Watson
Aston Martin Vantage AMR
LMGTE AM
1'47.599
9.198
26
83
François Perrodo
Nicklas Nielsen
Alessio Rovera
Ferrari 488 GTE EVO
LMGTE AM
1'47.640
9.239
27
71
Brendan Iribe
Ollie Millroy
Ben Barnicoat
Ferrari 488 GTE EVO
LMGTE AM
1'47.700
9.299
28
33
Ben Keating
Dylan Pereira
Felipe Fraga
Aston Martin Vantage AMR
LMGTE AM
1'47.754
9.353
29
88
Andrew Haryanto
Marco Seefried
Alessio Picariello
Porsche 911 RSR – 19
LMGTE AM
1'47.962
9.561
30
77
Christian Ried
Jaxon Evans
Matt Campbell
Porsche 911 RSR – 19
LMGTE AM
1'47.985
9.584
31
85
Rahel Frey
Michelle Gatting
Sarah Bovy
Ferrari 488 GTE EVO
LMGTE AM
1'48.048
9.647
32
98
Paul Dalla Lana
Augusto Farfus
Marcos Gomes
Aston Martin Vantage AMR
LMGTE AM
1'48.238
9.837
33
47
Roberto Lacorte
Giorgio Sernagiotto
Antonio Fuoco
Ferrari 488 GTE EVO
LMGTE AM
1'48.310
9.909
34
388
Pierre Ehret
Christian Hook
Jeroen Bleekemolen
Ferrari 488 GTE EVO
LMGTE AM
1'48.665
10.264
35
86
Michael Wainwright
Benjamin Barker
Tom Gamble
Porsche 911 RSR – 19
LMGTE AM
1'48.700
10.299
36
61
Christoph Ulrich
Simon Mann
Toni Vilander
Ferrari 488 GTE EVO
LMGTE AM
1'48.834
10.433
37
46
Dennis Olsen
Anders Buchardt
Maxwell Root
Porsche 911 RSR – 19
LMGTE AM
1'49.682
11.281