IMSA: Taylor Leads Corvette front-row Sweep at Lime Rock
Jordan Taylor claimed the overall pole position for the Northeast Grand Prix at Lime Rock Park on Friday to lead a 1-2 result for Corvette Racing.
Taylor, driving the No. 3 Mobil 1/SiriusXM Chevrolet Corvette C8.R with Antonio Garcia, set a best GT Le Mans (GTLM) lap of 49.958 (106.216 mph) in a 15-minute session for the IMSA WeatherTech SportsCar Championship. Saturday's 3:10 p.m. ET race, with rain predicted, will be an all-GT affair with GTLM and GT Daytona (GTD) headlining IMSA's return to Lime Rock Park.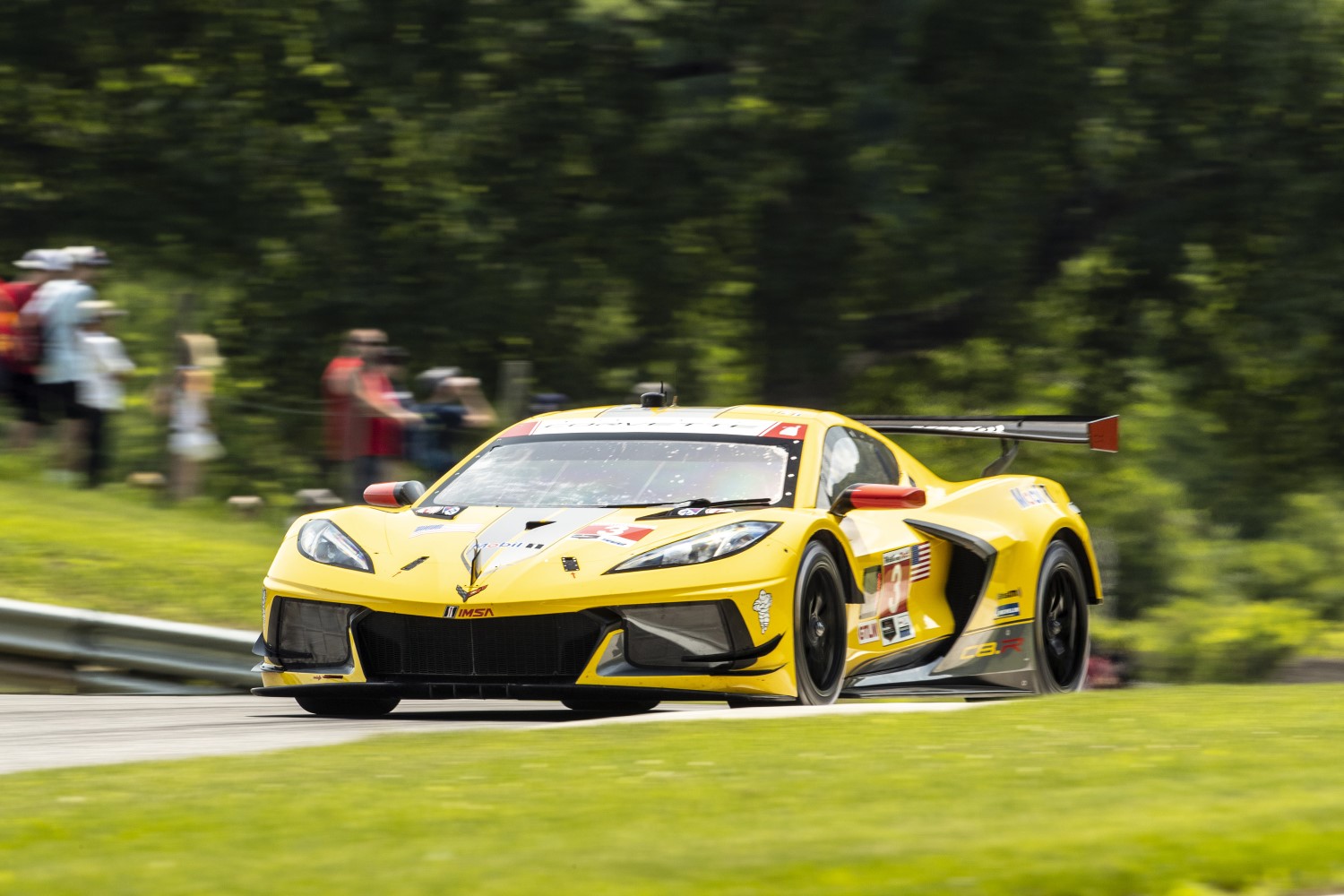 Taylor and teammate Antonio Garcia enter Lime Rock after back-to-back victories at Watkins Glen and lead the GTLM Drivers Championship, as does Chevrolet in the Manufacturers standings.
Taylor out qualified Tommy Milner in the No. 4 Mobil 1/SiriusXM Corvette by just 0.142 seconds. Milner and Nick Tandy were second in the most recent GTLM race at Watkins Glen behind the No. 3 C8.R but were in winning positions in both races at The Glen. They also won the non-points Detroit round in mid-June.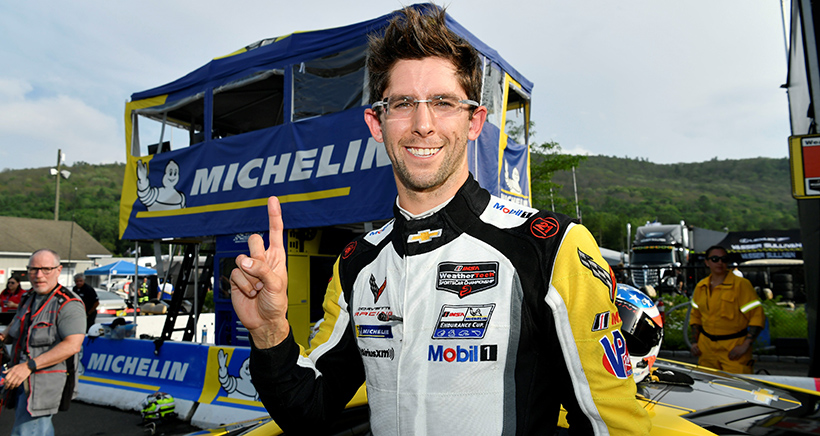 "It was a lot of experimenting," Taylor said after winning the fourth pole of the season for the No. 3. "Brake points were different, carrying speed through (Turns) 6 and 7. I had two pretty big moments just because I thought I could carry a lot more speed than I could. It was good to have that in my pocket for tomorrow to know where the limits are."
Corvette Racing is a five-time winner at Lime Rock, but this is the first race the seven-turn, 1.474-mile circuit for the Corvette C8.R, a shot at an overall race victory during one of the busiest races on the calendar.
Taylor's fastest lap – 49.958 seconds (106.216 mph) around Lime Rock's seven-turn, 1.474-mile circuit – was just 0.142 seconds faster than Tommy Milner's fastest lap in the sister No. 4 Corvette C8.R he shares with Nick Tandy. Cooper MacNeil was third fastest in the No. 79 WeatherTech Racing Porsche 911 RSR-19 that he is co-driving this week with Mathieu Jaminet.
Like Watkins Glen within the last month, Lime Rock Park was one venue at which the Corvette C8.R didn't compete during its debut season. That didn't impact the team during the back-to-back weekends at Watkins Glen, however, when Corvette Racing took the race win, pole position and fastest race lap in both the six-hour enduro and two-hour, 40-minute sprint race.
Cooper MacNeil (Hinsdale, Ill.) and Mathieu Jaminet (France) will start tomorrow's Northeast Grand Prix third on the grid.
The second practice session of the day was interrupted by rain and lightning causing IMSA to stop the session. Once practice was restarted there was just 16-minutes left to run. This limited an already abbreviated weekend practice schedule.
MacNeil had the controls of the No. 79 WeatherTech Racing Porsche 911 RSR GTLM for the 15-minute qualifying session around the 1.5-mile, 7-turn circuit located 90-minutes west of Hartford. By the time the green flag dropped, the track had fully dried allowing MacNeil to post a lap of 50.833 good for a third place starting position. The session was not without drama as MacNeil was passing the No. 4 Corvette he got onto the dirty line of the track and went off in Turn 3. He was able to drive the car out of the mud, but a red flag flew which negated his fast time of 50.340.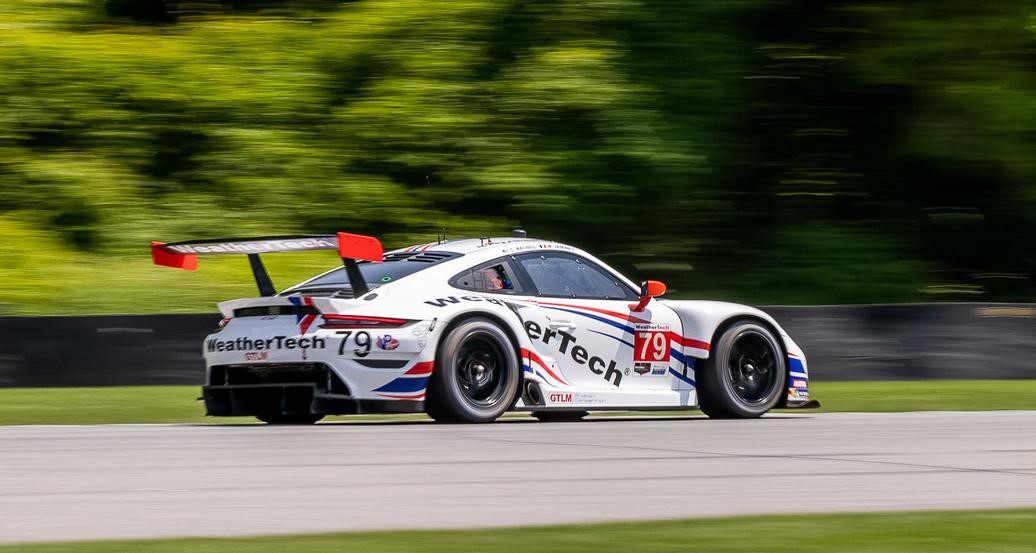 "The WeatherTech Racing Porsche was really good early on in the session," MacNeil said. "I was pushing for more. I passed the Corvette into Turn 3. We were side-by-side and I lost the braking a little bit. I broke a little too late, locked up the rears and went around into the grass. Unfortunately, with all of the rain we had earlier it was difficult to get out. I was able to drive it out, but they flew the red flag which deleted my fast lap times. I was able to get back on track and do another lap about a half second off of my fastest. The tires were not ideal and there was mud everywhere. Big thanks to the Proton Competition team. I think we have a good car for the race tomorrow."
The Northeast Grand Prix from Lime Rock Park will air at 5:30 p.m. ET on Saturday, July 17 with live-streaming coverage on TrackPass and NBC Sports Gold at 3:05 p.m. ET. Live audio coverage from IMSA Radio will be available on IMSA.com, Sirius 216, XM 202 and SiriusXM Online 992
De Angelis Captures First Motul Pole Award in GT Daytona
Roman De Angelis also recorded a timely Motul Pole Award in the GT Daytona (GTD) class, recording a top lap of 51.729 seconds (102.580 mph) in the No. 23 Heart of Racing Team Aston Martin Vantage GT3 he co-drives with Ross Gunn.
It was a prize the Heart of Racing Team had been chasing and the first WeatherTech Championship pole for the 20-year-old Canadian.
"Our results have been very good," De Angelis said. "In the last seven or eight races, we've been in the top five every race with a handful of podiums. One of the few things we didn't check off was a pole, so that was also super important."
De Angelis, who's second with Gunn in the GTD season standings behind the No. 96 Turner Motorsport BMW M6 GT3 co-driven by Bill Auberlen and Robby Foley, was 0.045 seconds ahead of Aaron Telitz in the No. 14 Vasser Sullivan Lexus RC F GT3 he shares with Jack Hawksworth.
Richard Heistand was third fastest in the No. 39 CarBahn with Peregrine Racing Audi R8 LMS GT3 he shares with Jeff Westphal.
After the GTD pole qualifying session, Hawksworth went out and posted the fastest lap of 51.545 seconds (102.946 mph) during the GTD points qualifying session.
De Angelis and Gunn lead the IMSA WeatherTech Sprint Cup standings for the non-endurance events, which includes this weekend's race. They are 27 points ahead of Frankie Montecalvo, who shares the No. 12 Vasser Sullivan Lexus with Zach Veach.