F1: Verstappen outduels Hamilton to win Sprint Race and pole
Red Bull ace Max Verstappen got the jump on polesitter Lewis Hamilton's Mercedes and simply out drove the crowd favorite to win the first-ever F1 Sprint Qualifying race for the British GP. As a result, Verstappen will start from pole for Sunday's British GP at Silverstone.
With both Verstappen and Hamilton nursing blistering right-front tires, Verstappen led all 17 laps and put an end to Hamilton's domination at his home race by 1.43s. Verstappen gets 3 championship points for the win.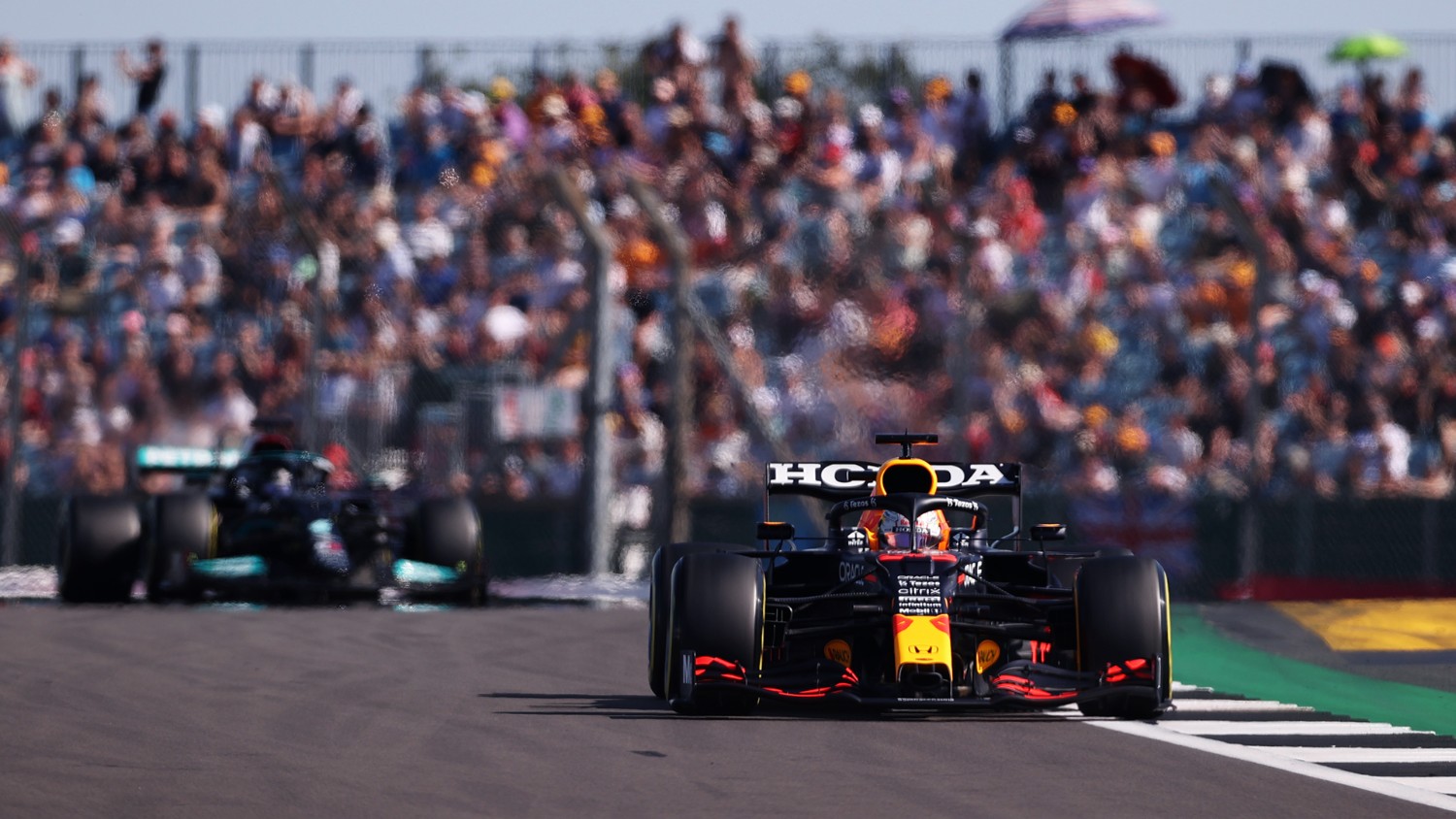 "That was good fun," said Verstappen. "I'm of course happy to score the three points, and it's quite funny to have a pole position from the race as well, but we will take it. Around here it is difficult to pass, but we had a good start and a good fight with Lewis on the first lap. From then, we tried to do our own pace, but we were pushing each other hard right to the end as you could see the tires were blistering, which we all had to manage.
"Starting the race on lower fuel we could really push the cars hard through the fast corners, lap after lap, which means it is naturally hard on tires, but we all have the same to watch out for. We now can't touch the cars for tomorrow, and we learned today that it is very close again with us and Mercedes.
"It seems that we are very quick in the corners, and they are quicker on the straights, so tomorrow it's going to be a really exciting battle and the Team did a great job to manage the new format this weekend. I also want to say a big thank you to the fans. I know they are mainly here for the British drivers, but it is still great to see them here cheering and all I want is a good battle with Lewis and everyone else tomorrow, which should keep the fans entertained."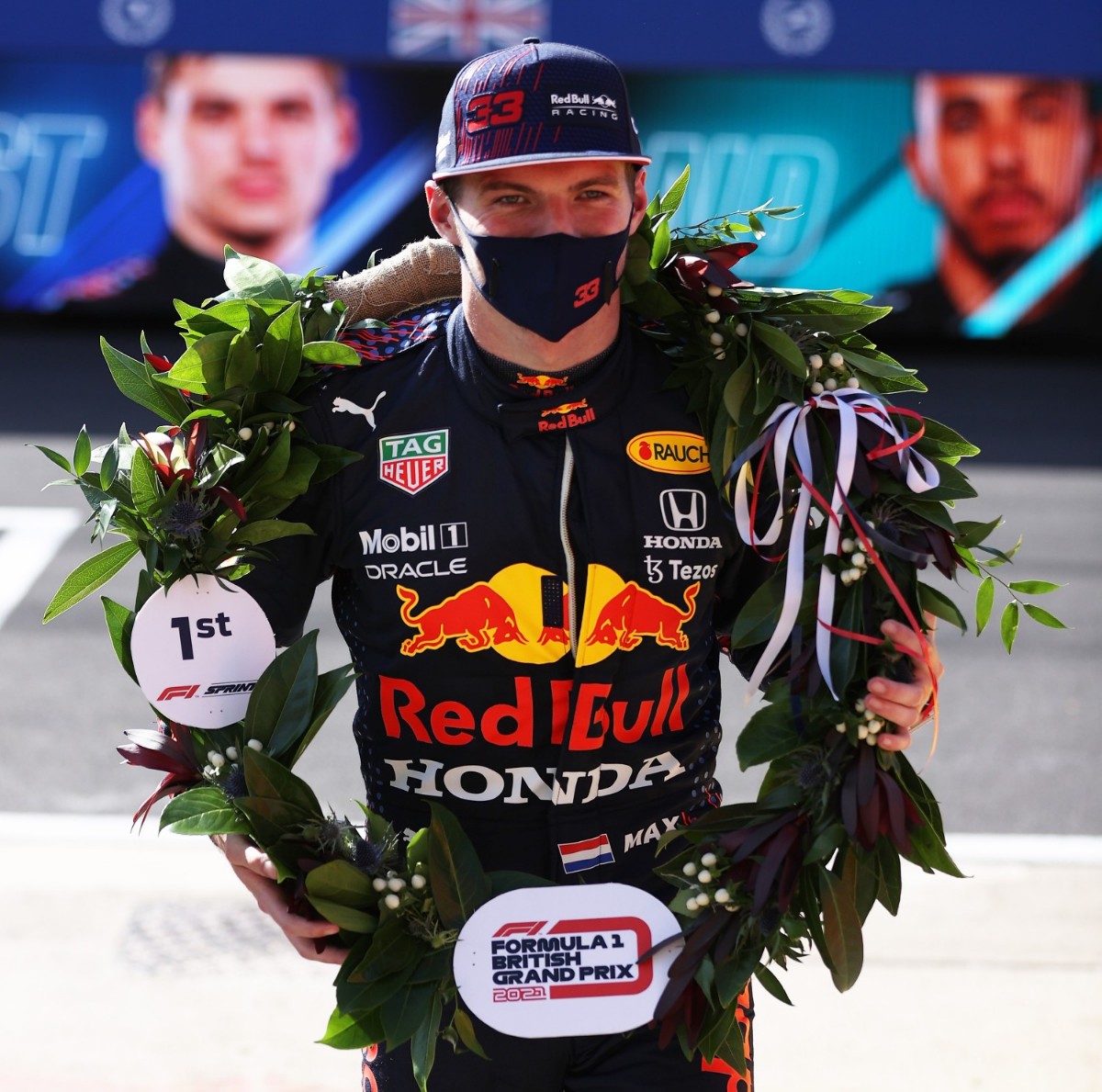 "I gave everything today, the support means a lot to me" said a defeated Hamilton.
"Tomorrow we try again. It's not good when you lose from P1. Every point counts."
Hamilton said he's really embracing the format, saying having qualifying on Friday was "way more enjoyable." He said he's not sure if the fans enjoyed it or not – but from the cheers, it is safe to say they did.
"I did everything I could at the start with temperatures and clutch position but I still suffered wheelspin on the line, so we'll dig deep to understand what happened. I think it was great for F1 to try something new and even if the race wasn't particularly exciting after the first lap for myself, there are definitely learnings we can take from today.
"This season it's been a struggle with certain elements of the car, but we've done such a great job to get to the performance level that we had yesterday – Valtteri did a great job too, and we're definitely getting closer. The Red Bull is really difficult to follow on-track and from yesterday's high, it feels like a bit of a down, but we'll turn it around to find the positives and come out fighting tomorrow for the race."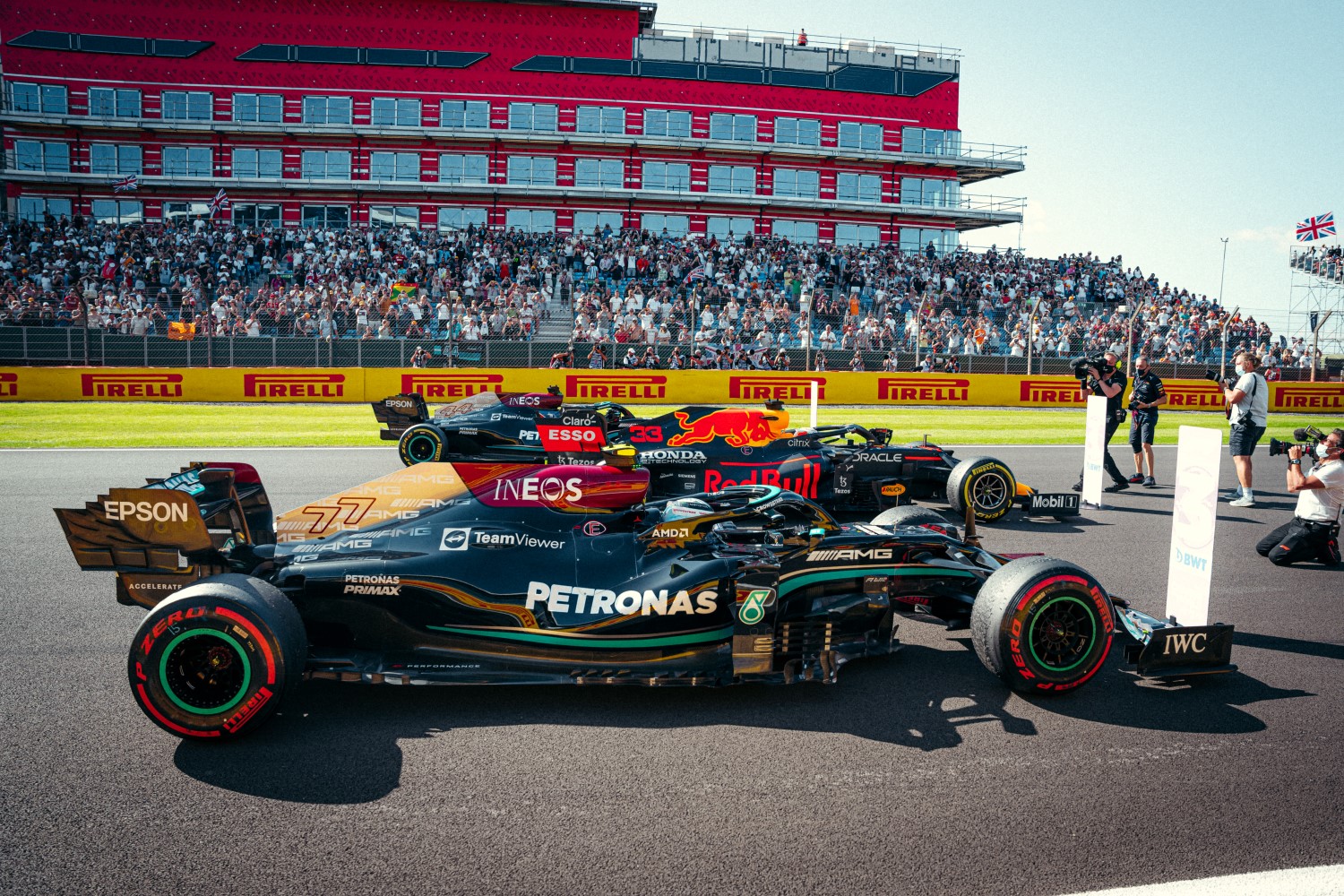 Valtteri Bottas finished 7.5s behind in third, exactly where he started.
"We tried to do something different, the target was to get [Verstappen] at the start but in the end I got blocked, but we tried. Tomorrow should be warmer, so anything could happen really," said Bottas
Charles Leclerc finished where he started in 4th for Ferrari, while McLaren teammates Lando Norris and Daniel Ricciardo were 5th and 6th.
Fernando Alonso and Sebastian Vettel had a great battle for 7th with Alonso holding off the German to the end. Alonso moved from P11 to P7 for race day, while Vettel moved up two spots.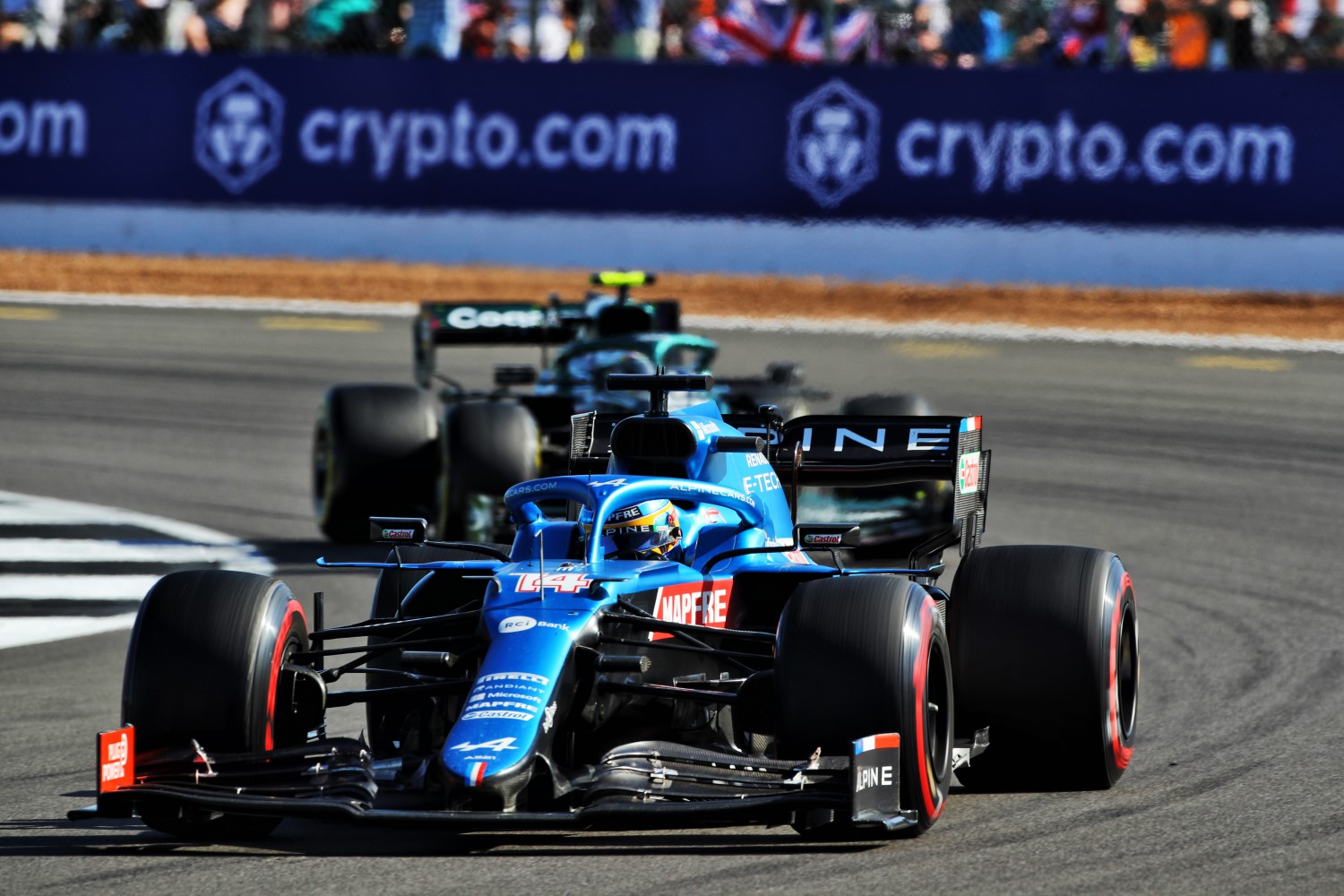 "I have enjoyed this unusual weekend format so far," said Vettel.
"It was interesting to have the intense moment yesterday evening followed by the Sprint today, which can go either way. For us, it went well, and we gained some places for the race tomorrow, and some others lost ground. Fernando [Alonso] made up a lot of places on lap one – starting on the Soft tires – and I thought he would struggle more in the final laps. I was close behind him, but could not make the move to overtake. This result puts us in a decent starting position for tomorrow [P8], which will be a very different race with the strategy options."
George Russell and Esteban Ocon rounded out the top-10.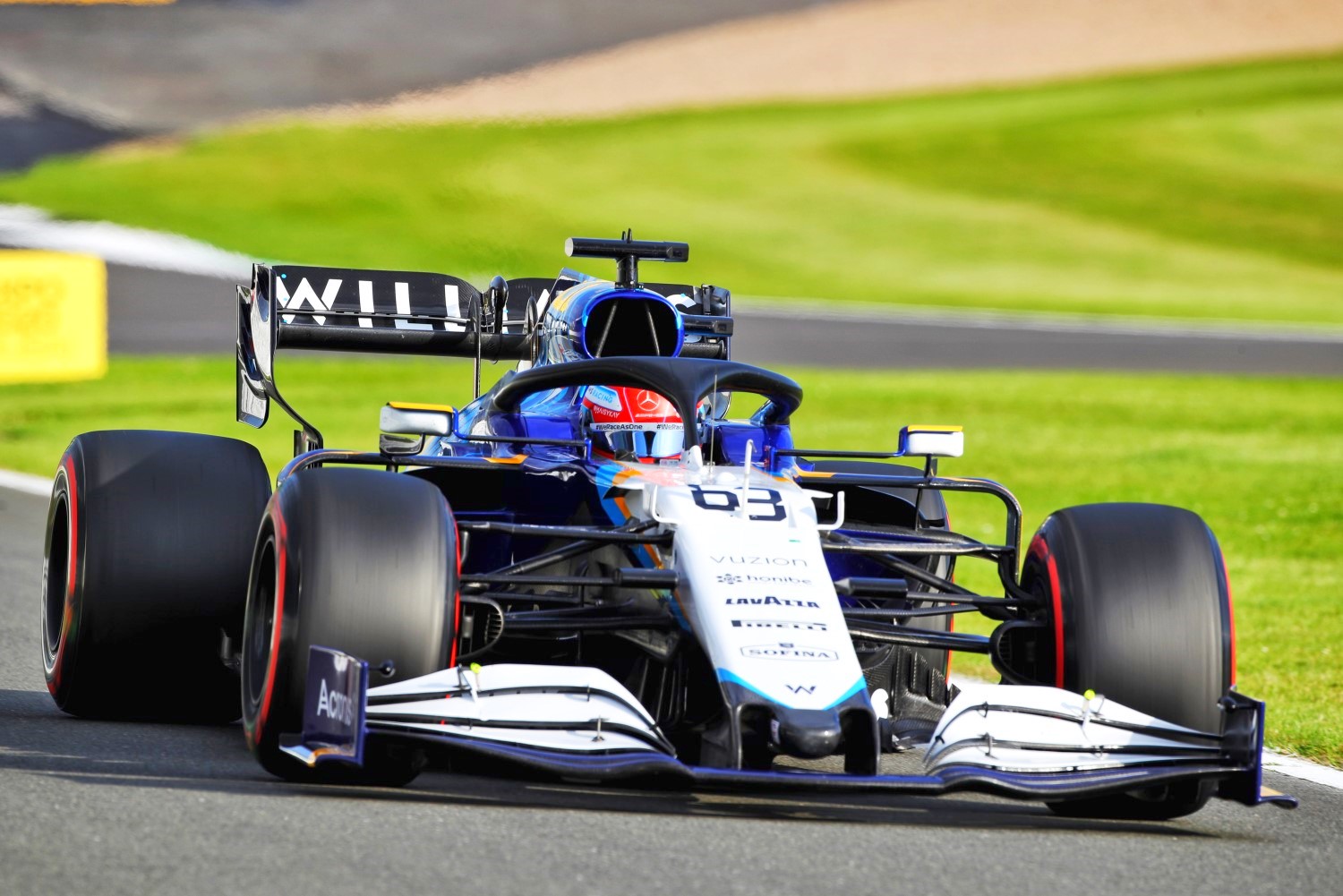 The biggest losers from that Sprint by far were Sainz and Perez. The Spaniard had that opening lap contact, which is still set to be investigated, and ultimately dropped from ninth to P11. No benefits to starting 11th either here, with free tire choice for the whole field.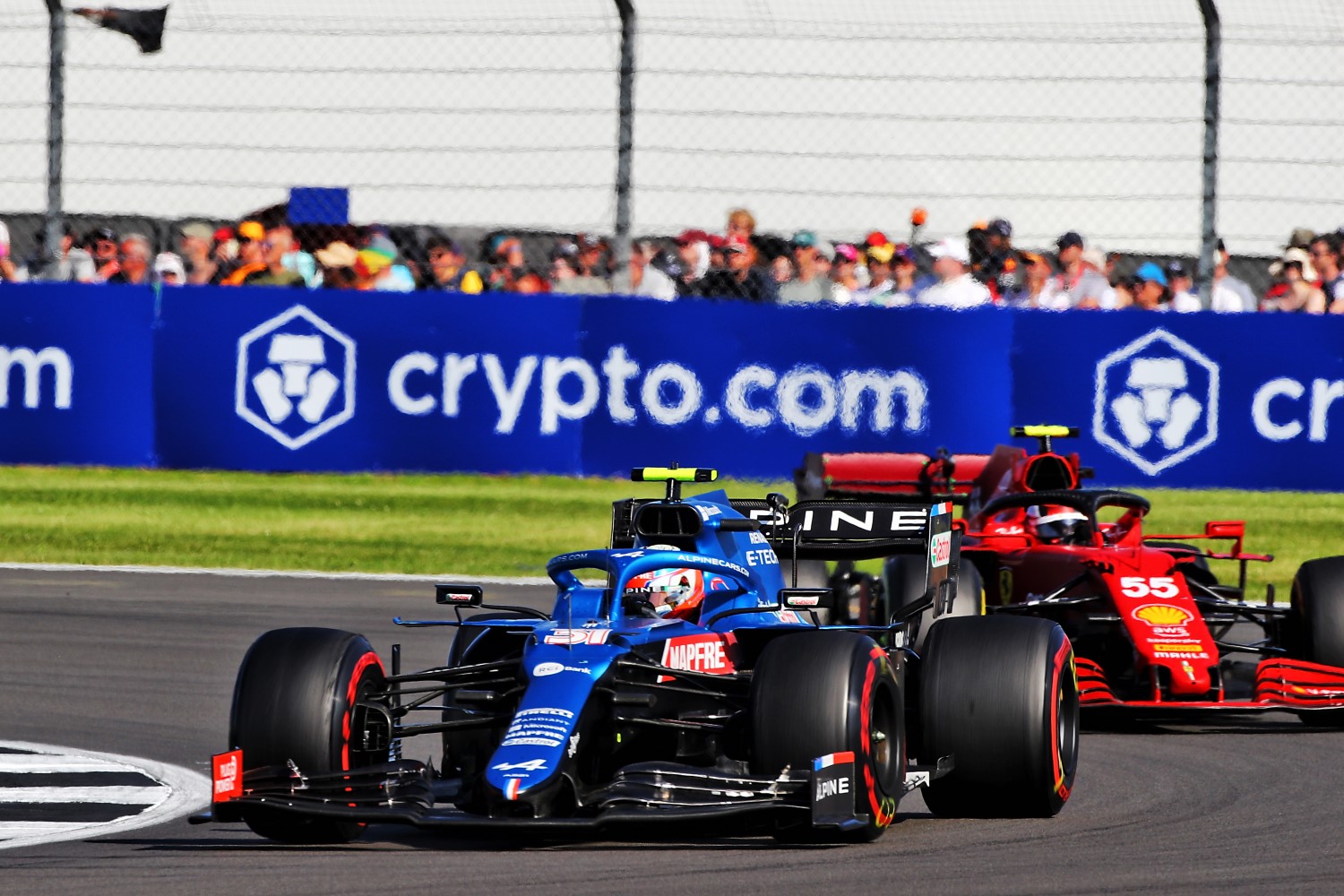 As for Perez… That spin cost him dearly, and he wound up retiring on the final lap.
"It's a real shame to have to retire from the sprint race today as the car felt quite good," said Perez.  "It was a poor day for me and I can only say sorry to the Team as I lost the rear of the car while battling with Lando which ruined our day. I was in the middle of the corner, already picking up quite a lot of throttle, and I think I got caught in a bit of dirty air and became a passenger really early in the corner. I avoided any contact, but after the spin we had too much vibration on the tires and that was it. The Team was worried about the damage that could be caused with the vibrations, and there wasn't anything more to gain, so they made the decision to retire the car. We're at the back of the grid tomorrow, and it's not easy to overtake here, but we look like we have a lot of pace in the car, so you can be sure I will be pushing hard to score as many points as possible. It's a low point for me, but tomorrow is a new day and I look forward to seeing what we can do."
"It's fantastic to be starting on pole for the British Grand Prix, which was achieved in a different way with Max winning the first ever sprint qualifying race," said Red Bull boss Christian Horner.
"This marks our first pole at Silverstone since 2011 and breaks the Mercedes nine-year pole position streak. The race start was crucial for us and Max got a great launch off the line. We knew Lewis was particularly strong in Sector 1 so staying ahead down the main straight was particularly important for us, which he did and maintained the lead until the flag.
"It's just a shame that we haven't got Checo up there as well following that high-speed spin when he lost the rear in the dirty air. Thankfully Checo avoided the wall but the level of vibrations were so high we opted to retire him in order to fully check the car over and complete the necessary safety checks, once permission is granted, before the race tomorrow. You can see there was very little between us and Mercedes today, we were quicker in the corners where they were mighty in a straight line. The temperatures look set to sore and tomorrow's Grand Prix won't be a repeat in terms of tire wear. The higher fuel loads at the start of the race mean the cornering speeds will be slightly lower, giving the tires an easier workout in the corners at the beginning of the race, so it will be interesting to see how that affects things. It's fantastic to be staring on pole position and I hope the fans enjoyed the action and a different format of racing today."
Mark C. reporting for AutoRacing1.com
Sprint Race Results (17 Laps)
| | | | | |
| --- | --- | --- | --- | --- |
| POS | DRIVER | NAT. | TEAM | BEHIND |
| 1 | Max Verstappen | NED | Red Bull Racing | +0.000s |
| 2 | Lewis Hamilton | GBR | Mercedes AMG Petronas Formula One Team | +1.430s |
| 3 | Valtteri Bottas | FIN | Mercedes AMG Petronas Formula One Team | +7.502s |
| 4 | Charles Leclerc | MON | Scuderia Ferrari Mission Winnow | +11.278s |
| 5 | Lando Norris | GBR | McLaren F1 Team | +24.111s |
| 6 | Daniel Ricciardo | AUS | McLaren F1 Team | +30.959s |
| 7 | Fernando Alonso | ESP | Alpine F1 Team | +43.527s |
| 8 | Sebastian Vettel | GER | Aston Martin Cognizant Formula One Team | +44.439s |
| 9 | George Russell | GBR | Williams Racing | +46.652s |
| 10 | Esteban Ocon | FRA | Alpine F1 Team | +47.395s |
| 11 | Carlos Sainz | ESP | Scuderia Ferrari Mission Winnow | +47.798s |
| 12 | Pierre Gasly | FRA | Scuderia AlphaTauri Honda | +48.763s |
| 13 | Kimi Raikkonen | FIN | Alfa Romeo Racing Orlen | +50.677s |
| 14 | Lance Stroll | CAN | Aston Martin Cognizant Formula One Team | +52.179s |
| 15 | Antonio Giovinazzi | ITA | Alfa Romeo Racing Orlen | +53.225s |
| 16 | Yuki Tsunoda | JPN | Scuderia AlphaTauri Honda | +53.567s |
| 17 | Nicholas Latifi | CAN | Williams Racing | +55.162s |
| 18 | Mick Schumacher | GER | Uralkali Haas F1 Team | +68.213s |
| 19 | Nikita Mazepin | RUS | Uralkali Haas F1 Team | +77.648s |
| 20 | Sergio Perez | MEX | Red Bull Racing | +1 Lap |