Supercars: Waters holds off Van Gisbergen in Townville
Cam Waters has won his second event of the weekend in a race filled with Safety Car chaos on the streets of Townsville this afternoon.
In one of the best two-car battles in recent times, Waters' held on after a door-to-door battle with Championship leader Shane van Gisbergen to claim his third win of 2021 and fifth of his career.
The 26-year-old Mildura product started from pole position alongside van Gisbergen and the Monster Energy Mustang driver grabbed the early lead in the final race of the WD-40 Townsville SuperSprint.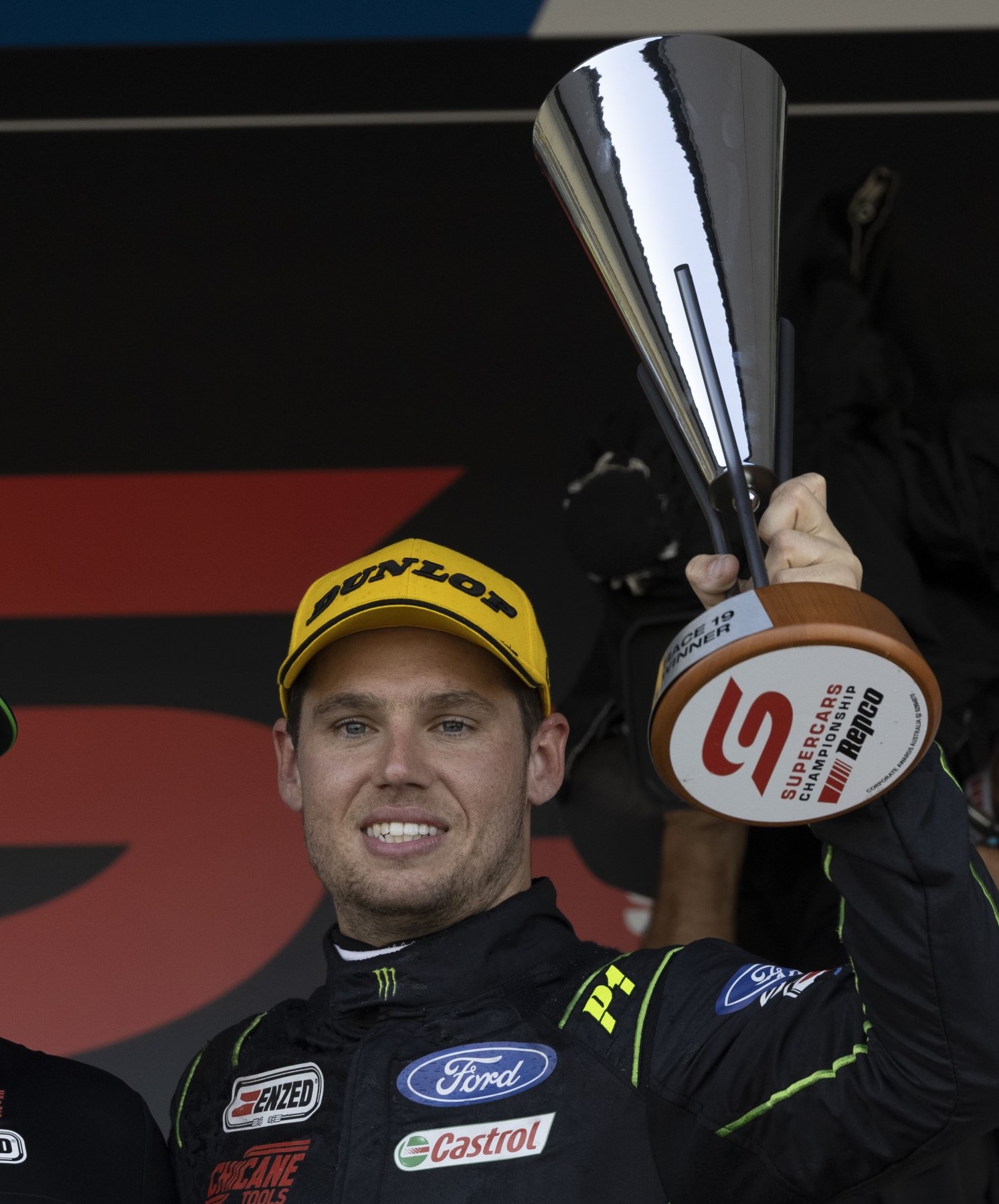 He was overrun by the Red Bull of van Gisbergen early on and the #97 Commodore opened a strong early lead.
Van Gisbergen was cruising in the lead until a Safety Car was called mid-race when Macauley Jones, in his 100th race, hit a concrete wall.
That caused chaos in pit lane with all teams to head in for fresh tires.
Van Gisbergen was first in and first out with fresh rubber, while Waters opted to stay out for an extra lap after beating the Safety Car out onto the course.
The field bunched up behind the BP Ultimate Safety Car as Jones' car was removed from the circuit and when racing resumed Waters had the lead from Will Davison and van Gisbergen who had dropped back to third.
Waters pulled away from Davison, who was run down by van Gisbergen on Lap 24.
Over the final laps Waters and van Gisbergen had an enthralling battle for the lead with van Gisbergen trying time and time again to make his move and steal the win.
Waters was tough and held his nerve to hold off the Red Bull star and claim arguably the best win of his short career.
"We had a mega battle with him, it was really cool. Awesome to get one on him and win that race," Waters said.
"I had a few more [tricks] up my sleeve… it's awesome racing Shane, he's so good at racecraft and racing people.
"There's always a bit of respect there. We were side by side into Turn 2, and giving each other the shakas, and having a bit of fun with it.
"Really, really cool race."
Van Gisbergen now holds a 276-point lead over Jamie Whincup after seven rounds of the Repco Supercars Championship, Waters has leapfrogged back into third, while Chaz Mostert is fourth ahead of Davison.
"I would have loved to have won, a little bit unlucky with the Safety Car, but that's the way it goes."
Van Gisbergen, who has extended his series lead over Whincup to a season-high 276 points, lauded Waters for keeping both drivers in the fight, and out of the Reid Park concrete.
"You just know who you're racing," he said.
"You race a guy like Cam, you know he's gonna give you room, and you do the same.
"There's a lot of good guys in this category, and there's a few who aren't.
"I was pretty stoked to be racing him."
CHAMPIONSHIP STANDINGS
| | | | | |
| --- | --- | --- | --- | --- |
| Pos | Driver | Team | Points | Behind |
| 1 |   Shane van Gisbergen | Red Bull Ampol Racing | 1926 | -000 |
| 2 |   Jamie Whincup | Red Bull Ampol Racing | 1650 | -276 |
| 3 |   Cam Waters | Monster Energy Racing | 1505 | -421 |
| 4 |   Chaz Mostert | Mobil 1™ Appliances Online Racing | 1506 | -420 |
| 5 |   Will Davison | Shell V-Power Racing | 1514 | -264 |
| 6 |   Anton De Pasquale | Shell V-Power Racing | 1246 | -680 |
| 7 |   Mark Winterbottom | IRWIN Racing | 1138 | -464 |
| 8 |   Nick Percat | R&J Batteries Racing | 1128 | -798 |
| 9 |   James Courtney | Boost Mobile Racing | 1074 | -852 |
| 10 |   Will Brown | Erebus Motorsport | 1001 | -925 |
| 11 |   Brodie Kostecki | Erebus Boost Mobile Racing | 995 | -931 |
| 12 |   Andre Heimgartner | NED Racing | 960 | -966 |
| 13 |   Scott Pye | DEWALT Racing | 934 | -992 |
| 14 |   Todd Hazelwood | Tools.com Racing | 926 | -1000 |
| 15 | Bryce Fullwood | Mobil 1™ Middy's Racing | 919 | -1007 |
| 16 |   David Reynolds | Penrite Racing | 914 | -1012 |
| 17 |   Tim Slade | Team CoolDrive | 906 | -1020 |
| 18 |   Jack Le Brocq | Truck Assist Racing | 892 | -1034 |
| 19 |   Zane Goddard | NTI Matt Stone Racing | 720 | -1206 |
| 20 |   Jake Kostecki | UNIT Matt Stone Racing | 718 | -1208 |
| 21 |   Jack Smith | SCT Logistics Racing | 586 | -1340 |
| 22 |   Garry Jacobson | Team Sydney | 552 | -1374 |
| 23 |   Fabian Coulthard | Local Legends Racing | 516 | -1410 |
| 24 |   Macauley Jones | Coca Cola Racing | 498 | -1428 |
| 25 |   Thomas Randle (W) | Castrol Racing | 260 | -1666 |
| 26 |   Kurt Kostecki (W) | Walkinshaw Andretti United | 222 | -1704 |