Formula E: Vergne heads practice 1, Guenther practice 2, in London
Formula Ems 24 world-class drivers had a world first to deal with on Friday afternoon, with an all-new indoor/outdoor circuit at ExCeL London, in the city's docklands.
Jean-Eric Vergne (DS TECHEETAH)ms hot lap was the best of the late flurry of full-power runs, with Robin Frijns (Envision Virgin Racing) – second in the standings – next up. Table-topper Sam Bird (Jaguar Racing) wound up third, with DS TECHEETAHms Antonio Felix da Costa in fourth, next up was Mitch Evans (Jaguar Racing) in fifth and Mahindra Racingms Alex Lynn rounded out the top six – all covered by a little over a tenth-and-a-half of-a-second.
Saturday morning Max Guenther, driving for Andretti/BMW, led a rain soaked practice 2 over his teammate Jake Dennis.
Stoffel Vandoorne crashed out before even completing a lap. Envision Virgin Racing driver Robin Frijns was another to be caught out, with the Dutch racer crumpling the nose of his car when he skated sideways down the track at Turn 6.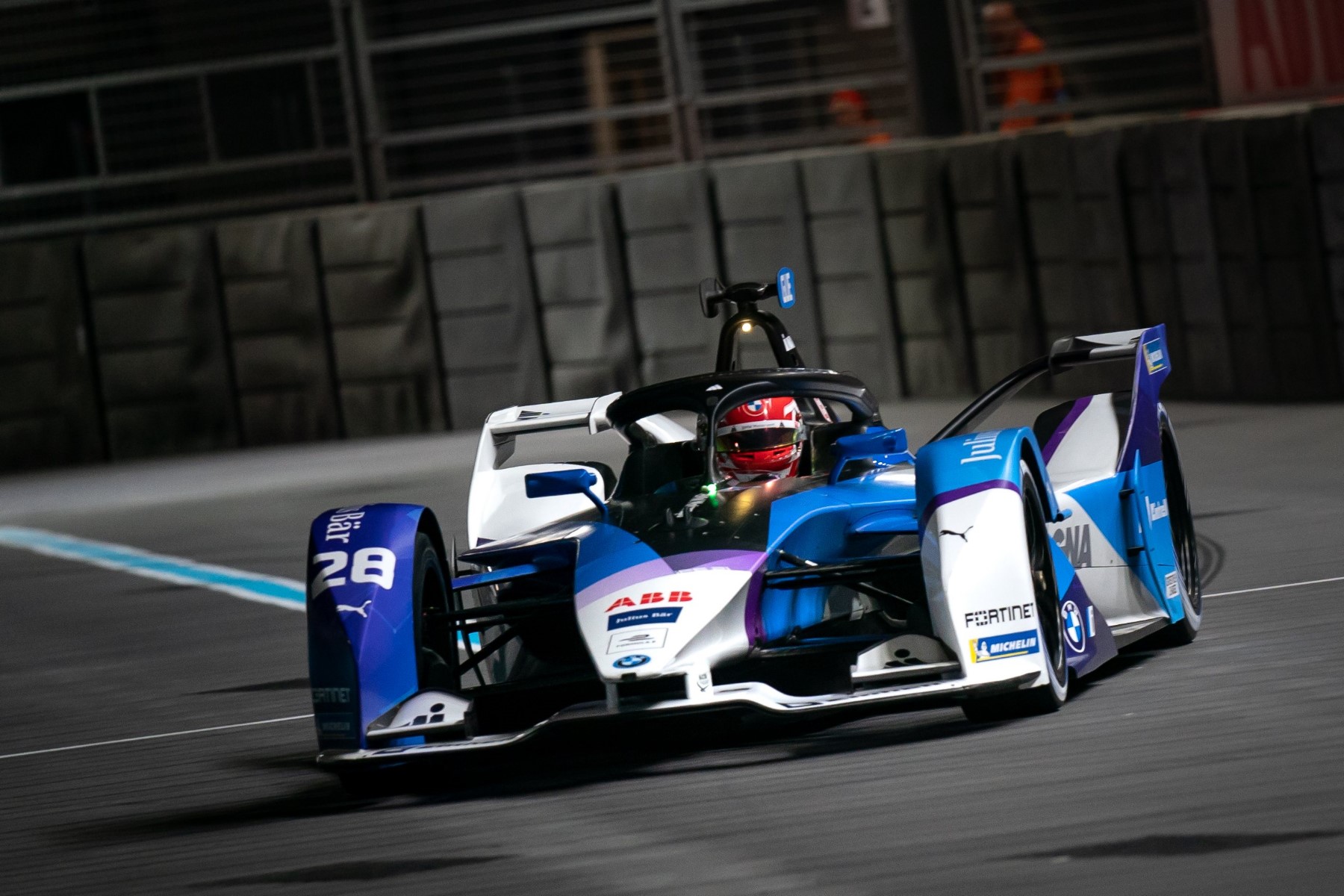 Dropping into a city street circuit is mostly routine for the field, but thanks to the emissions-free nature of the all-electric machines, the Heineken® London E-Prixms unique circuit throws up a host of new challenges this weekend.
Drivers will have to deal with a multitude of surfaces, starting indoors with silky smooth Tarmac offering bags of grip, slippy metal strips then new asphalt and painted sections as well as ramps. The lighting's an issue, too, with night race-like conditions inside and beaming daylight outside. It's quite a sight.
Practice 1 Results
| | | | | | |
| --- | --- | --- | --- | --- | --- |
| Pos | No. | Driver | Car | Time | Behind |
| 1 | 25 | Jean-Éric Vergne | DS | 1m21.650s |  0.000s |
| 2 | 4 | Robin Frijns | Audi | 1m21.654s | 0.004s |
| 3 | 10 | Sam Bird | Jaguar | 1m21.688s | 0.038s |
| 4 | 13 | A.F.da Costa | DS | 1m21.715s | 0.065s |
| 5 | 20 | Mitch Evans | Jaguar | 1m21.746s | 0.096s |
| 6 | 94 | Alex Lynn | Mahindra | 1m21.794s | 0.144s |
| 7 | 5 | S.Vandoorne | Mercedes | 1m21.815s | 0.165s |
| 8 | 99 | Pascal Wehrlein | Porsche | 1m21.937s | 0.287s |
| 9 | 17 | Nyck de Vries | Mercedes | 1m21.958s | 0.308s |
| 10 | 7 | S.Sette Câmara | Penske | 1m22.038s | 0.388s |
| 11 | 48 | Edoardo Mortara | Mercedes | 1m22.045s | 0.395s |
| 12 | 27 | Jake Dennis | BMW | 1m22.054s | 0.404s |
| 13 | 36 | André Lotterer | Porsche | 1m22.143s | 0.493s |
| 14 | 71 | Norman Nato | Mercedes | 1m22.227s | 0.577s |
| 15 | 33 | René Rast | Audi | 1m22.296s | 0.646s |
| 16 | 6 | Joel Eriksson | Penske | 1m22.301s | 0.651s |
| 17 | 11 | Lucas di Grassi | Audi | 1m22.342s | 0.692s |
| 18 | 28 | Max Guenther | BMW | 1m22.429s | 0.779s |
| 19 | 22 | Oliver Rowland | Nissan | 1m22.449s | 0.799s |
| 20 | 37 | Nick Cassidy | Audi | 1m22.457s | 0.807s |
| 21 | 29 | Alexander Sims | Mahindra | 1m22.556s | 0.906s |
| 22 | 88 | Tom Blomqvist | NIO | 1m22.628s | 0.978s |
| 23 | 23 | Sébastien Buemi | Nissan | 1m22.645s | 0.995s |
| 24 | 8 | Oliver Turvey | NIO | 1m22.763s | 1.113s |
Practice 2 Results
| | | | |
| --- | --- | --- | --- |
| Pos | Driver | Team | Time |
| 1 | #28 Maximilian GUENTHER | BMW I ANDRETTI MOTORSPORT | 1:26.838 |
| 2 | #27 Jake DENNIS | BMW I ANDRETTI MOTORSPORT | + 0.375 |
| 3 | #36 André LOTTERER | TAG HEUER PORSCHE FORMULA E TEAM | + 0.629 |
| 4 | #94 Alex LYNN | MAHINDRA RACING | + 0.661 |
| 5 | #7 Sérgio SETTE CÂMARA | DRAGON / PENSKE AUTOSPORT | + 0.670 |
| 6 | #17 Nyck DE VRIES | MERCEDES-EQ FORMULA E TEAM | + 0.943 |
| 7 | #33 René RAST | AUDI SPORT ABT SCHAEFFLER | + 0.944 |
| 8 | #23 Sébastien BUEMI | NISSAN E.DAMS | + 0.954 |
| 9 | #22 Oliver ROWLAND | NISSAN E.DAMS | + 0.957 |
| 10 | #48 Edoardo MORTARA | ROKIT VENTURI RACING | + 1.094 |
| 11 | #20 Mitch EVANS | JAGUAR RACING | + 1.121 |
| 12 | #10 Sam BIRD | JAGUAR RACING | + 1.265 |
| 13 | #99 Pascal WEHRLEIN | TAG HEUER PORSCHE FORMULA E TEAM | + 1.424 |
| 14 | #29 Alexander SIMS | MAHINDRA RACING | + 1.486 |
| 15 | #88 Tom BLOMQVIST | NIO 333 FE TEAM | + 1.613 |
| 16 | #71 Norman NATO | ROKIT VENTURI RACING | + 1.902 |
| 17 | #8 Oliver TURVEY | NIO 333 FE TEAM | + 2.060 |
| 18 | #13 António Félix DA COSTA | DS TECHEETAH | + 2.064 |
| 19 | #25 Jean-Éric VERGNE | DS TECHEETAH | + 2.147 |
| 20 | #6 Joel ERIKSSON | DRAGON / PENSKE AUTOSPORT | + 2.418 |
| 21 | #37 Nick CASSIDY | ENVISION VIRGIN RACING | + 2.492 |
| 22 | #4 Robin FRIJNS | ENVISION VIRGIN RACING | + 2.532 |
| 23 | #11 Lucas DI GRASSI | AUDI SPORT ABT SCHAEFFLER | + 2.851 |
| 24 | #5 Stoffel VANDOORNE | MERCEDES-EQ FORMULA E TEAM | – |