NHRA: Brittany Force, Ron Capps, Matt Hartford, and Andrew Hines tops in Sonoma
Most people think Sonoma, Calif., is wine country, but motorsports fans know better—it's horsepower country.
After last weekend's race in Denver where the air was thin and the trap speeds were low, the NHRA Camping World Drag Racing Series returned to Sonoma Raceway after a two-year COVID-19-induced hiatus and boy was it good to be back. Stop two of the famed 2021 Western Swing restored the power robbed from our race engines and also returned NHRA professional drag racing to the state where it was born.
Spectators from all over the Golden State arrived early to watch the sportsman ranks kick off the action just before 10 a.m. and got to enjoy a full day of racing action that culminated in brutally quick times and a Top Fuel low-qualifier that crossed the finish line with a dramatic engine explosion.
Top Fuel: Nitromethane's heavy hitters returned to the cool California air and wowed fans with quick times, a few melted parts, and the show they've been waiting nearly two years for.
Brittany Force handled her Flav-R- Pac dragster to a stellar 3.694-second pass at 329.42 mph Friday night. The ending was rough for the 2017 NHRA world champion, as the dragster blew up at the finish line, making for a long night for the Flav-R-Pac / Monster Energy team. If her time holds up, Force will have claimed her 24th No. 1 qualifying position, fourth of the season and second at Sonoma Raceway.
"Definitely wasn't our best run. We'll take that No. 1qualifier, though. 3.69 is pretty outstanding. We knew it was a great racetrack with the cooler conditions. Grubnic always likes to go up there and push, he wants that NO. 1 spot," Force said. "Right going through that finish line it just blew up and you feel it in there as a driver. It's a big explosion behind you. It throws you around in the seat a little bit. You know it's not pretty, it's not the chutes coming out or them shutting you off on a run, it's just an explosion behind you. It's going to be a lot of work for my guys, they're going to be out here all-night cleaning that car up, the injector was sitting sideways on it. So, it's not pretty but again, we're No. 1 so we'll take that."
Antron Brown followed with cleaner but slower 3.724-second run at 326.71 mph while in the other lane a last-minute Capco Contractor clutch change on Steve Torrence's car didn't seem to work out as hoped for team Torrence.
Leah Pruett and Justin Ashley rounded out the Top Fuel cars that were able to run in the 3s on Friday night, with a 3.749 and 3.761 respectively. Both cars completing their runs with minimal drama and build confidence for both drivers.
Funny Car: Ron Capps 3.897 at 328.78 mph delivered him the number one position and was good medicine for the Napa team.  "What a day it's been already," said Capps.  "I grew not far from here and my family is here enjoying all of this with me this weekend."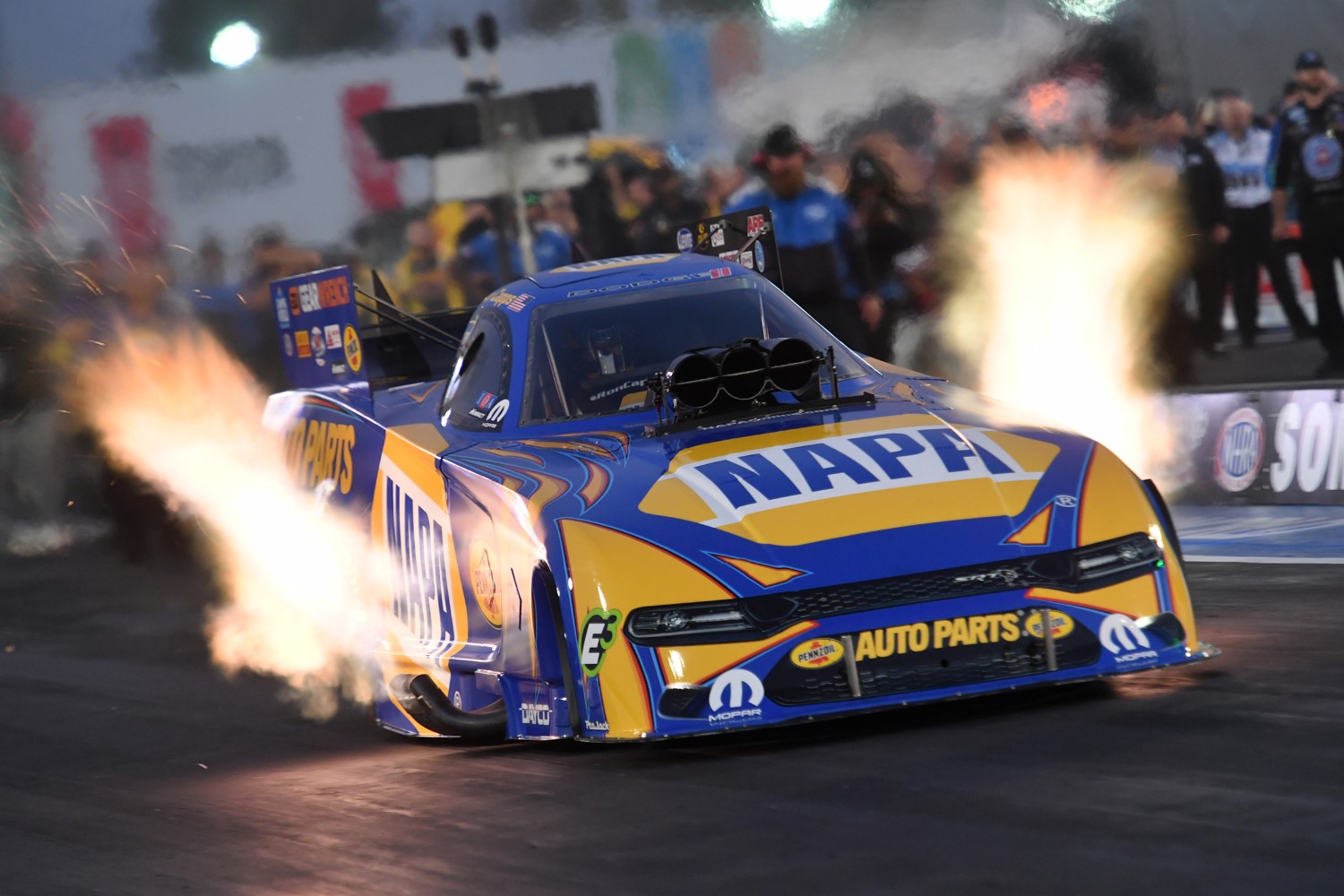 Capps' co-crew chief Dean Antonelli added, "When we drug it up here I thought an .85 or .86 was more reasonable, but we pulled  it back a little and it paid off."
Alexis DeJoria probably wished the Napa team had dialed it back just a tad more to give her ROKiT Funny Car the thousandth of a second she needed to move into the top spot. Her 3.898 at 325.61 ripped down the track. On the mic right after the run Del Worsham said,  "She left the line great, what a great run. The left side of the engine was looking a little hot, but it couldn't of been too bad, we ran a 3.89 and we've got more parts."
The Dicke Venables and Jimmy Prock battle through their proxies Matt Hagan and Robert Hight failed to mature into the record-setting battle we anticipated. But Saturday's two qualifying sessions might yet still deliver.
Pro Stock's return to Sonoma meant teams were swinging for the fences, but the cleanup batters weren't Greg Anderson or Erica Enders, they were leadoff hitters Matt Hartford (6.533), Kyle Koretsky (6.538), and Aaron Stanfield (6.548).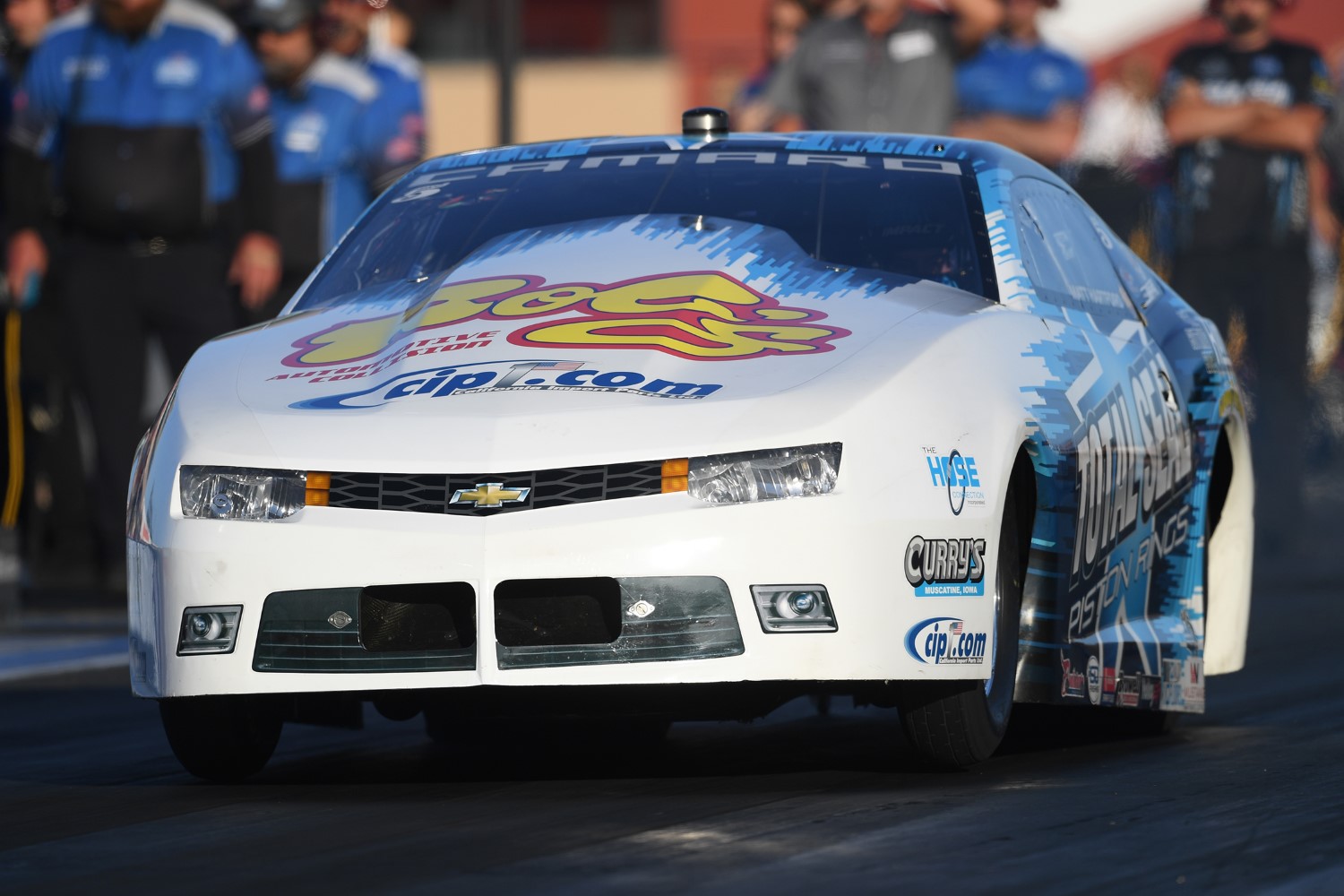 Anderson and Enders qualified fourth and eighth after chatting each other up near the starting line as they waited for the rest of the field to run.  The last time the two had seen each other was back in Norwalk when all Anderson saw was Enders' taillights.  "Well, I don't think he saw my taillights because it was a great close race. Greg is one of the best Pro Stock drivers that have ever driven," said Enders."
Pro Stock Motorcycle: There is something about the Sonoma track where you see the bike fans come out in full force. So when Matt Smith ran 203 mph and said his "speed was dictated by mother nature and the wind," he was speaking to his people.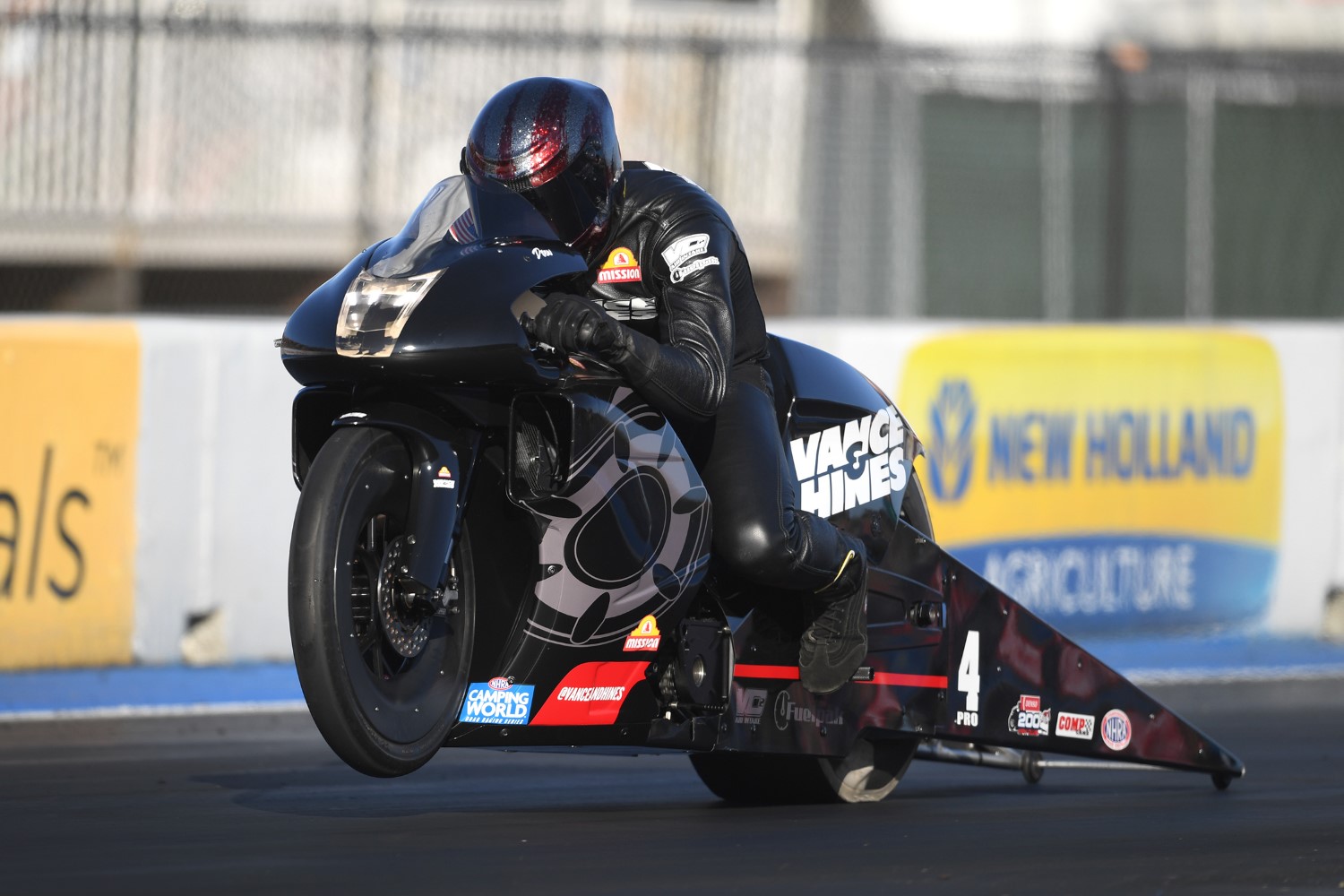 As good as the conditions were tonight, Smith admits, "You don't know 203 from 199. They all feel the same. I knew I was on a pretty good run. We didn't get the e.t. we wanted but we'll come back tomorrow. And dip it down and try to go 204, because I really think we can do it. If he does, that will be the fastest run in the history of the sport.