NHRA: Force, Capps, Anderson, and Smith are top qualifiers in Sonoma
After two ideal days in California, Angie Smith scores her first-ever number-one qualifier, while Greg Anderson, Ron Capps, and Brittany Force hold on to their positions.
Sonoma Raceway is a freak of nature that brings out the absolute best in drag cars. Located 13 feet above sea level and 13 miles from the ocean, its proximity to the Pacific gives the track the equivalent of climate control. Its surface preparation means that friction distills all that horsepower into record runs.
All weekend NHRA race fans have been celebrating the return of Camping World Drag Racing to its home state of California. As the first motorsport event Sonoma Raceway has hosted without attendance restrictions, the fans within the facility were overjoyed to be able to see and share the racing they love with people they share this passion with.
That passion was equally evident in the racers after two days and three fantastic sessions of qualifying. We saw the incumbent Friday night low-qualifiers Brittany Force and Ron Capps survive Saturday's rounds, while Greg Anderson overcame Matt Hartford and Kyle Koretsky's timeslips to take the number one slot in the early Saturday session.
Going into the final qualifying session of Saturday afternoon it looked like there was little room for improvement—until Pro Stock Motorcycle took the stage. That's when Karen Stoffer and Jerry Savoie made their best runs of the weekend, but it was Angie Smith who stole the session.
After missing the Q2 because of an engine that wouldn't fire at the starting line, Smith returned for the final session with an all-new engine after a 30-minute all-hands on deck motor swap. Stressed and spread thin, she rocked down the lane with a 6.736 and donned her first yellow hat ever with great emotion.
"I tell people there's no crying in drag racing," said Smith. But if you watch her top-end interview on Saturday afternoon you will see that tears are sometimes warranted.
Lots of glorious tears.
The challenge of the Western Swing is that engines go from enduring a ration of air in Denver to a smorgasbord of atmosphere in Sonoma. Even the nitro engines, which make their air supply and burn fuel that literally carries its own oxygen molecules, experience a big power swing. For the naturally aspirated Pro Stock car and motorcycle engines, the difference amounts to altitude sickness. Sonoma's qualifying sessions came as a great relief, where teams and cars alike got to fill their lungs and flex their power.
The qualifying ladder in Top Fuel was dominated by Brittany Force and Crew Chief David Grubnic who set the pace on Friday night with a 3.694 run but experienced a catastrophic engine failure going through the lights. When the Flav-R- Pack team returned for their second qualifying session on Saturday, the tune-up was clearly more conservative.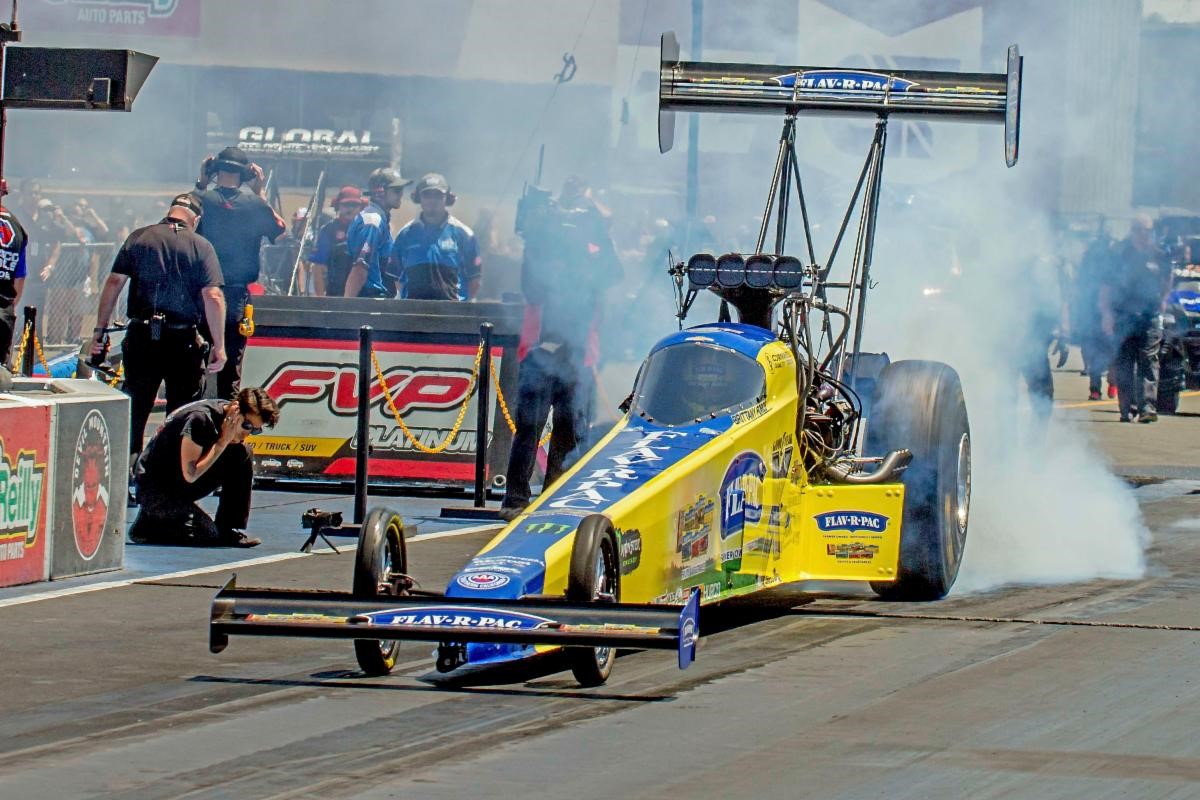 In the final qualifying session on Saturday afternoon, Grubnic confessed that he was prepared to be more aggressive because he expected Steve Torrence's team to put on a tremendous showing. Torrence did with his 3.710, and moved from the sixth position to number two above Antron Brown's 3.724 and Clay Millican's 3.725 with Mike Salinas (3.737) and Leah Pruett (3.749) rounding out the top six.
Sonoma Funny Car fans saw teams experimenting with rear wing position in the hunt to balance traction and trap speed in all three sessions. It seemed the Friday night grouping was going to be hard to top, and Ron Capps (3.897), Alexis DeJoria (3.898), Matt Hagan (3.909), and Robert Hight (3.948) all found the early success are were able to hold on to it after all three sessions.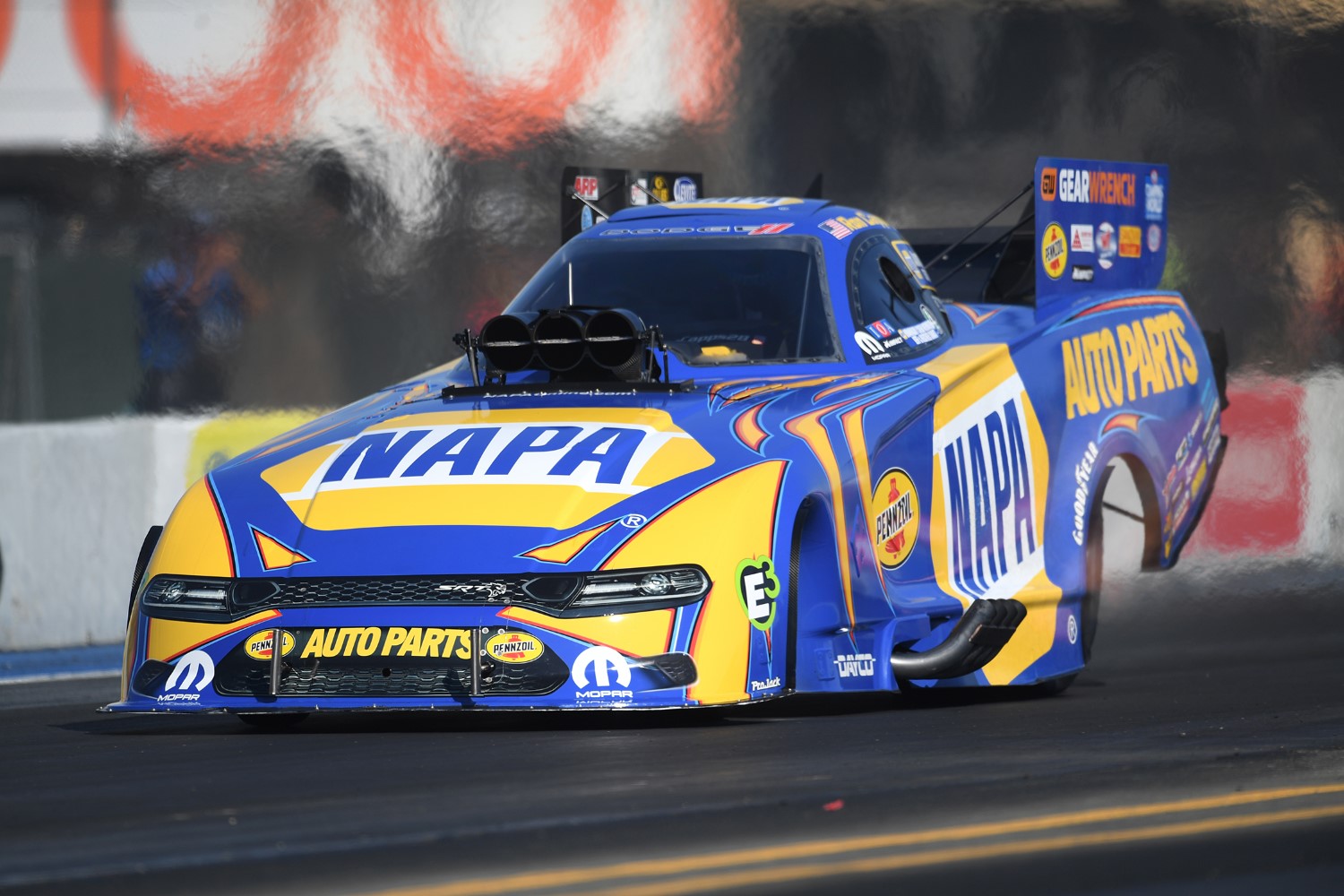 The fifth slot in Funny Car qualifying seemed the only one in play and moved from Jim Campbell in the first round to Blake Alexander in the second before John Force moved from the bump-spot in the third session right up into the top half of the pack with a 3.965-second run.
There was far more movement in the Pro Stock ranks. Matt Hartford was the first to put down a successful run on Friday night, and his 6.526-second pass separated him from everyone else and seemed like it might endure. But in the second session, Greg Anderson moved from the number four position all the way to the top with a near-perfect run at 6.513 seconds. Kyle Koretsky also found the power to improve on his Friday night run, but his 6.522 only allowed him to maintain his original number two position.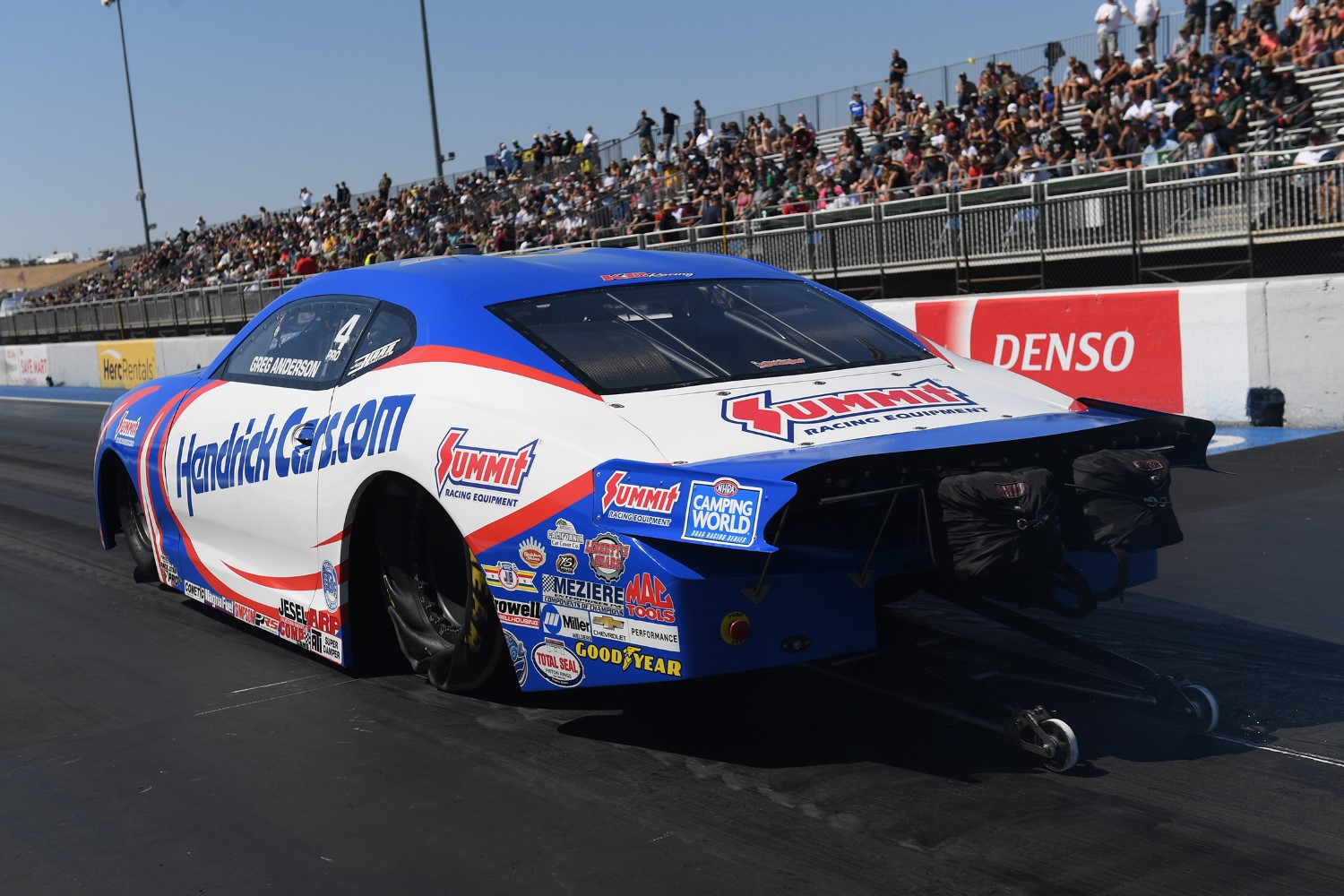 Erica Enders' 6.524-second pass was the ladder climber of the class. She improved to the third position in the second session, and you can be sure that Anderson found no peace until qualifying came to an end.
Aaron Stanfield rounded out the top five with a 6.537-second run, which gives him a respectable position to do his damage on the Tree come race day when the competition shifts to favor reaction times.
Sonoma Raceway has never met a race vehicle it didn't like, but the drag strip has a particular fondness for Pro Stock Motorcycles. After two days of qualifying, the biggest stories from this class all come from Matt Smith Racing. Andrew Hines made a valiant effort qualifying at the top on Friday night with a 6.761-second run but it was not enough to hold. Especially when Matt Smith exhibited his horsepower superiority with a 203-mph run and then a blockbuster 205-mph pass that shattered the Pro Stock Motorcycle national record.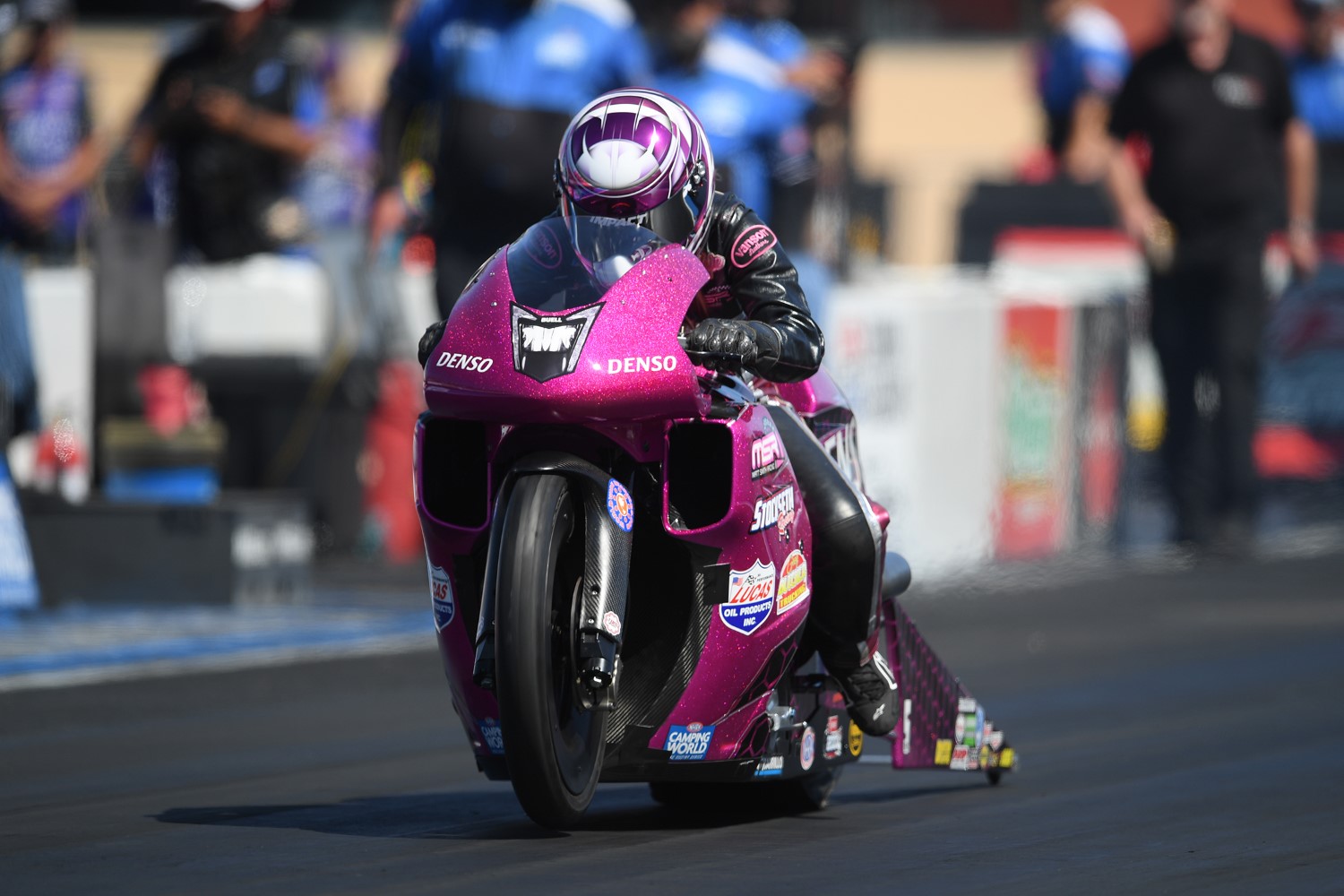 In the second session Scotty Pollacheck improved, Steve Johnson broke into the top three with a 6.751-second run, Karen Stoffer tipped the White Alligator Racing hand by climbing to the number five position, and Angie Smith's motorcycle failed to restart requiring her to foregoes the run.
Mechanical difficulties on the starting line can be devastating to a racer's focus, but in the third and final session not only did Steve Johnson and Karen Stauffer improve yet again, but we also saw Angie Smith knock it out of the park and achieve her very first number one qualifier in the history of her Pro Stock Motorcycle career.
You can catch the action all weekend on FOX Sports 1 and NHRA.tv.