And then they were eleven. The final event before the summer break, the eleventh race in the season so far, emerges like a mirage from the heat of Central Europe.
F1 is poised for its final event before a summer holiday with Budapest, and the Hungarian Grand Prix, the destination for the ten 2-car teams.
In the 1980s Formula 1 ventured to new territories and Budapest was regarded as an ideal destination, with Europe's western and eastern frontiers connecting across the sprawling Danube River.
Hungary's capital city straddles the iconic waterway, with the hilly and historic Buda on the west and the more modern vibrant Pest on the east.
On the outskirts of the capital lies the Hungaroring, a tight and twisty venue constructed in a natural bowl, and which has been a mainstay on the Formula 1 calendar since 1986. Only Italy's Autodromo Nazionale Monza has a longer unbroken streak on the championship's schedule.
Nestled in the hills outside Budapest, squeezed between a motorway and a water park, this circuit is a throwback to a different time: Monaco without the walls, they said; a test of mental and physical strength for the drivers, who have no real place to rest as they churn lap after lap of this undulating layout – all while tackling the boiling temperatures in the cockpit.
The Hungaroring is one of the slowest circuits on the calendar, but it packs a punch. Its 14 tight, twisty and narrow corners punish errors, and the pit wall has to be alert in a race that can easily take a turn. With overtaking extremely difficult, a clever, reactive strategy can yield big rewards. The summer break may be looming, but the intensity remains until the final lap on Sunday.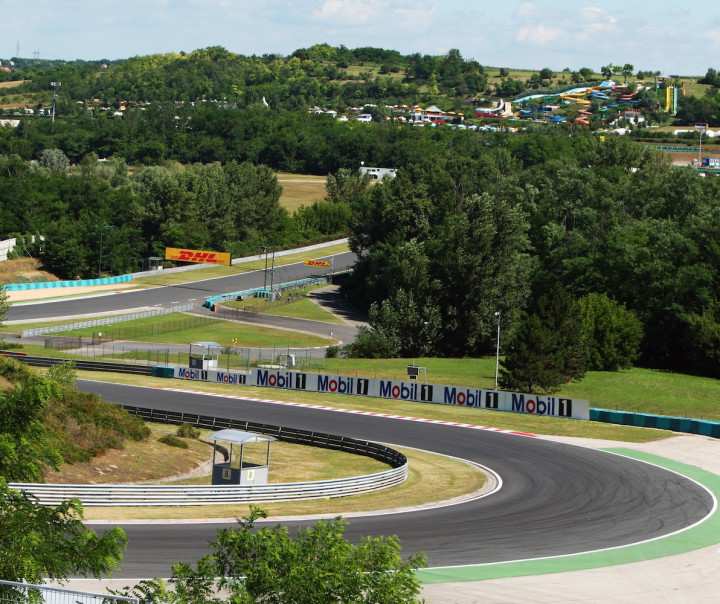 Strong mechanical grip and high levels of downforce are favored at the circuit while tire  wear can also be critical owing to the hot summer temperatures that can strike the region  in the height of summer. With overtaking challenging at the relatively tight and twisty venue qualifying position, and race strategy, is of the utmost importance.
On a track like the Hungaroring, a twisty, unforgiving old-school beast that rewards rhythm above all, there is an opportunity to show what a driver can do.
After the Sprint trial in Britain, Formula 1 will return to its more traditional format in Hungary, with three practice sessions, and qualifying reverting to Saturday afternoon, ahead of Sunday's grand prix.
Keys to the Race
Strategy is crucial in Hungary, and track position is king. A sub-optimal strategy can be mitigated if a driver has that all-important track position. Still, an average pit time loss of 22 seconds makes both a one- and two-stop strategy viable, and there can be a big advantage to fresh tires after a second stop. There have only been four Safety Cars in the last 10 races, and no VSCs since 2018, so they can't be relied on in strategy calls.
The first lap is important in any Grand Prix, but it's make-or-break in Hungary. The hairpin at Turn One is wide and follows a heavy braking zone, offering plenty of opportunity to gain ground on a rival. There have been more than 15 position changes on the first lap in the last three Hungarian Grands Prix.
Overtaking at the Hungaroring is difficult, but DRS is especially powerful because there is only one detection zone, right before Turn 14. A driver within range will gain the benefit down the main straight, but also through the exit of Turn One and into Turn Two. Expect this to have a decisive impact on overtaking.
Hungary is one of the least power-dependent circuits on the Formula One calendar, prioritizing set-up and high downforce. Feeling planted in the car is the key to a quick lap because a single mistake can ruin a lap. From a dusty track surface on a Friday to on-the-edge driving on Sunday, the Hungaroring is a unique challenge.
Unlocking The Lap
The main straight is of average length on the Formula One calendar, but drivers still hit 320km/h (198mph) before heavy braking at the 70m mark into a sharp, right-angle third-gear corner, the best overtaking spot of the lap.
Drivers will maintain speeds of 100km/h (62mph) as they start to unwind the steering wheel and stamp the accelerator, shifting towards the right-hand side of the track ahead of Turns One and Two.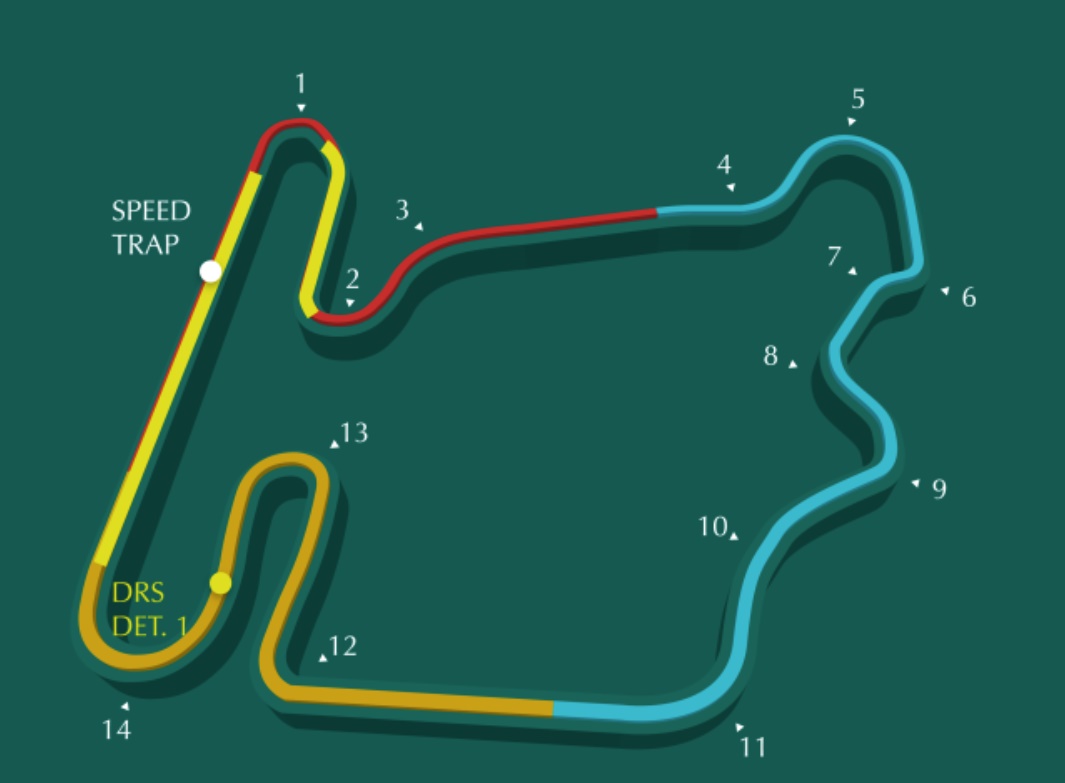 Turn Two is a downhill bend and a slow corner, around 120km/h (74mph). The key is to keep a tight line, moving towards the apex on the inside before progressively leaning towards the outside on exit. Running wide is costly, and drivers can end up chasing the lap time around the remainder of the circuit.
Drivers then immediately arrive at the kink of Turn Three, a higher-speed corner taken in fifth gear at 230km/h (142mph). The run to Turn Four is the second-longest straight on the circuit, beginning with a slight downhill run before a steep incline.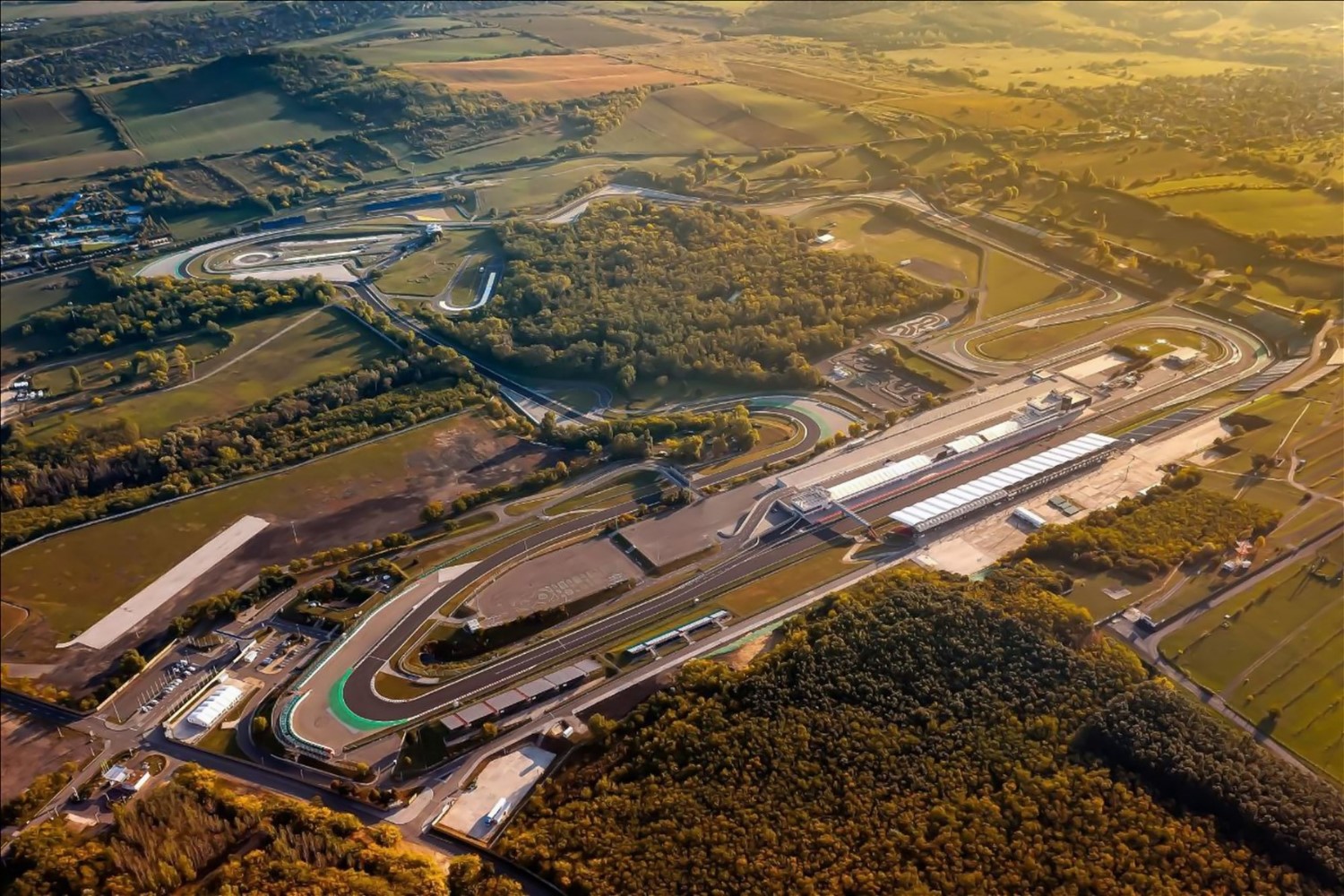 Turn Four is the second-fastest corner of the lap, requiring focus and commitment. Drivers maintain speeds above 240km/h (149mph) as they dart left and prepare for a slow and technical second half of the lap.
The long hairpin of Turn Five is all about setting up the entry. Carry too much speed, and you'll run wide, losing time, which is then compounded on the short straight that follows.
Drivers arrive at the Turns Six and Seven chicane at 250km/h (155mph), braking hard down to 110km/h (68mph), which is then followed by the medium-speed and sweeping Turn Eight.
Then there's a swift change of direction at Turn Nine, a sweeping right-hander. The average speed is around 160km/h (99mph), and drivers slalom through the two corners to keep momentum.
Turn 10 is a barely noticeable kink before the all-out Turn 11, taken completely flat as the fastest corner on the circuit, driven in sixth gear and at 260km/h (161mph). After that free-flowing section, it's back to classic Hungarian Grand Prix technical twists as drivers drop all the way down to second gear at Turn 12.
The deep right-hander is then followed by the slow Turn 13 hairpin, a real challenge for drivers to maximize because the tires drop off late in a one-lap shootout or long into a race stint. There's one last challenge for the drivers as they reach the last corner, Turn 14. A good exit is key to set up the next lap, and drivers use the full width of the circuit to maximize it.
Select Quotes
Max Verstappen
How are you feeling ahead of the Hungarian Grand Prix?
I'm happy to get back on track in Hungary this weekend, especially after the last race result. I'm a little bruised of course, but that's normal after such a big impact, but I'm training and feeling good. I did a 24hr sim race this week, and it was a good test to see how my body would react to spending time sat in one position and behind screens for a long time, I felt absolutely fine which makes me feel positive heading into the weekend. I'm definitely ready to go again!
You didn't get the chance to speak to media after the crash and there has been a lot of chat around the incident is there anything you want to say?
I don't have much to say on all the media hype and to be honest, I am not interested in getting involved in any of that. I know what happened at Silverstone as I was in the car and obviously, I feel a certain way about how my race ended, but now I'm just focusing on making sure we are the best we can be on track, so we can stay ahead in the championship. The Team can take care of the official side of things and anything that needs looking into after the crash, but my job is the same as always – to be the best I can and try to win on Sunday. I enjoy Hungary as a track and let's hope there is a little less action on the way to the grid as the mechanics worked some sort of miracle to get my car out for the race last year!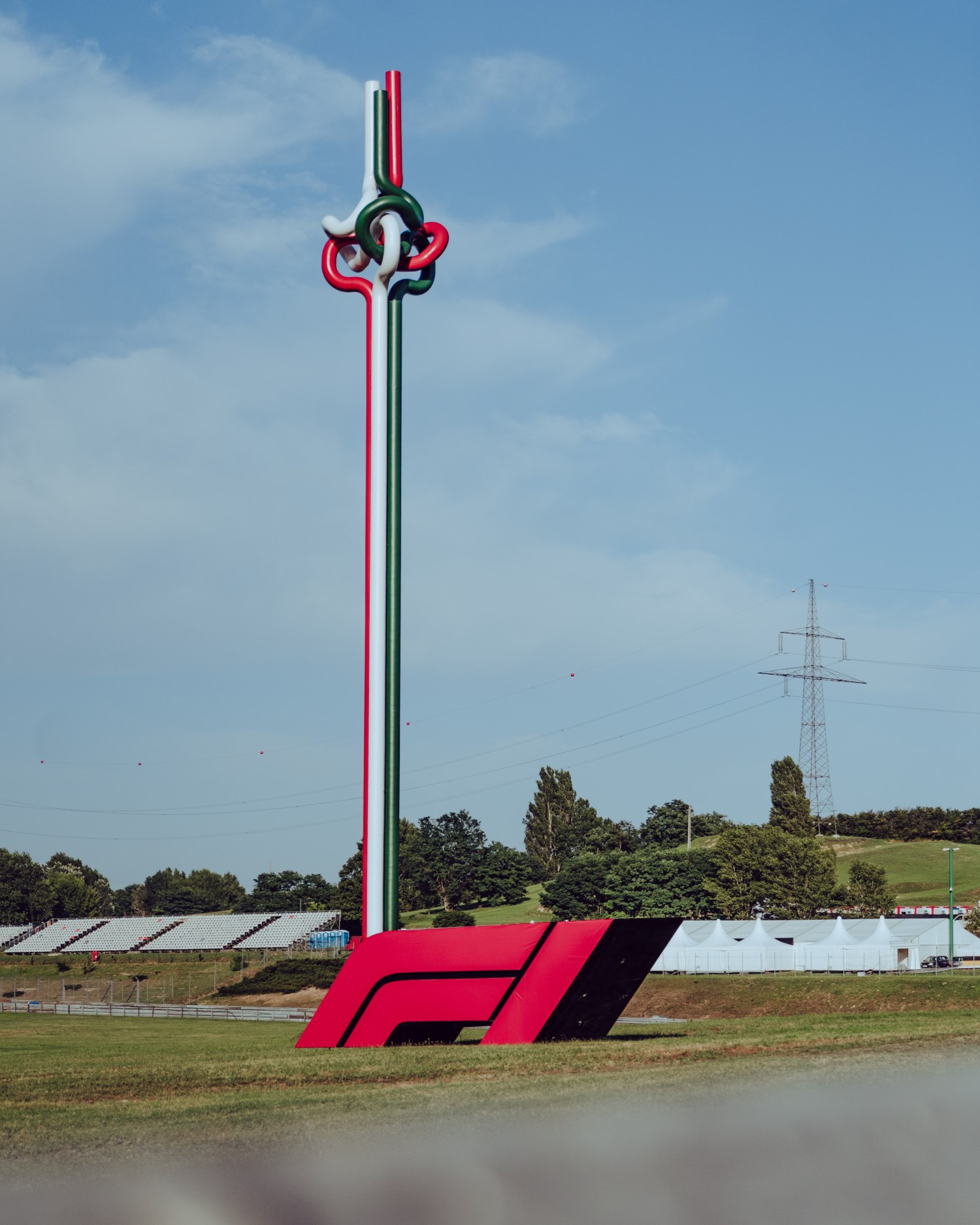 Sergio Perez
Now you've had time to reflect on the British Grand Prix, what are your thoughts on how it all went?
Silverstone was a poor weekend for me and one to forget. I enjoyed the sprint race format though, it demands a lot more from the drivers with two races and two starts. It was definitely different, that's for sure. Now I am fully focused on Hungary, and we plan to bounce back. We are very motivated as a Team, we have worked really hard this week, and we are doing everything we can to come back strong.
This is the last race before the summer break. What are your thoughts on the Hungaroring?
The Hungaroring is a unique track, and it's very similar to Monaco with the high levels of downforce, it's a very technical track. I'm looking forward to having a strong weekend at the last race before the summer holidays…that's the only way we can have a good holiday, making sure that we have a strong weekend in Budapest [laughs]!
Pierre Gasly
"The last race at Silverstone was frustrating as we lost a couple of points because of the puncture at the end, I think even eighth place could have been possible. Someone had thrown some gravel onto the track, and it cut my tire. So honestly, I was a bit fed up with how things went generally in the past few races. In Austria, there was the collision with Charles, which cost me some points, and then that puncture. Overall, I'd say Silverstone was my worst weekend of the season, especially as it looked as though we could have salvaged between two and four points, so it was annoying that we couldn't take them. But that's how it sometimes goes, and now we definitely have things to review. We had to deal with more complications than we expected and the new format didn't really allow us much time to sort things out after free practice, before going straight to qualifying and parc ferme.
We got off to a very strong start to the season, so now it will be important to have a good end to the first part of the year in Budapest. I have done well in the past at the Hungaroring, winning in Formula 2 and scoring points a couple of times in Formula 1. It's a circuit I like a lot, as there are no real straights and plenty of corners, so in the cockpit you are always doing something – braking, turning, or managing the throttle. There's very little time spent in a straight line, and I enjoy that. It means it's important to get into a good rhythm, and so I find it really enjoyable to drive. Of course, it's always a really physical challenge with no chance to rest on the lap, plus it looks like it's going to be another very hot weekend given the heat in Europe at the moment, but I feel ready for it.
In terms of our chances there, we have seen in the past couple of weekends that McLaren and Ferrari have made a big step forward. We know we are fighting for fifth in the championship with Alpine and Aston Martin, and that's the target we must aim for. I think that in Budapest we will have a chance of being in the mix with these two teams, but we will need to have a very good weekend, benefitting from the full potential that is there in our package.
After that comes the break, and I think it will be good for everyone after an intense first part of the year. We know the next part of the season is going to be very demanding, so being able to rest in a year with 23 races planned, the most ever, will be important. It is going to be tough towards the end of the year, both physically and psychologically, so a bit of time for everyone to spend with their families is a good thing."
Yuki Tsunoda
"Looking back at Silverstone, I wasn't happy with the way qualifying went, having a problem with traffic, but overall I was pleased as I was able to get a point on Sunday, even though the new format proved to be pretty tough. I think the team was a bit disappointed with our car performance, which was lower than expected, but for me I was quite happy. Driving Silverstone in a Formula 1 car for the first time, I immediately got an incredible feeling from the high speeds, especially through Maggotts and Becketts. When I first drove an F1 car, I was amazed at the amount of downforce and the grip level, but in those two corners, going through them on full power with all that downforce, was really a surprise.
The Hungaroring will be very different from that. I like this track, even though last time I raced there in Formula 2, I didn't get a good result because of a poor Qualifying and in the race I did a lot of damage to my front wing. As a track though I really like it, as it is very challenging, requiring maximum downforce on the car. One side of it that is interesting is how much corner speed you can carry into the turns, and generally, it is a fun track to drive.
It is physically demanding because of the hot weather and the fact there are no straight sections to have a rest, so I think it could be tough. I don't know how I will get on, but I feel ready for it. After that comes the summer break. I am quite looking forward to it. As I recently moved to Italy, I think I will spend most of the break sorting out the house where I plan to live. Before this race, I was back in the UK for a simulator session and in the evenings, I was stuck in a hot hotel room with no air-conditioning or fan, so I'm looking forward to moving to this house with some aircon and being nice and cool!"
Lance Stroll #18
"We showed a lot of determination and fight as we converted a challenging Silverstone into points, and we will be bringing that momentum forward with us to Hungary. The Hungaroring is a unique track with few overtaking opportunities, so this puts increased importance on our qualifying, and a clinical tire strategy on Sunday is mission-critical."
Sebastian Vettel #5
"I think we're making progress with the AMR21, although it was a shame not to be able to get the strong points we looked set for at Silverstone. We're close to a well-earned summer break, but we need to keep pushing until the very last lap in Hungary before we get some downtime. Overtaking is hard in Hungary, so a good strategy and one-lap pace will be important this weekend."
Frédéric Vasseur, Team Principal of Alfa Romeo Racing ORLEN: "We approach the final race before the break with unchanged objectives – two cars in Q2 and points on Sunday. I will never tire of saying it: we've been knocking at the doors of the top ten and we just need things to align for us to make that final step. We spent most of the last race in points-paying positions and we were in P10 until a few laps to the end in Silverstone, which is a track that doesn't really suit our car, so hopefully we will be able to extract even more of our potential in a venue which is dramatically different from Britain. It would be an ideal way to head into the break and carry the momentum into the second part of the season."
Kimi Räikkönen (Car #7): "The last race in Silverstone saw us go very close to the points: I was tenth when I had my coming together with Perez and I feel we could have fought for that point until the end of the race. We came away with nothing but we can hope to carry that form into Hungary, a track on which we can do well. As always, we expect both Saturday and Sunday to be close but if we do our job, we can come away with a good result."
Antonio Giovinazzi (Car #99): "Finishing the first half of the season with a good result would be a great way to go into the summer break and would be such a confidence boost for everyone back at the factory. Hungary is a completely different track from Silverstone and hopefully we can do well here. We know our pace is good enough to keep ahead of many of our rivals, but we need to deliver when it matters: if we do that, we can have a good weekend."
Dave Robson, Williams Head of Vehicle Performance: The short twisty Hungaroring is a stark contrast to the fast-flowing Silverstone track, but it nonetheless offers an exciting challenge. Overtaking is very difficult, which places a premium on qualifying position. The weather in Budapest in late July is typically very hot and this makes tire management difficult and therefore heavily dictates the set-up direction. Following the Sprint Qualifying format two weeks ago in Great Britain, we return to a standard event format this weekend, which gives us more opportunity to tune the car set-up to the tire behavior.
In recent years we have been reasonably strong in Budapest, and we hope to continue the trend this year. The FW43B has been performing well recently and if we can adapt it to the longer, slower corners of the Hungaroring then we will be in a good position to get the most from the tires, which this week are the middle-of-the-range: C2, C3 and C4 compounds. The new rear tire construction, which Pirelli introduced at the British Grand Prix behaved as expected and should be well suited to the Budapest track.
George Russell: I'm really looking forward to heading to Hungary this weekend. The Hungaroring is a circuit that I love, especially the second sector; it's fast and flowing, and you don't get a break from turn four to turn 11, but when the car is nailed it's such a fantastic feeling to really extract everything from that sequence of corners. Budapest is a city that I really enjoy too, it has such a great atmosphere. I am going to be giving it my everything to make sure we end the first half of the season strongly, especially coming off the back of a number of strong races recently.
Nicholas Latifi: I'm very excited to head out to Budapest. It's a track that has tended to suit the car quite nicely in past years, so hopefully we can maximize any opportunities that present themselves there. As for the track itself, it's very busy, and you feel like you are constantly in a corner, so you really have to get in a nice consistent rhythm to repeatedly nail your laps, which makes it a challenge for the drivers. It's also usually very hot there, so I think tire management will be key. You always want the last race before the break to go well so that you can head off on your summer holiday feeling positive, so I'll be looking to end this first half of the season on a high note.