F1: Verstappen tops opening practice in Hungary
Max Verstappen finished opening practice for the Hungarian GP in P1 with a 1m17.555s, 0.061s ahead of the Mercedes of Valtteri Bottas. Not much can be made of the times yet because it was essentially a track cleaning session, but Verstappen was happy to stick it to his rivals late in the session.
Lewis Hamilton in the #44 Mercedes was a further tenth back (0.167s) down the road in what is a somewhat familiar top three.
Carlos Sainz Jr. was 4th quick in the #55 Ferrari while Pierre Gasly rounded out the top-5 for Alpha Tauri.
Fernando Alonso was 6th for Alpine but not before spinning early in the session.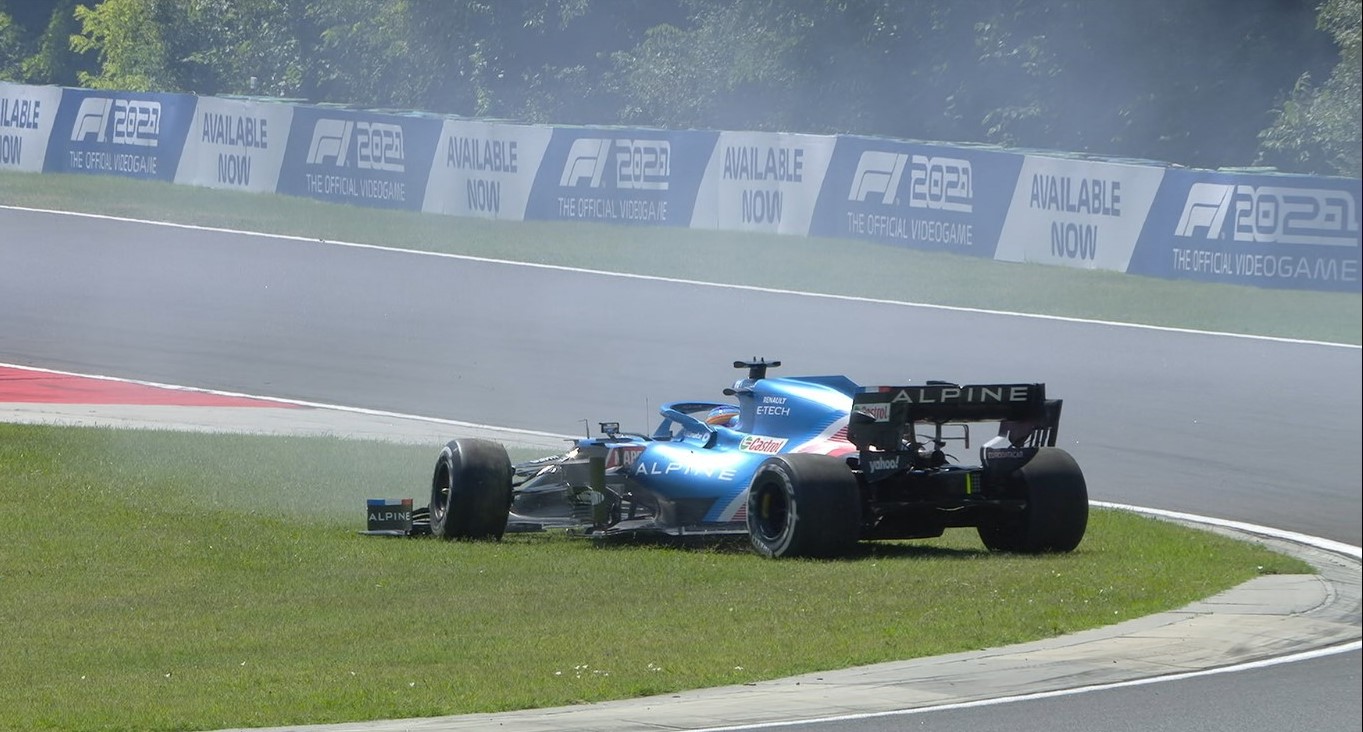 Practice 1 Results
| | | | | | | |
| --- | --- | --- | --- | --- | --- | --- |
| POS | NO | DRIVER | CAR | TIME | GAP | LAPS |
| 1 | 33 | Max Verstappen | Red Bull Racing Honda | 1:17.555 | +0.000s | 21 |
| 2 | 77 | Valtteri Bottas | Mercedes | 1:17.616 | +0.061s | 26 |
| 3 | 44 | Lewis Hamilton | Mercedes | 1:17.722 | +0.167s | 25 |
| 4 | 55 | Carlos Sainz Jr. | Ferrari | 1:18.115 | +0.560s | 24 |
| 5 | 10 | Pierre Gasly | AlphaTauri Honda | 1:18.181 | +0.626s | 27 |
| 6 | 14 | Fernando Alonso | Alpine Renault | 1:18.385 | +0.830s | 26 |
| 7 | 16 | Charles Leclerc | Ferrari | 1:18.391 | +0.836s | 23 |
| 8 | 11 | Sergio Perez | Red Bull Racing Honda | 1:18.466 | +0.911s | 20 |
| 9 | 4 | Lando Norris | McLaren Mercedes | 1:18.649 | +1.094s | 26 |
| 10 | 18 | Lance Stroll | Aston Martin Mercedes | 1:18.755 | +1.200s | 25 |
| 11 | 31 | Esteban Ocon | Alpine Renault | 1:18.765 | +1.210s | 26 |
| 12 | 22 | Yuki Tsunoda | AlphaTauri Honda | 1:18.770 | +1.215s | 18 |
| 13 | 5 | Sebastian Vettel | Aston Martin Mercedes | 1:18.989 | +1.434s | 22 |
| 14 | 3 | Daniel Ricciardo | McLaren Mercedes | 1:19.265 | +1.710s | 27 |
| 15 | 63 | George Russell | Williams Mercedes | 1:19.724 | +2.169s | 24 |
| 16 | 6 | Nicholas Latifi | Williams Mercedes | 1:19.824 | +2.269s | 24 |
| 17 | 47 | Mick Schumacher | Haas Ferrari | 1:20.383 | +2.828s | 26 |
| 18 | 88 | Robert Kubica | Alfa Romeo Racing Ferrari | 1:20.639 | +3.084s | 23 |
| 19 | 9 | Nikita Mazepin | Haas Ferrari | 1:20.992 | +3.437s | 23 |
| 20 | 99 | Antonio Giovinazzi | Alfa Romeo Racing Ferrari | 1:21.889 | +4.334s | 5 |