NHRA: Pruett, Alexander, Anderson, and Smith lead Friday in Pomona
The NHRA Camping World Drag Racing Series returned to the birthplace of the sport in Southern California with the opening day of qualifying at the Lucas Oil NHRA Winternationals presented by ProtectTheHarvest.com where Leah Pruett (Top Fuel),  Blake Alexander (Funny Car), Greg Anderson (Pro Stock), and Matt Smith (Pro Stock Motorcycle) finished the day as the No. 1 qualifiers in their respective classes.
After a hot and humid day of watching the NHRA's Sportsman racers patrol the Pomona quarter-il, fans were treated to cooler temperatures as their lone qualifying session – the first of three allotted this weekend – played out under the lights.
Pruett, who has local roots in Redlands, Calif., and is a previous Winternationals champ (2017), powered her Sparkling Ice/Don Schumacher Racing entry to a 3.780 to grab the No. 1 spot in Top Fuel, a solid six-hundredths in front of No. 2 qualifier Mike Salinas.
The provisional pole continues the momentum for her Todd Okuhara-led team, which scored a runner-up finish last weekend in Sonoma.
"This is phenomenal," she enthused. "My first race ever was here, the first time I was ever in this tower, I sang the national anthem, and I will never do that again. A lot of different memories. But I think what I can attribute the most to the glimpses of glee I had between pulling the parachutes and turning off was, as we inch more and more to our own expectations, that's what brings the most happiness and to share that happiness with, it's not so much like family. I haven't seen one family member here yet. But in the drag racing community, so many of my nostalgia racers that I raced with are currently there on other Funny Car teams. There's that nostalgic feeling for me."
Pruett and Salinas were the only two dragster drivers to make full runs as the dragsters struggled more than their Funny car nitro brothers.
Privateer Buddy Hull is a surprising third with a 4.105 from the terry Haddock racing/Circle Wheels entry, finishing ahead of Shawn Langdon (5.158), Steven Chrisman (5.406) and former world champs Brittany Force (5.429) and Antron Brown (5.792).
Funny Car
If Alexander's Funny Car field-leading 3.961 holds up through Saturday's final two runs, it will be his first career No. 1 qualifying position. The driver of the Pronto Auto Centers/Head Inc. machine is also looking to make his first Countdown to the Championship field; he currently sits in 11th place with four events to go.
"I think Jim's going to be pretty happy with that but like everything in drag racing you always could do a little bit better," he said. "We're happy with the way it ran even though it put a hole [cylinder] out down there, so we'll have a little bit better tomorrow.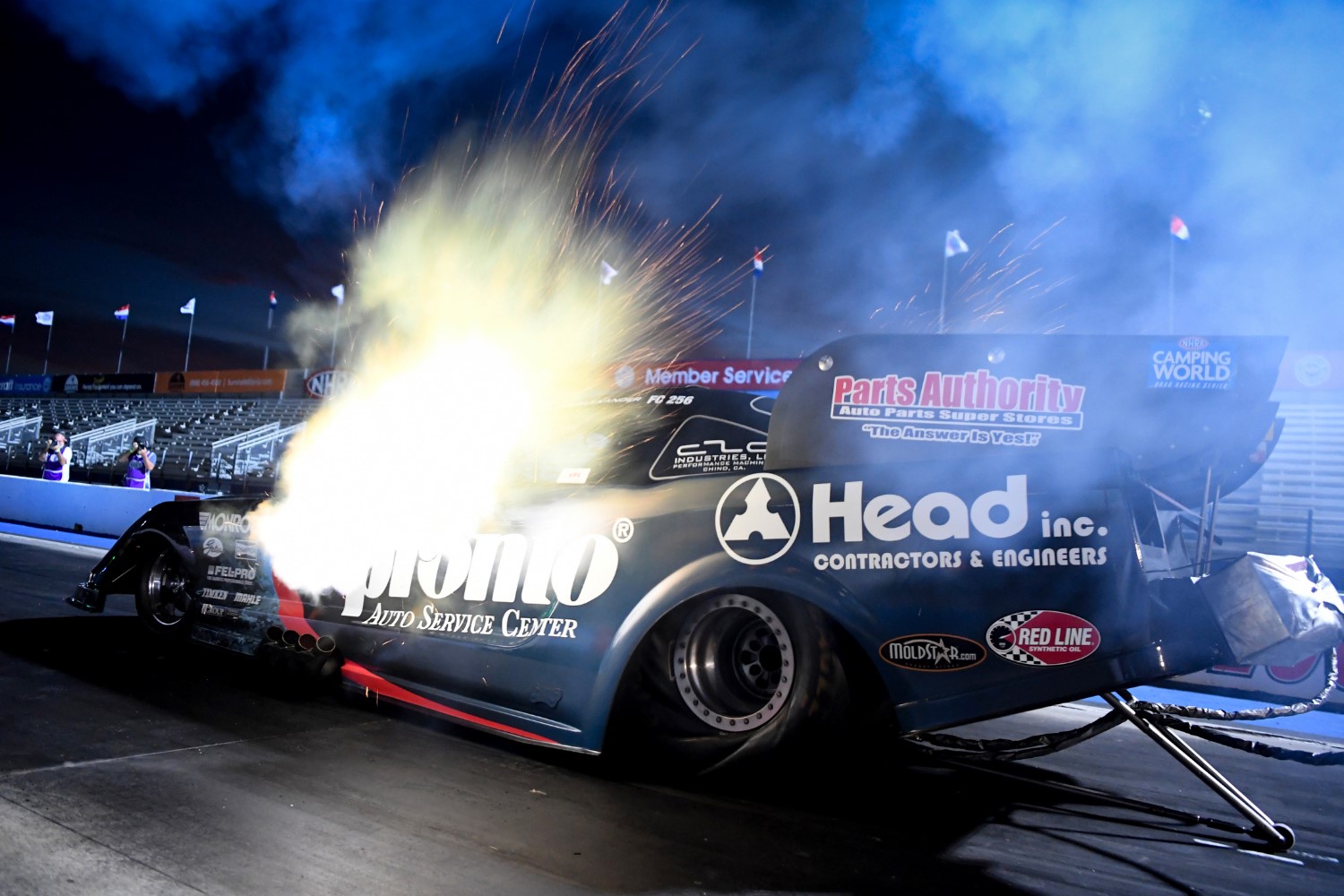 "I think tomorrow night the track will get better and everyone will have a little bit more out there, but I could be wrong. I mean, it's pretty tricky out there."
Alexander's run was a thousandth of a second better than Sonoma winner Robert Hight's 3.962 in the Auto Club Camaro, disappointing the longtime SoCal favorite at his sponsor's home track, but it shows that the former world champ still has plenty of momentum. Norwalk champ Cruz Pedregon (3.967) and Ron Capps (3.971) also clocked three-second runs under the lights.
Reigning world champ Matt Hagan sits fourth with a 4.009, followed by JR Todd (4.044 and points leader Bob Tasca III (4.226).  Another local favorite, independent Jeff "the Surfer" Diehl, rode his way to a 4.259 to close out the top eight.
Pro Stock
Anderson, who has been the No. 1 qualifier in Pro Stock at seven of the eight Pro Stock events this season – he was No. 2 at the eighth – is in a familiar spot with the hendrickscars.com Camaro after a 6.588 pass that stole the No. 1 spot from fellow world champ Erica Enders, who had clocked a 6.590 just ahead of him.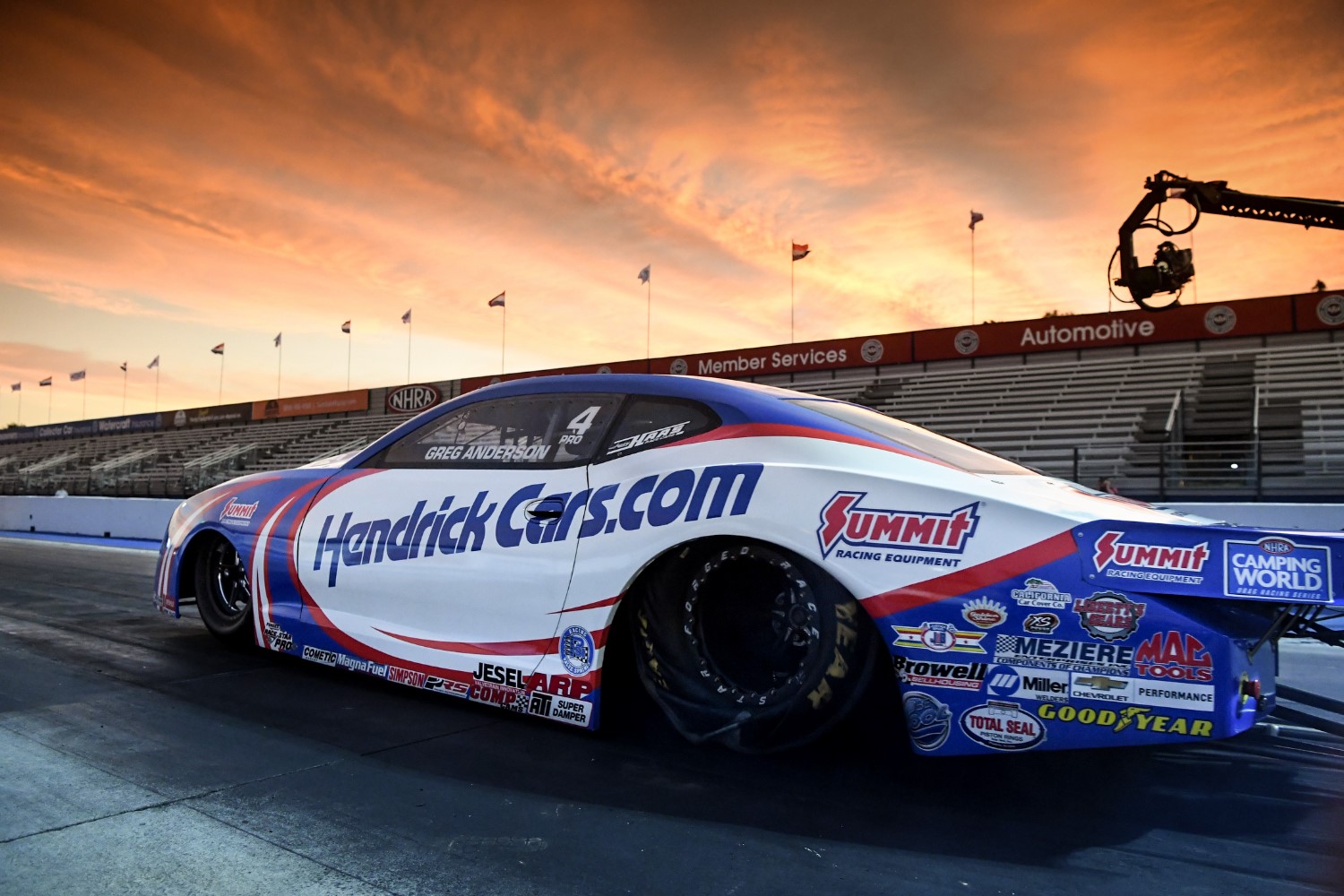 "When I saw her 6.59 on the scoreboard down there with a .970 60-foot time I knew we were really gonna have to get after it because our class is so close," said Anderson. "It really comes down to how you 60-foot. It didn't feel quite right in 1st gear. I got to about 100 foot out and thought. 'You know. it's not a bad run, but it's not going to get pole,' so I was surprised when they said I got the pole at the finish line and I know we can do better to 60 feet so I know we can run better."
Matt Hartford put the Total Seal Camaro in the No. 3 spot with a strong 6.593 while young guns Kyle Koretsky (6.604), Aaron Stanfield (6.605), and Mason McGaha (6.609) lined up behind the veterans. McGaha's father, Chris, is in the No. 7 position with a 6.622 while another rising class star, Troy Coughlin jr., rounds out the top eight with a 6.626 from the JEGS.com Camaro.
Pro Stock Motorcycle
Matt Smith, who set the Pro Stock Motorcycle national speed record last weekend with an amazing 205-mph blast in Sonoma, flexed his elapsed time muscle Friday night, powering his Denso Buell to the No 1 spot with a 6.806 that was nearly six-hundredths of a second better than his teammate, Scotty Pollacheck, who clocked a 6.865 for the No. 2 spot. Smith's speed of 199.20 mph is also top speed of the meet so far.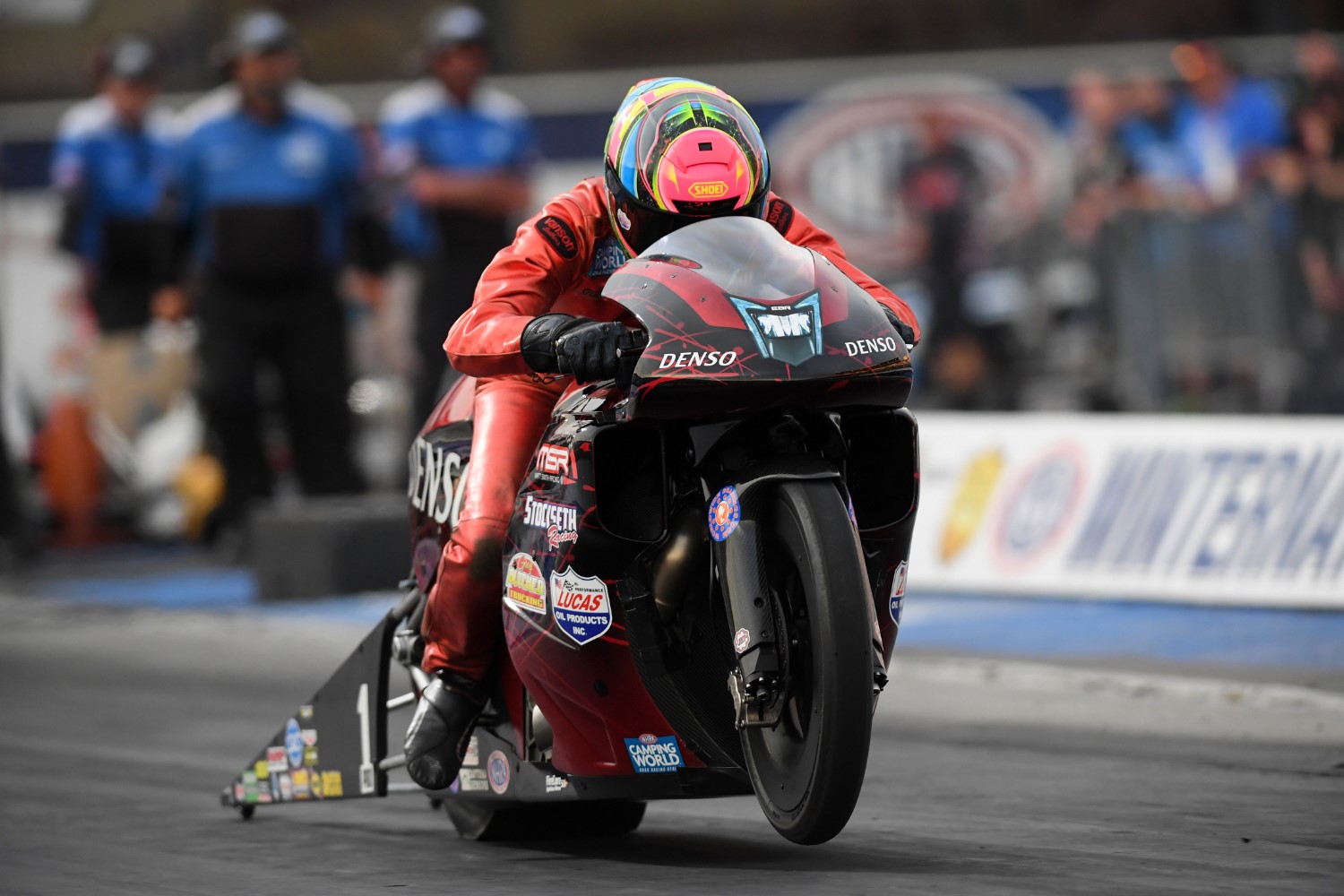 Smith, who was the low qualifier in Denver, is trying for a low-qualifying hat trick after his wife, Angie, qualified No. 1 in Sonoma.
"This team is just bad to the bone right now," said Smith, We were running on all two cylinders, because that's all we got, and everybody's doing their job. Scotty, he's No. 2 right now and I'm No. 1.
"I honestly think that number will hold up for No. 1 through tomorrow because I think it's going to be hotter and tomorrow we run during the day, you know, we don't run at night like this."
Joey Gladstone surprised a few folks by qualifying No. 3 with a 6.889, just a tick ahead of Sonoma runner-up Andrew Hines. Angie Smith sits fifth with a 6.901 with Eddie Krawiec (6.903), Jerry Savoie (6.945), and Jianna Salinas (7.056) rounding out the top eight.