F3: Nannini beats Fittipaldi for maiden win in Hungary
Matteo Nannini became the ninth different winner from just 11 races in 2021, overcoming Charouz Racing System's Enzo Fittipaldi and Hitech Grand Prix's Roman Stanek for his maiden Formula 3 victory in Race 2 at Budapest.
The HWA RACELAB driver got a strong launch off the line, pulling himself ahead of Stanek from third before overcoming Fittipaldi on Lap 4, who had struggled to warm up his tyres. From there, the Italian's win never looked in doubt.
Alex Smolyar held on to fourth despite pressure from Championship leader Dennis Hauger, who had put on a battling charge through the field, making up three places from eighth.
The PREMA Racing driver gained ground on each of his primary title rivals, with Jack Doohan, Frederik Vesti, Olli Caldwell and Victor Martins all finishing outside of the points.
The sun had returned for the second race of the afternoon, bringing track temperature up to 45 degrees, but that didn't stop the front three from engaging in a heated race start.
Fittipaldi got a strong launch, and he needed it, as Nannini and Stanek both flung off the line and went three-wide into the opening corner. Nannini was late on the brakes and nicked second from Stanek, but Fittipaldi was able to cling on thanks to his quick getaway.
The duo continued to duel in the opening laps and Nannini made a second attempt almost as soon as DRS was switched on. The duo went wheel-to-wheel between Turns 1 and 2 and despite his best efforts, Fittipaldi eventually had to relinquish the position and Nannini hauled his HWA ahead.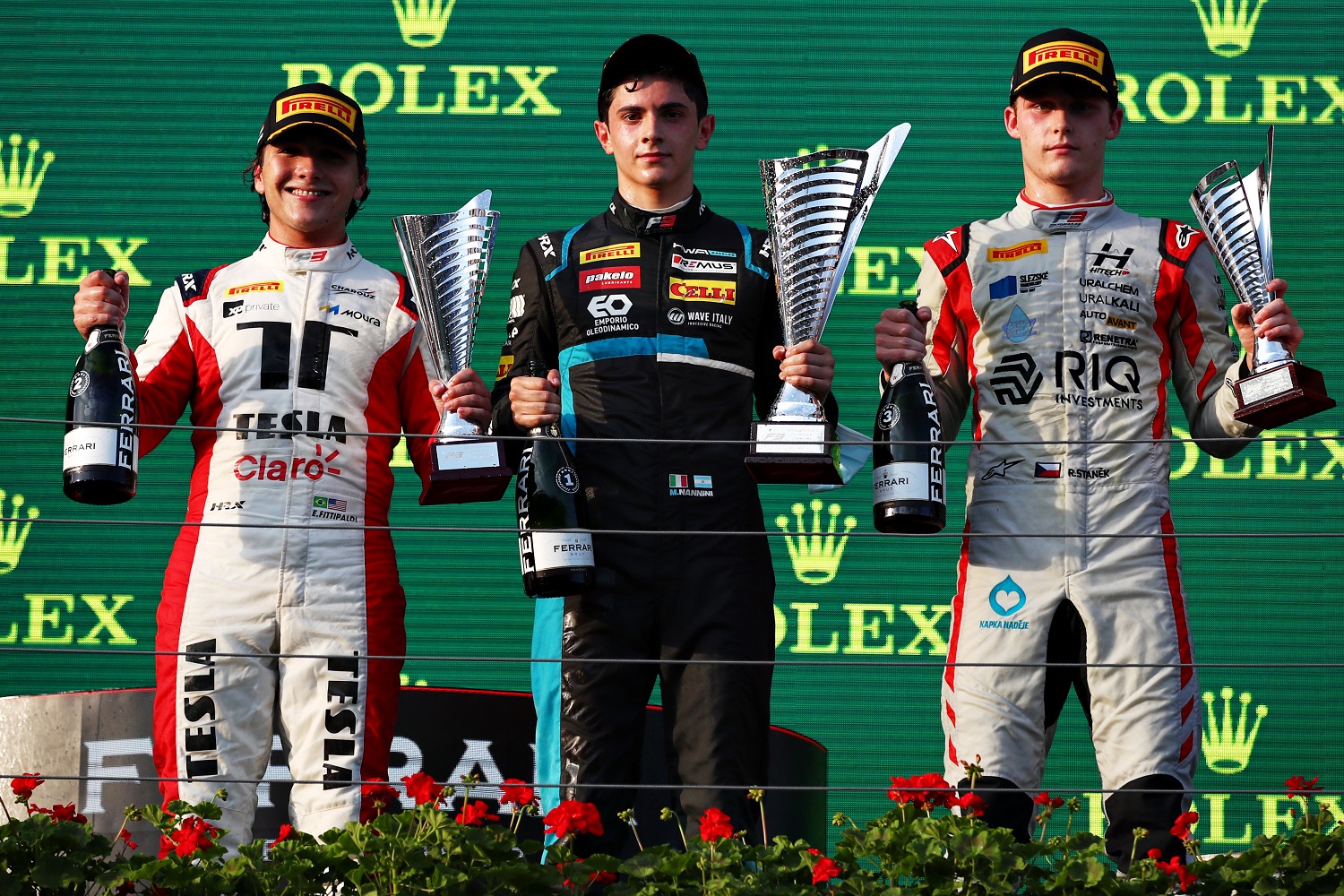 Race 2 Results in Hungary
| | | | | |
| --- | --- | --- | --- | --- |
| Pos | Driver | Team | Laps | Behind |
| 1 | Matteo Nannini | HWA AG | 22 | 0.000s |
| 2 | Enzo Fittipaldi | Charouz Racing System | 22 | 2.500 |
| 3 | Roman Staněk | HitechGP | 22 | 3.800 |
| 4 | Alexander Smolyar | ART Grand Prix | 22 | 4.300 |
| 5 | Dennis Hauger | Prema Powerteam | 22 | 4.600 |
| 6 | David Schumacher | Trident | 22 | 5.600 |
| 7 | Lorenzo Colombo | Campos Racing | 22 | 7.000 |
| 8 | Clement Novalak | Trident | 22 | 8.900 |
| 9 | Logan Sargeant | Charouz Racing System | 22 | 11.800 |
| 10 | Ayumu Iwasa | HitechGP | 22 | 12.600 |
| 11 | Arthur Leclerc | Prema Powerteam | 22 | 12.900 |
| 12 | Caio Collet | MP Motorsport | 22 | 13.700 |
| 13 | Jack Doohan | Trident | 22 | 17.600 |
| 14 | Juan Manuel Correa | ART Grand Prix | 22 | 18.000 |
| 15 | Tijmen van | MP Motorsport | 22 | 20.200 |
| 16 | Frederik Vesti | ART Grand Prix | 22 | 22.800 |
| 17 | Jake Hughes | Carlin | 22 | 25.600 |
| 18 | Reshad de | Charouz Racing System | 22 | 28.300 |
| 19 | Johnathan Hoggard | Jenzer Motorsport | 22 | 30.000 |
| 20 | Filip Ugran | Jenzer Motorsport | 22 | 32.100 |
| 21 | Jak Crawford | HitechGP | 22 | 33.300 |
| 22 | Rafael Villagómez | HWA AG | 22 | 35.000 |
| 23 | László Tóth | Campos Racing | 22 | 35.400 |
| 24 | Calan Williams | Jenzer Motorsport | 22 | 36.500 |
| 25 | Victor Martins | MP Motorsport | 22 | 37.300 |
| 26 | Jonny Edgar | Carlin | 22 | 44.200 |
| 27 | Ido Cohen | Carlin | 22 | 1'19.900 |
| 28 | Oliver Rasmussen | HWA AG | 22 | 1'25.600 |
| 29 | Olli Caldwell | Prema Powerteam | 21 | 1 lap |
| 30 | Amaury Cordeel | Campos Racing | 21 | |