F1: Ocon holds off Vettel to win Hungarian GP
Alpine's Esteban Ocon, taking advantage of Valtteri Bottas causing an accident in Turn 1 that took out many of the leaders, held off the Aston Martin of Sebastian Vettel the entire race to win the Hungarian GP.
It was Ocon's first-ever F1 win, and the first for the former Renault team using the Alpine name. Vettel had the faster car, but the young Frenchman never put a wheel wrong, and Vettel never had a chance to make a serious overtaking move.
"Ah man, ah man, I tried, I tried, I tried the whole race," Vettel radioed to his team. "We were faster the whole race. Arrghhh.
"I'm a little bit disappointed, I felt I was faster, but he didn't make a single mistake, and it's a tricky track to overtake on. I had a very, very bad start, but it turned out to be the best place to be. I found myself at the front of the pack, it definitely made our race today."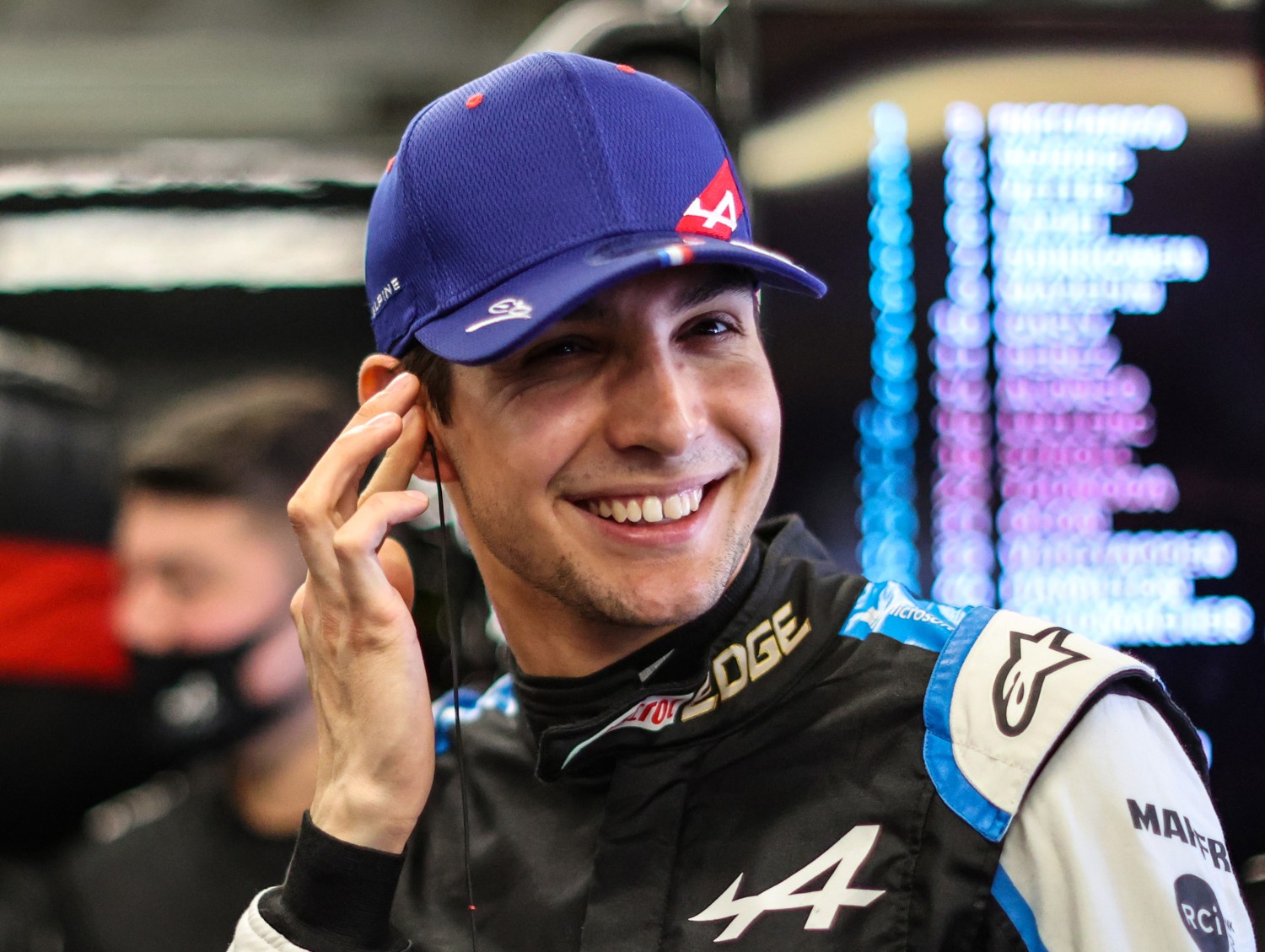 Carlos Sainz Jr. in third place for Ferrari had his mirrors full of Fernando Alonso in the 2nd Alpine battling Lewis Hamilton on faster tires.
Hamilton finally got past Alonso with 5 laps to go for 4th, regulating Alonso to 5th place.
Hamilton then attacked the Ferrari, and got past for third with 4 laps to go, but he was too far behind to catch the leaders Ocon, and Vettel, and settled for third.
Alonso held Hamilton off for lap after lap as he charged back through the field, delaying the Mercedes man enough that even when he got past, he ran out of laps to catch the leaders. Alonso played a big role in his teammate's win today.
The Mercedes team made a rare strategy mistake that cost Hamilton an easy win. When all the other drivers switched to dry tires from wets after the red flag, Hamilton stayed out, and then had to pit under green, and lost a lot of time.
"A huge congratulations to the Alpine team, and to Ocon, it's been a long time coming, and I'm really happy for him," said a tired Hamilton who almost passed out on the podium.  "And Aston Martin up there too. it was definitely tough, we made it difficult for ourselves. Crazy to think we were the only ones of the grid for the restart."
Sainz Jr then battled with Alonso, and held on for 4th.
Vettel, and Ocon ran out of fuel, and parked out on track on the cooldown lap, as did Russell! It's a lengthy walk for a few tired drivers, but somehow those three won't mind, all jubilant for different reasons today.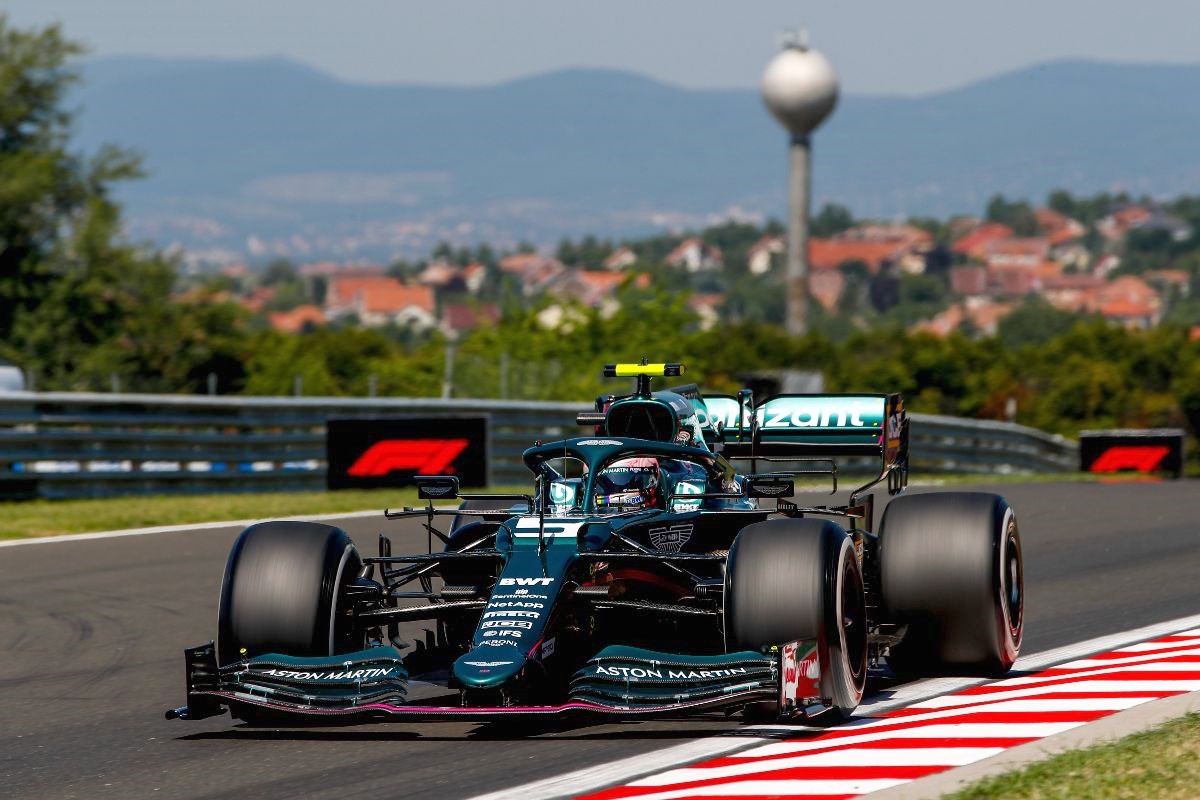 "Just a big thank you for the trust that everyone is putting into me," said an ecstatic Ocon.  "When you are out of Q1, you are P17, you don't know where you are, but the team put their trust in me, and we are back where we belong. With Fernando, we are forming a real strong duo, we are pushing the team on. I tell you, we are going to have a great Monday!"
Notably, Williams scored double points, with Nickolas Latifi in eighth, and George Russell in ninth. Those are Russell's first points for Williams, and Latifi's first in Formula 1.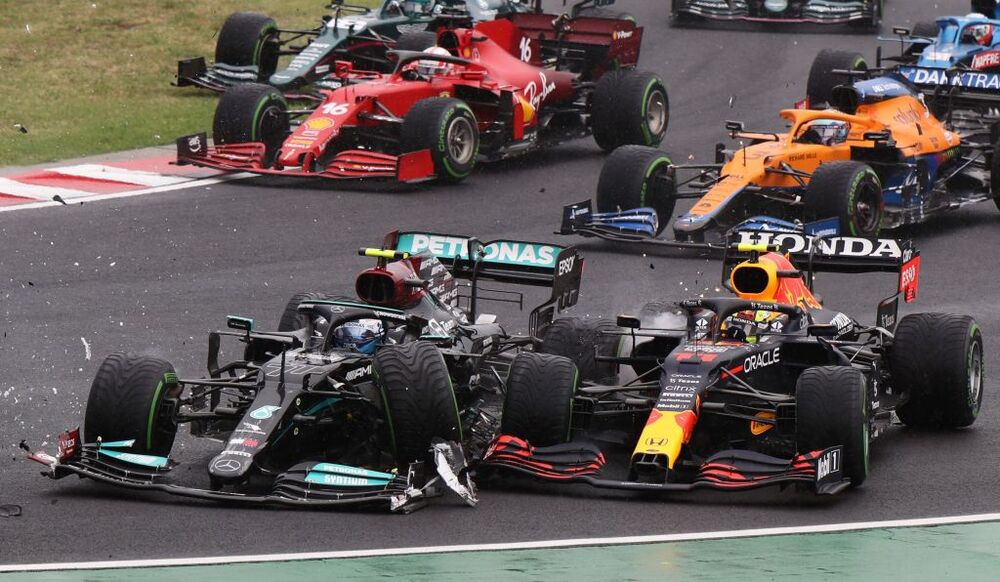 Although Mercedes pulled off a strategy masterclass today after that rather large faux pas, pitting Hamilton twice so he could chase back on fresh tires, on a track where overtaking is tricky at best, it left the reigning world champion with a lot to do out there.
Third place, and 15 points is still a decent recovery considering Hamilton was last after a handful of laps.
"I completely understand the feelings [of Red Bull], all I can do is take it on us," said Toto Wolff.  "It was a small mistake on the brakes [by Bottas], and in the rain it catches quite quickly."
Quotes
Mercedes-AMG Petronas F1 Team
Lewis Hamilton (3rd): "First of all, I want to say a quick congratulations to the Alpine Team, and to Esteban – he's been a shining star for some time now so it's been a long time coming, and I'm really, really happy for him. It's great to see Aston Martin up there with their best result so far, and I know there's more to come from them. We've had an amazing crowd this weekend, and I'm grateful for the support. Today was definitely tough, it's crazy to think we were the only ones on the grid at the start, but these things happen in an unpredictable race, and we will learn any lessons that need to be learned. I gave it everything today, and I had nothing left at the end. I came into this weekend not knowing how we would perform, and considering the circumstances today, I'll take P3!"
Valtteri Bottas (DNF, Accident): "I had a poor start with lots of wheelspin off the line, lost a couple of places, and then into turn one, I was right on the gearbox of Lando, and locked the wheels. I misjudged the braking point – it's always difficult starting a race in those conditions, you're always 'guesstimating' grip levels, and today I got it wrong. I've spoken to Lando, and Checo to apologize, it was my bad today, and sometimes you have to hold your hands up."
Toto Wolff, Team Principal: "A difficult start for Valtteri, he suffered wheelspin off the line, and found himself sandwiched into the first corner, and missed the braking point. A small mistake with large consequences, and damage to several cars, and I'm sorry to McLaren, and Red Bull – to lose out in an accident like that at the start of the race is tough to take. We then had a decision to make with Lewis on the race restart, and I stand absolutely behind our decision, keeping him out was absolutely the right call for us, even if it was a little lonely for him out there. It would have been a gamble to pit from the lead, the track tried unbelievably quickly in the sun, and it could have easily gone the other way, and then we would have looked foolish for bringing him in. It was a courageous drive from Lewis to carve his way back through the field, and the win was possible at the end, but Fernando defended strongly, and perhaps it wasn't our day to win."
Andrew Shovlin: "Congratulations to Esteban, and Alpine on the win. For us it wasn't a very tidy day – Valtteri had a very poor start, and then his mistake at turn 1 obviously ruined the day for Max, Sergio, and Lando; we can only apologize for that, although it's not much by way of consolation. Given the position we were in at the restart, we didn't particularly want to gamble on slicks, but we were surprised when the entire grid left on intermediates. It was even more surprising to see them all pit on the formation lap. That is obviously one of the key moments of the race for us, although we wouldn't have been leading on the restart as having the first garage means the field coming in behind us prevents us from leaving our pit box. Recovering from last position was clearly then an enormous challenge for Lewis, and to get to third took everything he had. It's such a difficult track to overtake on, and we had to convert to the two-stop to get through, but unfortunately we spent too many laps behind Fernando, and that meant Lewis was only catching the leaders on the last lap. It's frustrating to have given away a chance to win here, but encouraging that the car was really good – we weren't expecting to be so strong. We've got a week before the summer shutdown, and there's lots to do in the next few days to prepare for a triple header on our return, but it's going to be nice to have some time off as it's been non-stop since testing back in February."
Red Bull Racing
Max Verstappen (10th): "It was all out of our hands in the race, and I can't believe I got taken out for the second week running. The mechanics did what they could to get me back in the race, but I was carrying a lot of damage on the car after the incident, and it was super difficult to drive with, there was a lot of oversteer, and understeer from the downforce loss. Of course it's really disappointing to only score one point, but on the other hand I was incredibly lucky to continue after the crash so it was a surprise to score a point at all which is still important. We have the summer break now, but we keep pushing, we will never give up, and we will focus on ourselves. We've had two very unlucky races, but nothing is lost, it's still a very long season. Congratulations to Esteban too, you can see that he is super happy, and I'm sure many more race wins will follow."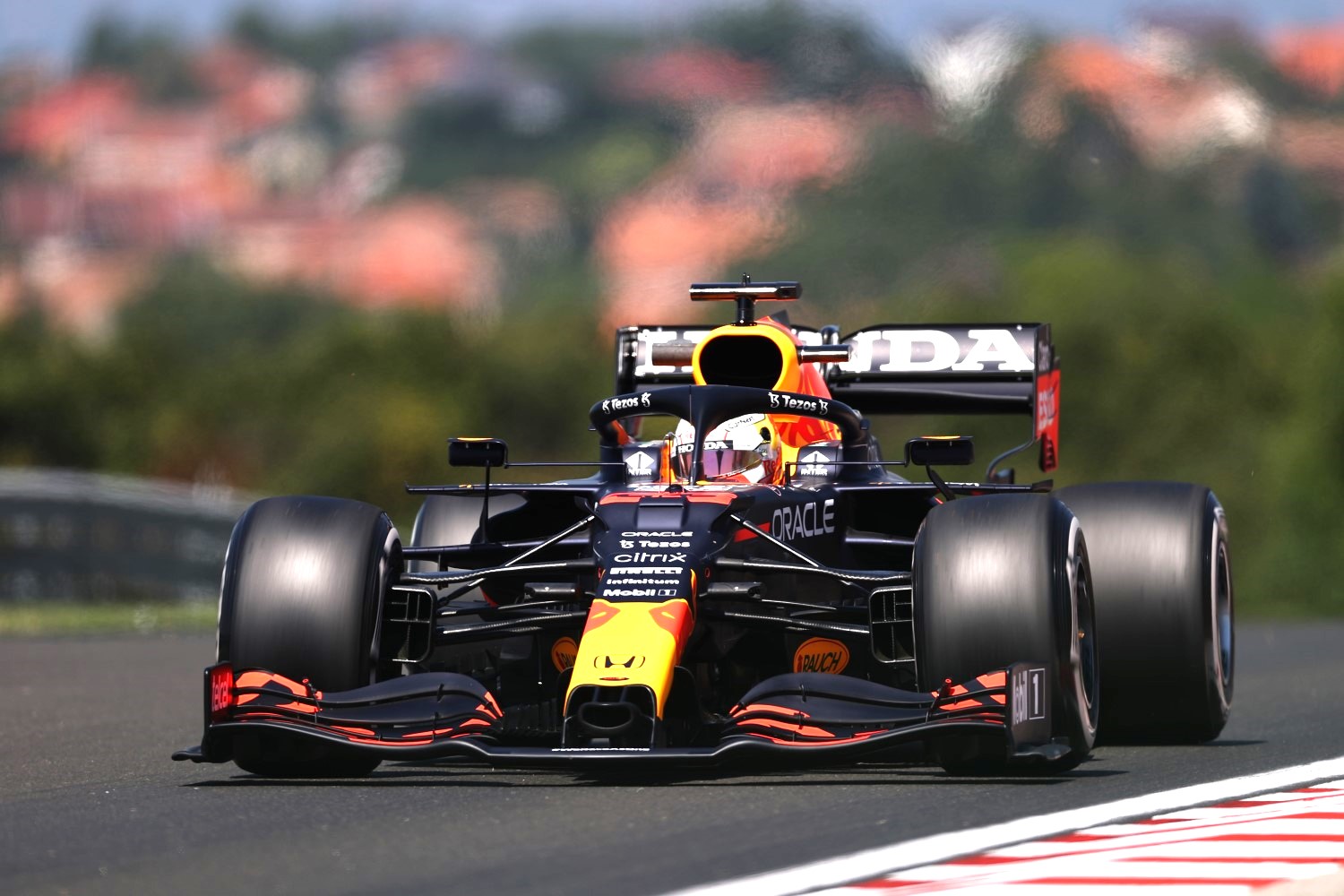 Sergio Perez (DNF, Accident): "I don't know what to say, but it is unbelievable to be hit like that at Turn 1, and a massive blow for us as a Team. I got a good start, and was up to third, and it is such a shame because I think we had a good opportunity in those conditions, but there was nothing I could do. I have watched the replays as it was hard to understand exactly what happened behind me from inside the car, and I just knew I got a big hit. Bottas made a big mistake, and braked too late into Turn 1 which took out a lot of cars, including me, and caused bad damage to Max's car. He came to me, and apologized as he knew it was his mistake, and although it was not on purpose, and is how racing goes sometimes, it doesn't make a difference to the result for us right now as the large amount of damage ended our race, and opportunity for points."
Christian Horner, Sporting Director: "It is obviously an enormously frustrating way to end the weekend, but we are within 10 points of first place in the championship going into the summer break which means it's all to play for. Unfortunately, Bottas braking late into Turn 1 eliminated both of our cars, Checo was immediately forced to retire, and the substantial amount of damage to the right hand side of Max's car meant he had no chance of fighting at the front. Full credit once again has to go to our mechanics who worked wonders to get Max's car back out for the race. The temperatures were off the scale, and they had to straighten pipes, and fix the right side as much as possible in very limited time, before nailing the fastest pit stop once again, which is quite remarkable. It is also disappointing not to have seen what Checo had in store today as his start was impressive, and he felt very confident in the car, and his race pace. Max fought hard, despite the extensive damage, and downforce losses, securing one point which could prove vital at the end of the year. There is no doubt that this has cost us a lot today, financially in a cost cap world, points wise, and for Honda who now need to understand whether Checo's engine is salvageable, but there are many positives to take into the summer break. We have achieved six victories with the most competitive chassis, and power unit package we have had for years, and the whole team is fully motivated. We will take a few weeks off, recharge, and come out fighting for the second half of this championship. We have experienced close title battles like this before, and we are not giving up anything. The points difference between the top two in both championships is still very small, it will be an epic second half to this year, and we are ready for it."
McLaren F1 Team
Daniel Ricciardo (12th): "These races are fun for the fans because there's always chaos. Wet starts are never boring, and it's very tricky for us. I was halfway around Turn One, and I thought I'd escaped the mess. I could see one car in front, and thought 'I'm P2! This is amazing!', and just as I exited the corner, I saw Charles [Leclerc] come into me, but I'd suspected someone went into him, because he caught me really late in the corner. There were a few other drivers making mistakes into the first corner, and it cost a lot of us a race. Valtteri [Bottas] obviously cost Lando his race, and Lance [Stroll] cost me mine. So, there wasn't much more we could do after that, despite us trying. There were parts where I could hang on to the cars ahead, but with the car damage we had, and the difficulty overtaking here, it really just limited our race. In the end, the tires were gone, and it was just about trying to hang on for dear life, but I couldn't hang on to the points. I tried to hold on to Max, and to be honest I thought I did okay! I don't know how many laps I held him off, but once he was past, the race was done, which is a shame. It looked very promising, but now, when you look at the race, and the chaotic results, you realize you could've been up there, but unfortunately not. We were one of the many that just got unlucky today through no fault of our own. After a race like that we're all looking forward to the holidays, but we'll push on for a few more days of testing, and then I'm very much looking forward to taking a break, and just switching off, recharging the batteries, and coming back stronger in Belgium."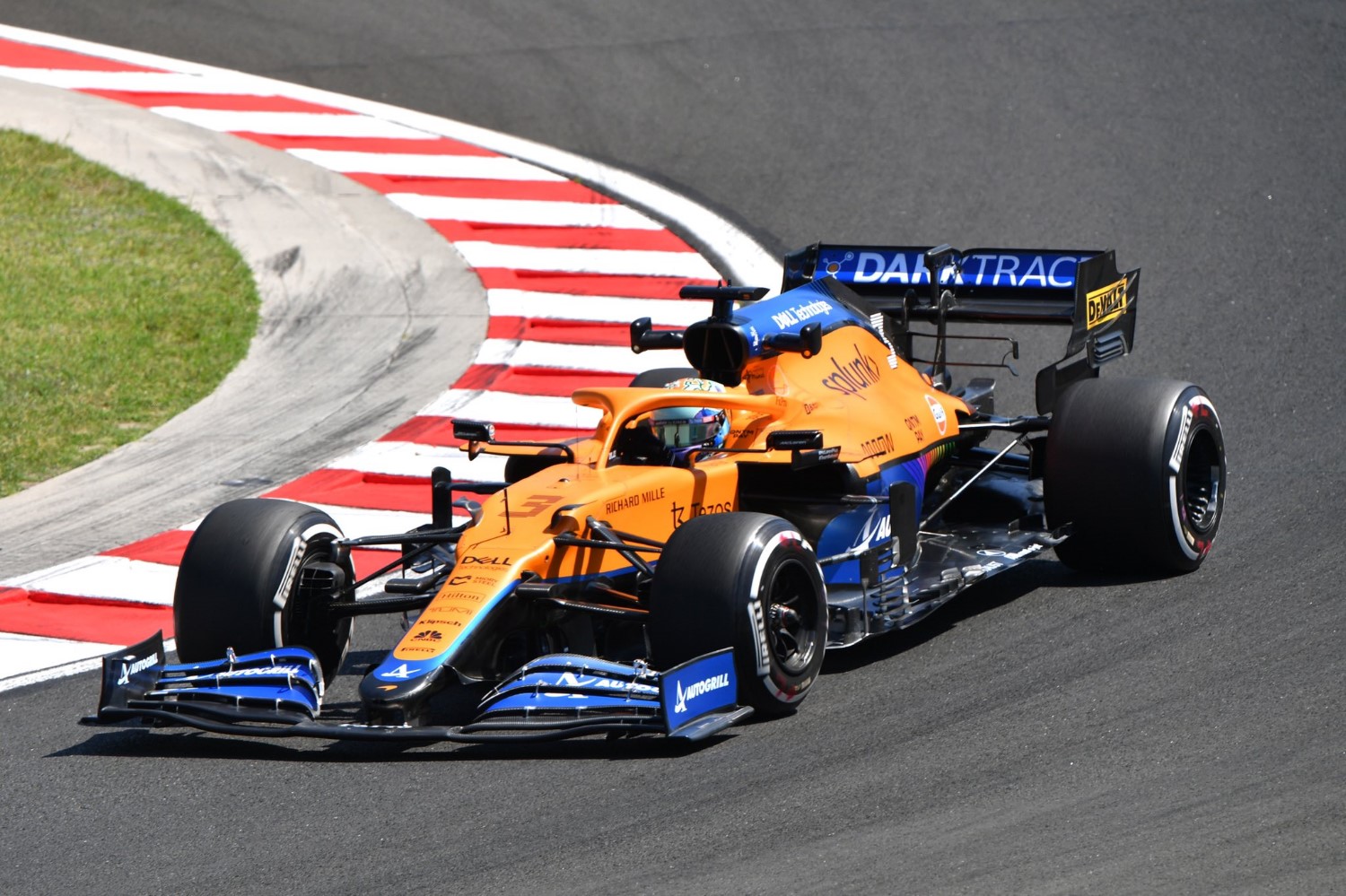 Lando Norris (DNF, Damage): "Not much to say, it was a short race! I only really made it to Turn One. Until then, it was extremely good – I was into third place, but then I got taken out, and was just a passenger. The boys did a great job trying to get the car fixed, and get me back out during the red flag, but it was impossible as there was just too much damage. It's a huge shame, but it wasn't our fault. We still had a good weekend, and everything was going well until then, so we can be satisfied with our performances, and look forward to the next one. I hope everyone can have a well-deserved rest now. The whole team here, and back at the factory has done an awesome job this season. We'll come back more energized, and ready to retake what we lost out on this weekend."
Andreas Seidl, Team Principal: "A day to forget for us. Unfortunately, both of our drivers, and cars were victims of incidents in Turn One after good race starts, which finished our day. We had to retire Lando's car straight away with extensive damage. Daniel's had heavy bodywork damage as well, but the team was still trying to fight for points, which wasn't possible with the loss of aero we'd suffered. Thanks to Lando, and Daniel, the entire team, and our colleagues from HPP for all the hard work everyone has put in here during this weekend, with very hot ambient temperatures. We will finish the first half of the season with P3 in both championships, which is a good platform from which we start the second half of the season. We'll stay in Hungary to complete a Pirelli test here on Tuesday, and Wednesday before the entire team goes into a well-deserved summer break for two weeks, to recharge batteries, and come back strong again for the second half of the season." Congratulations to Esteban, and Alpine for a great drive, and the win today."
Aston Martin Cognizant F1 Team
Sebastian Vettel (2nd): "Second place is a great result, and we can be proud of our performance, but when you are that close to victory, you always want more. At the start of the race, I could see the contact ahead of me, so I took the inside line, and found myself with the leading cars. From then on, I felt like I tried to take the lead for the entire 70 laps, but it is so difficult to overtake here. I think we were quicker for most of the race, but there was not enough of a difference to make an overtake because it was very hard to follow in the dirty air. I tried to pressure Esteban [Ocon] into a mistake, but he did not make a single one. Congratulations to Esteban, it is his day, and I am very happy for him. He deserved the victory. I will sleep well tonight knowing I gave it my all. We have a good fight on our hands in the midfield with Alpine, and AlphaTauri, so we will take the summer break to rest up, and come back ready to fight in Belgium."
Lance Stroll (DNF, Accident): "Congratulations to Seb, and the team for our second podium of the season, everyone in the team has been working so hard, and I am happy for them. On my side, it is really frustrating to have to retire so early in the race. Once the incident at the front of the field happened, I took the line to the inside to try, and avoid making contact, but I locked up under braking. As soon as that happened, I knew I would not make the corner because it was so slippery, and tricky out there. I did all I could to avoid contact, but, unfortunately, my race was over. We will take the break to regroup, and we want to come back stronger in Belgium."
Otmar Szafnauer, Chief Operating Officer: "Formula One is all about tiny increments, and it was a couple of tiny increments that cost Aston Martin Cognizant Formula One™ Team our first Grand Prix win today. Had our lap-36 pit-lane time-loss been just a fraction of a second less, Sebastian would have jumped [Esteban] Ocon, and would surely have held on to win. Having said that, second place is a great result for us, and Ocon drove mistake-free. Again, Lance was unlucky, for he made a truly sensational start, passing a lot of cars, including Sebastian, and, had he not been involved in a Turn One shunt, we may well have had two drivers on the podium today. However, faced with a tangle of cars in front of him, Lance was left with nowhere to go, and that was that., but his time will come, mark my words. Finally, I want to pay tribute to everyone who has worked so hard to make today's result possible, both here in Hungary, and back home in the UK. Next up is the summer break, then Spa!"
Alpine F1 Team
Esteban Ocon (1st): "Formula 1 Grand Prix winner, it's unbelievable, and it definitely has not sunk in yet. What a moment, allez les bleus! It was a crazy race from the very start to the end. There were a lot of decisions to make, and the team executed that really well along with the crew who did a mega pit-stop, which was crucial to staying in front of Sebastian [Vettel]. I was happy to manage the pace as best as possible at the front, and it all worked out well today. What a fight from Fernando too, his amazing teamwork at the end played a huge part in the win, and it was great to share the moment with him. I can't be thankful enough for the team's work, and support, and it's all paid off today. A big thanks as well to everyone at Enstone, and Viry – this is for you!"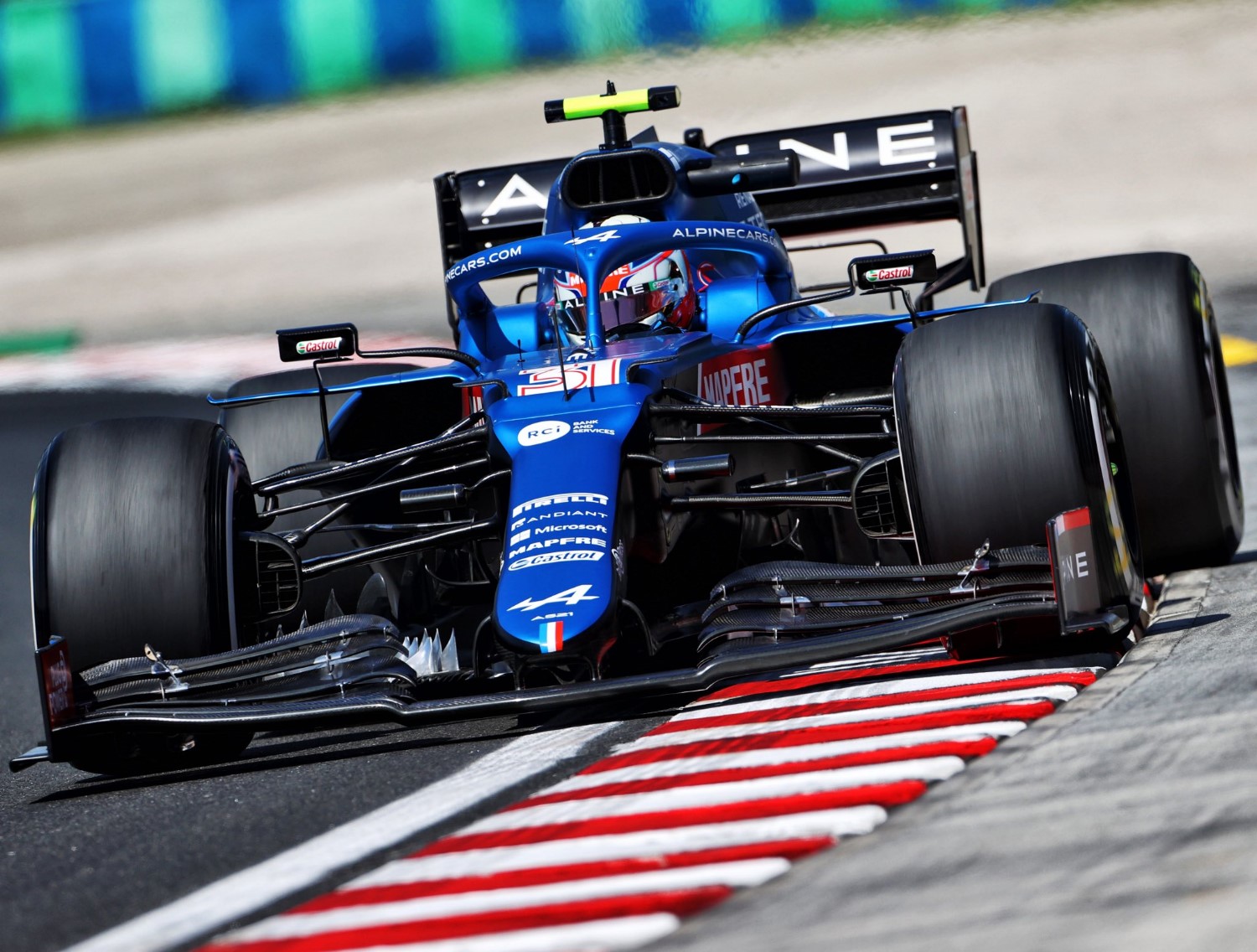 Fernando Alonso (5th): "It was a very long race, very tough, and we were fighting all the way through. The start was key – I was a bit unlucky, and lost some positions, but some were even unluckier than me. It compromised our race a little, however, top five is the best result of the year for me so far, but winning the race for the team is the best result ever. Now we have quite some history on this track! My first victory came here with Renault in 2003, now Esteban has won as Alpine in 2021. I am so happy for him, and for the guys. Sometimes we have been unlucky, but today was one of the lucky days, and we have to maximize these opportunities. We can execute races close to perfection if luck is with us. We've been up, and down, but we can now look forward to the future, and repeat the success of the past. These boosts motivate us, and we can go into the break with a smile on our faces."
Laurent Rossi, Chief Executive Officer, Alpine: "I am incredibly proud, and delighted with this result; for Esteban, for Alpine, for Renault Group, for Fernando, and for the teams across the UK, and France that have worked tirelessly to deliver the first victory for Alpine. Everyone has shown great resilience, dedication, and passion to get this result – it was great teamwork all round, especially for Fernando, and his incredible fighting spirit. We are humbled by standing on the podium amongst the giants of this amazingly competitive sport. It has been an incredible week; we started with the opening of our Alpine dealership in Hungary, marked Fernando's birthday, and now we finish with a double French victory! We can celebrate this now, and use as inspiration for further success as we carry on the Alpine journey well into the future."
Marcin Budkowski, Executive Director: "What an incredible result, the first win for Esteban, and for Alpine F1 Team. Esteban was unbelievable today, huge congratulations to him for his first Grand Prix victory. It was a stressful race, and it felt incredibly long. We put ourselves in a great position at the start, made the right calls during the race, the pit crew executed two perfect pit-stops, and then it was about holding all the way to the end. We knew Lewis [Hamilton] would be a threat in the last laps, but we must pay huge credit to Fernando for fighting hard to defend against him, as this helped a lot to protect Esteban's position. We've seen crazy races in the past, and it's about being there to capitalize on any opportunity, and today we did just that. I'm so proud of this Team today, not only here at the track, but also at Enstone, and Viry, this is the reward for their hard work over the last few years. Let's savor this win, it will give us the appetite for many more."
Scuderia Ferrari Mission Winnow
Carlos Sainz (4th): "What a crazy race. After starting P15 we actually had a good chance of a podium. Losing positions to Williams, and AlphaTauri after the first pit stop due to the traffic in the pit lane cost us dearly. We were in the hunt for the win at that point, but instead we lost any real chance of fighting for it. In the first stint on slicks, once I was in clean air, the pace was super strong, and I overcut Latifi, and Tsunoda. Unfortunately in the last few laps I couldn't do much to defend from Hamilton, as I was on very old Hard tires, having to look after the fuel, and also coming up behind the McLaren at the end of the main straight which made it impossible to defend that podium position. I feel for Charles today because he was taken out through no fault of his own, and I'm sure we could've scored more points with both cars. Overall, the first half of this first season with Ferrari has been positive. We still need to continue to understand the car in every type of corner, and condition, but I think we are definitely on the right path. We'll keep pushing, and come back recharged after the summer break."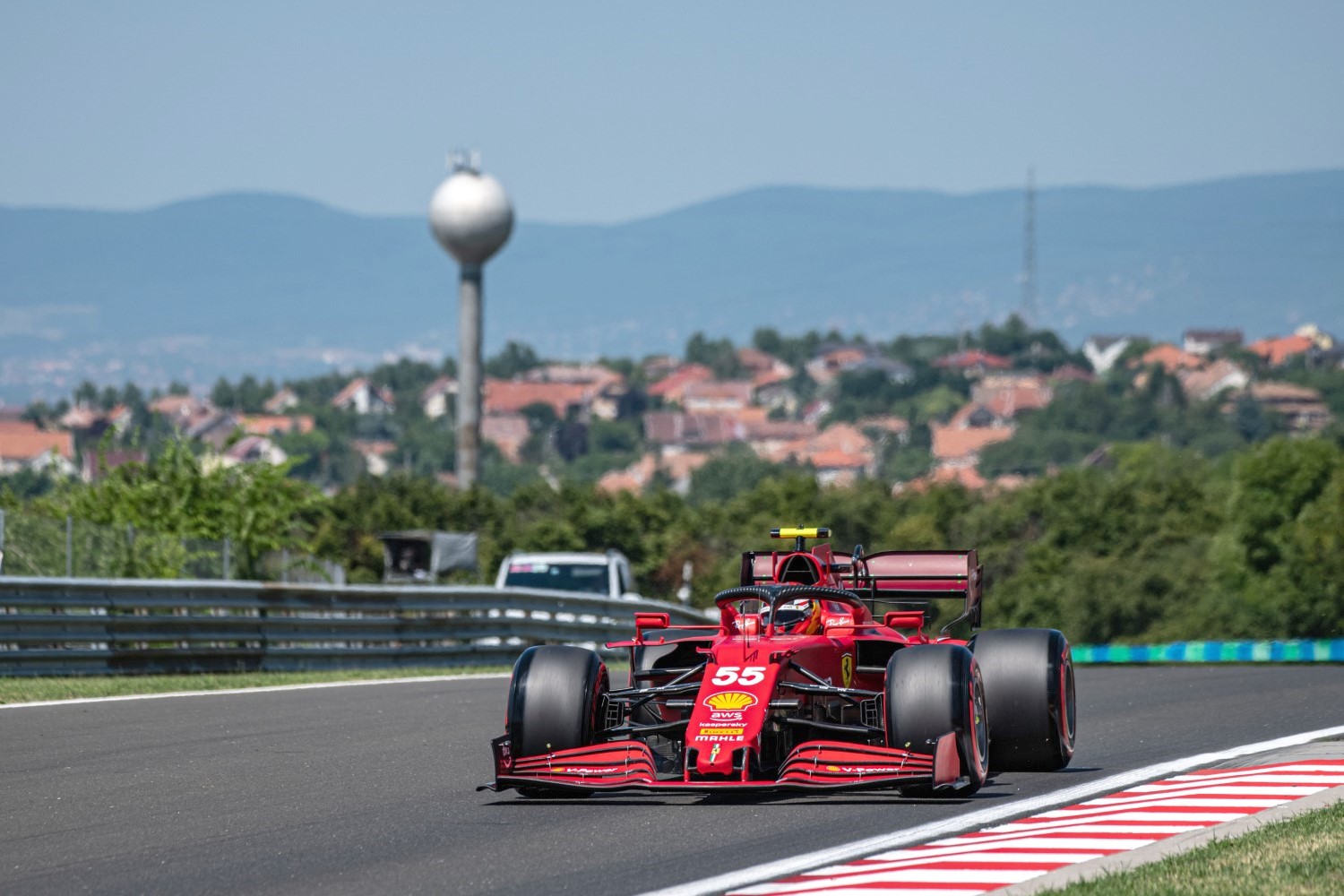 Charles Leclerc (DNF, Accident): "A hugely frustrating Sunday for me. I had a strong start, and was in a good position, fighting for second or third. I knew that I had an opportunity today, so I took it easy, and moved with caution. I was taking the first corner, and no way was I expecting anyone to make that kind of move on me. Getting caught out like this is just a shame. The damage was so big that once I arrived at the braking point for the next corner, I spun straight away. Not the way we wanted to head into the summer break, but that's how it is."
Mattia Binotto, Team Principal: "We were in with the chance of a great result given that the rain before the start created an opportunity to fight for a top place finish. However, even though Charles adopted the right cautious approach to the initial moments after the start in the wet, and had managed to move further up the order, he was hit from behind by a driver who had tackled the corner in a less than prudent manner, to say the least. It was a real shame because I think Charles could have done really well today. Carlos drove a great first part of the opening lap to go from 15th to fourth. At the restart, he came in immediately for slicks, and, after a pit stop in under two seconds, we released him back into the pit lane, observing the safety requirements taking into consideration all the traffic at that time. In front of our place in the pits, others seemed to have no such qualms, and so we lost several places, which probably cost Carlos the chance to fight with the two drivers who finished first, and second. As far as the race went from then on, fourth is a fair reflection of our race performance. A very intense first half of the championship has now come to an end, during which the team reacted well after a very difficult season last year. We have a couple of young, very strong drivers who are making progress, as are we. Now we can take a short break to pause for breath, and recharge the batteries, before tackling the second part of the year with renewed energy. Finally, I want to congratulate all the Italian athletes taking part in the Olympic Games in Tokyo, especially Marcell Jacobs, and Gianmarco Tamberi who have left an indelible mark on Italian sport, taking the gold medals in the 100 meters, and the high jump respectively."
Scuderia AlphaTauri Honda
Pierre Gasly (6th): "To be honest, I don't really know what to think. We started P5, which is probably the best position we can hope for, but then I was almost taken out in the first corner incident, and had to make my way back through the field to finish in P6. It's good obviously to be finishing where we did, with everything that happened in the race, but I think it definitely could've been better. We were best of the rest in Quali, and I was happy with the car, so there's lots of positives to takeaway from this weekend, but obviously we've lost a lot of points in the Championship which is disappointing. However, I think we've come away with the best possible outcome given today's circumstances. A big congrats to Esteban for the win – I think they did the right think with the strategy, and he deserves it."
Yuki Tsunoda (7th): "After the first lap I managed to jump up to P5, which I was really pleased with. I've really struggled with the car the whole weekend, but the pace was ok during the race, and I managed to bring home some good points for the team today. For me, this has been a really difficult weekend, up until the race, so I need to go away, reset over the summer break, and look at what I need to work on ahead of Spa, so I can continue to consistently score points in the second half of the season."
Alfa Romeo Racing ORLEN
Kimi Raikkonen (11th): "The start of the race was a bit what you would expect in these conditions, with a hectic first lap, and lots of things happening. We looked quite ok until the penalty, which pretty much compromised our race: there was an issue with the traffic light release system, and we ended up colliding with Mazepin. Up until the penalty, we were deep in the points, but making it back from the bottom was just too much."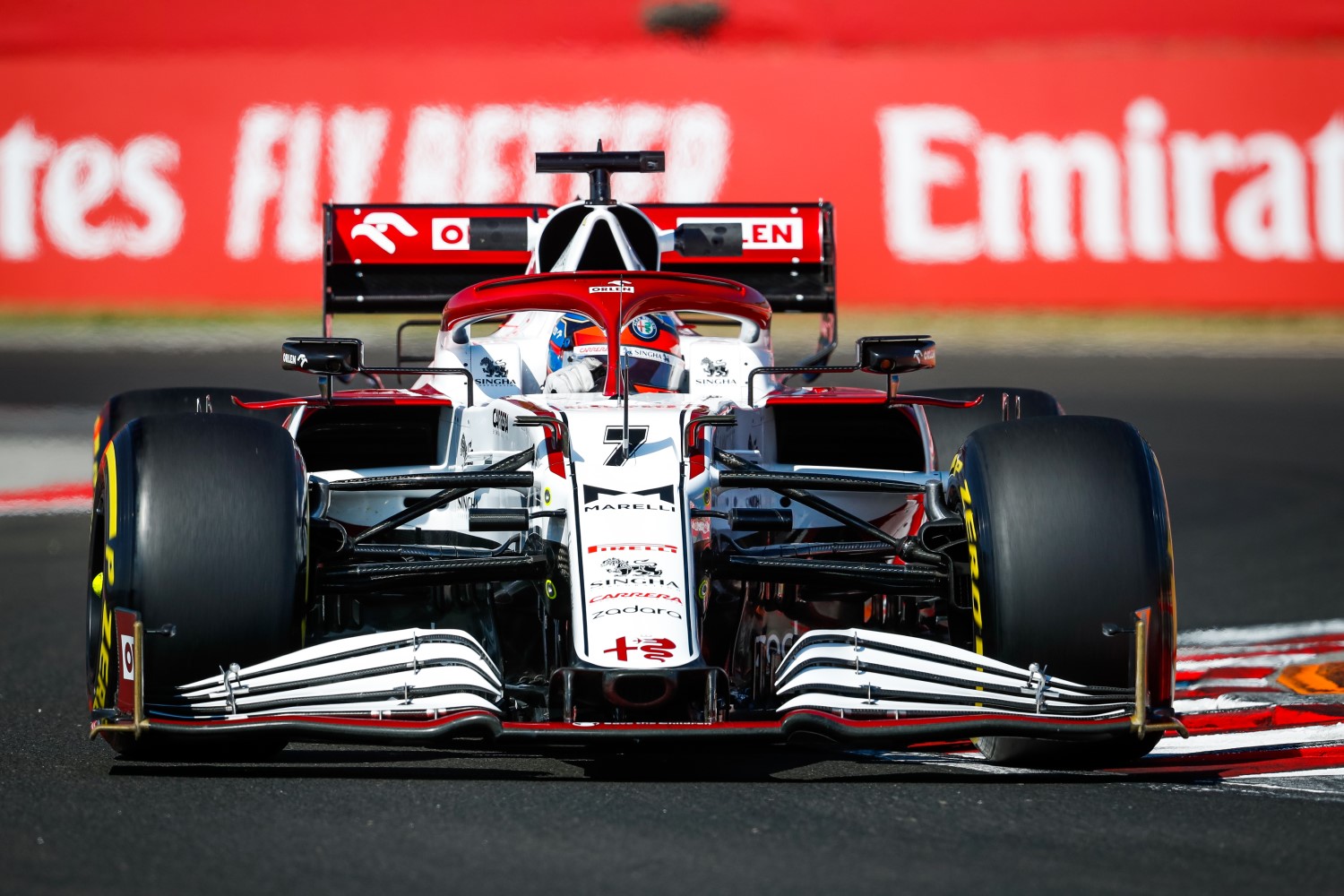 Antonio Giovinazzi (14th): "It just wasn't our day. It was a race where we had the chance to bring home a good result, and we didn't, but it is what it is. With the penalty after the restart, our race was pretty much compromised: it's hard to say how much pace we really had as I spent a lot of time in traffic, but when in clean air we were pretty good so it's disappointing not to finish in the points. Let's focus on recharging our batteries in this break, and then come back stronger in Spa. There are still many races to come after the holidays, and we will not give up."
Frederic Vasseur, Team Principal: "It ended up being a very tough weekend for the team, after a promising start. We came into the race after a good Saturday in which we delivered the best overall qualifying performance of the season, but the opening stages were chaos. We got blocked in turn one, trying to avoid the start incidents, and we had to recover from the back of the field on a track where overtaking is very hard. Unfortunately, a collision with Mazepin, and a speeding in the pitlane offense meant that both Kimi, and Antonio received penalties, and we weren't able to turn this chance into points at the end. It's a shame as it was an opportunity to score big points:, but we keep working hard, knowing we will have more opportunities in the second part of the season."
Haas F1 Team
Mick Schumacher (13th): "Finishing in front of an Alfa is something that we weren't anticipating, and starting from last, and finishing P13 is quite a decent result for us. We were keen on having a point, but frankly we don't have the car at the moment to do so, but nonetheless this was great experience as I've been able to battle with the top guys, and the championship leader. For me personally, from a growth point of view, it was very good. We always knew it was going to be tough, but today was a very nice day, and after having a disappointing day yesterday, we came back on a high. Ending this first half of the season on a high is very positive for everybody – the team, and myself -, and being able to battle with the top guys brought me so much experience, and knowing that I can throw out my elbows, I'm glad I got that opportunity."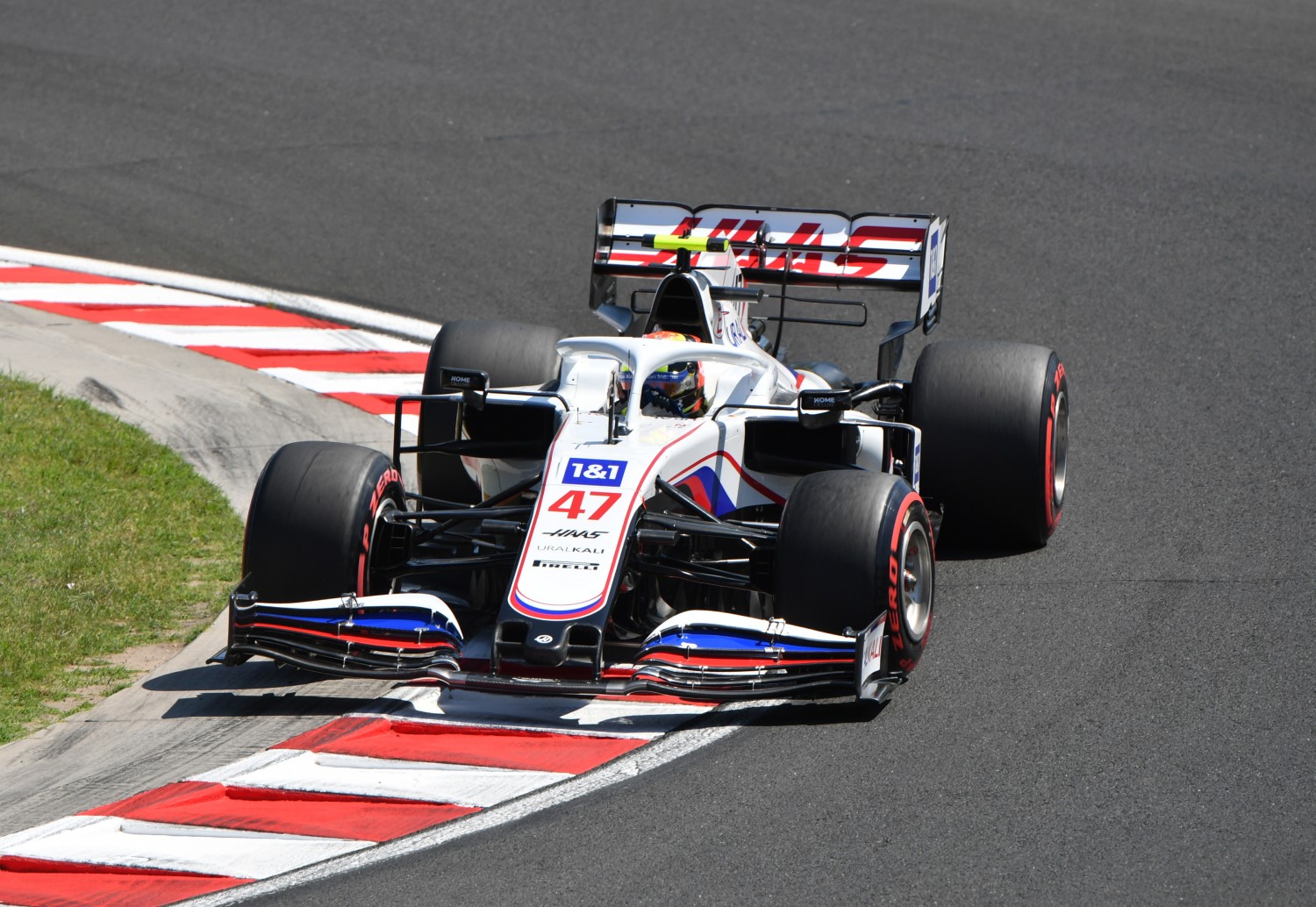 Nikita Mazepin (DNF, Damage): "That's one race I really wanted to be in. Not only for me, but this race offers lots of opportunities, and my team really needs those opportunities. I saw the carnage in T1, and thought this is our day, and then I drove over debris, and the team informed me I had a left-front puncture, I boxed, and lost my track position, and then boxed again, and you saw what happened. That's seriously not the way I wanted to go into the summer break because you want to give it your all, and at least leave this weekend tired, with a sore body, and sore neck. It's a lack of laps, and a lack of result, it's very annoying. I'm sure this is just one of those day that is just rewarded later on."
Guenther Steiner, Team Principal: "A tough day for us today. It started promising, with all the mayhem that happened, we always had some hope. We were taken out for no reason by an Alfa Romeo which Nikita couldn't do anything about – he just got taken out in a bad way. The good thing was to see Mick fighting for whatever was there, and holding Giovinazzi behind, that was pretty good. For sure, it's a good lesson for him next year to fight with somebody – even if the car is faster – he kept him behind. It was still frustrating because other people scored points, and we didn't, and at some stage it looked like we would as well."
Williams Racing
Nicholas Latifi (8th): "It is an amazing result for the team, and I am so happy for us. The team has been knocking on the door of points for a few races now, so to get both cars in the points, and to move up to P8 in the championship is amazing. The race from my side was very tough to manage, obviously the start in the first corner was what sealed it for me. We struggled in qualifying yesterday, so to come away with a result like this is better than anything we could have hoped for. Overall, it is a really nice way to head into the summer break."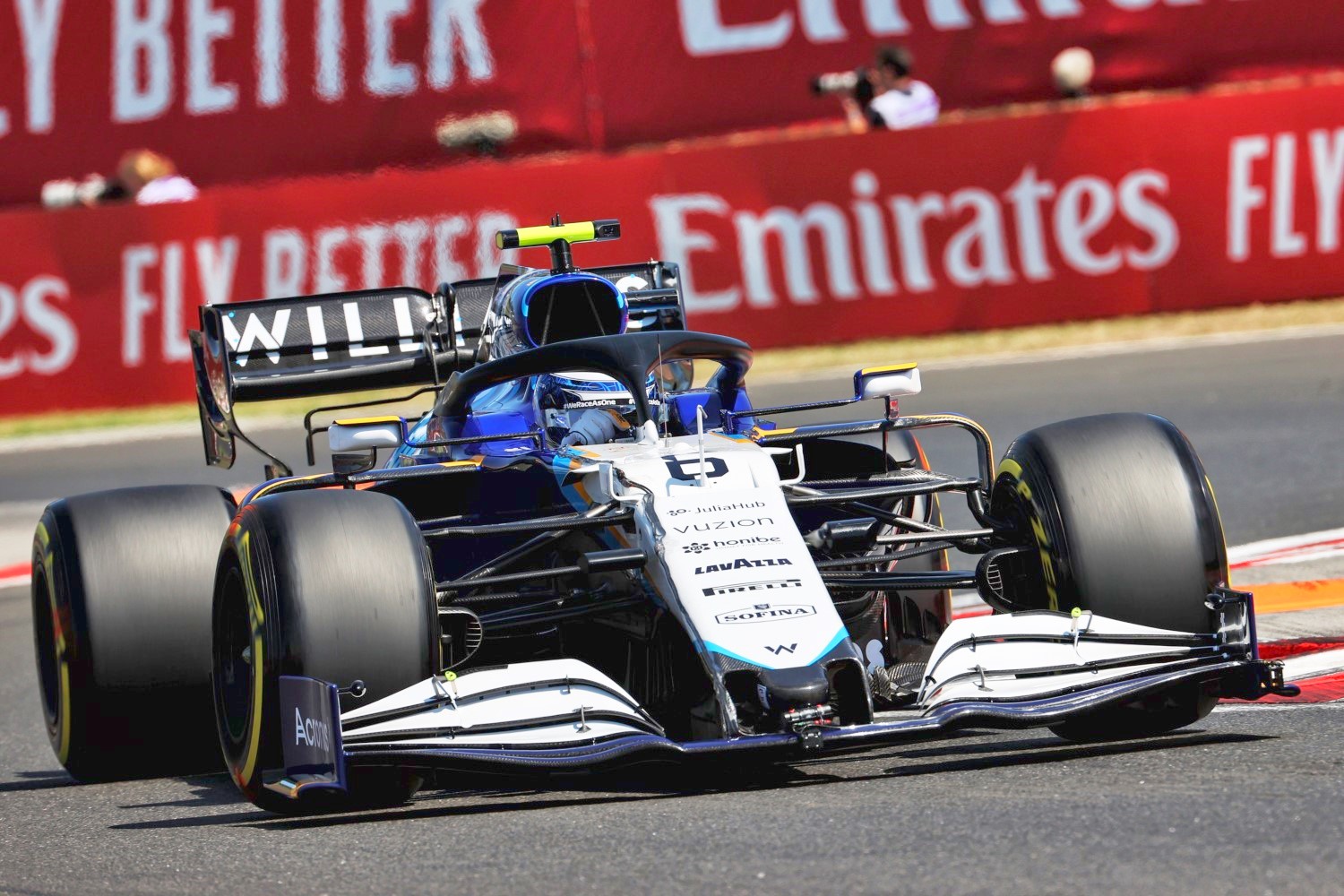 George Russell (9th): "I'm so happy for everyone, and I'm a bit lost for words. It was an incredible race. My final stint was probably the best of my whole career as I was fighting like crazy, fending off Daniel Ricciardo, and Max Verstappen. I'm just so pleased for everyone because it's been a big slog over the last two-and-a-half years for me, and three-and-a-half years for the team, so these points are really deserved. Really well done to Nicholas too, he made an amazing start, and drove a really great race. Finishing eighth, and ninth, we couldn't really have done much more today."
Dave Robson, Senior Race Engineer: "Today, a small amount of rain caused a big swing in fortunes for the field. We obviously benefited, not least from the crashes at the initial race start. However, the Team made the most of the situation, and made good decisions throughout the race. Both drivers managed their pace, their cars, and their tires expertly, and both were calm, and confident throughout. Although we ultimately lost some places to faster cars, we are nonetheless very happy with the result. Finishing on the lead lap, and in relatively dry conditions meant that we had to work hard to manage the fuel, but this was done well, and in conjunction with the tire management. Whilst we were a bit fortunate today, the result is due to a huge amount of work at the track, and the factory, and the ability to put into practise everything that we have learned as a Team over the last few seasons. We can now begin our preparations for Belgium before taking some time off. When we return, we will attack the second part of the season with renewed confidence."
Race Results
| | | | | |
| --- | --- | --- | --- | --- |
| POS | DRIVER | NAT. | TEAM | BEHIND |
| 1 | Esteban Ocon | FRA | Alpine F1 Team | +0.000s |
| 2 | Sebastian Vettel | GER | Aston Martin Cognizant Team | +1.859s |
| 3 | Lewis Hamilton | GBR | Mercedes AMG Petronas Team | +2.736s |
| 4 | Carlos Sainz Jr. | ESP | Scuderia Ferrari Mission Winnow | +15.018s |
| 5 | Fernando Alonso | ESP | Alpine F1 Team | +15.651s |
| 6 | Pierre Gasly | FRA | Scuderia AlphaTauri Honda | +63.614s |
| 7 | Yuki Tsunoda | JPN | Scuderia AlphaTauri Honda | +75.803s |
| 8 | Nicholas Latifi | CAN | Williams Racing | +77.910s |
| 9 | George Russell | GBR | Williams Racing | +79.094s |
| 10 | Max Verstappen | NED | Red Bull Racing | +80.244s |
| 11 | Kimi Raikkonen | FIN | Alfa Romeo Racing Orlen | +1 Lap |
| 12 | Daniel Ricciardo | AUS | McLaren F1 Team | +1 Lap |
| 13 | Mick Schumacher | GER | Uralkali Haas F1 Team | +1 Lap |
| 14 | Antonio Giovinazzi | ITA | Alfa Romeo Racing Orlen | +1 Lap |
| DNF | Charles Leclerc | MON | Scuderia Ferrari Mission Winnow | DNF |
| DNF | Valtteri Bottas | FIN | Mercedes AMG Petronas Team | DNF |
| DNF | Lando Norris | GBR | McLaren F1 Team | DNF |
| DNF | Lance Stroll | CAN | Aston Martin Cognizant Team | DNF |
| DNF | Sergio Perez | MEX | Red Bull Racing | DNF |
| DNF | Nikita Mazepin | RUS | Uralkali Haas F1 Team | DNF |