NHRA: Pruett, Capps, Stanfield and Smith win in Pomona
Top Fuel – Leah Pruett completes comeback with first 2021 Top Fuel win at home track
Leah Pruett, who began her racing career in Jr. Dragsters at Auto Club Raceway at Pomona, scored her first win of the season and her second at the fabled Lucas Oil NHRA Winternationals after opponent Justin Ashley was unable to run the final round due to heat-related issues.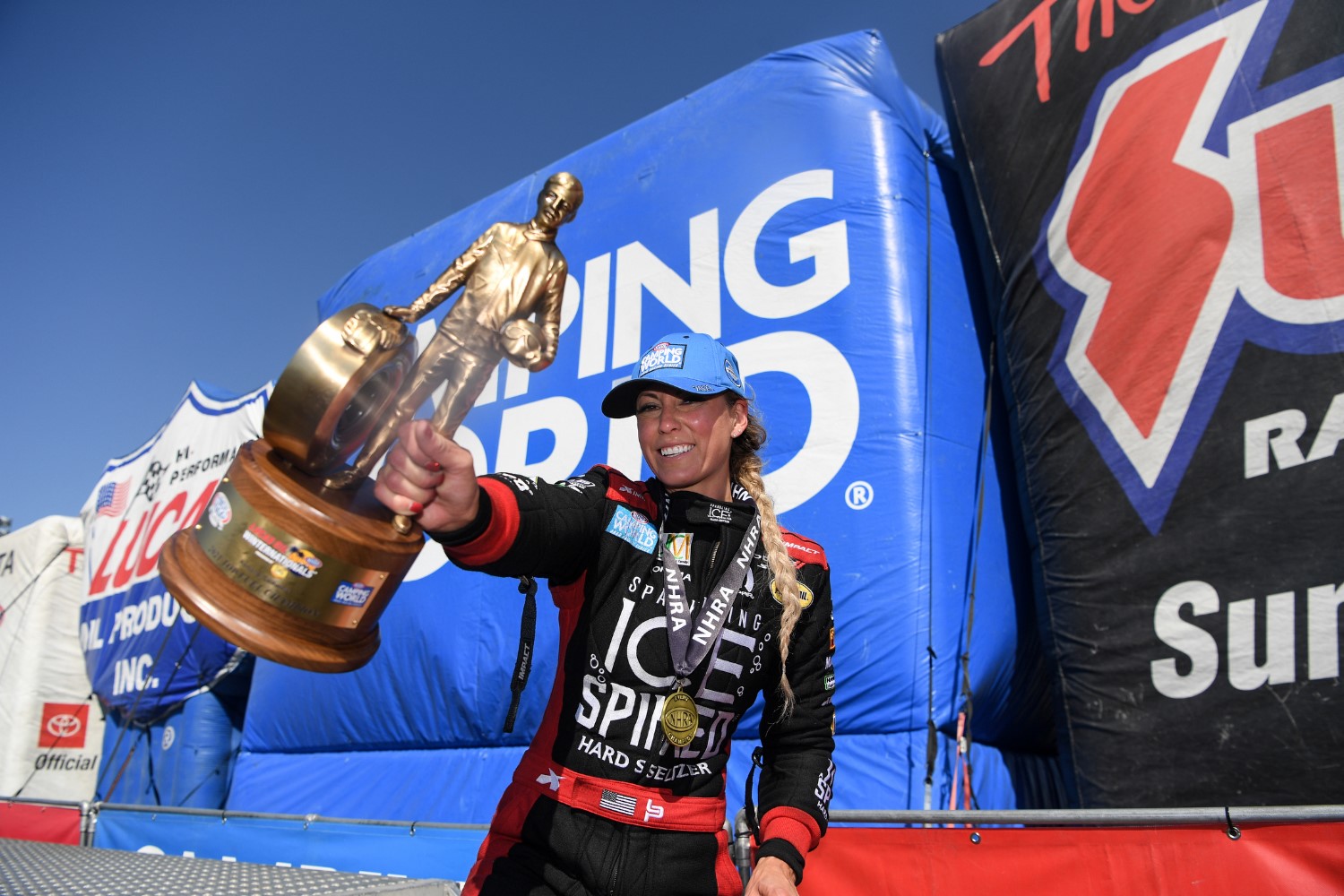 "I first want to say that I hope Justin is doing well because we know how big of a competitor that he is, and for anybody to get out of the car, and a final round at an event like this shows that he was being smart for what is best for him,' said Pruett. "And I think it also shows how much to a degree of athletes that we are and how important it is to take care of our bodies in our mind and everything of that sort.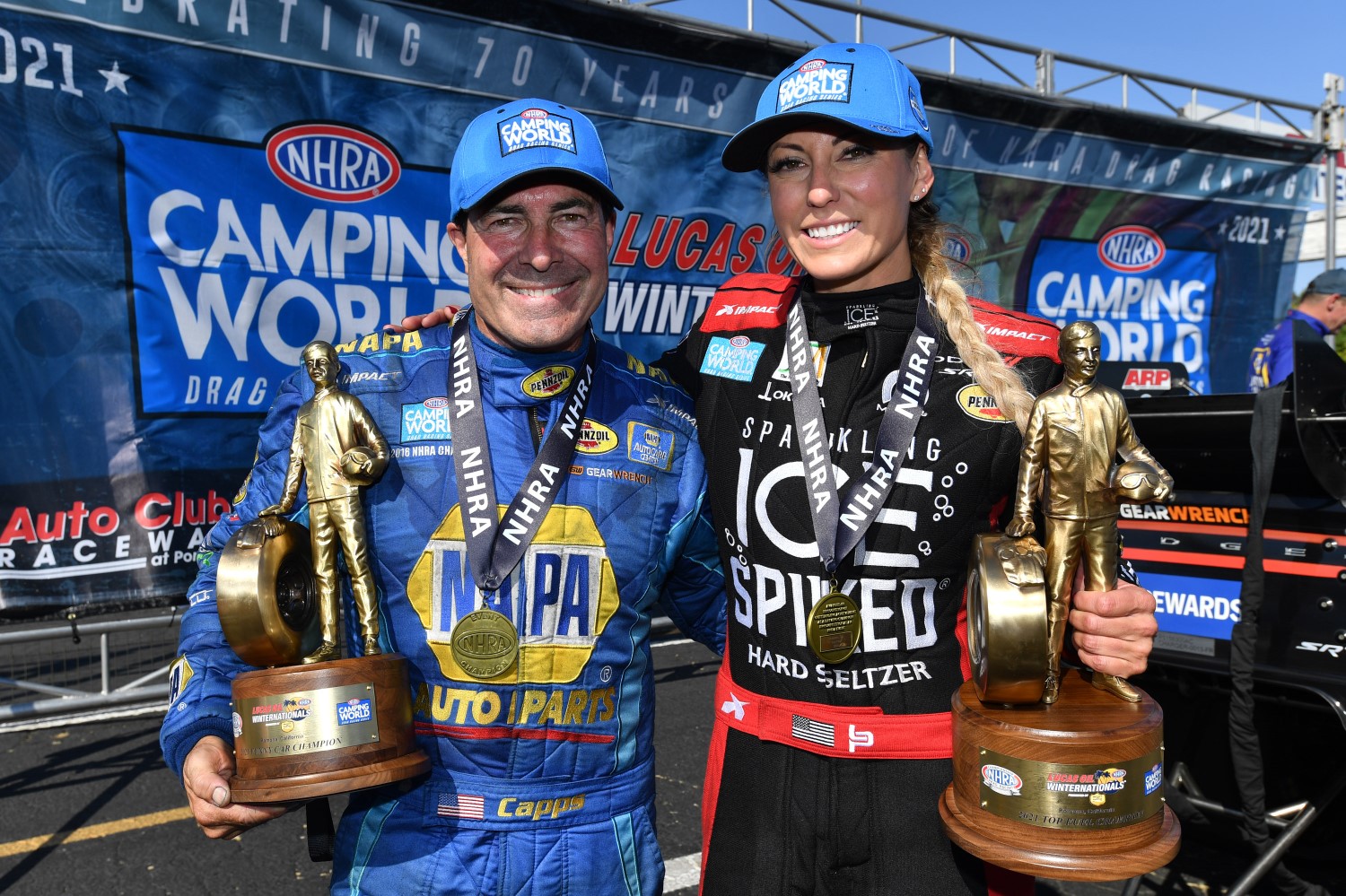 "I don't think I've seen as any win lights in my life as I've seen here on this racetrack from the Jr. days to the number of times that we've won in the years previous, but the most impressive part for me today was how our team has continued to persist and persevere and grow into the success region that we have right now."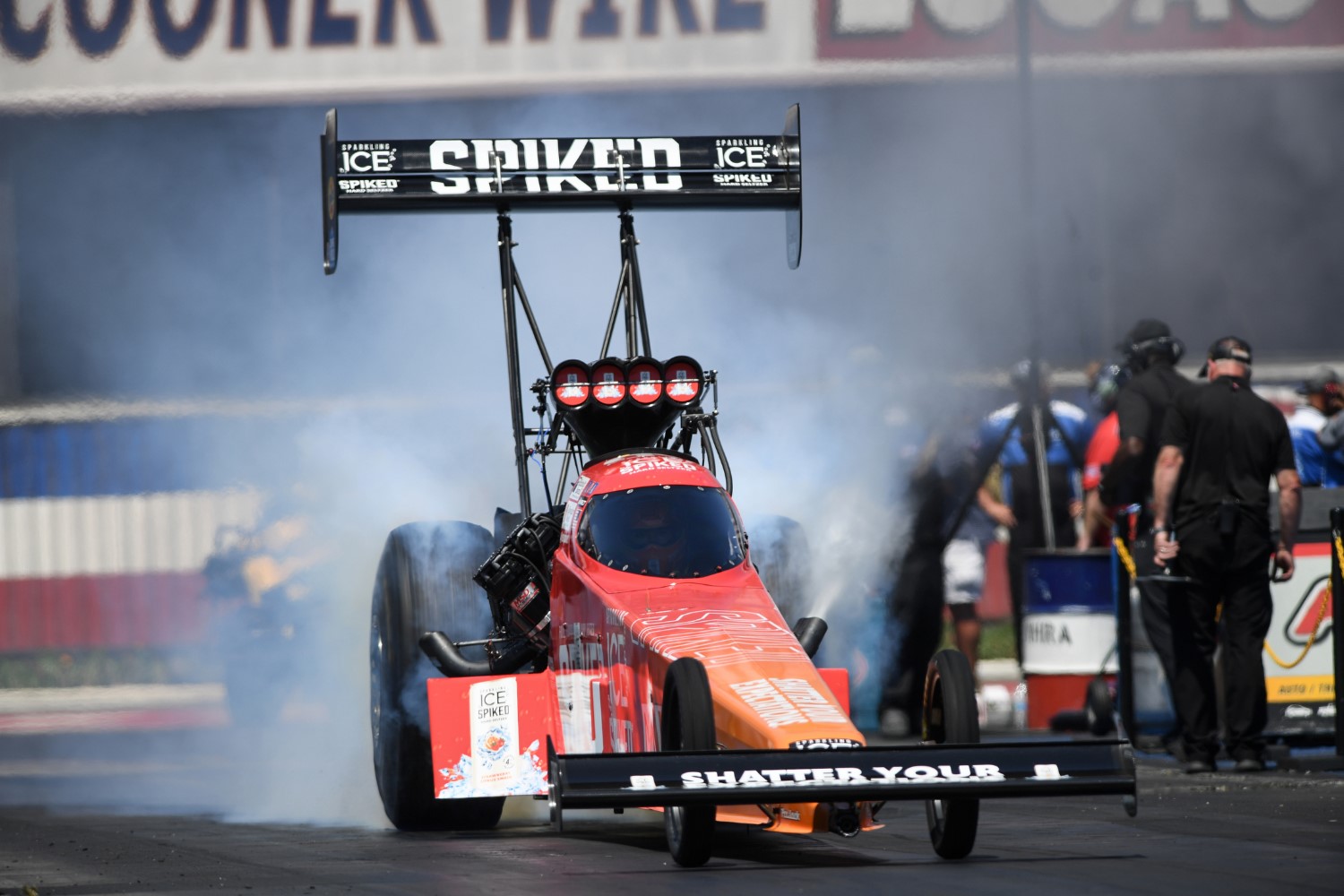 Consistent Ron Capps nabs fourth Winternats Funny Car crown, points lead
Ron Capps won the Lucas Oil Winternationals for the fourth time with an amazingly consistent NAPA Auto Parts Dodge, capping the win, the 67th of his career, with his third straight 4.15-second pass to defeat J.R. Todd.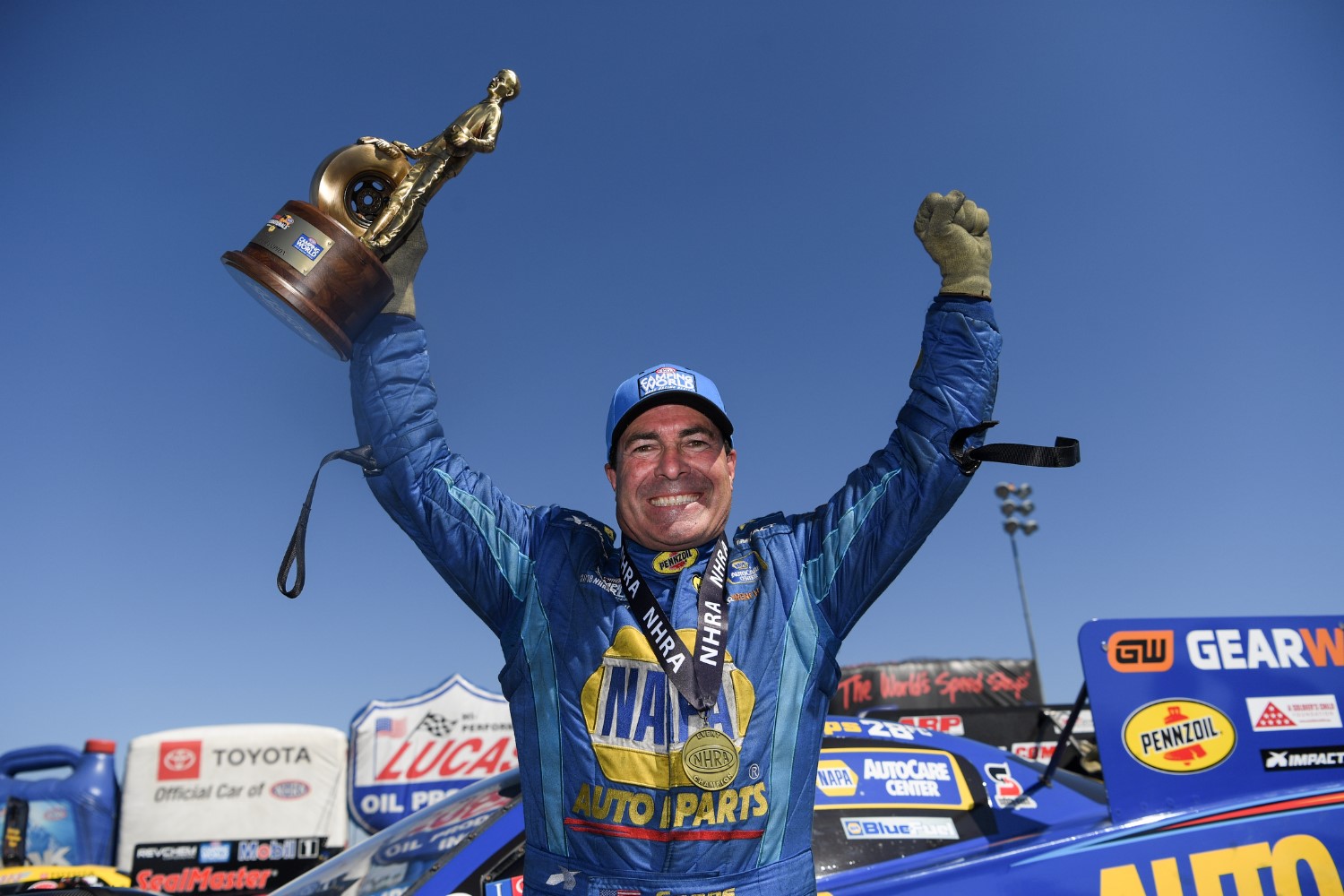 "That was probably the most extreme conditions I've driven a Funny Car in, and probably the funnest car to drive," said Capps, who took over the points lead with his win. "Every run we would go up there and everybody is tearing their hair out trying to get down the track, and we had weird stuff. But it wasn't weird stuff. It was things happening cylinders going out at certain spots, that [crew chief Dean Antonelli] was just leaving it alone because it was running like a bracket car. We were quietly going about ourselves every run and he said, 'I could fix it. We can go a little quicker,' and I said, 'I don't know. Just keep doing what you're doing.'
"You can't really put a price on winning Pomona on a COVID race in July Winternationals. I mean, it doesn't get any more special. So when you know when I go home it's gonna be like planted right in the middle of my trophies. It's just a pretty special trophy."
The final round was a rematch of last year's U.S. Nationals battle between the two former world champions, where Capps also prevailed.
The win was the fourth at the Winternationals for Capps but his first with new crew chiefs Dean Antonelli and John Medlen. The team had been the No. 1 qualifier at two of the previous three events and added his 29th career No. 1 qualifying berth here, which earned a first-round bye as a result. He then defeated points leader Bob Tasca III in the second round and 16-time champ John Force in the semifinals with a pair of 4.15s on a tricky, 140-degree racetrack.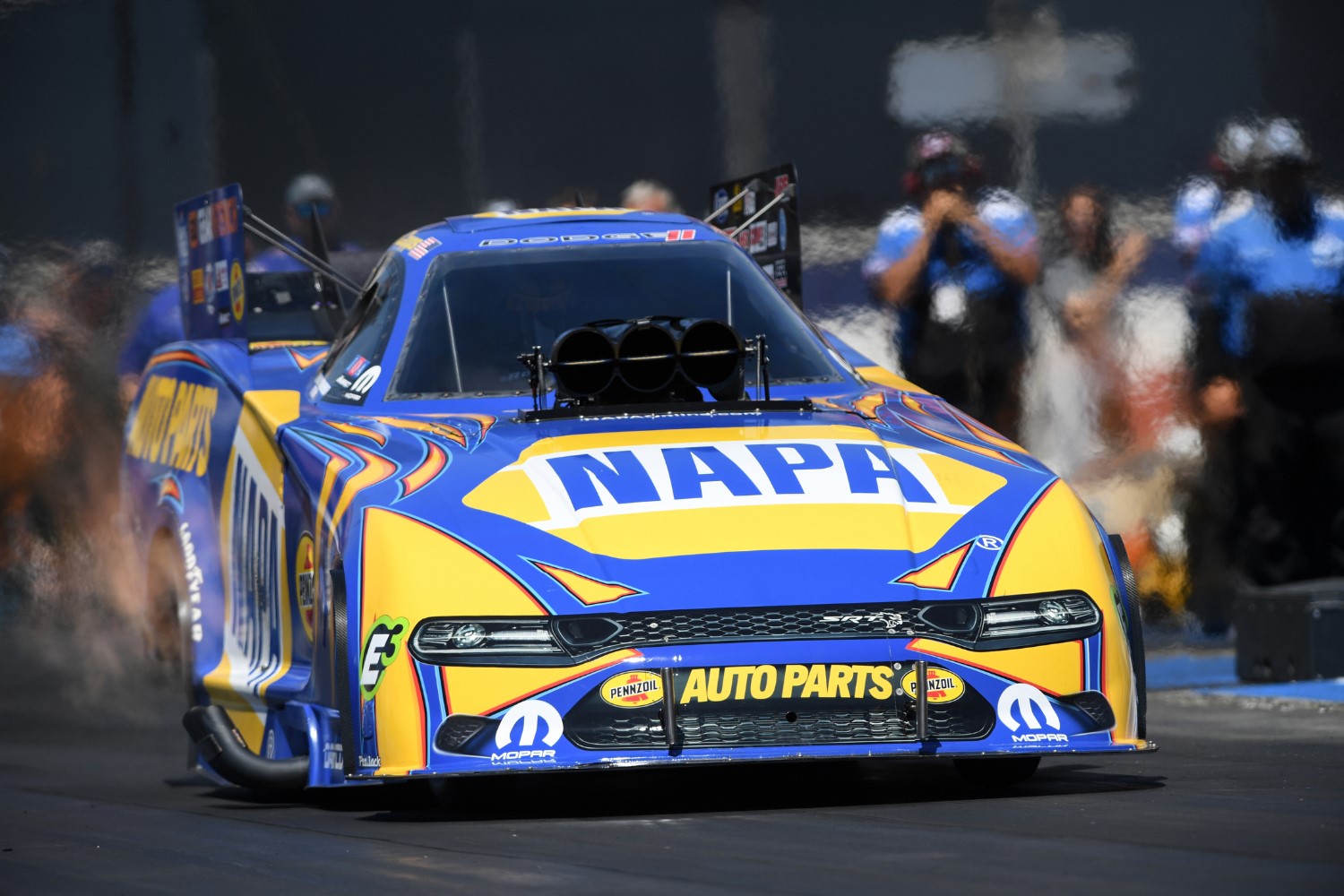 Aaron Stanfield denies Greg Anderson history with second straight Pro Stock win
Aaron Stanfield won for the second straight event in Pro Stock and again denied Greg Anderson the chance to tie class icon Warren Johnson's 97-win total with his victory at the Lucas Oil NHRA Winternationals presented by ProtectTheHarvest.com. Stanfield, who denied Anderson career win No. 97 not long ago in Norwalk, did it again in Pomona on a 6.65 to 6.66 final-round count.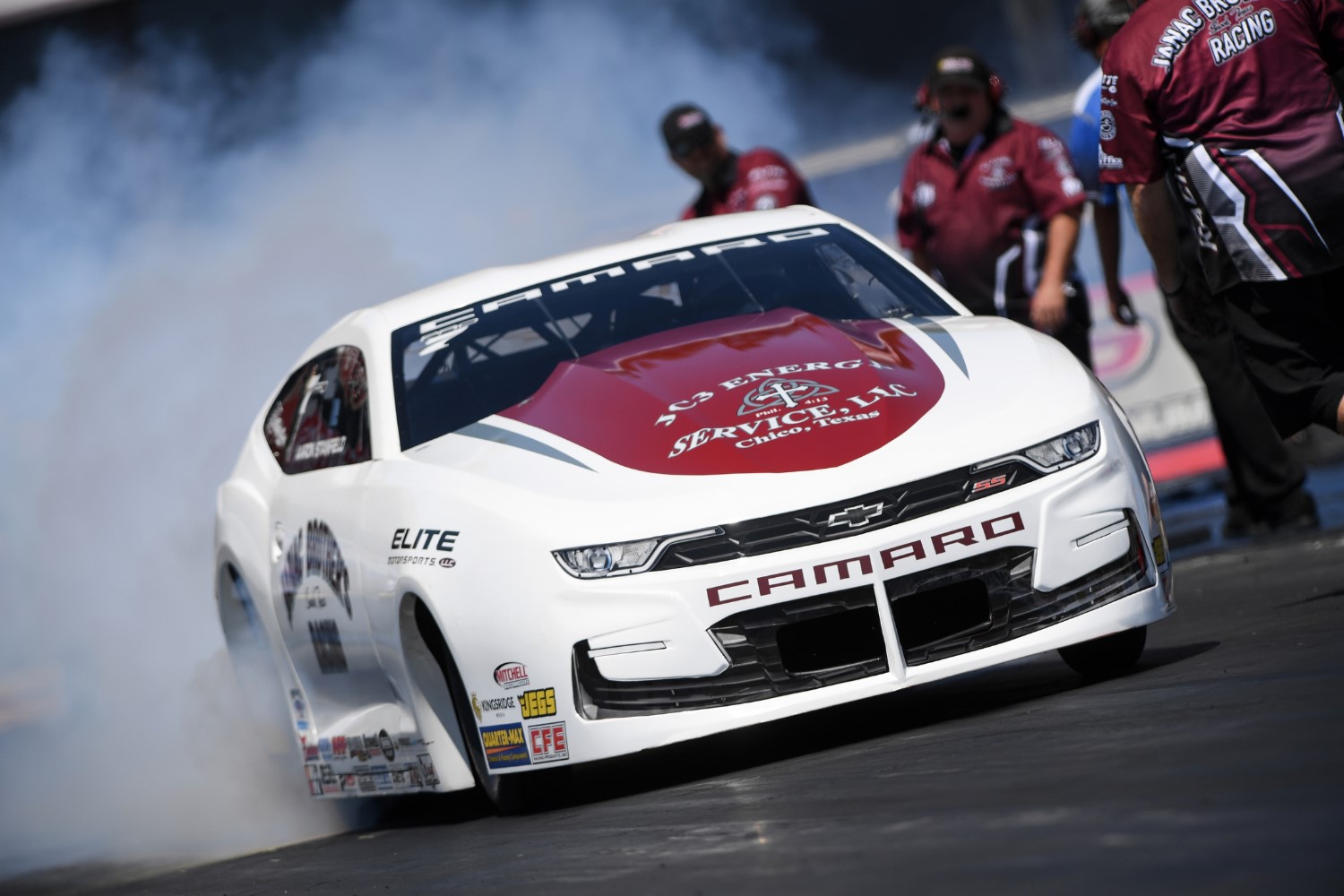 "Our job is definitely to keep him away from [the 97th win] as long as possible," said Stanfield. "I would imagine eventually one day he's gonna get it but we want to make it as hard as possible. The KB [Racing]/Elite rival rivalry it's great. They're both very competitive teams and it's just it's cool to cool to be in the middle of it and have a chance to win, so we're I'm very grateful for the opportunities I've been given.
"It was a tricky race, a tricky race track today. The crew chiefs had their work cut out. And right before that final round they really made a lot of changes. And, obviously, it seemed to work out really well."
Stanfield's win in the Janac Brothers Camaro was his fourth in Pro Stock and third this season after earlier scores in Epping and last weekend in Sonoma. Stanfield also owns 11 wins in NHRA's Sportsman classes.
Matt Smith dominates again to become first Winternationals PSM champion
Matt Smith continued his domination of the Pro Stock Motorcycle class with his fourth win of the season, shutting down Angelle Sampey in the final round to become the first Pro Stock Motorcycle winner in Winternationals history.
Smith, a four-time champ, powered his Denso Buell to a 6.82 at 199 mph to defeat three-time titlist Sampey, whose Vance & Hines Suzuki slowed from its torrid 6.8-second pre-final pace to a 6.91 at just 173 mph.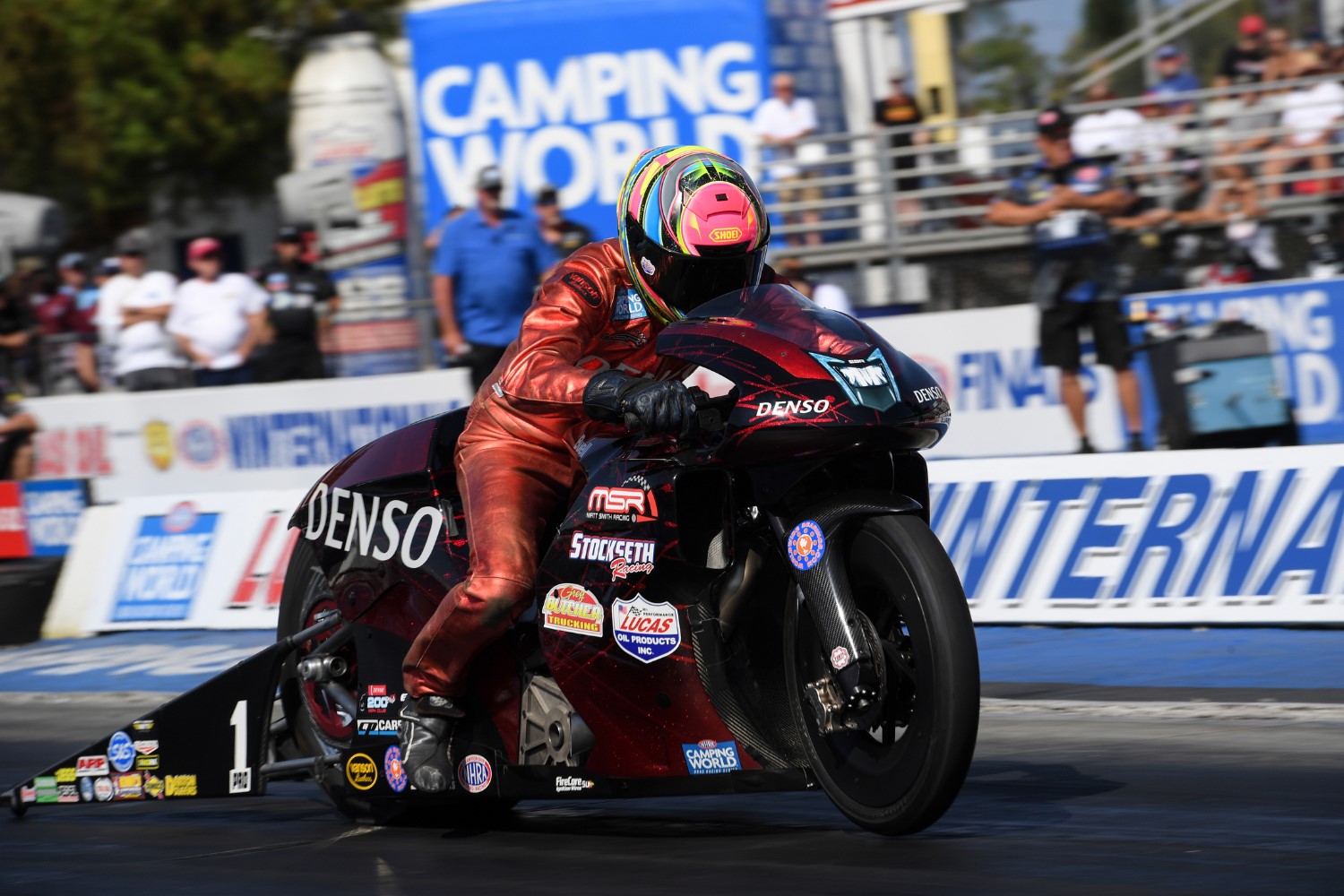 "It was so hot today, and that was the biggest thing, just fighting the track," said Smith. "Being the crew chief is hard enough but being a driver and crew chief and the owner it, makes it really hard but we got it done.
"{being the first to win the Winternationals] is awesome. Our team is always excited to win when we go somewhere new and every time we seem to get a new venue our team excels and does good and we've won here [in Pomona] before but never for the Winternationals title and it's interesting because I thought the Winternationals was much cooler than this."