IndyCar: Herta tops opening practice for Music City GP
Andretti Autosport's fastest driver, Colton Herta, turned a lap of 1m16.5875s in the No. 26 Gainbridge Honda around the 11-turn, 2.17-mile temporary street circuit to top opening IndyCar practice for the Music City GP on the washboard streets of Nashville.
"We're just getting to grips with the track," Herta said. "Obviously, we came here with a really good package. We were fast right away, and I felt very comfortable getting up to speed.
"It's a little nerve-wracking, the first time you have to go flat over the bridge with the bumps because the last thing you want to do is for the car to bottom and you send it into the wall on a straight; you kind of look stupid with that. The simulations we did beforehand were on point for what we expected, and it made my job a lot easier."
A red flag ended the session 4 minutes early when Conor Daly crashed in turn 9 coming off the bridge straight.
Scott Dixon was 2nd fastest 0.3778s behind Herta in his #9 Ganassi Honda.
Romain Grosjean was 3rd fastest while Herta's Andretti teammate Alexander Rossi was 4th quick 0.5867s back. Rossi tried to catch Herta but ran out of talent in Turn 9 and went down the escape road.
Marcus Ericsson rounded out the top-5 in his Ganassi Honda ahead of his teammate Alex Palou giving Honda powered cars the top-6 fastest laps.
The 27-car field – the biggest outside of the Indianapolis 500 in the series since 2013 – took its time getting up to speed on the fascinating new circuit, which includes sweeping corners around the paddock complex, two long straights over the Cumberland River and a tight section in downtown Nashville. But two drivers still had unplanned meetings with concrete retaining walls or tire barriers.
The other driver to crash was Pato O'Ward who hit the Turn 4 wall.

Afterward O'Ward said, "What a cool track. It is very physical and unlike any other place we go to, specifically the braking zones. Our car felt fine until I made a mistake going into Turn 3 and hit the inside wall, sending me into the outside wall in Turn 3. We didn't get much running in today but tomorrow we will. We will be ready for qualifying, I'm not worried."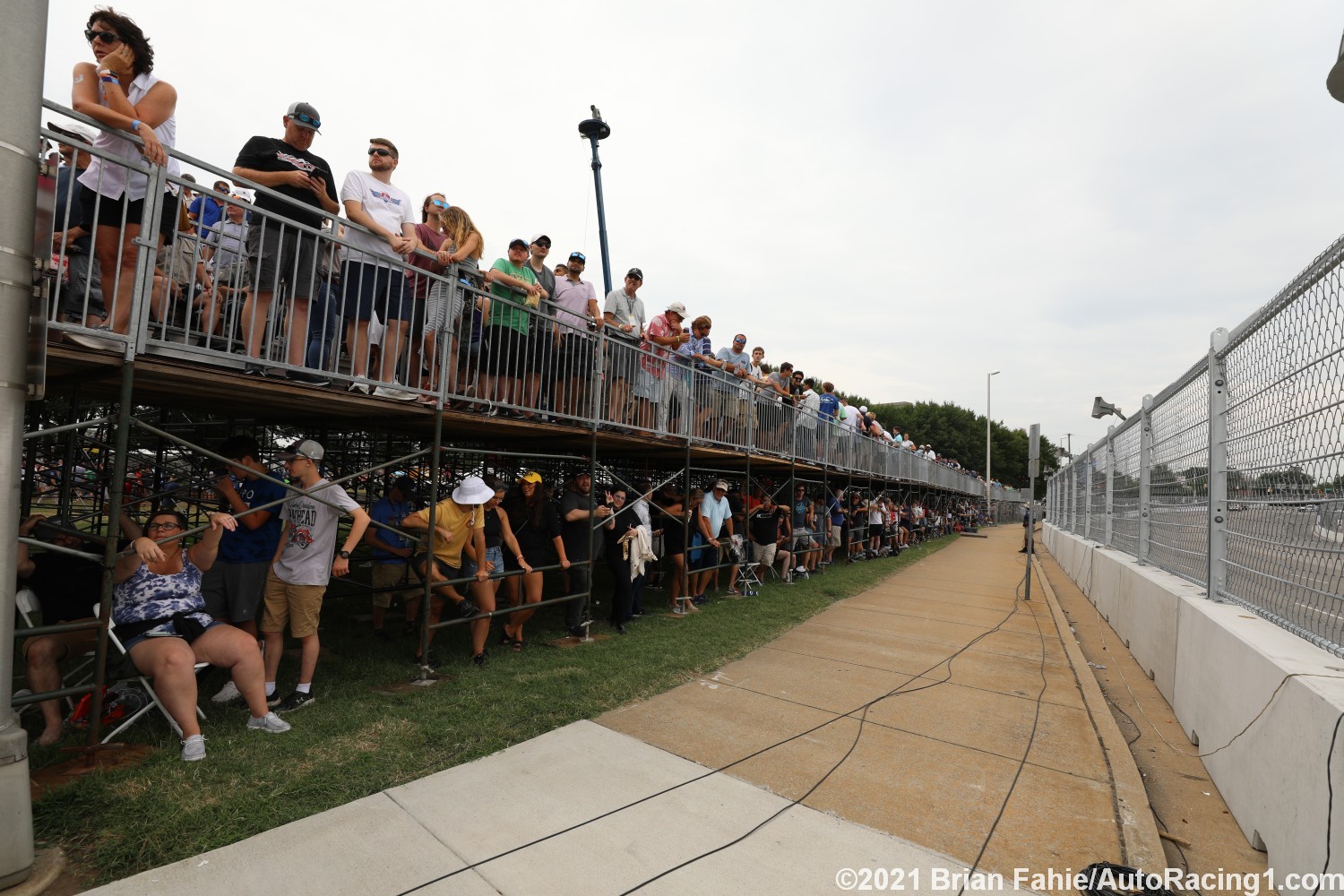 More to follow…..
Practice 1 Results
| | | | | | | | | | |
| --- | --- | --- | --- | --- | --- | --- | --- | --- | --- |
| Pos | No | Name | Time | Diff | Gap | Laps | Speed | Engine | Team |
| 1 | 26 | Colton Herta | 1:16.5875 | 0.000s | 0.000s | 27 | 98.711 | Honda | Andretti Autosport |
| 2 | 9 | Scott Dixon | 1:16.9653 | 0.3778 | 0.3778 | 25 | 98.226 | Honda | Chip Ganassi Racing |
| 3 | 51 | Romain Grosjean | 1:17.1305 | 0.5430 | 0.1652 | 27 | 98.016 | Honda | Dale Coyne Racing w/Rick Ware Racing |
| 4 | 27 | Alexander Rossi | 1:17.1742 | 0.5867 | 0.0437 | 24 | 97.960 | Honda | Andretti Autosport |
| 5 | 8 | Marcus Ericsson | 1:17.2168 | 0.6293 | 0.0426 | 28 | 97.906 | Honda | Chip Ganassi Racing |
| 6 | 10 | Alex Palou | 1:17.2264 | 0.6389 | 0.0096 | 25 | 97.894 | Honda | Chip Ganassi Racing |
| 7 | 7 | Felix Rosenqvist | 1:17.2264 | 0.6389 | 0.0000 | 24 | 97.894 | Chevy | Arrow McLaren SP |
| 8 | 12 | Will Power | 1:17.2436 | 0.6561 | 0.0172 | 30 | 97.872 | Chevy | Team Penske |
| 9 | 3 | Scott McLaughlin | 1:17.4072 | 0.8197 | 0.1636 | 25 | 97.665 | Chevy | Team Penske |
| 10 | 22 | Simon Pagenaud | 1:17.4535 | 0.8660 | 0.0463 | 23 | 97.607 | Chevy | Team Penske |
| 11 | 60 | Jack Harvey | 1:17.4673 | 0.8798 | 0.0138 | 26 | 97.590 | Honda | Meyer Shank Racing |
| 12 | 2 | Josef Newgarden | 1:17.6603 | 1.0728 | 0.1930 | 25 | 97.347 | Chevy | Team Penske |
| 13 | 29 | James Hinchcliffe | 1:17.8570 | 1.2695 | 0.1967 | 22 | 97.101 | Honda | Andretti Steinbrenner Autosport |
| 14 | 15 | Graham Rahal | 1:17.9825 | 1.3950 | 0.1255 | 26 | 96.945 | Honda | Rahal Letterman Lanigan Racing |
| 15 | 14 | Sebastien Bourdais | 1:18.0334 | 1.4459 | 0.0509 | 28 | 96.882 | Chevy | AJ Foyt Enterprises |
| 16 | 21 | Rinus VeeKay | 1:18.1627 | 1.5752 | 0.1293 | 28 | 96.721 | Chevy | Ed Carpenter Racing |
| 17 | 30 | Takuma Sato | 1:18.2167 | 1.6292 | 0.0540 | 26 | 96.655 | Honda | Rahal Letterman Lanigan Racing |
| 18 | 28 | Ryan Hunter-Reay | 1:18.2922 | 1.7047 | 0.0755 | 26 | 96.561 | Honda | Andretti Autosport |
| 19 | 18 | Ed Jones | 1:18.3479 | 1.7604 | 0.0557 | 23 | 96.493 | Honda | Dale Coyne Racing with Vasser Sullivan |
| 20 | 06 | Helio Castroneves | 1:18.4276 | 1.8401 | 0.0797 | 29 | 96.395 | Honda | Meyer Shank Racing |
| 21 | 5 | Pato O'Ward | 1:18.6224 | 2.0349 | 0.1948 | 7 | 96.156 | Chevy | Arrow McLaren SP |
| 22 | 20 | Conor Daly | 1:18.8007 | 2.2132 | 0.1783 | 24 | 95.938 | Chevy | Ed Carpenter Racing |
| 23 | 48 | Jimmie Johnson | 1:19.8877 | 3.3002 | 1.0870 | 29 | 94.633 | Honda | Chip Ganassi Racing |
| 24 | 59 | Max Chilton | 1:20.1985 | 3.6110 | 0.3108 | 23 | 94.266 | Chevy | Carlin |
| 25 | 45 | Santino Ferrucci | 1:21.3815 | 4.7940 | 1.1830 | 22 | 92.896 | Honda | Rahal Letterman Lanigan Racing |
| 26 | 52 | Cody Ware | 1:24.0268 | 7.4393 | 2.6453 | 22 | 89.971 | Honda | Dale Coyne Racing w/Rick Ware Racing |
| 27 | 4 | Dalton Kellett | No Time | — | — | — | — | Chevy | AJ Foyt Enterprises |