IndyCar: Herta schools field to win pole for inaugural Music City GP
No. 26 Gainbridge Honda driver Colton Herta schooled the field to win pole for the inaugural Music City GP IndyCar race on the streets of Nashville.
After leading both practice sessions, Herta won the pole by a massive 0.55s  over Scott Dixon who was 2nd quick in the Q3 Fast Six round.
Dixon teammate Alex Palou was 3rd quick in the #10 Ganassi Honda but will have a six Place grid penalty so Alexander Rossi who was 4th quick will move up to third for the start.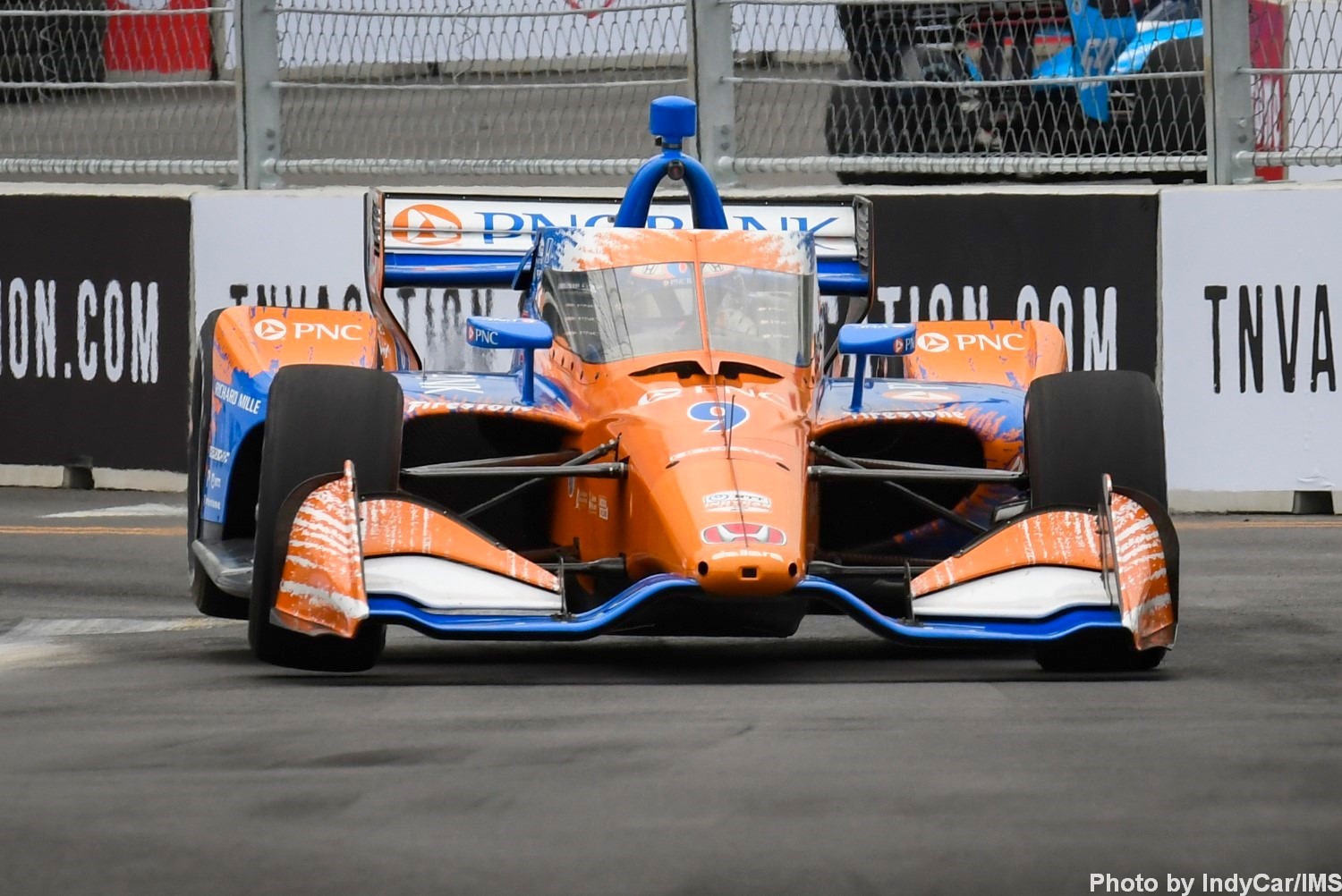 Felix Rosenqvist will start 4th and Romain Grosjean rounds out the top-5 in the #51 Dale Coyne Honda.
Hometown hero Josef Newgarden clouted the wall hard in Q2 in his #2 Penske Chevy and will start 12th.  Jimmie Johnson also crashed out in Q1 in his #48 Ganassi Honda.
Herta, who was fastest in both practice sessions this weekend, continued to dominate the speed charts with a lap of 1 minute, 13.6835 seconds (102.601 mph) on the 2.17-mile temporary street course to secure the NTT P1 Award and top starting position. The pole was Herta's second of the season – the other came at St. Petersburg – and sixth of his career. He is expecting quite an opening lap in this 80-lap race featuring the Korean War Veterans Memorial Bridge and the Nissan Stadium campus.
"I think this is going to be the craziest start of the year," said Herta, who has converted his last three pole positions into victories. "We're going to be going quite quick from where the start zone is going into off-camber a second-gear corner. That's like 60 miles an hour, 70 miles an hour. So definitely, it's going to be interesting.
"There's not a whole bunch of ways to bail, turn into the corner. If guys are committing three-wide, it could get a little bit messy. You're probably expecting to see something happen on the opening lap, in the opening corner."
Herta was followed by the Chip Ganassi Racing duo of six-time series champion Scott Dixon and current championship points leader Alex Palou. Dixon will start second after his lap of 1:14.2327 (101.842 mph) while Palou will start third with his lap of 1:14.6316 (101.298 mph).
"This track is busy, man," Dixon said of this technical and challenging layout. "That's the best description you can give it. There's no rest part. Even the straights are bumpy. Getting into the braking zones after the straights are really difficult because the car is really loaded, change of direction, things like that. It's a tough track."
Rounding out the Firestone Fast Six qualifying shootout, Andretti Autosport's Alexander Rossi (1:14.6646 / 101.253 mph) will start fourth, Arrow McLaren SP's Felix Rosenqvist fifth (1:15.0045 / 100.794 mph) and rookie Romain Grosjean sixth (1:15.3980 / 100.268 mph).
Nashville's Josef Newgarden of Team Penske will start 12th (1:15.5062 / 100.124 mph) in the 27-car field but incurred some misfortune in qualifying. In the second round of the three-round format, he crashed into the Turn 11 wall on his final lap. The incident caused damage to Newgarden's car and also caused his fastest lap in the session to be invalidated for causing a local yellow condition. His invalidated lap was fast enough to have advanced him to the Firestone Fast Six.
"I was just trying to make up the deficit from yesterday and today," Newgarden said. "Pretty pumped for tomorrow. Just wish we were a little higher up. Trying to claw some performance there and just overpushed. You can't wreck and not get penalized. That's on me. That's how it works."
Q1 – Round 1, Group 2
| | | | | | | | | | |
| --- | --- | --- | --- | --- | --- | --- | --- | --- | --- |
| Pos | No. | Name | Time | Diff | Gap | Laps | Speed | Engine | Team |
| 1 | 9 | Scott Dixon | 1:14.6673 | 0.000s | 0.000s | 7 | 101.249 | Honda | Chip Ganassi Racing |
| 2 | 26 | Colton Herta | 1:14.7067 | 0.0394 | 0.0394 | 4 | 101.196 | Honda | Andretti Autosport |
| 3 | 60 | Jack Harvey | 1:15.2585 | 0.5912 | 0.5518 | 6 | 100.454 | Honda | Meyer Shank Racing |
| 4 | 29 | James Hinchcliffe | 1:15.2646 | 0.5973 | 0.0061 | 6 | 100.446 | Honda | Andretti Steinbrenner Autosport |
| 5 | 22 | Simon Pagenaud | 1:15.3661 | 0.6988 | 0.1015 | 6 | 100.310 | Chevy | Team Penske |
| 6 | 51 | Romain Grosjean | 1:15.3730 | 0.7057 | 0.0069 | 6 | 100.301 | Honda | Dale Coyne Racing w/Rick Ware Racing |
| 7 | 28 | Ryan Hunter-Reay | 1:15.4984 | 0.8311 | 0.1254 | 7 | 100.135 | Honda | Andretti Autosport |
| 8 | 14 | Sebastien Bourdais | 1:15.6055 | 0.9382 | 0.1071 | 6 | 99.993 | Chevy | AJ Foyt Enterprises |
| 9 | 8 | Marcus Ericsson | 1:15.6379 | 0.9706 | 0.0324 | 6 | 99.950 | Honda | Chip Ganassi Racing |
| 10 | 20 | Conor Daly | 1:15.6685 | 1.0012 | 0.0306 | 6 | 99.909 | Chevy | Ed Carpenter Racing |
| 11 | 21 | Rinus VeeKay | 1:15.7029 | 1.0356 | 0.0344 | 5 | 99.864 | Chevy | Ed Carpenter Racing |
| 12 | 30 | Takuma Sato | 1:15.8503 | 1.1830 | 0.1474 | 6 | 99.670 | Honda | Rahal Letterman Lanigan Racing |
| 13 | 18 | Ed Jones | 1:15.8770 | 1.2097 | 0.0267 | 6 | 99.635 | Honda | Dale Coyne Racing with Vasser Sullivan |
| 14 | 52 | Cody Ware | 1:17.6115 | 2.9442 | 1.7345 | 6 | 97.408 | Honda | Dale Coyne Racing w/Rick Ware Racing |
|
Q1 – Round 1, Group 1
| | | | | | | | | | |
| --- | --- | --- | --- | --- | --- | --- | --- | --- | --- |
| Pos | No. | Name | Time | Diff | Gap | Laps | Speed | Engine | Team |
| 1 | 10 | Alex Palou | 1:15.3385 | 0.000 | 0.000 | 4 | 100.347 | Honda | Chip Ganassi Racing |
| 2 | 27 | Alexander Rossi | 1:15.3721 | 0.0336 | 0.0336 | 4 | 100.302 | Honda | Andretti Autosport |
| 3 | 5 | Pato O'Ward | 1:15.4160 | 0.0775 | 0.0439 | 4 | 100.244 | Chevy | Arrow McLaren SP |
| 4 | 7 | Felix Rosenqvist | 1:15.5305 | 0.1920 | 0.1145 | 4 | 100.092 | Chevy | Arrow McLaren SP |
| 5 | 2 | Josef Newgarden | 1:15.5474 | 0.2089 | 0.0169 | 4 | 100.070 | Chevy | Team Penske |
| 6 | 12 | Will Power | 1:15.6309 | 0.2924 | 0.0835 | 4 | 99.959 | Chevy | Team Penske |
| 7 | 15 | Graham Rahal | 1:16.1097 | 0.7712 | 0.4788 | 4 | 99.330 | Honda | Rahal Letterman Lanigan Racing |
| 8 | 59 | Max Chilton | 1:17.5553 | 2.2168 | 1.4456 | 4 | 97.479 | Chevy | Carlin |
| 9 | 06 | Helio Castroneves | 1:17.9138 | 2.5753 | 0.3585 | 3 | 97.030 | Honda | Meyer Shank Racing |
| 10 | 45 | Santino Ferrucci | 1:18.0427 | 2.7042 | 0.1289 | 3 | 96.870 | Honda | Rahal Letterman Lanigan Racing |
| 11 | 3 | Scott McLaughlin | 1:18.1899 | 2.8514 | 0.1472 | 4 | 96.688 | Chevy | Team Penske |
| 12 | 4 | Dalton Kellett | 1:18.2067 | 2.8682 | 0.0168 | 3 | 96.667 | Chevy | AJ Foyt Enterprises |
| 13 | 48 | Jimmie Johnson | No Time | — | — | — | — | Honda | Chip Ganassi Racing |
Q2 – Round 2
| | | | | | | | | | |
| --- | --- | --- | --- | --- | --- | --- | --- | --- | --- |
| Pos | No | Name | Time | Diff | Gap | Laps | Speed | Engine | Team |
| 1 | 10 | Alex Palou | 1:14.4578 | 0.000s | 0.000 | 7 | 101.534 | Honda | Chip Ganassi Racing |
| 2 | 27 | Alexander Rossi | 1:14.5252 | 0.0674 | 0.0674 | 7 | 101.442 | Honda | Andretti Autosport |
| 3 | 26 | Colton Herta | 1:14.7232 | 0.2654 | 0.1980 | 7 | 101.173 | Honda | Andretti Autosport |
| 4 | 9 | Scott Dixon | 1:14.8394 | 0.3816 | 0.1162 | 7 | 101.016 | Honda | Chip Ganassi Racing |
| 5 | 7 | Felix Rosenqvist | 1:14.8476 | 0.3898 | 0.0082 | 6 | 101.005 | Chevy | Arrow McLaren SP |
| 6 | 51 | Romain Grosjean | 1:15.0078 | 0.5500 | 0.1602 | 6 | 100.790 | Honda | Dale Coyne Racing w/Rick Ware Racing |
| 7 | 60 | Jack Harvey | 1:15.1309 | 0.6731 | 0.1231 | 6 | 100.624 | Honda | Meyer Shank Racing |
| 8 | 22 | Simon Pagenaud | 1:15.1354 | 0.6776 | 0.0045 | 6 | 100.618 | Chevy | Team Penske |
| 9 | 5 | Pato O'Ward | 1:15.1914 | 0.7336 | 0.0560 | 6 | 100.543 | Chevy | Arrow McLaren SP |
| 10 | 29 | James Hinchcliffe | 1:15.3255 | 0.8677 | 0.1341 | 7 | 100.364 | Honda | Andretti Steinbrenner Autosport |
| 11 | 12 | Will Power | 1:15.4678 | 1.0100 | 0.1423 | 7 | 100.175 | Chevy | Team Penske |
| 12 | 2 | Josef Newgarden | 1:15.5062 | 1.0484 | 0.0384 | 6 | 100.124 | Chevy | Team Penske |
Q3 – Fast Six
| | | | | | | | | | |
| --- | --- | --- | --- | --- | --- | --- | --- | --- | --- |
| Pos | No | Name | Time | Diff | Gap | Laps | Speed | Engine | Team |
| 1 | 26 | Colton Herta | 1:13.6835 | 0.000s | 0.000 | 3 | 102.601 | Honda | Andretti Autosport |
| 2 | 9 | Scott Dixon | 1:14.2327 | 0.5492 | 0.5492 | 3 | 101.842 | Honda | Chip Ganassi Racing |
| 3 | 10 | Alex Palou | 1:14.6316 | 0.9481 | 0.3989 | 4 | 101.298 | Honda | Chip Ganassi Racing |
| 4 | 27 | Alexander Rossi | 1:14.6646 | 0.9811 | 0.0330 | 4 | 101.253 | Honda | Andretti Autosport |
| 5 | 7 | Felix Rosenqvist | 1:15.0045 | 1.3210 | 0.3399 | 2 | 100.794 | Chevy | Arrow McLaren SP |
| 6 | 51 | Romain Grosjean | 1:15.3980 | 1.7145 | 0.3935 | 3 | 100.268 | Honda | Dale Coyne Racing w/Rick Ware Racing |
Full Results
1. (26) Colton Herta, Honda, 1:13.6835 (102.601 mph)
2. (9) Scott Dixon, Honda, 1:14.2327 (101.842)
3. (10) Alex Palou, Honda, 1:14.6316 (101.298)
4. (27) Alexander Rossi, Honda, 1:14.6646 (101.253)
5. (7) Felix Rosenqvist, Chevrolet, 1:15.0045 (100.794)
6. (51) Romain Grosjean, Honda, 1:15.3980 (100.268)
7. (60) Jack Harvey, Honda, 1:15.1309 (100.624)
8. (22) Simon Pagenaud, Chevrolet, 1:15.1354 (100.618)
9. (5) Pato O'Ward, Chevrolet, 1:15.1914 (100.543)
10. (29) James Hinchcliffe, Honda, 1:15.3255 (100.364)
11. (12) Will Power, Chevrolet, 1:15.5016 (100.130)
12. (2) Josef Newgarden, Chevrolet, 1:15.5062 (100.124)
13. (15) Graham Rahal, Honda, 1:16.1097 (99.330)
14. (28) Ryan Hunter-Reay, Honda, 1:15.4984 (100.135)
15. (06) Helio Castroneves, Honda, 1:16.3479 (99.020)
16. (14) Sebastien Bourdais, Chevrolet, 1:15.6055 (99.993)
17. (45) Santino Ferrucci, Honda, 1:16.4647 (98.869)
18. (8) Marcus Ericsson, Honda, 1:15.6379 (99.950)
19. (4) Dalton Kellett, Chevrolet, 1:17.1516 (97.989)
20. (20) Conor Daly, Chevrolet, 1:15.6685 (99.909)
21. (59) Max Chilton, Chevrolet, 1:17.5553 (97.479)
22. (21) Rinus VeeKay, Chevrolet, 1:15.7029 (99.864)
23. (3) Scott McLaughlin, Chevrolet, 1:18.1899 (96.688)
24. (30) Takuma Sato, Honda, 1:15.8503 (99.670)
25. (48) Jimmie Johnson, Honda, No Time (No Speed)
26. (18) Ed Jones, Honda, 1:15.8770 (99.635)
27. (52) Cody Ware, Honda, 1:18.0928 (96.808)