IMSA: Whelen Engineering Cadillac on Pole at Road America
(Update)
The full qualifying results and starting lineup for today's IMSA WeatherTech SportsCar Championship Sportscar weekend at Road America have been added to the bottom of this article.
Because of the disjointed way IMSA publishes their qualifying results, no other publication was able to provide the complete aggregated rundown.
---
August 8, 2021
The Whelen Engineering Cadillac DPi-V.R will start tomorrow's IMSA WeatherTech SportsCar Championship Sportscar weekend at Road America from the pole position.
Felipe Nasr had the controls of the No. 31 Whelen Engineering Cadillac DPi-V.R for the 15-minute qualifying session this afternoon. The Action Express Racing team had to change the No. 31 Cadillac over to a wet setup for the Brazilian for the run. A steady sprinkle of rain covered the 4-mile, 14-turn circuit making it tricky for the DPi field. Nasr posted a time of 2:07.919 that was good for pole position for tomorrow's two-hour-and-forty-minute race that takes the green at 1:40 p.m. CT. He and teammate Pipo Derani will pace the field to the green.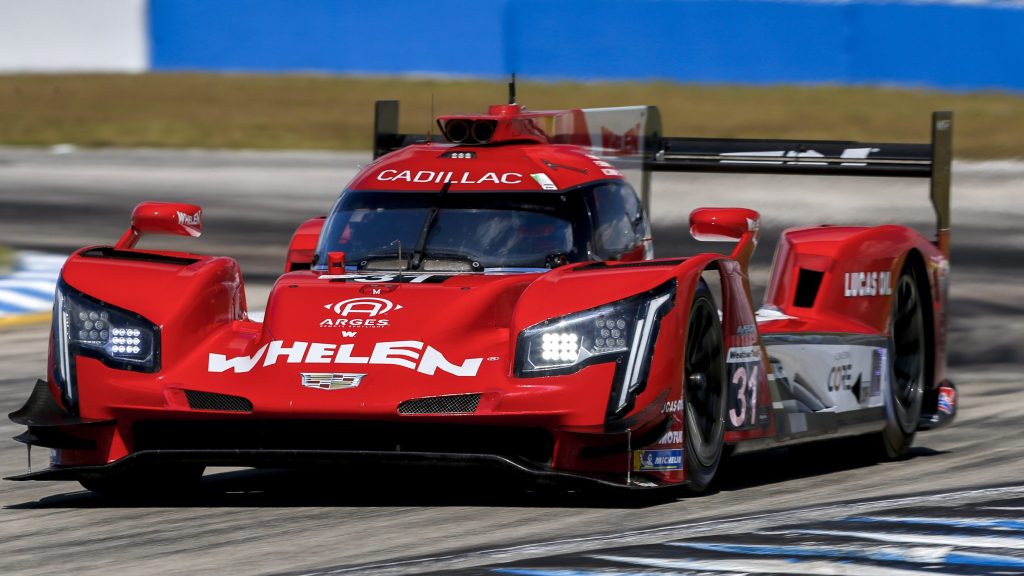 "It was awesome," Nasr said. "Rain conditions, just how I like it (laughing). I don't think we have had a wet qualifying session for some time. This track is very tricky. We managed to put a lap together. I was able to get some clear laps and get the peak tire performance for that one lap. The 31 Whelen Engineering Cadillac felt pretty good. It is always great to be up front. I couldn't be happier for the team."
The Brazilian's 2:07.919 lap time in the No. 31 Action Express Racing Cadillac DPi-V.R outpaced the DPi championship-leading No. 10 Wayne Taylor Racing Acura ARX-05 of Ricky Taylor by 0.758 seconds.
Nasr was one of at least five cars to spin in the DPi/LMP2 qualifying session in treacherous conditions that also saw offs by Chip Ganassi Racing's Kevin Magnussen and an impact with the barriers by the No. 60 Meyer Shank Racing Acura DPi of Olivier Pla.
Both cars continued after their incidents, in what appeared to be overly increasingly wet conditions.
The No. 55 Mazda RT24-P of Oliver Jarvis qualified third, ahead of Magnussen and Tristan Vautier, who completed the top-five in the No. 5 JDC-Miller Motorsports Cadillac.
Ben Keating survived to take top pole honors for PR1/Mathiasen Motorsports in LMP2, despite an early session spin.
Corvette on GTLM Pole
Jordan Taylor gave Corvette Racing its second pole position at Road America in three years with the fast time in qualifying for the IMSA SportsCar Weekend race – the team's 20th event at the historic road course and a fourth straight 1-2 qualifying result in GT Le Mans (GTLM) on the season.
Taylor, driving the No. 3 Mobil 1/SiriusXM Chevrolet Corvette C8.R with Antonio Garcia, set a best lap of 2:20.979 (103.368 mph) ahead of Sunday's two-hour, 40-minute race. Taylor and Garcia arrived at Road America after three straight victories and lead the GTLM Drivers Championship, as does Chevrolet in the Manufacturers standings.
Taylor went 0.627 seconds quicker than Nick Tandy in the No. 4 Mobil 1/SiriusXM Corvette that he shares with Tommy Milner. Tandy and Milner were second in the two most recent GTLM races at Watkins Glen and Lime Rock, and they also won the non-points Detroit round in mid-June.
GTD Class
Aaron Telitz scored class pole in GT Daytona, which wound up as the quickest lap time out of all cars due to the change in track conditions.
The No. 14 Lexus RC F GT3 was credited with a 2:07.195 lap time in Q1, prior to the arrival of the rain.
Qualifying Results
| | | | | | | | |
| --- | --- | --- | --- | --- | --- | --- | --- |
| Pos | Pic | No. | Class | Drivers* | Team | Car | Time |
| 1 | 1 | 31 | DPi | F. Nasr / P. Derani | Whelen Engineering Racing | Cadillac DPi | 2:07.919 |
| 2 | 2 | 10 | DPi | R. Taylor / F. Albuquerque | Konica Minolta Acura ARX-05 | Acura DPi | 2:08.677 |
| 3 | 3 | 55 | DPi | O. Jarvis / H. Tincknell | Mazda Motorsports | Mazda DPi | 2:08.716 |
| 4 | 4 | 01 | DPi | R. van der Zande/ K. Magnussen | Cadillac Chip Ganassi Racing | Cadillac DPi | 2:09.194 |
| 5 | 5 | 5 | DPi | T. Vautier / L. Duval | Mustang Sampling / JDC-Miller MotorSports | Cadillac DPi | 2:10.497 |
| 6 | 6 | 60 | DPi | D. Cameron / O. Pla | Meyer Shank Racing w/Curb-Agajanian | Acura DPi | 2:10.500 |
| 7 | 1 | 52 | LMP2 | B. Keating / M. Jensen | PR1 Mathiasen Motorsports | ORECA LMP2 07 | 2:18.511 |
| 8 | 1 | 38 | LMP3 | D. Goldburg / R. Lindh | Performance Tech Motorsports | Ligier JS P320 | 2:19.106 |
| 9 | 2 | 74 | LMP3 | G. Robinson / F. Fraga | Riley Motorsports | Ligier JS P320 | 2:19.419 |
| 10 | 2 | 11 | LMP2 | S. Thomas / T. Nunez | WIN Autosport | ORECA LMP2 07 | 2:19.941 |
| 11 | 1 | 3 | GTLM | A. Garcia / J. Taylor | Corvette Racing | Chevrolet Corvette C8.R | 2:20.979 |
| 12 | 3 | 36 | LMP3 | J. Andretti / O. Askew | Andretti Autosport | Ligier JS P320 | 2:21.170 |
| 13 | 2 | 4 | GTLM | T. Milner / N. Tandy | Corvette Racing | Chevrolet Corvette C8.R | 2:21.606 |
| 14 | 1 | 9 | GTD | Z. Robichon / L. Vanthoor | Pfaff Motorsports | Porsche 911 GT3R | 2:21.855 |
| 15 | 4 | 54 | LMP3 | J. Bennett / C. Braun | Core Autosport | Ligier JS P320 | 2:21.885 |
| 16 | 5 | 61 | LMP3 | A. Pabst / T. Kasemets | Wulver Racing | Ligier JS P320 | 2:22.170 |
| 17 | 2 | 96 | GTD | B. Auberlen / R. Foley | Turner Motorsport | BMW M6 GT3 | 2:22.791 |
| 18 | 3 | 1 | GTD | B. Sellers / M. Snow | Paul Miller Racing | Lamborghini Huracan GT3 | 2:23.122 |
| 19 | 4 | 19 | GTD | M. Goikhberg / F. Perera | GRT Grasser Racing Team | Lamborghini Huracan GT3 | 2:23.173 |
| 20 | 5 | 23 | GTD | R. De Angelis / R. Gunn | Heart Of Racing Team | Aston Martin Vantage GT3 | 2:23.255 |
| 21 | 6 | 44 | GTD | J. Potter / A. Lally | Magnus with Archangel | Acura NSX GT3 | 2:23.289 |
| 22 | 7 | 39 | GTD | R. Heistand / J. Westphal | CarBahn with Peregrine racing | Audi R8 LMS GT3 | 2:23.456 |
| 23 | 8 | 16 | GTD | T. Hindman / P. Long | Wright Motorsports | Porsche 911 GT3R | 2:23.460 |
| 24 | 9 | 88 | GTD | R. Ferriol / K. Legge | Team Hardpoint EBM | Porsche 911 GT3R | 2:23.485 |
| 25 | 10 | 14 | GTD | A. Telitz / J. Hawksworth | VASSER SULLIVAN | Lexus RC F GT3 | 2:23.605 |
| 26 | 11 | 76 | GTD | J. Kingsley / M. Farnbacher | Compass Racing | Acura NSX GT3 | 2:23.638 |
| 27 | 12 | 42 | GTD | D. Yount / J. Hildebrand | NTE Sport | Audi R8 LMS GT3 | 2:23.829 |
| 28 | 3 | 79 | GTLM | C. MacNeil / M. Campbell | WeatherTech Racing | Porsche 911 RSR – 19 | 2:24.174 |
| 29 | 3 | 8 | LMP2 | J. Farano / G. Aubry | Tower Motorsport | ORECA LMP2 07 | 2:24.176 |
| 30 | 13 | 12 | GTD | F. Montecalvo / Z. Veach | VASSER SULLIVAN | Lexus RC F GT3 | 2:24.233 |
| 31 | 6 | 30 | LMP3 | T. Olson / M. Skeen | Jr III Racing | Ligier JS P320 | 2:24.600 |
| 32 | 14 | 66 | GTD | T. Bechtolsheimer / M. Miller | Gradient Racing | Acura NSX GT3 | 2:25.189 |
| 33 | 7 | 91 | LMP3 | J. Cox / D. Murry | Riley Motorsports | Ligier JS P320 | 2:25.260 |
| 34 | 15 | 32 | GTD | S. Lewis / G. Cosmo | Gilbert/Korthoff Motorsports | Mercedes-AMG GT3 | 2:26.989 |
| 35 | 4 | 18 | LMP2 | D. Merriman / R. Dalziel | Era Motorsport | ORECA LMP2 07 | 2:27.462 |