NASCAR: Larson's No. 5 Cincinnati Inc. Chevrolet revealed for Michigan, Talladega
Cincinnati Incorporated unveiled its new paint scheme for Kyle Larson and the No. 5 Hendrick Motorsports Chevrolet Camaro ZL1 1LE on Wednesday ahead of its 2021 debut at Michigan International Speedway.
Cincinnati Inc., an American-owned machine tool manufacturer based in Harrison, Ohio, created a scheme that honors the company's American roots, which dates to its inception in the 1890s. Cincinnati Inc. is responsible for making large-scale manufacturing tools such as lasers, press brakes, shears, automation, powdered metal presses and software.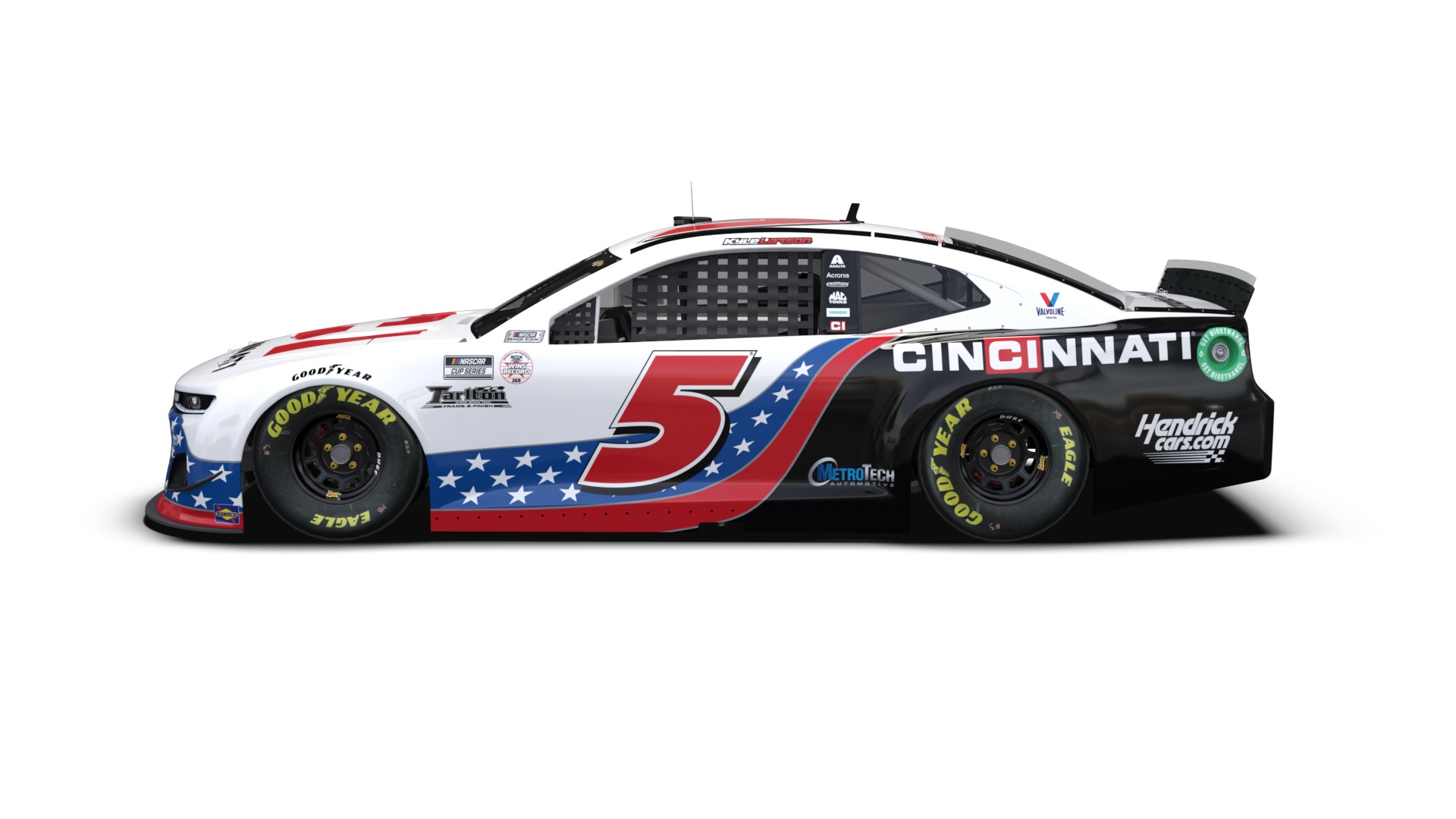 "There's been a recent made-in-America surge and discussion surrounding what that means, and it's been wonderful to see," said Matt Garbarino, director of product marketing at Cincinnati Inc. "Here at CI, that's been a foundational part of who we are since the 1890s. We're beyond excited to watch what Kyle and the team at Hendrick Motorsports do with this special No. 5 car."
This look is sure to be the ⭐️ of the show!

Catch @KyleLarsonRacin's bold No. 5 @CINCINNATI_INC Chevy on track this year @MISpeedway and @TALLADEGA! pic.twitter.com/QQ422AhUl5

— Hendrick Motorsports (@TeamHendrick) August 11, 2021
The scheme incorporates elements of Cincinnati Inc.'s 100-year history along with elements of the American flag. Aside from appearing on the No. 5 Chevrolet at Michigan on Aug. 22, Larson and the No. 5 crew also will sport the scheme for the playoff race at Talladega Superspeedway on Oct. 3.
"Cincinnati did a great job designing this paint scheme and incorporating the stars and stripes," Larson said. "I can't wait to drive it at Michigan – one of my favorite tracks. We use CI equipment at our shop and throughout Hendrick Motorsports, and their equipment is top-notch and dependable."
Larson currently is first in the NASCAR Cup Series points standings by virtue of his five wins so far this season. The 29-year-old driver also has 12 top-five results, 16 top-10s and has led 1,468 laps this year, all career bests through 23 races in a season.
Cincinnati Inc. is the official metal fabrication and additive equipment provider of Hendrick Motorsports, and the two organizations signed a landmark 10-year sponsorship agreement in 2019. Shortly after solidifying its partnership with Hendrick Motorsports, Cincinnati Inc. was the winning ride for Alex Bowman at Auto Club Speedway in March 2020.