IndyCar: O'Ward wins pole for Big Machine Spiked Coolers GP
Arrow McLaren SP driver Pato O'Ward from Mexico has won the pole for the Big Machine Spiked Coolers GP on the road course at Indy with a lap of 1m10.7147s.
It was a tight battle for the pole with just 0.04s covering the top-5 drivers with O'Ward earning his series-leading third pole of the season in the No. 5 Arrow McLaren SP Chevrolet .
Team Penske's Will Power will start 2nd ahead of Dale Coyne driver Romain Grosjean and newcomer F2 driver Christian Lundgaard 4th just 0.0286s from pole – an incredible performance his first time in an IndyCar. This kid is the real deal!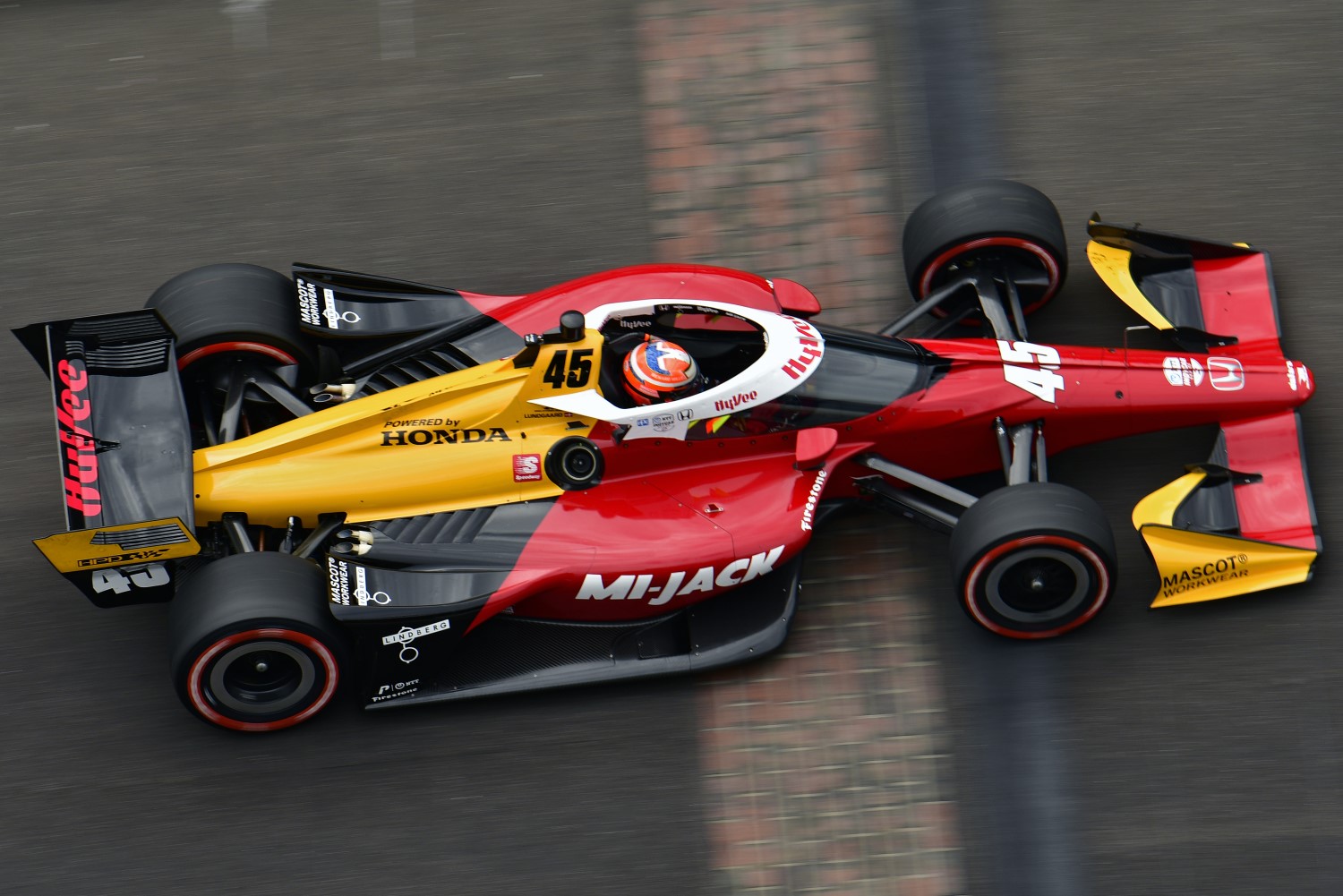 Andretti Autosport's most talented driver, Colton Herta, rounded out the top-5 in his Gainbridge Honda. His teammate Alexander Rossi, fastest in Round 1 Group 2 qualifying, choked when it counted and could only manage 10th best in the Fast 12 round.
"It's great to see the No. 5 car on pole here in Indianapolis," said a happy O'Ward. "Arrow McLaren SP had a really strong test in Portland a few weeks ago, and I think it showed today. We are looking to return where we belong, which is contending for poles, podiums and ultimately for wins. I think we have the car to do something great tomorrow. We just need to execute. The next session is warm-up so we need to do that, get as much information as we can to help us for the race, and when the race comes we try to maximize what we have."
Not as happy was his teammate Felix Rosenqvist who had his fast lap deleted because Scott Dixon spun in front of him and caused a yellow.
"I'm really disappointed. We weren't happy in practice, but had a great turnaround. Heading into qualifying we had a really good car. We did a good lap that would have gotten us through by some margin to the Firestone Fast 12 but when I crossed the line there was a car 400-500 feet after the timing line. Dixon had spun around and because there was a yellow there, they had to delete our fastest lap which put us in 20th to start tomorrow.
"Honestly, I'm happy with the progress that we have made. It's good to see on paper that we can be up there on a track that we really struggled at early this year. Hopefully we will have a better car than most of those around us and get to the front."
Alex Palou will try to defend his championship lead from the sixth starting position after a best qualifying lap of 1:10.8290 in the No. 10 NTT DATA Honda. He led the opening practice Friday afternoon on the 14-turn, 2.439-mile road course that incorporates part of the famous IMS oval.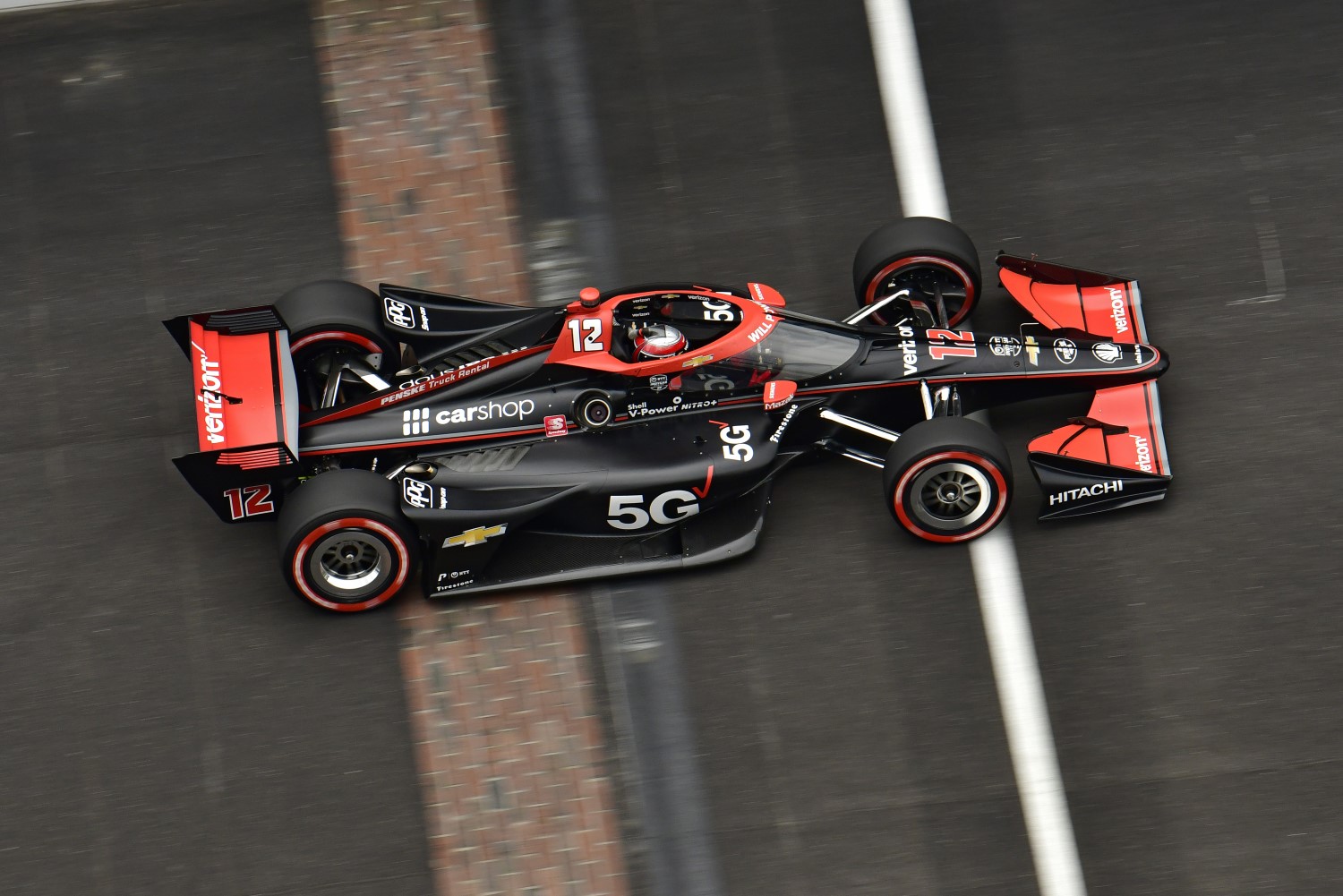 Six-time and reigning series championship Scott Dixon faces a tough climb toward the top of the field Saturday, as he will start a season-low 26th in the No. 9 PNC Bank Grow Up Great Honda after spinning on his final lap of the first segment of qualifying. Dixon spun exiting Turn 10 and lost his quickest lap of the session for causing a local yellow that affected another competitor.
"It's definitely going to make for an interesting race tomorrow," Dixon said. "Definitely a tough day. We'll see how it plays out."
Dixon is second in the series standings, 42 points behind Chip Ganassi Racing teammate Palou.
Among the other championship contenders, Marcus Ericsson will start 11th after a best lap of 1:11.0342 in the No. 8 Huski Chocolate Honda. Ericsson is fifth in the standings, 79 points behind Palou.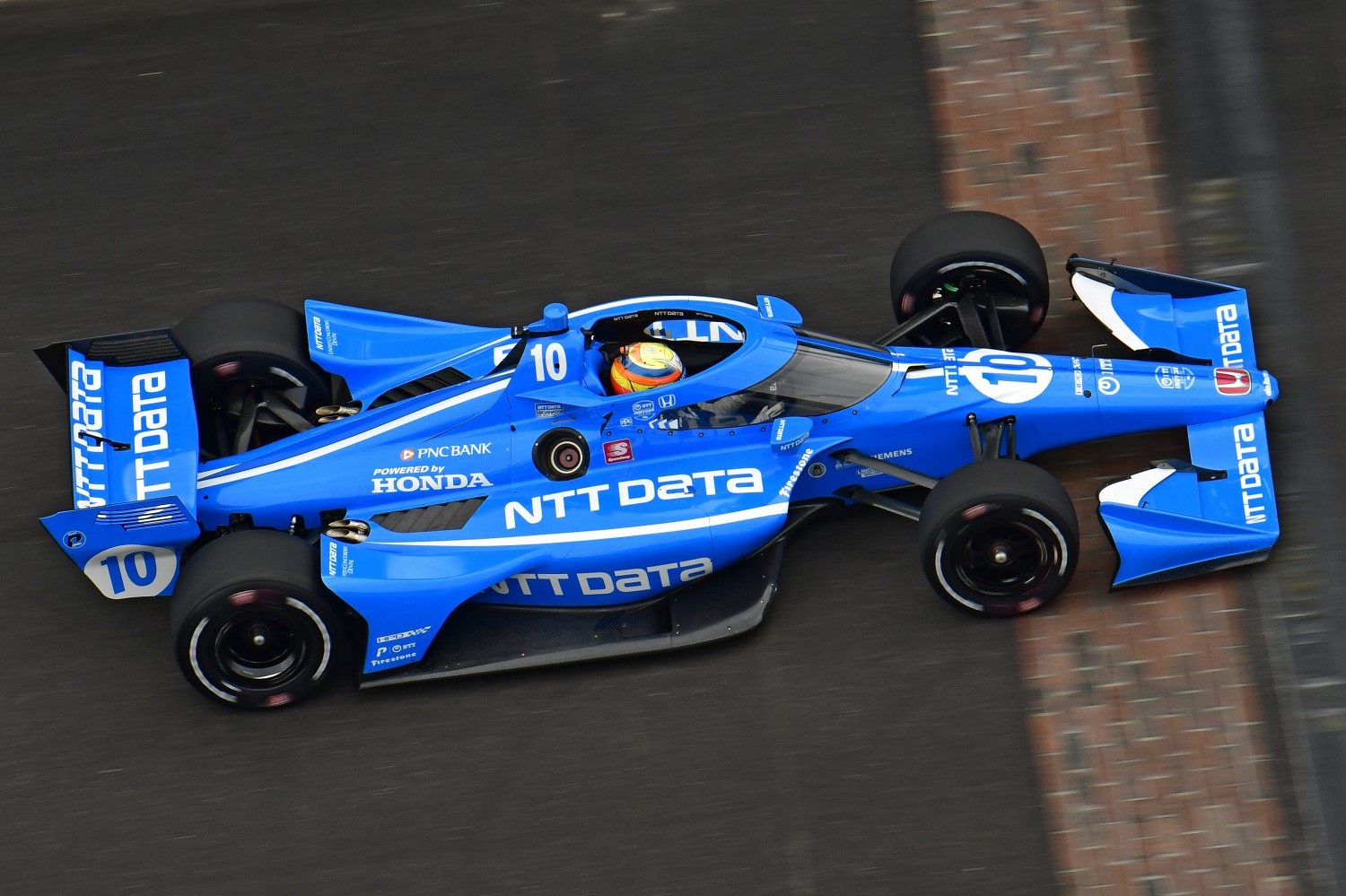 Two-time series champion Josef Newgarden will start 20th. He qualified 14th at 1:11.3623 in the No. 2 XPEL Team Penske Chevrolet after failing to reach the Firestone Fast 12 final segment, but he will move back in the starting lineup after incurring a six-position grid penalty for an unapproved engine change after the race last Sunday in Nashville, Tennessee. Newgarden is fourth in the standings, 75 points behind Palou.
Round 1 Group 2
| | | | | | | | | | |
| --- | --- | --- | --- | --- | --- | --- | --- | --- | --- |
| Pos | No | Name | Time | Diff | Gap | Laps | Speed | Engine | Team |
| 1 | 27 | Alexander Rossi | 1:10.9867 | 0.000s | 0.000s | 6 | 123.691 | Honda | Andretti Autosport |
| 2 | 45 | Christian Lundgaard | 1:11.0511 | 0.0644 | 0.0644 | 7 | 123.579 | Honda | Rahal Letterman Lanigan Racing |
| 3 | 10 | Alex Palou | 1:11.1296 | 0.1429 | 0.0785 | 7 | 123.442 | Honda | Chip Ganassi Racing |
| 4 | 7 | Felix Rosenqvist | 1:11.1374 | 0.1507 | 0.0078 | 7 | 123.429 | Chevy | Arrow McLaren SP |
| 5 | 51 | Romain Grosjean | 1:11.1957 | 0.2090 | 0.0583 | 6 | 123.328 | Honda | Dale Coyne Racing w/Rick Ware Racing |
| 6 | 5 | Pato O'Ward | 1:11.2094 | 0.2227 | 0.0137 | 7 | 123.304 | Chevy | Arrow McLaren SP |
| 7 | 8 | Marcus Ericsson | 1:11.2510 | 0.2643 | 0.0416 | 6 | 123.232 | Honda | Chip Ganassi Racing |
| 8 | 2 | Josef Newgarden | 1:11.3623 | 0.3756 | 0.1113 | 6 | 123.040 | Chevy | Team Penske |
| 9 | 30 | Takuma Sato | 1:11.4174 | 0.4307 | 0.0551 | 6 | 122.945 | Honda | Rahal Letterman Lanigan Racing |
| 10 | 18 | Ed Jones | 1:11.4360 | 0.4493 | 0.0186 | 6 | 122.913 | Honda | Dale Coyne Racing with Vasser Sullivan |
| 11 | 29 | James Hinchcliffe | 1:11.5475 | 0.5608 | 0.1115 | 6 | 122.721 | Honda | Andretti Steinbrenner Autosport |
| 12 | 48 | Jimmie Johnson | 1:11.8624 | 0.8757 | 0.3149 | 6 | 122.184 | Honda | Chip Ganassi Racing |
| 13 | 9 | Scott Dixon | 1:12.2660 | 1.2793 | 0.4036 | 7 | 121.501 | Honda | Chip Ganassi Racing |
| 14 | 4 | Dalton Kellett | 1:12.5494 | 1.5627 | 0.2834 | 7 | 121.027 | Chevy | AJ Foyt Enterprises |
Fast 12 for Pole
| | | | | | | | | | |
| --- | --- | --- | --- | --- | --- | --- | --- | --- | --- |
| Pos | No | Name | Time | Diff | Gap | Laps | Speed | Engine | Team |
| 1 | 5 | Pato O'Ward | 1:10.7147 | 0.000s | 0.000s | 6 | 124.167 | Chevy | Arrow McLaren SP |
| 2 | 12 | Will Power | 1:10.7214 | 0.0067 | 0.0067 | 6 | 124.155 | Chevy | Team Penske |
| 3 | 51 | Romain Grosjean | 1:10.7418 | 0.0271 | 0.0204 | 6 | 124.119 | Honda | Dale Coyne Racing w/Rick Ware Racing |
| 4 | 45 | Christian Lundgaard | 1:10.7433 | 0.0286 | 0.0015 | 6 | 124.116 | Honda | Rahal Letterman Lanigan Racing |
| 5 | 26 | Colton Herta | 1:10.7631 | 0.0484 | 0.0198 | 6 | 124.082 | Honda | Andretti Autosport |
| 6 | 10 | Alex Palou | 1:10.8290 | 0.1143 | 0.0659 | 7 | 123.966 | Honda | Chip Ganassi Racing |
| 7 | 60 | Jack Harvey | 1:10.8875 | 0.1728 | 0.0585 | 6 | 123.864 | Honda | Meyer Shank Racing |
| 8 | 20 | Conor Daly | 1:10.9532 | 0.2385 | 0.0657 | 6 | 123.749 | Chevy | Ed Carpenter Racing |
| 9 | 21 | Rinus VeeKay | 1:11.0208 | 0.3061 | 0.0676 | 7 | 123.631 | Chevy | Ed Carpenter Racing |
| 10 | 27 | Alexander Rossi | 1:11.0240 | 0.3093 | 0.0032 | 6 | 123.626 | Honda | Andretti Autosport |
| 11 | 8 | Marcus Ericsson | 1:11.0342 | 0.3195 | 0.0102 | 6 | 123.608 | Honda | Chip Ganassi Racing |
| 12 | 22 | Simon Pagenaud | 1:11.1346 | 0.4199 | 0.1004 | 6 | 123.434 | Chevy | Team Penske |
Race Lineup
1. (5) Pato O'Ward, Chevrolet, 1:10.7147 (124.167 mph)
2. (12) Will Power, Chevrolet, 1:10.7214 (124.155)
3. (51) Romain Grosjean, Honda, 1:10.7418 (124.119)
4. (45) Christian Lundgaard, Honda, 1:10.7433 (124.116)
5. (26) Colton Herta, Honda, 1:10.7631 (124.082)
6. (10) Alex Palou, Honda, 1:10.8290 (123.966)
7. (60) Jack Harvey, Honda, 1:10.8875 (123.864)
8. (20) Conor Daly, Chevrolet, 1:10.9532 (123.749)
9. (21) Rinus VeeKay, Chevrolet, 1:11.0208 (123.631)
10. (27) Alexander Rossi, Honda, 1:11.0240 (123.626)
11. (8) Marcus Ericsson, Honda, 1:11.0342 (123.608)
12. (22) Simon Pagenaud, Chevrolet, 1:11.1346 (123.434)
13. (28) Ryan Hunter-Reay, Honda, 1:11.5084 (122.788)
14. (2) Josef Newgarden, Chevrolet, 1:11.3623 (123.040)
15. (14) Sebastien Bourdais, Chevrolet, 1:11.5504 (122.716)
16. (30) Takuma Sato, Honda, 1:11.4174 (122.945)
17. (15) Graham Rahal, Honda, 1:11.5583 (122.703)
18. (18) Ed Jones, Honda, 1:11.4360 (122.913)
19. (59) Max Chilton, Chevrolet, 1:11.5739 (122.676)
20. (7) Felix Rosenqvist, Chevrolet, 1:11.5340 (122.744)
21. (3) Scott McLaughlin, Chevrolet, 1:11.6676 (122.516)
22. (48) Jimmie Johnson, Honda, 1:11.8624 (122.184)
23. (06) Helio Castroneves, Honda, 1:11.7319 (122.406)
24. (29) James Hinchcliffe, Honda, 1:12.0813 (121.812)
25. (75) RC Enerson, Chevrolet, 1:12.3344 (121.386)
26. (9) Scott Dixon, Honda, 1:12.2660 (121.501)
27. (52) Cody Ware, Honda, 1:13.7572 (119.045)
28. (4) Dalton Kellett, Chevrolet, 1:12.5494 (121.027)