NHRA: Billy Torrence, J. R. Todd and Kyle Koretsky low qualifiers on Friday at Topeka
For the first time in two years, the NHRA Camping World Drag Racing Series raced at Heartland Motorsports Park, and Billy Torrence (Top Fuel), J.R. Todd (Funny Car), and Kyle Koretsky (Pro Stock) put on a show, finishing the day as the No. 1 qualifiers on Friday at the Menards NHRA Nationals presented by PetArmor.
With the sun setting as Funny Car put on a tremendous show and Top Fuel following with several stellar runs under the lights, it was a memorable return to the House of Speed in Topeka.
Torrence's good vibes at Heartland Motorsports Park continued, as he blasted to the No. 1 position in Top Fuel with a run of 3.717-seconds at 322.27 mph in his 11,000-horsepower Capco Contractors. Friday's run under the lights in Topeka took place three weeks after he won in Super Comp at the track, continuing the great success he's already had in Topeka in 2021.
Should that run hold up, Torrence would pick up his third No. 1 qualifier in 2021 and eighth in his career. It was Torrence's first Top Fuel race since Norwalk in late June, but he seemed to pick up right where he left off.
"It's always neat to get out here and race with my family," Torrence said. "We've had a lot of success doing this and it's always fun to come out here. We just come out and we surround ourselves with the best people, give them the best parts and pieces and let the chips fall where they may."
Brittany Force made a strong run of 3.734 at 329.42 as she looks for her first win of the season and Mike Salinas is currently third with a pass of 3.739 at 316.08. Points leader Steve Torrence went 3.747 to put him fourth, while Pomona runner-up Justin Ashley is fifth with a 3.796 at 320.66.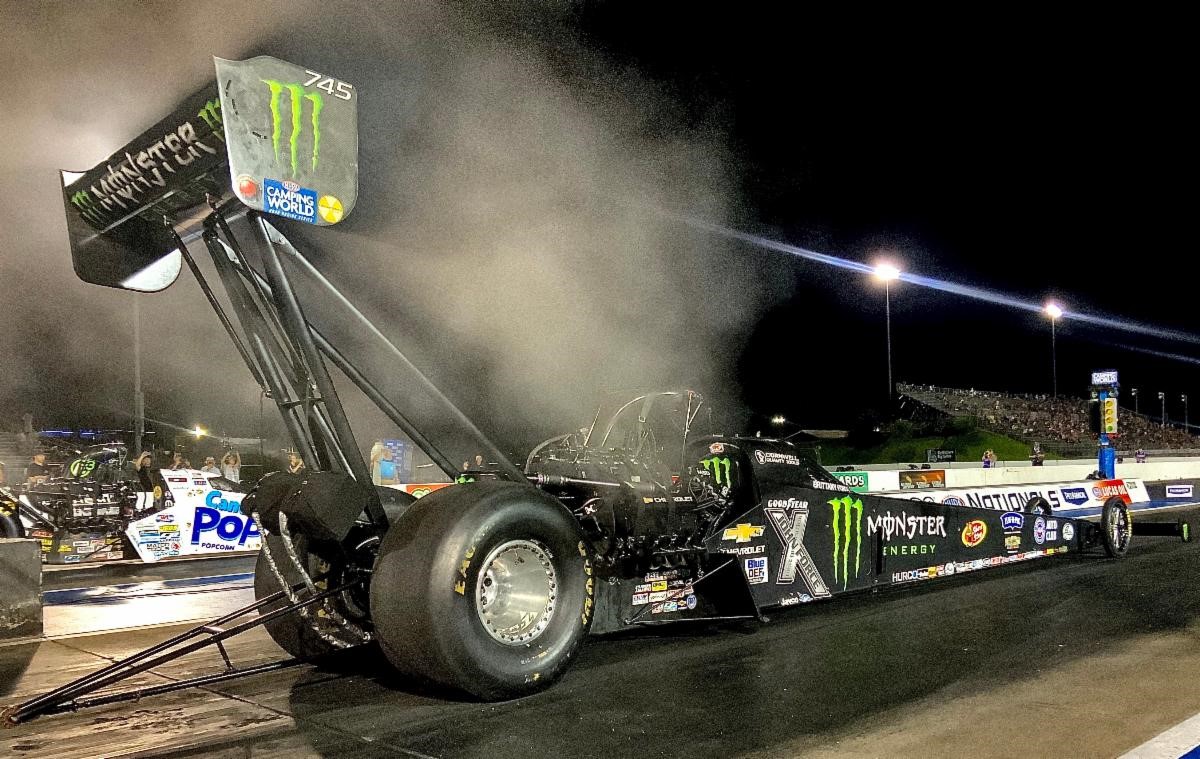 Todd unleashed a beautiful run with the sun setting at Heartland Motorsports Park, going 3.884 at 332.67 in his 11,000-horsepower DHL Toyota Camry. It was Todd's best run of the season and his first pass in the 3.80s in 2021, putting him on track to pick up a No. 1 qualifier for the second time this season and 14th in his career.
Todd noted how much his team has struggled in qualifying during the night sessions this year, but all of that changed on Friday and it could be perfect timing for the former world champ. He advanced to the final round in Pomona and entered the weekend just 21 points out of third in points at a critical juncture in the regular season.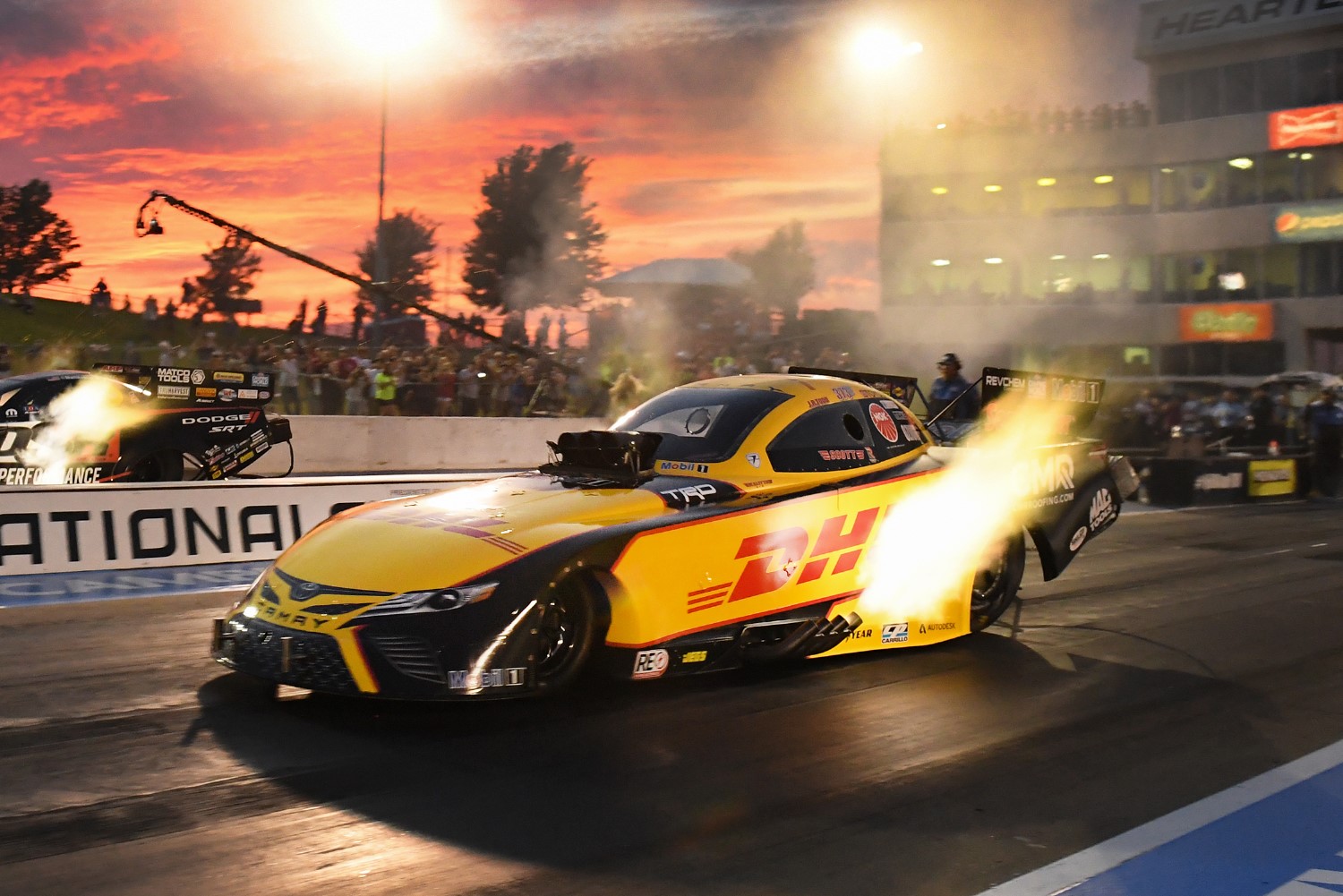 "I want to get going. After Pomona (and advancing to the final round), I got pumped up," Todd said. "Seeing the points gap we closed, we know we're in the hunt and in the fight. Now it's time to get after it. That's a big run. We haven't had a 3-second run in a long time, let alone a 3.80-something. Hats off to Todd (Smith) and Jon (Oberhofer), and everyone on the team. I'm excited and you've got to make those Friday night runs count. We've been struggling with that lately, so hopefully, this is a good sign of things to come in Topeka and heading into the Countdown."
Alexis DeJoria's solid season continued on Friday, going an impressive 3.894 at 329.67. DeJoria and Del Worsham noted after the run they were shooting for a run in the 3.92 range, but performed even better, giving them plenty of confidence for the rest of the weekend. Looking to move back into the points lead, Bob Tasca III went 3.905 at 328.66, putting him third. Blake Alexander's 3.920 at a whopping 332.92 — which was the fastest run of the night — has him fourth and Matt Hagan's 3.942 rounds out the top five.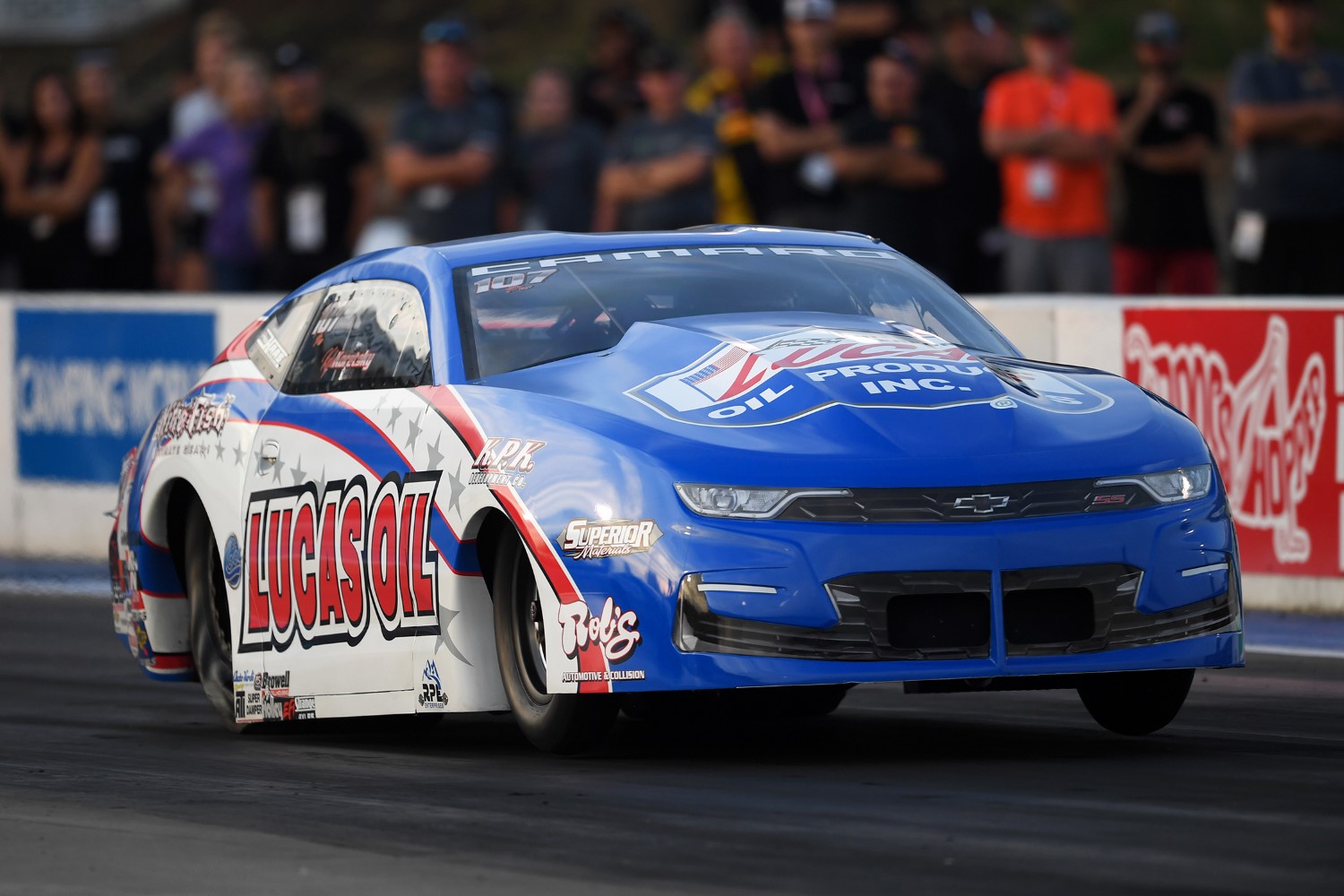 Following a strong outing in Pomona, where he advanced to the semifinals, Koretsky kept that momentum going, jumping to the No. 1 spot with a solid run of 6.634 at 205.51 in his Lucas Oil Chevrolet Camaro. Koretsky and his team seem to have found their groove as of late and it puts the second-year driver in line for the first career No. 1 qualifier in his young career. The KB Racing driver has been on a good run, advancing to the semifinals in Norwalk and Pomona, and qualifying second in Sonoma, as the team seems to be finding its rhythm at the perfect time.
"This is my first time here in Topeka, but I feel good coming out of Pomona," Koretsky said. "My car is running great and I felt good as soon as I let the clutch out tonight. It feels good, we've got a nice track and the facility is beautiful. Every time I come to the track, it's a dream for me. This is all I ever wanted to do and it's come true. We'll keep it and try to get a win this weekend."
Only the U.S. Nationals remain in the Pro Stock regular season following the stop in Topeka, which puts a priority on performing well this weekend. Koretsky did his part, and so did Troy Coughlin Jr., who went 6.635 at 203.74, putting him second after the first session. Greg Anderson went 6.636 at 205.29 to qualify third on Friday, meaning he'll have some work to do to pick up his ninth No. 1 qualifier in 10 Pro Stock races.
Bruno Massel, who recently picked up his first career round win in the class, is currently fourth after going 6.639 and Kenny Delco is fifth with a 6.647. Delco is currently fighting for the 10th spot in the points standings. He trailed Chris McGaha by 43 points entering the weekend.