NHRA: Force, Todd and Coughlin Jr. lead fields in Topeka heading into raceday
The final day of qualifying on Saturday at the Menards NHRA Nationals presented by PetArmor included plenty of changes, standout runs, and an entertaining prelude for what should be a memorable day of eliminations on Sunday at Heartland Motorsports Park in Topeka. Brittany Force jumped into the top spot in Top Fuel, J.R. Todd stayed No. 1 in Funny Car and Troy Coughlin Jr. raced his way to a top qualifier in Pro Stock.
There was considerable movement in Pro Stock throughout Saturday's two sessions, while the final qualifier at the House of Speed in Topeka in the nitro classes featured plenty of outstanding action as well.
Force laid down something special to close out Top Fuel, powering to the No. 1 spot when she went 3.716-seconds at 329.02 seconds in her 11,000-horsepower Monster Energy dragster. Paired up with Billy Torrence, Friday's provisional No. 1, Force topped him by .001 to take over the top position, giving her six No. 1 qualifiers in 11 races this year and 26th in her career. It's also her fourth straight No. 1 spot. She'll open eliminations against Scott Palmer.
While the No. 1 qualifying hats have been nice, what Force wants is her first victory of the season.
"That's going to be the tough part. We've had some luck on Friday and Saturday in qualifying, running well and getting the No. 1 qualifying hat, but raceday is where we need to turn our luck around," Force said. "David Grubnic, Mac Savage, and these Monster Energy boys, we're working hard and we're ready for that win."
Torrence went 3.750 in his final run of the night as he proved he is more than capable of winning in Topeka. His son, Steve, who won in Topeka in 2019 was also consistent on Saturday, going 3.756 to close out the day. He ended up in the fourth position, while Mike Salinas' 3.739 at 316.08 from Friday kept him in third.
Justin Ashley, who made a pair of consistent runs in the warmer conditions on Saturday, took fifth with his 3.769, while Clay Millican improved to a 3.798 to take sixth.
Nobody could match Todd's 3.884 at 332.67 from Friday, handing the former world champ his second No. 1 qualifier of the year in Funny Car and 14th in his career. Todd didn't have a great pass in either session on Saturday, but coming off a final round appearance in Pomona, the team is still feeling good heading into race day. He'll have a bye in the opening round and Todd is eager to try and put the finishing touches on what he hopes will be the second win of 2021.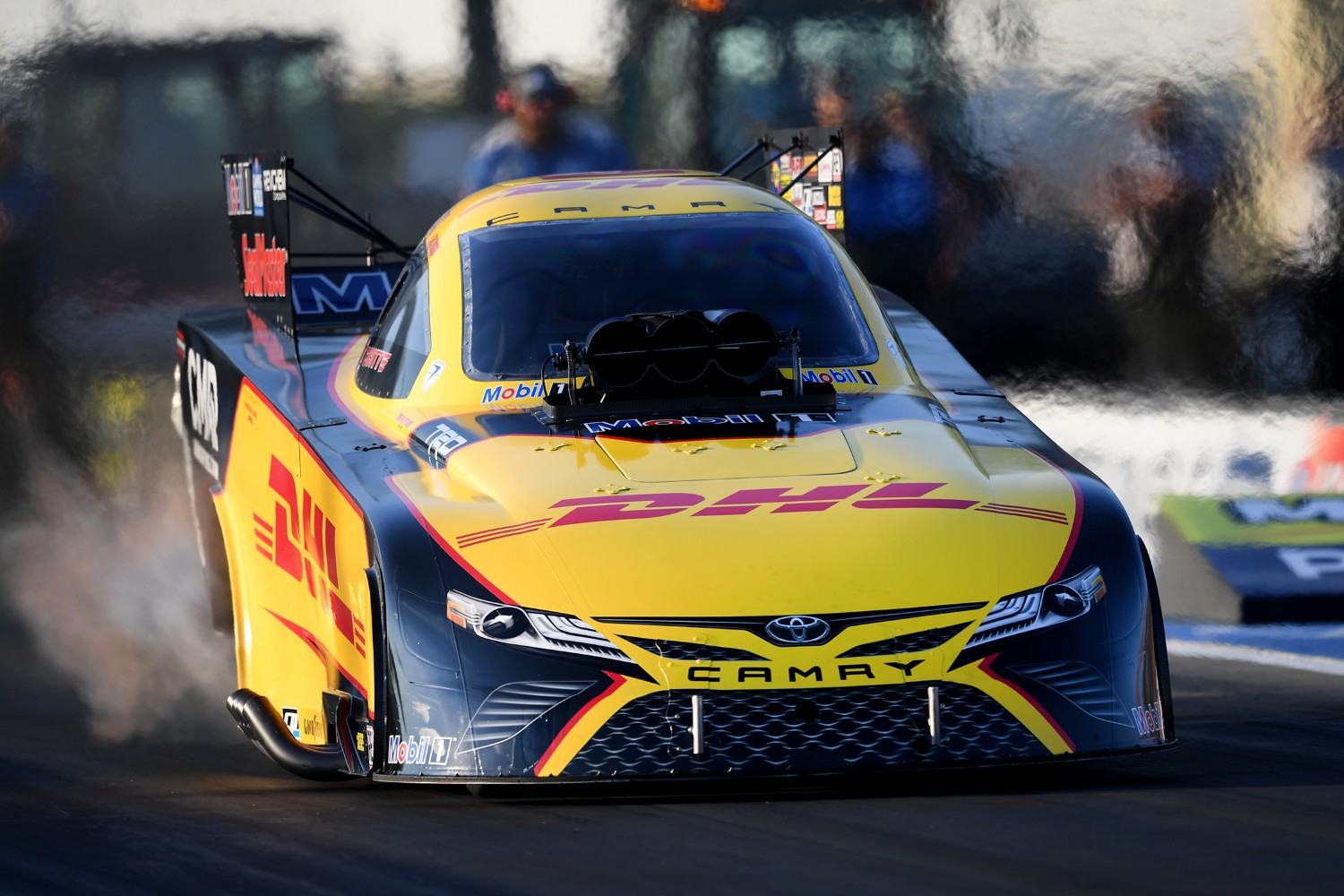 "You want to get every point you can, but the bigger picture is coming out of here with a trophy tomorrow," Todd said. "We were the No. 1 qualifier and that's nice and all, but it doesn't mean a whole lot if you don't finish the deal. Hats off to this team for digging deep and putting us on the pole and giving us those added points going into tomorrow. We're going to have to work for it if we want it, and we want it. We want to be in the hunt and I think we'll be right there."
Alexis DeJoria stayed in second thanks to her 3.894 from Friday, but she had an encouraging 3.975 to close out her day in the final session. Bob Tasca III, who also had a solid final run of the day, stayed third. Matt Hagan, the defending world champ, jumped to fourth thanks to his 3.911 to close out qualifying, sending Blake Alexander back a spot.
John Force had the most consistent car of Saturday and was the only driver to make two three-second passes, including a 3.944 that gave him the sixth spot. Ron Capps jumped to ninth in the final qualifier with his 3.968, while Robert Hight has yet to make a full run and will start race day from 14th.
A thoroughly entertaining day of Pro Stock qualifying went down to the wire and Coughlin capped it off in impressive fashion, picking up his first career No. 1 qualifier with a run of 6.600 at 205.07 in his JEGS.com Chevrolet Camaro. The top spot changed hands five times on Saturday, with Matt Hartford, Coughlin, Dallas Glenn, Greg Anderson, and Coughlin (again) all jumping to No. 1 at some point. In the end, it was Coughlin who reigned supreme in qualifying, earning his first career No. 1 spot in the NHRA Camping World Drag Racing Series.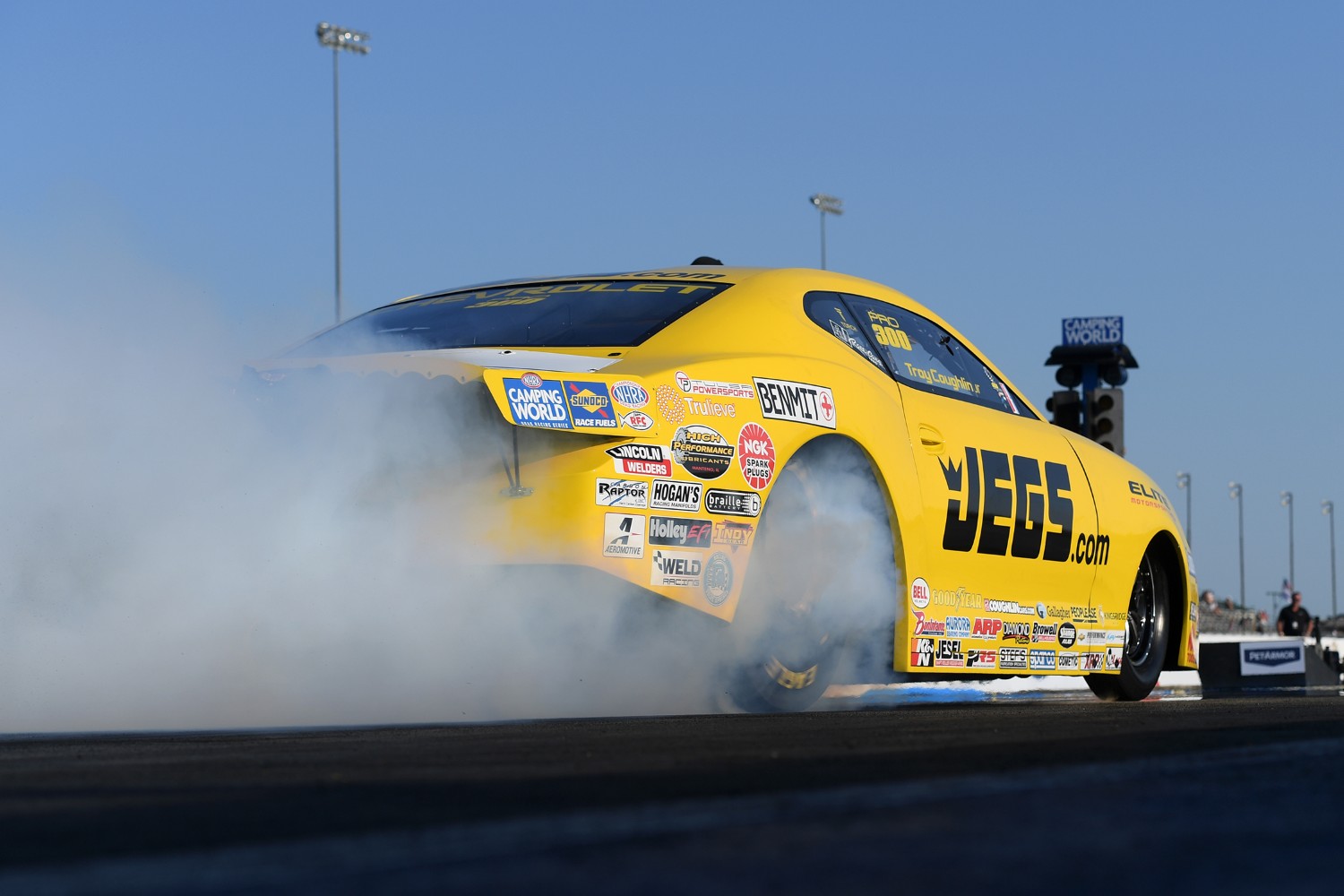 "The guys in the yellow and black, and the Elite (Motorsports) group are excellent in what they do," Coughlin said. "They know the cars, the track, and the conditions we're up against, and it's going to be an excellent Sunday, so let's go racing. These JEGS/Elite guys are giving me an awesome car, so on a scale of 1-10, I'm feeling like an 11."
Kyle Koretsky's run from Friday was quickly pushed aside, with Hartford and then Coughlin taking over the top during Saturday's first session. Dallas Glenn's 6.617 at 207.82 in the final session momentarily sent him to the top before Anderson delivered a terrific 6.606 at 206.67.
It appeared he would have his ninth No. 1 qualifier in 10 Pro Stock races, but a day that started great for Coughlin and the Elite Motorsports team ended even better. He'll open eliminations against Cristian Cuadra.
Anderson finished second in qualifying and Erica Enders, who made two strong runs on Saturday, is third with a 6.612 at 207.18. Glenn took the fourth spot and Matt Hartford rounded out the top five with his 6.621. Kenny Delco jumped up to sixth in the final qualifier after going 6.622.