NASCAR: Allmendinger wins the Verizon 200 Cup Race at Indy
AJ Allmendinger fulfilled a lifelong dream of his versatile racing career by standing on Victory Podium as a race winner at Indianapolis Motor Speedway, prevailing in a wild finish to the inaugural Verizon 200 at the Brickyard on Sunday.
Allmendinger, from Los Gatos, California, earned his second career NASCAR Cup Series victory – and first since 2014 – by driving the No. 16 Hyperice Chevrolet for lower-budget Kaulig Racing to victory by 0.929 of a second over Ryan Blaney in the No. 12 Menards/Knauf Ford. Kyle Larson finished third in the No. 5 HendrickCars.com Chevrolet.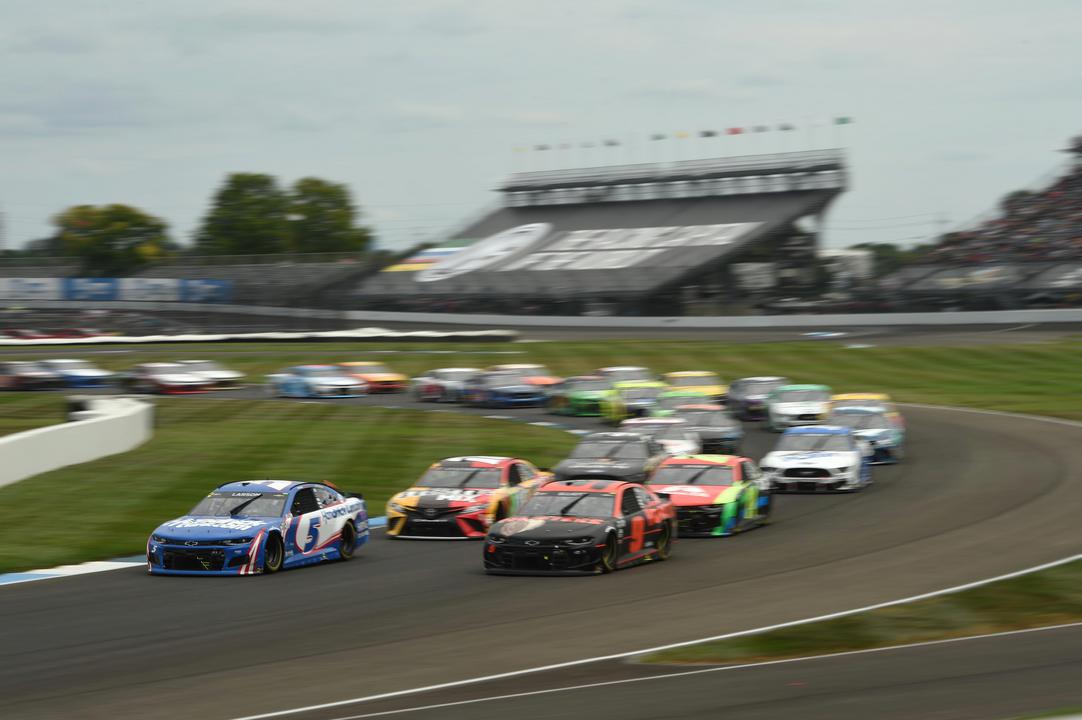 Reigning Cup Series champion Chase Elliott finished fourth in the No. 9 Hooters Chevrolet, with Matt DiBenedetto fifth in the No. 21 Motorcraft/Quick Lane Ford.
The race went to a second overtime, running 95 laps – 13 more than the scheduled distance – due to a wild scramble for victory in the first Cup Series race on the 14-turn, 2.439-mile road course at IMS after the Brickyard 400 took place from 1994-2020 on the 2.5-mile oval.
Allmendinger, 39, rose through the racing ranks in open-wheel competition before shifting to NASCAR in 2007, also competing in sports cars. His best finish in 10 Brickyard 400 starts was 10th, in 2008 and 2017. He also finished seventh in the 2013 Indianapolis 500 in his only start in "The Greatest Spectacle in Racing," driving for Penske Racing.
"That was an insane race," Allmendinger said. "This is unbelievable. In my wildest dreams, I could never imagine how this played out. The Hyperice Chevy was so good. We had to fight hard. I just won at Indy!"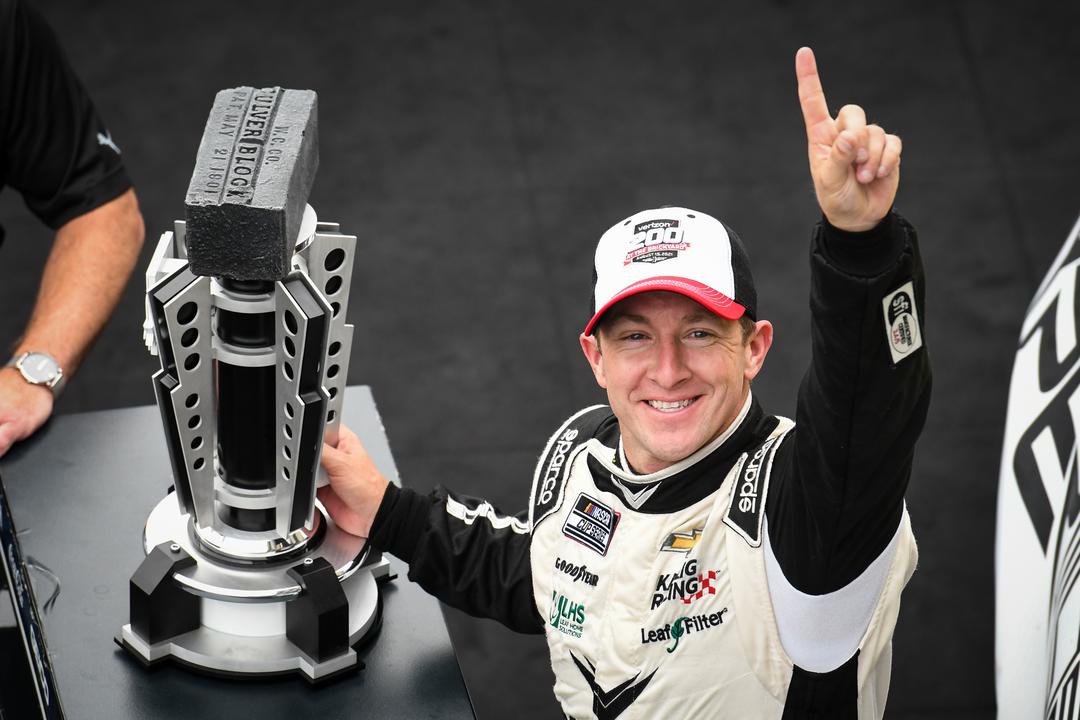 Allmendinger's unexpected win was the culmination of a wild finish after it appeared Cup Series points leader Larson would waltz to victory.
Larson led Elliott by 4.302 seconds on Lap 74 of the 82 scheduled laps when a caution period started due to debris in Turn 6. Larson, Elliott, pole sitter William Byron, Kyle Busch and many other leading drivers decided to pit for fresh tires for the dash to the checkered.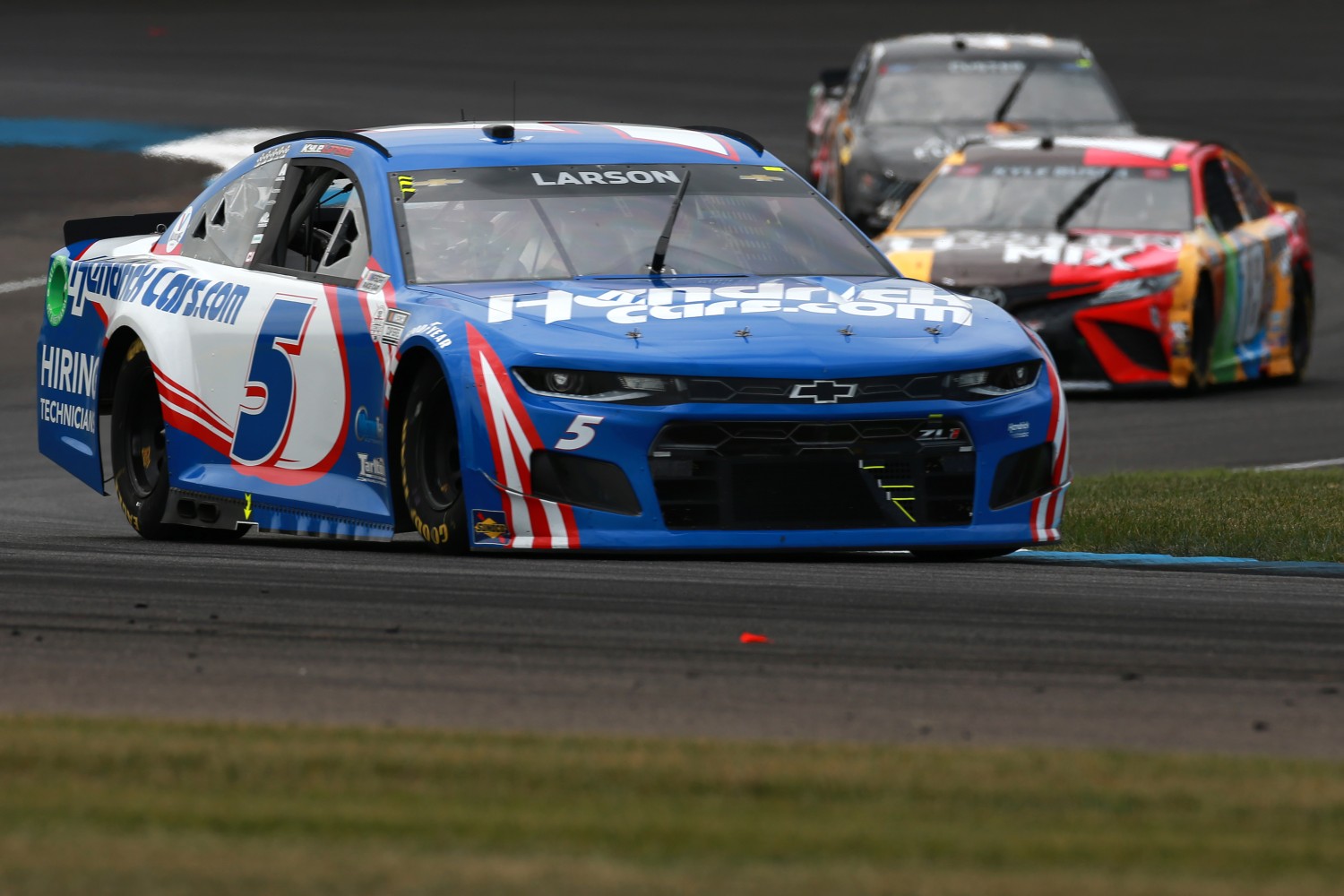 Meanwhile, Hamlin led a group of drivers who decided to stay on track and gain position, as they had pitted later than the cars that opted for service. Hamlin took the lead, followed by Kurt Busch, DiBenedetto and Chase Briscoe. Larson was the first of the drivers who pitted in the restart order, running fifth.
On the restart on Lap 77, Hamlin and Briscoe then started a spirited battle for the lead that continued until nearly the checkered flag. They were side-by-side at the Yard of Bricks start-finish line at the end of the first lap after the restart and also in Turn 1 on the next lap, with Hamlin inching ahead in Turn 1.
Then the complexion of the race changed on Lap 78, when 10 drivers were involved in an incident after hitting the curb exiting Turn 6, with Joey Logano in the No. 22 Shell Pennzoil Ford and Ryan Preece in the No. 37 Kroger Chevrolet making heavy contact with the tire barrier. Both drivers were unhurt.
BIG TROUBLE at @IMS!

The curb comes up, debris goes everywhere, and multiple cars are collected – with Joey Logano going into the tire barrier. #NASCAR

📺 NBC
💻 https://t.co/K0jeN99Gw2
📱NBC Sports App pic.twitter.com/prU3CY957I

— NASCAR on NBC (@NASCARonNBC) August 15, 2021
The red flag flew for repairs to the track and tire barrier, followed by an extended caution period due to track cleanup after James Davison's No. 15 Tilson Chevrolet car dumped fluid between Turns 1 through 4.
When the race resumed in overtime on Lap 90, Hamlin led Larson and Briscoe to the green flag. Larson took an outside line into Turn 1 but was nudged from behind by Kurt Busch, dropping him to seventh.
Later on that lap, Michael McDowell launched over the curb that prevents short-cutting of Turn 6, and his No. 34 CarPartsFord.com spun upon landing, hit by the No. 3 Dow MobilityScience Chevrolet of Austin Dillon and triggering another chain-reaction crash involving seven cars, triggering another caution and a second overtime.
The second overtime started on Lap 94, with Hamlin on the inside lane in the lead and Briscoe on the outside lane in second. Hamlin took the lead into Turn 1, and Briscoe was forced to miss Turn 2 and drive through the grass in his No. 14 HighPoint.com/Ford Performance Racing School Food after contact from DiBenedetto.
Briscoe rejoined the track and was side by side with leader Hamlin, who then pulled ahead while expecting Briscoe to be penalized for cutting the track. Briscoe then bumped the rear of Hamlin's No. 11 FedEx Ground Toyota in Turn 10, sending Hamlin into the grass and out of the lead.
"They told me he had a penalty right away, and to me it's obvious if you cut the racetrack and you end up in the lead, you're going to have a penalty," Hamlin said. "Lack of awareness (by Briscoe) and to race me for a lap. He went right into the back of me. You can't race that way. I don't think he did it malicious, but it was just bad judgement."
Said Indiana native Briscoe: "He's upset. I would have been, too. I don't think he realized I didn't even know I had a penalty until we got to Turn 10. Denny's been in my situation, when you're trying to go for your first win.
"I felt like that was my best opportunity to win the race if I could get under him there. I knew AJ was going to be quick, either way, and I had older tires, so I had to try to get going when I could. I'm sorry I ruined his day – that was never my intention."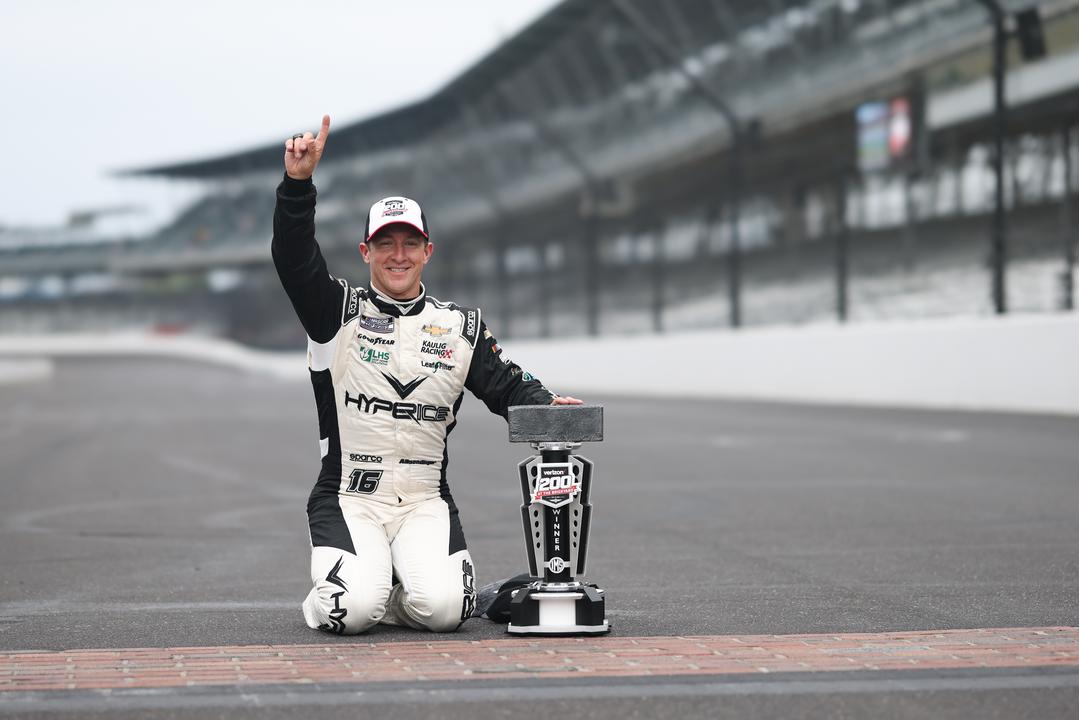 Briscoe's lead only lasted two turns, as he overshot Turn 12, running wide. That opened the door for Allmendinger, who powered to the lead and never wavered over the final lap of the two-lap overtime for the biggest win of his career. It was the first time Allmendinger led all race, with the 13th lead change of the day.
"It was survival of the fittest," Allmendinger said. "We probably had like an eighth- to 10th-place car. I sped on pit road. I thought we were going to finish 12th to 15th, and then those restarts were just insane.
"It's great when you have a car owner who just says, 'Go get me trophies.' He doesn't care if that thing's torn up. We just won at Indy – what's up? Let's go!"
AJ Allmendinger & Matt Kaulig Quotes
When you think about what this moment means for AJ Allmendinger, he's going to take a moment to soak it in. An open wheel driver for much of his career, he came here, almost won the Indy 500 for Roger Penske. That fell short, but today he finally gets his Brickyard win. Probably had no idea it would come in a Cup race on the road course, but he'll take it. The fans know his history with open wheel at this racetrack, and I would argue knowing AJ there's no racetrack that means more to him than this one. AJ, could there be a more significant place for you to get a win?
A.J. ALLMENDINGER: No. Oh, my gosh, I was so mad yesterday. I wanted to win so bad. I mean, this is unbelievable. In my wildest dreams I could never imagine the way that just played out.
Matt Kaulig, I don't even know what he's doing right now. He can't — he's almost in tears. Chris Rice, the Hyperice Chevy was so good. We had to fight hard. Robin Miller, I saw him this morning, this one is for you, baby. We love you, Robin, everything that you do. In memory of Bob Jenkins. Baby, I love you so much. Mom and Dad, all my friends and family, oh, my God. We just won at Indy.
Hey, Shank, I just wanted to be like you, baby. I just wanted to be like you.
His good friend Michael Shank won the Indy 500 this year with Helio Castroneves. Is there a way to describe the chaotic race that was today?
A.J. ALLMENDINGER: No, I mean, it was survival of the fittest. We probably had like an eighth-, tenth-place car, sped on pit road. I thought we were going to finish 12th to 15th, and then those restarts were just insane. It's great when you have a car owner that just says, Go get me trophies. He doesn't care if that thing is torn up. Chevy, ECR horsepower, RCR, everybody that allows us to do that, all of our sponsors on the Xfinity side of it, we just won at Indy. What's up! Thank you everybody for coming out. Let's go!
Q. We're here with Matt, we're here with AJ. Just explain it, tell me about it. Explain it.
AJ ALLMENDINGER: I don't know what just happened here. Matt, we just won at Indy in the Cup Series.
MATT KAULIG: In the Cup Series.
AJ ALLMENDINGER: That was an insane race. I can't — the curbing, we were 17th with nine, eight to go, and I was like, all right, maybe we get a top 10, and luckily, we've got a team owner that says trophy hunting. He doesn't care if the car is wrecked, bring it back on the wrecker or you go win the race.
Once I got close enough to the front, I'm like, well, I'm either going to win or I'm probably going to crash. That's what it was all about, get Hyperice in Victory Lane finally. It was just amazing.
Q. Matt, we've been talking about you, mostly in the Xfinity Series for six years now. You make the announcement you're going Cup racing full-time next year, also, but what does this do for your organization?
MATT KAULIG: Well, it's huge. We've been using this whole Cup Series — we've been using the 10 races or so that we're doing this year almost as a practice for going full-time Cup racing next year.
Just to get a win — and people have been asking me since we won this thing 20 minutes ago and saying that I'm not surprised that we did that. When you have AJ Allmendinger in the car at a road course and all the men and women at Kaulig Racing that do such a great job of preparing the race cars and everything that everybody does, it's not shocking that we're standing up here.
It's pretty surreal standing on this platform, but just super proud of AJ. We brought him here, what, three years ago just to do exactly this right here, and we actually have done it. So thank you.
Q. Listen, I know this place is special to you. It really is. As I walk down pit road and after we did pre-race, you're standing there talking to Roger Penske, so I've got a two-part question. Talking to him and winning here at this racetrack, what does that mean? But at the same time, 24 hours ago you were an awful load, dude. Explain that emotional roller coaster, too.
AJ ALLMENDINGER: I was telling Roger that I love him as always, but I was not a big fan of him at that time because they beat us yesterday. I was disappointed. I was disappointed the way I drove early in the race, disappointed the way the strategy worked out, and we never got a shot really at the win.
We all know this is what we love and hate about racing. It can just bury you in the ground and then you have moments like this where you just forget about every bad emotion, every low moment you've ever had because all it takes is one victory like this, especially at Indy.
To me this is the biggest place in the world. If you told me I have to win at one place, this is where I want to win. It erases all that bad feeling, and this is why I come here and do this.
Q. As you got ready for what was the final restart, what was in your mind as the plan? You've got Denny Hamlin, one of the best road racers, too, right in front of you. You know what Chase Briscoe wanted to do. What kind of plan did you have in your mind going down there?
AJ ALLMENDINGER: Well, I knew Denny was on old tires, and I didn't know if Chase was on older tires or not. I was trying to be aggressive. In my mind if I could somehow clear them and get them racing, I can drive away because I have better tires than they do.
I tried. Denny put a great — like we all would, put a great block on it. Him and Chase started banging, then Denny kind of used me up, which I would have done the same thing.
So at that point I was like, all right, let's settle in here. They told me the 14 had a penalty, and then I guess he got in the back of Denny and the seas parted at that point, and then it was like, run like hell because the 12 and everybody else, Kyle Larson is behind us.
I mean, I'm at a loss — it doesn't happen often. I'm at a loss for words.
Q. I know you've got an Xfinity trophy case at your place. Do you have a Cup trophy case or is that what's on the agenda this week?
MATT KAULIG: No, I haven't built it yet, but I'm going to have to get on it. So this is now as an organization, this is I guess our first Cup trophy but our 11th NASCAR trophy, and so super proud, super appreciative of that. We were talking about Indy, I used to come here as a kid watching — but it was for the Indy 500. But this is a really special place for me.
Really appreciative of AJ and everybody at Kaulig Racing and just thanks to all of our partners and hyper ice and Leaf Filter and Leaf Home and just everybody that backs us. Really appreciate it.
Race Results
| | | | | | |
| --- | --- | --- | --- | --- | --- |
| POS | CAR | DRIVER | MAKE | DELTA | LAPS |
| 1 | 16 | * AJ Allmendinger(i) | | — | 95 |
| 2 | 12 | Ryan Blaney | | 0.929 | 95 |
| 3 | 5 | Kyle Larson | | 1.070 | 95 |
| 4 | 9 | Chase Elliott | | 1.380 | 95 |
| 5 | 21 | Matt DiBenedetto | | 2.525 | 95 |
| 6 | 1 | Kurt Busch | | 3.660 | 95 |
| 7 | 43 | Erik Jones | | 4.747 | 95 |
| 8 | 77 | Justin Haley(i) | | 5.156 | 95 |
| 9 | 33 | * Austin Cindric(i) | | 5.288 | 95 |
| 10 | 6 | Ryan Newman | | 7.567 | 95 |
| 11 | 47 | Ricky Stenhouse Jr. | | 8.472 | 95 |
| 12 | 17 | Chris Buescher | | 9.040 | 95 |
| 13 | 23 | Bubba Wallace | | 10.818 | 95 |
| 14 | 4 | Kevin Harvick | | 10.849 | 95 |
| 15 | 19 | Martin Truex Jr. | | 11.359 | 95 |
| 16 | 7 | Corey Lajoie | | 12.591 | 95 |
| 17 | 48 | Alex Bowman | | 12.990 | 95 |
| 18 | 52 | Josh Bilicki | | 13.575 | 95 |
| 19 | 10 | Aric Almirola | | 14.357 | 95 |
| 20 | 18 | Kyle Busch | | 16.731 | 95 |
| 21 | 8 | Tyler Reddick | | 17.990 | 95 |
| 22 | 00 | Quin Houff | | 25.367 | 95 |
| 23 | 11 | Denny Hamlin | | 42.576 | 95 |
| 24 | 2 | Brad Keselowski | | 46.006 | 95 |
| 25 | 41 | Cole Custer | | 8.513 | 94 |
| 26 | 14 | Chase Briscoe # | | 31.402 | 94 |
| 27 | 66 | * Timmy Hill(i) | | -1 | 94 |
| 28 | 53 | Garrett Smithley(i) | | -1 | 94 |
| 29 | 42 | Ross Chastain | | -2 | 93 |
| 30 | 34 | Michael McDowell | | -7 | 88 |
| 31 | 3 | Austin Dillon | | -7 | 88 |
| 32 | 15 | James Davison | | -15 | 80 |
| 33 | 24 | William Byron | | -18 | 77 |
| 34 | 22 | Joey Logano | | -18 | 77 |
| 35 | 37 | * Ryan Preece | | -18 | 77 |
| 36 | 20 | Christopher Bell | | -18 | 77 |
| 37 | 99 | Daniel Suarez | | -18 | 77 |
| 38 | 38 | Anthony Alfredo # | | -27 | 68 |
| 39 | 78 | Andy Lally(i) | | -40 | 55 |
| 40 | 51 | Cody Ware(i) | | -49 | 46 |
# DENOTES ROOKIE
(I) NOT ELIGIBLE FOR POINTS
(*) REQUIRED TO QUALIFY ON TIME
Average Speed of Race Winner:  69.171 mph.
Time of Race:  3 Hrs, 20 Mins, 59 Secs. Margin of Victory:  0.929 Seconds.
Caution Flags:  6 for 25 laps.
Lead Changes:  13 among 11 drivers.
Lap Leaders:   W. Byron 1;C. Briscoe # 2-13;T. Reddick 14-16;M. McDowell 17;B. Keselowski 18-19;C. Elliott 20-33;T. Reddick 34-36;A. Dillon 37;K. Larson 38-54;D. Hamlin 55-62;M. DiBenedetto 63;K. Larson 64-74;D. Hamlin 75-93;*. Allmendinger(i) 94-95.
Leaders Summary (Driver, Times Lead, Laps Led):  Kyle Larson 2 times for 28 laps; Denny Hamlin 2 times for 27 laps; Chase Elliott 1 time for 14 laps; Chase Briscoe # 1 time for 12 laps; Tyler Reddick 2 times for 6 laps; * AJ Allmendinger(i) 1 time for 2 laps; Brad Keselowski 1 time for 2 laps; Matt DiBenedetto 1 time for 1 lap; William Byron 1 time for 1 lap; Austin Dillon 1 time for 1 lap; Michael McDowell 1 time for 1 lap.
Stage #1 Top Ten: 8,34,3,43,37,2,47,77,14,9
Stage #2 Top Ten: 8,3,37,47,21,77,7,78,5,9