Larson proud of 'best car' at Indianapolis, pleased with points results
Kyle Larson looked poised to win his third road course victory at the Indianapolis Motor Speedway road course Sunday afternoon before two red flags and multiple accidents hindered his process.
The driver of the No. 5 Chevrolet Camaro ZL1 1LE was leading the field with 10 laps to go in the inaugural event when a curb in turns five and six started to come undone, affecting the NASCAR Cup Series cars that ran over it. The first red flag was dropped after several cars suffered accidents from the curb and oil was spilled on the track.
"It was wild there at the end," Larson said. "My car was extremely good. Really proud of everybody on our Hendrickcars.com team. We had the best car for sure throughout the second and third stage, and then just we had the caution there with like 10 to go or something and then we had to come down, put tires on, and some guys gambled and stayed out, and that kind of just got us in the mess a little bit."
Did you know that @KyleLarsonRacin has finished top three in four of the last five road course races? 🔥 #MondayMotivation pic.twitter.com/R8fxcNd0Xv

— Hendrick Motorsports (@TeamHendrick) August 16, 2021
Larson led the majority of the field down pit road once the field was yellow again. He began to work his way back to the lead spot when the green flag waved and started NASCAR overtime after the ruined curb was removed from turns five and six. However, it took less than two laps for another red flag to be displayed due to more accidents on the course.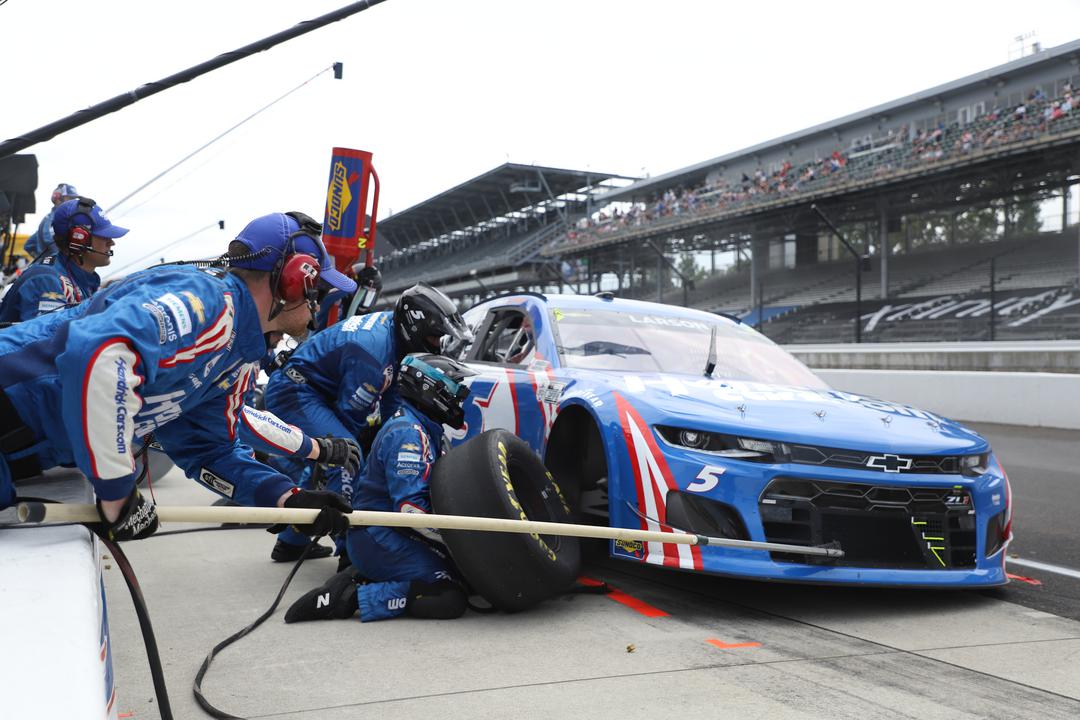 "I feel like we need the curb there, but I don't know if they can just make it out of concrete or something just because that leading edge of the lip seems to pull up and destroy race cars," Larson said. "I'm sure they'll figure it out for next time."
Larson was able to restart on the front row, but another car nosed his bumper and sent him back a few positions. After the leader spun out in front of Larson in the final lap, he managed to cross the finish line in third place and notch his 13th top-five finish in 24 races so far this season.
Despite the chaotic end to the Indy road course, Larson's top-five finish allowed him to take over as the sole leader in the points standings with just two races left in the regular season.
"(I was) able to salvage a third, so (I'm) happy about that, and (it's) a good points day," he said.