WEC: Kobayashi tops 24 Hours of Le Mans Practice 1
Kamui Kobayashi turned a lap of 3m29.309s in his #7 Toyota Hypercar to edge out the #36 Alpine Hypercar driven by Matthieu Vaxiviere by just 0.086s in opening practice for the 24 Hours of Le Mans.
The #8 Toyota hypercar, driven by Kazuki Nakajima, was just 0.001s slower in third place.
The fastest LMP2 car was the #22 United Autosport entry driven by Filipe Albuquerque.
The #52 Ferrari driven by Miguel Molina was fastest in the GTE Pro category
Last night the 62 cars that are competing at this year's Le Mans all lined up on the start/finish straight for the collective car picture. Thirty-three of the cars pictured are eligible to score WEC World Championship points – of which 50 points are available this weekend.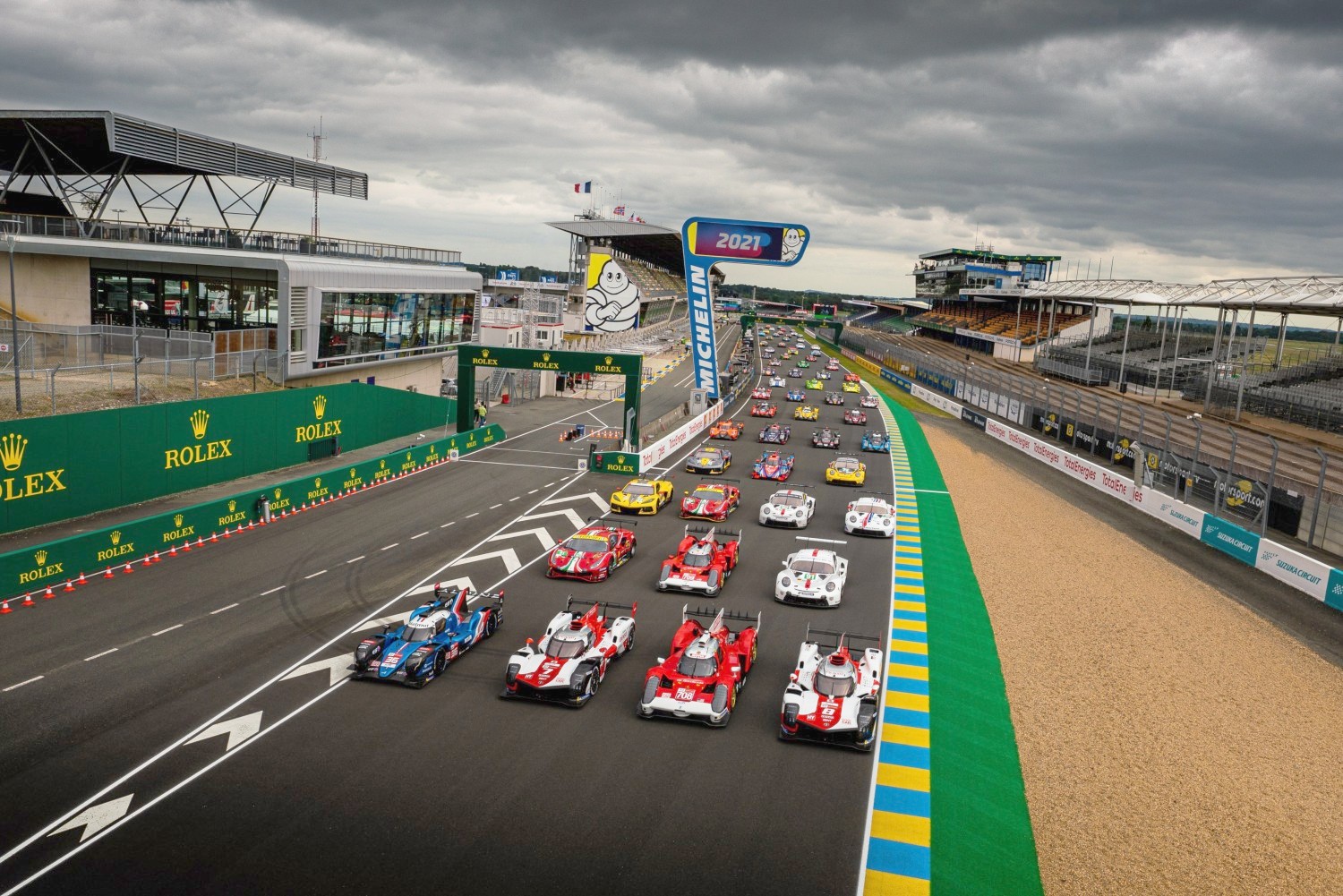 Practice 1 Results
| | | | | | | | |
| --- | --- | --- | --- | --- | --- | --- | --- |
| POS | # | CLASS | TEAM | DRIVER | CAR | TIME | GAP |
| 1 | 7 | Hypercar H | TOYOTA GAZOO RACING | KOBAYASHI Kamui | Toyota GR010 HYBRID | 3m29.309s | 0.000s |
| 2 | 36 | Hypercar | ALPINE ELF MATMUT | VAXIVIERE Matthieu | Alpine A480 – Gibson | 3m29.395s | 0.086 |
| 3 | 8 | Hypercar H | TOYOTA GAZOO RACING | NAKAJIMA Kazuki | Toyota GR010 HYBRID | 3m29.396s | 0.087 |
| 4 | 22 | LM P2 | UNITED AUTOSPORTS USA | ALBUQUERQUE Filipe | Oreca 07 – Gibson | 3m29.441s | 0.132 |
| 5 | 26 | LM P2 | G-DRIVE RACING | COLAPINTO Franco | Aurus 01 – Gibson | 3m30.094s | 0.785 |
| 6 | 709 | Hypercar | GLICKENHAUS RACING | WESTBROOK Richard | Glickenhaus 007 LMH | 3m30.216s | 0.907 |
| 7 | 708 | Hypercar | GLICKENHAUS RACING | PLA Olivier | Glickenhaus 007 LMH | 3m30.325s | 1.016 |
| 8 | 28 | LM P2 | JOTA | BLOMQVIST Tom | Oreca 07 – Gibson | 3m30.629s | 1.320 |
| 9 | 41 | LM P2 | TEAM WRT | DELETRAZ Louis | Oreca 07 – Gibson | 3m30.724s | 1.415 |
| 10 | 48 | LM P2 | IDEC SPORT | PILET Patrick | Oreca 07 – Gibson | 3m30.912s | 1.603 |
| 11 | 21 | LM P2 | DRAGONSPEED USA | MONTOYA Juan Pablo | Oreca 07 – Gibson | 3m30.991s | 1.682 |
| 12 | 70 | LM P2 | REALTEAM RACING | NATO Norman | Oreca 07 – Gibson | 3m30.996s | 1.687 |
| 13 | 31 | LM P2 | TEAM WRT | HABSBURG Ferdinand | Oreca 07 – Gibson | 3m31.158s | 1.849 |
| 14 | 38 | LM P2 | JOTA | DAVIDSON Anthony | Oreca 07 – Gibson | 3m31.279s | 1.970 |
| 15 | 25 | LM P2 P/A | G-DRIVE RACING | ANDRADE Rui | Aurus 01 – Gibson | 3m31.322s | 2.013 |
| 16 | 32 | LM P2 | UNITED AUTOSPORTS | ABERDEIN Jonathan | Oreca 07 – Gibson | 3m31.568s | 2.259 |
| 17 | 30 | LM P2 | DUQUEINE TEAM | ROJAS Guillermo | Oreca 07 – Gibson | 3m32.145s | 2.836 |
| 18 | 65 | LM P2 | PANIS RACING | ALLEN James | Oreca 07 – Gibson | 3m32.236s | 2.927 |
| 19 | 29 | LM P2 | RACING TEAM NEDERLAND | VAN UITERT Job | Oreca 07 – Gibson | 3m32.428s | 3.119 |
| 20 | 82 | LM P2 | RISI COMPETIZIONE | JARVIS Oliver | Oreca 07 – Gibson | 3m32.523s | 3.214 |
| 21 | 23 | LM P2 | UNITED AUTOSPORTS | LYNN Alexander | Oreca 07 – Gibson | 3m32.690s | 3.381 |
| 22 | 20 | LM P2 | HIGH CLASS RACING | SØRENSEN Marco | Oreca 07 – Gibson | 3m32.970s | 3.661 |
| 23 | 44 | LM P2 | ARC BRATISLAVA | KONOPKA Matej | Oreca 07 – Gibson | 3m33.052s | 3.743 |
| 24 | 24 | LM P2 P/A | PR1 MOTORSPORTS MATHIASEN | AUBRY Gabriel | Oreca 07 – Gibson | 3m33.308s | 3.999 |
| 25 | 49 | LM P2 P/A | HIGH CLASS RACING | FJORDBACH Anders | Oreca 07 – Gibson | 3m33.456s | 4.147 |
| 26 | 34 | LM P2 | INTER EUROPOL COMPETITION | BRUNDLE Alex | Oreca 07 – Gibson | 3m33.491s | 4.182 |
| 27 | 17 | LM P2 P/A | IDEC SPORT | LAURENT Thomas | Oreca 07 – Gibson | 3m33.612s | 4.303 |
| 28 | 39 | LM P2 P/A | SO24-DIROB BY GRAFF | ROBIN Maxime | Oreca 07 – Gibson | 3m33.767s | 4.458 |
| 29 | 1 | LM P2 | RICHARD MILLE RACING TEAM | VISSER Beitske | Oreca 07 – Gibson | 3m34.114s | 4.805 |
| 30 | 84 | CDNT | ASSOCIATION SRT41 | LAHAYE Matthieu | Oreca 07 – Gibson | 3m34.510s | 5.201 |
| 31 | 74 | LM P2 P/A | RACING TEAM INDIA EURASIA | CORBETT John | Ligier JSP217 – Gibson | 3m37.048s | 7.739 |
| 32 | 52 | LM GTE Pro | AF CORSE | MOLINA Miguel | Ferrari 488 GTE Evo | 3m50.123s | 20.814 |
| 33 | 64 | LM GTE Pro | CORVETTE RACING | SIMS Alexander | Chevrolet Corvette C8.R | 3m50.163s | 20.854 |
| 34 | 56 | LM GTE Am | TEAM PROJECT 1 | CAIROLI Matteo | Porsche 911 RSR – 19 | 3m50.193s | 20.884 |
| 35 | 91 | LM GTE Pro | PORSCHE GT TEAM | LIETZ Richard | Porsche 911 RSR – 19 | 3m50.488s | 21.179 |
| 36 | 51 | LM GTE Pro | AF CORSE | CALADO James | Ferrari 488 GTE Evo | 3m50.611s | 21.302 |
| 37 | 79 | LM GTE Pro | WEATHERTECH RACING | BAMBER Earl | Porsche 911 RSR – 19 | 3m50.737s | 21.428 |
| 38 | 72 | LM GTE Pro | HUB AUTO RACING | MARTIN Maxime | Porsche 911 RSR – 19 | 3m51.188s | 21.879 |
| 39 | 86 | LM GTE Am | GR RACING | BARKER Benjamin | Porsche 911 RSR – 19 | 3m51.326s | 22.017 |
| 40 | 63 | LM GTE Pro | CORVETTE RACING | TAYLOR Jordan | Chevrolet Corvette C8.R | 3m51.330s | 22.021 |
| 41 | 88 | LM GTE Am | DEMPSEY – PROTON RACING | BASTIEN Dominique | Porsche 911 RSR – 19 | 3m51.519s | 22.210 |
| 42 | 92 | LM GTE Pro | PORSCHE GT TEAM | CHRISTENSEN Michael | Porsche 911 RSR – 19 | 3m51.542s | 22.233 |
| 43 | 18 | LM GTE Am | ABSOLUTE RACING | SEEFRIED Marco | Porsche 911 RSR – 19 | 3m51.826s | 22.517 |
| 44 | 57 | LM GTE Am | KESSEL RACING | JENSEN Mikkel | Ferrari 488 GTE Evo | 3m51.911s | 22.602 |
| 45 | 33 | LM GTE Am | TF SPORT | FRAGA Felipe | Aston Martin Vantage AMR | 3m52.224s | 22.915 |
| 46 | 98 | LM GTE Am | ASTON MARTIN RACING | THIIM Nicki | Aston Martin VANTAGE AMR | 3m52.329s | 23.020 |
| 47 | 80 | LM GTE Am | IRON LYNX | ILOTT Callum | Ferrari 488 GTE Evo | 3m52.349s | 23.040 |
| 48 | 95 | LM GTE Am | TF SPORT | GUNN Ross | Aston Martin VANTAGE AMR | 3m52.488s | 23.179 |
| 49 | 47 | LM GTE Am | CETILAR RACING | SERNAGIOTTO Giorgio | Ferrari 488 GTE Evo | 3m52.528s | 23.219 |
| 50 | 83 | LM GTE Am | AF CORSE | ROVERA Alessio | Ferrari 488 GTE Evo | 3m52.598s | 23.289 |
| 51 | 55 | LM GTE Am | SPIRIT OF RACE | GRIFFIN Matthew | Ferrari 488 GTE Evo | 3m52.809s | 23.500 |
| 52 | 54 | LM GTE Am | AF CORSE | CASTELLACCI Francesco | Ferrari 488 GTE Evo | 3m52.838s | 23.529 |
| 53 | 85 | LM GTE Am | IRON LYNX | BOVY Sarah | Ferrari 488 GTE Evo | 3m52.873s | 23.564 |
| 54 | 777 | LM GTE Am | D'STATION RACING | WATSON Andrew | Aston Martin VANTAGE AMR | 3m52.880s | 23.571 |
| 55 | 60 | LM GTE Am | IRON LYNX | RUBERTI Paolo | Ferrari 488 GTE Evo | 3m53.042s | 23.733 |
| 56 | 71 | LM GTE Am | INCEPTION RACING | MILLROY Ollie | Ferrari 488 GTE Evo | 3m53.076s | 23.767 |
| 57 | 77 | LM GTE Am | DEMPSEY – PROTON RACING | RIED Christian | Porsche 911 RSR – 19 | 3m53.200s | 23.891 |
| 58 | 388 | LM GTE Am | RINALDI RACING | HOOK Christian | Ferrari 488 GTE Evo | 3m53.222s | 23.913 |
| 59 | 99 | LM GTE Am | PROTON COMPETITION | INTHRAPHUVASAK Vuttikhorn | Porsche 911 RSR – 19 | 3m53.915s | 24.606 |
| 60 | 46 | LM GTE Am | TEAM PROJECT 1 | FOLEY Robert | Porsche 911 RSR – 19 | 3m54.970s | 25.661 |
| 61 | 69 | LM GTE Am | HERBERTH MOTORSPORT | RENAUER Robert | Porsche 911 RSR – 19 | 3m55.223s | 25.914 |
| 62 | 66 | LM GTE Am | JMW MOTORSPORT | FANNIN Jody | Ferrari 488 GTE Evo | 3m55.682s | 26.373 |