WEC: Kobayashi claims Le Mans Hyperpole for Toyota
Toyota Gazoo Racing's Kamui Kobayashi driving the No. 7 Toyota GR010 Hybrid Hypercar has taken pole position for this weekend's 24 Hours of Le Mans, round four of FIA WEC.
It is the fourth time in five years that Kobayashi has taken pole at Le Mans. The outright track record holder sealed pole with a sensational 3m23.900s lap.
Hub Auto Porsche took a surprise pole in LMGTE Pro after the session was red flagged following accident for Kevin Estre's Porsche 911 RSR – 19 at Indianapolis Corner.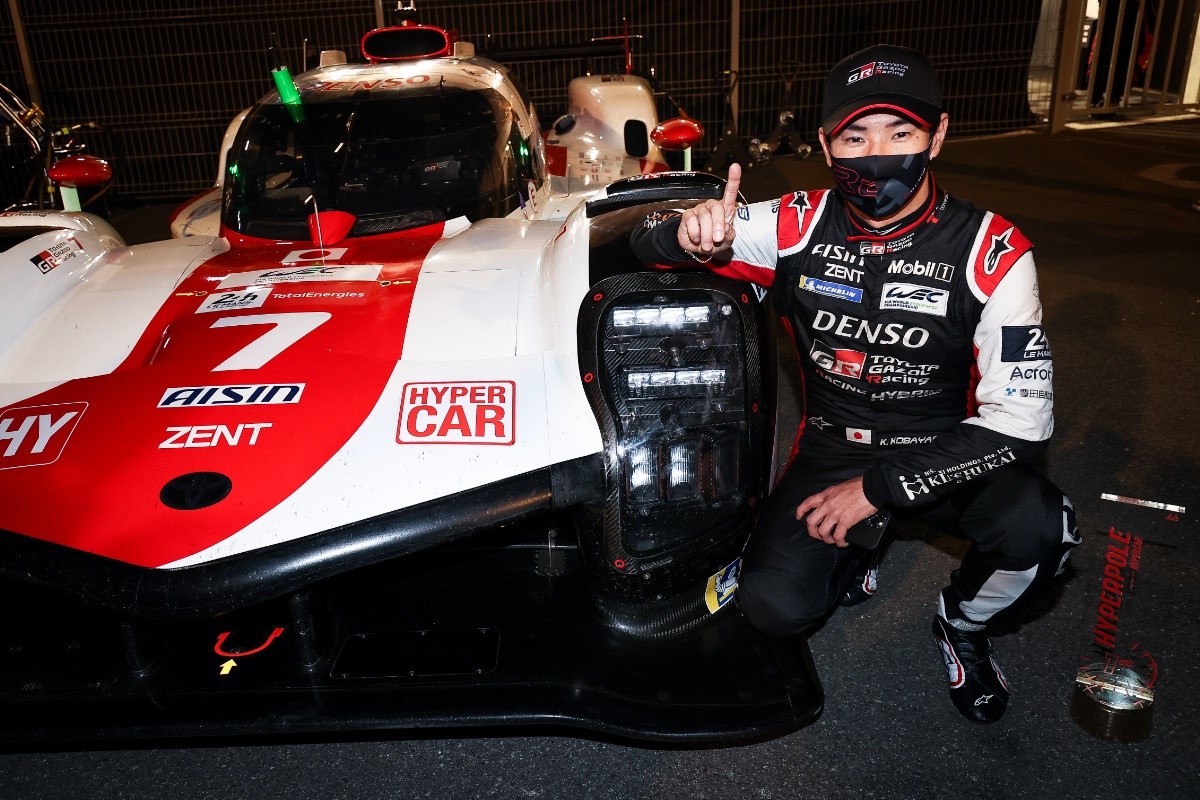 Antonio Felix da Costa on top for WEC entry JOTA in LMP2, while No.88 Dempsey Proton Porsche takes pole in the LMGTE Am category.
Below are the main headlines from each category.
Hypercar
Kamui Kobayashi sets pole for the 89th running of the 24 Hours of Le Mans by setting rapid 3m23.900s lap in the No.7 Toyota GR010-Hybrid Hypercar
No.8 Toyota GR010-Hybrid Hypercar takes second best time as Brendon Hartley posts 3m24.195s lap just 0.295s off pole
Alpine Elf Matmut with Nicolas Lapierre will start third on grid after 3m25.574s lap effort
No. 708 Glickenhaus Racing entry driven by Olivier Pla places fourth with a 3m25.639s lap set by Pla who gets to within 0.065s of Alpine
No. 709 Glickenhaus of Roman Dumas will start in fifth place for Glickenhaus Racing's first Le Mans start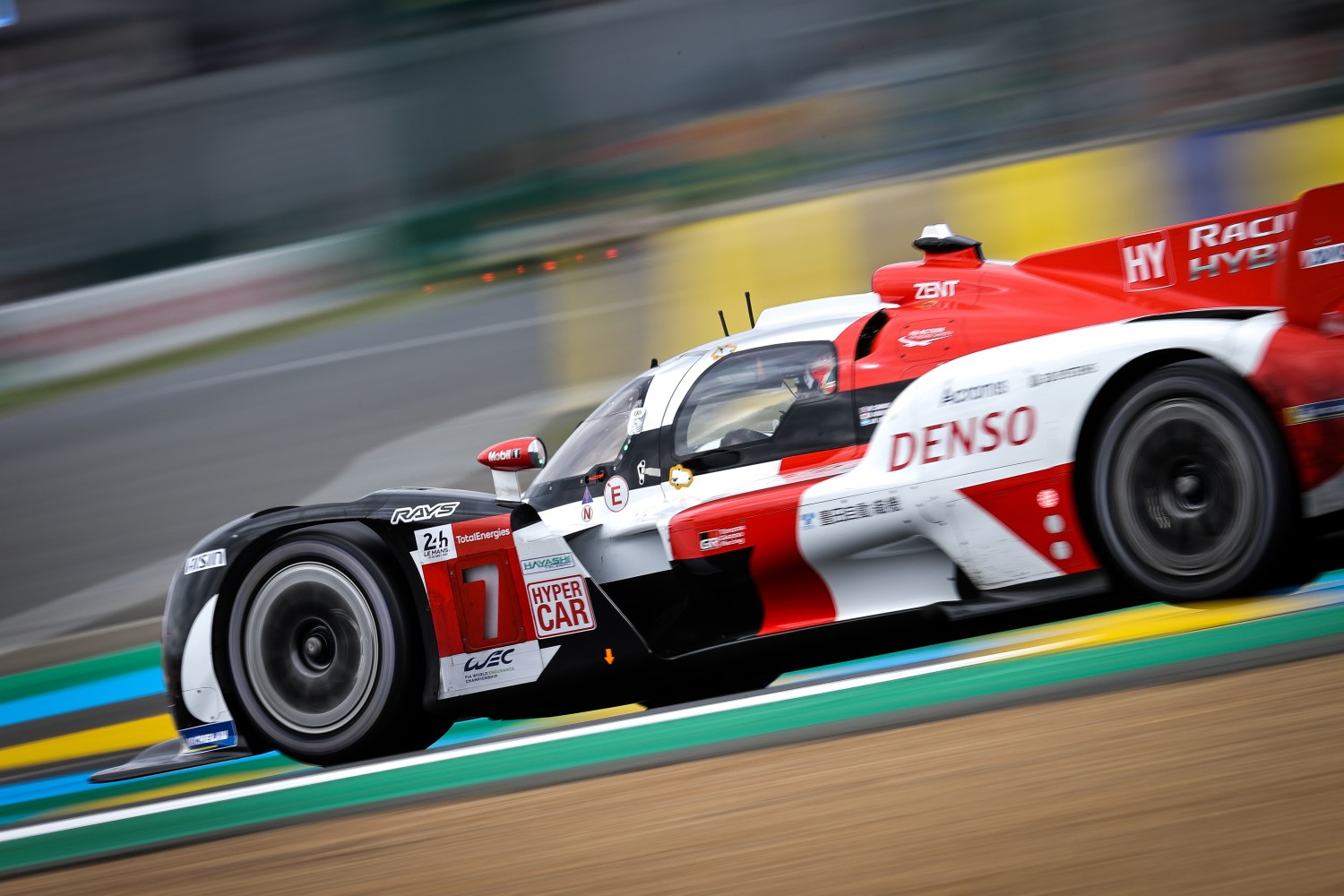 LMGTE Pro
Dries Vanthoor stars for Hub Auto Porsche as he takes surprise pole position with sensational lap of 3m46.882
Belgian young-gun beats WEC entry No. 52 AF Corse Ferrari 488 GTE driven by Daniel Serra who sets a lap just 0.171s off polesitter
No.63 Corvette places third as Nick Tandy makes it three different manufacturers in top three positions
Accident for points leading No.92 Porsche as Kevin Estre endures off at Indianapolis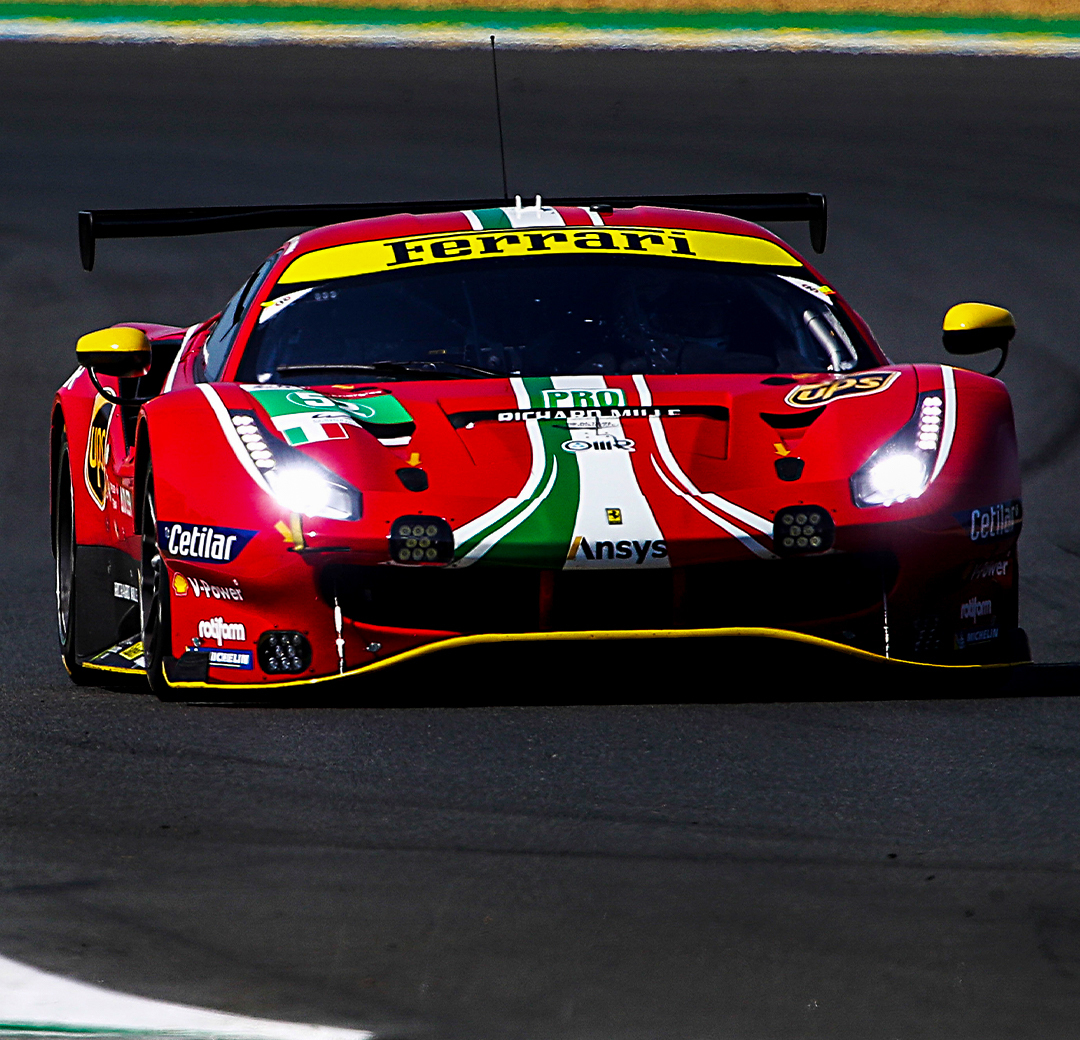 LMP2
Antonio Felix da Costa takes No.38 JOTA car to LMP2 pole position with a 3m27.950s lap
Portuguese ace laps 0.5s quicker than Louis Deletraz in No.41 Team WRT machine
Panis Racing's Will Stevens peaks on a 3m28.586s lap to claim third place start on Saturday afternoon
G-Drive with No.26 car qualified by Nyck de Vries starts fourth ahead of United Autosports USA pair as No.32 car just beats No.23 machine
LMGTE Am
No.88 Dempsey Proton Racing Porsche's 3m47.987s set by Julien Andlauer good enough for pole as French ace continues excellent form
GR Racing take second as Tom Gamble brings joy to British team with fine 3m48.560s lap
Team Project 1 Porsche driven by Matteo Cairoli in third position ahead of No.47 Cetilar Racing Porsche
Results
| | | | | | | |
| --- | --- | --- | --- | --- | --- | --- |
| Pos | No. | Class | Drivers | Car | Time | Gap |
| 1 | 7 | HYPERCAR | Mike Conway, Kamui Kobayashi, Jose Maria Lopez | Toyota GR010 – Hybrid | 3m26.279s | 0.000s |
| 2 | 36 | HYPERCAR | Andre Negrao, Nicolas Lapierre, Matthieu Vaxiviere | Alpine A480 | 3m27.095s | 0.816 |
| 3 | 8 | HYPERCAR | Sébastien Buemi, Kazuki Nakajima, Brendon Hartley | Toyota GR010 – Hybrid | 3m27.671s | 1.392 |
| 4 | 708 | HYPERCAR | Pipo Derani, Franck Mailleux, Olivier Pla | Glickenhaus 007 LMH | 3m28.256s | 1.977 |
| 5 | 38 | LMP2 | Roberto Gonzalez, Antonio Felix da Costa, Anthony Davidson | Oreca 07 | 3m28.807s | 2.528 |
| 6 | 26 | LMP2 | Roman Rusinov, Franco Colapinto, Nyck de Vries | Aurus 01 | 3m29.246s | 2.967 |
| 7 | 709 | HYPERCAR | Ryan Briscoe, Richard Westbrook, Romain Dumas | Glickenhaus 007 LMH | 3m29.381s | 3.102 |
| 8 | 41 | LMP2 | Robert Kubica, Louis Deletraz, Ye Yifei | Oreca 07 | 3m29.441s | 3.162 |
| 9 | 65 | LMP2 | Julien Canal, Will Stevens, James Allen | Oreca 07 | 3m29.508s | 3.229 |
| 10 | 32 | LMP2 | Nico Jamin, Jonathan Aberdein, Manuel Maldonado | Oreca 07 | 3m29.688s | 3.409 |
| 11 | 23 | LMP2 | Paul di Resta, Alex Lynn, Wayne Boyd | Oreca 07 | 3m29.830s | 3.551 |
| 12 | 28 | LMP2 | Sean Gelael, Stoffel Vandoorne, Tom Blomqvist | Oreca 07 | 3m29.835s | 3.556 |
| 13 | 70 | LMP2 | Esteban Garcia, Loic Duval, Norman Nato | Oreca 07 | 3m29.861 | 3.582 |
| 14 | 24 | LMP2 | Patrick Kelly, Gabriel Aubry, Simon Trummer | Oreca 07 | 3m30.123 | 3.844 |
| 15 | 48 | LMP2 | Paul Lafargue, Paul-Loup Chatin, Patrick Pilet | Oreca 07 | 3m30.166 | 3.887 |
| 16 | 31 | LMP2 | Robin Frijns, Ferdinand Habsburg, Charles Milesi | Oreca 07 | 3m30.182 | 3.903 |
| 17 | 22 | LMP2 | Philip Hanson, Fabio Scherer, Filipe Albuquerque | Oreca 07 | 3m30.234 | 3.955 |
| 18 | 21 | LMP2 | Henrik Hedman, Ben Hanley, Juan Pablo Montoya | Oreca 07 | 3m30.323 | 4.044 |
| 19 | 82 | LMP2 | Ryan Cullen, Oliver Jarvis, Felipe Nasr | Oreca 07 | 3m30.418 | 4.139 |
| 20 | 30 | LMP2 | Rene Binder, Guillermo Rojas, Tristan Gommendy | Oreca 07 | 3m30.691 | 4.412 |
| 21 | 17 | LMP2 | Dwight Merriman, Thomas Laurent, Ryan Dalziel | Oreca 07 | 3m30.709 | 4.430 |
| 22 | 29 | LMP2 | Frits van Eerd, Giedo van der Garde, Job Van Uitert | Oreca 07 | 3m30.843 | 4.564 |
| 23 | 34 | LMP2 | Jakub Smiechowski, Renger van der Zande, Alex Brundle | Oreca 07 | 3m30.908 | 4.629 |
| 24 | 25 | LMP2 | John Falb, Roberto Merhi, Rui Andrade | Aurus 01 | 3m31.203 | 4.924 |
| 25 | 49 | LMP2 | Anders Fjordbach, Jan Magnussen, Kevin Magnussen | Oreca 07 | 3m31.830 | 5.551 |
| 26 | 20 | LMP2 | Dennis Andersen, Ricky Taylor, Marco Sorensen | Oreca 07 | 3m32.252 | 5.973 |
| 27 | 44 | LMP2 | Miro Konopka, Oliver Webb, Matej Konopka | Oreca 07 | 3m32.446 | 6.167 |
| 28 | 1 | LMP2 | Tatiana Calderon, Sophia Flörsch, Beitske Visser | Oreca 07 | 3m32.598 | 6.319 |
| 29 | 84 | INNOVATIVE CAR | Takuma Aoki, Nigel Bailly, Matthieu Lahaye | Oreca 07 | 3m33.538 | 7.259 |
| 30 | 39 | LMP2 | Vincent Capillaire, Arnold Robin, Maxime Robin | Oreca 07 | 3m34.005 | 7.726 |
| 31 | 74 | LMP2 | James Winslow, John Corbett, Tom Cloet | Ligier JSP 217 | 3m36.012 | 9.733 |
| 32 | 52 | LMGTE PRO | Daniel Serra, Miguel Molina, Sam Bird | Ferrari 488 GTE EVO | 3m46.011 | 19.732 |
| 33 | 51 | LMGTE PRO | Alessandro Pier Guidi, James Calado, Côme Ledogar | Ferrari 488 GTE EVO | 3m46.581 | 20.302 |
| 34 | 92 | LMGTE PRO | Kevin Estre, Neel Jani, Michael Christensen | Porsche 911 RSR | 3m46.779 | 20.500 |
| 35 | 64 | LMGTE PRO | Tommy Milner, Nick Tandy, Alexander Sims | Chevrolet Corvette C8.R | 3m47.074 | 20.795 |
| 36 | 72 | LMGTE PRO | Dries Vanthoor, Alvaro Parente, Maxime Martin | Porsche 911 RSR | 3m47.599 | 21.320 |
| 37 | 91 | LMGTE PRO | Gianmaria Bruni, Richard Lietz, Frédéric Makowiecki | Porsche 911 RSR | 3m47.624 | 21.345 |
| 38 | 79 | LMGTE PRO | Cooper MacNeil, Earl Bamber, Laurens Vanthoor | Porsche 911 RSR | 3m47.682 | 21.403 |
| 39 | 88 | LMGTE AM | Julien Andlauer, Dominique Bastien, Lance Arnold | Porsche 911 RSR | 3m48.620 | 22.341 |
| 40 | 86 | LMGTE AM | Michael Wainwright, Benjamin Barker, Tom Gamble | Porsche 911 RSR | 3m49.100 | 22.821 |
| 41 | 47 | LMGTE AM | Roberto Lacorte, Giorgio Sernagiotto, Antonio Fuoco | Ferrari 488 GTE EVO | 3m49.102 | 22.823 |
| 42 | 71 | LMGTE AM | Brendan Iribe, Ollie Millroy, Ben Barnicoat | Ferrari 488 GTE EVO | 3m49.462 | 23.183 |
| 43 | 56 | LMGTE AM | Egidio Perfetti, Matteo Cairoli, Riccardo Pera | Porsche 911 RSR | 3m49.608 | 23.329 |
| 44 | 63 | LMGTE PRO | Antonio Garcia, Jordan Taylor, Nick Catsburg | Chevrolet Corvette C8.R | 3m49.643 | 23.364 |
| 45 | 33 | LMGTE AM | Ben Keating, Dylan Pereira, Felipe Fraga | Aston Martin Vantage AMR | 3m49.663 | 23.384 |
| 46 | 80 | LMGTE AM | Matteo Cressoni, Rino Mastronardi, Callum Ilott | Ferrari 488 GTE EVO | 3m49.693 | 23.414 |
| 47 | 57 | LMGTE AM | Takeshi Kimura, Scott Andrews, Mikkel Jensen | Ferrari 488 GTE EVO | 3m49.715 | 23.436 |
| 48 | 99 | LMGTE AM | Harry Tincknell, Vuttikhorn Inthraphuvasak, Florian Latorre | Porsche 911 RSR | 3m49.788 | 23.509 |
| 49 | 54 | LMGTE AM | Thomas Flohr, Giancarlo Fisichella, Francesco Castellacci | Ferrari 488 GTE EVO | 3m49.829 | 23.550 |
| 50 | 83 | LMGTE AM | François Perrodo, Nicklas Nielsen, Alessio Rovera | Ferrari 488 GTE EVO | 3m49.881 | 23.602 |
| 51 | 77 | LMGTE AM | Christian Ried, Jaxon Evans, Matt Campbell | Porsche 911 RSR | 3m49.913 | 23.634 |
| 52 | 18 | LMGTE AM | Andrew Haryanto, Alessio Picariello, Marco Seefried | Porsche 911 RSR | 3m50.016 | 23.737 |
| 53 | 388 | LMGTE AM | Pierre Ehret, Christian Hook, Jeroen Bleekemolen | Ferrari 488 GTE EVO | 3m50.018 | 23.739 |
| 54 | 95 | LMGTE AM | John Hartshorne, Ollie Hancock, Ross Gunn | Aston Martin Vantage AMR | 3m50.059 | 23.780 |
| 55 | 98 | LMGTE AM | Paul Dalla Lana, Nicki Thiim, Marcos Gomes | Aston Martin Vantage AMR | 3m50.156 | 23.877 |
| 56 | 85 | LMGTE AM | Rahel Frey, Sarah Bovy, Michelle Gatting | Ferrari 488 GTE EVO | 3m50.314 | 24.035 |
| 57 | 60 | LMGTE AM | Claudio Schiavoni, Paolo Ruberti, Raffaele Giammaria | Ferrari 488 GTE EVO | 3m50.768 | 24.489 |
| 58 | 777 | LMGTE AM | Satoshi Hoshino, Tomonobu Fujii, Andrew Watson | Aston Martin Vantage AMR | 3m51.107 | 24.828 |
| 59 | 46 | LMGTE AM | Dennis Olsen, Anders Buchardt, Robert Foley | Porsche 911 RSR | 3m51.411 | 25.132 |
| 60 | 55 | LMGTE AM | Duncan Cameron, David Perel, Matthew Griffin | Ferrari 488 GTE EVO | 3m52.088 | 25.809 |
| 61 | 66 | LMGTE AM | Thomas Neubauer, Rodrigo Sales, Jody Fannin | Ferrari 488 GTE EVO | 3m52.304 | 26.025 |
| 62 | 69 | LMGTE AM | Robert Renauer, Ralf Bohn, Rolf Ineichen | Porsche 911 RSR | 3m52.960 | 26.681 |