IndyCar: Power wins pole for Bommarito 500
Team Penske's Will Power has won the pole for the Bommarito 500 at Gateway with a 2-lap average speed of 180.618mph, to nip Andretti Autosport's Colton Herta who averaged 180.528 mph over the two laps.
It was Power's 63rd IndyCar pole as he inches closer to Mario Andretti's record 67.
Power's Penske teammate Josef Newgarden was third quick ahead of another Penske Chevy – that of Simon Pagenaud.
Pato O'Ward rounded out the top-5 for Arrow McLaren SP.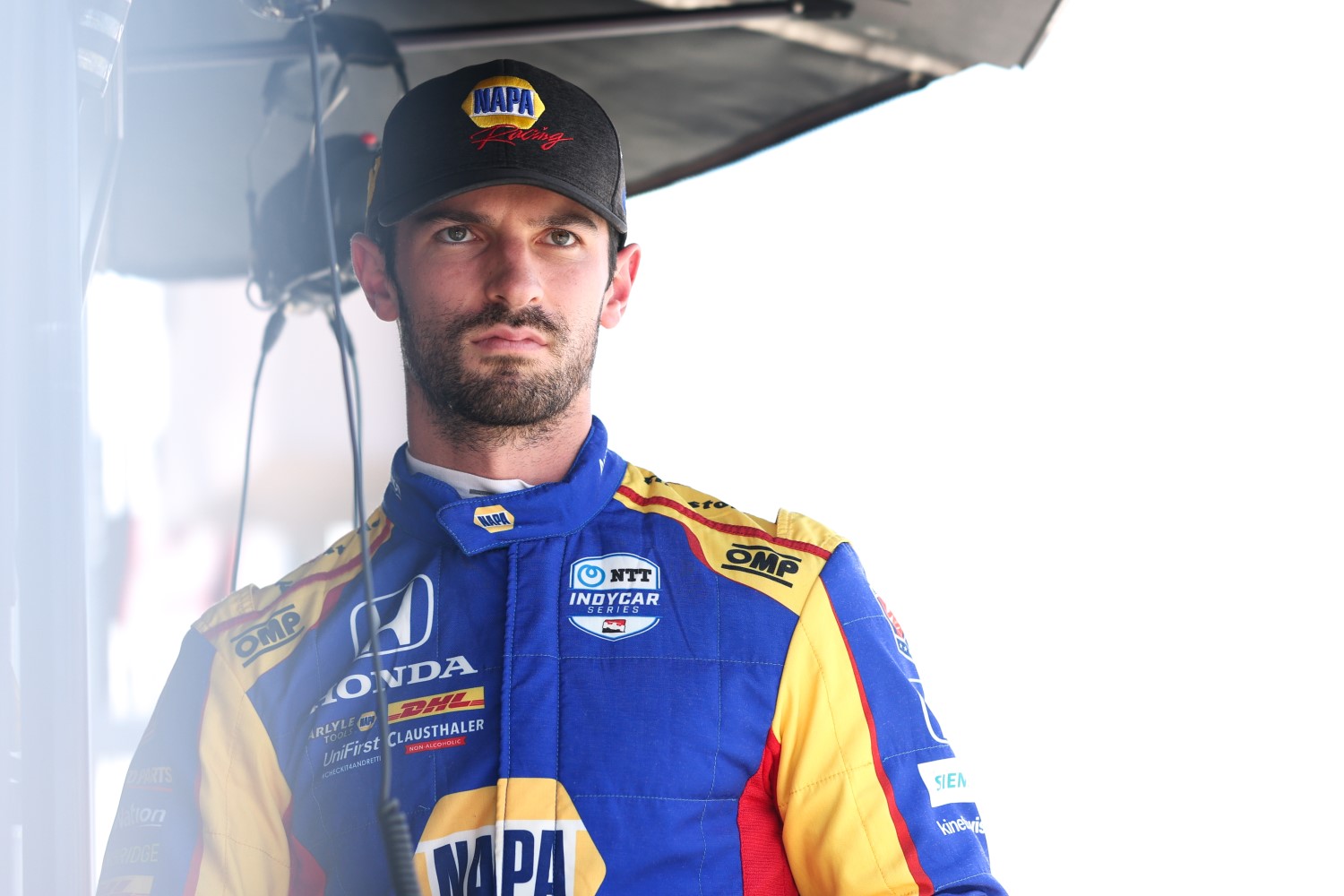 WILL POWER QUOTE:
YOU WON THE POLE WITH MISSING A SHIFT. IMAGINE WHAT YOU COULD HAVE DONE IF YOU'D HAD A CLEAN LAP. I'M KIDDING. CONGRATULATIONS
"Well yeah, that one would have been just a little bit quicker. But I'm certainly stoked, man. Anything I get these days I'm so happy because the field is so fierce and so tough. Another number that's closer to the goal. I thought if I didn't get one this year it was going to be very tough to ever beat that record. But we could get it, we could get it."
YOU'RE WITHIN SNIFFING DISTANCE, RIGHT?
"Yeah, if I get another pole this year I'd be like, there's a chance I could get it."
WHAT ABOUT FINISHING SEASONS STRONG, IS THAT HAPPENING AGAIN THIS YEAR?
"Yeah, I don't know but I hope so. It gives a lot of confidence to the team after last week then this. In myself as well as I've struggled a little bit this year. So yeah, I hope so."
Qualifying Results
| | | | | | | |
| --- | --- | --- | --- | --- | --- | --- |
| Rank | Car | Driver Name | Engine | Lap 1 | Lap 2 | Avg Speed |
| 1 | 12 | Power, Will | Chevy | 24.9781 | 24.8508 | 180.618 |
| 2 | 26 | Herta, Colton | Honda | 24.9231 | 24.9306 | 180.528 |
| 3 | 2 | Newgarden, Josef | Chevy | 25.0090 | 24.8499 | 180.509 |
| 4 | 22 | Pagenaud, Simon | Chevy | 24.9417 | 24.9564 | 180.368 |
| 5 | 5 | O'Ward, Pato | Chevy | 25.0855 | 24.9441 | 179.894 |
| 6 | 8 | Ericsson, Marcus | Honda | 24.9860 | 25.0589 | 179.839 |
| 7 | 27 | Rossi, Alexander | Honda | 25.0374 | 25.0771 | 179.589 |
| 8 | 9 | Dixon, Scott | Honda | 25.1274 | 25.0153 | 179.488 |
| 9 | 15 | Rahal, Graham | Honda | 25.2118 | 25.0674 | 179.000 |
| 10 | 7 | Rosenqvist, Felix | Chevy | 25.1950 | 25.1046 | 178.928 |
| 11 | 3 | McLaughlin, Scott (R) | Chevy | 25.2894 | 25.0142 | 178.914 |
| 12 | 10 | Palou, Alex | Honda | 25.1824 | 25.2156 | 178.579 |
| 13 | 18 | Jones, Ed | Honda | 25.2896 | 25.1644 | 178.380 |
| 14 | 28 | Hunter-Reay, Ryan | Honda | 25.2011 | 25.2594 | 178.357 |
| 15 | 51 | Grosjean, Romain (R) | Honda | 25.1837 | 25.3157 | 178.220 |
| 16 | 60 | Harvey, Jack | Honda | 25.2600 | 25.2763 | 178.090 |
| 17 | 30 | Sato, Takuma | Honda | 25.2740 | 25.3232 | 177.875 |
| 18 | 48 | Kanaan, Tony | Honda | 25.3680 | 25.4282 | 177.179 |
| 19 | 14 | Bourdais, Sebastien | Chevy | 25.4218 | 25.4606 | 176.878 |
| 20 | 29 | Hinchcliffe, James | Honda | 25.4631 | 25.4338 | 176.828 |
| 21 | 59 | Daly, Conor | Chevy | 25.4926 | 25.4854 | 176.547 |
| 22 | 20 | Carpenter, Ed | Chevy | 25.5659 | 25.4951 | 176.260 |
| 23 | 21 | VeeKay, Rinus | Chevy | 25.5544 | 25.5189 | 176.217 |
| 24 | 4 | Kellett, Dalton(R) Rookie | Chevy | 25.8140 | 25.6724 | 174.803 |