Le Mans Hour 12: Toyota 3 laps ahead, close battle in GTE Pro
The 24 Hours of Le Mans has reached the halfway mark with the two Toyota Hypercars out front and pulling away.
The pole sitting #7 Toyota continues to lead the sister #8 Toyota – the only two cars on the lead lap.
The #36 Alpine, which started third, remains third.
In LMP2 the #31 Team WRT Oreca leads the sister #41 car.
There is a close battle in LMGTE Pro between the leading #51 and #52 AF Corse Ferraris and the #63 Corvette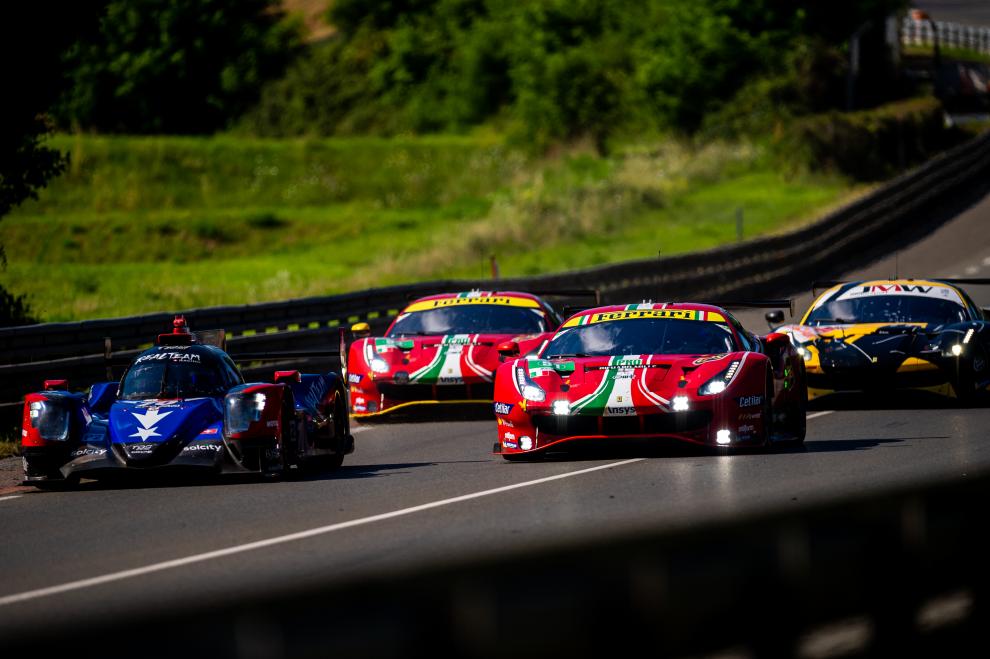 AF Corse is also having a good race in LMGTE Am – the #83 Ferrari leading the #33 Aston Martin.
12 Hour Standings
| | | | | | | | | |
| --- | --- | --- | --- | --- | --- | --- | --- | --- |
| POS | No. | CLASS | TEAM | CURRENT DRIVER | CAR | LAPS | BEHIND | STOPS |
| 1 | 7 | Hypercar H | TOYOTA GAZOO RACING | KOBAYASHI Kamui | Toyota GR010 HYBRID | 176 | – | 14 |
| 2 | 8 | Hypercar H | TOYOTA GAZOO RACING | HARTLEY Brendon | Toyota GR010 HYBRID | 176 | 1:50.761 | 14 |
| 3 | 36 | Hypercar | ALPINE ELF MATMUT | NEGRÃO André | Alpine A480 – Gibson | 172 | 3 laps | 15 |
| 4 | 708 | Hypercar | GLICKENHAUS RACING | MAILLEUX Franck | Glickenhaus 007 LMH | 172 | 8.762 | 13 |
| 5 | 31 | LM P2 | TEAM WRT | MILESI Charles | Oreca 07 – Gibson | 172 | 54.120 | 16 |
| 6 | 41 | LM P2 | TEAM WRT | YE Yifei | Oreca 07 – Gibson | 172 | 57.431 | 16 |
| 7 | 22 | LM P2 | UNITED AUTOSPORTS USA | SCHERER Fabio | Oreca 07 – Gibson | 171 | 5 laps | 17 |
| 8 | 65 | LM P2 | PANIS RACING | ALLEN James | Oreca 07 – Gibson | 171 | 43.994 | 16 |
| 9 | 28 | LM P2 | JOTA | VANDOORNE Stoffel | Oreca 07 – Gibson | 170 | 2:05.585 | 18 |
| 10 | 709 | Hypercar | GLICKENHAUS RACING | DUMAS Romain | Glickenhaus 007 LMH | 170 | 2:22.052 | 14 |
| 11 | 34 | LM P2 | INTER EUROPOL COMPETITION | SMIECHOWSKI Jakub | Oreca 07 – Gibson | 170 | 6 laps | 15 |
| 12 | 48 | LM P2 | IDEC SPORT | PILET Patrick | Oreca 07 – Gibson | 169 | 7 laps | 16 |
| 13 | 23 | LM P2 | UNITED AUTOSPORTS | DI RESTA Paul | Oreca 07 – Gibson | 169 | 11.751 | 16 |
| 14 | 21 | LM P2 P/A | DRAGONSPEED USA | MONTOYA Juan Pablo | Oreca 07 – Gibson | 168 | 8 laps | 16 |
| 15 | 82 | LM P2 | RISI COMPETIZIONE | NASR Felipe | Oreca 07 – Gibson | 167 | 1:22.365 | 17 |
| 16 | 30 | LM P2 | DUQUEINE TEAM | BINDER René | Oreca 07 – Gibson | 167 | 2:19.653 | 19 |
| 17 | 70 | LM P2 P/A | REALTEAM RACING | GARCIA Esteban | Oreca 07 – Gibson | 167 | 2:33.172 | 15 |
| 18 | 20 | LM P2 P/A | HIGH CLASS RACING | TAYLOR Ricky | Oreca 07 – Gibson | 167 | 9 laps | 18 |
| 19 | 26 | LM P2 | G-DRIVE RACING | COLAPINTO Franco | Aurus 01 – Gibson | 167 | 9.256 | 16 |
| 20 | 39 | LM P2 P/A | SO24-DIROB BY GRAFF | CAPILLAIRE Vincent | Oreca 07 – Gibson | 166 | 47.703 | 14 |
| 21 | 38 | LM P2 | JOTA | GONZALEZ Roberto | Oreca 07 – Gibson | 166 | 10.600 | 15 |
| 22 | 29 | LM P2 P/A | RACING TEAM NEDERLAND | VAN DER GARDE Giedo | Oreca 07 – Gibson | 166 | 31.500 | 17 |
| 23 | 49 | LM P2 P/A | HIGH CLASS RACING | MAGNUSSEN Jan | Oreca 07 – Gibson | 165 | 11 laps | 15 |
| 24 | 51 | LM GTE Pro | AF CORSE | PIER GUIDI Alessandro | Ferrari 488 GTE Evo | 164 | 12 laps | 10 |
| 25 | 52 | LM GTE Pro | AF CORSE | BIRD Sam | Ferrari 488 GTE Evo | 163 | 1:47.557 | 11 |
| 26 | 63 | LM GTE Pro | CORVETTE RACING | CATSBURG Nicky | Chevrolet Corvette C8.R | 163 | 1:47.892 | 11 |
| 27 | 92 | LM GTE Pro | PORSCHE GT TEAM | CHRISTENSEN Michael | Porsche 911 RSR – 19 | 163 | 2:10.769 | 11 |
| 28 | 91 | LM GTE Pro | PORSCHE GT TEAM | MAKOWIECKI Frédéric | Porsche 911 RSR – 19 | 163 | 13 laps | 11 |
| 29 | 83 | LM GTE Am | AF CORSE | NIELSEN Nicklas | Ferrari 488 GTE Evo | 161 | 14 laps | 12 |
| 30 | 33 | LM GTE Am | TF SPORT | FRAGA Felipe | Aston Martin Vantage AMR | 161 | 15 laps | 12 |
| 31 | 64 | LM GTE Pro | CORVETTE RACING | TANDY Nicholas | Chevrolet Corvette C8.R | 161 | 1:29.813 | 11 |
| 32 | 80 | LM GTE Am | IRON LYNX | MASTRONARDI Rino | Ferrari 488 GTE Evo | 161 | 1:38.940 | 12 |
| 33 | 72 | LM GTE Pro | HUB AUTO RACING | PARENTE Alvaro | Porsche 911 RSR – 19 | 160 | 16 laps | 14 |
| 34 | 54 | LM GTE Am | AF CORSE | FISICHELLA Giancarlo | Ferrari 488 GTE Evo | 160 | 34.705 | 12 |
| 35 | 74 | LM P2 P/A | RACING TEAM INDIA EURASIA | CLOET Tom | Ligier JSP217 – Gibson | 160 | 57.419 | 16 |
| 36 | 71 | LM GTE Am | INCEPTION RACING | MILLROY Ollie | Ferrari 488 GTE Evo | 159 | 17 laps | 11 |
| 37 | 77 | LM GTE Am | DEMPSEY – PROTON RACING | CAMPBELL Matt | Porsche 911 RSR – 19 | 159 | 21.481 | 12 |
| 38 | 60 | LM GTE Am | IRON LYNX | GIAMMARIA Raffaele | Ferrari 488 GTE Evo | 159 | 39.959 | 12 |
| 39 | 44 | LM P2 P/A | ARC BRATISLAVA | KONOPKA Matej | Oreca 07 – Gibson | 158 | 2:37.225 | 16 |
| 40 | 95 | LM GTE Am | TF SPORT | HANCOCK Oliver | Aston Martin Vantage AMR | 158 | 2:45.253 | 11 |
| 41 | 777 | LM GTE Am | D'STATION RACING | FUJII Tomonobu | Aston Martin Vantage AMR | 158 | 3:40.952 | 13 |
| 42 | 88 | LM GTE Am | DEMPSEY – PROTON RACING | ANDLAUER Julien | Porsche 911 RSR – 19 | 158 | 9.990 | 11 |
| 43 | 388 | LM GTE Am | RINALDI RACING | HOOK Christian | Ferrari 488 GTE Evo | 157 | 19 laps | 12 |
| 44 | 84 | CDNT | ASSOCIATION SRT41 | LAHAYE Matthieu | Oreca 07 – Gibson | 157 | 1:17.003 | 15 |
| 45 | 69 | LM GTE Am | HERBERTH MOTORSPORT | INEICHEN Rolf | Porsche 911 RSR – 19 | 156 | 2:02.250 | 11 |
| 46 | 18 | LM GTE Am | ABSOLUTE RACING | SEEFRIED Marco | Porsche 911 RSR – 19 | 155 | 20 laps | 13 |
| 47 | 85 | LM GTE Am | IRON LYNX | FREY Rahel | Ferrari 488 GTE Evo | 155 | 21 laps | 11 |
| 48 | 24 | LM P2 P/A | PR1 MOTORSPORTS MATHIASEN | KELLY Patrick | Oreca 07 – Gibson | 152 | 24 laps | 19 |
| 49 | 86 | LM GTE Am | GR RACING | BARKER Benjamin | Porsche 911 RSR – 19 | 150 | 26 laps | 12 |
| 50 | 79 | LM GTE Pro | WEATHERTECH RACING | MACNEIL Cooper | Porsche 911 RSR – 19 | 139 | 37 laps | 11 |
| 51 | 46 | LM GTE Am | TEAM PROJECT 1 | FOLEY Robert | Porsche 911 RSR – 19 | 138 | 38 laps | 11 |
| 52 | 57 | LM GTE Am | KESSEL RACING | JENSEN Mikkel | Ferrari 488 GTE Evo | 128 | 48 laps | 9 |
| 53 | 66 | LM GTE Am | JMW MOTORSPORT | SALES Rodrigo | Ferrari 488 GTE Evo | 117 | 59 laps | 9 |
| 54 | 55 | LM GTE Am | SPIRIT OF RACE | GRIFFIN Matthew | Ferrari 488 GTE Evo | 109 | 67 laps | 8 |
| 55 | 25 | LM P2 P/A | G-DRIVE RACING | ANDRADE Rui | Aurus 01 – Gibson | 108 | 68 laps | 11 |
| 56 | 47 | LM GTE Am | CETILAR RACING | LACORTE Roberto | Ferrari 488 GTE Evo | 90 | 86 laps | 6 |
| 57 | 32 | LM P2 | UNITED AUTOSPORTS | MALDONADO Manuel | Oreca 07 – Gibson | 75 | 101 laps | 7 |
| 58 | 99 | LM GTE Am | PROTON COMPETITION | INTHRAPHUVASAK Vuttikhorn | Porsche 911 RSR – 19 | 66 | 110 laps | 6 |
| 59 | 98 | LM GTE Am | ASTON MARTIN RACING | GOMES Marcos | Aston Martin Vantage AMR | 45 | 130 laps | 3 |
| 60 | 56 | LM GTE Am | TEAM PROJECT 1 | PERFETTI Egidio | Porsche 911 RSR – 19 | 84 | 188:44.875 | 6 |
| 61 | 1 | LM P2 | RICHARD MILLE RACING TEAM | FLOERSCH Sophia | Oreca 07 – Gibson | 74 | 109:45.646 | 6 |