Le Mans Hour 21: Status Quo with 3 hours to go
With just 3 hours to go at Le Mans, a 1-2 finish for Toyota looks ever more likely; the No. 7 continuing the lead the field with Mike Conway a lap ahead of Brendon Hartley in the No. 8 Toyota and 4 laps ahead of the third place Alpine.
But the fight for third continues to be interesting as the race-end closes in. Alpine is third with Matthieu Vaxiviere at the wheel, but the A480 isn't as good on fuel mileage as the No. 708 Glickenhaus that is 1m55s behind with Pipo Derani pushing hard. The No. 708 has done just 24 stops, vs. 27 for the Alpine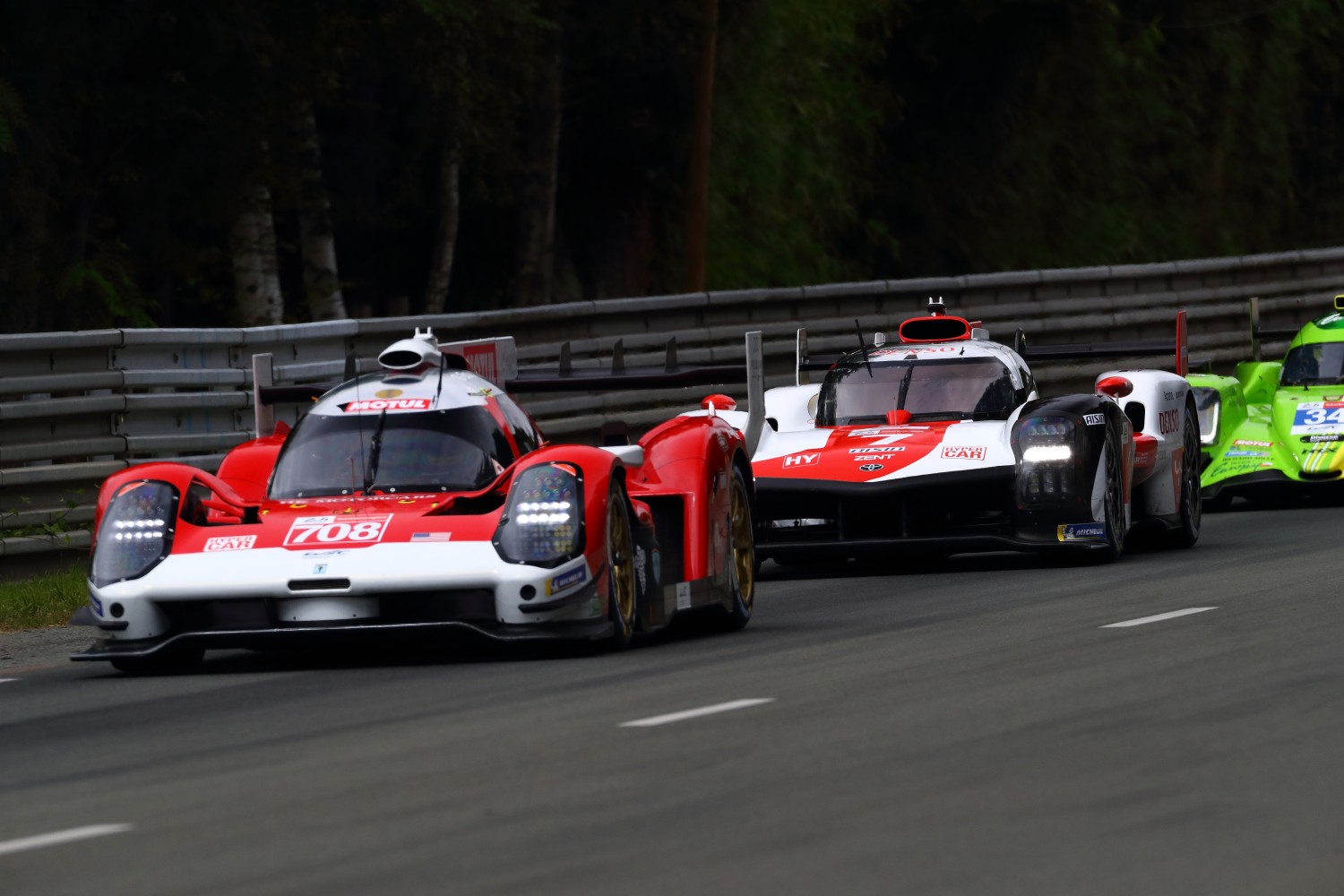 In LMP2, we saw the demise of the Risi Competition ORECA, which pulled into the pits with a suspected engine failure.
"I'd just jumped in the car, everything was OK, was on a lap then suddenly lost power in Sector 3," Oliver Jarvis said after bringing the car into the pits. "I had a sensor warning on the dash. The cameras picked it up, and they advised me to come in. 
"We've had a few issues; a rear bodywork section that dislodged and wouldn't come off. We then had an oil leak. An eventful 19 hours. Generally, when you see smoke like that, it's terminal. I'm gutted for the guys, they've worked so hard for months now."
In GTE Pro and Am, things remain stabilized, but it feels as though further excitement is still to come. No. 51 AF Corse driver James Calado is pushing hard to hold off Nicky Catsburg's No. 63 Corvette at the head of the Pro class.
Hour 21 Standings
| | | | | | | | | | |
| --- | --- | --- | --- | --- | --- | --- | --- | --- | --- |
| POS | NO. | CLASS | TEAM | CURRENT DRIVER | CAR | LAPS | BEHIND | GAP | PITS |
| 1 | 7 | Hypercar H | TOYOTA GAZOO RACING | CONWAY Mike | Toyota GR010 HYBRID | 322 | 0.000s | 0.000s | 27 |
| 2 | 8 | Hypercar H | TOYOTA GAZOO RACING | HARTLEY Brendon | Toyota GR010 HYBRID | 321 | 1 lap | 1 lap | 29 |
| 3 | 36 | Hypercar | ALPINE ELF MATMUT | VAXIVIERE Matthieu | Alpine A480 – Gibson | 318 | 4 laps | 3 laps | 27 |
| 4 | 708 | Hypercar | GLICKENHAUS RACING | DERANI Luis Felipe | Glickenhaus 007 LMH | 317 | 5 laps | 1:55.414 | 24 |
| 5 | 31 | LM P2 | TEAM WRT | HABSBURG Ferdinand | Oreca 07 – Gibson | 315 | 7 laps | 1 lap | 29 |
| 6 | 709 | Hypercar | GLICKENHAUS RACING | DUMAS Romain | Glickenhaus 007 LMH | 315 | 1:37.002 | 1:37.002 | 26 |
| 7 | 41 | LM P2 | TEAM WRT | DELETRAZ Louis | Oreca 07 – Gibson | 315 | 2:38.597 | 1:01.595 | 30 |
| 8 | 28 | LM P2 | JOTA | VANDOORNE Stoffel | Oreca 07 – Gibson | 314 | 8 laps | 1:05.051 | 31 |
| 9 | 65 | LM P2 | PANIS RACING | CANAL Julien | Oreca 07 – Gibson | 313 | 9 laps | 1 lap | 30 |
| 10 | 34 | LM P2 | INTER EUROPOL COMPETITION | BRUNDLE Alex | Oreca 07 – Gibson | 311 | 11 laps | 1 lap | 29 |
| 11 | 23 | LM P2 | UNITED AUTOSPORTS | LYNN Alexander | Oreca 07 – Gibson | 311 | 26.364 | 26.364 | 29 |
| 12 | 48 | LM P2 | IDEC SPORT | CHATIN Paul Loup | Oreca 07 – Gibson | 310 | 12 laps | 3:08.429 | 30 |
| 13 | 30 | LM P2 | DUQUEINE TEAM | GOMMENDY Tristan | Oreca 07 – Gibson | 309 | 25.037 | 25.037 | 33 |
| 14 | 38 | LM P2 | JOTA | DAVIDSON Anthony | Oreca 07 – Gibson | 309 | 22.567 | 22.567 | 28 |
| 15 | 26 | LM P2 | G-DRIVE RACING | DE VRIES Nyck | Aurus 01 – Gibson | 309 | 36.779 | 14.212 | 30 |
| 16 | 21 | LM P2 P/A | DRAGONSPEED USA | HANLEY Ben | Oreca 07 – Gibson | 308 | 14 laps | 3:48.258 | 30 |
| 17 | 70 | LM P2 P/A | REALTEAM RACING | NATO Norman | Oreca 07 – Gibson | 308 | 1:01.872 | 1:01.872 | 29 |
| 18 | 29 | LM P2 P/A | RACING TEAM NEDERLAND | VAN UITERT Job | Oreca 07 – Gibson | 307 | 15 laps | 2:53.264 | 30 |
| 19 | 20 | LM P2 P/A | HIGH CLASS RACING | SØRENSEN Marco | Oreca 07 – Gibson | 305 | 17 laps | 1 lap | 32 |
| 20 | 39 | LM P2 P/A | SO24-DIROB BY GRAFF | ROBIN Arnold | Oreca 07 – Gibson | 304 | 18 laps | 1 lap | 27 |
| 21 | 51 | LM GTE Pro | AF CORSE | CALADO James | Ferrari 488 GTE Evo | 299 | 23 laps | 5 laps | 20 |
| 22 | 63 | LM GTE Pro | CORVETTE RACING | CATSBURG Nicky | Chevrolet Corvette C8.R | 299 | 36.133 | 36.133 | 20 |
| 23 | 92 | LM GTE Pro | PORSCHE GT TEAM | CHRISTENSEN Michael | Porsche 911 RSR – 19 | 298 | 24 laps | 3:34.815 | 21 |
| 24 | 91 | LM GTE Pro | PORSCHE GT TEAM | LIETZ Richard | Porsche 911 RSR – 19 | 298 | 26.637 | 26.637 | 20 |
| 25 | 44 | LM P2 P/A | ARC BRATISLAVA | WEBB Oliver | Oreca 07 – Gibson | 296 | 26 laps | 1 lap | 30 |
| 26 | 33 | LM GTE Am | TF SPORT | KEATING Ben | Aston Martin Vantage AMR | 294 | 28 laps | 2 laps | 21 |
| 27 | 83 | LM GTE Am | AF CORSE | ROVERA Alessio | Ferrari 488 GTE Evo | 294 | 15.189 | 15.189 | 22 |
| 28 | 74 | LM P2 P/A | RACING TEAM INDIA EURASIA | CLOET Tom | Ligier JSP217 – Gibson | 294 | 1:38.443 | 1:22.613 | 30 |
| 29 | 80 | LM GTE Am | IRON LYNX | ILOTT Callum | Ferrari 488 GTE Evo | 293 | 29 laps | 2:10.692 | 22 |
| 30 | 60 | LM GTE Am | IRON LYNX | GIAMMARIA Raffaele | Ferrari 488 GTE Evo | 291 | 31 laps | 47.618 | 22 |
| 31 | 77 | LM GTE Am | DEMPSEY – PROTON RACING | EVANS Jaxon | Porsche 911 RSR – 19 | 290 | 32 laps | 1:36.348 | 22 |
| 32 | 49 | LM P2 P/A | HIGH CLASS RACING | FJORDBACH Anders | Oreca 07 – Gibson | 290 | 2:02.452 | 2:02.452 | 30 |
| 33 | 777 | LM GTE Am | D'STATION RACING | HOSHINO Satoshi | Aston Martin Vantage AMR | 289 | 33 laps | 53.505 | 23 |
| 34 | 84 | CDNT | ASSOCIATION SRT41 | BAILLY Nigel | Oreca 07 – Gibson | 289 | 1:25.994 | 1:25.994 | 27 |
| 35 | 18 | LM GTE Am | ABSOLUTE RACING | HARYANTO Andrew | Porsche 911 RSR – 19 | 287 | 35 laps | 58:53.612 | 23 |
| 36 | 95 | LM GTE Am | TF SPORT | HANCOCK Oliver | Aston Martin Vantage AMR | 287 | 2:08.157 | 2:08.157 | 21 |
| 37 | 85 | LM GTE Am | IRON LYNX | BOVY Sarah | Ferrari 488 GTE Evo | 287 | 2:13.191 | 5.034 | 21 |
| 38 | 69 | LM GTE Am | HERBERTH MOTORSPORT | RENAUER Robert | Porsche 911 RSR – 19 | 285 | 37 laps | 66:35.449 | 21 |
| 39 | 52 | LM GTE Pro | AF CORSE | BIRD Sam | Ferrari 488 GTE Evo | 285 | 3:22.905 | 3:22.905 | 20 |
| 40 | 54 | LM GTE Am | AF CORSE | CASTELLACCI Francesco | Ferrari 488 GTE Evo | 283 | 39 laps | 1 lap | 22 |
| 41 | 71 | LM GTE Am | INCEPTION RACING | MILLROY Ollie | Ferrari 488 GTE Evo | 283 | 1:47.589 | 1:47.589 | 21 |
| 42 | 88 | LM GTE Am | DEMPSEY – PROTON RACING | BASTIEN Dominique | Porsche 911 RSR – 19 | 283 | 3:06.945 | 1:19.254 | 22 |
| 43 | 22 | LM P2 | UNITED AUTOSPORTS USA | SCHERER Fabio | Oreca 07 – Gibson | 280 | 94:14.331 | 2 laps | 28 |
| 44 | 86 | LM GTE Am | GR RACING | WAINWRIGHT Michael | Porsche 911 RSR – 19 | 277 | 45 laps | 102:20.122 | 23 |
| 45 | 82 | LM P2 | RISI COMPETIZIONE | JARVIS Oliver | Oreca 07 – Gibson | 275 | 47 laps | 2 laps | 29 |
| 46 | 64 | LM GTE Pro | CORVETTE RACING | TANDY Nicholas | Chevrolet Corvette C8.R | 266 | 55 laps | 8 laps | 19 |
| 47 | 24 | LM P2 P/A | PR1 MOTORSPORTS MATHIASEN | KELLY Patrick | Oreca 07 – Gibson | 261 | 61 laps | 5 laps | 32 |
| 48 | 388 | LM GTE Am | RINALDI RACING | EHRET Pierre | Ferrari 488 GTE Evo | 271 | 52:56.649 | 52:56.649 | 21 |
| 49 | 72 | LM GTE Pro | HUB AUTO RACING | VANTHOOR Dries | Porsche 911 RSR – 19 | 227 | 95 laps | 43 laps | 19 |
| 50 | 79 | LM GTE Pro | WEATHERTECH RACING | MACNEIL Cooper | Porsche 911 RSR – 19 | 139 | 183 laps | 88 laps | 11 |
| 51 | 46 | LM GTE Am | TEAM PROJECT 1 | FOLEY Robert | Porsche 911 RSR – 19 | 138 | 184 laps | 1 lap | 11 |
| 52 | 57 | LM GTE Am | KESSEL RACING | JENSEN Mikkel | Ferrari 488 GTE Evo | 128 | 194 laps | 9 laps | 9 |
| 53 | 66 | LM GTE Am | JMW MOTORSPORT | SALES Rodrigo | Ferrari 488 GTE Evo | 117 | 205 laps | 11 laps | 9 |
| 54 | 55 | LM GTE Am | SPIRIT OF RACE | GRIFFIN Matthew | Ferrari 488 GTE Evo | 109 | 213 laps | 7 laps | 8 |
| 55 | 25 | LM P2 P/A | G-DRIVE RACING | ANDRADE Rui | Aurus 01 – Gibson | 108 | 214 laps | 1 lap | 11 |
| 56 | 47 | LM GTE Am | CETILAR RACING | LACORTE Roberto | Ferrari 488 GTE Evo | 90 | 232 laps | 17 laps | 6 |
| 57 | 56 | LM GTE Am | TEAM PROJECT 1 | PERFETTI Egidio | Porsche 911 RSR – 19 | 84 | 238 laps | 5 laps | 6 |
| 58 | 32 | LM P2 | UNITED AUTOSPORTS | MALDONADO Manuel | Oreca 07 – Gibson | 75 | 247 laps | 8 laps | 7 |
| 59 | 1 | LM P2 | RICHARD MILLE RACING TEAM | FLOERSCH Sophia | Oreca 07 – Gibson | 74 | 248 laps | 13:00.172 | 6 |
| 60 | 99 | LM GTE Am | PROTON COMPETITION | INTHRAPHUVASAK Vuttikhorn | Porsche 911 RSR – 19 | 66 | 256 laps | 8 laps | 6 |
| 61 | 98 | LM GTE Am | ASTON MARTIN RACING | GOMES Marcos | Aston Martin Vantage AMR | 45 | 277 laps | 20 laps | 3 |