Le Mans: Toyota leads all the way for historic 1-2 finish
The No. 7 Toyota GR010 Hybrid Hypercar driven by Mike Conway, Kamui Kobayashi and Jose Maria Lopez ended their streak of misfortune at Le Mans to take their first victory at the legendary 24 hour race which this year saw the return of a limited number of fans.
The Hypercar eventually finished two laps ahead of the sister No. 8 car with Brendon Hartley, Kazuki Nakajima and Sebastien Buemi sharing the wheel. The No. 7's win today marks only the second time ever that an Argentine (Jose Maria Lopez) has won Le Mans and is the team's seventh consecutive WEC race victory in a row.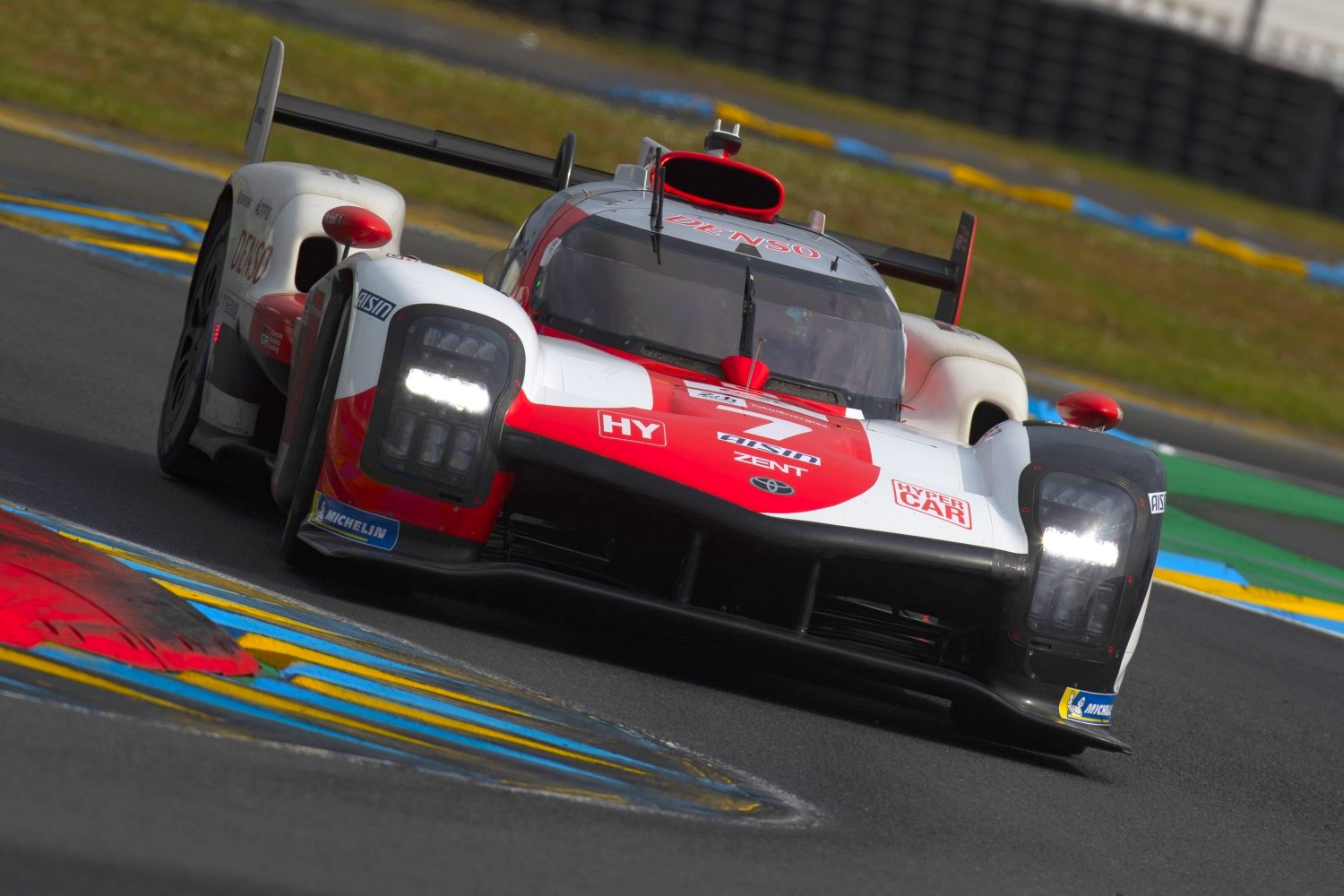 Despite Toyota's one-two result, it wasn't always plain sailing for the Japanese squad.  Indeed, the very first lap was drama-packed for the No. 8 crew as Olivier Pla in the No. 708 Glickenhaus entry made contact with Sebastien Buemi forcing the Swiss driver to stop for a system reset and down the leaderboard.  Both Toyotas also suffered time loss with refuelling issues later in the race, but the team worked through the problem eventually taking the win.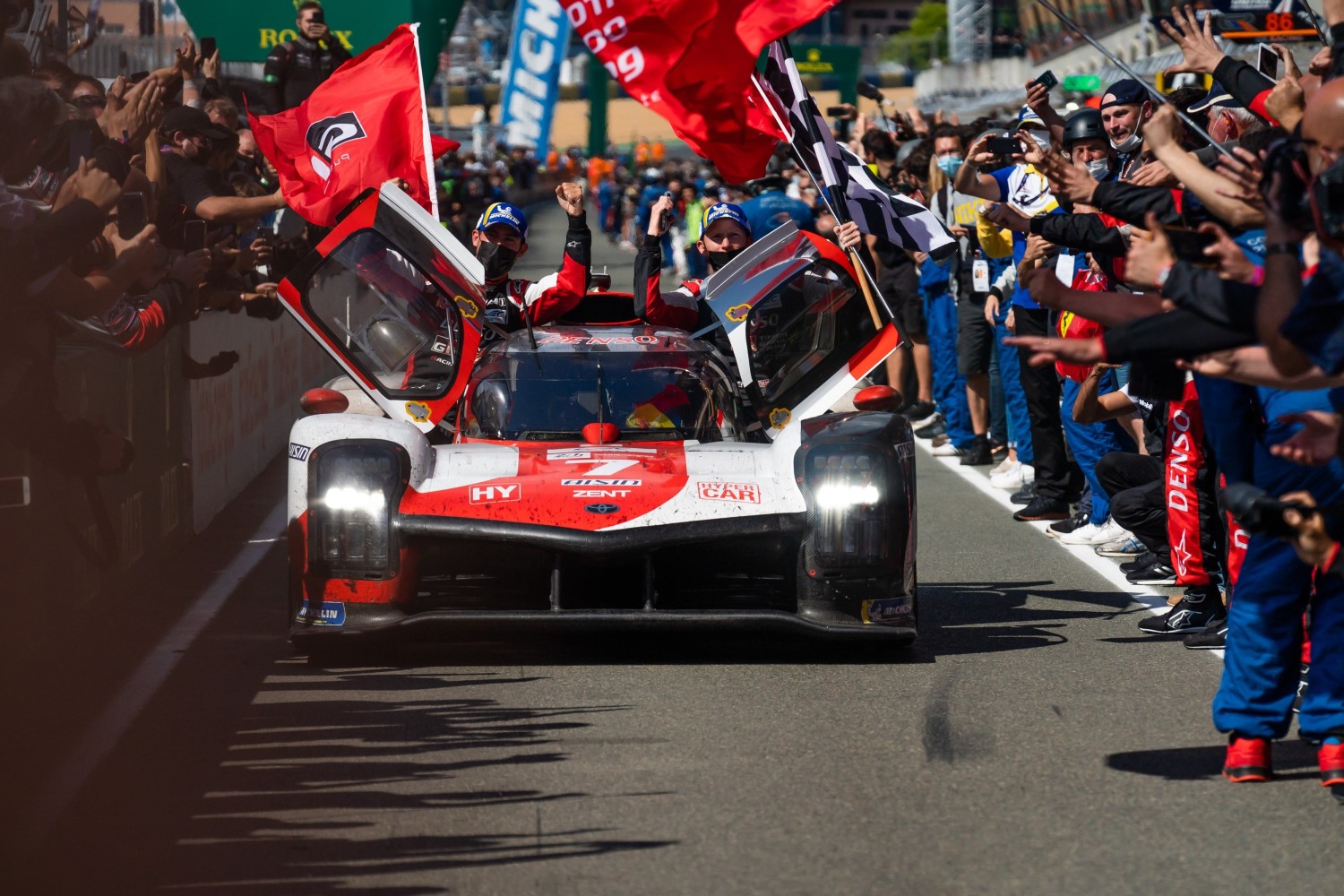 French outfit Alpine Elf Matmut secured the third podium spot, the Alpine A480 Gibson driven by Andre Negrao, Nicolas Lapierre and Matthieu Vaxiviere finishing four laps behind the race-winning Toyota.
WEC debutants Glickenhaus Racing claimed fourth and fifth overall in its pair of Glickenhaus 007 Hypercars – the No. 708 and No. 709 sister cars successfully keeping out of trouble to make it to the finish in a bid to realise owner Jim Glickenhaus' childhood dream of competing at Le Mans.
In the overall Hypercar championship standings, Toyota has now extended its lead over Alpine by 51 points.
Bitter sweet victory for WRT in LMP2
The story of the race was undoubtedly in the LMP2 category where Team WRT suffered a bitter sweet victory.
The Belgian squad was on course for a hugely impressive 1-2 on their LMP2 debut as Louis Deletraz, Robert Kubica and Ye Yifei in No.41 were leading home sister No.31 car of Robin Frijns, Ferdinand Habsburg and Charles Milesi  However, Yifei Ye stopped on the final lap leaving Frijns to take over the lead in the No.31 Oreca.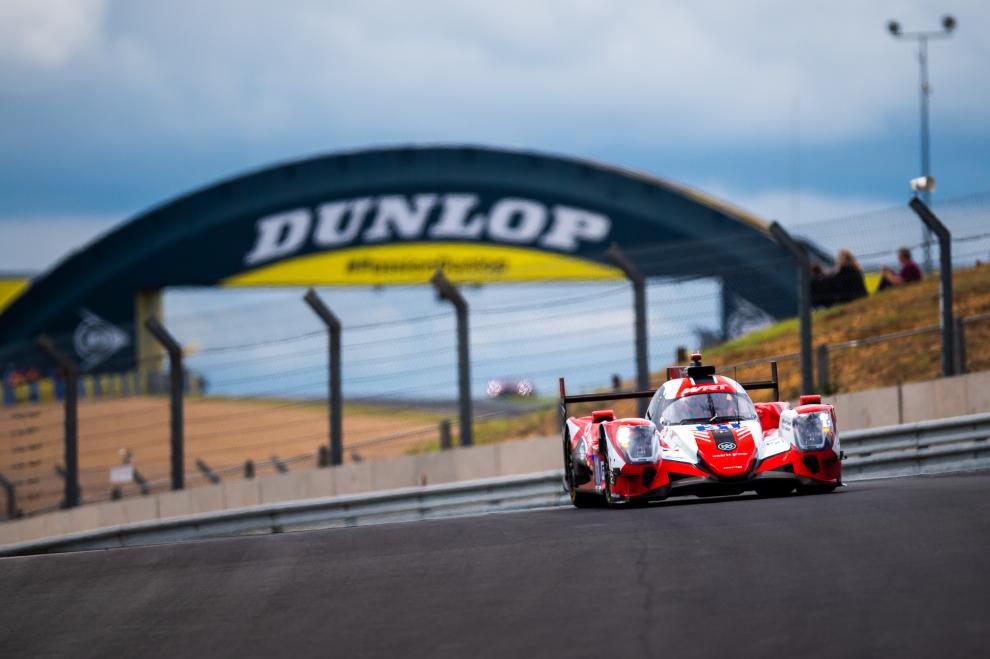 More action was to follow, however, as Frijns was forced to defend from the charging No.28 JOTA car belonging to Stoffel Vandoorne, Tom Blomqvist and Sean Gelael directly behind. The two were separated by just 0.7s as the chequered flag was waved with Blomqvist poised to swoop for the win but eventually settled for second.
United Autosports completed a strong recovery drive as the No. 23 car driven by British trio Paul di Resta, Alex Lynn and Wayne Boyd fought back from their accident on late Saturday evening to take fourth – one spot ahead of Panis Racing who claimed the third podium spot.
A solid performance from Inter Europol Competition sees the Polish team represented by Jakub Smiechowski, Renger Van der Zande and Alex Brundle round out the top five. The team enjoyed a close battle with United Autosports in the race's closing stages with Brundle eventually losing a position to Di Resta.
The Pro-Am honours fell to DragonSpeed USA with its trio of drivers Juan Pablo Montoya, Henrik Hedman and Ben Manley making a superb fightback from a heavy accident in Free Practice to finish tenth in class and on top out of the eight Pro/Am teams entered.
Elsewhere, there was heartache for the No. 22 United Autosports USA entry which was brought into the pits mid-race following an alternator issue which then led to a lengthy stint in the pits, dropping the team to the back of the class.
It was also a difficult race for the all-female No. 1 Richard Mille Racing Team crew when G-Drive Racing collided with Sophia Floersch on approach to the Porsche Curves.  The incident then caused the No. 1 car to be struck on track by the Racing Team India Eurasia car, eventually forcing the team to retire.
The No. 38 JOTA car also had a difficult race, the Oreca driven by Antonio Felix Da Costa, Anthony Davidson and Roberto Gonzalez was leading the class until Davidson went off the track when rain hit the circuit early in the evening.
Following today's race, JOTA have now been catapulted to the top of the overall LMP2 standings but they are just one point ahead of WRT in second place. Third is the second JOTA car, seven points adrift of Team WRT. The No. 22 United Autosports USA entry is now fourth in the points.
AF Corse Take Emotional Double LMGTE Class Victory at Le Mans
The No. 51 AF Corse Ferrari 488 GTE Evo took a famous win as James Calado, Alessandro Pierguidi and Come Ledogar combined to complete a dominant victory after leading for vast majority of race
For Calado and Pierguidi it was a chance to celebrate a second victory in three years, while Ledogar took his first ever class win at Le Mans.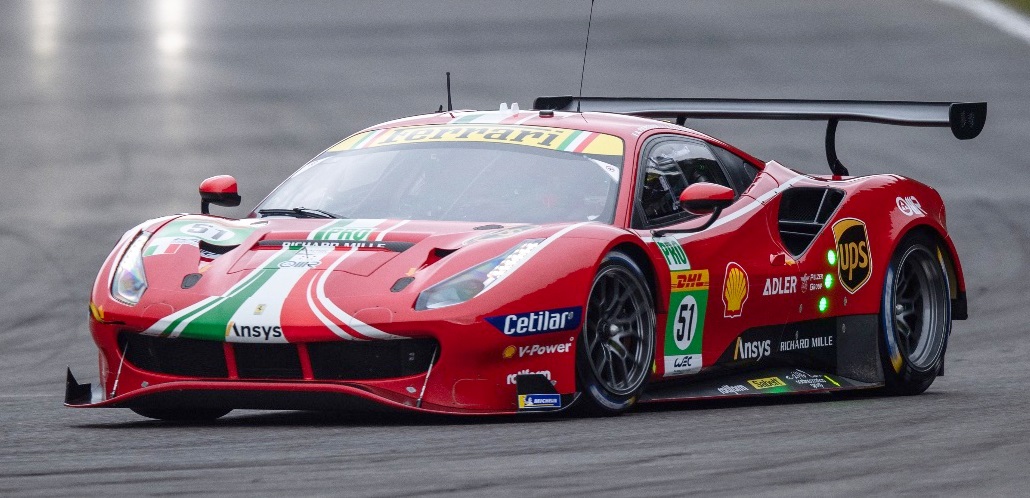 The No.51 trio managed to stretch a gap away from the No.63 Corvette Racing Chevrolet Corvette C8.R driven by Antonio Garcia, Jordan Taylor and Nicky Catsburg which led in stages during off-set strategy pit-stops.
The Corvette appeared to have better pace in the cooler night-time conditions, but the Ferrari came to the fore in the morning as Calado especially was able to open up a gap after several impressive stints.
All three winning drivers completed faultless stints and while stablemates Sam Bird, Daniel Serra and Miguel Molina hit issues with a suspension problem, the No.51 Ferrari 488 GTE Evo didn't miss a beat.
The triumph for AF Corse ensured the Italian team celebrated its fourth LMGTE Pro win at Le Mans after successes in 2012, 2014 and 2019.
Completing the podium and taking second placed FIA WEC points was the No.92 Porsche 911 RSR-19 crew of Kevin Estre, Michael Christensen and Neel Jani.
They fought back from a chassis damaging accident in qualifying and an early off-track excursion to stay in touch in second position in the world championship standings behind new leaders Calado and Pier Guidi.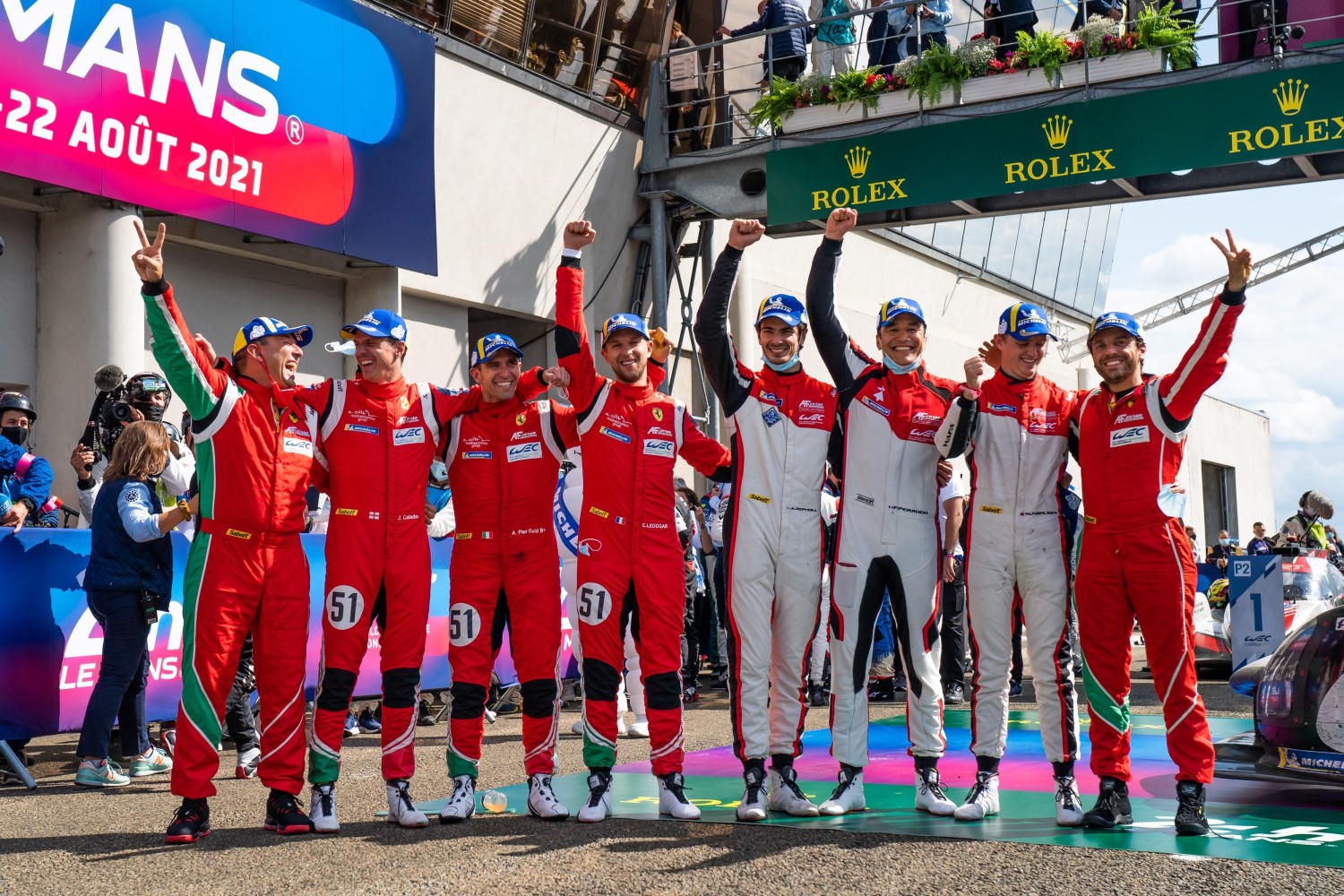 AF Corse clinches first Le Mans LMGTE Am win
In the LMGTE Am category AF Corse took its first category victory at Le Mans as the No.83 team of Francois Perrodo, Nicklas Nielsen and Alessio Rovera claimed a third WEC victory of the season.
The trio picked up the lead on Saturday evening and managed to create a race winning gap to the TF Sport Aston Martin to seal a superb victory.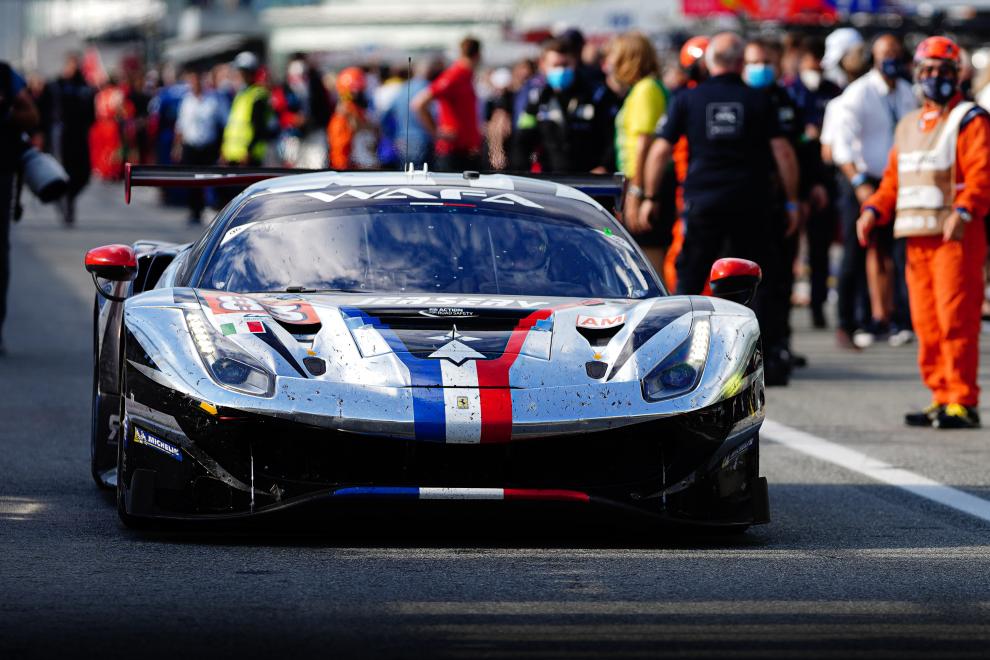 It ensured that Perrodo and Nielsen became Le Mans champions as well as reigning FIA WEC champions after completing faultless stints throughout the day and night. They also stretched their 2021 FIA WEC points lead as they attempt to go for back-to-back titles.
Rovera himself took a debut win after competing almost exclusively in Italian GT racing over the last few seasons.
TF Sport were just unable to get on terms with the AF Corse Ferrari but were ultimately compromised by a double puncture which occurred late on Saturday evening.
This caused Felipe Fraga to hit the tire wall at the first Mulsanne chicane. But excellent work by the TF Sport team ensured only minimal time was lost in the actual pit-stop itself.
Rounding out the podium was the No.80 Iron Lynx Ferrari 488 GTE Evo crewed by Matteo Cressoni, Rino Mastronardi and Callum Ilott.
They enjoyed a fine race as Ferrari factory driver Ilott starred alongside his more experienced endurance teammates.
Iron Lynx enjoyed a successful weekend at only its second appearance at Le Mans as the No.60 car driven by Paolo Ruberti, Raffaele Giammaria and Claudio Schiavone took fourth position to move significantly up the points standings table.
24 Hours of Le Mans Final Classification
| | | | | | | |
| --- | --- | --- | --- | --- | --- | --- |
| Pos | No. | Drivers | Car | Class | Laps | Behind |
| 1 | 7 | Mike Conway, Kamui Kobayashi, Jose Maria Lopez | Toyota GR010 – Hybrid | HYPERCAR | 371 | 0.000s |
| 2 | 8 | Sébastien Buemi, Kazuki Nakajima, Brendon Hartley | Toyota GR010 – Hybrid | HYPERCAR | 369 | 2 laps |
| 3 | 36 | Andre Negrao, Nicolas Lapierre, Matthieu Vaxiviere | Alpine A480 | HYPERCAR | 367 | 4 laps |
| 4 | 708 | Pipo Derani, Franck Mailleux, Olivier Pla | Glickenhaus 007 LMH | HYPERCAR | 367 | 2'34.103 |
| 5 | 709 | Ryan Briscoe, Richard Westbrook, Romain Dumas | Glickenhaus 007 LMH | HYPERCAR | 364 | 6.095 |
| 6 | 31 | Robin Frijns, Ferdinand Habsburg, Charles Milesi | Oreca 07 | LMP2 | 363 | 31.721 |
| 7 | 28 | Sean Gelael, Stoffel Vandoorne, Tom Blomqvist | Oreca 07 | LMP2 | 363 | 0.727 |
| 8 | 65 | Julien Canal, Will Stevens, James Allen | Oreca 07 | LMP2 | 362 | 9 laps |
| 9 | 23 | Paul di Resta, Alex Lynn, Wayne Boyd | Oreca 07 | LMP2 | 361 | 10 laps |
| 10 | 34 | Jakub Smiechowski, Renger van der Zande, Alex Brundle | Oreca 07 | LMP2 | 360 | 11 laps |
| 11 | 48 | Paul Lafargue, Paul-Loup Chatin, Patrick Pilet | Oreca 07 | LMP2 | 359 | 12 laps |
| 12 | 26 | Roman Rusinov, Franco Colapinto, Nyck de Vries | Aurus 01 | LMP2 | 358 | 13 laps |
| 13 | 38 | Roberto Gonzale,z Antonio Felix da Costa, Anthony Davidson | Oreca 07 | LMP2 | 358 | 47.211 |
| 14 | 30 | Rene Binder, Memo Rojas, Tristan Gommendy | Oreca 07 | LMP2 | 357 | 14 laps |
| 15 | 21 | Henrik Hedman, Ben Hanley, Juan Pablo Montoya | Oreca 07 | LMP2 | 356 | 15 laps |
| 16 | 29 | Frits van Eerd, Giedo van der Garde, Job Van Uitert | Oreca 07 | LMP2 | 356 | 29.252 |
| 17 | 70 | Esteban Garcia, Loic Duval, Norman Nato | Oreca 07 | LMP2 | 356 | 2'19.918 |
| 18 | 20 | Dennis Andersen, Ricky Taylor, Marco Sorensen | Oreca 07 | LMP2 | 353 | 18 laps |
| 19 | 39 | Vincent Capillaire, Arnold Robin, Maxime Robin | Oreca 07 | LMP2 | 352 | 19 laps |
| 20 | 51 | Alessandro Pier Guidi, James Calado, Côme Ledogar | Ferrari 488 GTE EVO | LMGTE PRO | 345 | 26 laps |
| 21 | 63 | Antonio Garcia, Jordan Taylor, Nick Catsburg | Chevrolet Corvette C8.R | LMGTE PRO | 345 | 41.686 |
| 22 | 92 | Kevin Estre, Neel Jani, Michael Christensen | Porsche 911 RSR | LMGTE PRO | 344 | 27 laps |
| 23 | 91 | Gianmaria Bruni, Richard Liet,z Frédéric Makowiecki | Porsche 911 RSR | LMGTE PRO | 343 | 28 laps |
| 24 | 44 | Miro Konopka, Oliver Webb, Matej Konopka | Oreca 07 | LMP2 | 342 | 29 laps |
| 25 | 83 | François Perrodo, Nicklas Nielsen, Alessio Rovera | Ferrari 488 GTE EVO | LMGTE AM | 340 | 31 laps |
| 26 | 33 | Ben Keating, Dylan Pereira, Felipe Fraga | Aston Martin Vantage AMR | LMGTE AM | 339 | 32 laps |
| 27 | 80 | Matteo Cressoni, Rino Mastronardi, Callum Ilott | Ferrari 488 GTE EVO | LMGTE AM | 338 | 33 laps |
| 28 | 74 | James Winslow, John Corbett, Tom Cloet | Ligier JSP 217 | LMP2 | 338 | 2'07.162 |
| 29 | 49 | Anders Fjordbach, Jan Magnussen, Kevin Magnussen | Oreca 07 | LMP2 | 336 | 35 laps |
| 30 | 60 | Claudio Schiavoni, Paolo Ruberti, Raffaele Giammaria | Ferrari 488 GTE EVO | LMGTE AM | 335 | 36 laps |
| 31 | 77 | Christian Ried, Jaxon Evans, Matt Campbell | Porsche 911 RSR | LMGTE AM | 335 | 33.045 |
| 32 | 84 | Takuma Aoki, Nigel Bailly, Matthieu Lahaye | Oreca 07 | INNOVATIVE CAR | 334 | 37 laps |
| 33 | 777 | Satoshi Hoshino, Tomonobu Fujii, Andrew Watson | Aston Martin Vantage AMR | LMGTE AM | 333 | 38 laps |
| 34 | 18 | Andrew Haryanto, Alessio Picariello, Marco Seefried | Porsche 911 RSR | LMGTE AM | 332 | 39 laps |
| 35 | 95 | John Hartshorne, Ollie Hancock, Ross Gunn | Aston Martin Vantage AMR | LMGTE AM | 332 | 26.571 |
| 36 | 85 | Rahel Frey, Sarah Bovy, Michelle Gatting | Ferrari 488 GTE EVO | LMGTE AM | 332 | 2'19.723 |
| 37 | 52 | Daniel Serra, Miguel Molina, Sam Bird | Ferrari 488 GTE EVO | LMGTE PRO | 331 | 40 laps |
| 38 | 69 | Robert Renauer, Ralf Bohn, Rolf Ineichen | Porsche 911 RSR | LMGTE AM | 330 | 41 laps |
| 39 | 54 | Thomas Flohr, Giancarlo Fisichella, Francesco Castellacci | Ferrari 488 GTE EVO | LMGTE AM | 329 | 42 laps |
| 40 | 22 | Philip Hanson, Fabio Scherer, Filipe Albuquerque | Oreca 07 | LMP2 | 328 | 43 laps |
| 41 | 71 | Brendan Iribe, Ollie Millroy, Ben Barnicoat | Ferrari 488 GTE EVO | LMGTE AM | 327 | 44 laps |
| 42 | 88 | Julien Andlauer, Dominique Bastien, Lance David Arnold | Porsche 911 RSR | LMGTE AM | 327 | 1'05.840 |
| 43 | 86 | Michael Wainwright, Benjamin Barker, Tom Gamble | Porsche 911 RSR | LMGTE AM | 322 | 49 laps |
| 44 | 64 | Tommy Milner, Nick Tandy, Alexander Sims | Chevrolet Corvette C8.R | LMGTE PRO | 313 | 58 laps |
| 45 | 41 | Robert Kubica, Louis Deletra,z Ye Yifei | Oreca 07 | LMP2 | 362 | 3'33.661 |
| 46 | 82 | Ryan Cullen, Oliver Jarvis, Felipe Nasr | Oreca 07 | LMP2 | 275 | 95 laps |
| 47 | 388 | Pierre Ehret, Christian Hook, Jeroen Bleekemolen | Ferrari 488 GTE EVO | LMGTE AM | 271 | 99 laps |
| 48 | 24 | Patrick Kelly, Gabriel Aubry, Simon Trummer | Oreca 07 | LMP2 | 261 | 109 laps |
| 49 | 72 | Dries Vanthoor, Alvaro Parente, Maxime Martin | Porsche 911 RSR | LMGTE PRO | 227 | 143 laps |
| 50 | 79 | Cooper MacNeil, Earl Bamber, Laurens Vanthoor | Porsche 911 RSR | LMGTE PRO | 139 | 231 laps |
| 51 | 46 | Dennis Olsen, Anders Buchardt, Robby Foley | Porsche 911 RSR | LMGTE AM | 138 | 232 laps |
| 52 | 57 | Takeshi Kimura, Scott Andrews, Mikkel Jensen | Ferrari 488 GTE EVO | LMGTE AM | 128 | 242 laps |
| 53 | 66 | Thomas Neubauer, Rodrigo Sales, Jody Fannin | Ferrari 488 GTE EVO | LMGTE AM | 117 | 253 laps |
| 54 | 55 | Duncan Cameron, David Perel, Matthew Griffin | Ferrari 488 GTE EVO | LMGTE AM | 109 | 261 laps |
| 55 | 25 | John Falb, Roberto Merhi, Rui Andrade | Aurus 01 | LMP2 | 108 | 262 laps |
| 56 | 47 | Roberto Lacorte, Giorgio Sernagiotto, Antonio Fuoco | Ferrari 488 GTE EVO | LMGTE AM | 90 | 280 laps |
| 57 | 56 | Egidio Perfetti, Matteo Cairoli, Riccardo Pera | Porsche 911 RSR | LMGTE AM | 84 | 286 laps |
| 58 | 32 | Nico Jamin, Jonathan Aberdein, Manuel Maldonado | Oreca 07 | LMP2 | 75 | 295 laps |
| 59 | 1 | Tatiana Calderon, Sophia Flörsch, Beitske Visser | Oreca 07 | LMP2 | 74 | 296 laps |
| 60 | 99 | Harry Tincknell, Vutthikorn Inthrapuvasak, Florian Latorre | Porsche 911 RSR | LMGTE AM | 66 | 304 laps |
| 61 | 98 | Paul Dalla Lana, Nicki Thiim, Marcos Gomes | Aston Martin Vantage AMR | LMGTE AM | 45 | 325 laps |